Just take one look at Stylist Splash's Instagram account and you'll quickly see why we invited her to share her vignette styling secrets with you…
She's a pro at finding styling props, perfect lighting and arranging her vignettes in interesting and unusual ways. No wonder she features in Interiors Addict's 7 Vignette's Honour Roll!
So what are her top 5 tips for a great vignette?
Have a theme
If you're lacking inspiration, Yvette says she finds window displays and magazines are great places to look.
"I visit display homes regularly too and look at their vignettes. Catalogues and real estate.com.au is another good one."
Scale
"Over cluttering and poor lighting are the biggest mistakes I see people make.
"I also see lots of vignettes out of focus. Take time to take your image clearly and not in a dark area.
"Also take a few items away from your vignette, does it still look good? If so cull a bit more and see if that works. Over-cluttering a vignette will make it look messy."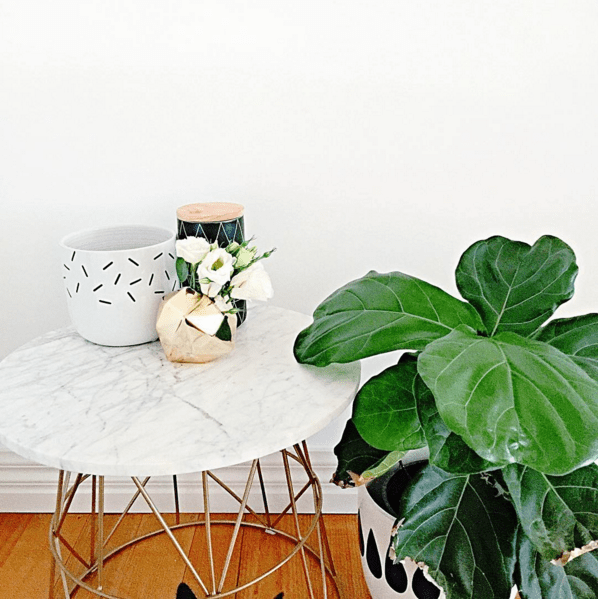 Colour
Camera angle
"Choose a camera angle that will work best with your story and products in the image."
And her other hot tips?
A cluster of three
"Working with odd numbers is more appealing to the eye."
Lighting
"I am lucky to have a white coffee table in my north facing living room. The lighting is always just right, especially in the afternoon. Learn what space in your studio or home has the best light and take your image there."
Props
"The top places I shop for styling props would have to be:
– Salt&Pepper Home
– OZ DESIGN
– The Cupcake Queens
– Kmart
– Were Street Trading – my local newsagent gift store."
If you'd like to start creating vignettes for your home — they're a great way to add interest to spaces like your coffee table while showing off your personality — then check out 7 Vignettes, a fun community on Instagram started by Interiors Addict. Oh, and did we mention there are fab monthly prizes to be won?!!