Earthy, bold, minimalist, sophisticated, unique… a lot of words come to mind to describe this stunning Evergreen kitchen project by The Glade Design, yet none do it justice! Despite what the name suggests, this is in fact an orange kitchen. A refreshing break from mainstream design, there's more to this kitchen renovation than first meets the eye.
With a gorgeous timber kitchen island, coloured grout and joinery, take the tour with us as we chat with Jacqueline Chen from The Glade Design. A modern kitchen with a distinctly retro feel, sit back and enjoy!
Related article: The before and after transformation of The Treehouse: A truly stunning green kitchen
Related article: How to: Affordably update your laundry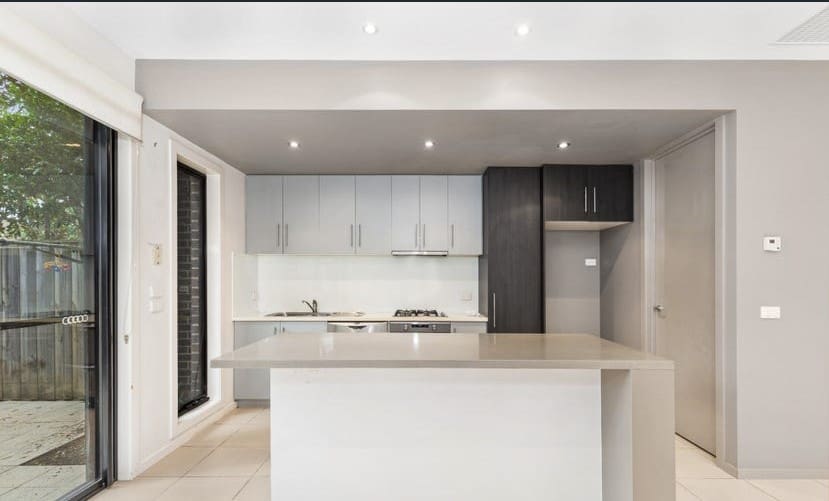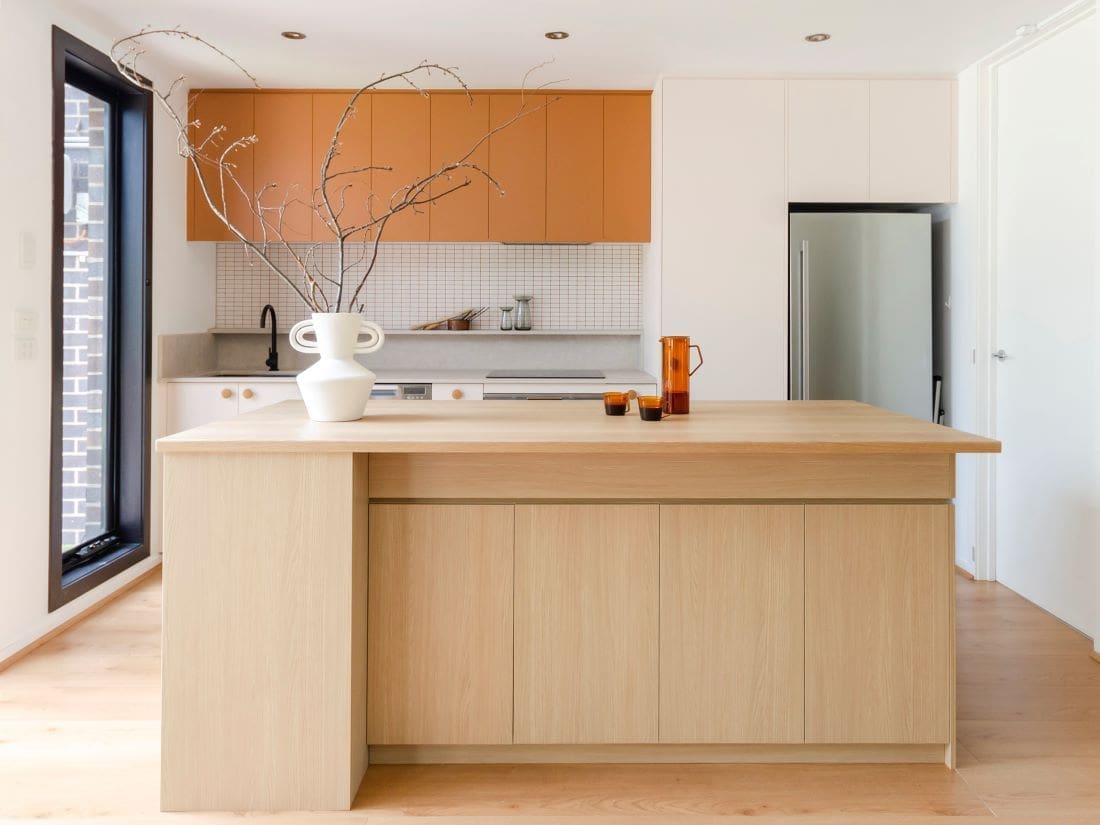 In urgent need of a colourful refresh, the client called on Jacqueline who developed this sophisticated orange kitchen materials palette.
"The client works in the hospitality industry and wanted a kitchen where she could test recipes. She needed plenty of bench space and lots of storage for appliances, food and cookware.
"The space also needed to feel warm and match the rest of the house. The entire living space is filled with indoor plants, which meant the colour and style also needed to work with plants.
"She also does a lot of baking, so a large work surface on the kitchen island was a must. However, she also wanted the space to be as low maintenance as possible."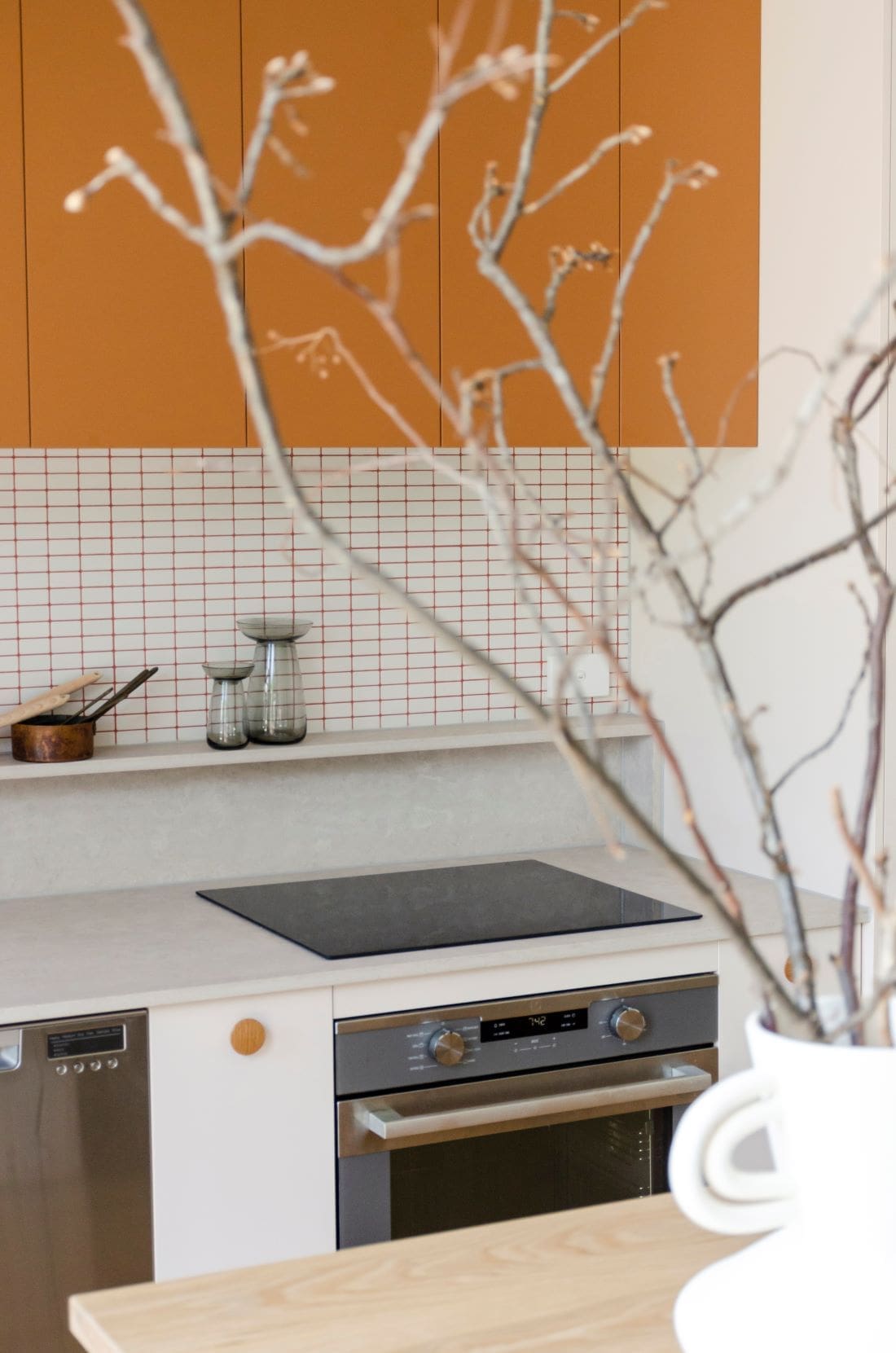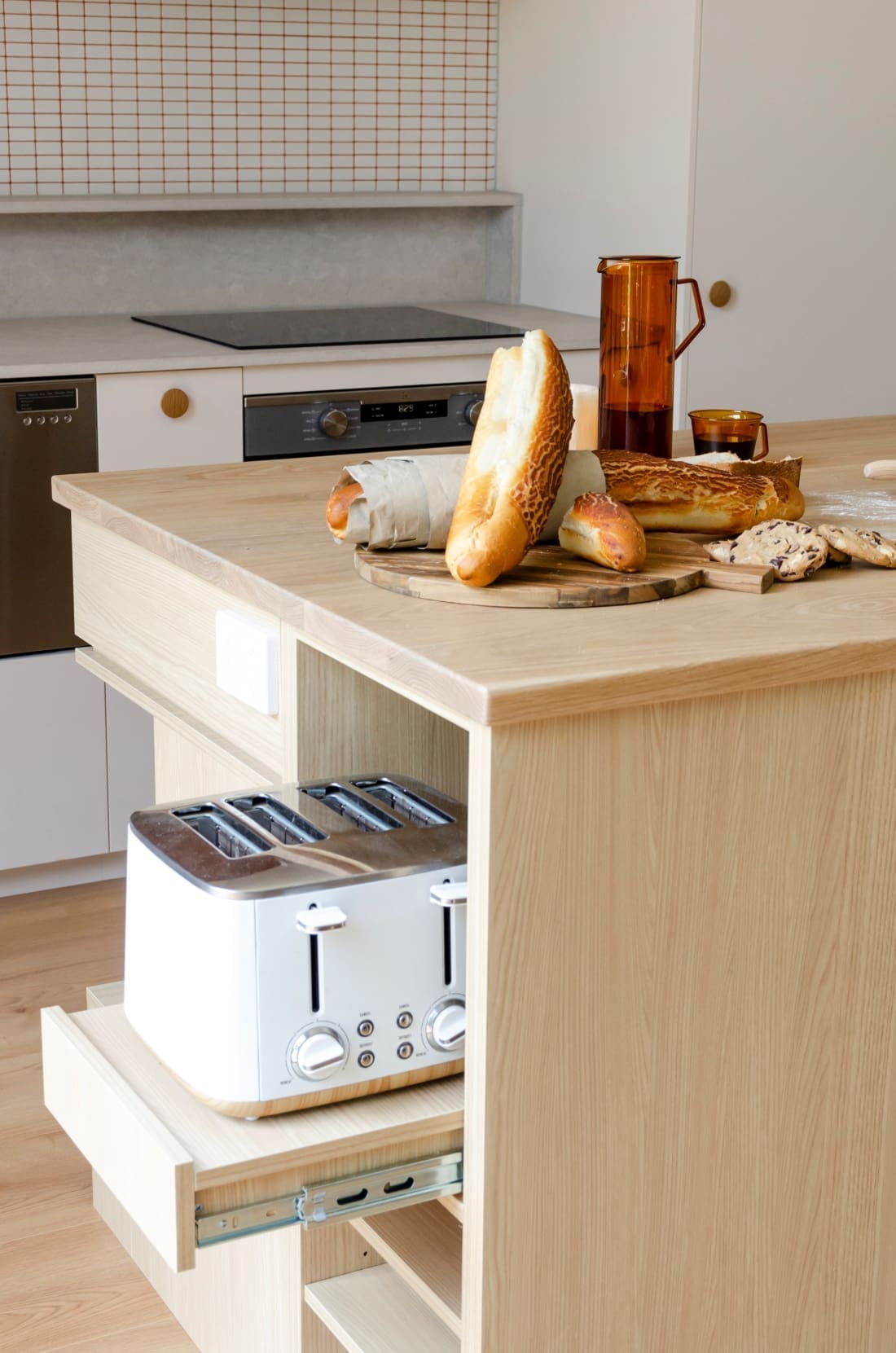 In this kitchen makeover, Jacqueline started by getting the functionality right.
"The client was fairly happy with the old kitchen layout, however multiple elements like the sink and cabinetry were not right for her needs.
"Mainly, she didn't enjoy cooking in the kitchen as it always felt cramped. We didn't have a big budget, so we had to keep plumbing and electrical in their original position. So I made a few small tweaks to increase the sense of space and improve functionality.
"For example, I changed the kitchen island from a depth of 900mm to 1000mm. The addition of just 100mm meant we could add extra storage at the back of the island. It also provided a much larger work surface for meal prep.
"We also swapped the single-bowl sink and moved the dishwasher a bit closer to the sink. With a small move, we added spice drawers on both sides of the cooktop. We also built a special drawer for the toaster and rice cooker.
"By keeping the existing layout, we only made minimal changes but I think we have achieved the perfect outcome."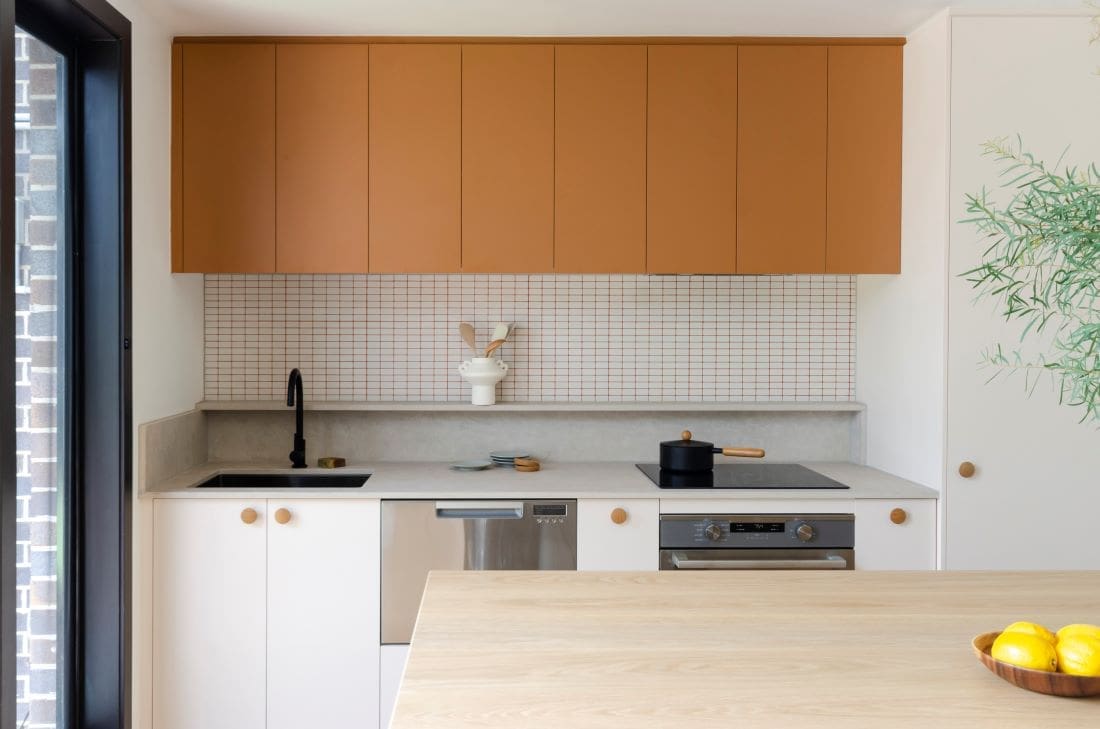 An orange colour scheme is not common in a kitchen, but it certainly works. Jacqueline walks us through the process of selecting this colour.
"The client had recently put in new flooring with a nice warm yellow tone. They also have a couple of pink bedrooms. So I knew they love a warm and homey aesthetic.
"As such we decided to use a wood countertop to meet the brief, which had a light yellow timber colour. So now we had pink and yellow, and in a house filled with green plants I felt a touch of orange would complete the colour scheme.
"Orange is associated with optimism and energy. This is what I wanted the client to feel in the space. It certainly helps that it pops against the greenery.
"With such a strong colour scheme, I wanted to make sure the result would be easy on the eyes. The orange we chose is rich and deep, almost like a clay colour. To me, this is a luxurious and mature colour."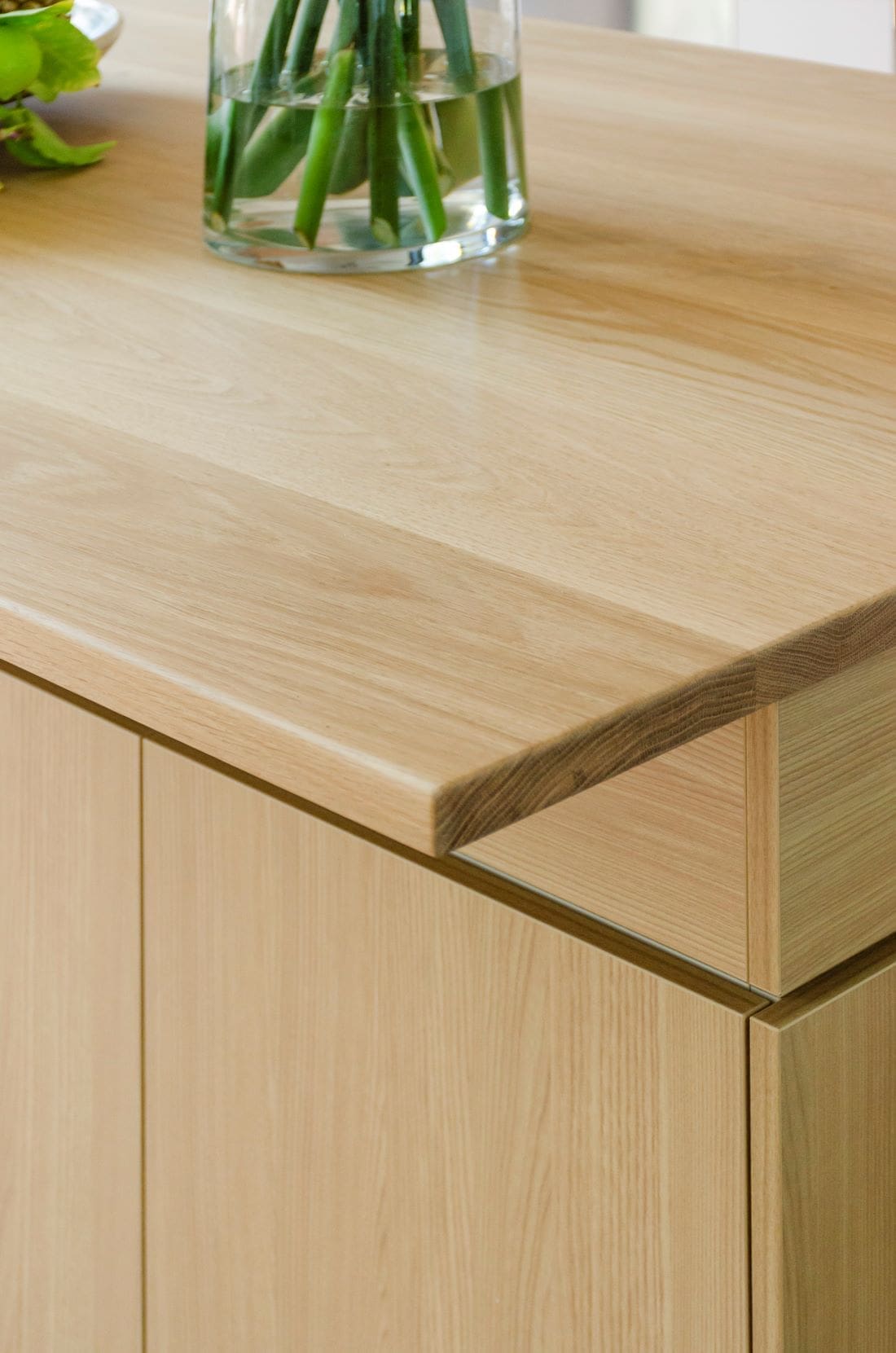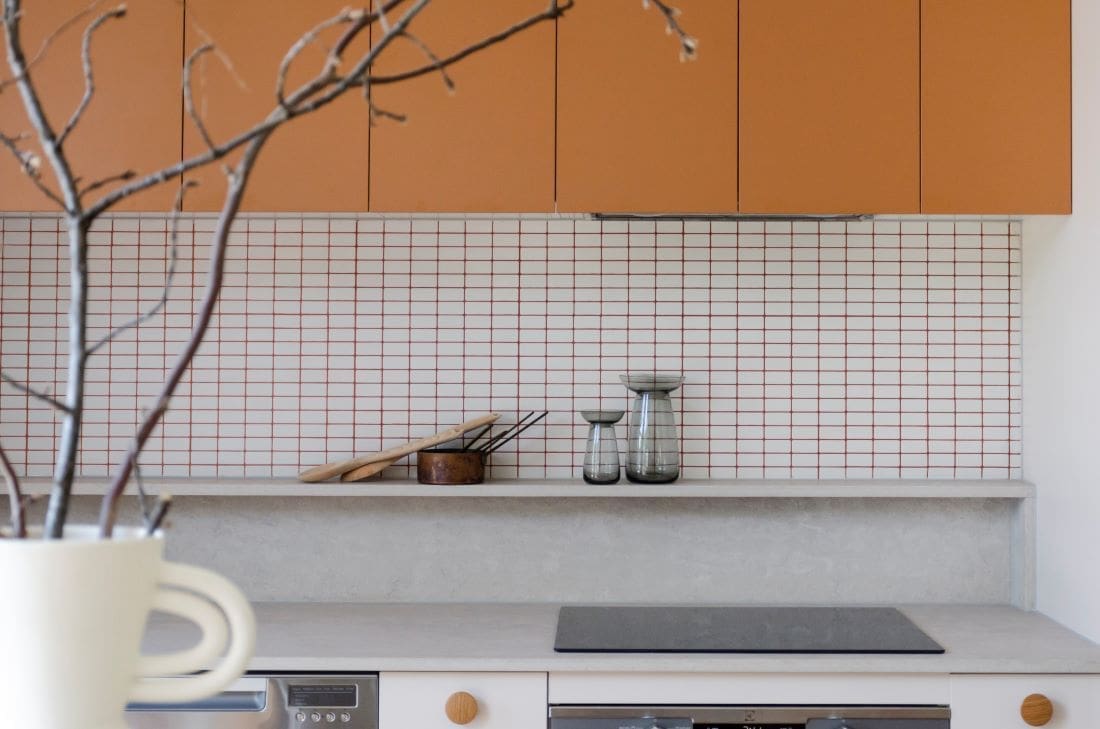 It's a little hard to pick a favourite feature in this room with so many unique coloured design elements.
"The custom-built kitchen bench didn't cost a fortune but it did have a longer lead time. We designed it to have a pencil edge, which has a softer look and is more comfortable to touch.
"I think a lot of people misunderstand using timber on timber, and usually we want the timber colour to match completely. But think of the trees outside, none of them look the same.
"As so many elements had colour, we needed a resting spot so I used the white mosaics. However, it still repeats the accent colour by using orange grout.
"The kitchen ledge added extra counter space for the client. It also helped minimise maintenance for the client, as an all-white mosaic splashback would be more challenging to clean."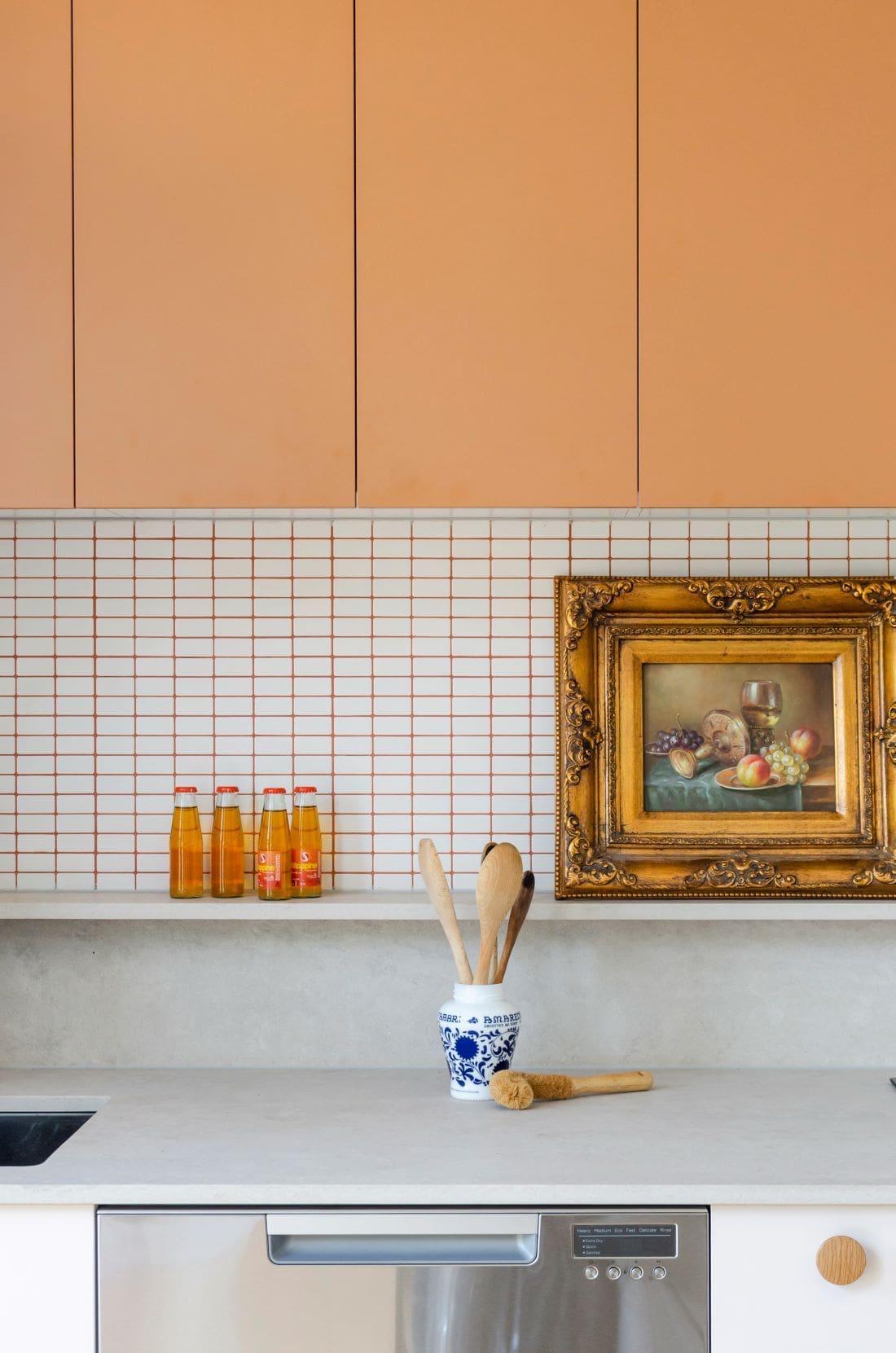 With such an impressive kitchen under her belt, we had to ask Jacqueline if she had any design tips on using colour. Luckily for us, she does!
"I like to observe nature. When I find the colour works in nature, it's likely to work in the house too. With all the observation I do daily, it is easier for me to settle on a colour scheme. However, I know getting the tone right is tricky.
"I would recommend collecting samples in different tones and playing around in the space that needs to be renovated. Take picture of the flatlay in different lighting and get a second opinion. If you are not confident, sleep on the idea and look at it with fresh eyes the next day.
"If you're looking to add a ledge, my tip would be to make sure you have the space to do it. Design-wise, think carefully about whether the ledge will draw too much attention against the other features or not. Is it a highlight of the kitchen or are you doing it for a practical reason?"
We'd like to thank Jacqueline for taking the time to share her Evergreen project with us. You can find more of her project on The Glade Designs website, or follow the latest updates on their Instagram here. What do you think about this orange kitchen? Do you have a coloured kitchen? We'd love to hear all your thoughts in the comment section below!