Today I'm (FINALLY) sharing our kitchen room reveal with you!
Firstly, I've got to say huge thanks to all the readers who shared their tips and ideas for this space! I found the kitchen planning a bit daunting because I knew I didn't want to go all white but wasn't sure how a mix of finishes would turn out. It's safe to say I couldn't be happier with the results!
I took all your feedback on board and in May last year, I shared a moodboard of what I was planning for the kitchen. Now today I'm excited to share my kitchen room reveal so you can see how those ideas turned out…
Related article: Take notes: 7 great ways to style your kitchen
Related article: How to light your kitchen: Different kitchen lighting options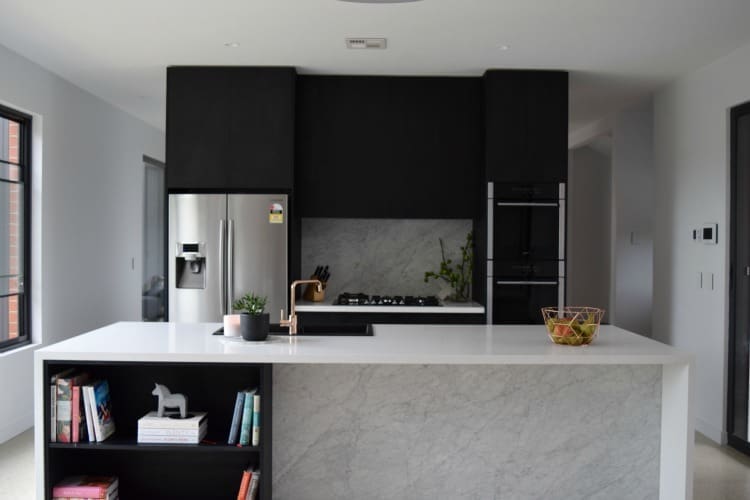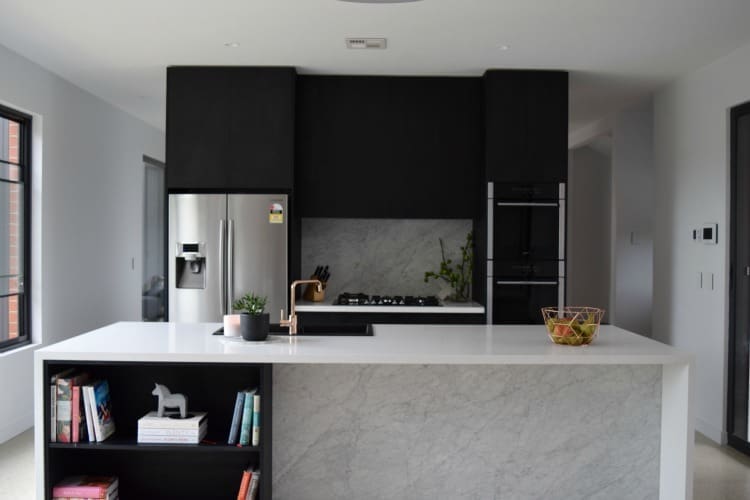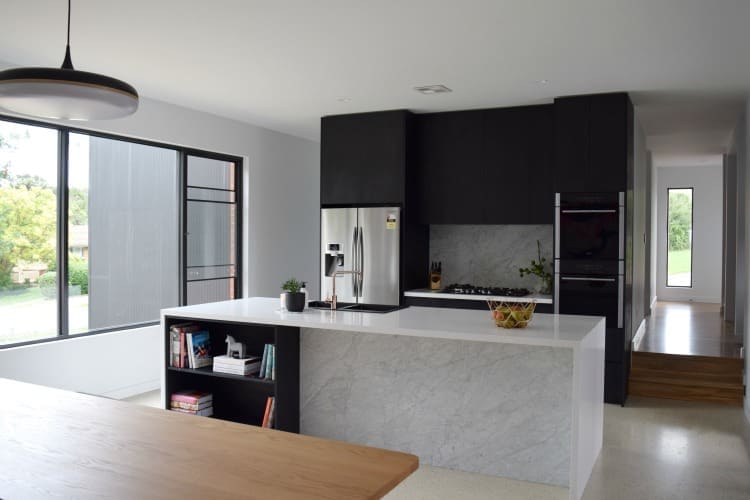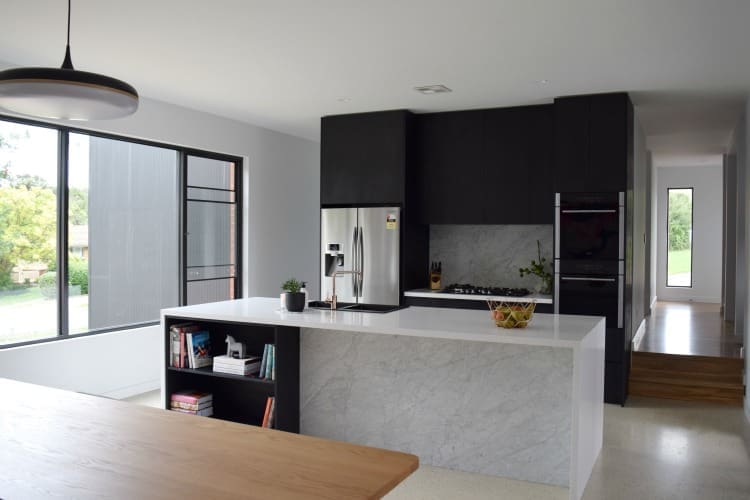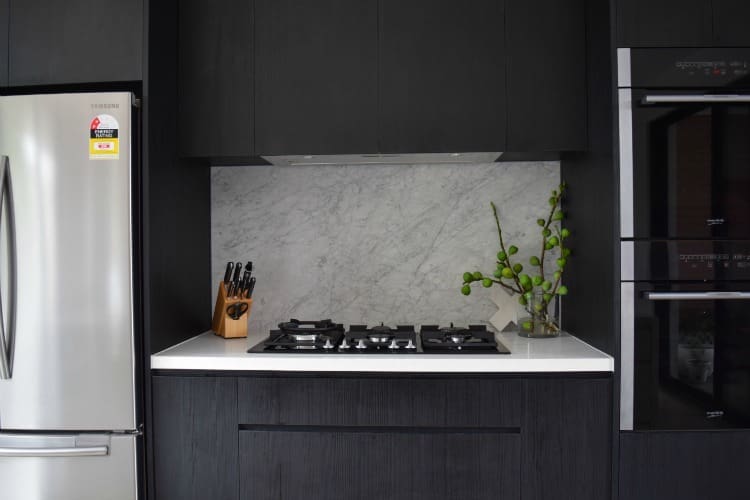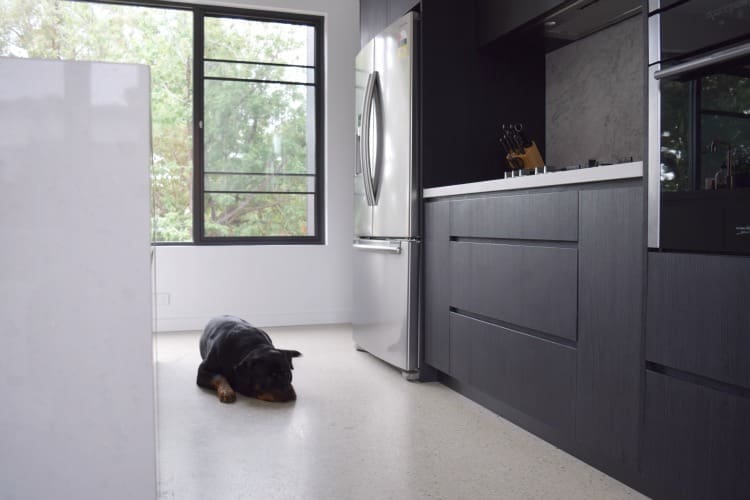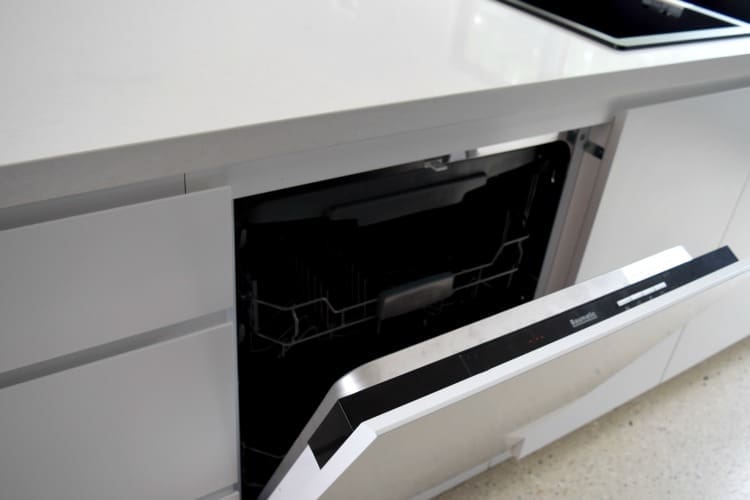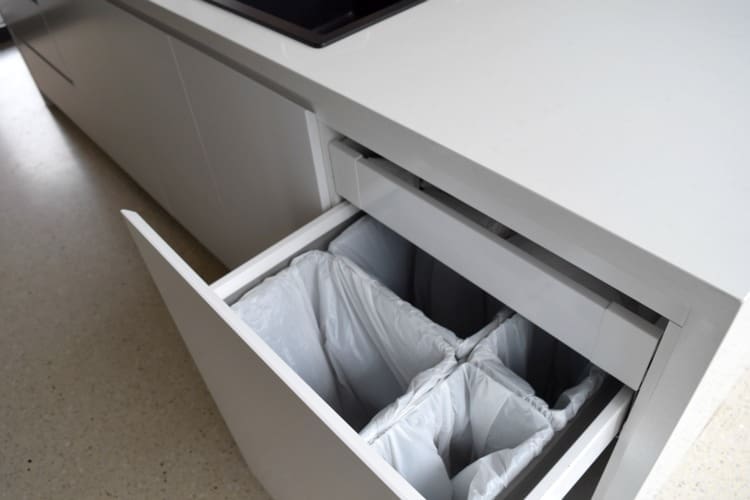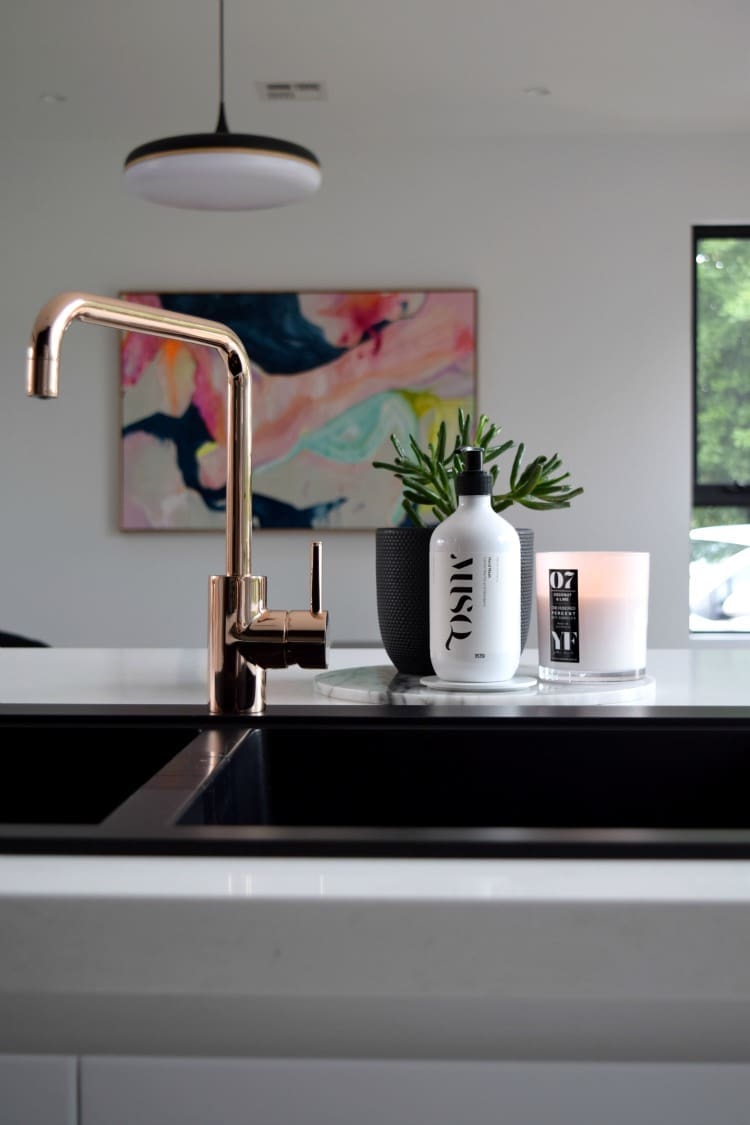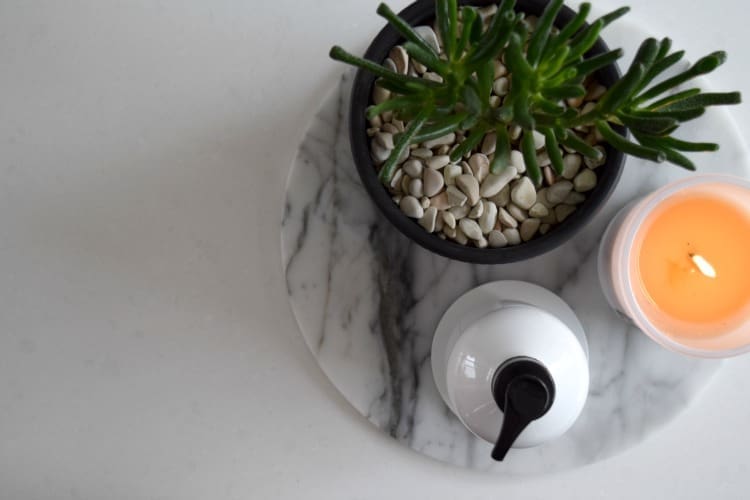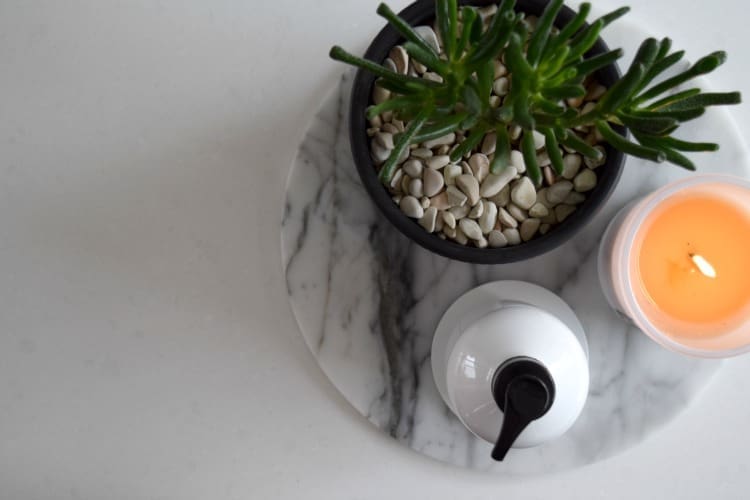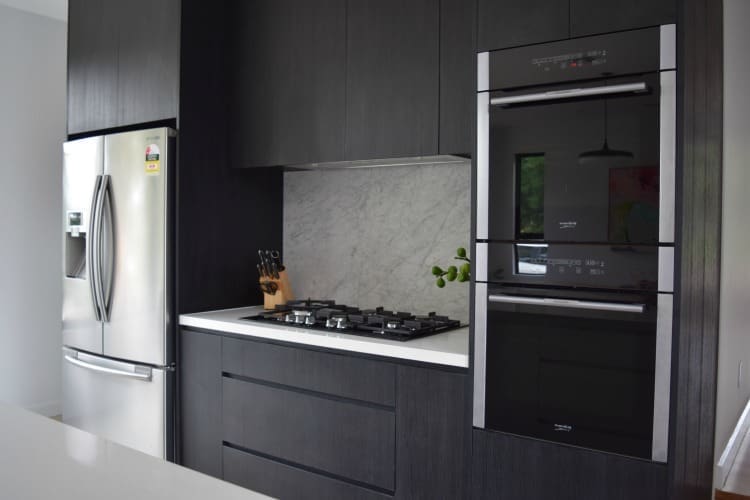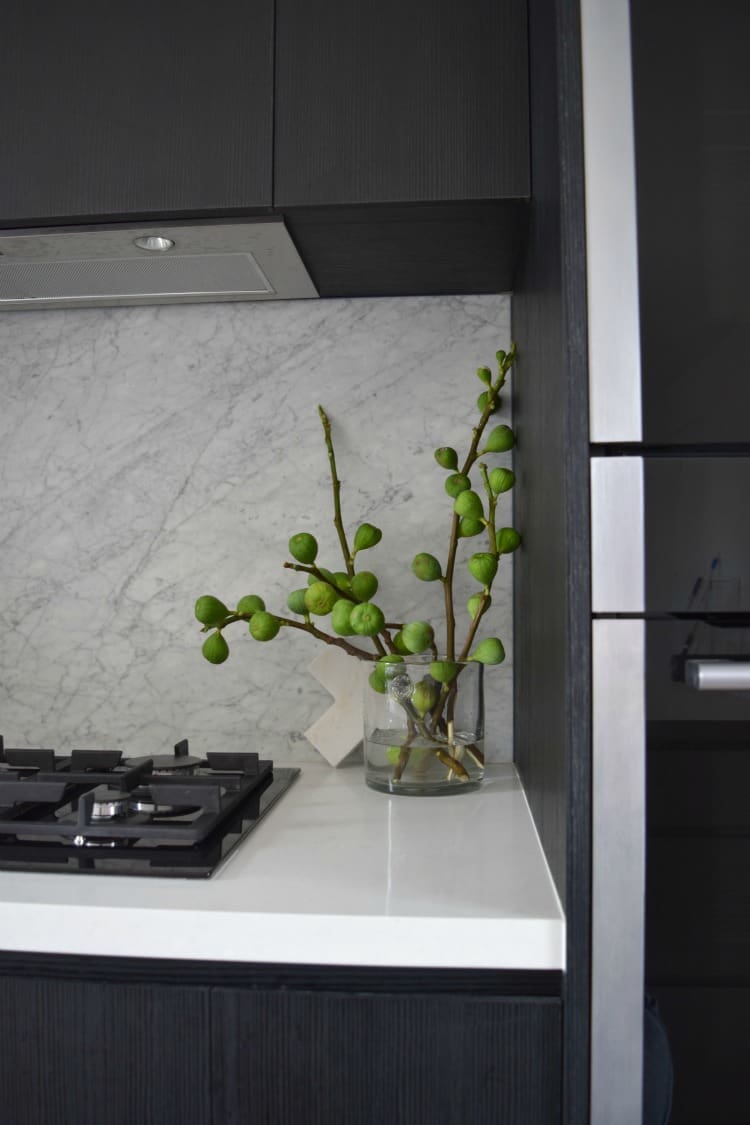 Design decisions I'm most happy with
I know many readers are renovating or building so I thought it would be helpful to talk a bit about the decisions I'm most happy with and anything I would have changed.
Layout
I'm so glad I took the time to consider the layout of our kitchen and have the fridge, sink and ovens within a few steps of each other. This is often called the triangle layout and you can read more about it in my kitchen planning post here.
Cabinetry
To say I was nervous about using black cabinetry was an understatement but I'm so glad I did! The timber grain in this product adds softness and I love the impact of it. And white cabinetry on the island works well to balance the space.
The deep drawers and high overhead cupboards are also great as I'm never struggling for storage space.
Stone
When I started planning the kitchen, I had my heart set on natural marble benchtops but I cannot tell you how many horror stories I heard about red wine, beetroot juice or turmeric completely destroying the stone. The last thing I wanted was a display kitchen that I wouldn't be able to use and enjoy.
I came up with a solution of Caesarstone benchtops and natural stone splashback and kickback, and I think I love this combo even more than I would have an all-marble benchtop.
That copper tap!
Last but not least, I've got to mention the copper tap. It was a splurge buy (and it took a bit of negotiating to get) but it adds just the right amount of bling, and the combo of marble and copper is just so dreamy!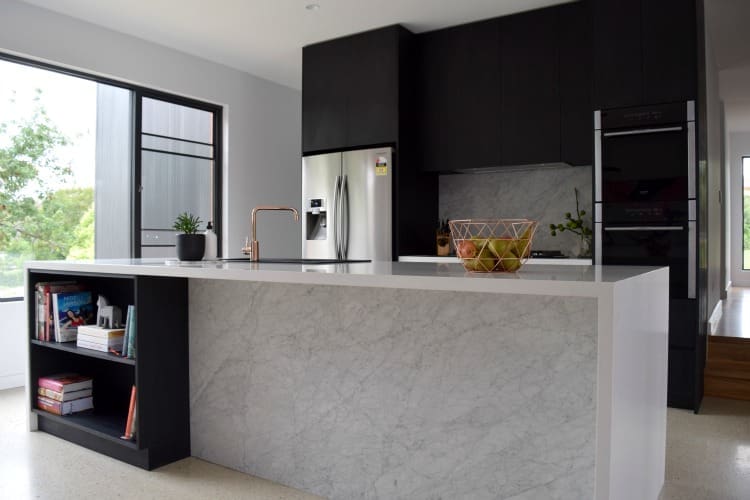 Anything I would have changed
I'm honestly really thrilled with this room and have to think hard if there's anything I would change.
If I were being picky, perhaps I would have selected a larger sink with a drying rack area as I prefer to hand wash rather than use a dishwasher.
And the only other thing I may have done is add a powerpoint in the island bench. Most of my appliances are in the butler's pantry (which I'll reveal another time) and there are powerpoints along the kitchen wall but a powerpoint in the island could have been something I'd use if it were there.
Supplier list
Kitchen finishes:
Kitchen benchtop: Caesarstone Organic White
Marble splashback: Statuario natural stone from CDK Stone
Cabinetry: Black timber veneer is Nero in the Cleaf Matrix range by Nover / White cabinetry is 2-PAC satin finish half strength in Lexicon
Tap: Astra Walker Icon tap in Copper
Sink: Schock Stone Double Bowl by Abey
Wall paint: Haymes Greyology 2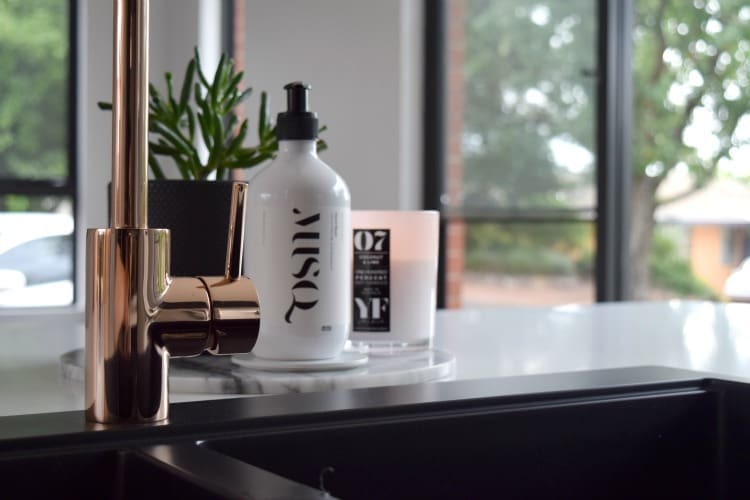 Appliances:
Fridge: Samsung 639L Layered Steel French Door fridge
Cooktop: Studio Solari 90cm Gas Cooktop from Baumatic
Ovens: Studio Solari 60cm Pyrolytic Multifunction Oven from Baumatic
Dishwasher: Studio Solari 60cm Integrated Dishwasher from Baumatic
Styling:
Hand soap: MUSQ
Grey potplant: Jones & Co
Marble trivet: Custom made by local stoneworker
Copper fruit bowl: Homebase
Large glass vase: Zakkia
Concrete horse: Zakkia
Assortment of cookbooks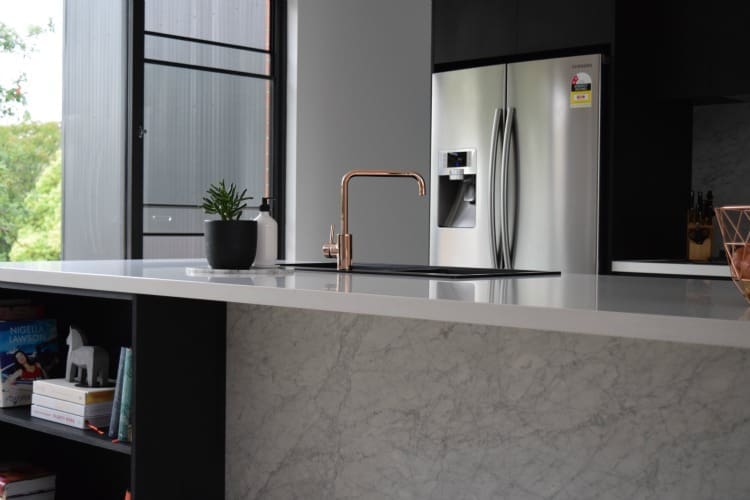 The only thing I need to finish this space are some bar stools — got any suggestions?? I'd love you to share them in the comments below!
And I'm still considering if we need more lighting over the kitchen bench. Originally we were going to have extrusion lighting but with the dining pendant so close, it wouldn't look right. At the moment I'm happy with the amount of light in our kitchen but who knows…
Update: I've since installed a ceiling mount black track light in my kitchen and you can see how it looks here.