OK, this is the space I'm finding the trickiest to commit decisions but I can't put it off any longer!
You might have read in my bathroom planning post that it's crunch time at our build and I need to lock in all the decisions for the wet areas and kitchen.
I started planning our kitchen months ago and many of you shared your tips and insights with me. Over the months I've collected and refined my inspiration and I think I might have finally got there…
Related article: Take notes: 7 great ways to style your kitchen
Related article: How to light your kitchen: Different kitchen lighting options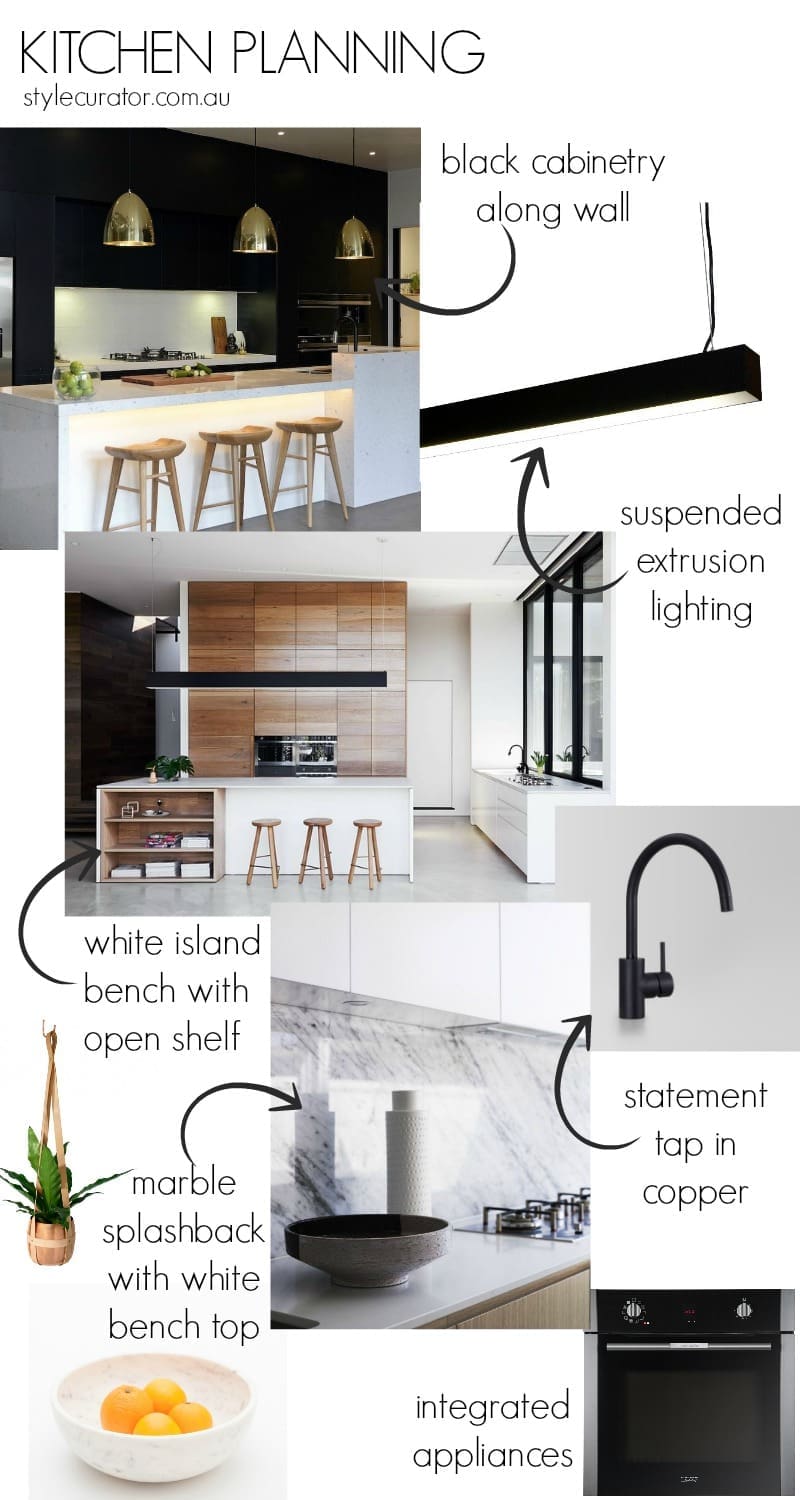 I'm going for a minimalist black / white / marble kitchen.
So it doesn't feel too cold, the black cabinetry will have a timber grain through it and I've decided to only use the dark cabinetry along the kitchen wall — layout = fridge > gas cooktop with overhead cupboards > wall ovens. To break up the look, I'll use a different colour on the island cabinetry and I'm 99% sure it will be white.
Benchtops were my biggest dilemma. I had my heart set on marble but when I heard some of the worst horror stories, like someone just washed a salad bowl in a sink and some beetroot juice splashed onto the marble and there were purple spots everywhere that couldn't come out, it made me rethink if it was worth sacrificing practicality over style. I want to cook and entertain in our kitchen (who would think?) so I began exploring other options, like that matt black Fenix benchtop from The Block Glasshouse. I just kept getting pulled back to marble though… and then, Greg Natale came to the rescue with his clever use of a marble splashback and white quartz bench (see bottom photo above). I'm thinking of even carrying the marble along the back face of the island bench and some marble accessories can bring the look together.
We are going with our lighting expert's suggestion of extrusion lighting over the island bench and will add a bit of bling with a feature tap in copper and some copper accessories.
What are your thoughts on this kitchen look? Would you change anything? Tell me in the comments below!