We know how much you love a good before and after and this one is a beauty! Designed and renovated by the team at ACT Renovations, this bathroom oozes sophistication while being inviting and livable. We chat with Craig, owner of ACT Renovations, to find out more about this luxe bathroom reno and of course get all the supplier details because we know you'll ask!
"The brief was to create a light feeling space which we achieved with a soft materials palette including square handmade tiles from Tile Republic, Easy Craft wall paneling and that custom made vanity by Ingrain Designs," explains Craig.
Related article: Top interior designers share their tips on building a Hamptons style home
Related article: Indoor outdoor living with a peek inside the Kedron Street home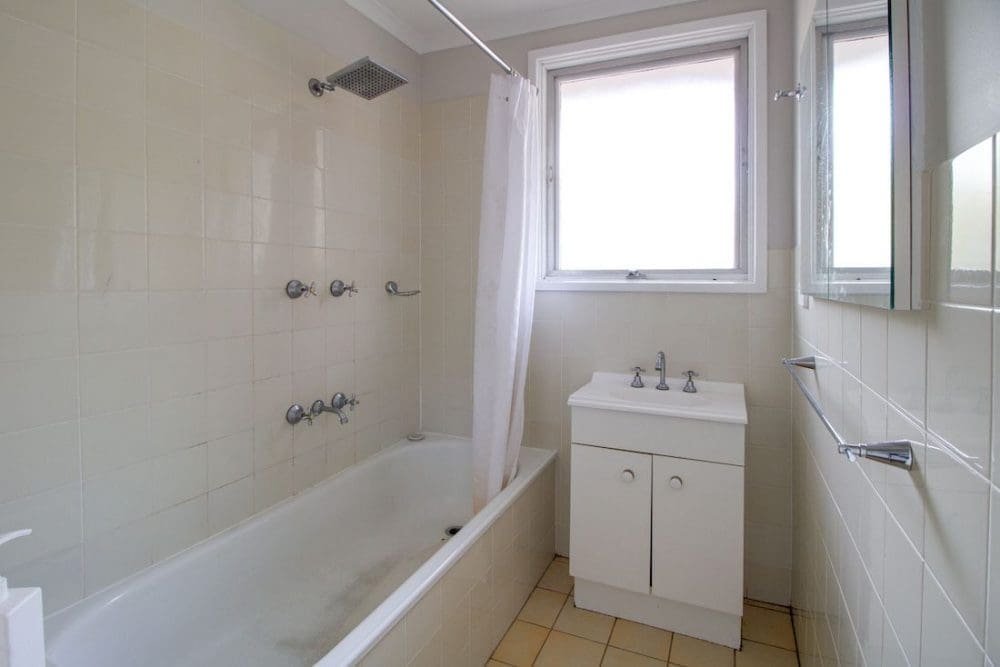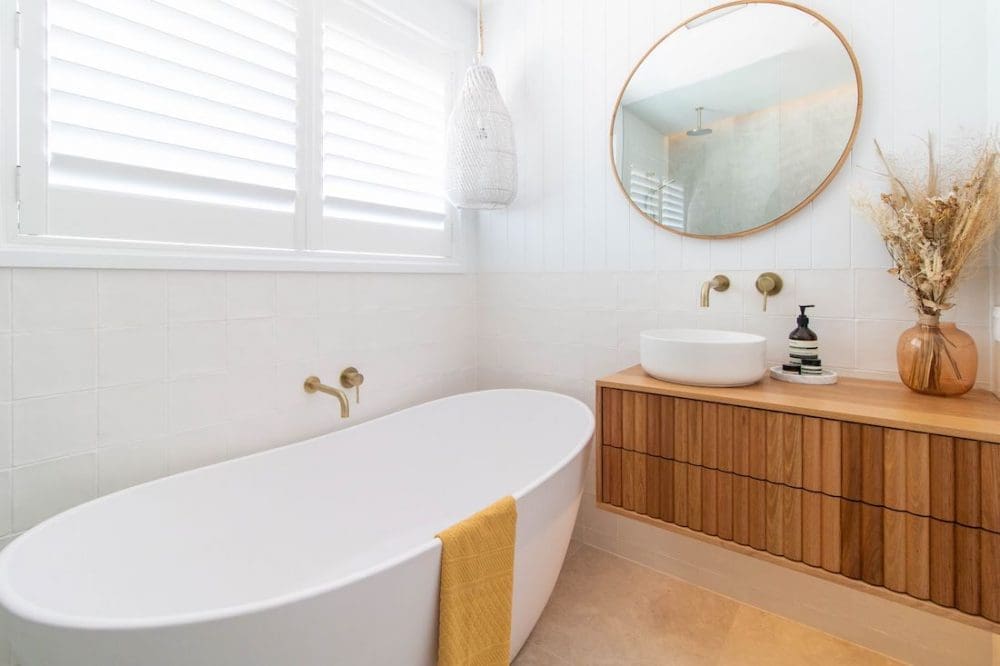 As you can see from those before and after photos, they transformed a poky bathroom into a spacious, light-filled space.
"The original bathroom had a shower over the bath and a goal for the client was to have a separate shower. We knocked out the wall to the laundry to tap into more floor space and created a European style laundry that can be accessed from the living room. This gave us much-needed space to create a generous walk-in shower and free-standing bath while still feeling spacious."
The team also used a few tricks to create the illusion of space.
"My favourite feature are those large 1200×600 floor tiles from Tile Republic that we ran vertically up the shower wall. It creates such a high-end look and adds to the spacious feel.
"Using blank space is another trick we used – the wall-hung vanity with LED lighting below, free standing bath tub rather than hob style that was there previously, and frameless walk-in shower."
Boy did they nail the Hamptons luxe look, which is a more polished and high-end take on the coastal style.
"We kept to mainly an all-white base but used texture to create interest. The metallic accents with the tapware (Tiger Bronze tapware by Meir from Tile Republic) and mirror create a higher-end feel while the timber vanity and bamboo details around the Clipsal switches ground the space."
Lighting plays a big part in elevating this bathroom and Craig explains how they did it.
"The pendant light over the bath from Lighting Collective is a hero element of the space and the client, who is also an electrician and owner of On Point Electrical, had it converted to 12V so it could be used above the bath.
"The more dramatic lighting trick we used was to create a bulkhead over the shower and leave a 100mm gap from the wall where we could recess LED strip lighting. This creates the illusion of the wall tile carrying up into the ceiling while also providing ambient lighting."
What makes this space feel so luxe to us though is the attention to detail and execution – we've seen incredibly expensive bathrooms look meh because of poor trades and vice versa.
"We took our time to get every detail right," explains Craig.
"One of the biggest challenges was lowering the subfloor so there was no step into the bathroom. We also had quite a job to achieve the shower screen running into the ceiling, which we did by installing the ceiling after the glass was in position. Using tricks of L-beads and movement joints, we were able to keep the glass perfectly in place and achieve a seamless look.
"Lots of details aren't visible, such as the vents we ran along the side walls to keep them out of sight, and that's helped us to create a polished, clean look in here."
Thanks to the team at ACT Renovations for letting us share this luxe bathroom reno. If you've got any questions about the project, post them in the comments below. You can also follow ACT Renovations on Instagram for loads more of their reno projects.