A change in season is the perfect excuse to update your interiors, and as we start seeing more chilly mornings, it's definitely time to find the covers you want to snuggle down in.
We've rounded up our favourite autumn bedding, starting from budget-friendly, right through to splurge-worthy luxury.
All prices are for queen size and are accurate at time of publishing. Happy shopping!
Related article: One bedroom styled two ways: Coastal and romantic autumn bedroom styling
Related article: Top 10 products for minimalist interior styling
Being on a budget doesn't mean you have to sacrifice a beautiful bedroom, and we think this gorgeous quilt cover looks like a million bucks! Featuring a tufted design in that trending rusty tobacco colour, this set will make your bed the focal point of the room.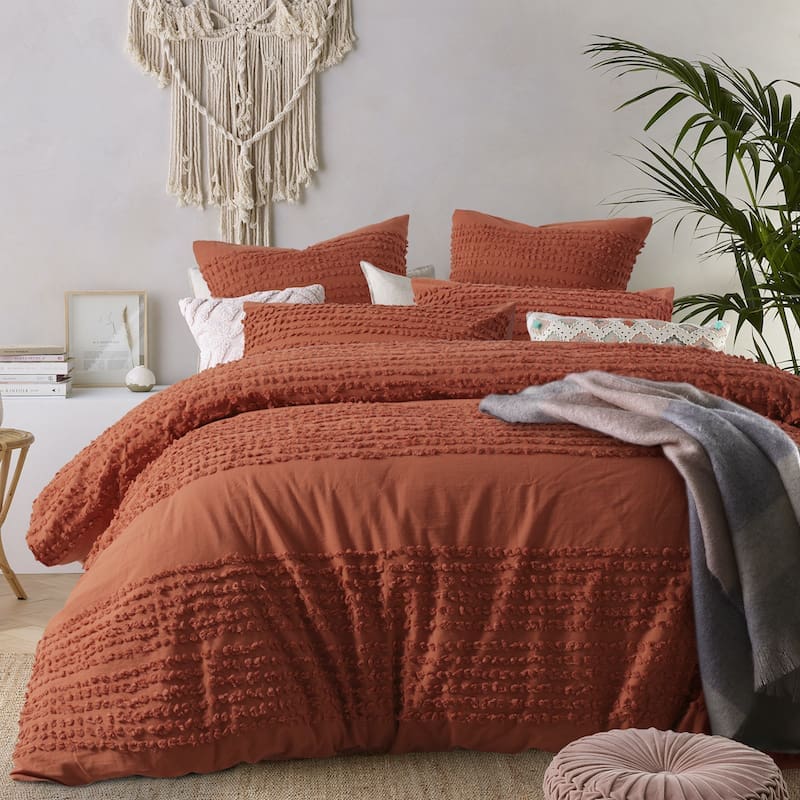 Target has been upping its homewares offering the past couple of years and this season they have really delivered with a wide range of stunning AND affordable bedding! This amber coloured number is one of our top picks and unlike other affordable bedding that compromises on quality, this one is made from jacquard cotton not a cheap polyester blend. Don't take our word for it, check out all the 5/5 star reviews!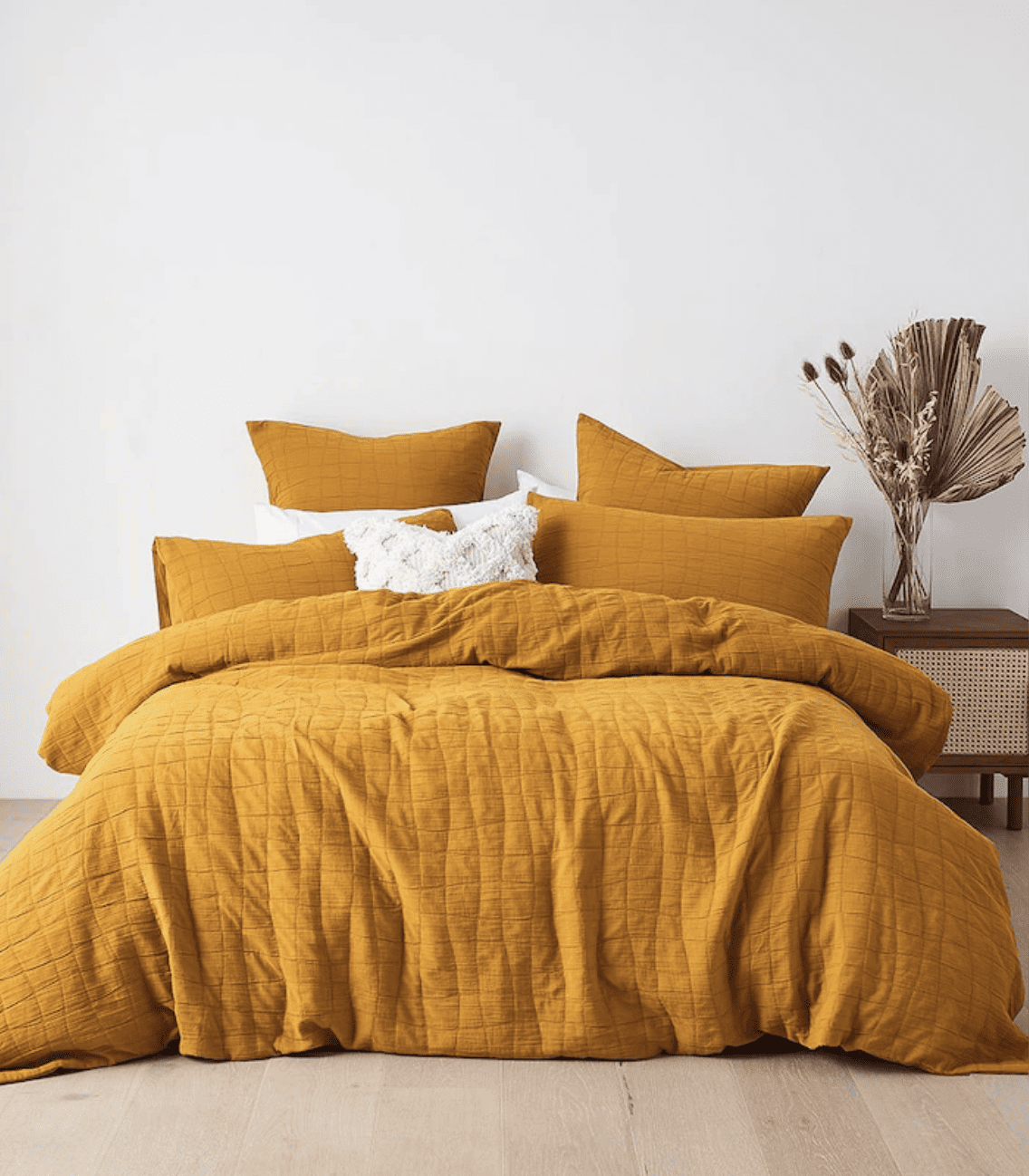 You'll notice a theme in this autumn bedding round up — lots of yellow, orange and red tones. They are after all the traditional autumn colours and when it starts to look gloomy outside, why not embrace a sunny uplifting colour like this yellow quilt cover set?!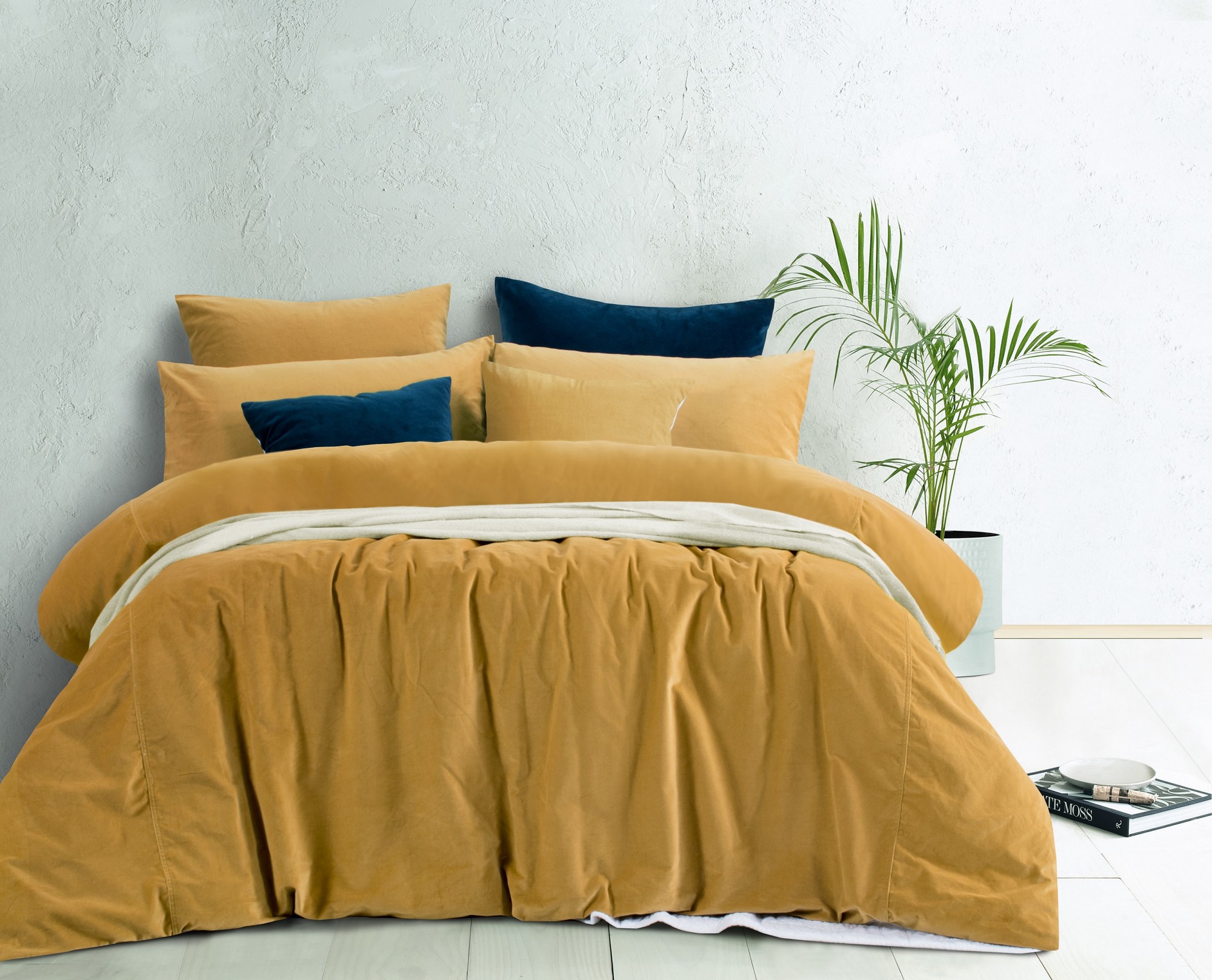 If you're looking for bedding that will last the distance, it's hard to beat the stonewash collection from Adairs. This bedding only gets better with each wash and you can find a wide range of colours to suit your interior style.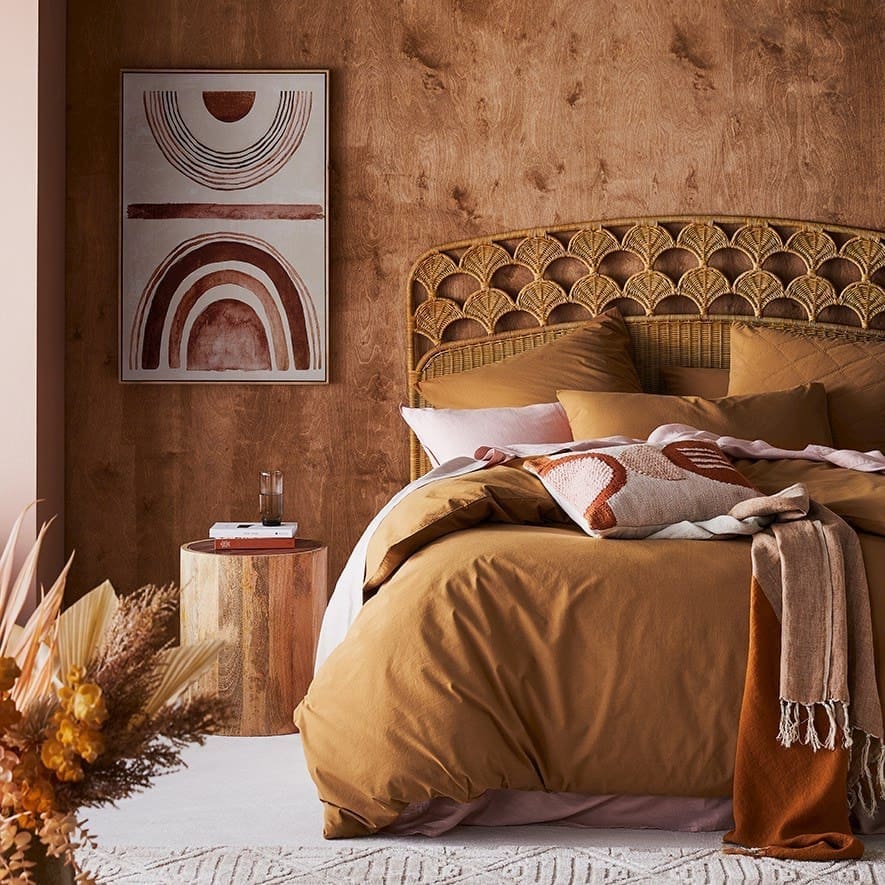 All of the quilt cover sets up to this point have been a block colour but we know some of you love a bold print — it's like artwork for your bed — and this native-inspired floral print is oh-so-perfect!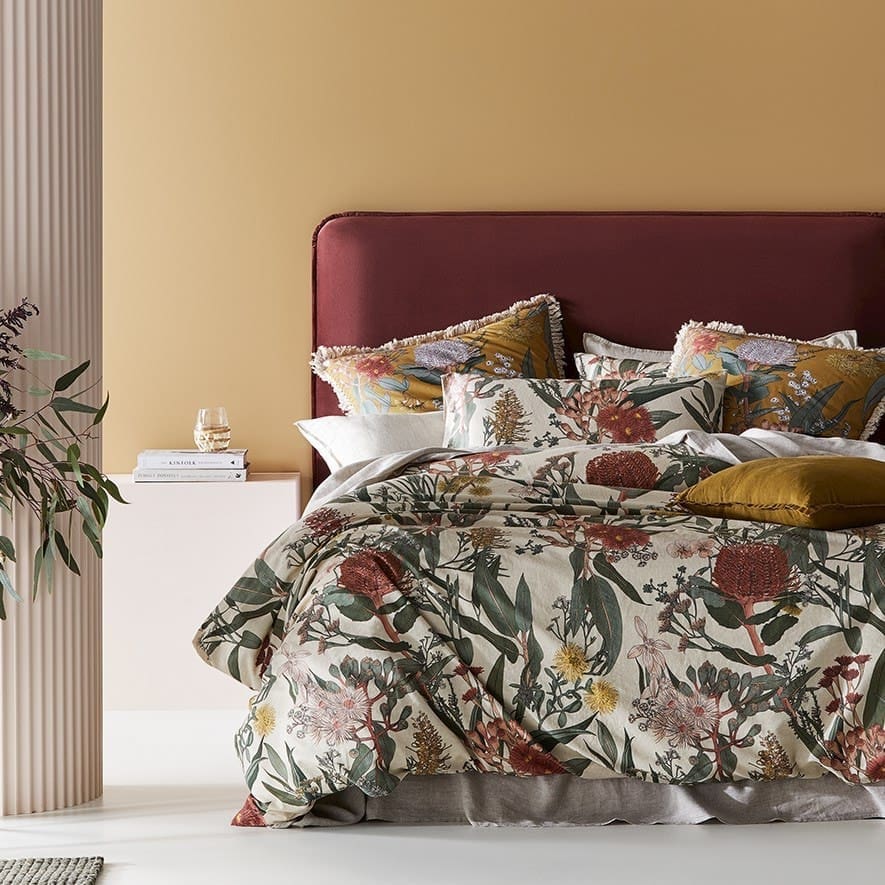 Want to embrace a pop of colour without going all in? This quilt cover from Bed Bath N' Table will add a hint of rust tones to your bedroom that you can dial up or tone down to suit your style. If you want to add more colour, pick up some bold feature cushions and a throw, and repeat the colour across your room through your decor. If you want to play down the autumn vibes, mix in more neutrals such as oatmeal tones.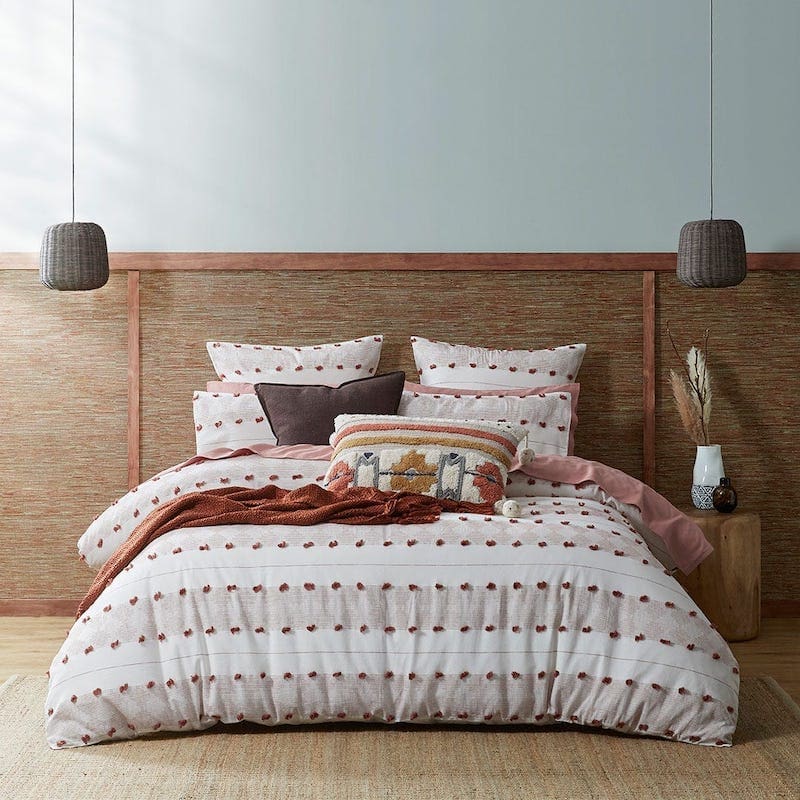 Here's a colour we don't see enough of! How dreamy is this chocolaty linen quilt cover?! Brown is a grounding colour that represents reliability, security and creates the feeling of warmth and comfort — exactly the kind of vibes we like to channel in a bedroom!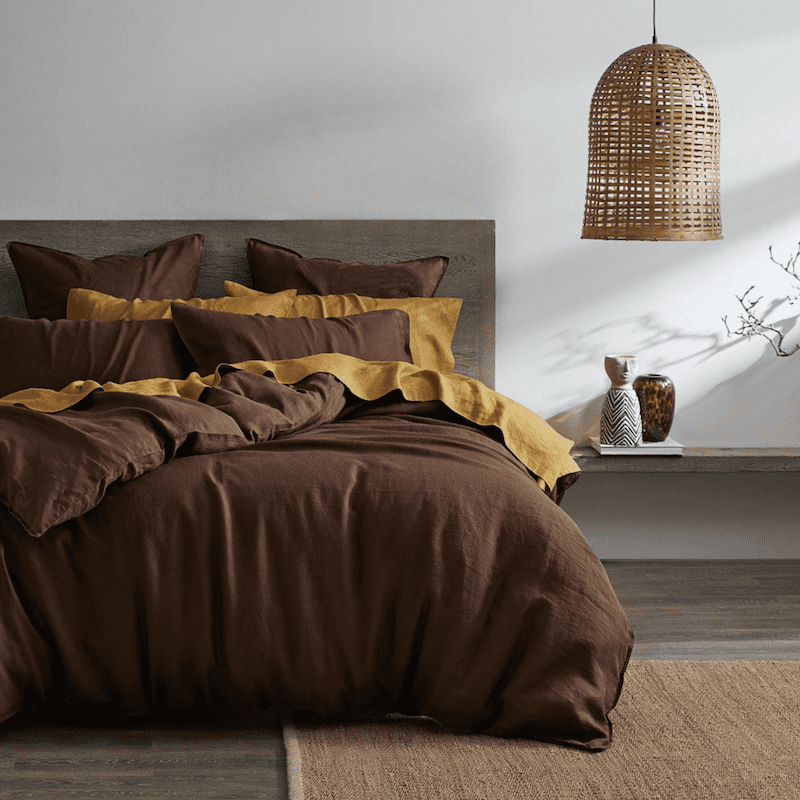 Inspired by the rusty warm hue of autumn leaves, it's hard not to get heart eyes for this amber bedding. Made from Oeko-Tex certified premium long-staple cotton in Portugal, it offers premium quality and breathability.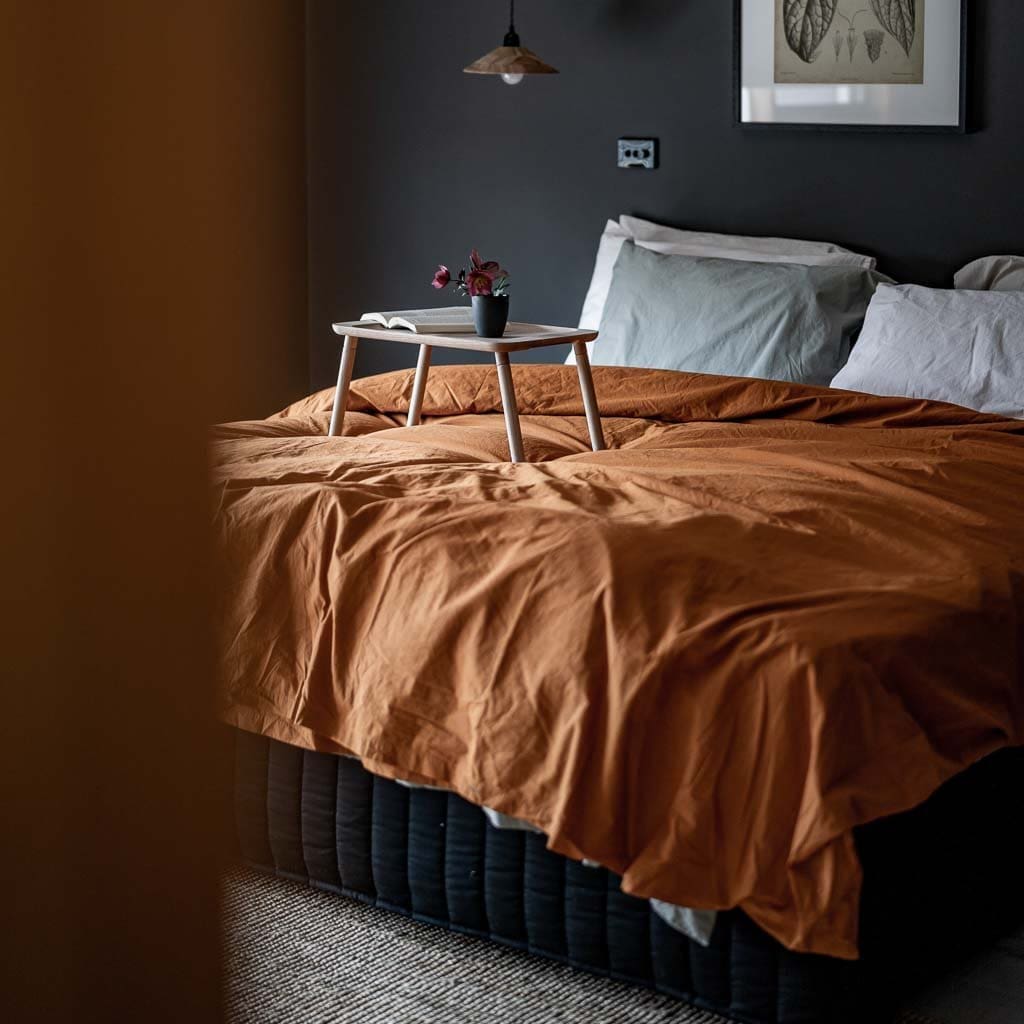 Combining arch shapes and trending blush and caramel tones, this quilt set is another tufted number we adore. Also available in sage green and a more neutral oatmeal colour, we have a feeling this new quilt set will sell out quick!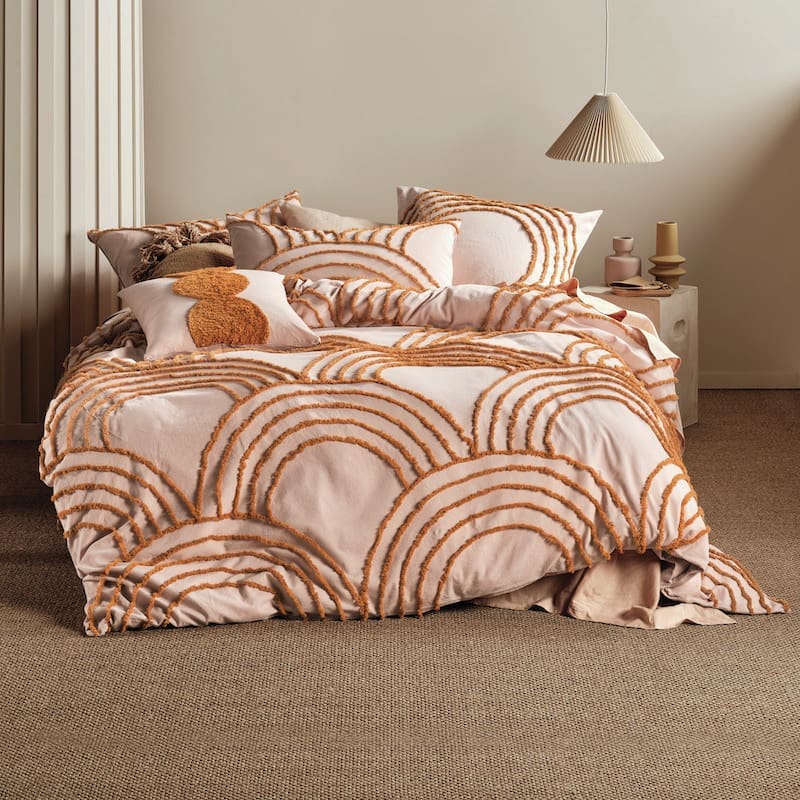 Featuring one of our all-time favourite colours — moss green — this quilt cover is worth the splurge! Green evokes feelings of balance and has a revitalising and refreshing effect, and can look super luxe when done right. Just look at the bedroom below!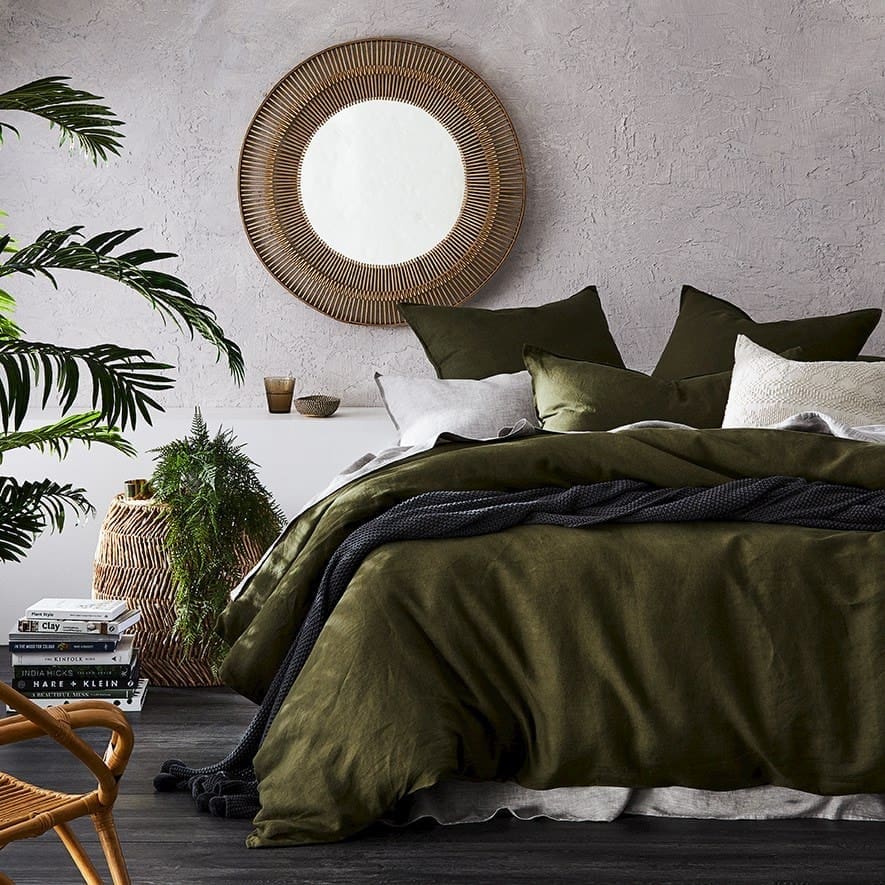 How will you be updating your bedroom styling this season? Did you find some fresh autumn bedding to snap up from this list? Let us know in the comments below.
Disclaimer: these prices are current at time of publishing and are subject to change. This post was originally published in April 2018 but updated with new, current season bedding. This post contains some affiliate links. This means, if you purchase an item we may receive a commission on that sale of the products at no extra cost to you.