A change in season is the perfect excuse to update your interiors, and as we start seeing more chilly mornings, it's definitely time to find the covers you want to snuggle down in.
We've rounded up our favourite autumn bedding, starting from budget-friendly, right through to splurge-worthy luxury.
Related article: One bedroom styled two ways: Coastal and romantic autumn bedroom styling
Related article: Top 10 products for minimalist interior styling
1. Pink Velvet Pinsonic quilt cover set from Big W – $49
Being on a budget doesn't mean you have to sacrifice a beautiful bedroom, and we think this gorgeous quilt cover looks like a million bucks! Featuring a textured design and soft velvet finish, this set with make your bed the focal point of the room.
2. Latte quilt cover set from Temple & Webster – $69.95
This gorgeous neutral linen is perfect to help you navigate unpredictable temperatures as we transition into cooler weather. Oh, and did we mention it's got 5/5 star reviews?
3. Gold Harmony cotton velvet quilt cover set – from $79
Just because the weather is looking gloomy outside, doesn't mean your bedroom needs to. This sunny quilt cover is sure to brighten your morning.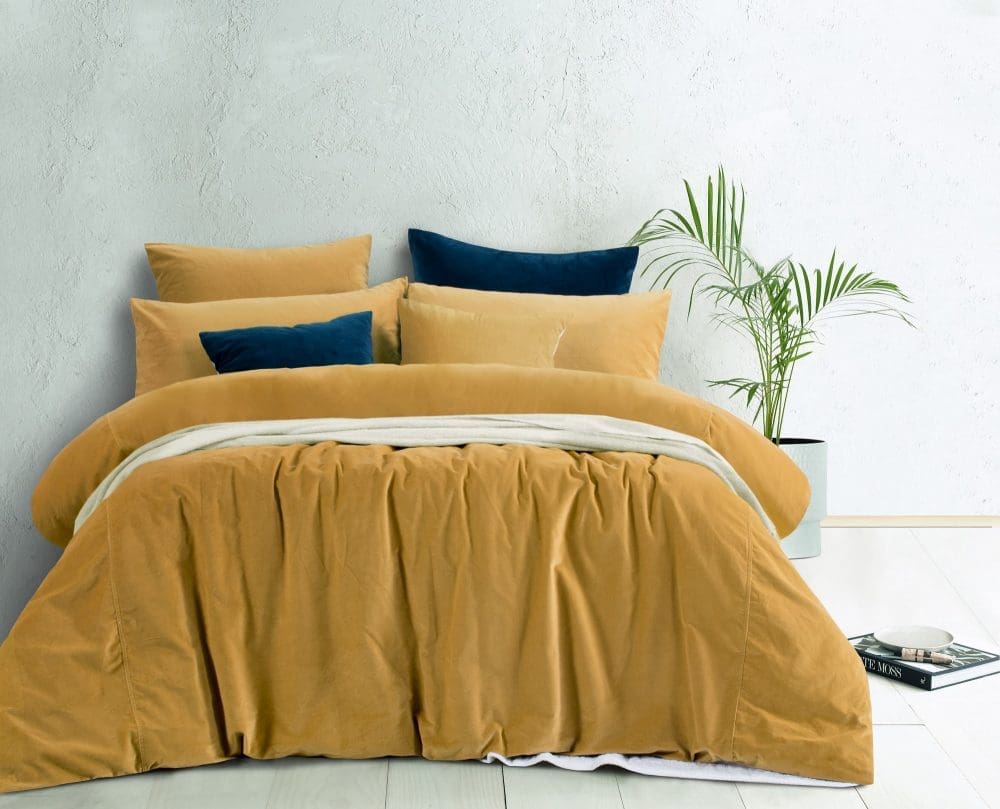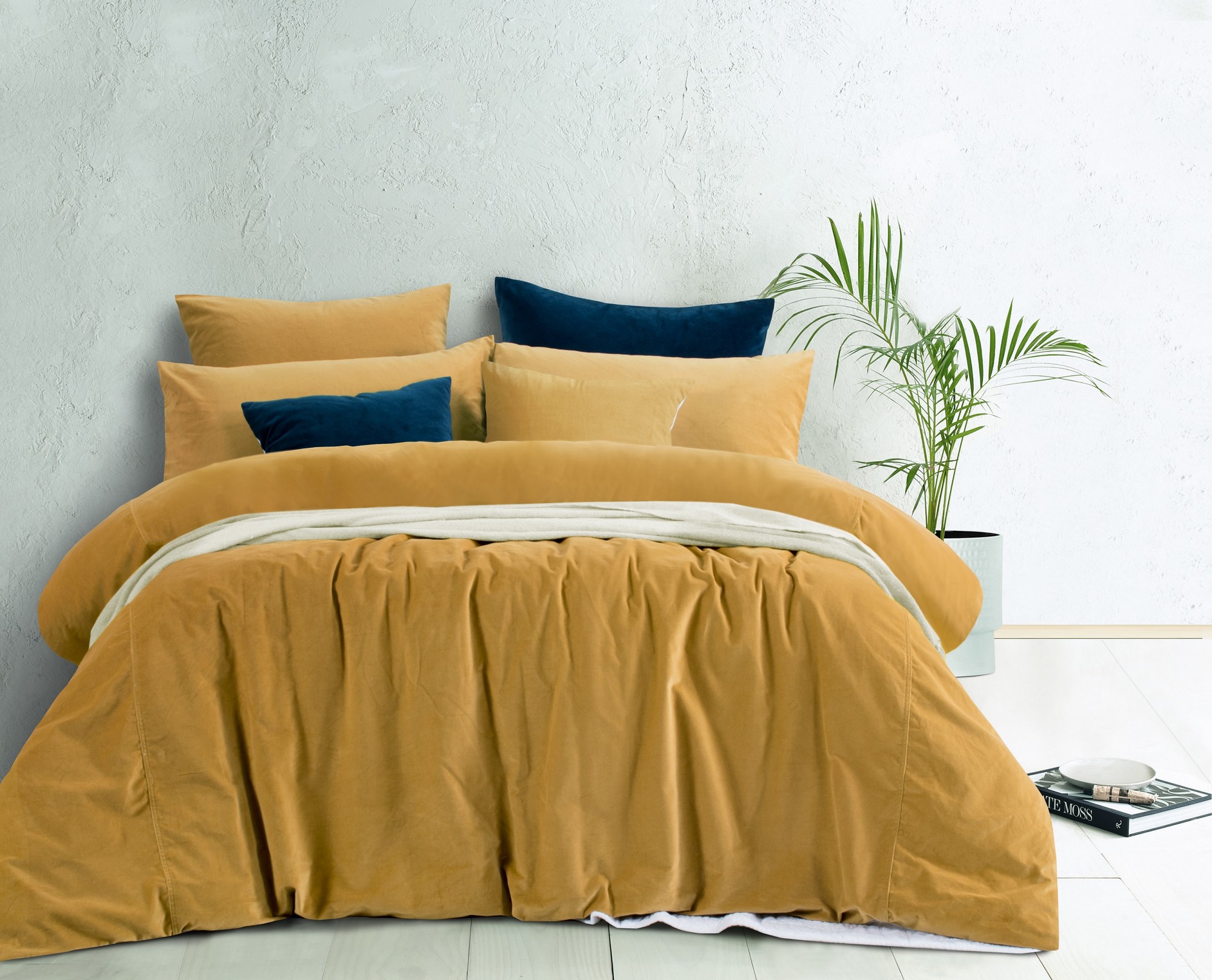 4. Burgundy jersey cotton quilt cover set – $90
The wine tones of this supersoft cover has us dreaming of curling up with a good book and a glass of red wine — perfect for chilly autumn nights.
5. Frankie quilt cover from Bed Bath N' Table – $99.95
This sage quilt is a softer take on the earthy colours that dominate autumn months. Keep it simple with light accents or create a bolder look by adding a few pops of rust tones.
6. Japura quilt cover set from Bed Bath N' Table – $109.95
All of the quilt cover sets up to this point have been a block colour but we know some of you love a bold print — it's like artwork for your bed — and this tropical scene is oh-so-perfect!
7. Orlando Chenille Spice quilt cover from Adairs – $139.99 (usually $199.99)
Here's another sunny bedding number but this time with the addition of that tufting detail in a geo pattern. It's also currently on sale, like we needed another reason to buy!
8. Persephone quilt cover from David Jones – $179 (usually $299.95)
This bold print is inspired by the Arts and Crafts movement and features rich olive, blue and red tones. With the printed design on the front and coordinating plain olive green reverse, you can create multiple looks!
9. Heath quilt cover set from Bambury – $189.95
One of our fave colours for Autumn is olive green — especially when paired with rust and oatmeal tones. The beautiful cotton fabric in this quilt has been woven into an interesting pattern, with panels of waffle texture interspersed with rows of circular elements.
10. Amber quilt cover set from The Good Sheet – $229.95
Inspired by the rusty warm hue of autumn leaves, it's hard not to get heart eyes for this Amber bedding. Made from Oeko-Tex certified premium long-staple cotton in Portugal, it offers premium quality and breathability.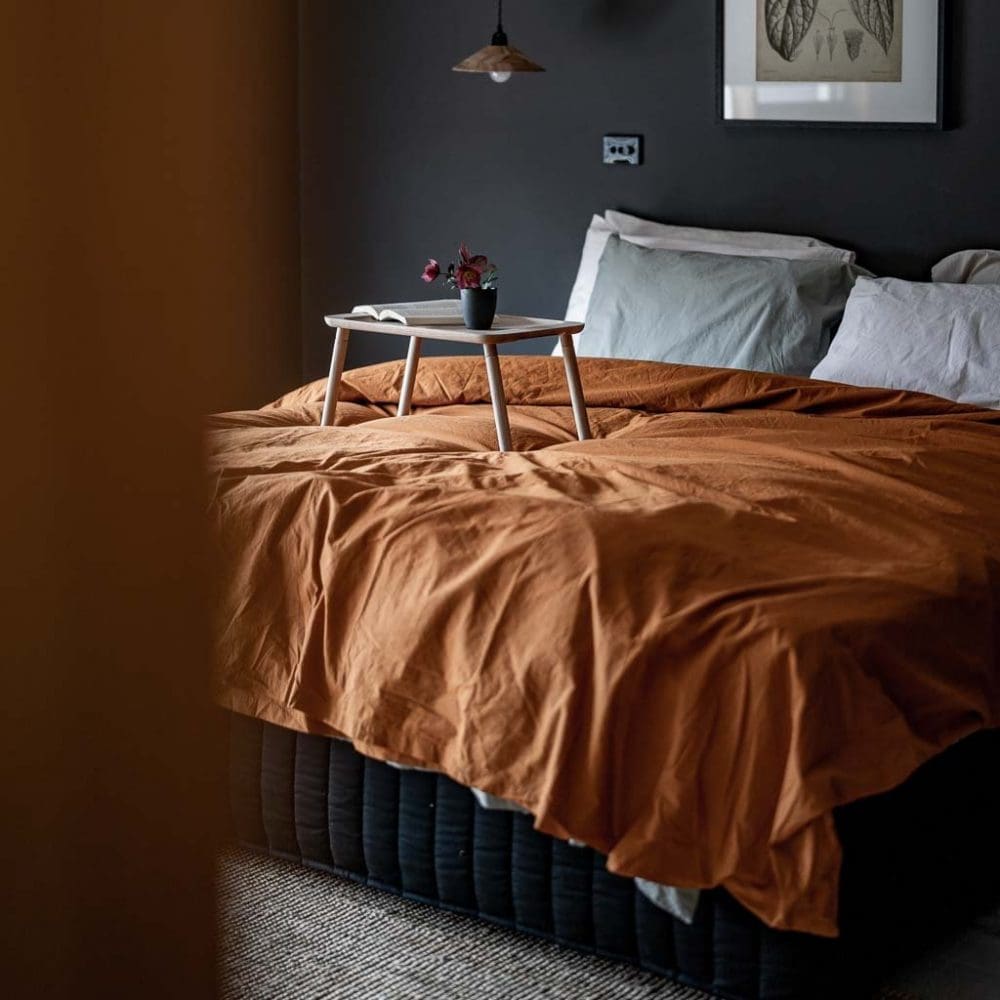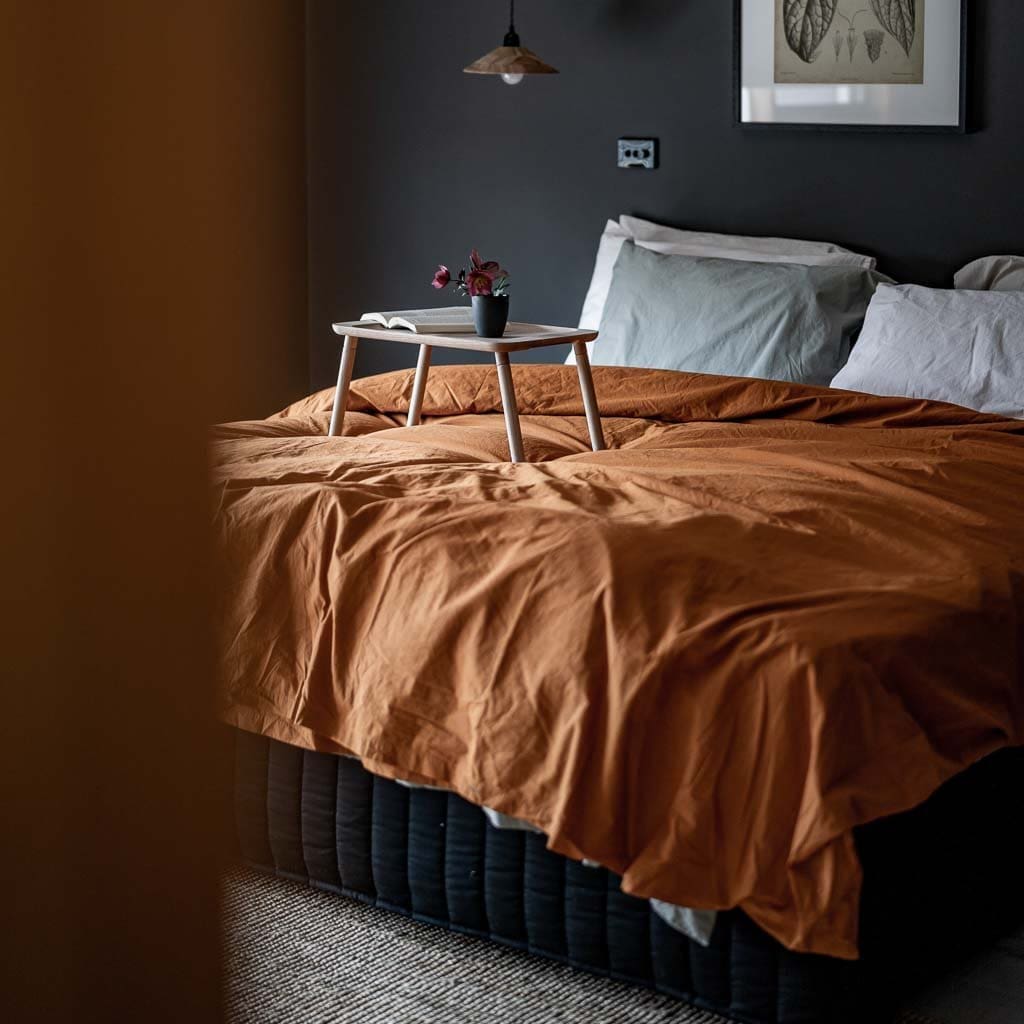 11. Para queen quilt cover from Country Road – $249 (usually $349.00)
You can't go wrong with a classic stripe and this charcoal one with a reversible solid charcoal side gives you the flexibility of multiple looks in one!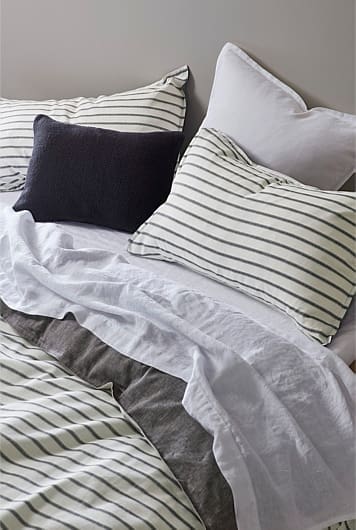 12. Vintage washed cocoa quilt cover from Adairs – $299
Here's a colour we haven't seen in bedding for a long time. Welcome back chocolate tones! Brown evokes feelings of warmth and comfort, and can look super luxe when done right. Just look at the bedroom below!
13. Nimes quilt cover set in Wine from Zanui – $339
This decadent pure Belgian linen looks good enough to eat! Sure it's a splurge, but this naturally soft and resilient textile will only become better with age — just like a great wine!
How will you be updating your bedroom styling this season? Did you find some fresh autumn bedding to snap up from this list? Let us know in the comments below.
Disclaimer: these prices are current at time of publishing and are subject to change. This post was originally published in April 2018 but updated with new, current season bedding. This post contains some affiliate links. This means, if you purchase an item we may receive a commission on that sale of the products at no extra cost to you.