Supported by DIY Blinds
Who would have thought choosing the right window treatment could be so difficult! Roller blinds, curtains, shutters, venetians, roman, panels and drapes… the options just keep going!
I recently had to decide on window treatments for our new house and found the decision completely daunting — it was like the window saga all over again!
Knowing many of you are currently building or renovating and this is a decision you'll need to make soon, I thought it would be helpful to talk about the different options available, things to consider and other helpful tips so you [hopefully] find making the decision easier than I did!
Related article: How to affordably update your window coverings
Related article: Adding a luxe feel to my home with designer sheer curtains from DIY Online Blinds
Window treatment options
Roller blinds — possibly one of the most popular options, roller blinds are a simple and affordable choice. Choose from blockout (ultimate privacy and darkness makes them ideal for bedrooms) to light filtering (softens light and suitable for living areas). Otherwise try a sunscreen (provides daytime privacy and blocks 95% UV rays, great for sunny spots) or face mounted (above the window) or recess fit (within the window).
You can opt for simple flat fabrics or textured or even patterned. Be sure to get a few samples before you make the decision. For example DIY Blinds will priority post samoples to you for free so you can be sure the fabric works with your wall colour and overall colour scheme.
See what a transformation new roller blinds made at Bonnie's house with these before and after photos.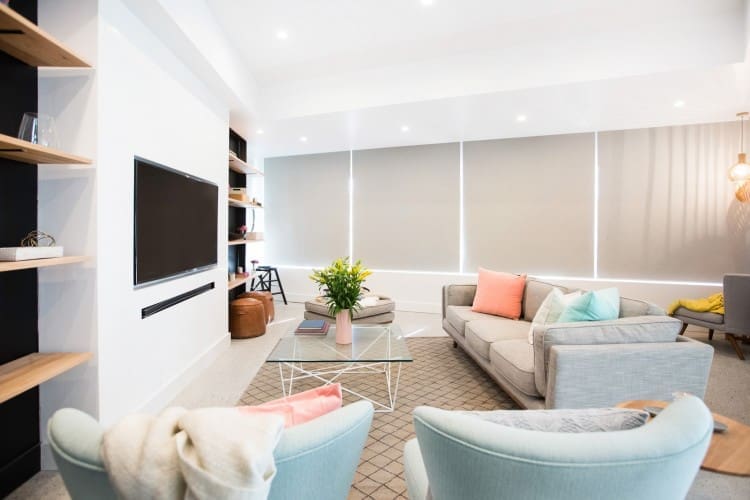 Double roller blinds — just as the name suggests this is two layers of roller blinds on a single bracket. Either a blockout and sunscreen, blockout and light filtering or light filtering and sunscreen. Switch between complete privacy and darkness to light filtering so you can enjoy the view.
This option gives you ultimate flexibility while still having the sleek look of roller blinds. Get more out of your space by changing the level of light and privacy to suit your changing needs.
Roman blinds — fabric blinds that fold as you draw them upwards. These are a soft and elegant option suitable for a range of interior styles. A simple white fabric looks great in a modern home, whereas a textured white is suited to the Hamptons style. The warmer tones look fab in a classic home!
These are more of a feature window treatment than the streamlined roller blinds, however just like roller blinds they are available in blockout, light filtering and sunscreen fabrics. They also require a little more maintenance, needing regular dusting, vacuuming and spot cleaning.
If you go for this option, be sure to look for a provider that can offer a chain drive system rather than cords, such as DIY Blinds, as they are child safe and provide a cleaner look. It will cost you a little more but is a worthwhile upgrade.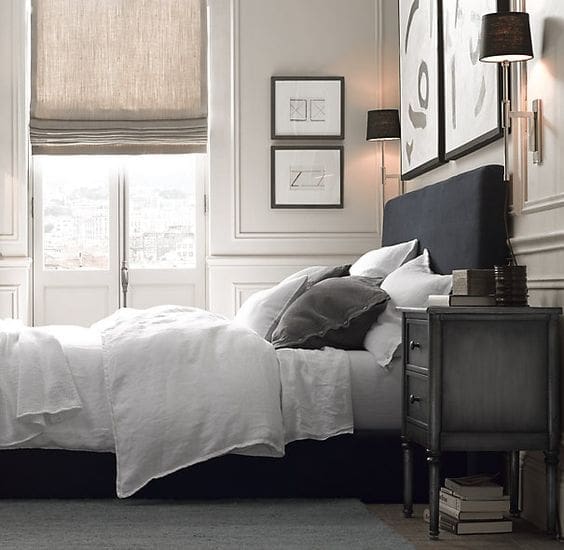 Venetian blinds — available in a variety of materials, they can also suit a range of interior styles. Classic timber blinds fit perfectly in a botanical or tropical interior. Aluminium suits the ultra-modern style. Visionwood venetian blinds are ideal for coastal or modern homes.
If you haven't heard of Visionwood venetian blinds before, they are a popular alternative to timber as they are a fraction of the cost, are made from moisture-resistant materials (making them ideal for wet and humid areas such as the bathroom or laundry), and are anti-fungal and anti-static (making them a great choice for people with asthma).
Venetian blinds require regular dusting (without exerting too much pressure) to keep them in top condition.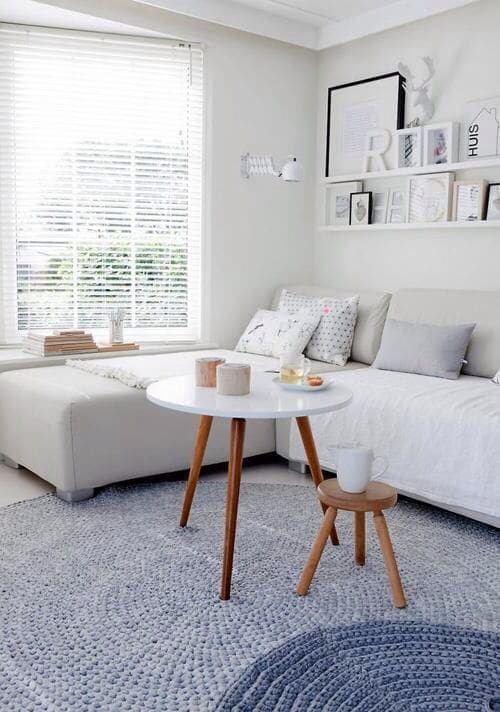 Vertical blinds — slat-like blinds that stack behind each other as the blinds are opened. Affordably priced and easy functionality and maintenance also makes these a popular choice. Decide on a child-safe wand or traditional chain control, and left, right or centre opening.
Honeycomb blinds — the option I selected for our house. I opted for blockout in the bedroom and light filtering in the kitchen/dining area. These can either be recess fit (within the window frame) or face fit (above the window frame) and are generally made from a material that is water and fade resistant, giving them a long lifespan. The pleated honeycomb design also provides exceptional insulation, helping to keep rooms cool in summer and warm in winter.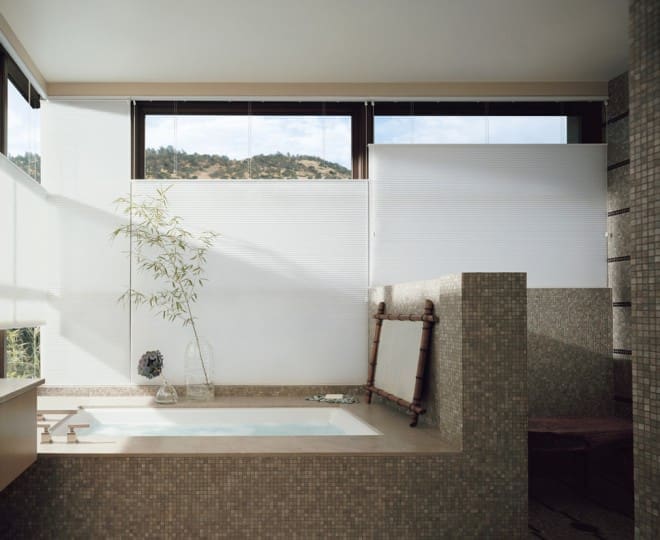 Panel blinds — suitable for large doors, windows or bi-fold doors. These fabric panels attach to an aluminium track and slide behind each other when opened. These also come in blockout, light filtering and sunscreen options. Whatever your style, you can choose between ultimate privacy to simply reducing glare and heat while maintaining the view.
Curtains — available in sheer fabrics for that floaty, romantic feel, to lined drape fabric for blockout. Curtains in drape fabric are also great insulators. Further, gently diffuse light with sheer curtains. You can hang them as block out rollers or plantation shutters.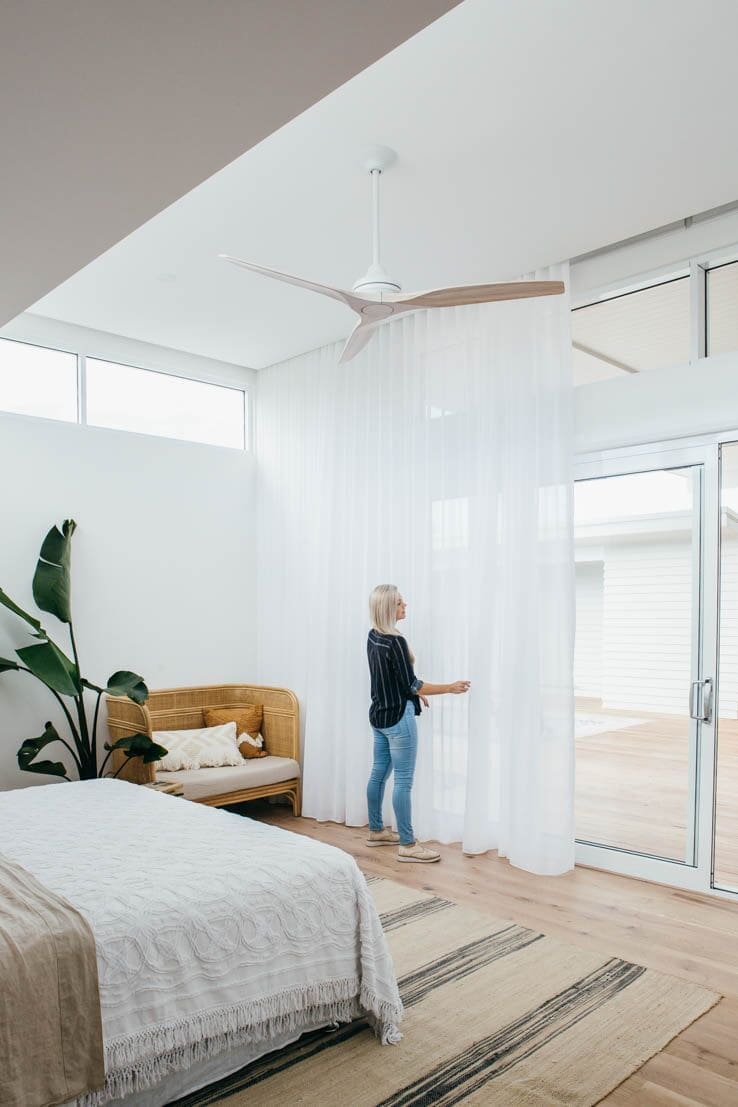 Plantation shutters — traditionally a super pricey option that required professionals to install, plantation shutters are completely cordless timber, timber-look or aluminum shutters. Shutters fit as a part of the window. They can be made to suit any shape window such as arch or round windows.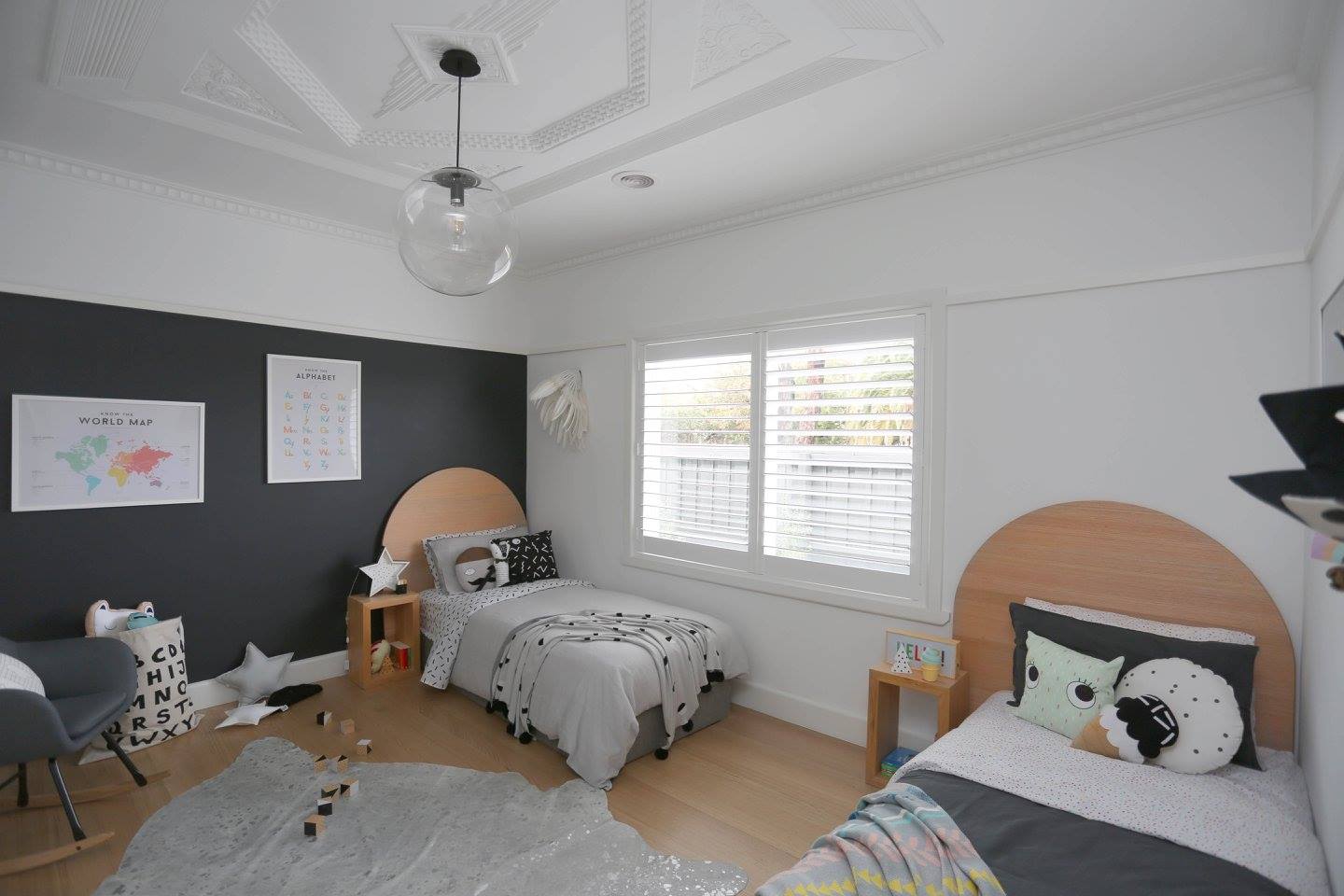 DIY Blinds have made this option far more affordable in recent times though. They offer the choice of you installing them yourself (to save on installer costs) or can provide a professional installer to do the complete job for you. Find out more about their plantation shutters here.
And just to make things more confusing, many of these window treatments have additional options such as cordless, semi-cordless, wand, chain or automated.
So how to decide on the right window treatment?
Our top tips for choosing the right window treatment
1. Decide on your budget
You might be surprised to learn just how expensive some window treatment options can be! I got a quote for honeycomb blinds throughout my house and choked when I heard the price!
Your budget may immediately rule out some window covering options. It may also make you decide to order and install the blinds yourself rather than having them installed by the provider. This is definitely not a bad thing! I saved over 50% by measuring and installing our blinds which I bought online. The only downside I found buying online was that I had to wait quite a few weeks for my blinds to arrive. Good retailers such as DIY Blinds have faster turnaround times so there are speedier options available.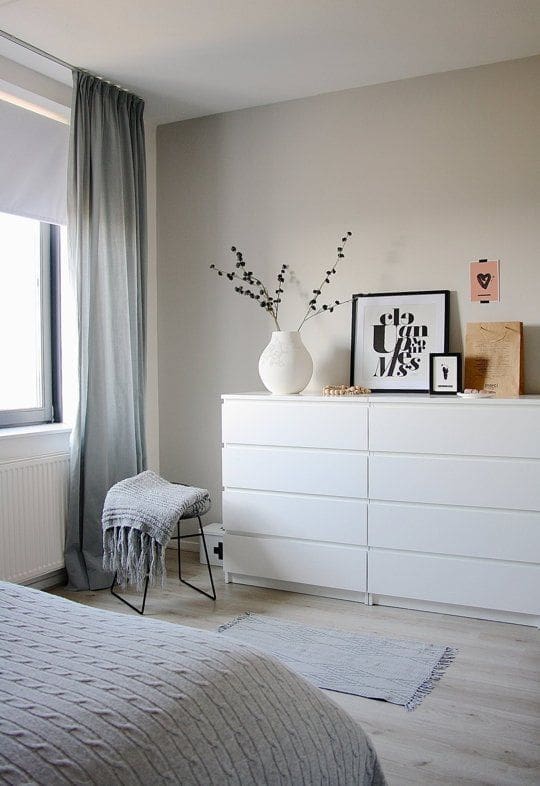 2. Decide on your style
Some window treatments are better suited to certain interior styles than others. Consider what look you are going for and research what window treatment best suits the style. You can look at sites such as Houzz and Pinterest. The style may also determine if you go with face mounted or recess fit options.
3. Get the colour scheme right
Take the time to request samples or swatches so you can see how they look in your home. If you have cool white walls, a warm white window treatment may look yellowish and vice versa. If you have warm white walls and use a cool white fabric on your windows, you may find they look bluish.
Textures and patterns can add interest. Why not request a few samples outside your comfort zone to see how they look in your home too?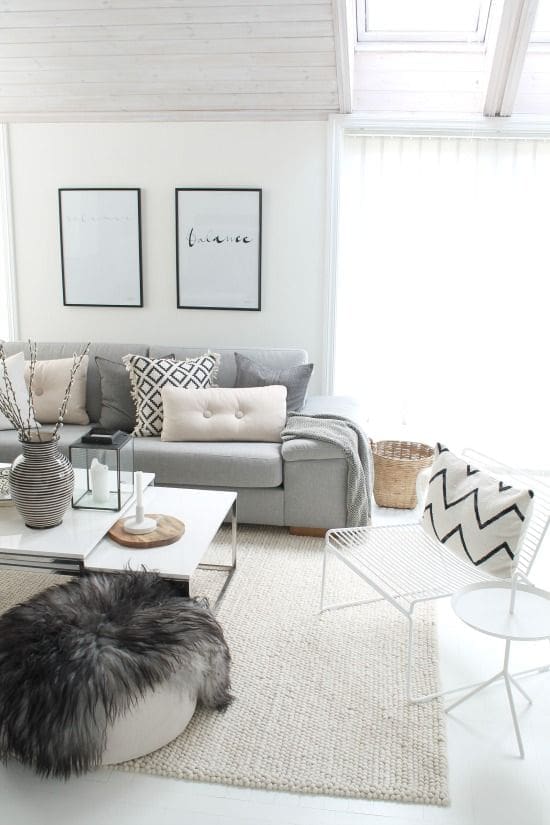 4. Decide on the finer details
Once you know the option you're going with and the colour or finish, it's time to make all the small decisions that can have a big impact. These can include face mounted or recessed; left or right control; chain, cord, cordless or wand control; track colour; base rail colour… Again, the research you did into your interior style will help you make these decisions.
5. Find a supplier
As I mentioned, I saved over 50% on the price I was quoted by buying my blinds online. Don't just consider the physical stores in your area when looking for blinds when there are excellent online stores that can save you big bucks. For example, DIY Blinds guarantee to beat any price, have a huge choice of window treatments, are 100% Australian and come with a 5 year warranty.
Has this guide helped you decide on what window treatment to use? Do you have other useful tips you can share? Let us know in the the comments below.
This article was originally published in May 2016 but updated with new information and images