Lisa moved to Australia from The Netherlands after meeting her hubby while on a working holiday visa. Fast forward several years and they've just completed the build of their new home in Sydney.
"When starting the building process, we visited many display homes to find the perfect home, but we couldn't find one.
"We wanted to implement both our roots in the house — my hubby is from Korea and I am from the Netherlands.
"He taught me the importance of good Feng Sui, I taught him about quality craftsmanship.
Our interests and cultural background led to this custom designed, light and airy home with a good energy flow.
"We designed our own home with the help of an architect and ended up with a house exactly how we wanted it.
"To get to this stage we spent hundreds of hours on Houzz, Instagram, Pinterest and interior design blogs. We read magazines and created a moodboard with our vision."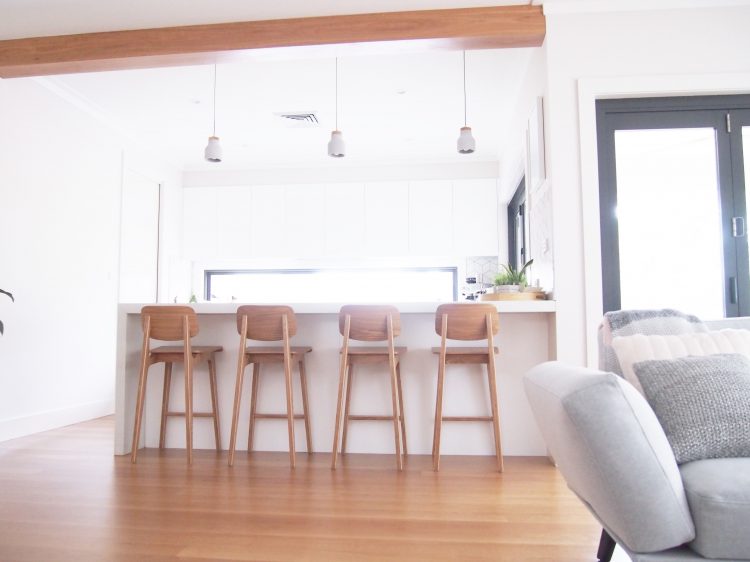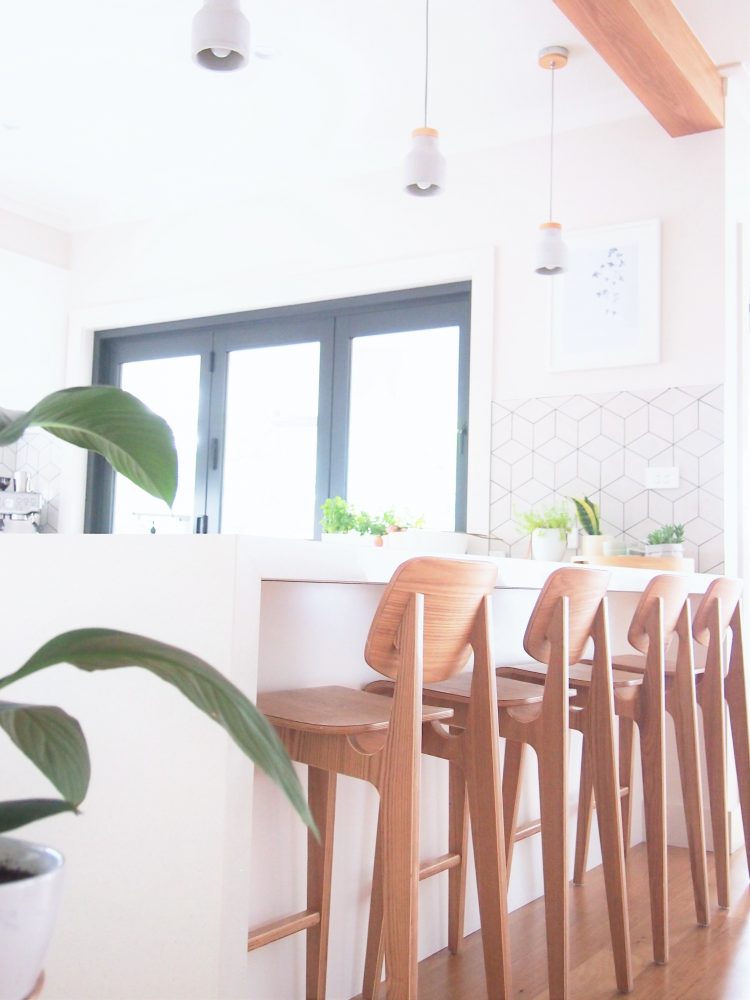 Lisa says her love for interiors started from a very young age.
"My parents bought an old farmers house when I was 6 years old. It needed a complete renovation which my parents did by themselves, while working full-time jobs," she explains.
"After we came home from school we would hammer down walls and rip out carpet. I loved it!
"In the years to come I saw the house come together, my parents both love good quality craftsmanship and always included us when designing and styling the next room. Both my sister and I have an eye for details, so I think I have my parents to thank."
Her appreciation of craftsmanship saw them use local tradesman and locally made goods whenever possible throughout the build and to style their home.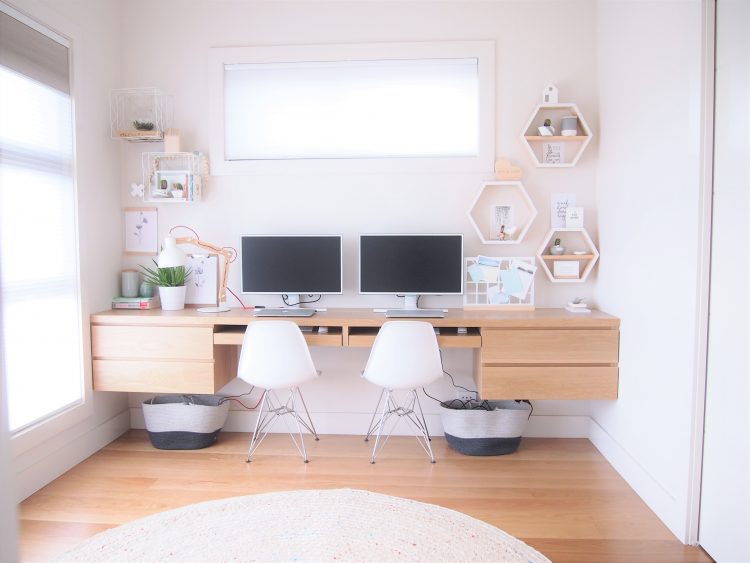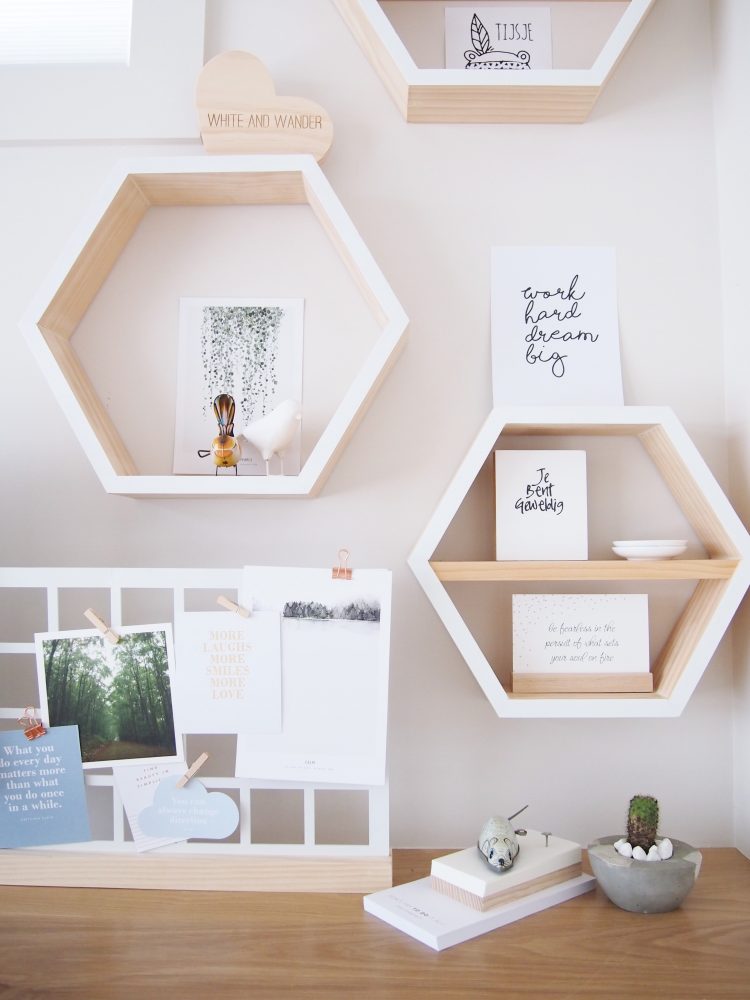 When we asked her favourite room in the home?
"It's hard to choose a favourite room!" she says, "I most love the 'feel' of our house — it's light, warm, inviting and feels like home. It really is a great reflection of us."
Lisa is a special needs teacher, currently working with a non-government organisation that supports children in Out of Home Care (Fostercare) and says her study is the perfect space to work from home.
"We had the desk custom built to perfectly fit within the space. I love all the timber and big built-in wardrobe to hide the paperwork."
Other favourite spaces include her bedroom with beautiful wallpaper and cushions she sewed herself. "As I didn't have much sewing skills this was quite an achievement!" she jokes.
The soft colour palette creates the light and airy feeling Lisa loves most about her home. We asked her how she selected the palette.
"When I bought my first house and moved into it with my friend we wanted it to look like a MTV set. We had a green with orange and blue living room, purple hall wall and aqua bathroom. After a year we were sick of it painted the whole place grey and white, and I felt so calm," she laughs.
"Since that moment I feel good in light spaces without much colour. In our home, we've kept the colour to the artworks and I think this really suits us. The house is a blank canvas that displays the beautiful pieces in it."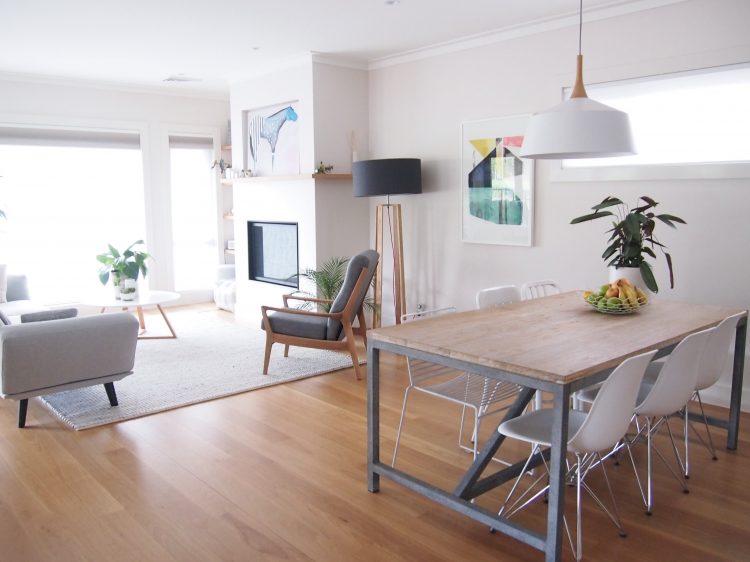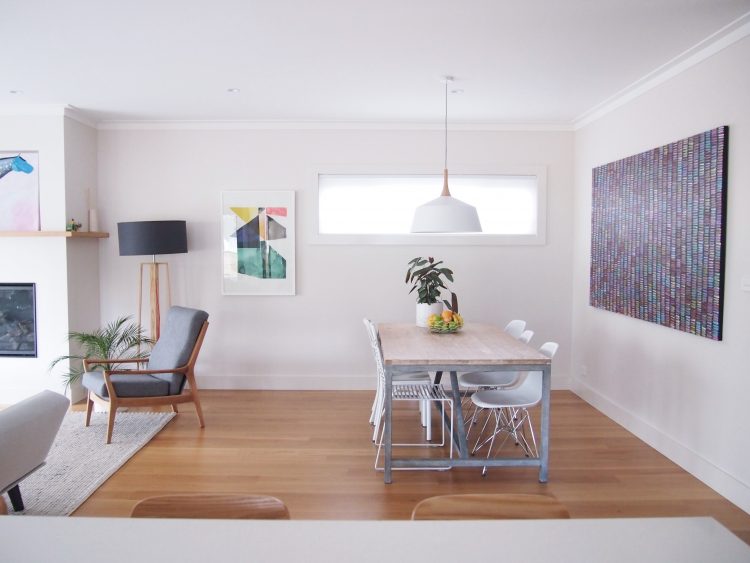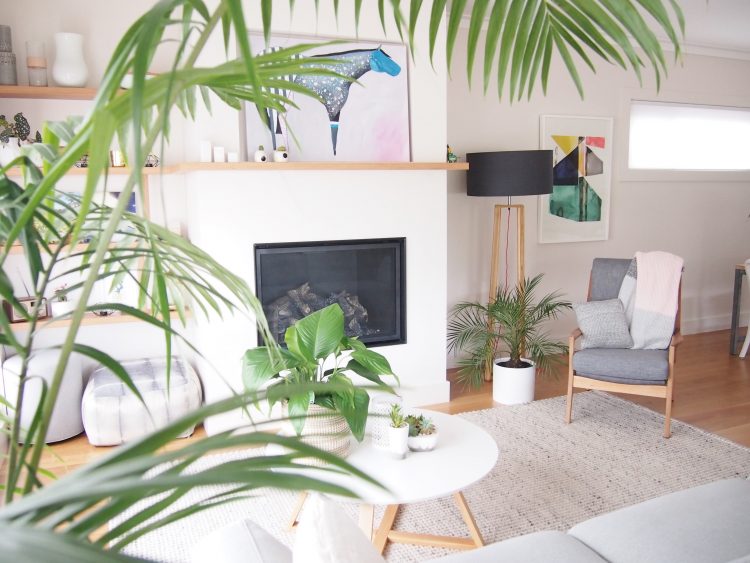 We love how Lisa has injected her own personal style.
"Our furniture is a mix of new and old. We have expensive designer pieces and op-shop finds that we refurbished.
"There are also lots of trinkets and art works from our travels. We both love exploring and have seen many countries in the word. We always bring a piece of art from a local artist back with us."
She's also a clever DIYer with many projects featuring around the home.
"The little stools, bedroom cushions, mood board, bath caddy, and some of the artwork are all projects I did myself.
"I am super happy and proud how the Parker chair turned out. I bought 2 old Parker chairs in terrible state from Gumtree. My husband thought it was the biggest waste of money, but I convinced him to trust me. I sanded one back, had it re-upholstered and now it fits perfectly into our interior. I'll be starting the second one soon and will upholster it in 2 different colours fabric."
Having just moved in 5 months ago, there are quite a few other projects also on her list to complete.
"I'll be wallpapering the media room with a charcoal wallpaper from Quercus and Co to make a room darker as I feel that you need to watch a movie in darkness.
"The biggest project at the moment is our landscaping. I don't know much about plants, and landscaping at all, so it's a difficult process that is taking much longer than expected. Our plan is to have it all done by Christmas so we can have a barbeque at our place."
Of all the gorgeous features and pieces in her home, Lisa says her most treasured piece is a toy mouse.
"Unfortunately, my dad passed away a few years ago. He was such an amazing, inspirational and loving man. We all miss him very much.
"He collected old toys, and my sister and I were never allowed to play with them, which we obviously found very annoying. My mum recently sent me some of his pieces and I love them. The little mouse was my favourite when I was a child and it still is. It really is a part of my dad — it reminds me of him and it makes me smile. In my experience it's these personal items that make a house a home.
"To everyone's disappointment, the story is repeating itself, and I also don't allow anyone to play with it!" she laughs.