Supported by Australian Gas Networks
As the temperature continues to drop, many of us may be dreaming of putting in that cosy fireplace we've always wanted! Many suburbs have restrictions on installing wood fireplaces which can limit your options to natural gas or electric fireplaces. However, only a gas fireplace can transform your space into a warm and inviting retreat. Designing a gas fireplace requires careful consideration to ensure it makes a design statement while working seamlessly with the other features of your home.
Keep on reading for our guide to gas fireplace design where we cover everything from choosing a design style to suit your interior down to the installation process.
Related article: Building a new home with gas, your checklist on where and what to include
Related article: Australia's best stylists agree, styling on a fireplace mantel should be restrained
Step 1: Assess your space
Before diving into fireplace models and features, it's essential to assess your space and determine the ideal location for your fireplace. This may sound obvious but the best location for your fireplace isn't always the obvious one…
While it's most common to install a fireplace on the main living room wall, perhaps your space would benefit from a 2-faced or double-sided fireplace that can be installed in a dividing wall? This means 2 spaces in your home could benefit from the warmth and comfort of a gas fireplace.
Similarly, we've seen some people build out walls to install the fireplace to create more intimate zones in large open plan homes.
It pays to think outside the box and consider all your options before settling on the best location for your gas fireplace. Grab out a pen and paper and sketch out a few design options.
Run your ideas past an expert to ensure there aren't any concerns with venting or safety. There are two main options with venting gas fireplaces — direct vent and ventless. There are also safety standards and regulations that you'll need to adhere to and these vary from state to state.
Step 2: Select the best gas fireplace
Ok, with your location locked in, it's time to choose a gas fireplace that fits the aesthetic of your home and scale of the space. Whether you prefer a traditional, contemporary or transitional design, there are many gas fireplace options on the market. Consider the materials, finishes and design details before making your selection.
Gas fireplaces are also extremely effective and efficient at heating homes, especially in large open spaces. So if you want your fireplace to be more than a design feature, consider your heating requirements when researching fireplaces. For example, some can be ducted to heat multiple rooms in the home. Talk with the experts at a fireplace showroom to understand technical specs and find a model that meets your requirements.
It's also a good idea to visit gas fireplace showrooms to see options in real life. Seeing a fireplace installed in a wall can give you ideas on how you may arrange your furniture around the fireplace and consider the space as a whole.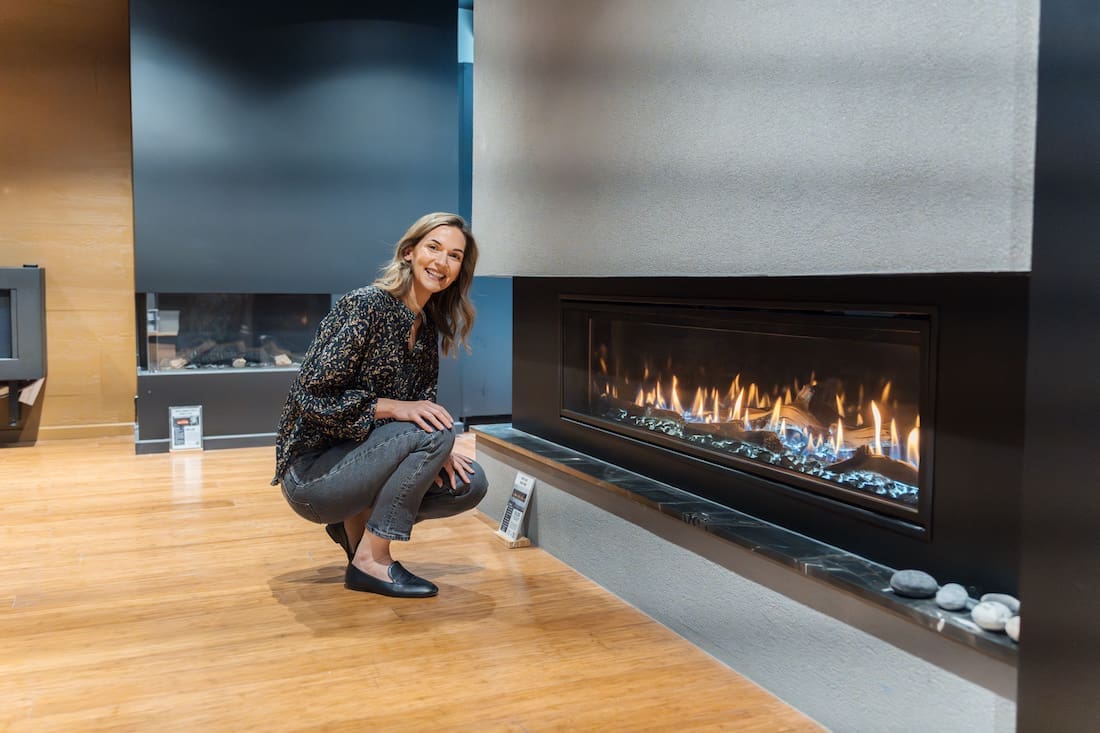 Step 3: Embrace other design elements
Gas fireplace design is about integrating the fireplace into your home's broader aesthetic. And the best way to incorporate a gas fireplace is by using various design elements.
Gas fireplace design elements can include:
a mantel, such as a traditional marble or contemporary concrete, tile or rustic reclaimed timber
a plinth, which is a non-combustible material in front of the fireplace. While these were traditionally used for wood fireplaces, it's a design feature that's also used for gas fireplaces
built in shelving or cabinets, can be a great way to integrate the fireplace into a feature wall and add a sense of character and homliness
feature lighting, to illuminate this design feature and add further ambience.
There's a lot to consider and developing the best design is a process of concepting, researching, refining and repeat. Many people start concepting by looking for inspiration online or visiting showrooms, such as tile showrooms, to find hero materials that can inform the design.
Researching is important to ensure the materials or design elements you want to integrate can be done. For example, do the colour tones in the material work in your home? Take samples home to check.
As you research, this may rule out some options or open you up to new ideas you hadn't considered, which can start the whole design process over again! Don't worry, this is normal and what interior design is all about. Have fun with it.
Step 4: Find your dream team
Once you've finalised your design, run it past the experts and create your dream team to bring your vision to life. The end result will only be as good as the trades you employ so don't skip this step. Talk with friends and family, or research reviews online, to find the best tradespeople you can.
Depending on the design elements you choose, you may need to employ:
gas fireplace installers (of course!)
carpenters
electricians
tilers
joiners.
Have discussions early to line up your trades and keep the communication lines open to avoid potential delays.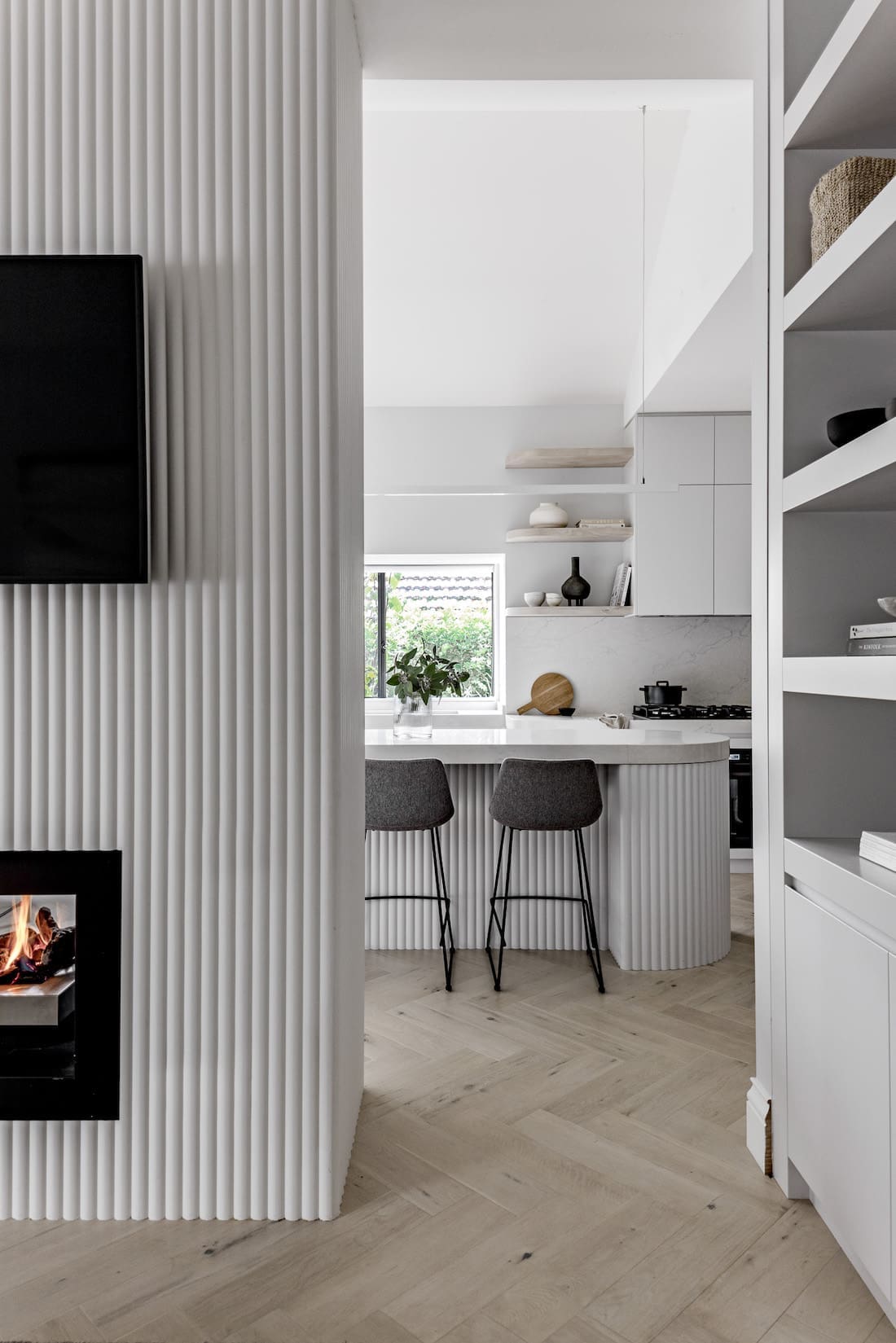 Step 5: Style your space
Finally, once your dream gas fireplace is finished, add that final layer of style by accessorising the space. If you installed a shelf above the fireplace or a mantel, style it with your favourite artwork, collectables or other ideas we share in this article.
What's happening on the floor? Would your space benefit from a large area rug to add to that sense of comfort and warmth?
Style Curator is brimming with home styling tips, down to how to style your coffee table, so why not make yourself a cuppa and get inspired with plenty of tips and tricks to complete your fireplace area.
Thinking of connecting to gas? Check out the Australian Gas Networks website for more information or pop your question in the comments below and we'll get back to you asap!