Supported by Style Sourcebook
I'm always excited to check out new tools and online sites to do with interiors.
So when I was invited to try Style Sourcebook, a space that makes creating the vision for your renovation or redecorating project easy, I was of course on board!
Having tried online mood board sites in the past, I will admit I was a bit skeptical about how different this could be. Particularly as it's a new site, I was expecting it to have quite a limited product library.
Boy was I wrong!
Because this site is all about interiors (and not a hybrid mood board site that also covers fashion, beauty and other industries), there are thousands of the very latest products from a vast range of stores, suiting all price points and interior styles.
I decided I'd use Style Sourcebook to help me set the direction for my latest interior styling job – to restyle an investment property and turn it from clinical hotel room to a warm and inviting 'home away from home'.
The main challenges of this job were needing to work with existing furniture pieces and needing to stick to an extremely tight budget (as it's an investment property, every dollar spent needs to see a return on investment). Oh, and I was also restricted in not being able to use candles (one of my main styling 'go to' products) or real plants.
Those existing furniture pieces included a black two-seater sofa, glass coffee table and grey and navy patterned armchair.
To help me shop wisely and ensure every cent spent would have the greatest impact in transforming the space, I created a mood board in Style Sourcebook with the direction and feel I wanted to achieve. This way I could easily price up the job and if I was over-budget, look at where I could find alternative items at a lower price point.
Having this vision made shopping a breeze! I'll share the before and after of this investment property in a few days so you can get a better idea of the space but here is a moodboard showing how I intended to work with those existing furniture pieces but bring in more warmth and colour.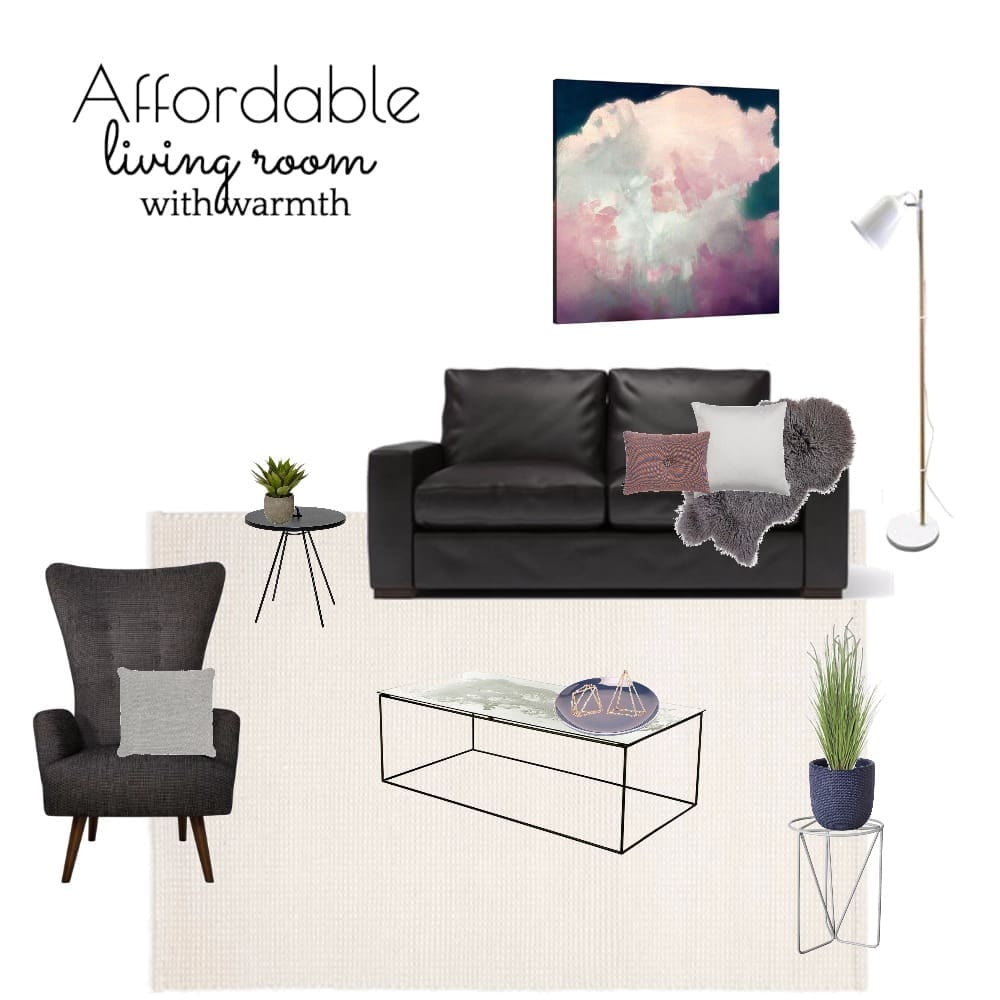 Firstly, I added a rug to this space to create the sense of a zone in the open-plan apartment. To soften the heavy furniture pieces, I used a medium pile rug in a warm oatmeal colour.
To set the new colour direction in this space (replacing teal and aqua décor), I found an abstract piece of art that incorporated grey, pink and blue tones (similar to the one pictured). I used these colours in all of the soft furnishings and décor to make the space feel cohesive.
I also softened the black sofa by adding a grey sheepskin and a cushion to pick up the oatmeal tones of the rug as well as a more decorative pink-grey button cushion referencing the artwork.
The existing armchair is similar to the one pictured but has a prominent navy and grey leaf pattern. When I first entered the apartment, I felt this chair was quite out of place as those colours weren't used elsewhere. So I added other navy décor around the room including a serving plate used as a tray on the coffee table (styled with a pyramid terrarium holding an artificial air plant) and a blue glazed ceramic pot in a stand.
The cold chrome lamp with white lampshade was replaced with a more contemporary floor lamp with a timber stand and white metal shade.
I also added a small black metal side table between the sofa and armchair to hold a succulent plant and TV remotes (keeping them off the coffee table where they were more visible).
The client was so happy with how I restyled this living space (and the other rooms in the apartment) using all the inspiration from the mood boards I created!
If you're planning on restyling your home or are about to embark on a renovation, I really recommend giving Style Sourcebook a go!
You can check out Style Sourcebook and create an account here.
I found it super easy to create new mood boards thanks to the drag and drop interface and ability to search all products from within the mood board view.
Here are a couple more mood boards I created just for fun!