The biggest transformation of our Erskineville project was the kitchen/family area. The homeowners are a young couple who love to entertain so we turned the small u-shaped kitchen and undersized family room into a larger, open plan kitchen and dining space that flows to the outside courtyard. Here's how we took this old, brown and poky kitchen and turned it into a luxe navy blue kitchen!
Related article: Darren Palmer shows how to keep your kitchen organised with the right storage solutions
Related article: Stylish handles to refresh your interiors or update tired furniture
Kitchen before
There was a long list of 'issues' with the existing kitchen, including:
it didn't suit the era of the home (the '90s style kitchen had no original features)
there was limited bench space
there was no pantry…
it was so small they couldn't comfortably work in here, let alone have guests in the space
the overhead cabinets felt like they were coming down on them (the space needed more balance).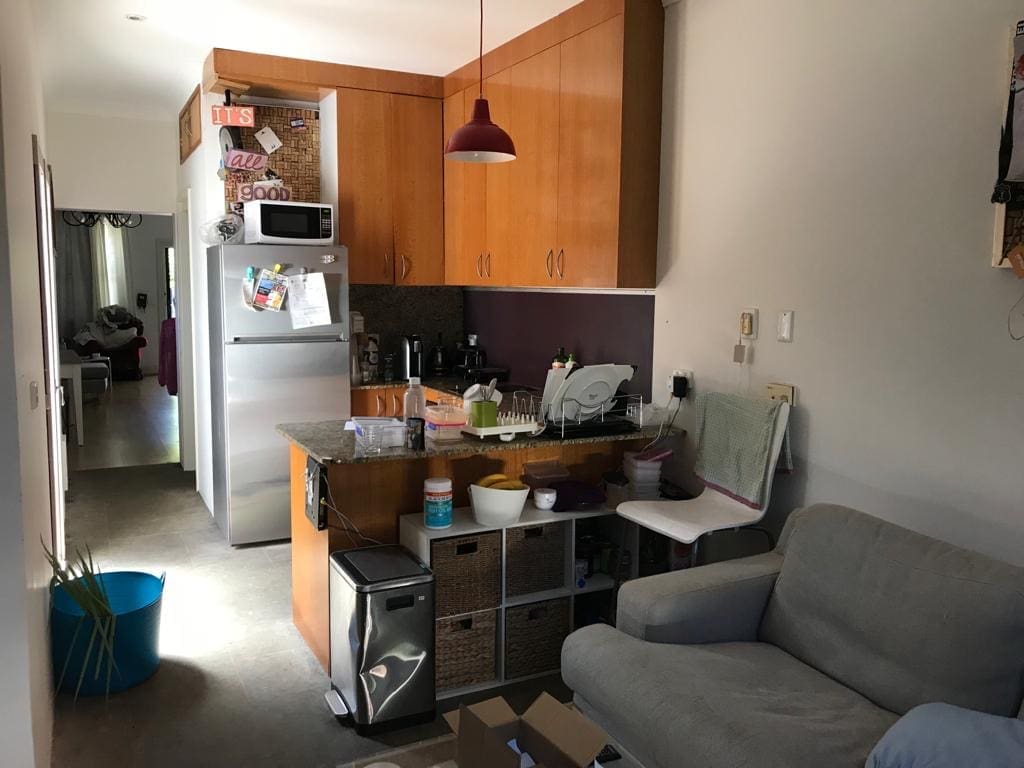 Design inspiration
We explored a lot of options for this space, including all sorts of kitchen layouts, design ideas and materials. It was an incredibly fun and collaborative project between the clients, myself and the kitchen company Cafe Kitchens.
From u-shaped to galley style, the inclusion of built-in bench seating or not, we played around with all sorts of kitchen layouts before deciding on a simple and clean single wall of joinery. The desk space (shown on the floor plan below) was turned into a bar.
And what joinery to use? While white felt safe, I managed to convince the client to embrace a bold colour. My heart was set on a bottle green but I was outvoted for this shade of navy blue (Kara Sea by British Paints). I'm not complaining though — I mean, how gorgeous is it?! The shaker profile provides a nod to the Victorian era while the brass handles with knurled detailing add a modern edge. Some glass front cabinets and open shelving break up the navy blue kitchen joinery and add interest.
For the benchtop and splashback, we wanted to bring in marble accents. Natural marble is divine but is a more sensitive material that become damaged without proper care. The client wanted hassle-free so we opted for a Caesarstone bench top that carries up as the kitchen splashback. And a double bowl butler's sink from Tile Republic with sleek, curved brass tap finish the space.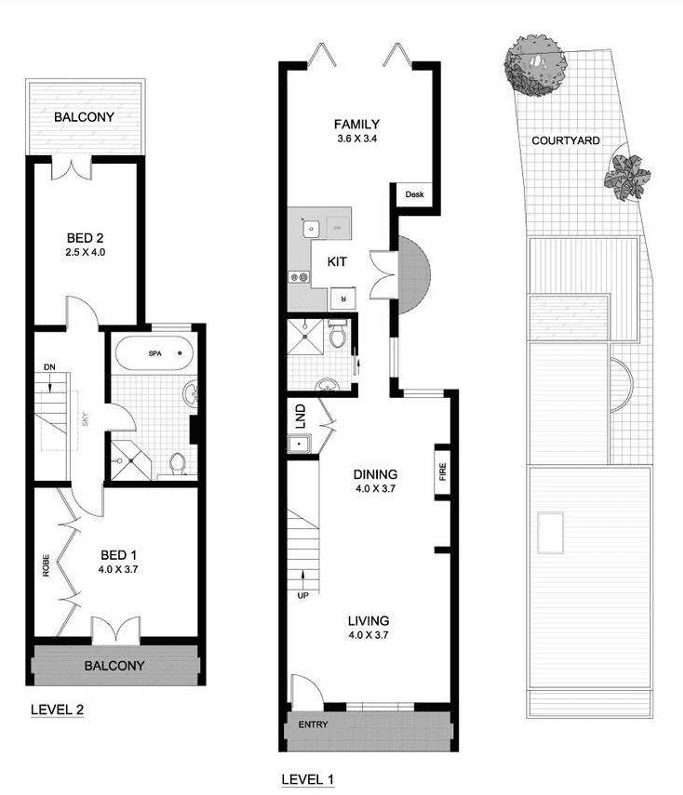 Kitchen after
We're so thrilled with the kitchen. It feels bold yet timeless. The space is more functional, balanced (a bulkhead reduces the height of the overhead cabinets) and fitting with the character features of the home.
We ticked off every item on the wish list including more bench space and a full height pantry. By changing the configuration to a single wall, we opened the space to allow easy flow through the kitchen and for more people to be in the space without feeling cramped.
Shop this kitchen and dining look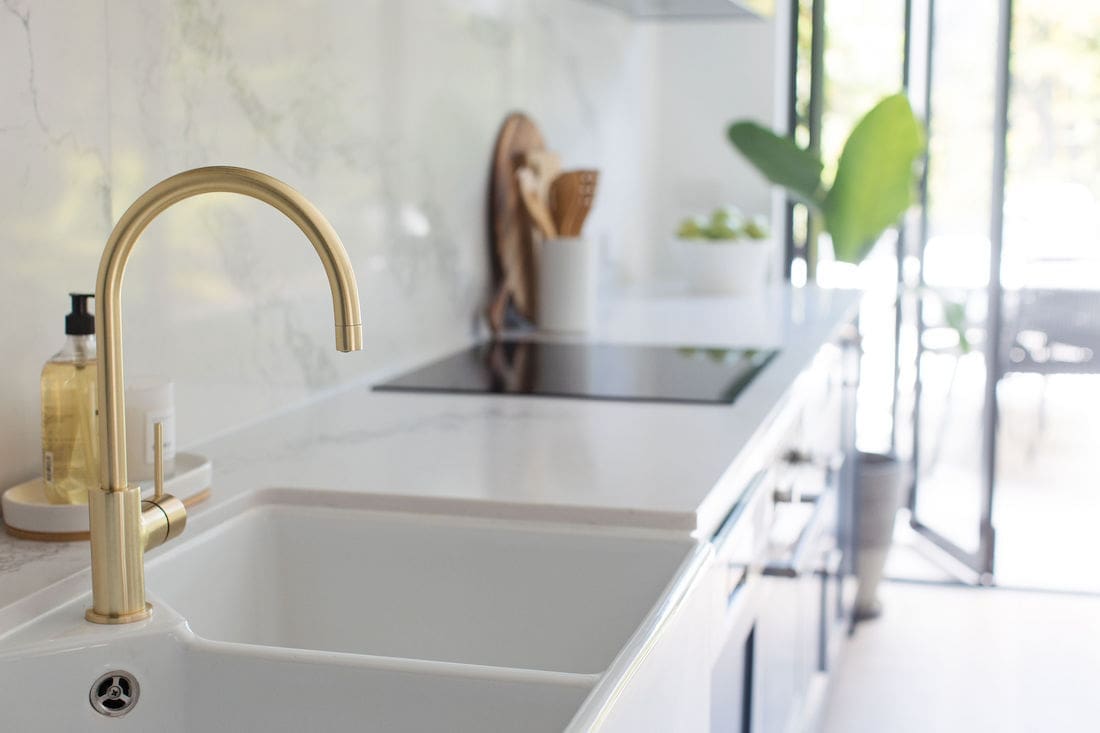 Smart inclusions
Of course, it isn't just how a kitchen looks. There are a lot of smart kitchen inclusions in this space, such as a pull out rubbish bin, functional lighting and plenty of drawers which maximise space (including in the pantry).
Read all of Darren Palmer's tips on the inclusions you need in your kitchen.
Dining and bar area
We moved the dining area from the front room to create an open plan kitchen/dining space. It's a better use of space and fits the couple's lifestyle.
Give the tight space, I suggested a round dining table which is easier to move around. We picked this dining table from Interior Secrets and these grey upholstered dining chairs from Temple & Webster.
The bar area we tucked into the space is more usable than the awkward desk that was there before. Plus, the clients were able to fit in that wine fridge they always wanted!
I hope you found some ideas and inspiration from this navy blue kitchen remodel for your next project. If you have any questions about this kitchen renovation, just post it below and I'll answer it asap.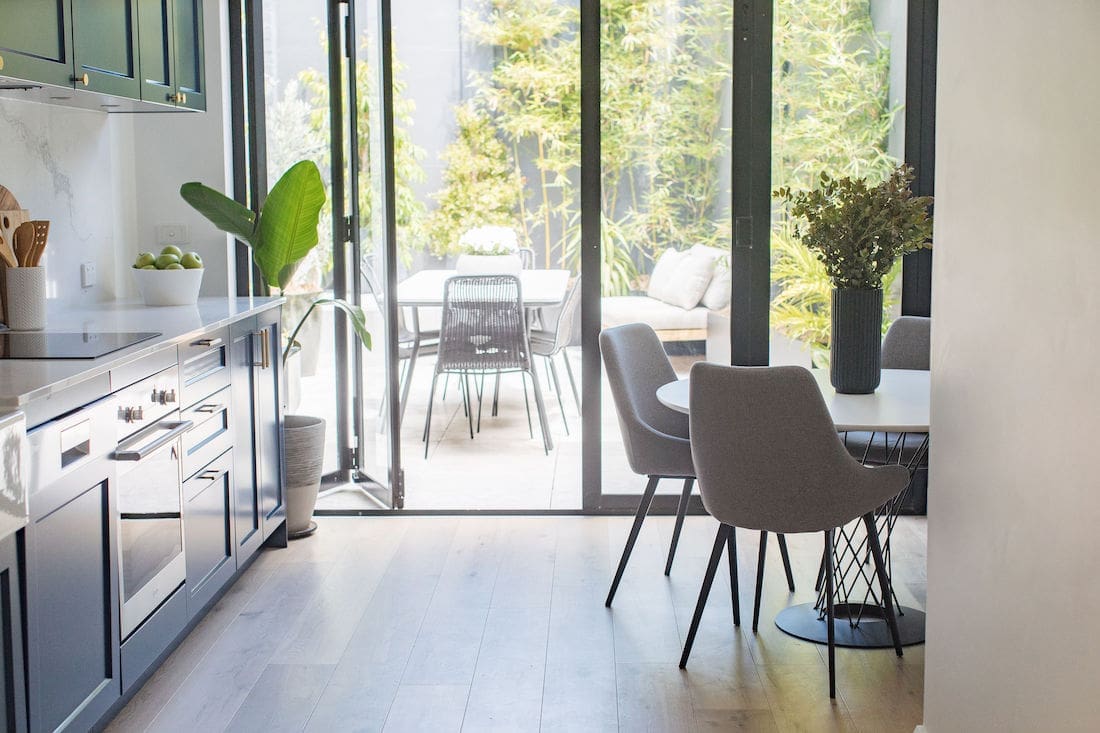 Shop this kitchen and dining look
Disclaimer: This post contains some affiliate links. This means that when you click on a link and purchase something from that site, we may make a small commission at no extra cost to you.
Photography by Thorson Photography