Supported by Hafele
Life is busy and when that turns to chaos around the home, things can feel overwhelming. One way to keep the home more organised is with innovative solutions that maximise every pocket of storage space around the home — especially important in the kitchen. One brand on a mission to banish chaos and help you to live an inspired life is Hafele. Creating a solution to just about every pain point in the kitchen, we love their range of storage solutions, gadgets and waste management solutions. And so too does leading Australian interior designer, Darren Palmer. He uses Hafele in client projects and has the full range installed in his own home.
In Hafele's latest campaign Life. Inspired. you can see some of these clever products in action. Watch the short clip below and continue reading for Darren's tips on how you can use Hafele to integrate more functional design into your kitchen.
Related article: Luxury laundry inclusions you'll want in your next laundry!
Related article: The major dos and don'ts of wardrobe design
1. Cutlery drawer organiser
The first storage solution Darren showed in the video is a staple that should belong in every home — cutlery drawer organisers!
"Drawer dividers for cutlery and kitchen utensils mean that these essential items can be easily stored and found," says Darren.
You can find cutlery drawer organisers in all sorts of sizes and configurations — and some are adjustable too.
While we're on the topic of drawers, you can find plenty of other inserts to optimise your kitchen drawers to keep items within easy reach, including plate racks, spice trays and deep drawer dividers.
"Ample drawers and storage are a must-have for any modern kitchen," adds Darren.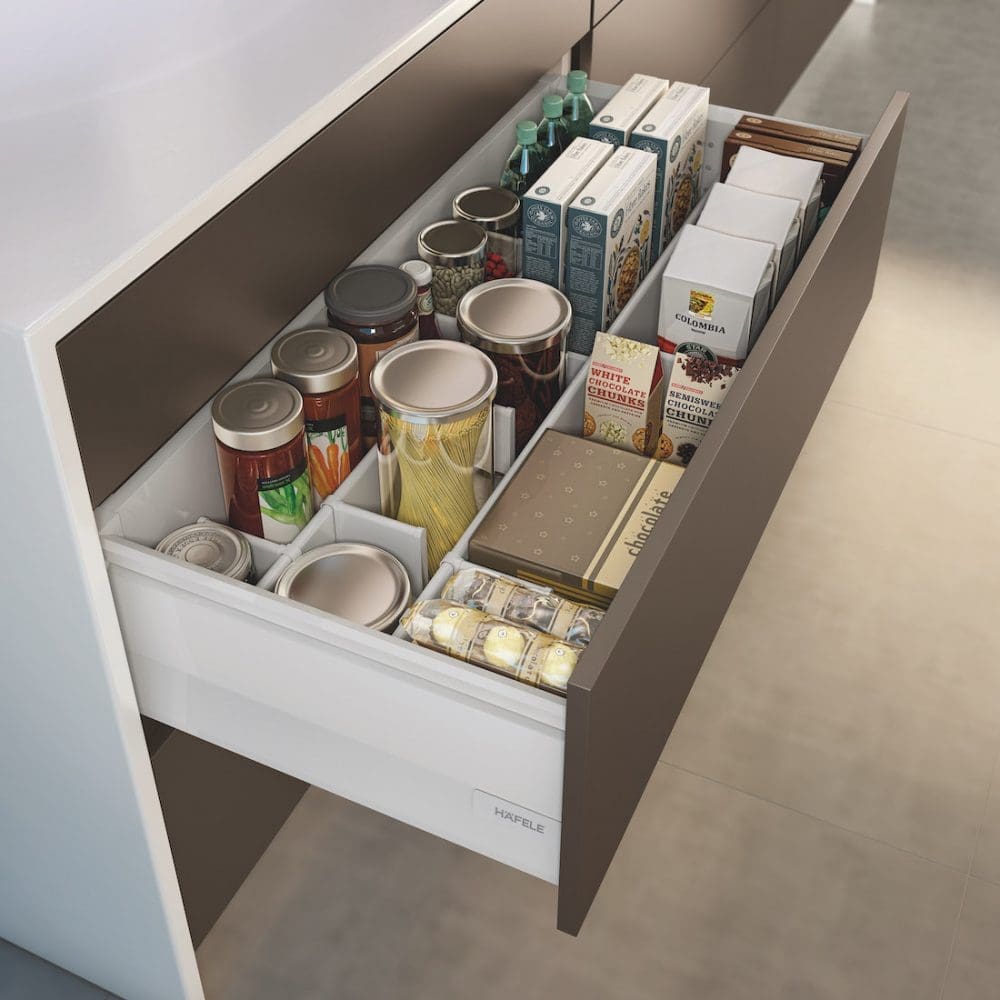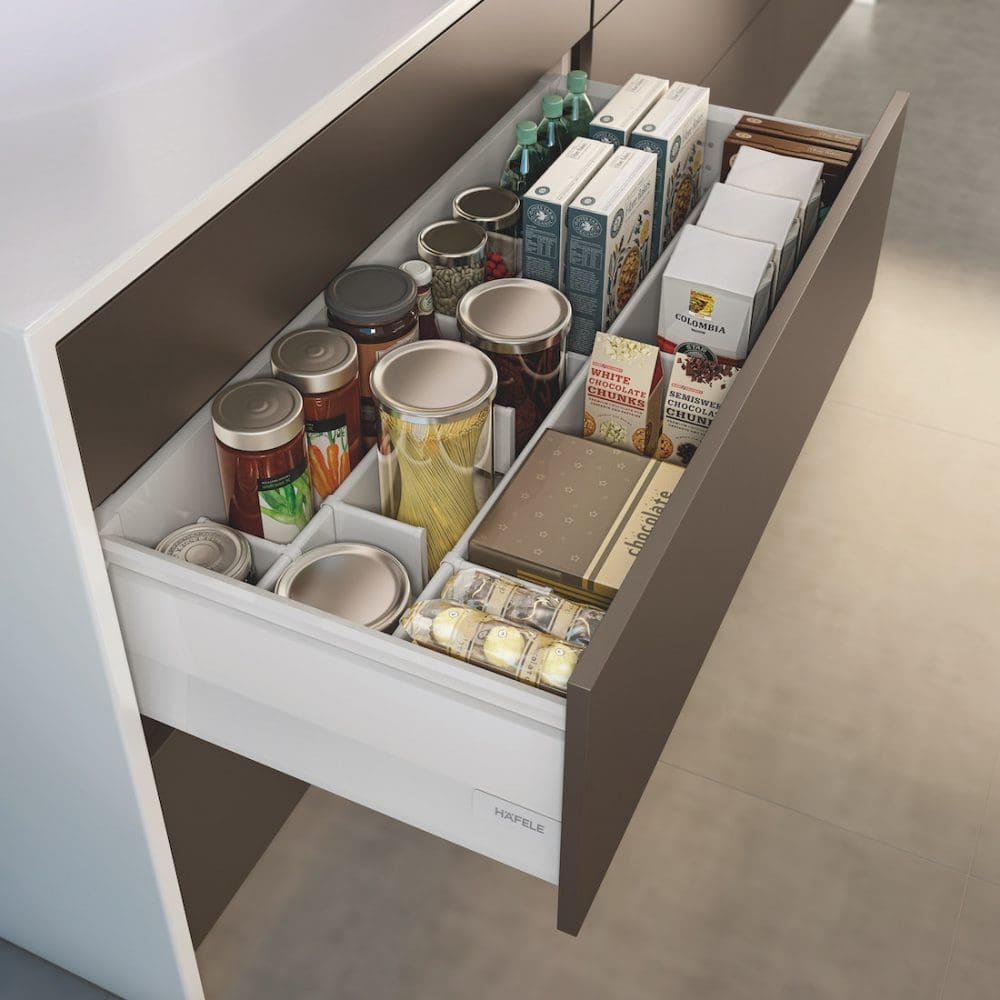 2. Bin with multiple compartments
Who would have thought a pull-out bin could make a person so happy?! But when there's a place for everything, including different types of waste, life's just better. And with soft plastics now recyclable too, there's more need than ever for a multi-compartment bin.
As well as a main bin, Darren also has a hot tip to think about conveniently locating a smaller bin beneath your coffee machine — perfect for disposing of coffee grounds or pods.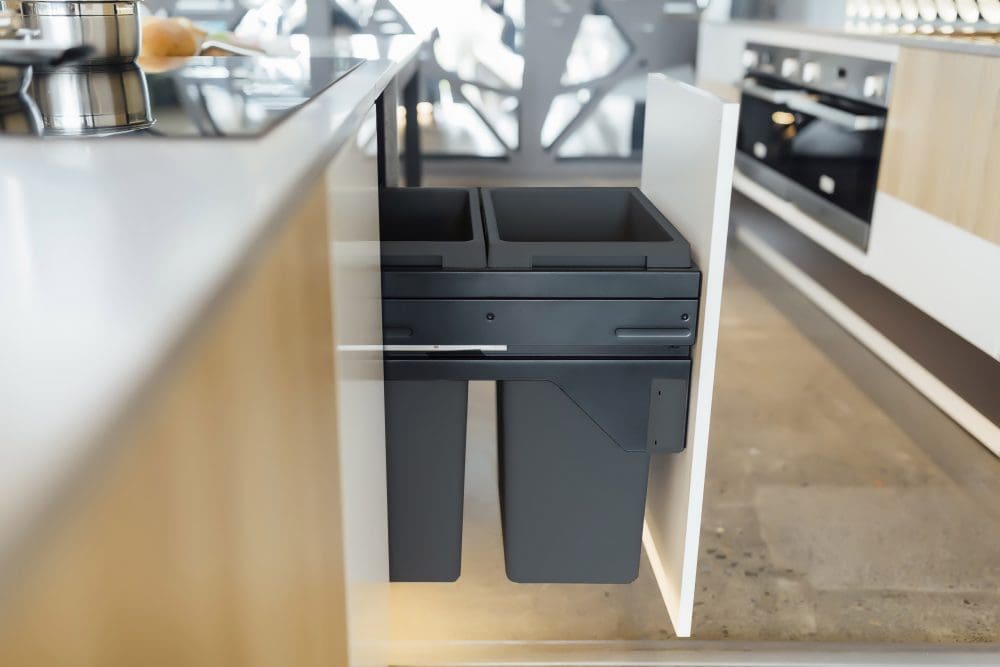 3. Pull out shelves for awkward corner cupboards
In the past, if you placed items in a corner cupboard, you'd often have to squat down to access them — generally with items toppling onto you as you carefully tried to pull out what you needed. But not anymore!
"Gone are the days where those tricky corner cupboards are dead space," says Darren.
Thankfully there's a cool storage solution for awkward corner cupboards — pull out kidney-shaped shelves that can hold up to 25 kilograms each. As Darren showed in the video, all you need to do is lightly pull on the drawer for it to swing out, making all the contents within easy reach. These shelves are ideal for bulky pots and pans.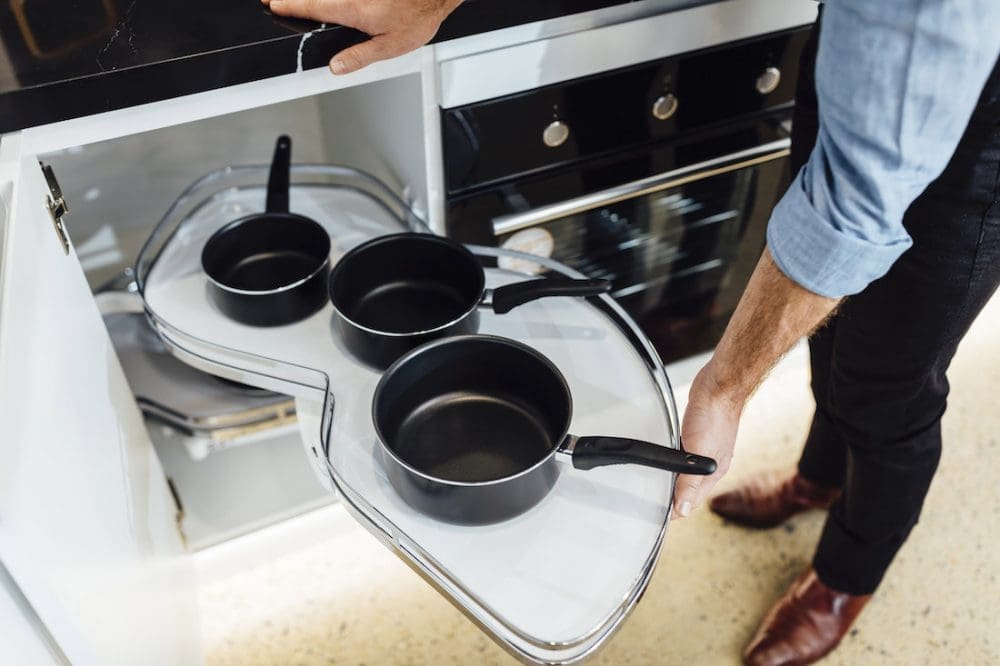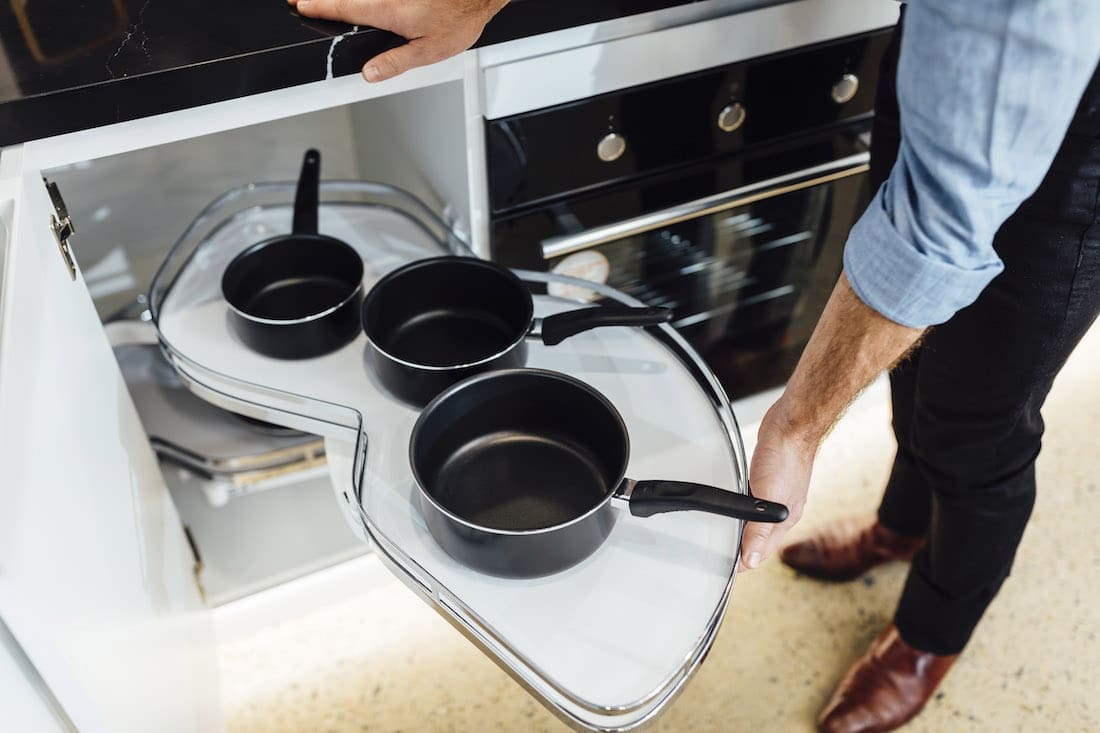 4. Pull down shelves for high overhead cupboards
Similar to that awkward corner cupboard, high overhead cupboards were often void or inconvenient spaces.
But nifty pull down shelves eliminate the need for a step ladder to reach items stored in overhead cupboards. Effortless to operate and making everything in easy reach, they are the definition of smart design!
You can find even more innovative kitchen accessories on the Hafele Home website here or follow the #myhafelehome hashtag on Instagram for loads of inspiration and tips.
Remember, if there's any part of your kitchen that's wasted, there's an inspired solution to make it more functional, efficient or stylish! What are your favourite kitchen storage solutions or inclusions?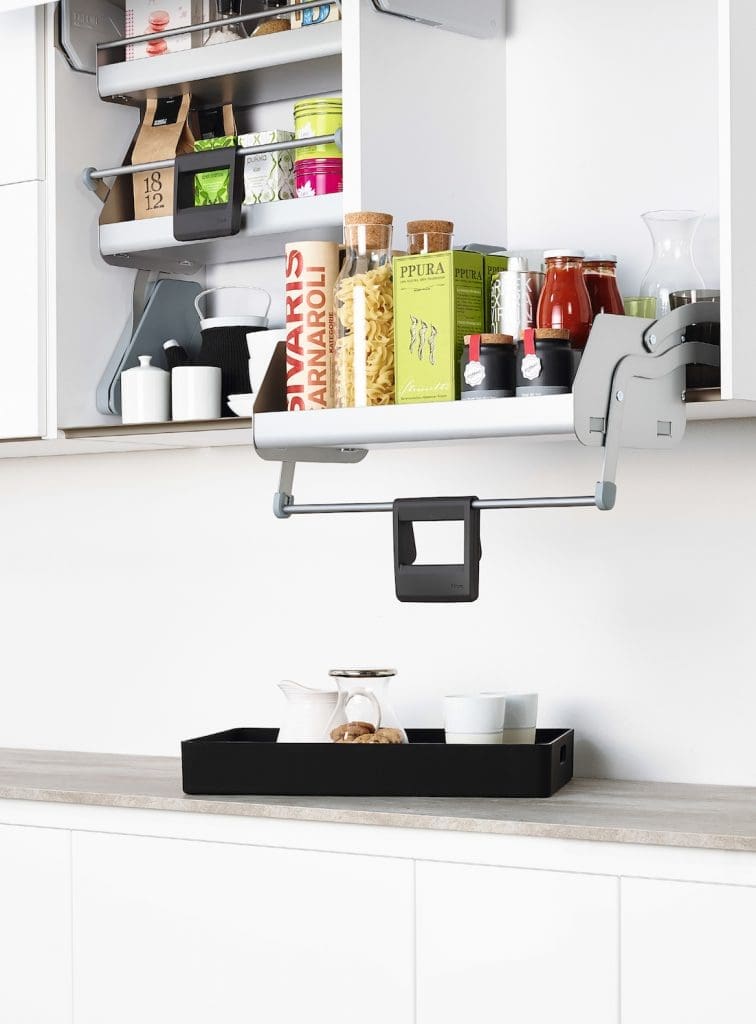 This article was first published in November 2019 and continues to be updated with the latest information and images.