Supported by Hafele Home
It's the time of year to organise your home and today I want to inspire you to rethink your kitchen drawers and make the most of this valuable storage space.
I've rounded up 8 of the best kitchen drawer organising ideas and if you've got a hack of your own, I'd love you to add it to the list!
Related article: Darren Palmer shows how to keep your kitchen organised
Related article: Five mantras to get you in the mood to declutter
1. Use cutlery trays
An obvious organisation idea but one of the most essential is a cutlery tray. From budget plastic trays through to premium timber ones, the range of cutlery trays on the market has never been better.
Perhaps you have a cutlery tray that isn't quite meeting your needs? Or could your cutlery tray do with an upgrade?
I recently switched my basic plastic tray over to a new Cuisio cutlery tray from Hafele Home and love the sleek appearance of it. The slimline dividers mean I'm also able to store more items in the drawer.
Measure up your drawer and do some research to find the best tray to fit your drawer dimensions and meet your needs. Before switching it over, don't forget to give your cutlery drawer a good declutter. There's no point storing items you no longer want or need and it's easier to keep minimal spaces organised.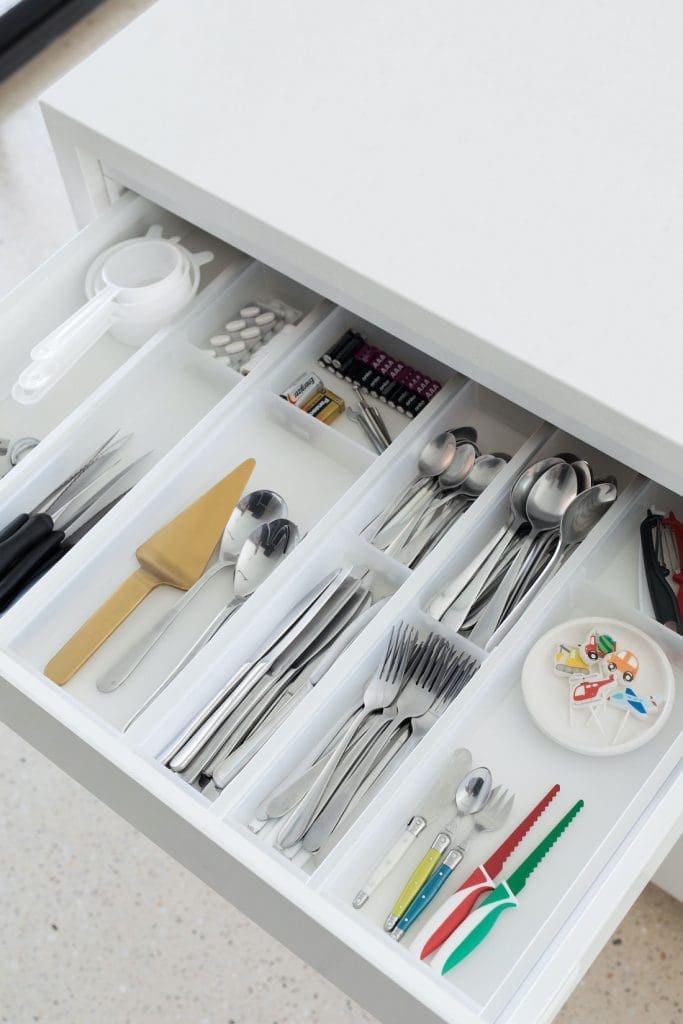 2. Embrace plate holders
Lucky enough to have deep kitchen drawers to store your crockery? Rather than simply stacking plates, and potentially have them move about and chip, keep them organised and protected with plate holders. And if you're setting the table for a big group, you can easily carry all the plates to the table in the holder.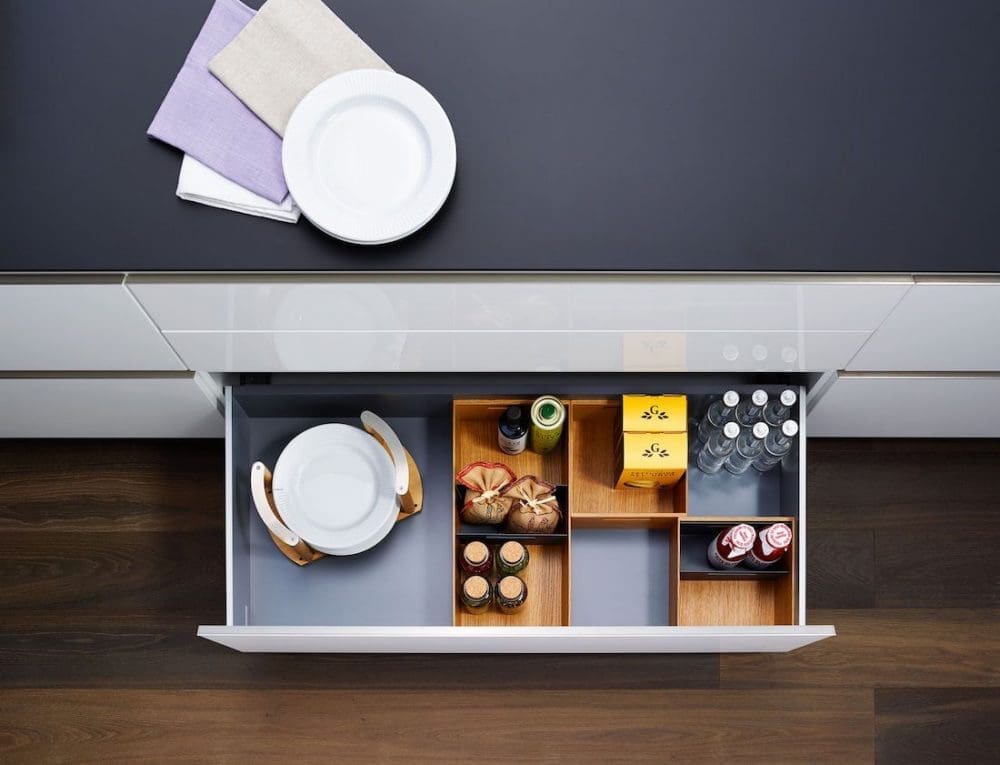 3. Smaller dividers are your friend
A trick I learnt from Marie Kondo is the benefit of storing items upright in smaller boxes or dividers. It means you can instantly see everything and allows you to grab what you need without having to rearrange things — helping to keep drawers organised for longer.
This trick rings true for storing clothing in your wardrobe as it does for storing items in your kitchen or pantry drawers.
Keep packet foods tidy in smaller boxes or baskets and get your junk drawer under control (because we've all got one of those!) using this same technique.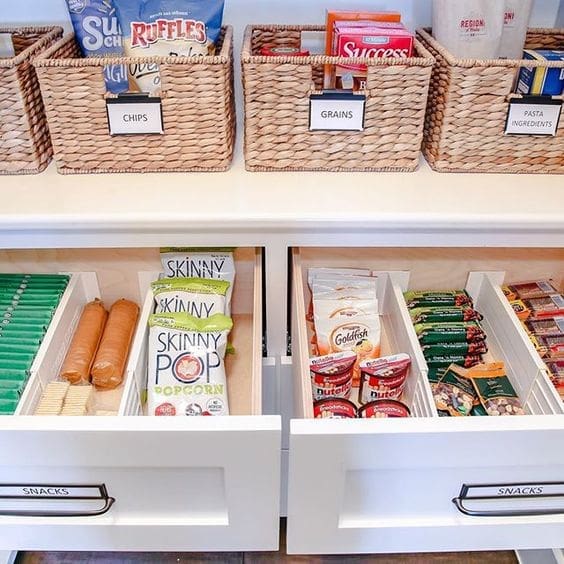 4. Flexi dividers
A new product to hit the market in Australia is Spaceflexx — a clever drawer divider that literally 'flexes' to fit your needs.
I've used this product to keep the kids' things organised and I love how it holds items upright but still allows me to fit oddly shaped lunchboxes and bottles with ease.
If you find rigid plastic drawer dividers haven't been meeting your needs, perhaps this is the solution you've been looking for. You can find out more about Spaceflexx here.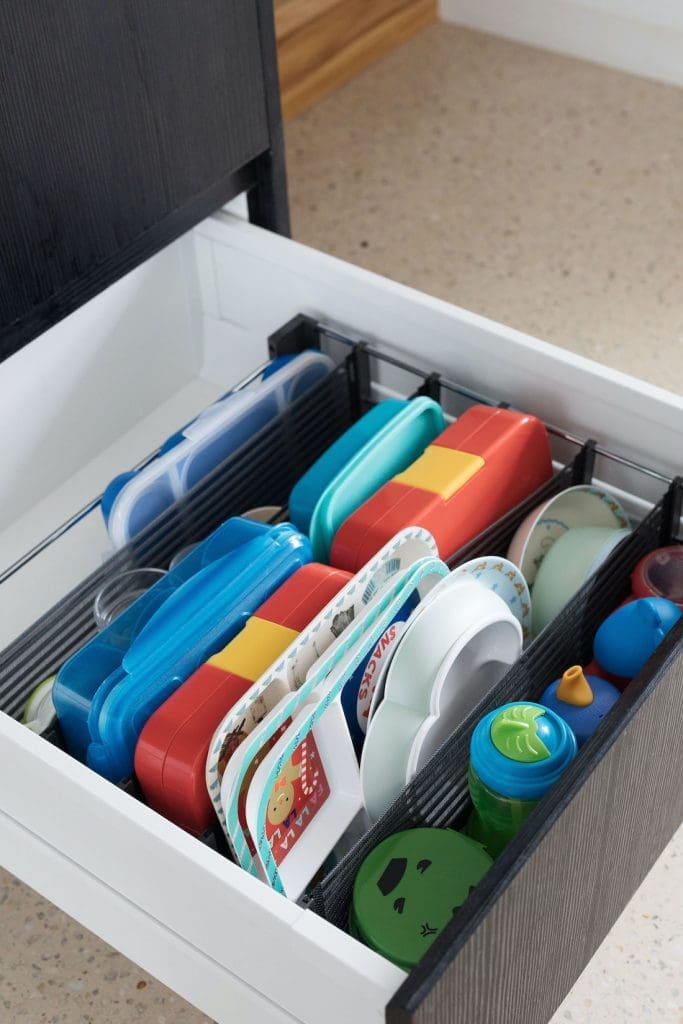 5. Spice names on lids
Forget rummaging through your spice drawer to find the herb you need! A clever hack is to use labels on the lid so it's easy to see all your spices at a glance.
Alternatively, if space isn't an issue, you can also find spice drawers that hold your spices on a slight angle — ultra stylish!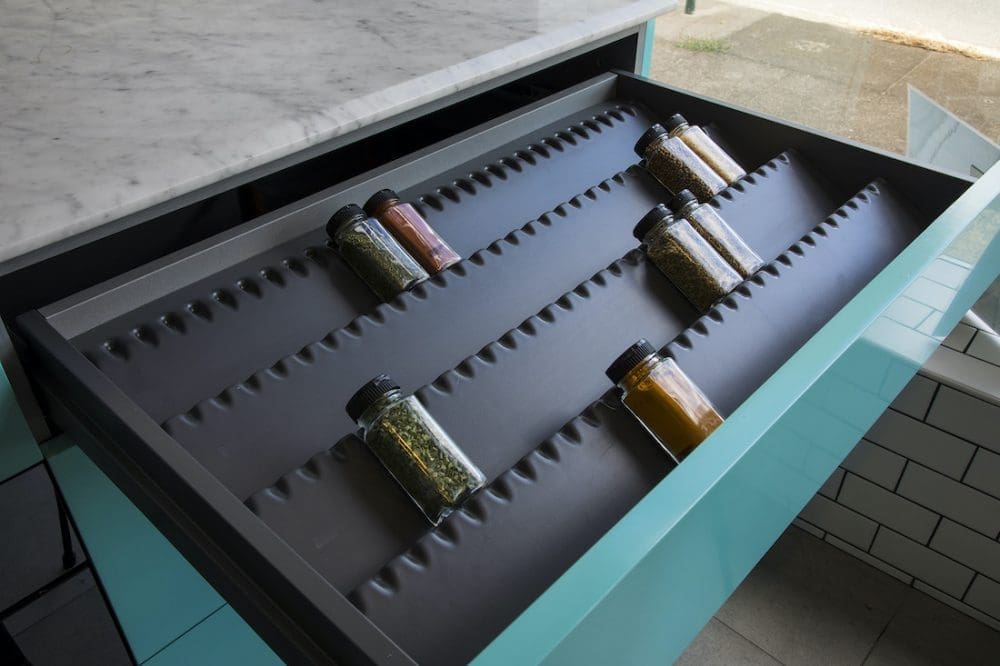 6. Organise trays upright
Cutting boards, muffin trays and other large baking trays can be difficult to store. A fab solution is to use drawer dividers to store these upright. This makes it easier to locate the tray you need and pack it away once you're done.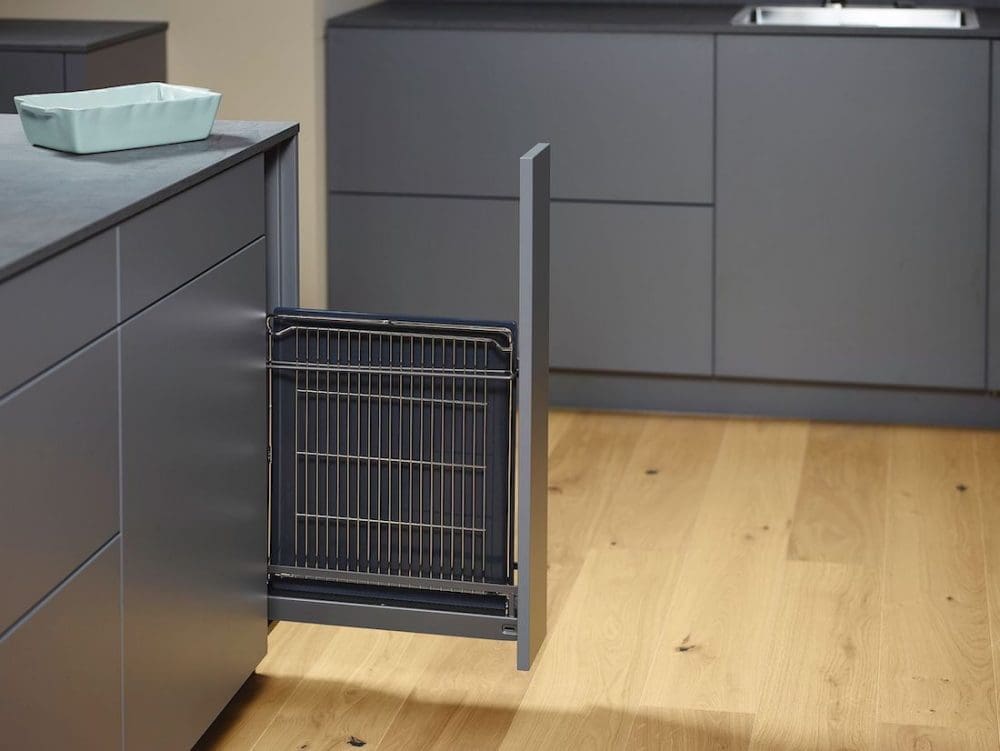 7. Get your utensil drawer under control
A death trap in many kitchens is the utensil drawer. If your utensil drawer looks like a lucky dip, bring some organisation to this space with… you guessed it, dividers!
Similar to cutlery trays but with larger compartments, you can find fab utensil trays on the market — and some are even stackable, helping you to take advantage of the full depth of your drawer.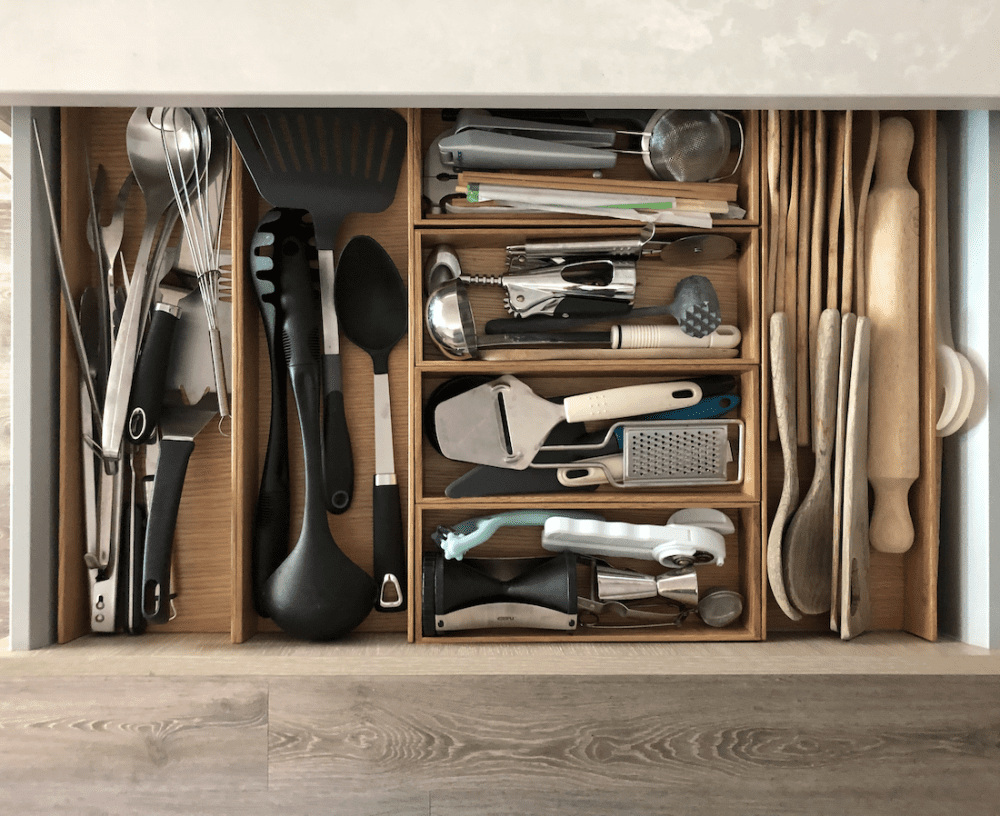 8. Create an e-station drawer
Keep your kitchen benchtops clear from tech by creating an e-drawer — somewhere to charge your devices. A hidden powerpoint and a slim drawer is all you need to power up headphones, mobiles, tablets and other tech.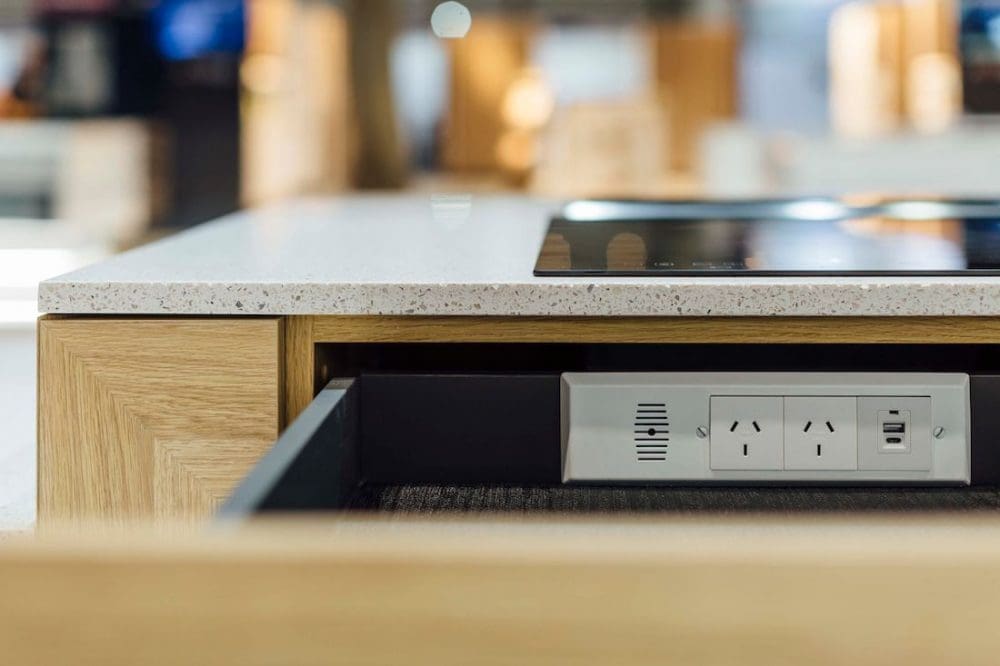 Will you give any of these organisation ideas a go? What kitchen drawer organising hacks have you discovered? Share it in the comments below!