A new build with plenty of character — that's not something we can say every day! We take a look inside Orton Haus, a coastal home with raw and natural accents. And trust us when we say… you're going to love it!
Home to Justine Orton and her family, it's got curves, light, texture, interest… it ticks all the boxes.
Related article: The Jetty House: Beachy vibes and breathtaking views
Related article: Inside a modern heritage home with timeless beauty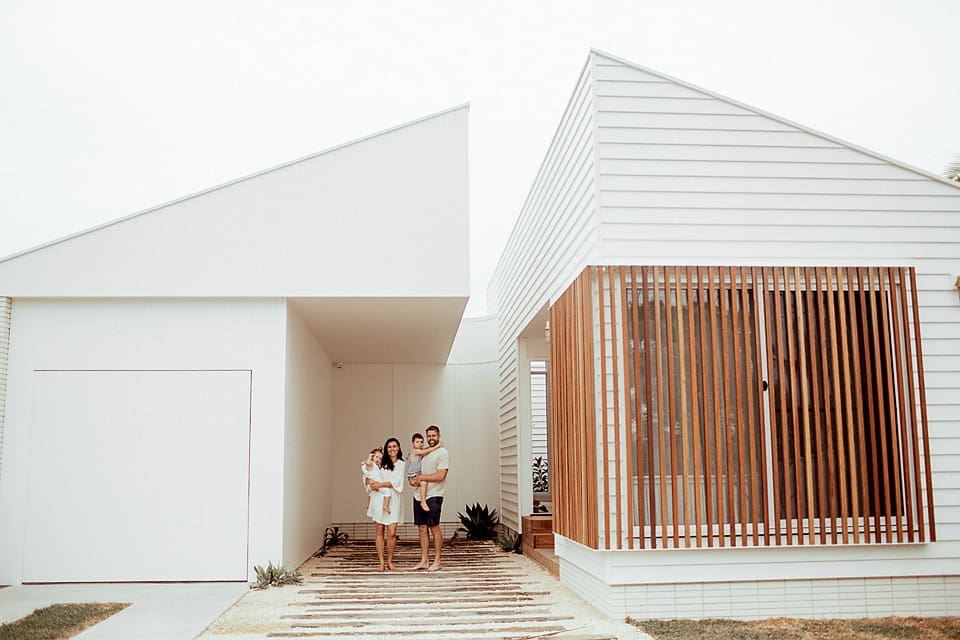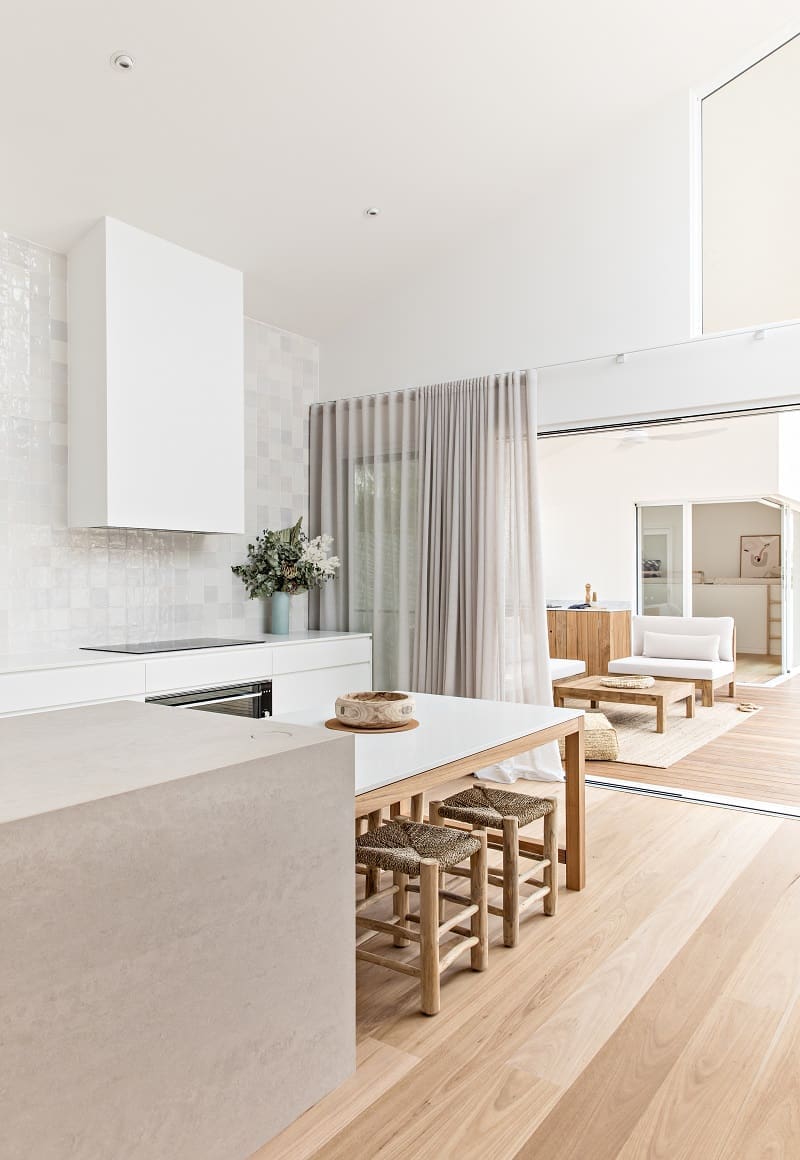 Home to the Orton family, the original home was a tiny shack that eventually made way for this stunning coastal home with raw and natural accents.
"This is our family home. Luke (who actually built our home), myself and our 2 children Edison (4) and Mabel (3) live here," smiles Justine.
"Originally, we planned to renovate and extend the existing house. However with the original layout and local council requirements, we simply couldn't make it work to include all of our 'must have' items.
"In the end, we actually gave the original house away! We didn't want to demolish it because although the house was old and needed a lot of TLC, structurally it was in okay condition. Plus, it was better for the environment if we could save it.
"I put the house up on Gumtree to sell for free with relocation costs at the new owner's expense.*
"Then it was on to the new build! Having done 5 projects for ourselves prior to this house, we had a really clear idea of how we wanted Orton Haus to function and feel."
* The team at Living Joy snapped the home up. Living Joy is a sustainable property developer that gives old homes new life as affordable housing.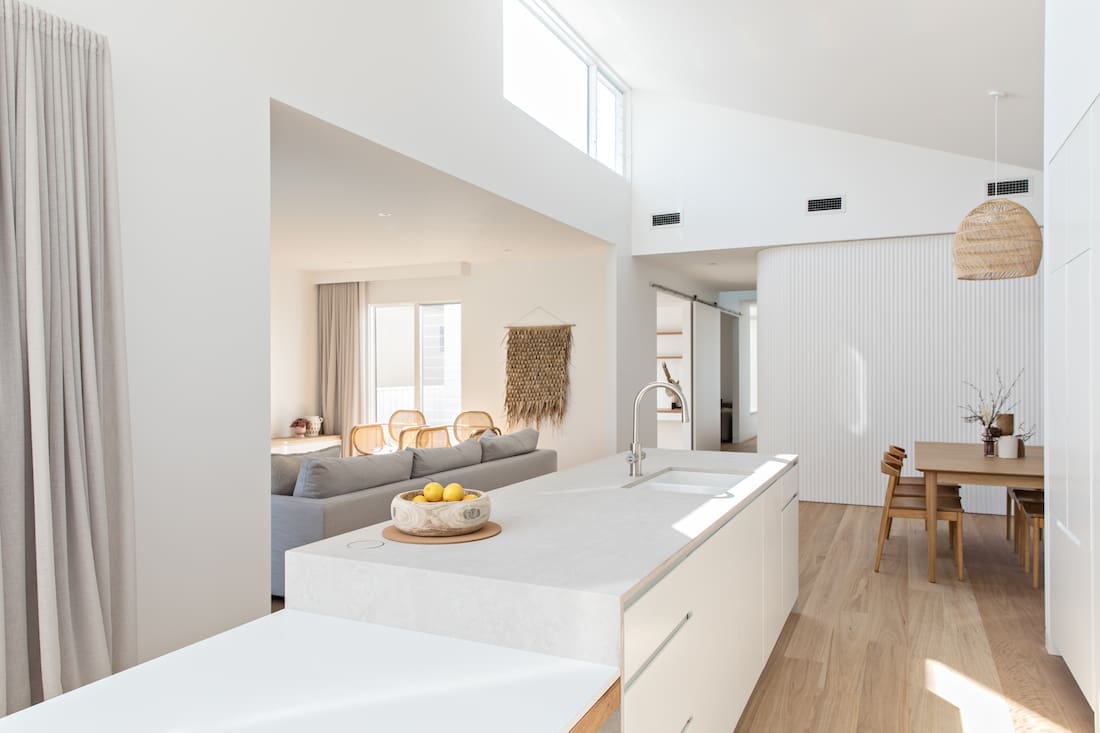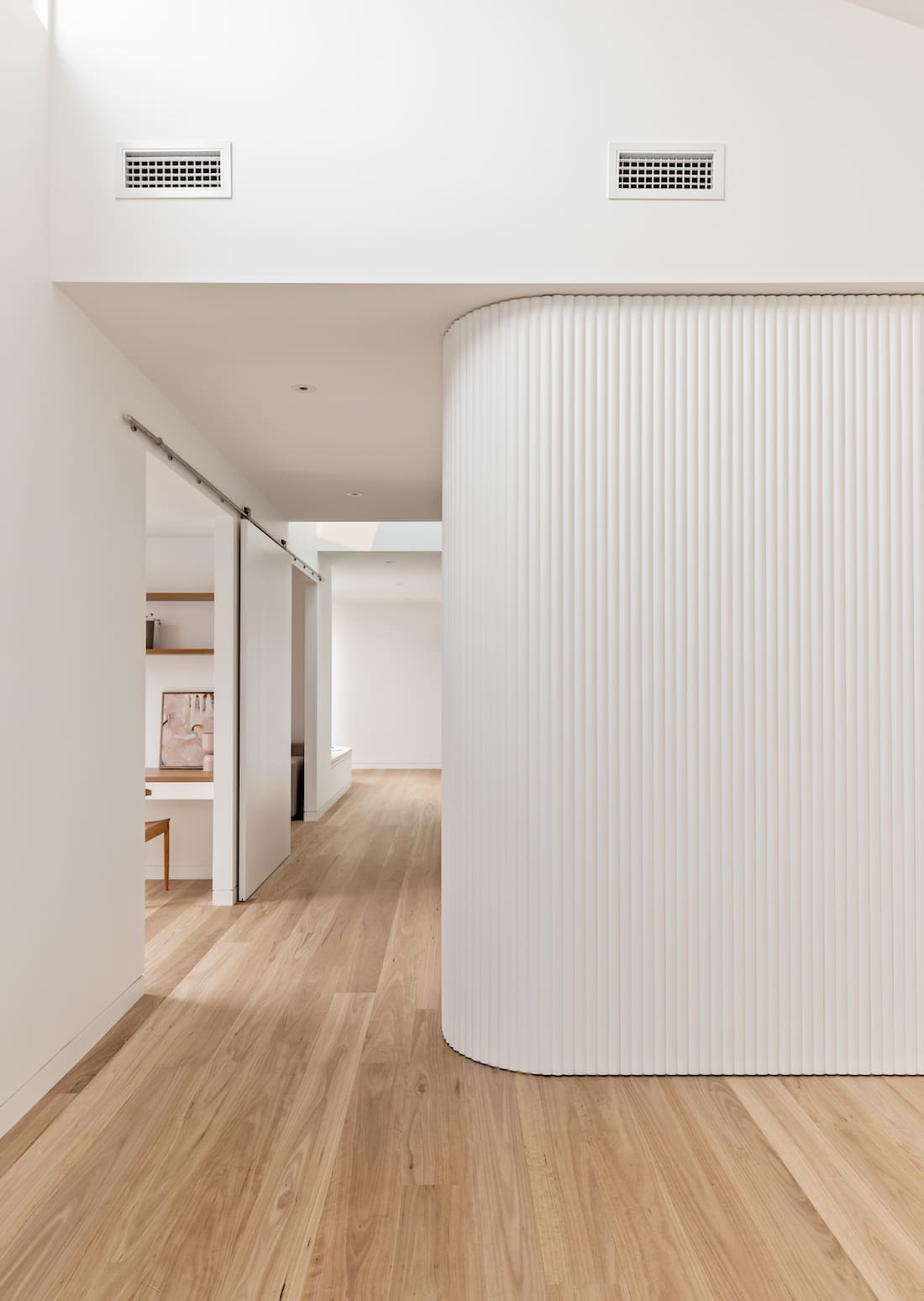 Bathed in natural light, the styling of this home has been kept quite minimal. It's the building's features that speak volumes.
"I'd say the style of our home is urban coastal — where contemporary meets coastal and is quite minimalistic. We like to let the build shine as part of our style. Interesting carpentry work and materials were really important to us.
"I love the curved wall in the hallway and how it opens up to the open plan living and dining area. The half-dowel curved wall is so special.
"Another feature are the high-raked ceilings. They allow so much light to pour in. The entire house feels super light and airy thanks to the white walls, wide-board blackbutt hardwood flooring, and elevated north facing windows and skylights," says Justine.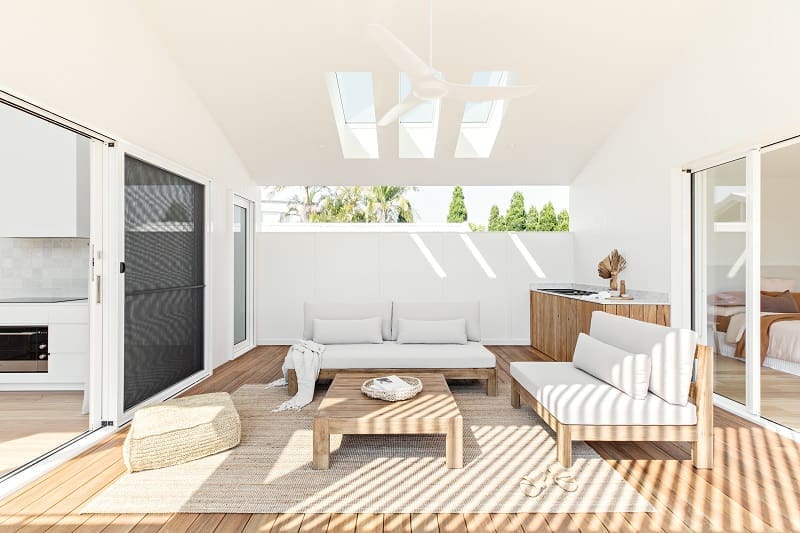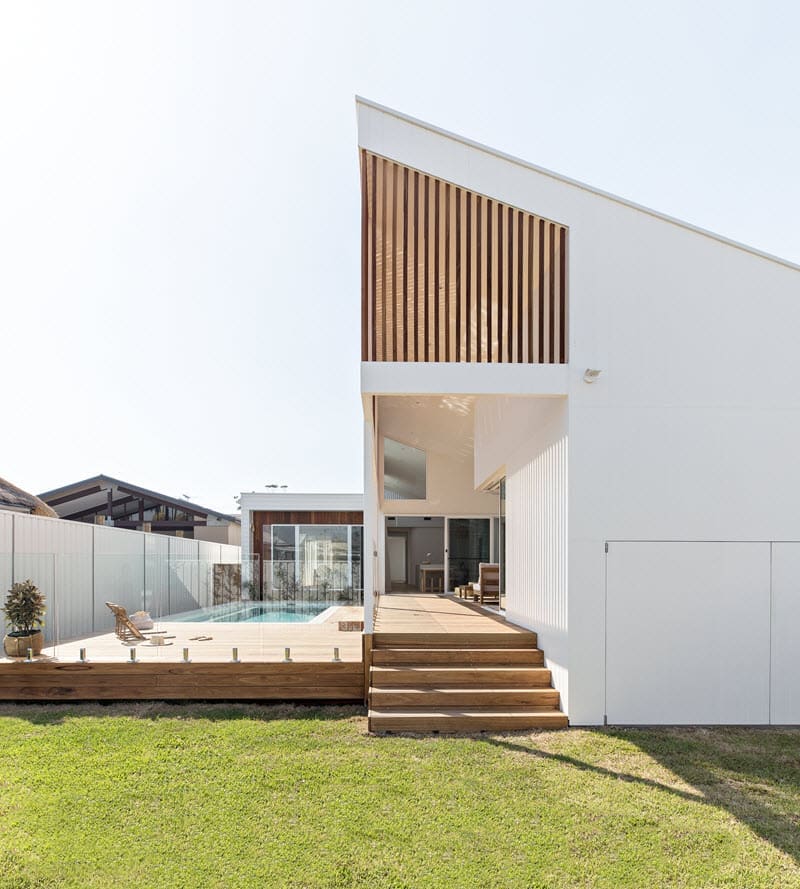 With its pool and fabulous outdoor entertaining space, Orton Haus feels like a resort-style holiday home.
"That's exactly the vibe we were going for!" laughs Justine.
"We lead busy lives and wanted our house to be a place where we can completely relax. Somewhere to feel calm in as well as motivated and inspired. Our inspiration was holiday houses in coastal towns. And we obviously loved the idea of creating a coastal home with raw and natural accents.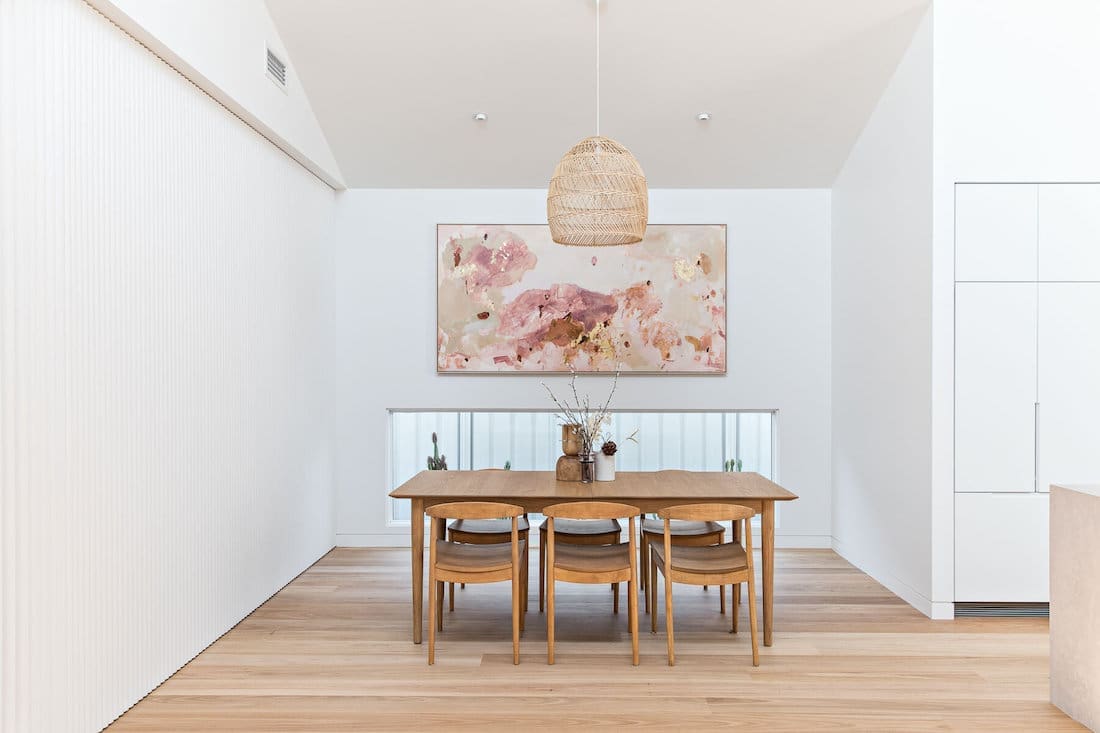 "Little things you might not notice at first make this home so interesting. Windows let the sun and moonlight in, and transform the space from day to night. They tell our home's story.
"In our dining room, our low-level window is such a great feature. I love the cacti garden you can spy just outside!"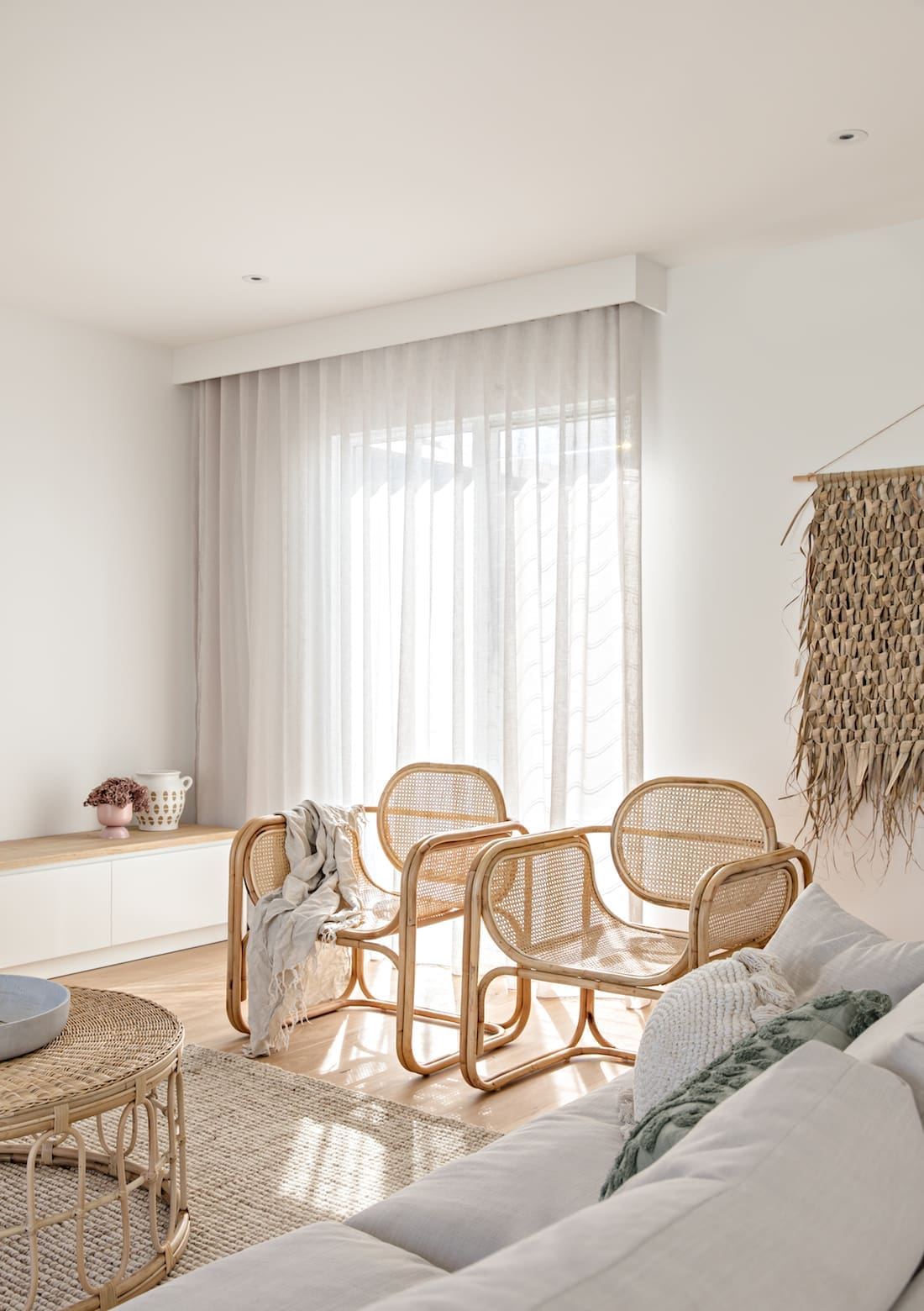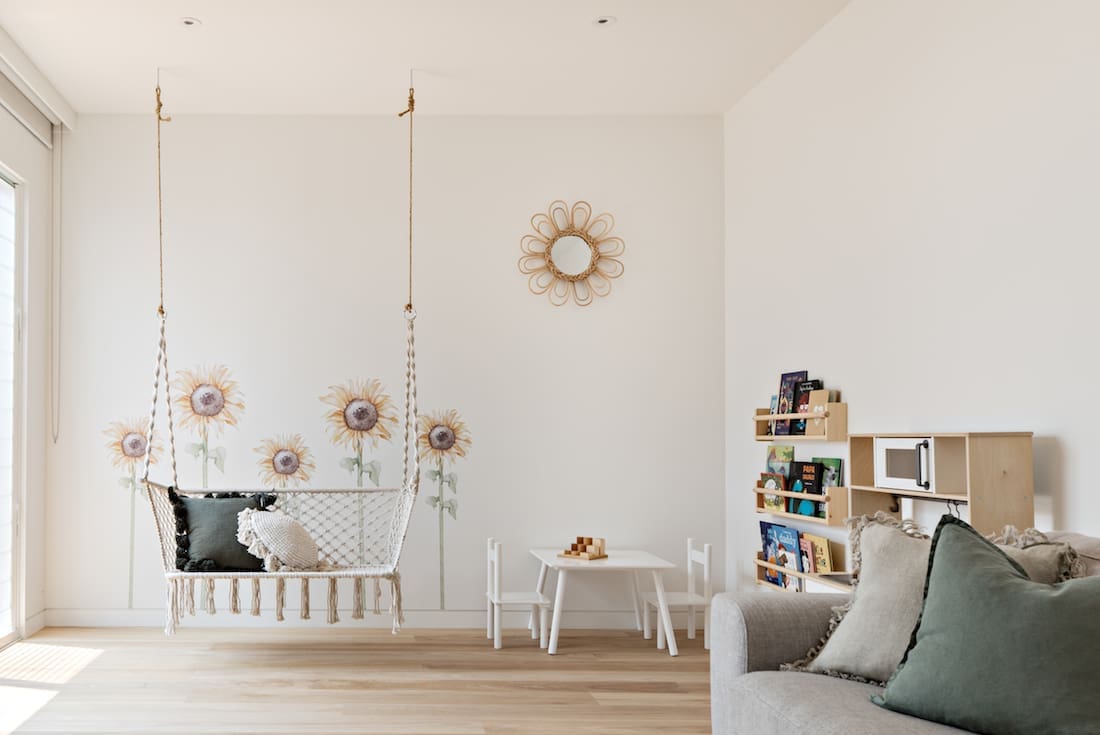 While the home reflects a simple, pared-back colour palette, Justine has created warmth and interest through texture and subtle decor touches.
"The whole house is quite neutral in its colour palette. You can see subtle pops of muted colours through the artwork, bed linen and decor.
"I also like to opt for textiles and soft furnishings with thick fibres and woven details such as tassels, braids and fringing to add tactility and warmth.
"However you design or decorate your home, think about how you want to live. What are your interests, wants and needs. Make your home a true reflection of you and your family.
"Try not to get carried away with trends and instead create a home that is undeniably yours.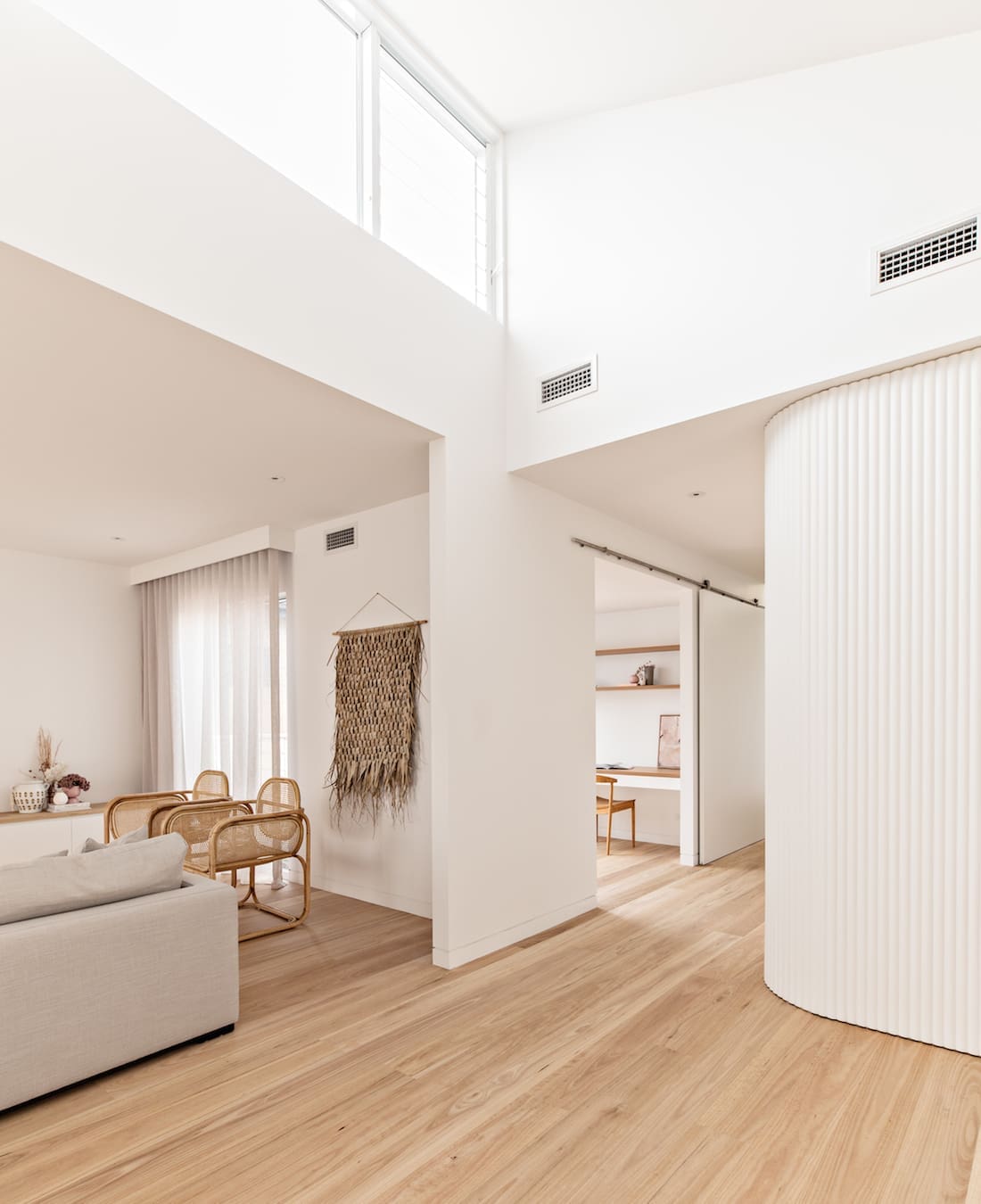 With more than a few home builds under her belt, we asked Justine her top 5 must-have inclusions.
"I love an open floor plan. Open living, dining and kitchen areas make your home feel grand and more spacious. They also help your home feel much more social.
"It will come as no surprise that one of my must-haves is including as much natural light as possible. Work with your house orientation to get the best light.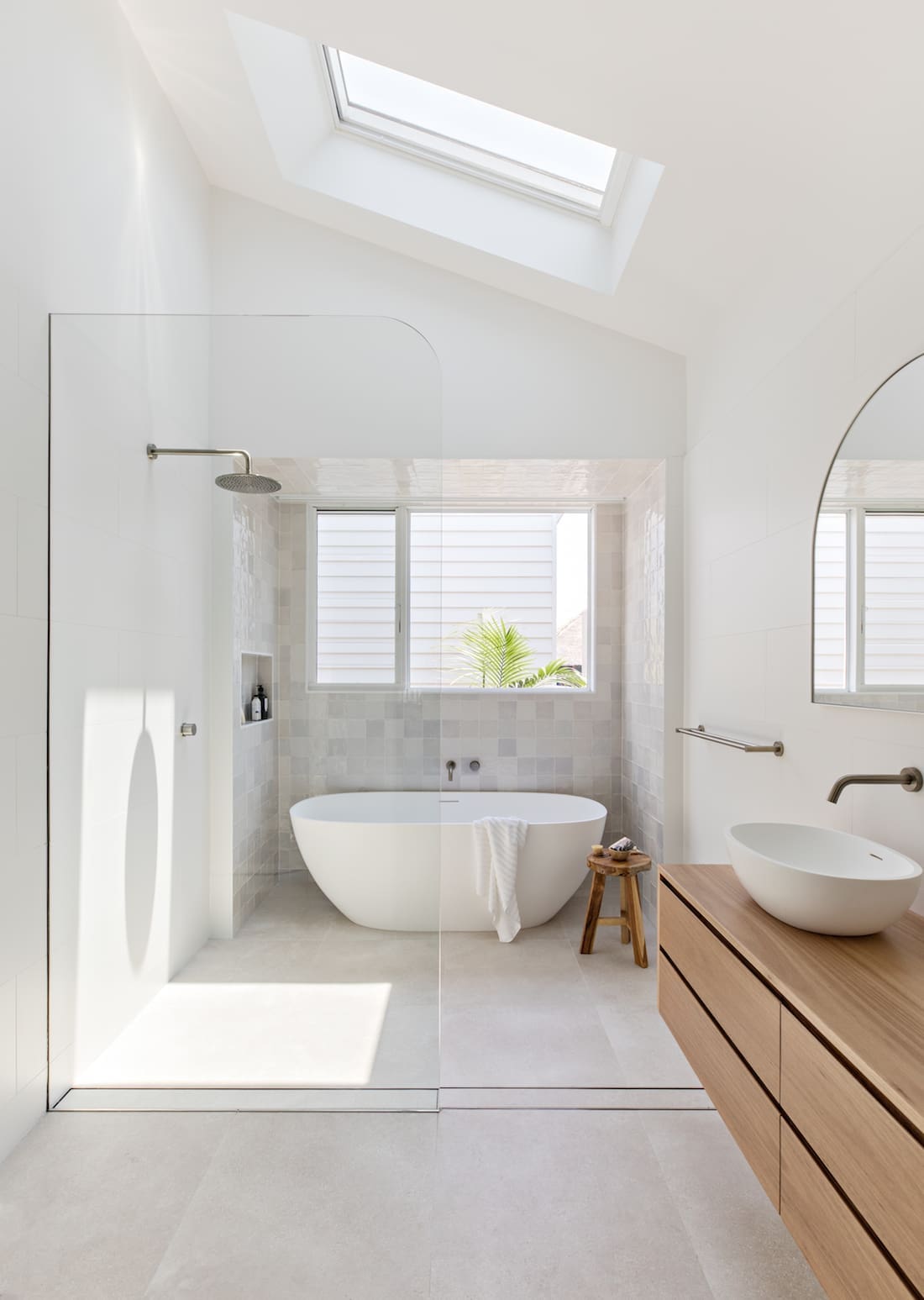 "A mudroom is a great addition. It's perfect for storage and keeping mess out of the way. Even if it's just a couple of lockers in the garage and a place to leave your shoes and bags," suggests Justine.
"I love sensor lights for places like the pantry, bathroom vanities and kids zones. We incorporated sensor lights along the hallway and underneath the bathroom vanity for our kids. When they need to use the bathroom during the night, they don't have to turn on any lights or call out for us!
"Having a seamless connection from indoor to outdoor spaces is one of my biggest tips for creating a home with beautiful flow. And lastly, don't forget about landscaping and window finishes. They can make all the difference."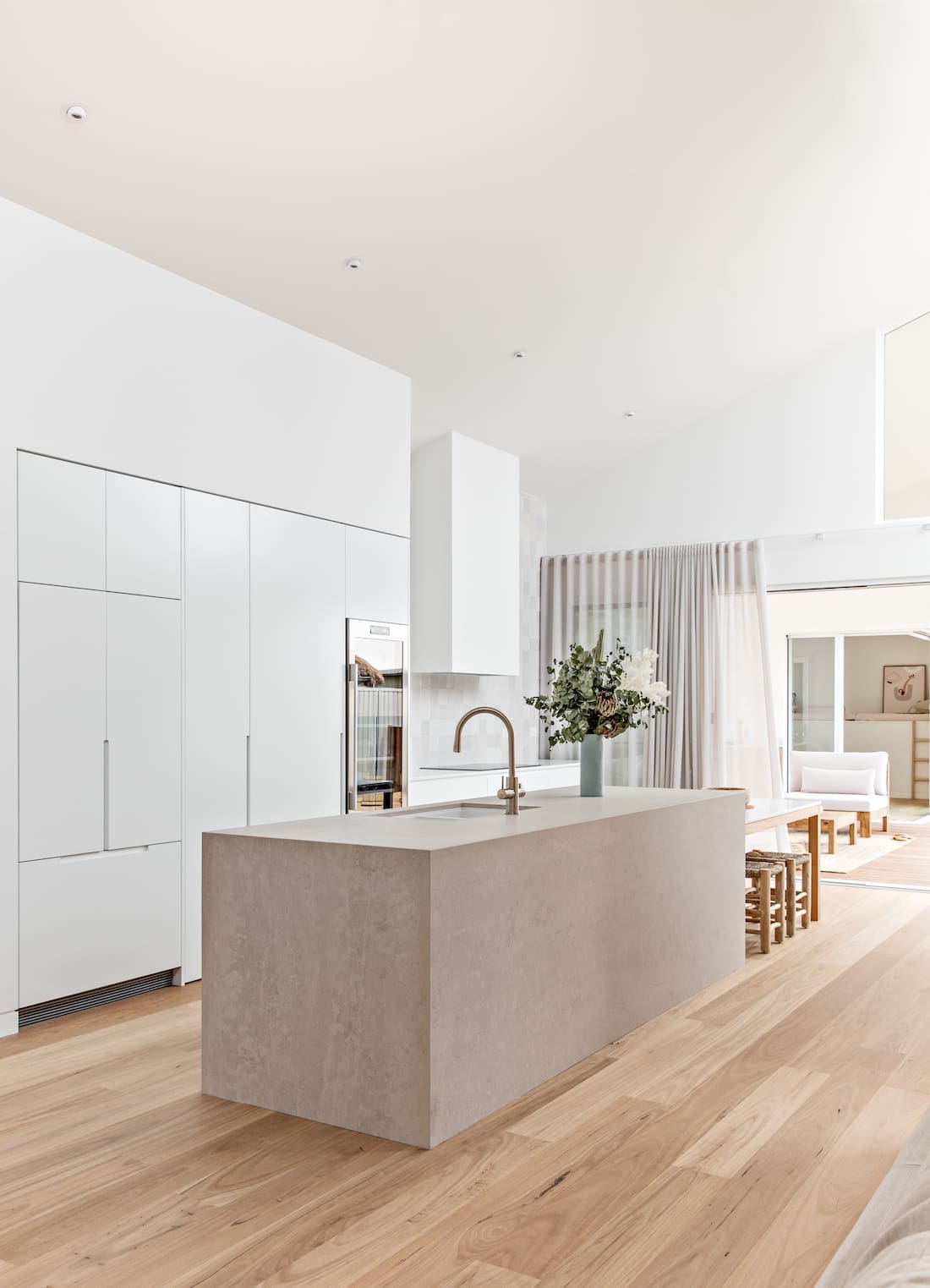 Photography — The Palm Co
Builder — Orton Building
We loved taking a look around Orton Haus — a truly beautiful coastal home with raw and natural accents. Thank you so much to Justine for taking the time to show us around. To see more, take a look at her Instagram page and be sure to check out Orton Building for upcoming projects.