There are few things we love more than custom joinery. It can completely transform a space and be a statement in a room. Point and case, this contemporary Australian parents retreat / living room, designed by one of our faves, Catherine Heraghty from The Stables.
Beautiful hidden storage, touches of timber, curves, v-groove panels and elegant style — this room has it all.
Related article: Peachy tones and gorgeous curves in the latest home renovation from Three Birds
Related article: The dos and don'ts of custom joinery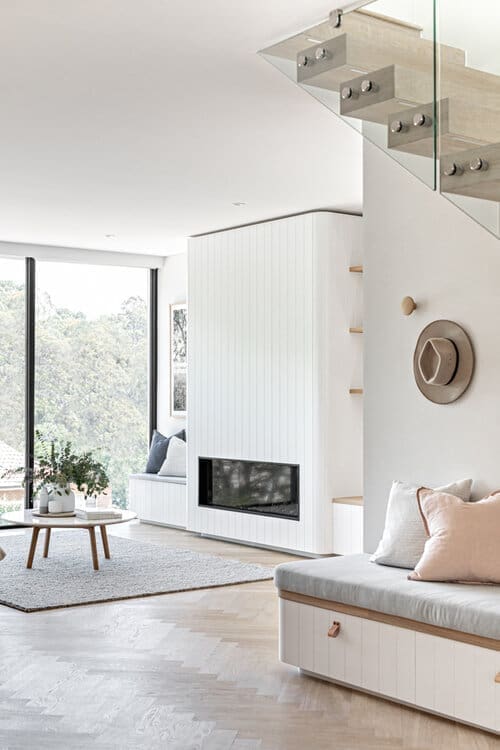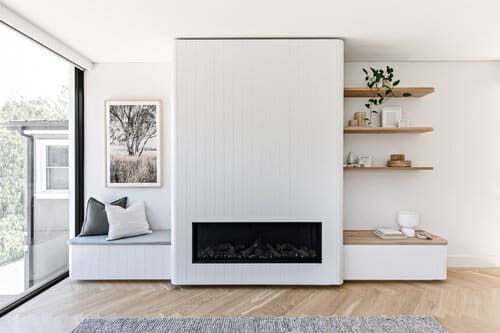 Beginning with an empty room, Catherine was tasked with turning a blank canvas into a beautiful family living space.
"When we came on board, the home was brand new — a total blank shell. We had the beautiful floors to work with, white walls and that was it!
"Our client was looking to create an intimate and luxurious family living space," Catherine explains.
"This space is at the entrance of the home so it was important to create a good first impression for guests. Also, we needed the space to be a retreat for the parents. A more formal space away from the kids when they needed it… without a TV!
"The family were also keen to utilise the empty space underneath the stairs. It's a bit of an odd spot that had no real function.
"So, we decided to create an almost mud room-like space that not only looked beautiful but also was functional. All the kids keep their shoes in the drawers and they can sit there and put them on before school."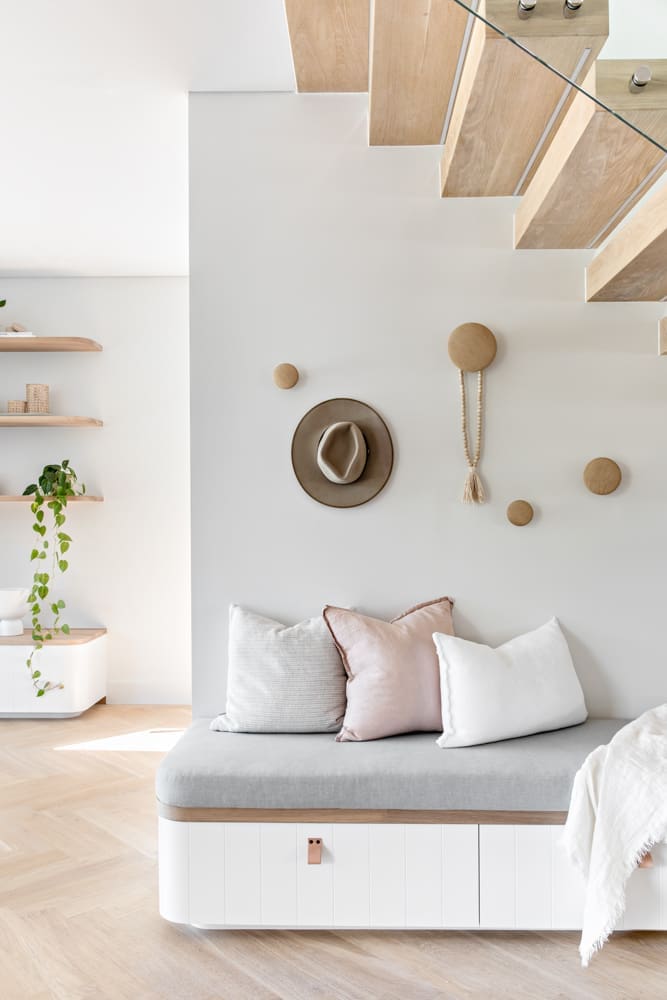 The client's brief for this space was for it to be functional and beautiful.
"We looked at the functionality of the current space, and how we could improve it for the family as well as making sure we produced something beautiful. Creating a focal point was really important, which is why we included the stunning curved v-groove fireplace," says Catherine.
"To keep things beautiful (and tidy!) the mud room space was designed with custom joinery. The bench seat ensures there is ample storage for the family's needs and they can simply tuck the mess away.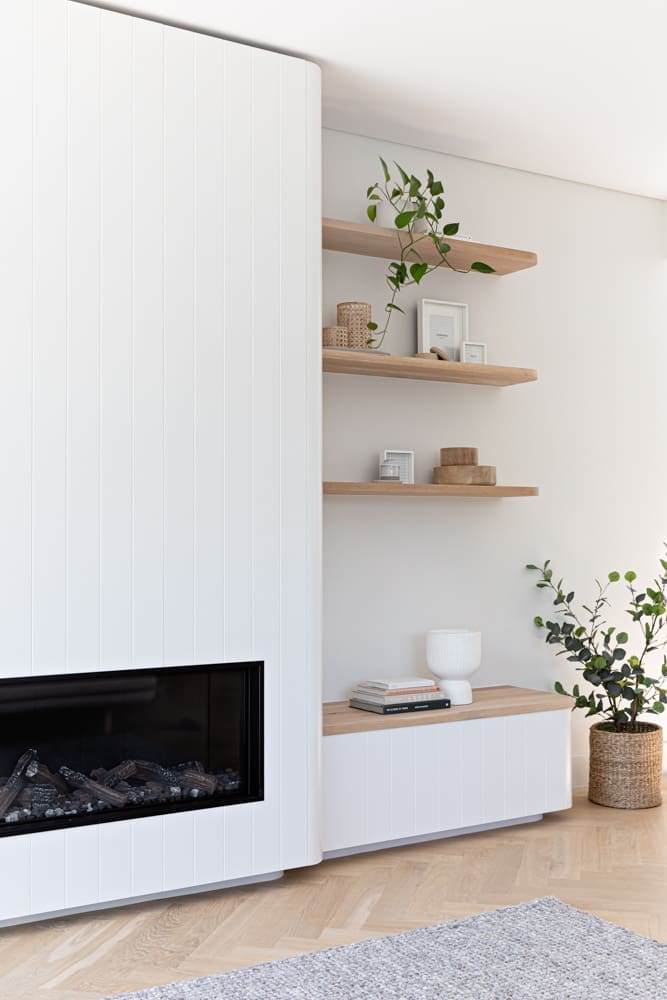 Adding interest to the walls through texture rather than paint colour, has given this room a subtle yet elegant feel.
"The v-groove panelling is spectacular, isn't it?!" smiles Catherine.
"We really like using it as it can elevate a space without overpowering it. It's a subtle design feature, but goes a long way in adding warmth and sophistication to a room.
"We prefer to use texture where we can to add interest and combine this with slightly muted colours for a soft and calming interior. The custom joinery and walls are painted in the colour Lexicon Quarter."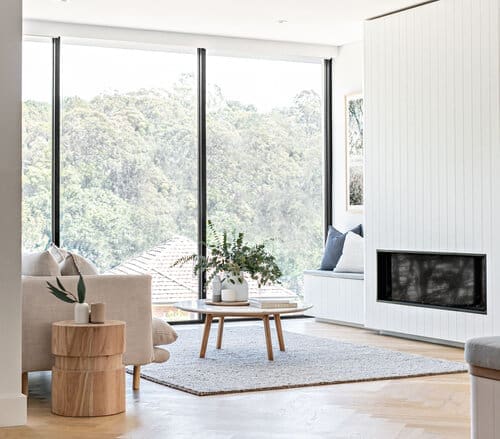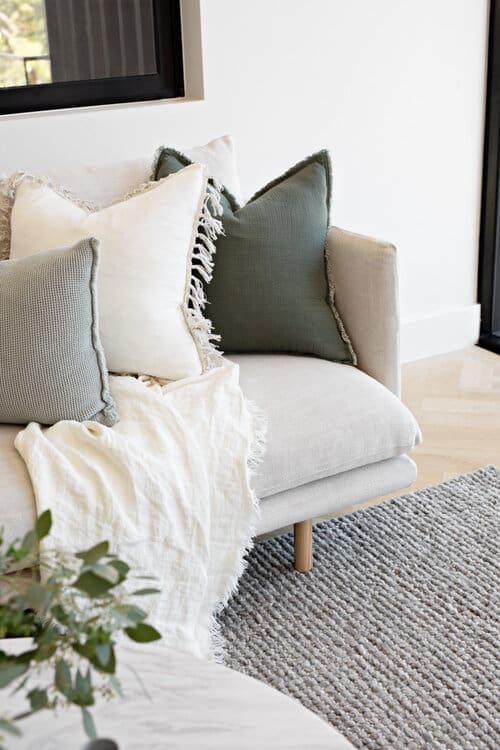 It's not just the panelling we're lusting over in this parents retreat… the curves are subtle yet add a real softness to the space.
"Curves add interest and respite from the usual sharp lines and edges found in residential interior design. They also help to draw your attention to particular features in a space.
"Curves are so lovely and forgiving on the eye when compared to sharp edges. They definitely cost more but are so worth it!" says Catherine.
Thank you so much to Catherine for showing us around this beautiful and truly elegant parents retreat / living room. For more projects from The Stables, visit their website or Instagram page.
Which is your favourite detail from this space? The curves? The custom joinery? Tell us in the comment section below.