We're always looking for ways to make areas of our home more beautiful and more functional. If there's one zone of the home we get more questions about than any other — it's what to do with that random space under the stairs! So we've searched high and low to bring you 12 genius ideas for that awkward under-stair space. Get ready to be inspired!
Related article: Gina's home: Hidden under-stair cubby (makeshift playroom)
Related article: Erskineville laundry before and after: Dreamy Euro style laundry with added storage
1. Create some toy storage or a cubby play space
If, like Gina, your home is lacking that all-important kids space, an under-stair cubby or toy storage might be a great solution. No one wants toys cluttering up every room of the house and it can be fun for kids to have their own secret hideaway.
An under-stair cubby doesn't have to be complicated or expensive. Check out how Gina created this magical space for her boys with just a handful of materials and a few clever ideas.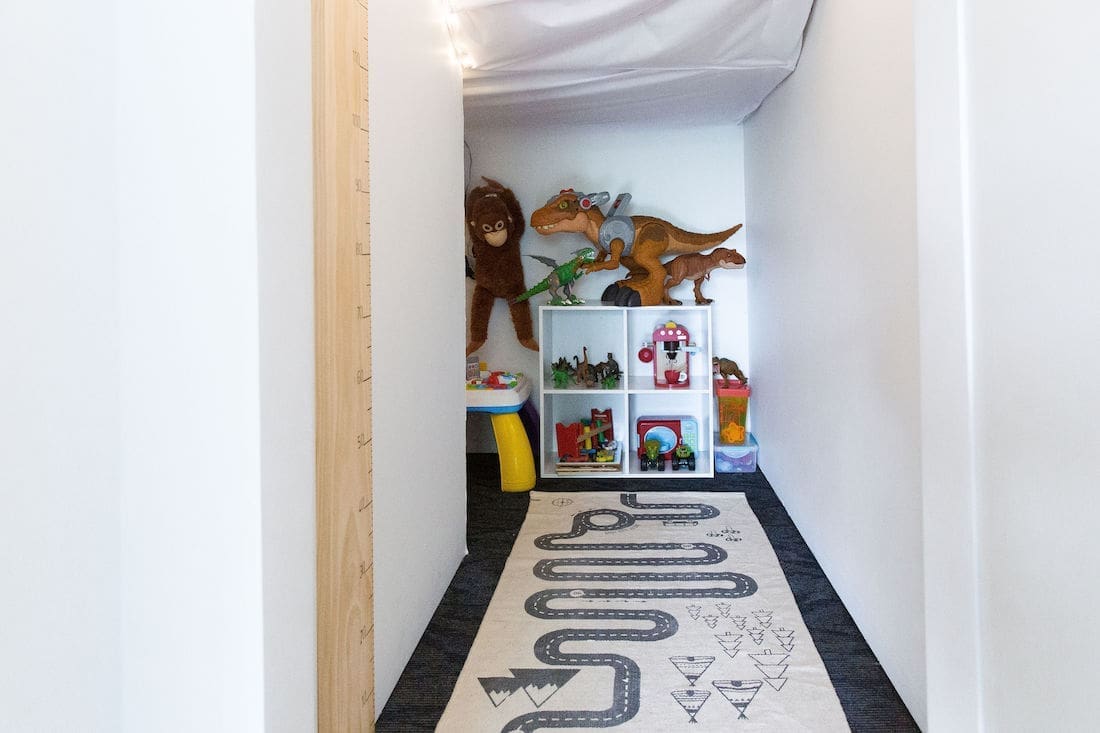 2. Make it a pantry
If your stairs are close to your kitchen, an under-stair pantry might be your perfect solution. There are loads of designs out there but we've included a few of our faves below.
You could do a walk-in design with shelves and cupboards, or try a nifty pull-out design. Now that's clever cooking!
3. Create a mini mudroom
Trust interior designer Catherine Heraghty of The Stables to come up with a genius idea to utilise that awkward space under stairs. In her Blakehurst project, she turned a blank canvas room into the ultimate parent's retreat / living area. This mini mudroom under the stairs features custom curved joinery to keep things functional and beautiful.
4. Turn it into an indoor jungle
For those of you with a staircase (particularly an open-tread staircase) in the entry of your home, it can be especially challenging to know what to do with this space!
Our favourite idea — turn it into an indoor jungle! This first image is an example of how ah-mazing it can look and the second is a more achievable version using pot plants (find out what plants thrive living in pots here).
5. Create a Euro laundry
In one of our fave ever projects, Gina turned this ugly, awkward laundry space into a dreamy Euro style laundry with added storage. Perfect in this 150 square metre home where ever bit of space counted and storage was key!
A laundry is a great idea for under the stairs as it can be done well without a huge amount of space. It's all about the planning. See how Gina worked her magic with this under-stair laundry.
6. Make it art… or bike storage
Calling all bike enthusiasts! This one isn't for everyone but for cycling lovers, it's a sure-fire winner! We mean, how cool does it look?!
7. Create a study nook
One of the most popular ways to use the awkward space under stairs is by incorporating a study nook. It's a clever use of space that's also relatively inexpensive to create.
It can be as simple as a floating piece of timber or as complex as custom joinery with added storage. This is a great solution no matter what your budget. How stunning are the clean lines from this Scandi-inspired home tour?!
8. Convert it into a linen cupboard
Seems kinda obvious, but how many of us have an awkward space that just ends up being a dumping ground for random stuff (spare Christmas decorations anyone?!). Take an inspirational leaf out of the homes from this year's season of The Block, and turn that junk space into a dreamy linen cupboard.
This square shelving design from Luke and Jasmin's home is simple, yet provides the perfect flexible storage solution for an otherwise un-used and poky space.
9. Get creative with a workshop
Not all of us have the space for an outdoor shed or workshop. This solution ticks all the boxes — using what would otherwise be wasted space and turning it into a makeshift workshop.
We cannot guarantee every owner will keep it this clean, but we can live in hope.
10. Dedicate it to your furry friend
This idea for what to do with an awkward under-stair space is definitely one of our faves — it's a pets paradise! A little built-in home for your precious pooch is an idea we totally love. From clever kennels (cool, but perhaps a tad tricky to clean!) to a simple built-in bed. These are ideas your pets are sure to adore and appreciate.
11. Turn it into storage
Storage is an obvious solution for making the most of the space under your stairs and this first pic is one of the best examples of custom joinery we've seen!
But keep scrolling and see that even in a tiny apartment, the same concept can work. We also give big ticks to that open shelving idea as a way of showcasing your book collection.
12. Create an adults only bar or wine cellar
Sure, this idea might seem a little luxe, but we can all dream right?! Type in 'under-stair wine cellar' into Pinterest and you'll see just how elaborate and OTT some people go!
But it doesn't have to be that grand. We like the idea of using otherwise wasted under-stair space as storage for your wine collection. Some simple stackable wine racks will do the trick just nicely.
Another idea is to pop in a drinks area. We love how this one incorporates a bar, wine storage and space for a neat and tidy firewood stack. The bar fridge kicks it up a notch, but you could still make a super stylish set up without one.
It'll have you feeling like it's always happy hour at your place! Martini anyone 😉 ?!
What do you think of these ideas for awkward under-stair space? Do you have a fave? Or perhaps you have a different space in your home you're not quite sure what to do with. We'd love to help! Let's chat in the comment section below!
Disclaimer: This post contains some affiliate links. This means that when you click on a link and purchase something from that site, we may make a small commission at no extra cost to you. We promise we only work with brands we know, love and trust.