When it comes to beautiful bathrooms, our next guest proves you don't have to play it safe and go with classic white.
When we saw Anna from Moore Creative's stunning coastal luxe bathroom renovation featuring wood panelling, navy walls and a basket pendant light, we just HAD to have a closer look!
Related article: Hamptons luxe bathroom reno that's loaded with #bathroominspo
Related article: 15 stunning bathrooms that don't use white tiles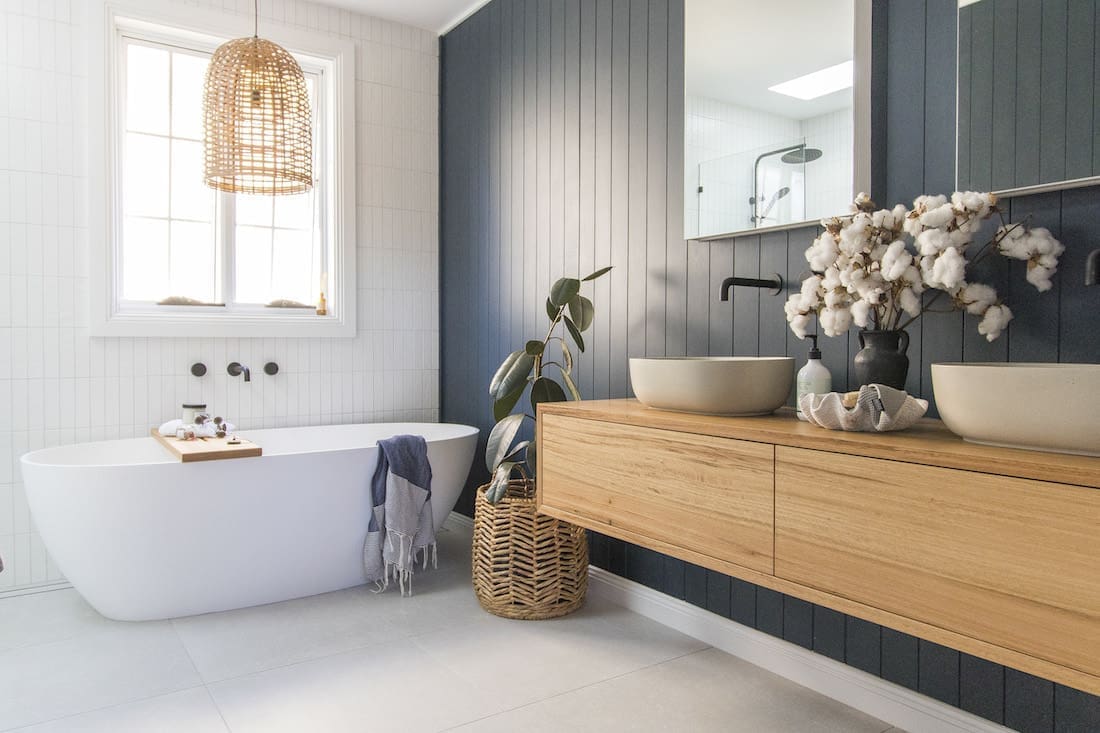 As the final piece of the renovation puzzle in their Newcastle family home, Anna's bathroom was many years in the making.
"I have been planning this bathroom for years," she laughs.
"The bathroom was the last room of the house to be renovated so I basically used the rest of the completed rooms as my inspiration by pulling out my favourite elements and using them in the bathroom.
"Instagram and Pinterest also played a big part in gathering inspiration for this room.
"When designing the bathroom, I knew I wanted to have some wall panelling as we'd already used it in the kid's bathroom and loved how it looked.
"Using the wall panelling was also a budget decision too, as my husband Aaron could install it himself, saving us money on paying for tiles and a tiler if we did floor to ceiling tiles," Anna explains.
Going into this house renovation and knowing this was their forever home, Anna says she was careful to design the bathroom in a beautiful but classic style.
"This is definitely our forever home. I was very conscious not to follow any trends that could potentially date in a few years time so I went with safe wall tiles and bold navy paint for the panelling.
"My thoughts behind this were you can easily paint the walls but you can't easily change the tiling — well, not cheaply anyway!"
Anna was keen to make the space work for them, even if it meant making changes to the original room layout.
"The original bathroom had steps down into the space which not only looked terrible, but they took up space.
"We decided to move the entry door to a completely different wall, meaning we could remove the old steps and this helped create a much nicer flow for the room.
"It gave us more space to fit in a larger vanity, too," Anna explains.
"I also really wanted 600×600 floor tiles, so together with our tiler we came up with the idea to have the entire back wall as a grate drain.
"This meant we didn't need to have any floor wastes in the centre of the bathroom and I got the large tiles I wanted!"
With their house situated on a beautiful lake, Anna says her style is inspired from these natural elements.
"My whole house is very coastal and I love natural elements like the basket pendant light. And blue always seems to make an appearance in every space I design," Anna says.
Documenting her house renovation on her instagram page, Anna has a wealth of expertise, knowledge and know how so it would be rude of us not to ask for her top 5 tips for renovating bathrooms.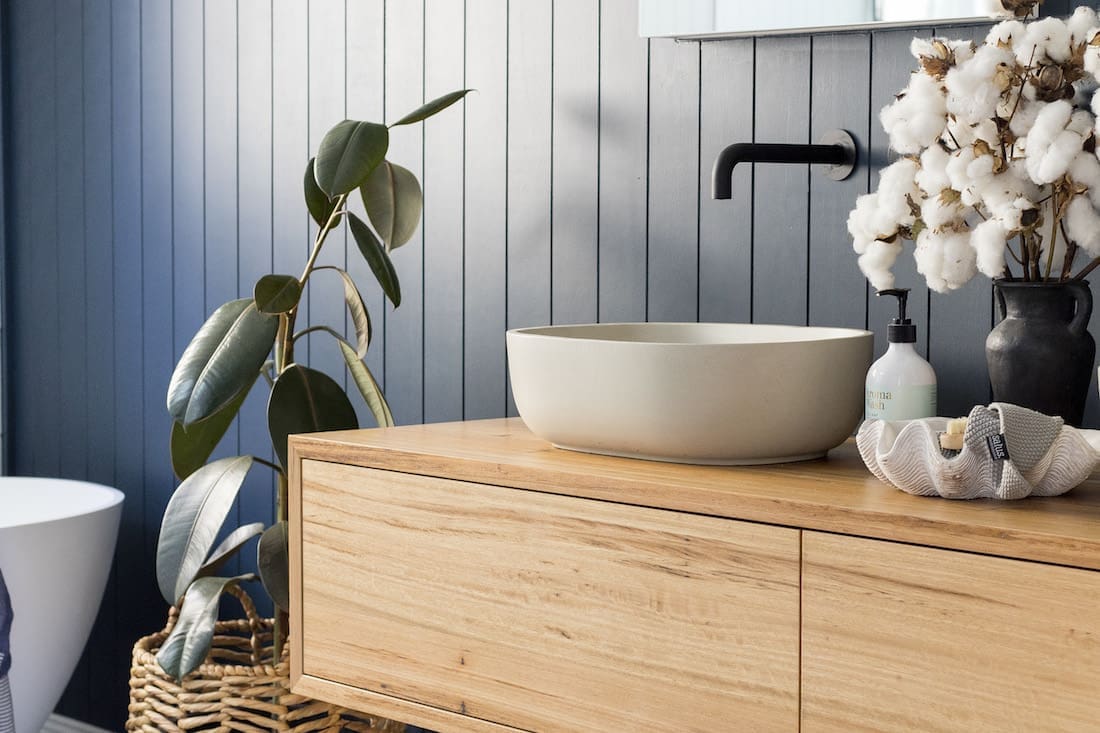 Anna's top 5 bathroom renovation tips
Tip 1
Pay attention to the finer details like having a ledge in the shower for soap and shampoo, or hidden power points in the shaving cabinet to charge your electrical items.
Tip 2
Gather samples of all the materials you plan on using so you can make yourself a mood board to give you an idea if something isn't working so you can fix it before it's too late.
Tip 3
Don't feel you have to stick to the original bathroom layout — plan the space to give yourself the best possible layout. Sure, it might end up costing more but it will be worth it in the long run.
Tip 4
Storage! This one is SO important, especially in the main bathroom. Adding something like a shaving cabinet is a great idea to give you that extra bit of storage space.
Tip 5
If your bathroom is dark, consider adding a skylight or making your window larger. Natural light not only makes the space look bigger, but adds practicality by making it easier to see what you're doing in there, like putting on make up or shaving.
Suppliers:
Tapware, vanity, bath and mirrors: Highgrove Bathrooms
Pendant light: Freedom
Tiles: Tile Warehouse
Thank you so much to Anna for taking us on a tour of her gorgeous coastal luxe bathroom and sharing her top renovation tips. You can check out the rest of her amazing home reno over on her Instagram page and more pics of her bathroom below.