Supported by Tile Republic
If you're about to renovate or design a new bathroom, we want to inspire you to think beyond white tiles.
White tiles are great — they're neutral and crisp, and with the range of shapes and textures on the market today you can create real interest. We love white tiles and have nothing against them.
But not everyone wants to use white tiles in the bathroom and serious magic can happen when you get a bit more adventurous and daring with your tile choices.
So today we're sharing 15 stunning, contemporary, heart-eyes bathrooms that don't use white tiles.
From hotel-chic to dark and moody, warm and natural to contemporary-cool, we hope you find a bathroom you love to inspire your next project!
Related article: 5 of the best cosmetic bathroom makeover tips
Related article: How to decorate your bathroom: Bathroom styling tips and tricks
1. Pink square handmade tiles
For those who want to be really bold, it doesn't get more daring than using a pink tile on all your walls! We love the more earthy tones of this pink tile and the tonal variation between them, and how the grey floor tile and timber vanity ground the space.
2. Blue glazed subway tile
Also featuring a more organic handmade finish, this wall of blue subway tiles creates an instant impact. Blue is the most calming colour on the spectrum and it's impossible to deny the effect of colour on our emotions when you step into this serene space.
3. Real terrazzo and Zellige tiles
Mmmmk, this bathroom is beyond fabulous! Combining real terrazzo floor and half height wall tiles with that stunning shower of Moroccan Zellige hand-chiselled tiles, this bathroom doesn't hold back.
4. Curved wall of blue Kitkat tiles
Curves are having a big moment in interiors at the moment and we love how these clever architects designed a curved wall into this bathroom. Deep blue Kitkat mosaic tiles hug the wall perfectly to nail the look.
5. Terracotta brick tiles
Catherine of The Stables says she's wanted to use terracotta tiles in a bathroom forever and finally got the chance! Can we just take a moment to appreciate this gorgeous, restrained palette.
6. If not white, then grey
Most of the bathrooms in this list are pretty out there — we are, after all, trying to push you outside your comfort zone — but if bold colours and patterns really aren't your thing, perhaps grey is a comfortable alternative to white. You can find plenty of 'warm' tone grey tiles to create a serene bathroom.
7. Deep blue glazed subway tiles
Interior Designer Jane Ledger over in Perth has done it again with this dreamy bathroom. You can find all the photos over on her site… and we're betting the vanity will make your heart skip a beat!
8. Marble and grey
Another restrained version of bathrooms that don't use white tiles is this soft grey bathroom with a full wall of fish scale marble mosaic tiles. Marble is a timeless material but beware of using it in showers like this — being a porous material, it does require sealing and PH neutral cleaners.
9. Deep green feature wall
Green is the most common colour in nature and represents balance. It is considered to have a refreshing and revitalising effect and we LOVE it as a feature colour in bathrooms.
10. Patterned feature tile
These 20×20 patterned tiles are typically seen on floors but using it as a feature behind the vanity is such a clever idea and tones down the impact.
11. Tonal bathroom
Channeling luxe day spa vibes. Understated but far from boring, this tonal bathroom gets a big tick from us!
12. Horizontal stack Kitkat tiles
You saw Kitkat tiles used on that curved deep blue wall above and here's how different they can look when you simply lay them a different way and opt for a lighter shade. You can find Kitkat tiles in flat colours or those with an antique edge (like the ones pictured below), in matte or glazed finish, and even in natural marble!
13. Square mosaic tile
Trust Carlene to come up with such a fabulous materials palette — combining square mosaic tiles in the shower, VJ panel walls and solid stone slab around the vanity. You can see the full home tour here.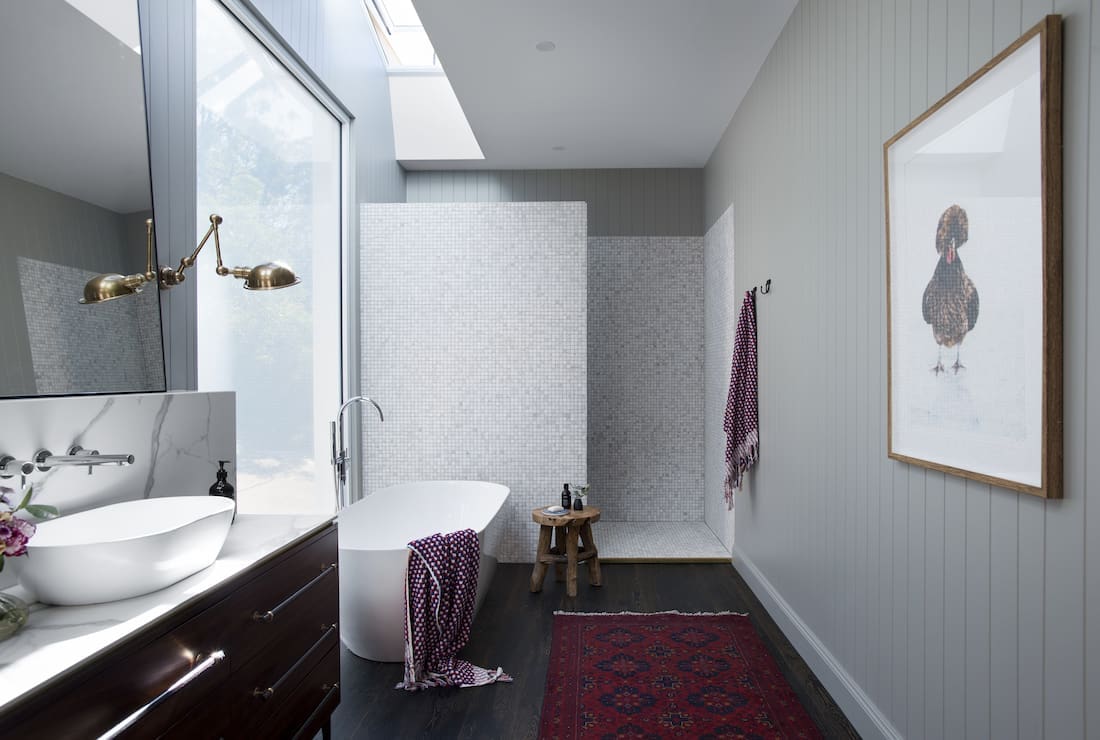 14. Antique white and grey
Ok so technically this would be considered a white tile buuuut given its antique edging, it comes across more light grey. In any case, we're sure we can all agree it's fabulous and far from boring!
15. Terrazzo for days
Terrazzo is certainly gaining in popularity and we're all for it! This bathroom uses a porcelain tile with a terrazzo pattern which is a way of getting that terrazzo look without the maintenance that can come with this material. Drop. Dead. Gorgeous.
We totally understand that the bathroom is an expensive area and you don't want to lock in a choice that will date quickly.
While all-white tiles can feel 'safe', the truth is every bathroom will eventually date. Perhaps the size of tiles you chose, the finish or simply the way they are oriented will feel tired after time… no look is forever.
Many of the bathrooms above feature classic materials that can offer similar longevity but bring a bit more warmth and personality to your bathroom.
If you love these bathroom ideas, you might also like to check out this totally luxe bathroom with day spa vibes!
What's your favourite of these bathrooms that don't use white tiles or have you found another example to share? Link to it in the comments below!
This post was first published in January 2017 but has been updated with new information and images.