Heard of Scandi-Med before? It's not a style we come across very often, but when you take a look inside today's home tour, you're definitely going to want to see more! Think Mediterranean holiday vibes meets the pared back sleekness of Scandinavian style.
We were delighted to take a look around the latest project from Christal and Chris Fysentzou of Zou Build. We've featured a few Zou Build homes on Style Curator before, and just like the others, this one does not disappoint.
Related article: Amazing home transformation: Before and after renovation of the Bardon home
Related article: Before and after home renovation: An original home gets a spectacular makeover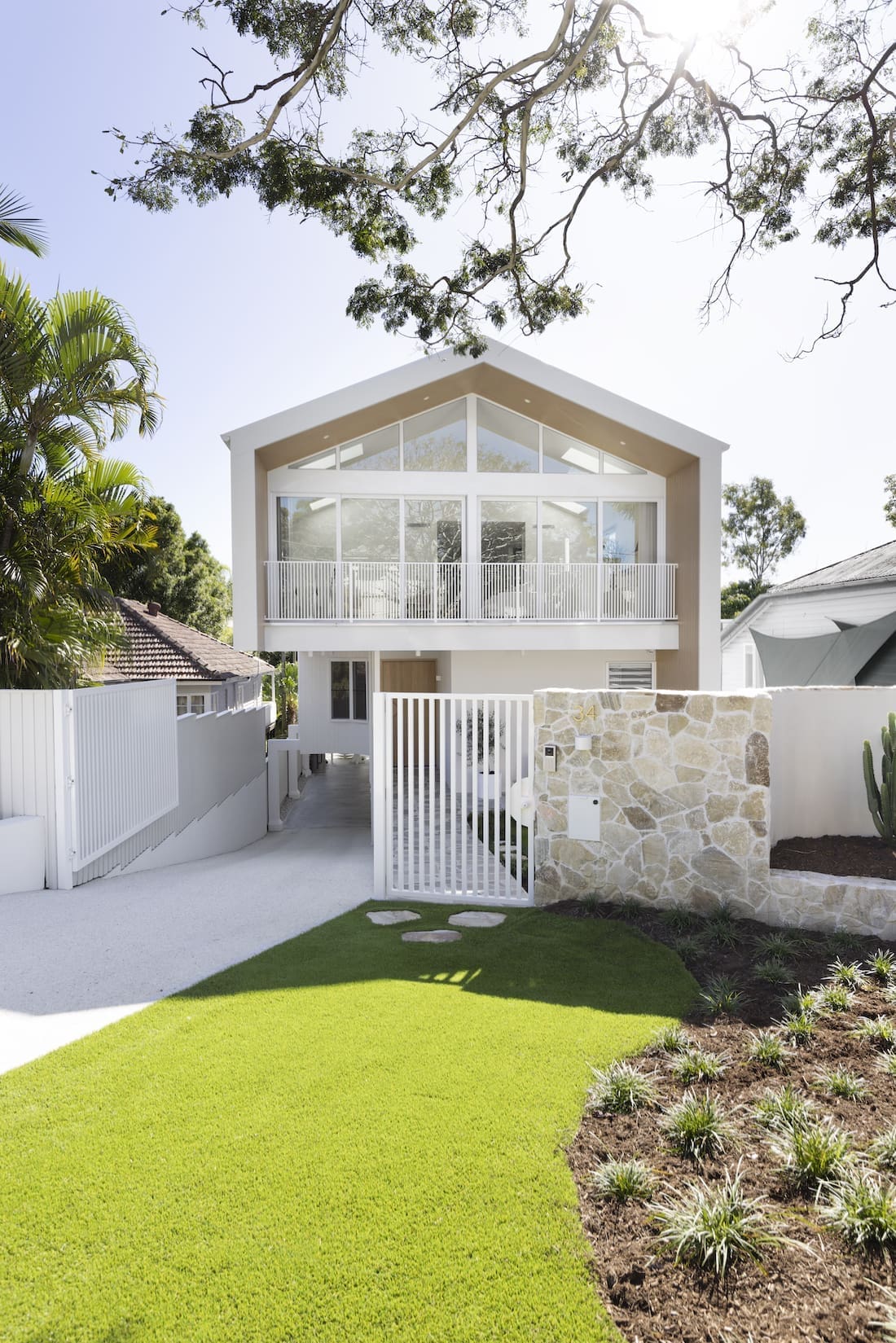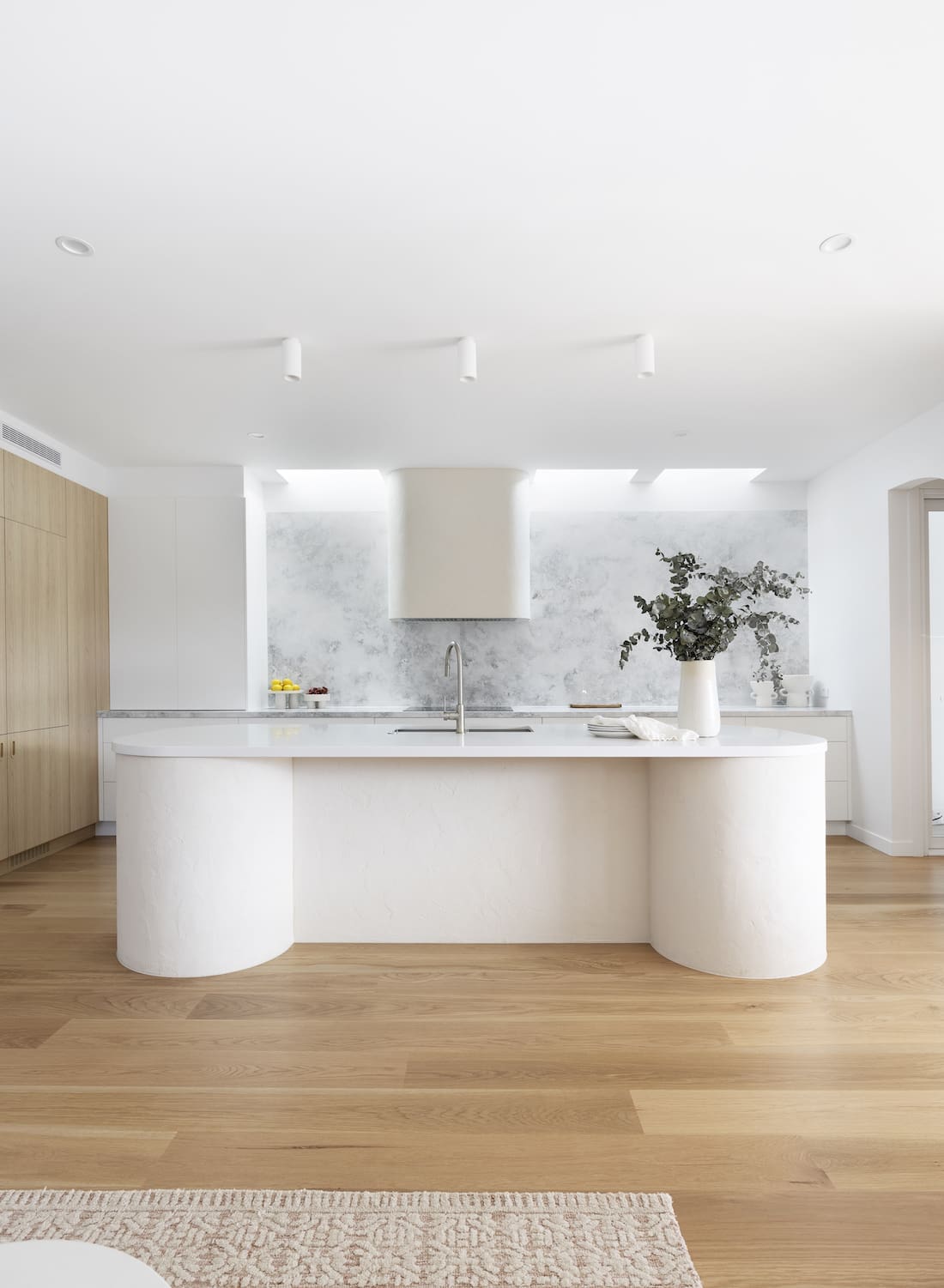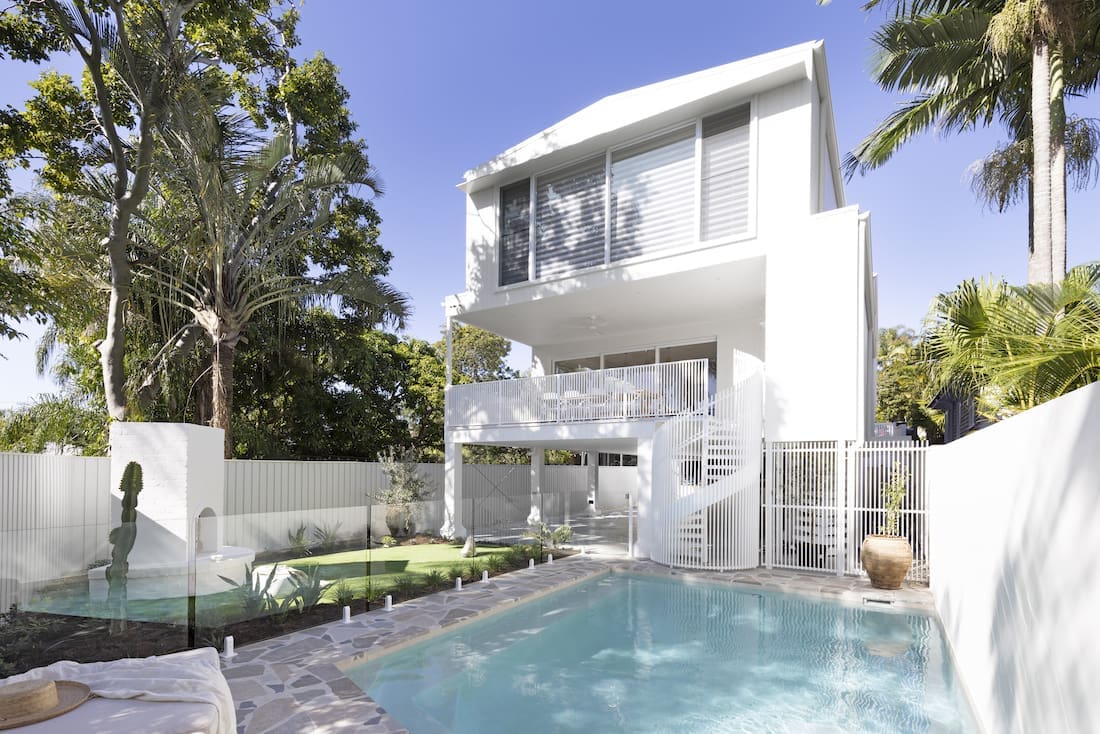 As a design and build team, Christal and Chris have had their fair share of practice. So when it came to building their own family home, it was destined to be something pretty special.
"Zou House is our latest project," says Christal — the designer behind this spectacular build. "Generally speaking, we renovate the homes we work on. There were extensive challenges to the original home we purchased, along with a sloping site and myriad of council enforced character overlays.
"It made more sense for Zou House to become the first knock down project we've taken on. It gave us the opportunity to design and build a home that would embody our functional and aesthetic desires."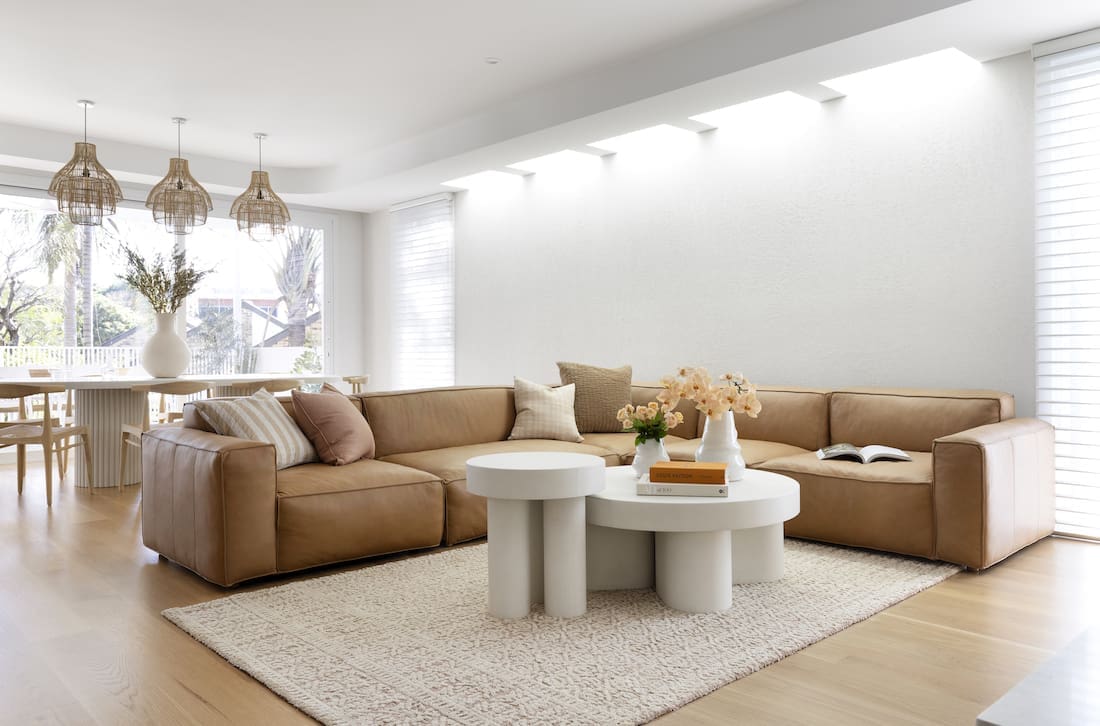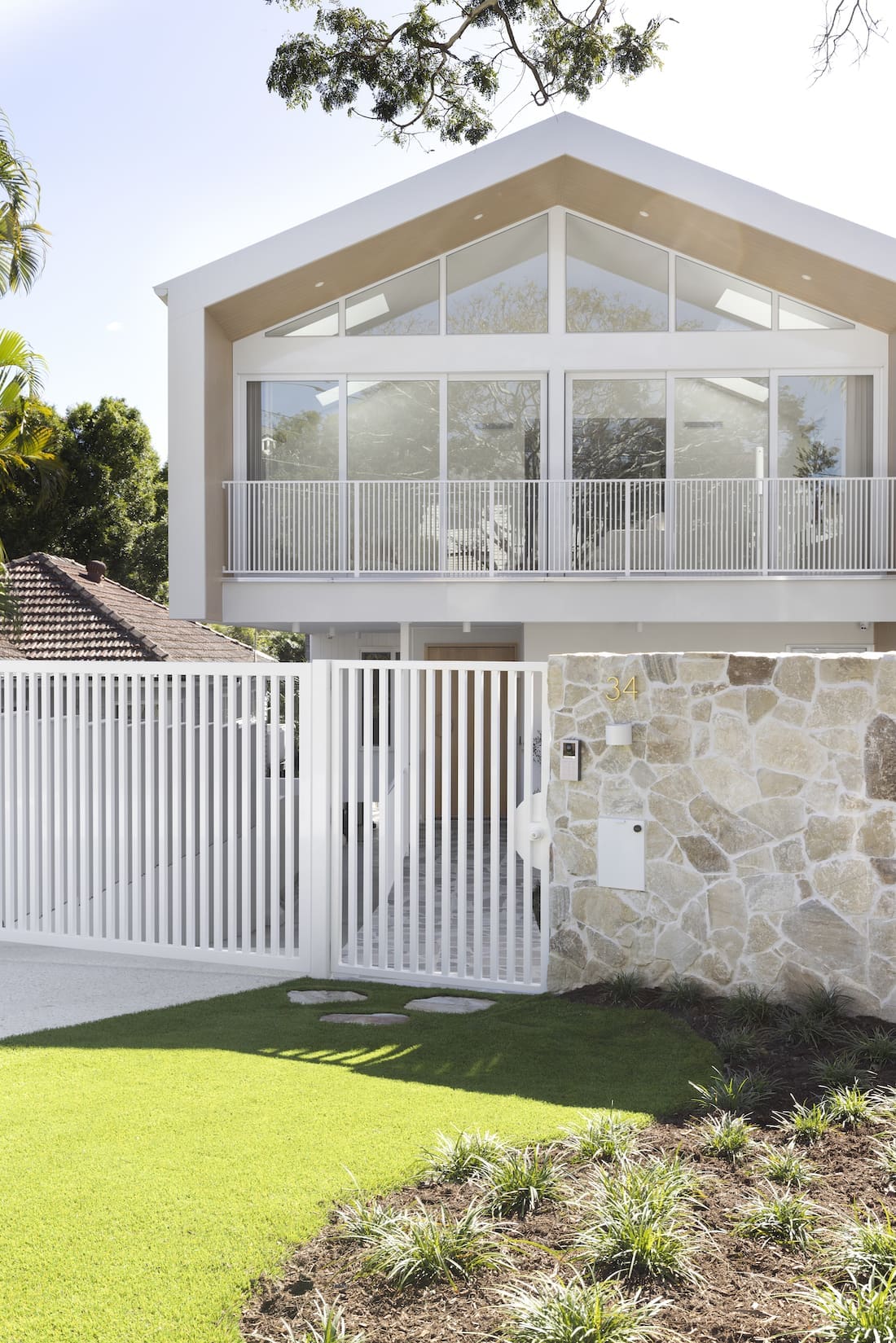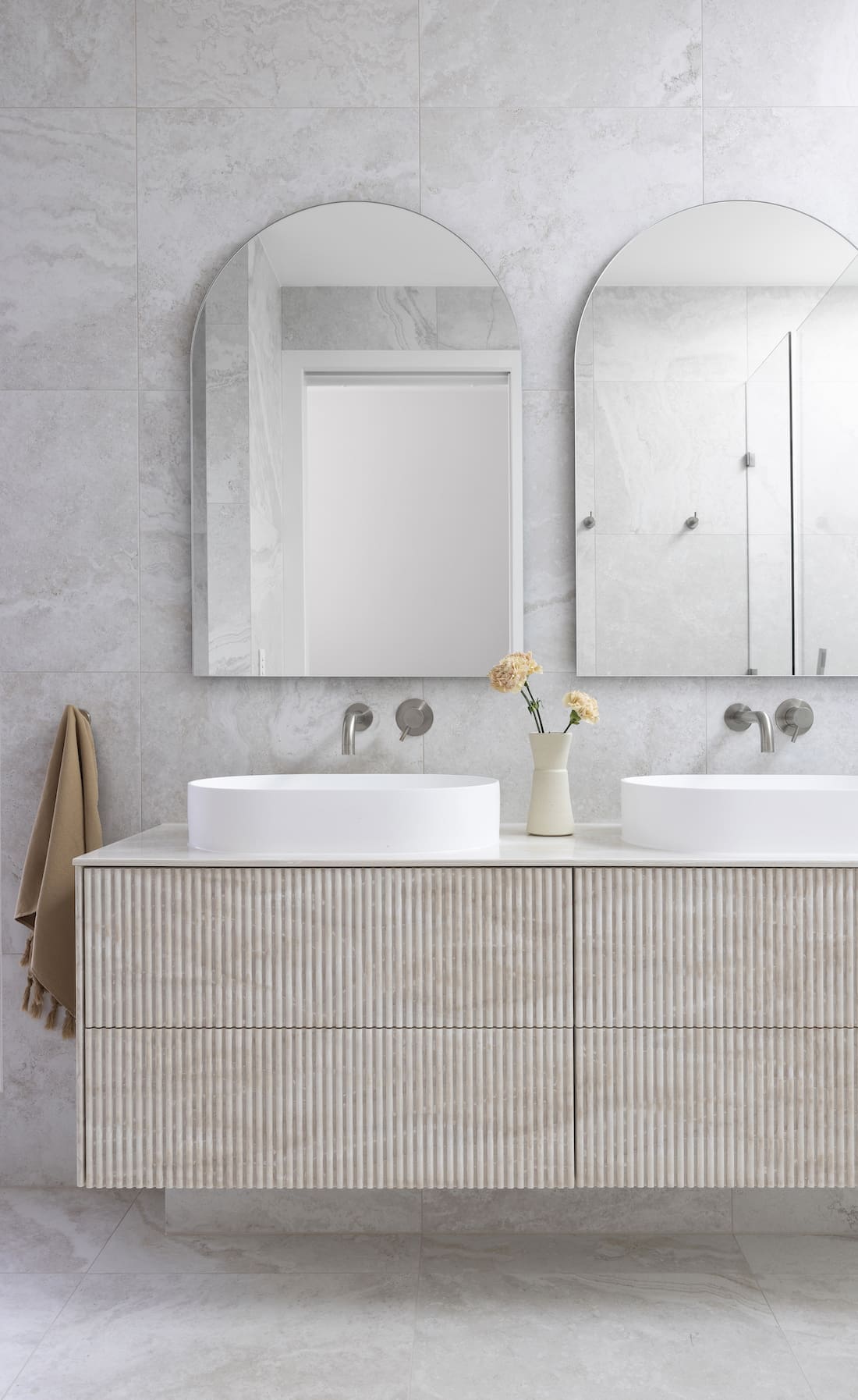 Located in Brisbane, Queensland, the original home left much to be desired.
"It was originally a post-war, 3-bedroom home on a 405-square meter block. We purchased it 6 years ago… from a hoarder.
"The inside was in quite a state! It was definitely not love at first sight," Christal laughs.
"However as build and design professionals, we just knew it was a smart buy. We fixed up the aesthetics and rented it out while we focussed on other projects.
"Then in 2020, we decided to tackle our home… just in time for Covid! The home was designed in collaboration with Koda Design. I oversaw the interiors, while my husband Chris lead the build through our business, Zou Build."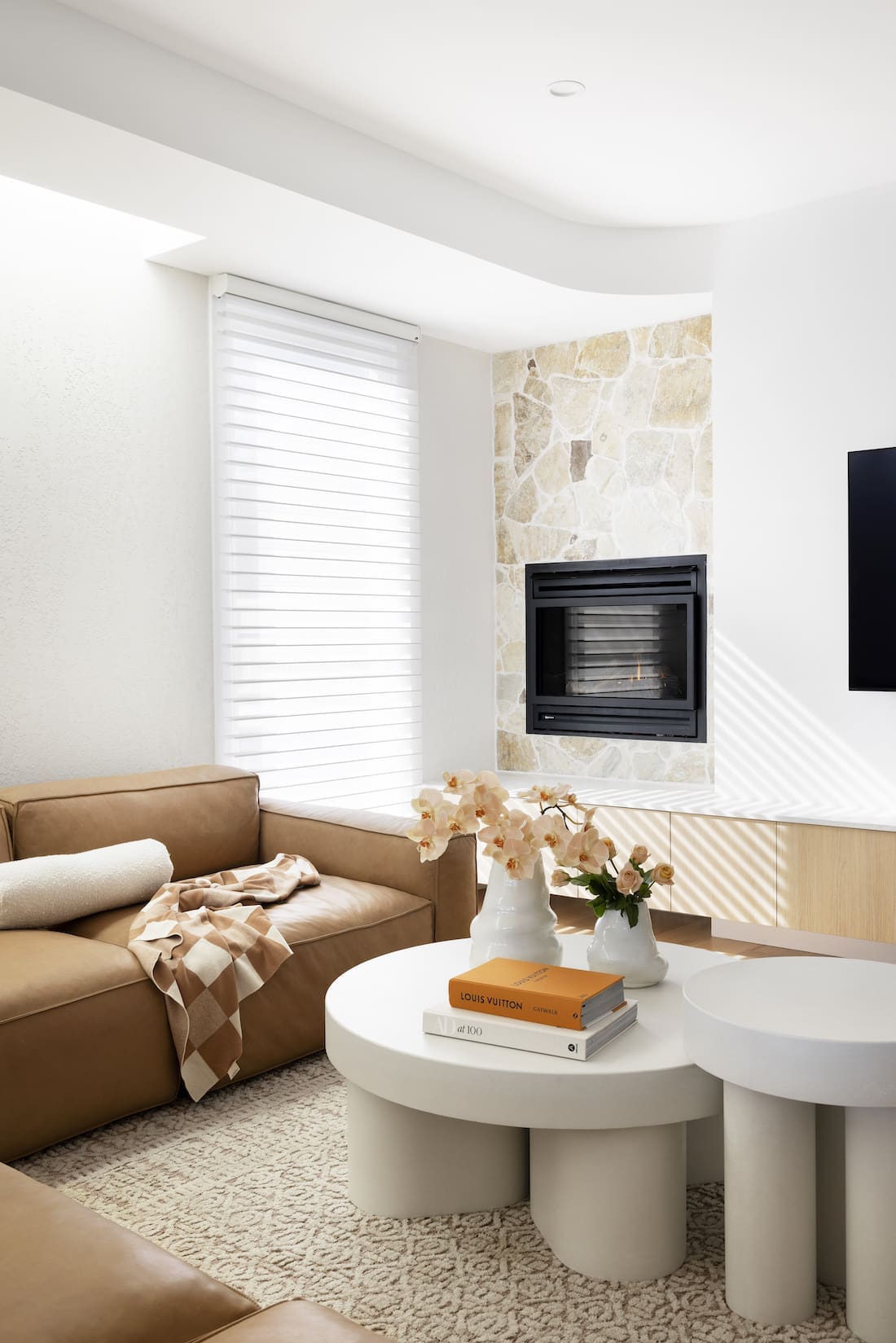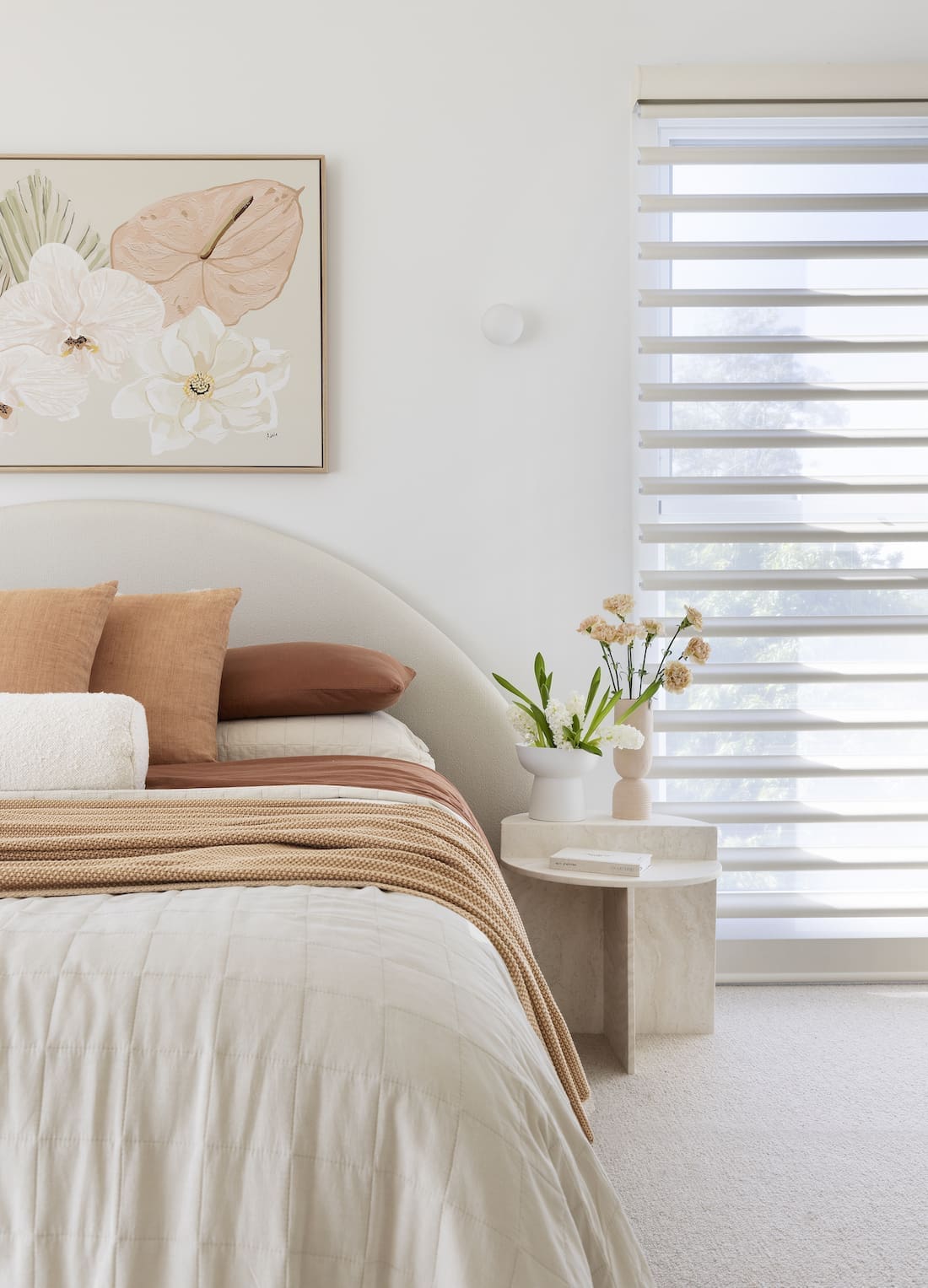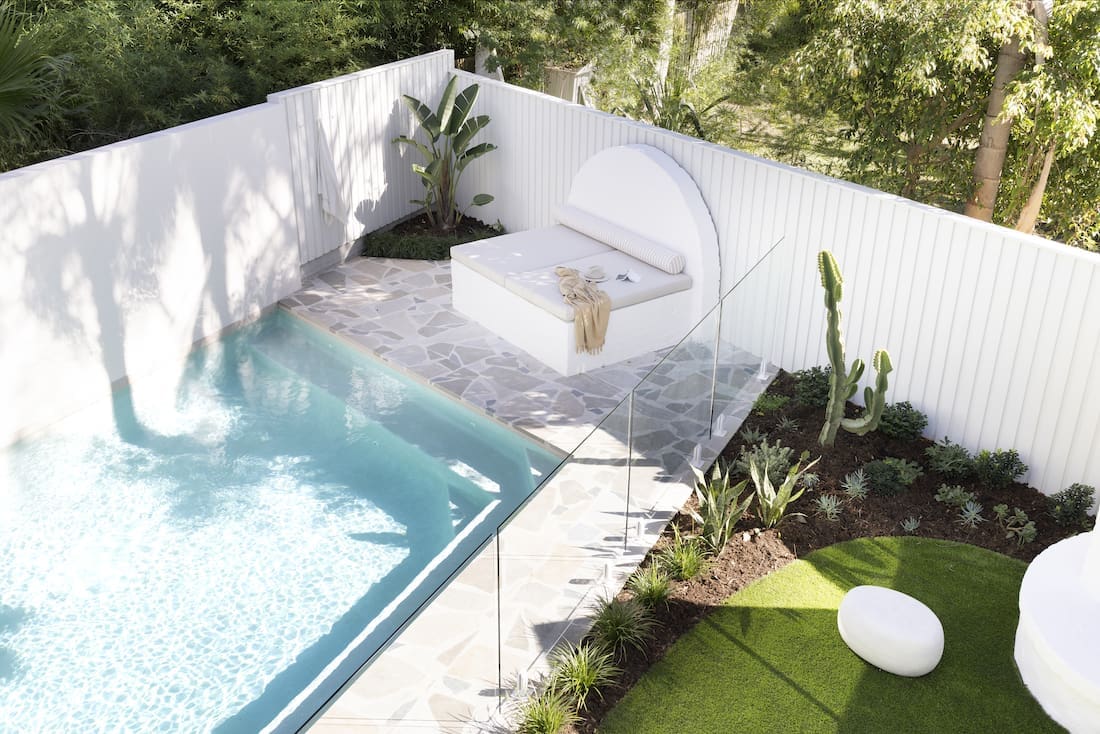 As a couple who works extremely hard, they wanted their own home to feel like a haven, centred around their love for the Scandi-Med.
"I wanted to create a different form of Queenslander. A Scandi-Med home with a relaxing, modern vibe. It's our family home — myself and husband Chris, our 2 daughters Andrea (13) and Sophia (10). And of course, our beloved dog Teddi," says Christal.
"The property is situated in an area with a traditional character overlay. And we wanted a property that had longevity, so our weekends could be spent enjoying our home, rather than maintaining it.
"Unlike other projects where we renovate to sell, this was our long-term home. So we really took our time and made sure we thought of everything."
If anything, our previous builds helped us know exactly what we did and didn't want.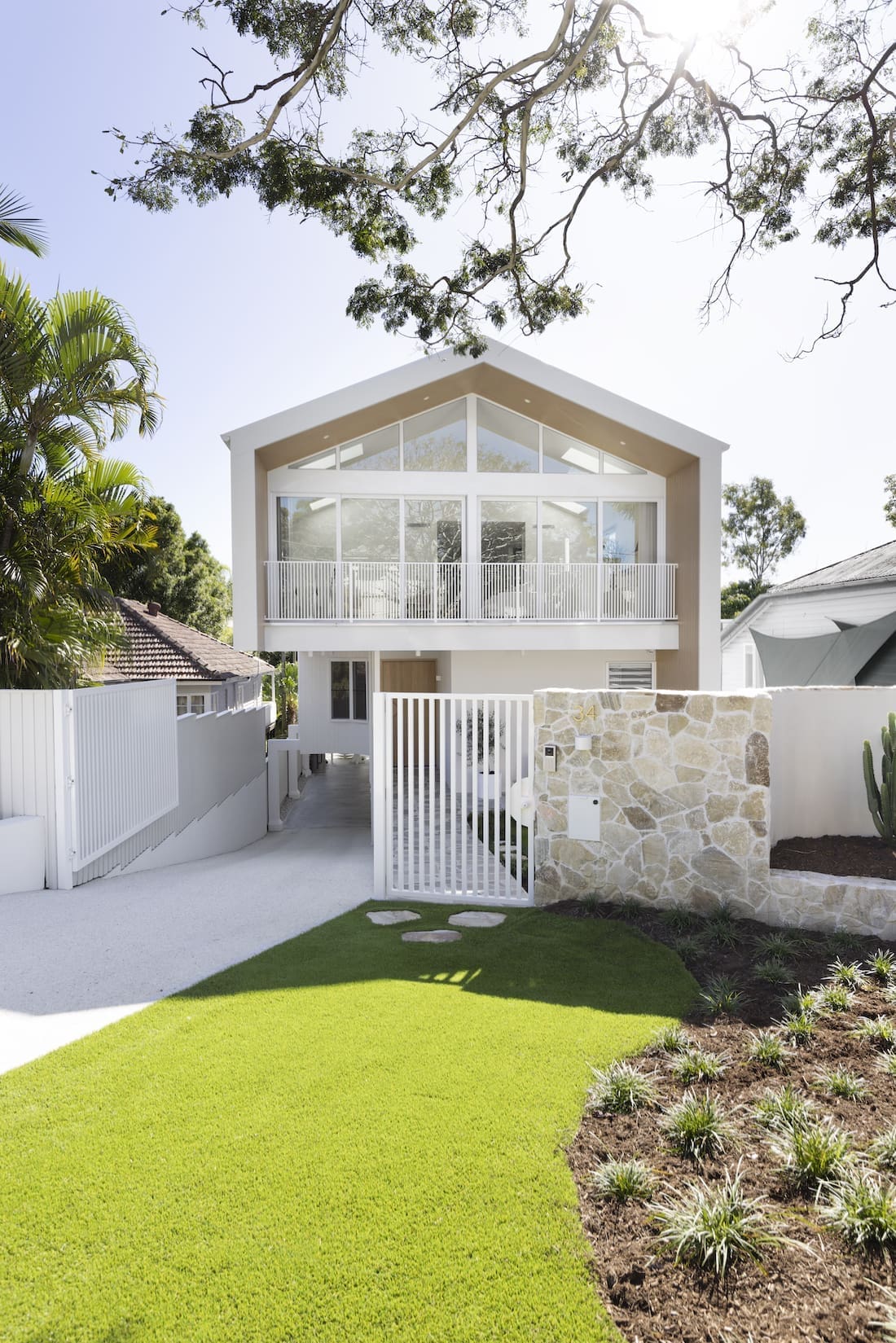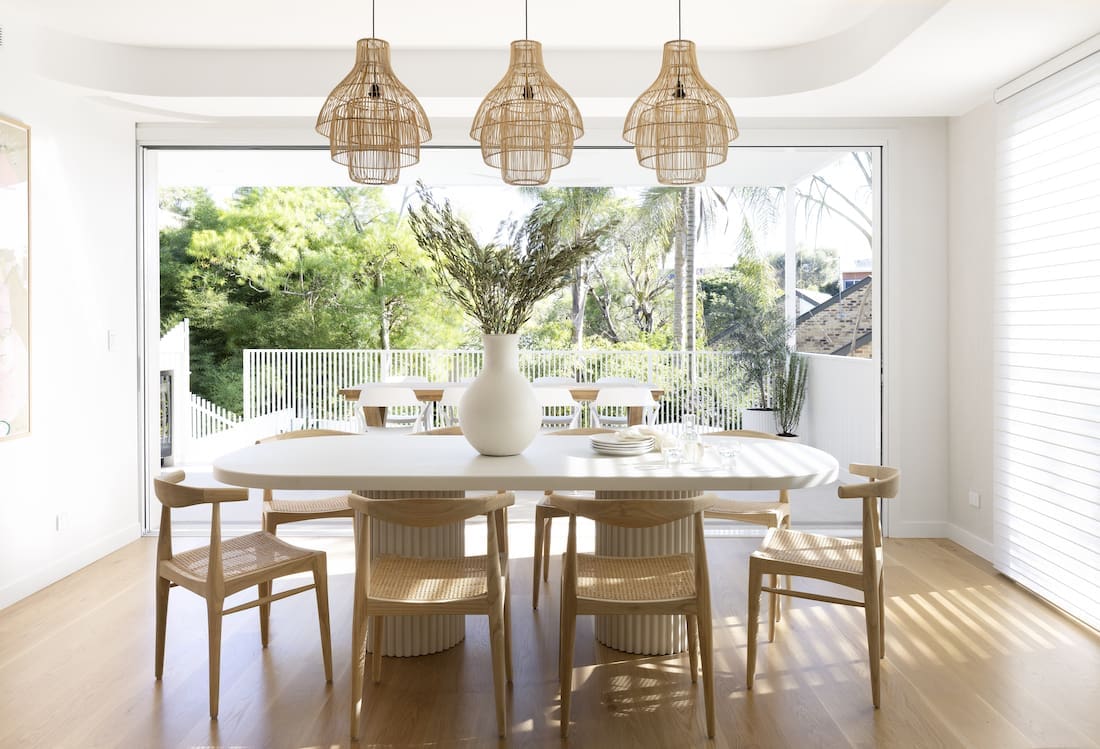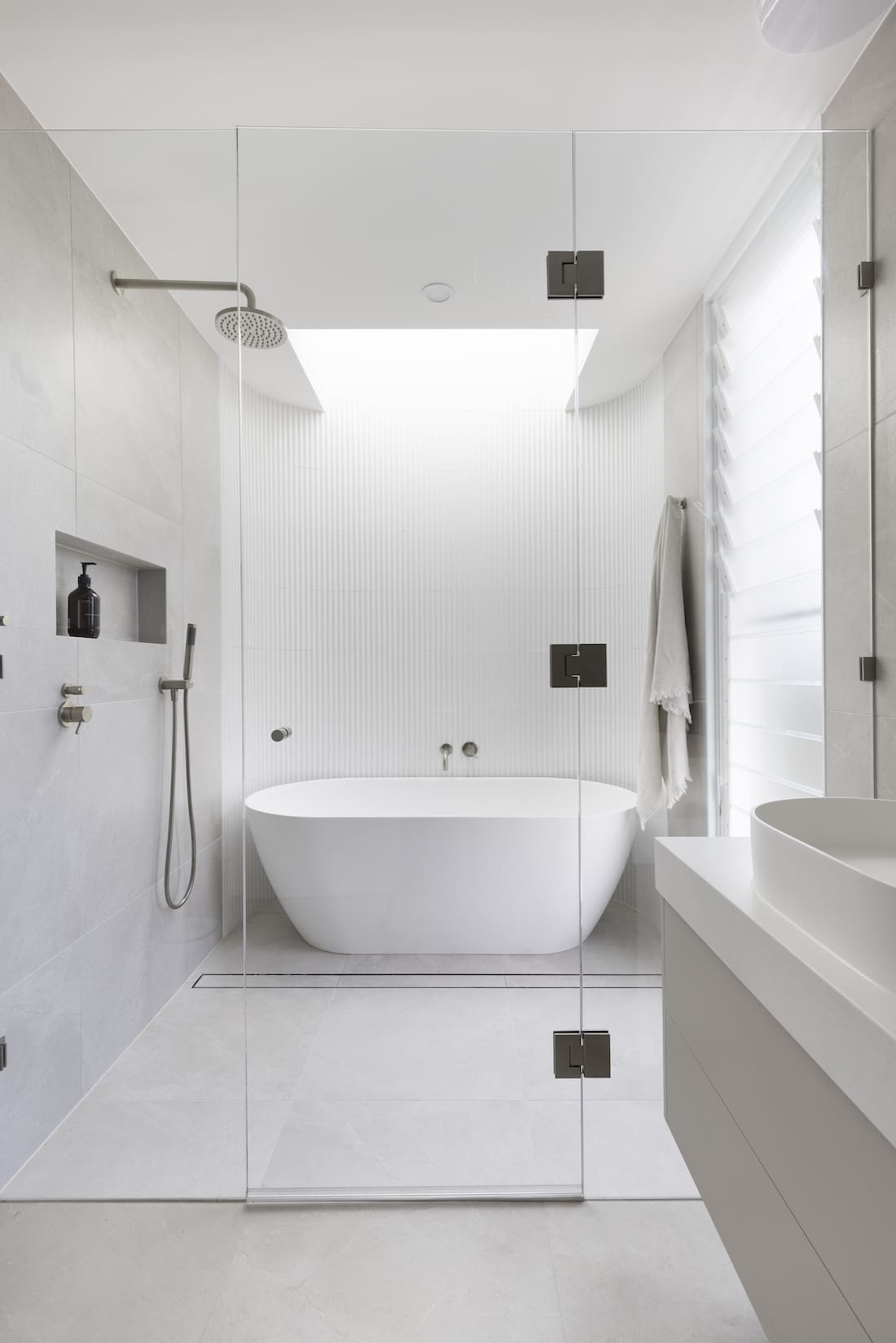 Priorities for the build included plenty of natural light, and space for their daughters to grow into.
"We knew we wanted a light, airy feel to the home. We achieved this with 16 Velux skylights through. As a family, storage is always key, so we incorporated abundant storage," Christal explains.
"The home's layout was designed to allowed space for us to come together as a family, but equally have time apart when necessary.
"With our girls going into their teen years, it was important they had spaces that felt like their own. Their loft-style beds allow their bedrooms to function as a study and lounge space where they can hang out when their friends come over."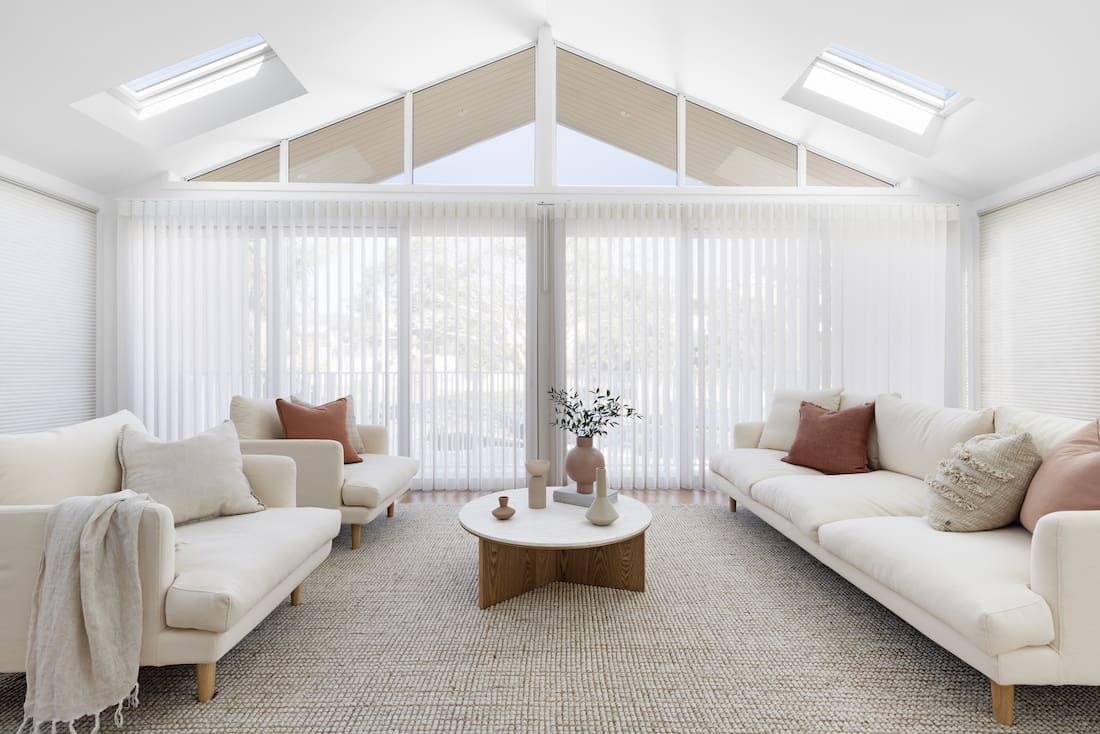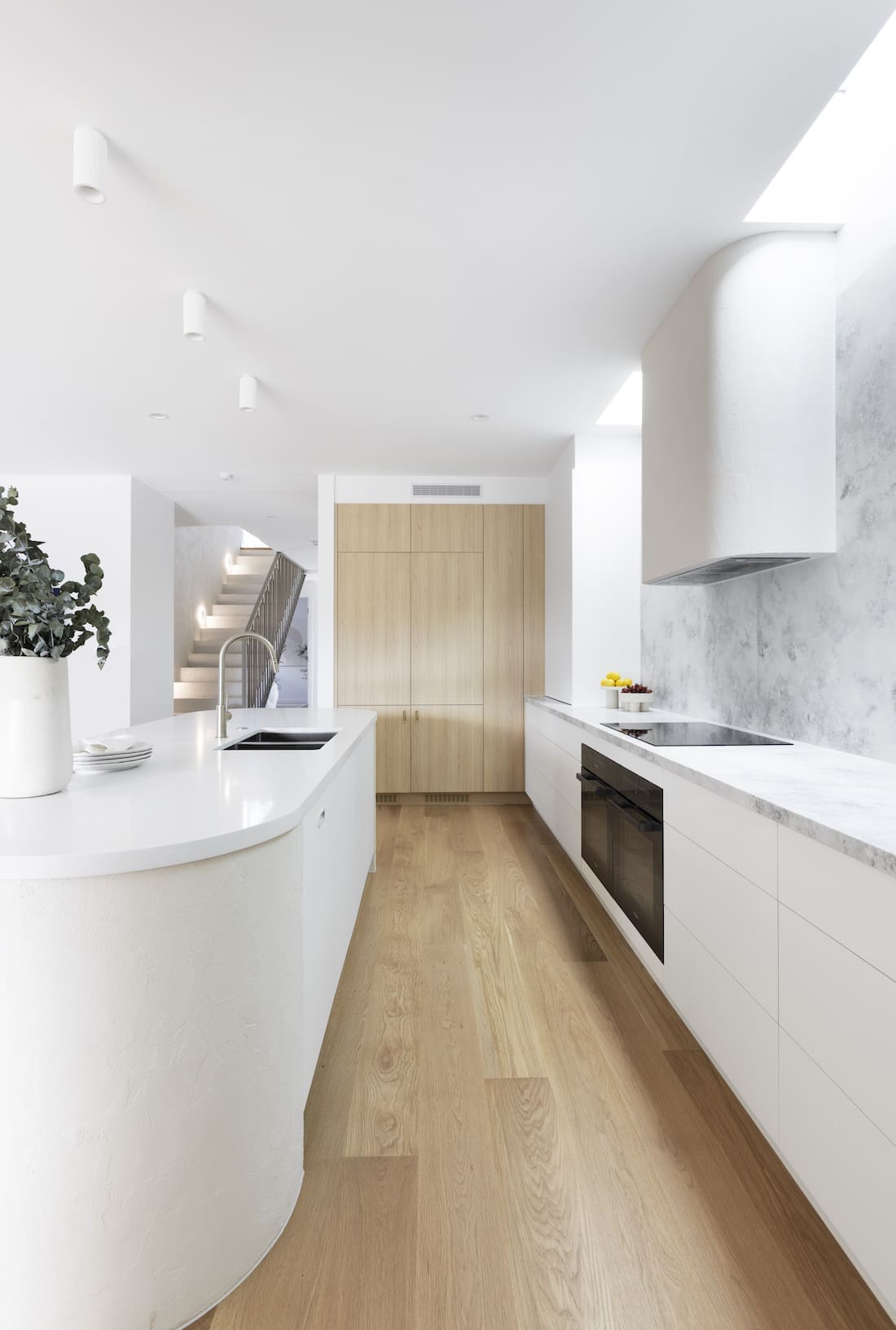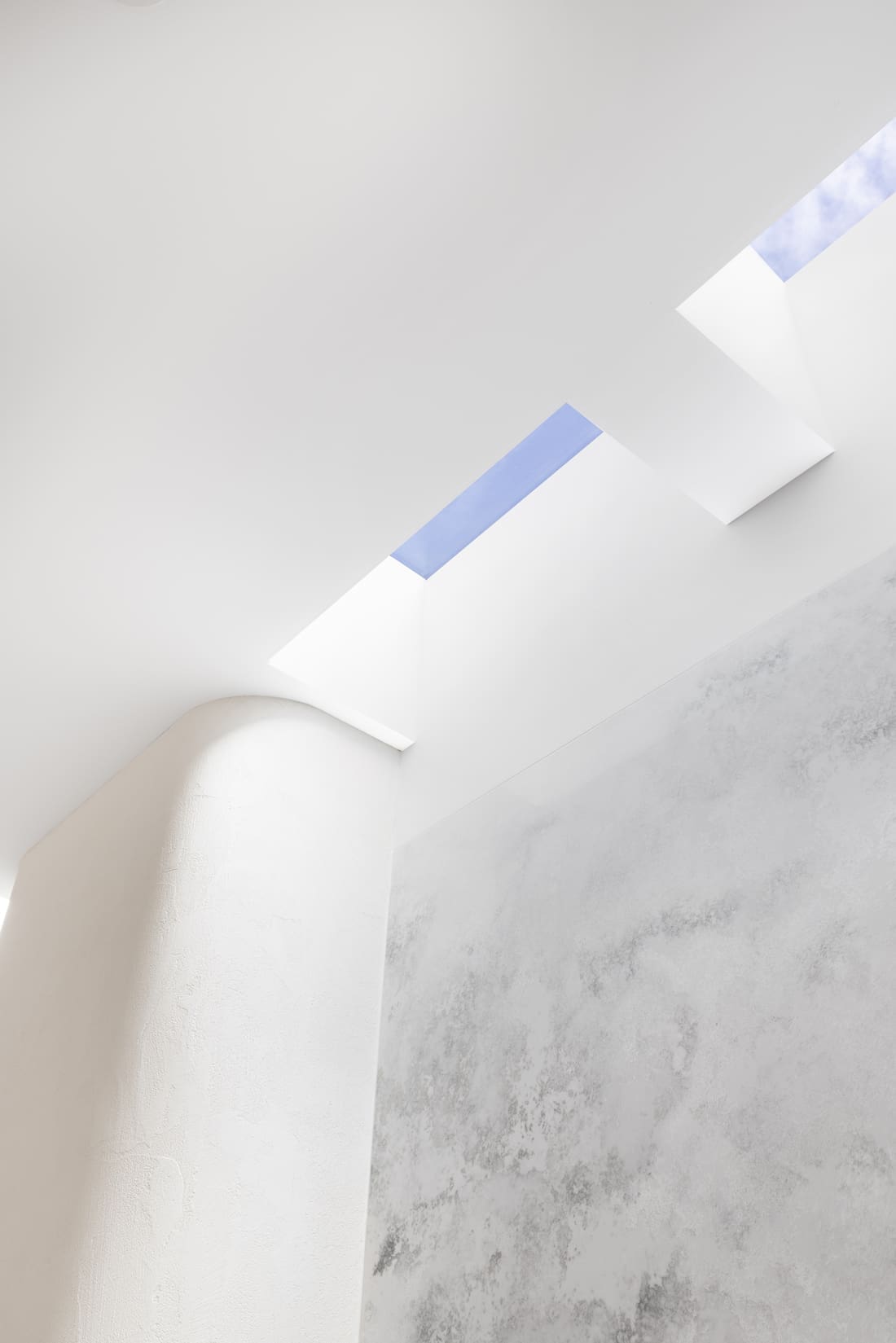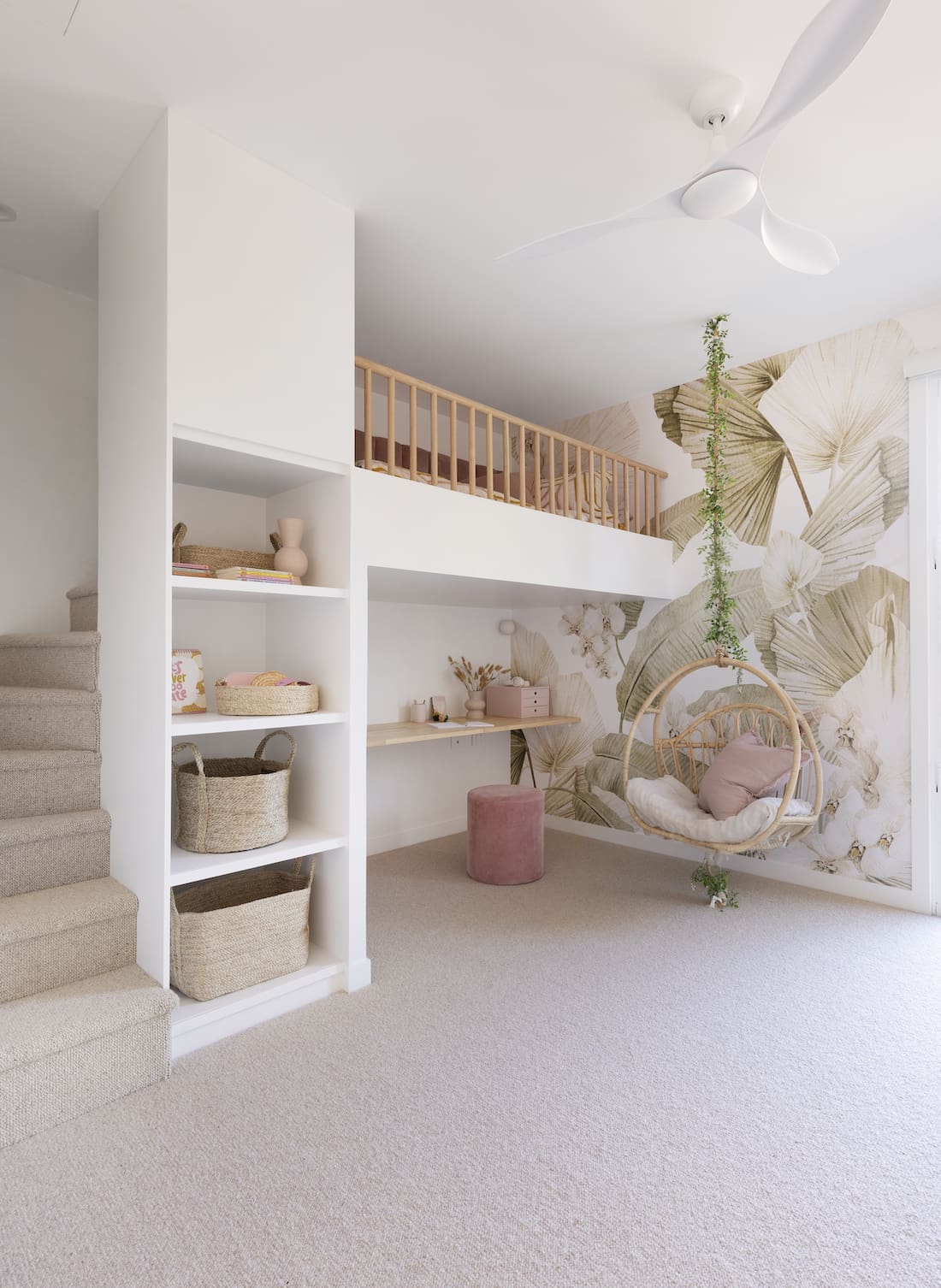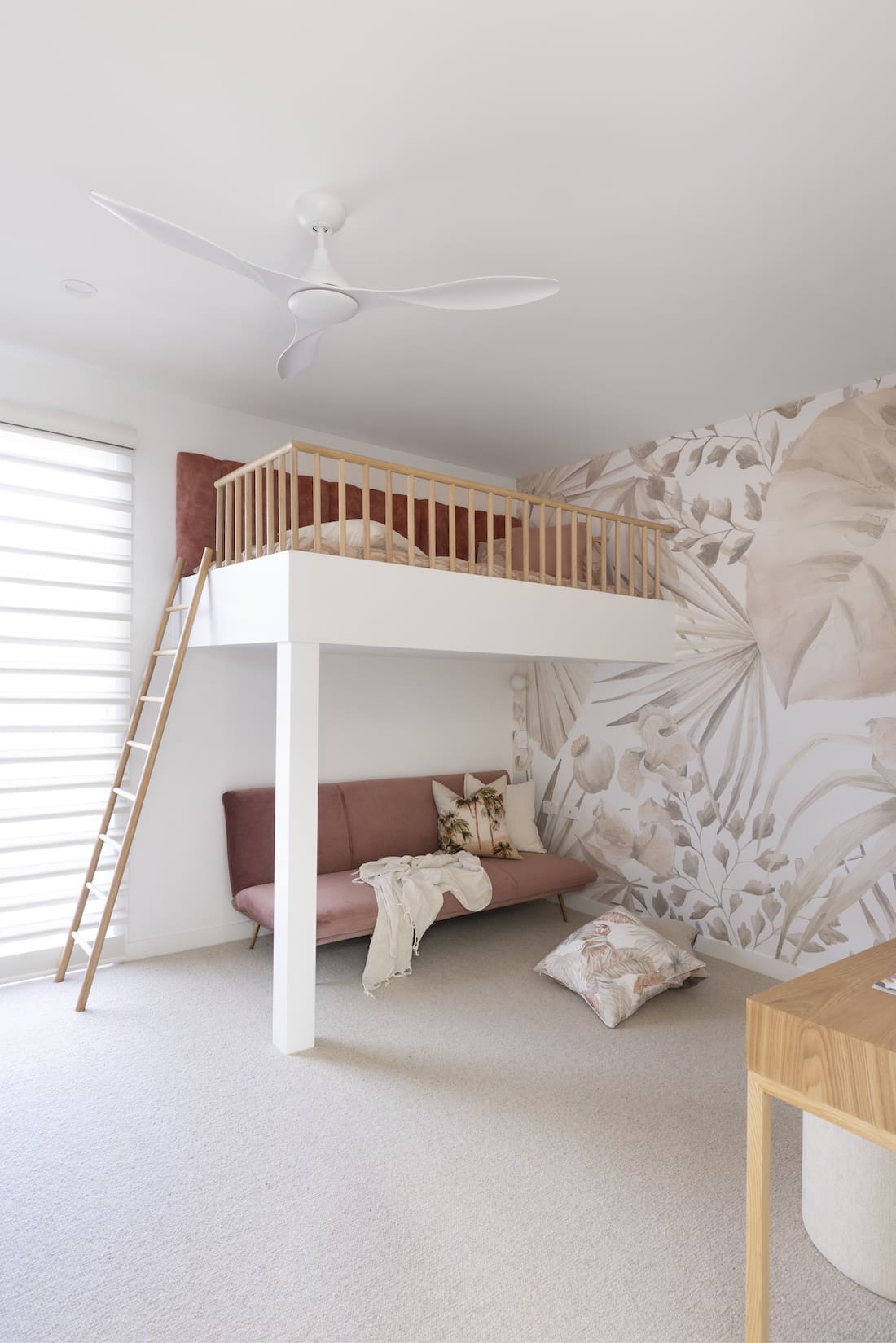 This beautiful Scandi-Med home features sculptural curves and sun-drenched interiors.
"Our heritage is Greek, so we wanted to give it that Mediterranean feel. We also have a shared appreciation for Scandi minimalism.
"We opted for an interpretation of a gable facade that ticked the box for council requirements. Then inside, we went for organic tones, textures and subtle curves to evoke a modern Mediterranean feel, bathed in natural light.
"Glass walls and extensive downlights help keep the house light and bright. And the multiple skylights ensure that neighbouring properties will never be able to build out our home's light. This was really important to us," says Christal.
"We wanted something fresh and a little bit different. In the kitchen, the curves work to soften the space. Sculptural curves reoccur throughout the house.
"You'll see them in the bedheads, mirrors, furniture and lighting. And of course the custom rangehood and kitchen island. We had this finished in Rockcote 'Cerano' render by Bespoke Finishes who did the rendering throughout."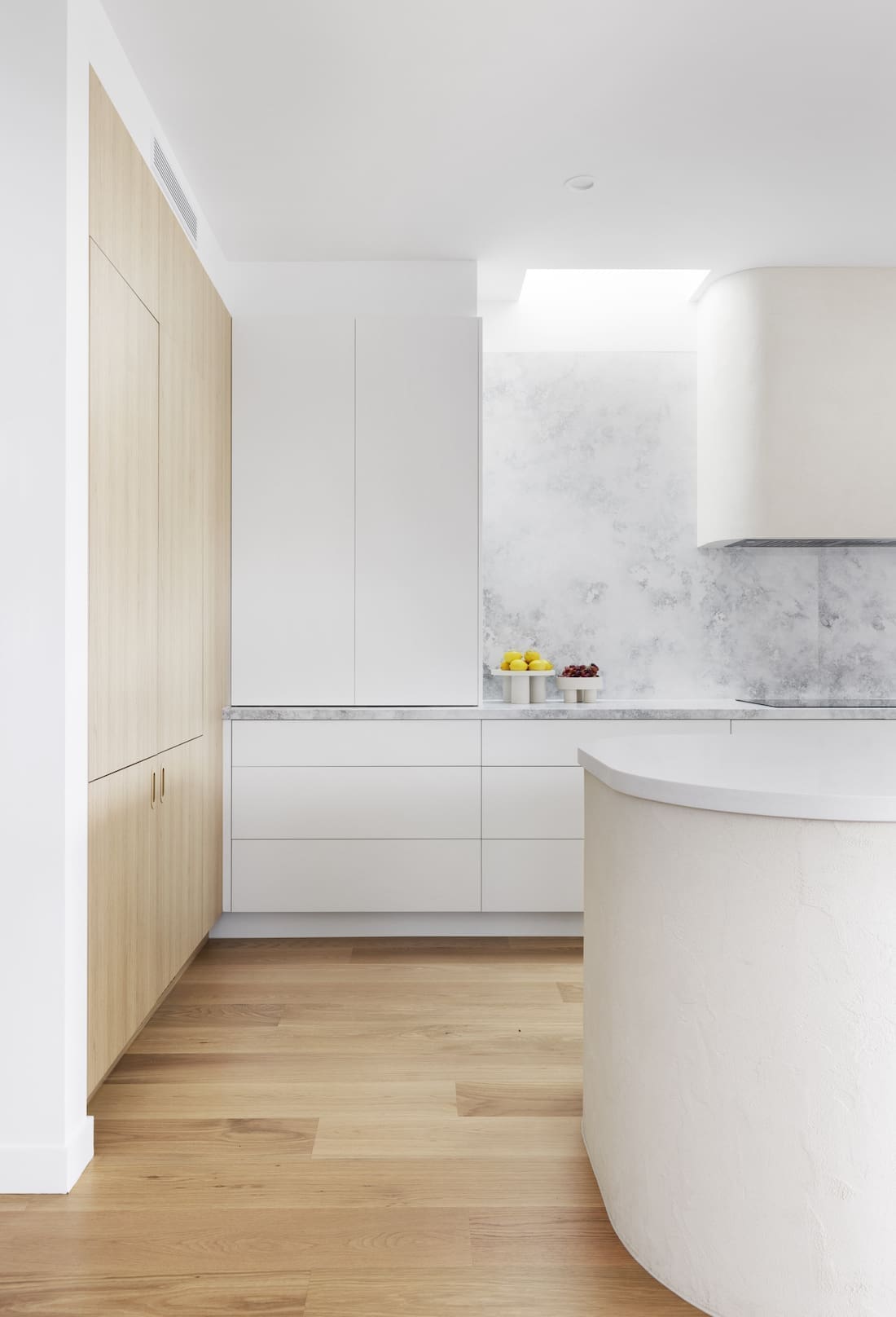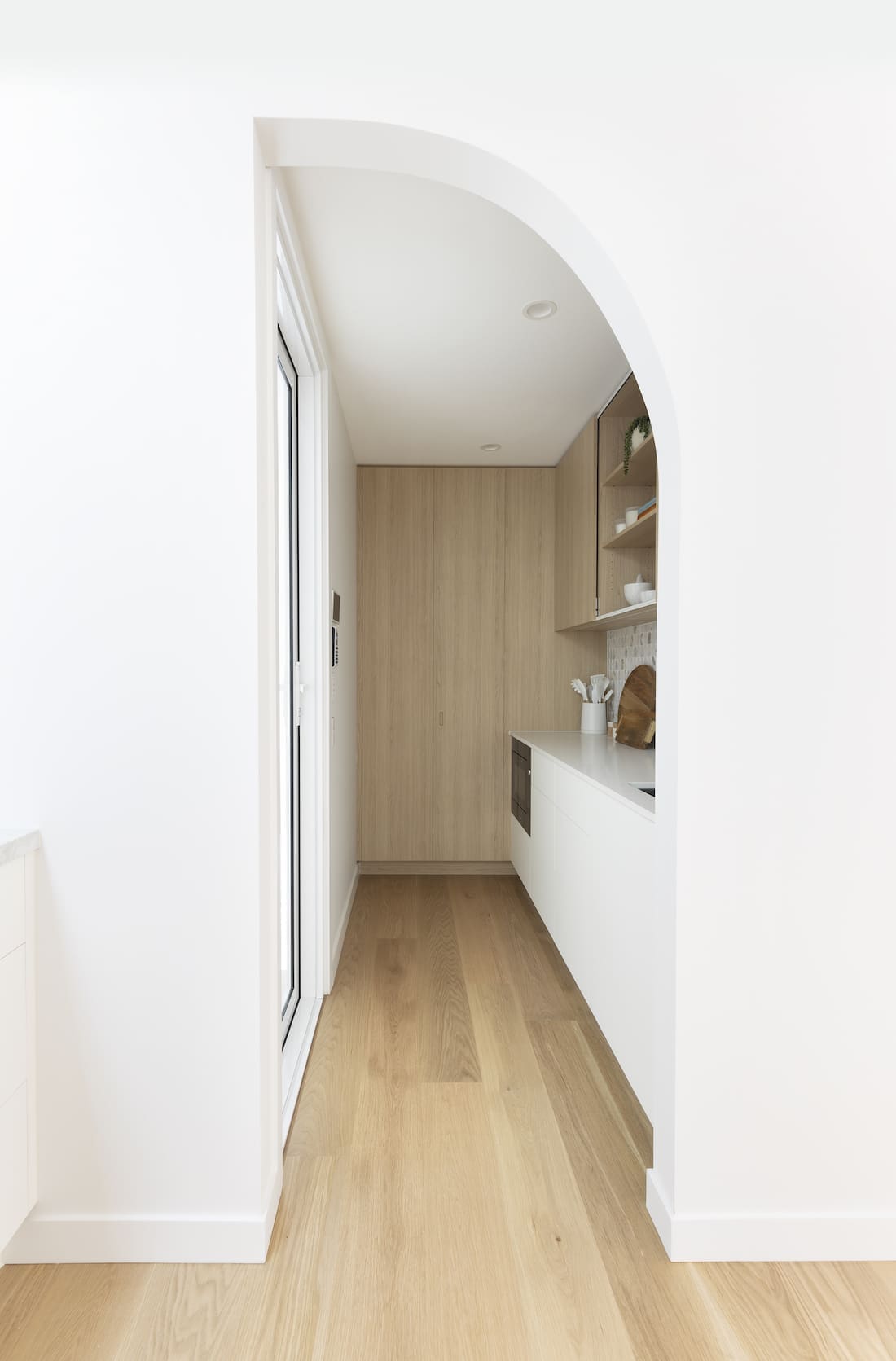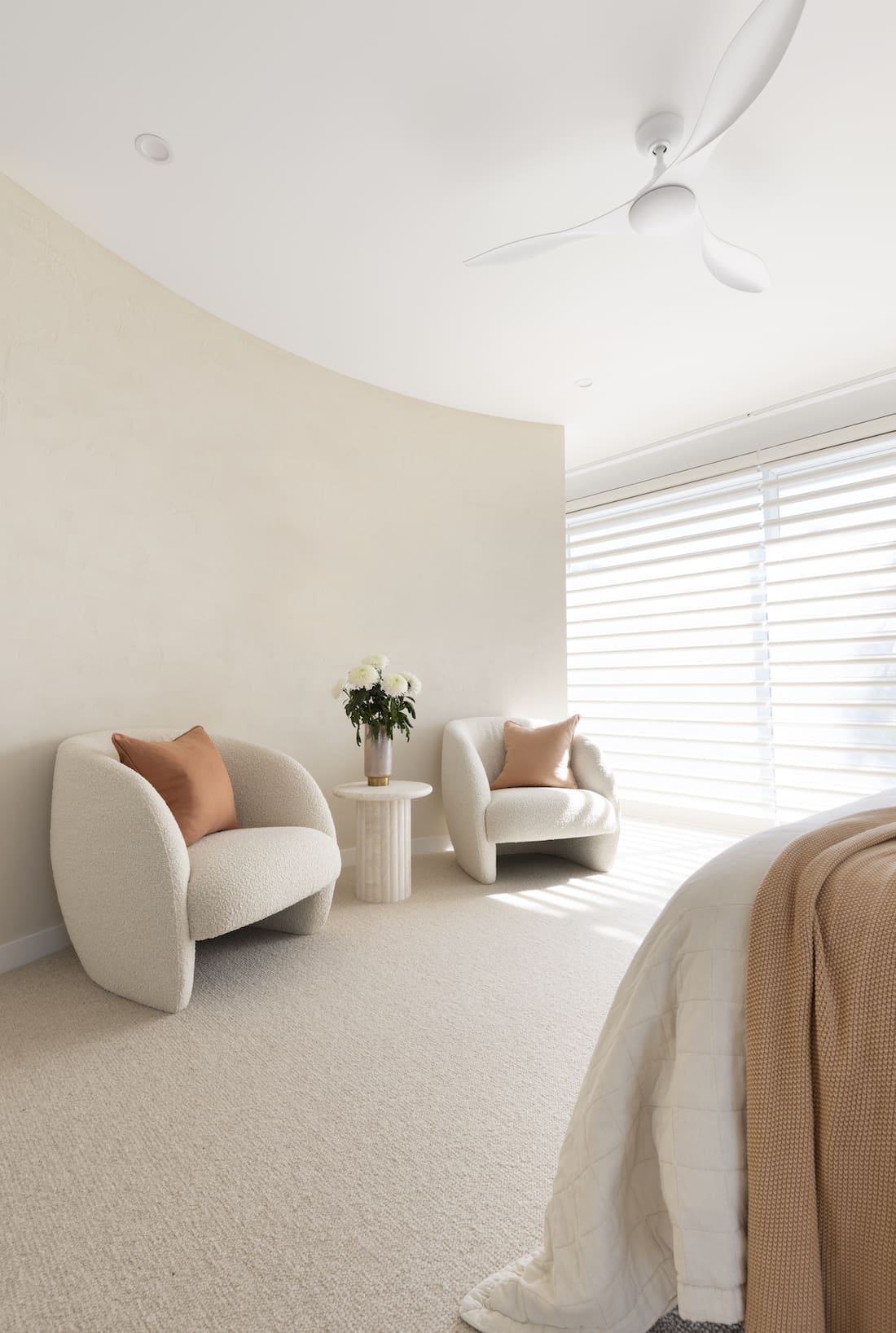 The outdoor spaces at Zou Home are just as spectacular as the rest of the house.
"There are so many space to love. I seriously love the outdoor spaces. They have the best of both seasons," Christal explains.
"Summer and spring days can be spent by the pool. And autumn and winter nights by the fireplace. We can entertain here year round.
"The statement spiral staircase that connects the home's alfresco area with the pool and outdoor fireplace is pretty special. And we went with astroturf as a low maintenance option.
The inspiration behind the pool area was Take me to Greece. A secluded zone with white wall, custom curved concrete day bed… It's heavenly!
"We also included a clever design feature, that really works to maximise the block. There is a multi-purpose space that sits under the house.
"The area can fit four cars, but also acts as an extension of the backyard and pool. It can be closed off to the weather with the use of the Luxaflex Magnatrack blind — a vertical blind that automatically drops down."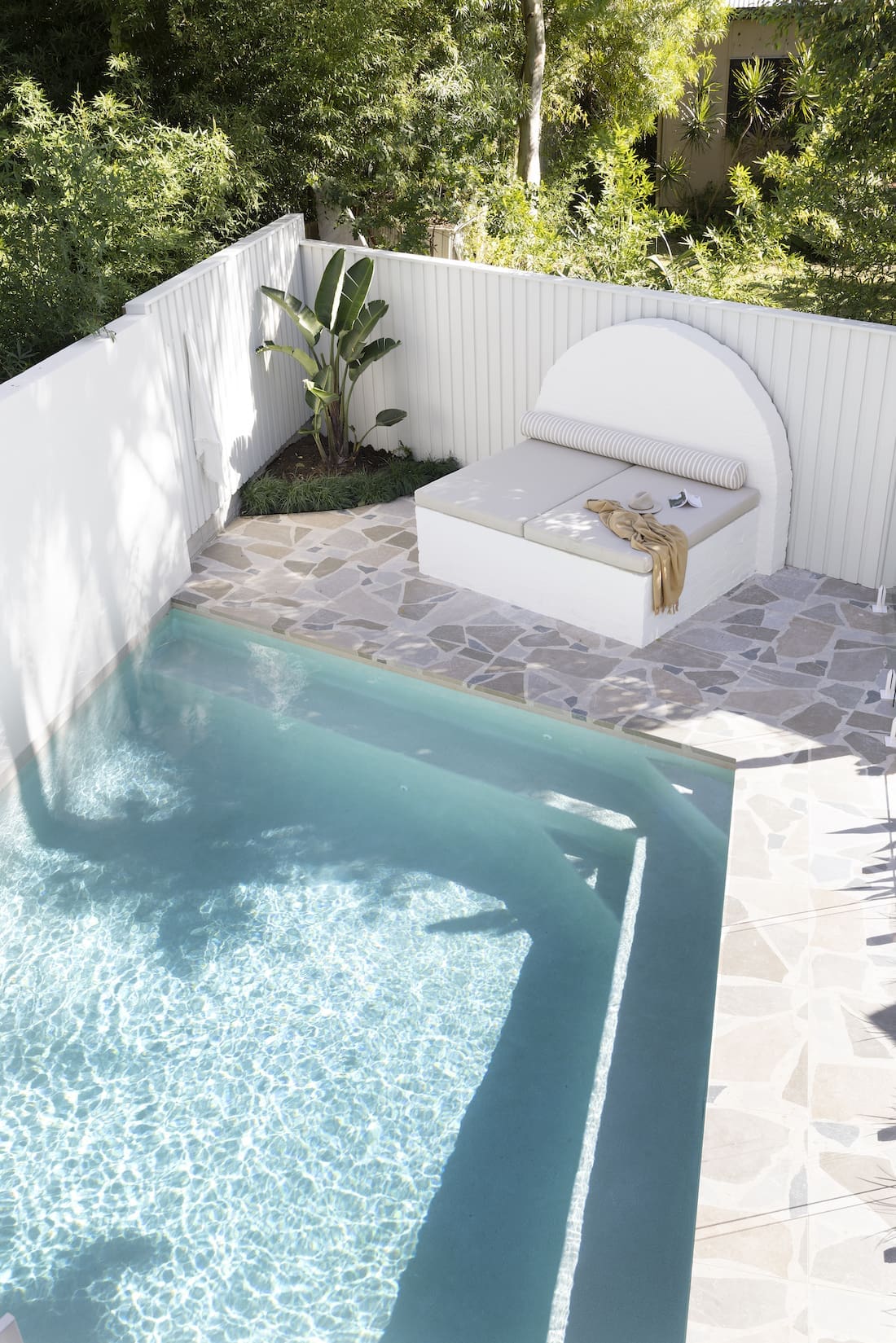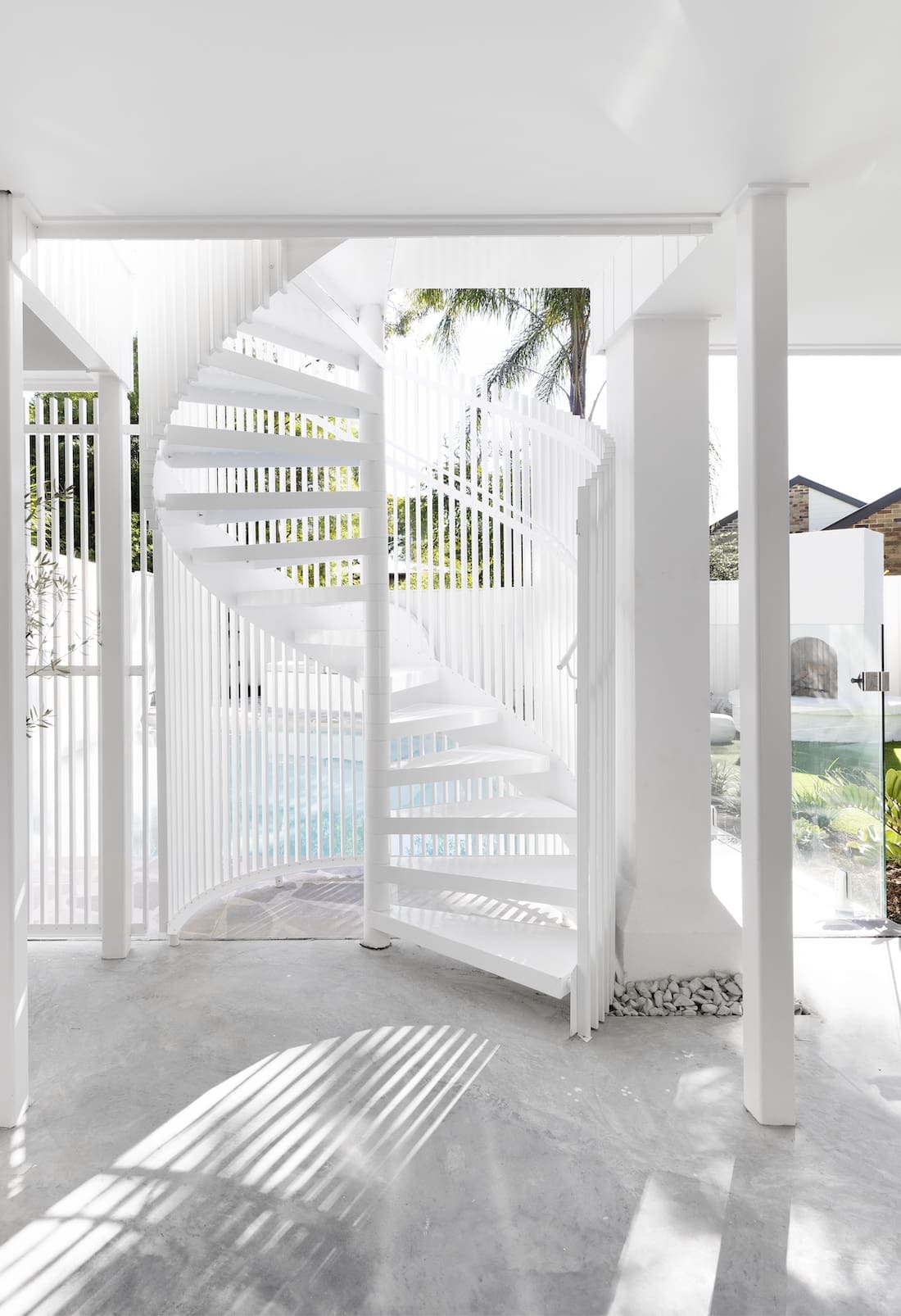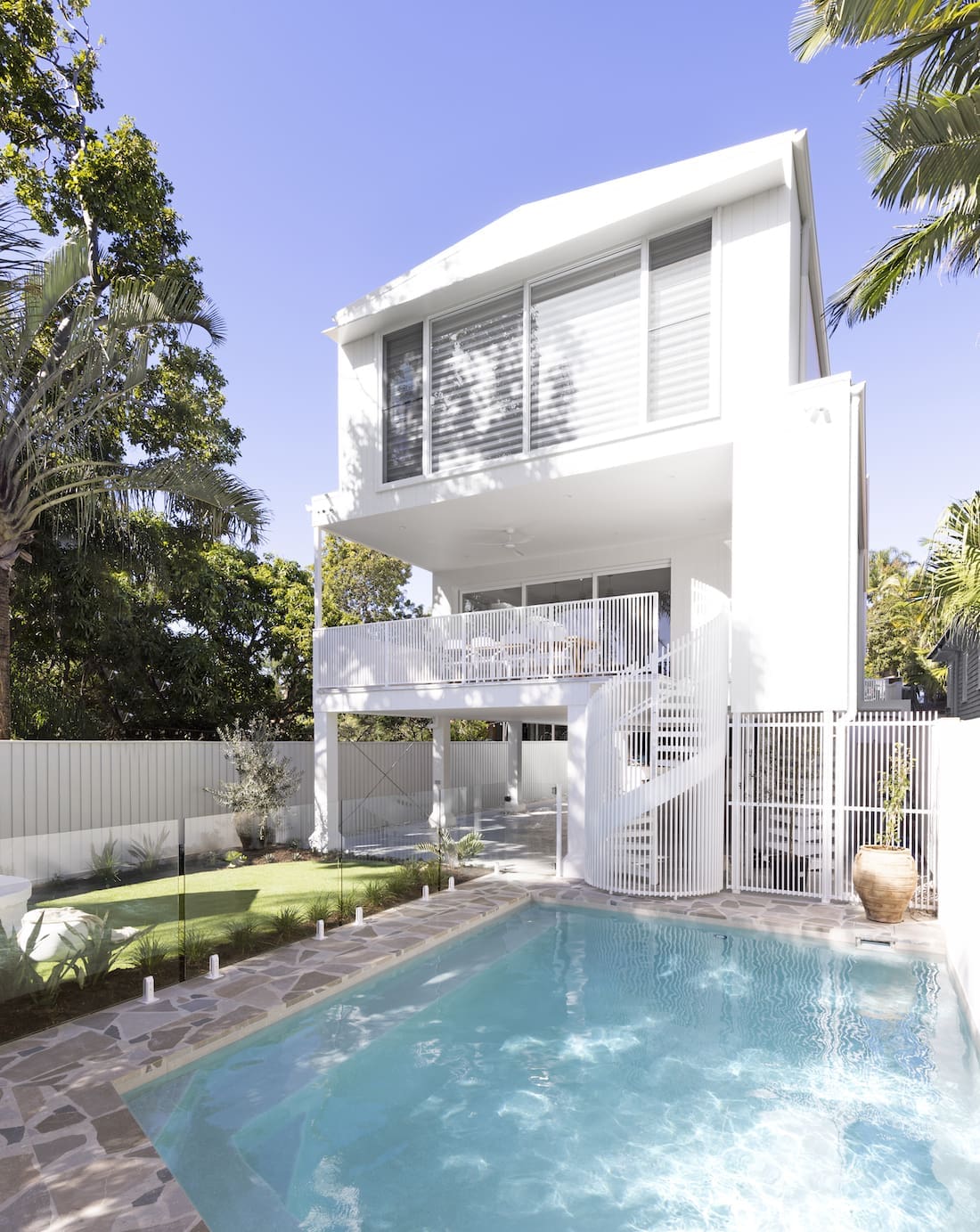 Credits
Photography — Louise Roche, Villa Styling
Builder — Zou Build
Design — Koda Design
The Zou Build team rarely put a foot wrong, and their own home is no exception! We loved taking a look around their stunning Scandi-Med home. So much design inspo! You can find out more about Zou Build through their website, or take a look at their Instagram page.