We love the thrill of discovering yet another amazing artist. One whose designs excite, delight and colour our world, just as artist Jen Sievers does.
Describing herself as a playful artist who uses colour to bring joy and change the way people feel, Jen is one artist you're bound to fall in love with.
Related article: Best places to buy artwork online
Related article: Artist spotlight: Custom upholstery artist, Kerri Hollingworth
Creative from a young age, Jen always had the urge and desire to have a career in art.
"Being an artist was a dream of mine from a very young age," she says.
"It was my standard answer when people asked 'What do you want to be when you grow up?'. However when I was in high school, sensible people around me convinced me that being a graphic designer was a less risky prospect, and I would still get to be creative.
"That led to a 15-year career as a graphic designer, and not much painting. Until 4 years ago, when my then 2-year-old daughter was having an afternoon nap and I felt the overwhelming urge and inspiration to paint something.
"I found a piece of ply, some paints and spent 2 hours making a glorious mess! Since then, I haven't stopped!
"At my first solo art show, I remember being shocked and amazed that people I'd never met before were there to see and buy my art — I'm the luckiest person alive."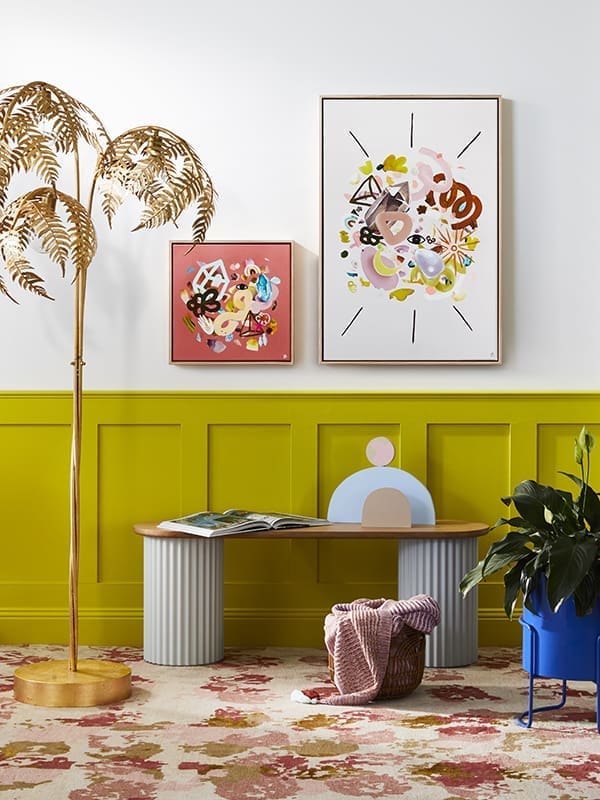 An abstract painter who finds inspiration in colour, nature, and on Instagram, Jen describe her art as varied and experimental.
"Possibly to my detriment, I actually don't stick to one style for very long as there are just too many amazing ways to paint!" Jen laughs.
"My art is very varied. I move between styles and love experimenting.
"One thing all of my work has in common is a love of colour, and the aim to use it in a way that brings a feeling of joy to the viewer.
"My work is playful with lots of movement. It ranges from completely abstract and very expressive, to more figurative.
"Sometimes I do portraits, and am currently exploring landscapes. The most important aspect of my art is the energy behind it, which I believe can be felt when you look at it.
"My initial inspiration was my surroundings — the windows of my home look out over valleys, hills, trees and sky. The energy of these ever-changing landscapes serves as a huge inspiration.
"I spend way too much time on Instagram, too! I find loads of colour inspo there."
A recent health scare has made Jen re-evaluate her life and put art — her true love and passion — to the forefront.
"Up until now I've had my day job, my art, plus my beautiful family — its been quite a juggle!
"But I recently took the plunge and have officially become a full-time artist and creative entrepreneur. I took the leap! It's something I've always wanted to do but I've found it hard to do until now.
"Towards the end of 2019, I was diagnosed with breast cancer and while it's absolutely curable, it really did make me stop and think about what I wanted to do with my life.
"I've done my surgery and will be moving on to my radiotherapy this month, so it seemed like a sensible time to un-complicate my life and give up my day job.
"It will hopefully give me extra time to rest, do some exercise and really let my creative endeavours bloom!" Jen says happily.
Having officially become 'Jen Sievers, Artist' full-time, we asked Jen her best advice for budding artists nervous to take that first step.
"Do it! Don't wait, just dive in! Start a little bit at a time and you'll get hooked!
"Don't worry about everything being perfect, or even vaguely good. Everything you do teaches you something which makes you a better artist — especially the bad stuff," she says wisely.
"The trick is to do lots, and keep at it.
"Get something inexpensive to paint on so you don't worry about wasting money on canvases while you experiment. A great tip is to pick up packs of framing mat offcuts from your local framers — they're a dream to paint on and are virtually free!
"And my last tip is put yourself out there. Post your work on Instagram, promote yourself and don't be afraid to call yourself an artist!"
To explore more of Jen's beautiful, colourful world, visit her website or check out her Instagram page. She also hosts online courses for those curious to get started in the art world. Her collections can also be found at Green House Interiors and Endemic World.