Stuck with an out of date kitchen that makes you cringe or a layout that just isn't functional?
Often we think of kitchen renovations costing tens of thousands — because they generally do! — but the clever husband and wife duo behind @real_renovations, Kirrily and Nigel Baty, recently transformed this original kitchen into a modern gem for $5,000.
We talk with them about how this kitchen was renovated for less and get their top kitchen renovation tips.
Related article: Erskineville kitchen before and after: From poky and brown veneer to a luxe navy blue kitchen
Related article: Olivia from House of White's chic laundry renovation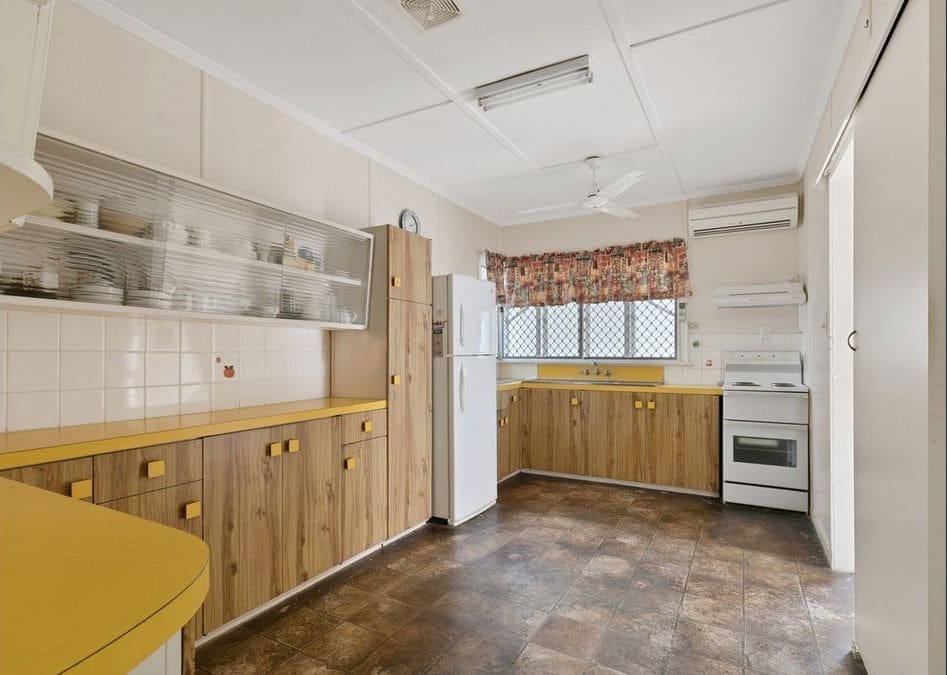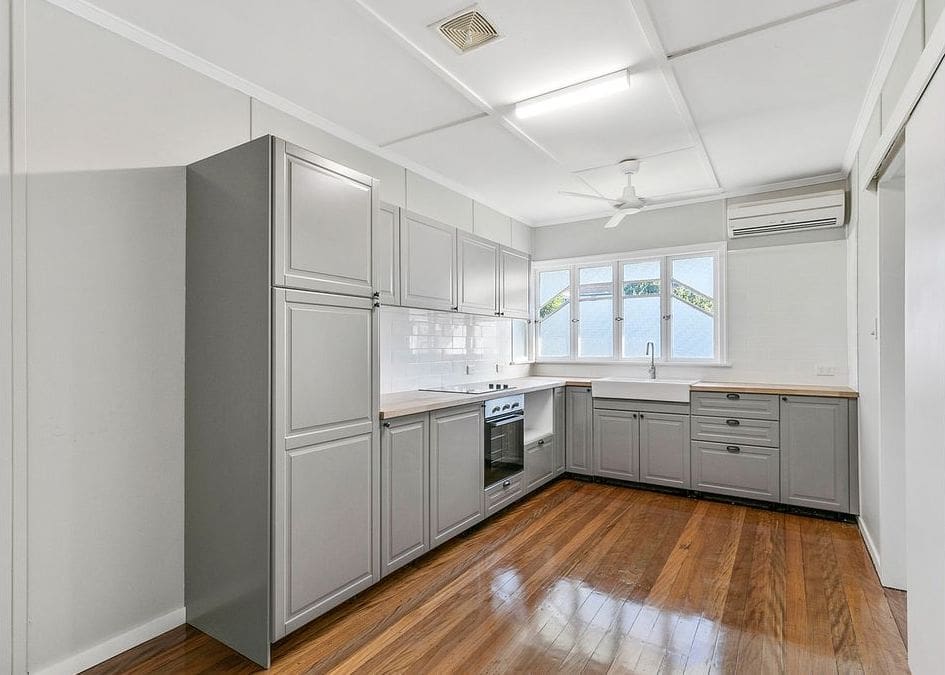 "We purchased this property, a post-war era home, as an investment property in the Brisbane suburb of Brighton. The home had only one previous owner and given she was elderly, it had fallen into disrepair," explains Kirrily.
"Despite great bones and being in an excellent location, we knew we'd need to undertake a renovation to attract tenants. We plan on doing a larger renovation in a few years time, so it was important we didn't go over our very small budget.
"We purchased the house for $495k and spent $11k on renovations (the kitchen used $5k of that budget), including materials and trades, and the post-renovation valuation came in at $560k. We're thrilled, and best of all, the house immediately rented after the first open home."
Top kitchen renovation tips
They didn't achieve these impressive numbers by chance, Kirrily and Nigel are professional renovators and we asked them to share their top kitchen reno tips.
Attempt as much demolition work yourself
"You can save over $2,000 by demolishing the kitchen yourself. If the kitchen is in fair condition, you can even try listing it on Gumtree or eBay. You could sell it for a small amount of money, but more importantly, you can request the buyer remove it and take it away."
Paint it yourself
"Most kitchen renovations will require some repainting of walls and window frames. Save money by doing this work yourself."
We share how to paint like a professional here.
Line up your trades before you start the renovation
"Your renovation will run more smoothly and be completed sooner if you don't keep your tradies waiting or don't have to scramble for a tradie at the last minute. We have learnt that tradies know if you need them desperately and will charge you a premium to help you."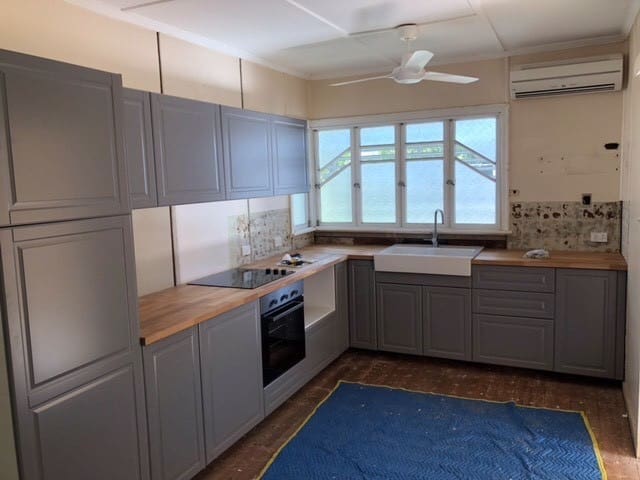 Flatpack can offer big savings
"Flatpack kitchens are fantastic and highly cost effective. However, just be aware that some will have a lead time attached. We needed ours straight away so we purchased the kitchen from IKEA. It was literally picked and delivered to us the next day for $60. We purchased the kitchen cabinetry, benchtop, tapware, appliances and sink for $4,500 and then installed it ourselves," explains Kirrily.
"If you are unable to install the flatpack kitchen yourself, you could still save money by assembling the cabinets and then laying them out in the correct areas for your installer. Anything you can do to save time will save you money with your trades."
Keep plumbing and electrical in the same location
"If possible, try to keep all plumbing and electricals in the same location. If you start moving pipes and electricals, you will need to pay your tradies more."
Shop savvy
"Buy whatever you can from Gumtree or eBay. A lot of people undergo renovations and have leftover tiles and even taps and appliances they don't need. We were able to purchase our splashback tiles from Gumtree for less than $100 and they were installed by our tiler for $250. We also bought our fans from Gumtree which had been purchased by the sellers by mistake. They were brand new and we puchased them for $50 (RRP was $200)."
Kirrily adds "Purchase any blinds or window coverings online. We bought our wooden venetians, which suited the style of the house, online. They were delivered to our door with exact measurements (they were non-standard sized windows) saving time and trips to the shops."
We have more information about how to select the right window treatments here.
Consider DIY flooring
"If you are removing floor coverings, do these yourself too. We removed all the lino and board that covered the beautiful floorboards underneath. We then removed all the staples and nails so the floor sanders could get in and sand immediately."
Supplier details
Kitchen cabinetry: IKEA
Appliances: IKEA
Benchtop: IKEA
Splashback: Tiles from Gumtree
Sink: IKEA
Tap: IKEA
Fan: Gumtree
Thank you Kirrily for sharing how this kitchen was renovated on a budget! For plenty more real renovation projects and reno tips, follow @real_renovations on Instagram here.