Supported by Denman Prospect
Looking for ways you can turn your balcony into an oasis? We've got you covered in this article where we share all of our favourite ways to add style, ambience and functionality. We're also excited to share a 'real' balcony reveal at Rosemarie's townhouse in Denman Prospect along with some extra inspo pics to inspire you.
Related article: Top 20 plants for your courtyard: Plants that love living in pots
Related article: Erskineville courtyard before and after: Making the most of a tight outdoor space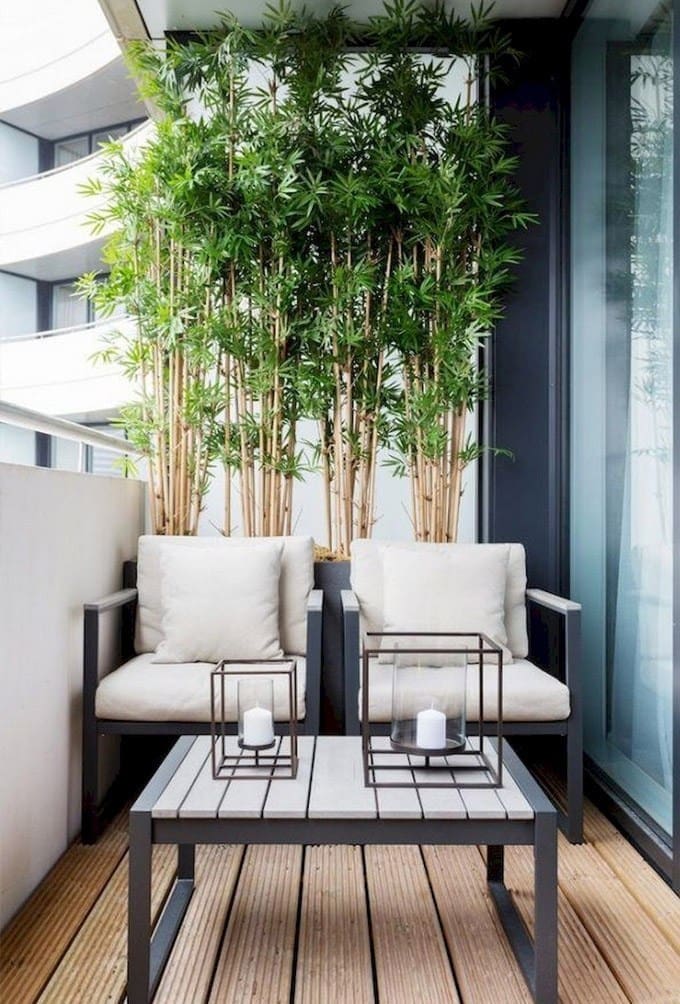 1. Decide on your goals and establish 'zones'
There are plenty of ways you can use a balcony but generally given size constraints you can only fit 1-3 'zones'. Do you want it to be a space with relaxed seating or a place to dine outside? Would you like to grow a mini veggie garden or herbs? Is it a spot where you'll be BBQing? Think about what you're most likely to use the space for and sketch out your ideas.
It's always best to measure your space before you go shopping so you won't be left guestimating if certain outdoor furniture or other items will fit. There's nothing more disheartening than going to the effort style a space only to find what you buy won't work. Plan ahead to save time in the long run.
Rosemarie knew her north-facing balcony with spectacular mountain views in Denman Prospect was one of the best spots in the house and that she wanted to create a lush outdoor space with relaxed seating.
"My goal was to bring some much-needed life to the balcony that was essentially plain concrete walls and grey floor tiles. The balcony opens from our living room so I wanted to create a seamless transition from indoors to out," she explains.
"I'm from Malaysia and in my culture, we build two kitchens — a dry kitchen for making simple things like 2-minute noodles, and a wet kitchen where all of the main cooking like stir fries are done. The wet kitchen is always a fully-tiled space outside the home. It's a similar concept to BBQing, and the reason for it is to prevent the smell of cooking from lingering in the house.
"Given my front balcony is fully tiled and conveniently located next to our living space, I wanted to create my own version of a wet kitchen."
For this, Rosemarie set up a table with a pressure cooker.
"I do all my frying and sautéing out here. I can make a risotto in under 6 minutes and a chicken curry in under 15 minutes," she says happily.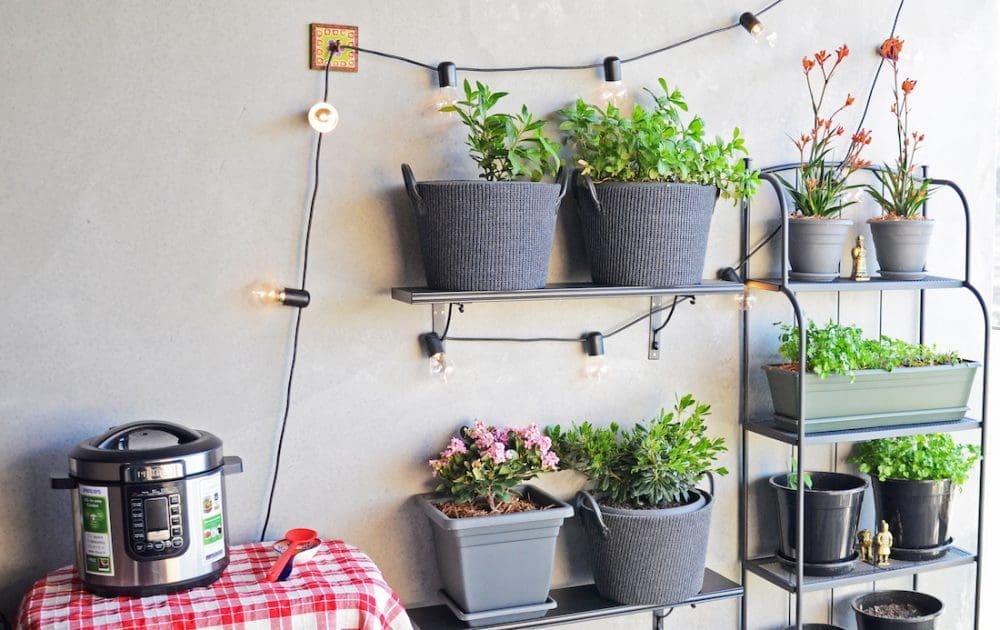 2. Get the seating right
If one of your goals for the space is seating, we suggest taking your time to get this right. The options for outdoor furniture have never been better so don't settle for the first pieces that are 'good enough'.
Did you know you can find furniture designed for small spaces that's multifunctional, for example bench seats that are also storage boxes?
Before buying real timber furniture, it's important to be aware that timber requires regular care and maintenance. If your balcony is in direct sunlight for most of the day, timber furniture will be more likely to warp and discolour. Perhaps switching to a man-made product or aluminium furniture could be a better option.
We love how this balcony proves 'where there's a will, there's a way!', fitting two comfy chairs onto this tight balcony space.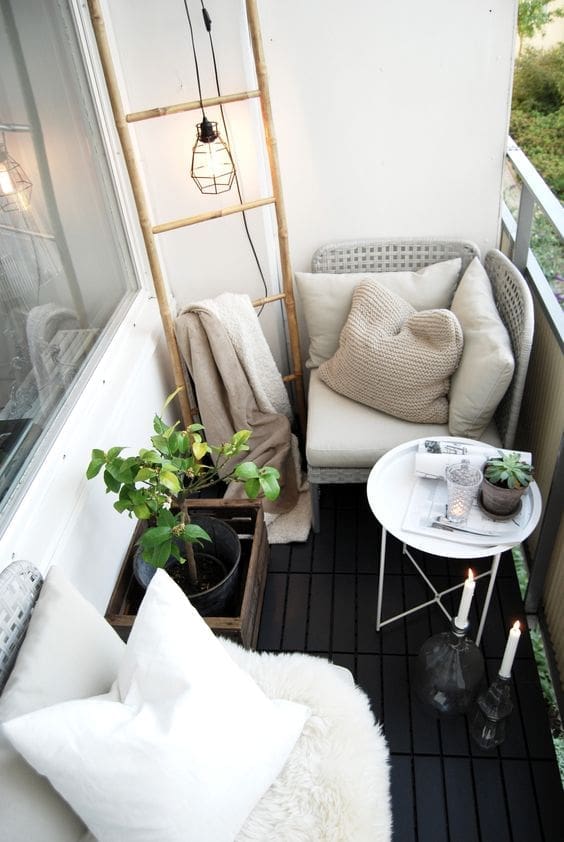 3. Embrace plants
Plants or greenery are always a good idea! They add colour and life, and when clustered together create the ultimate sense of an oasis.
Not all plants are suited to living in pots though and it's important to take note of how much direct sunlight your balcony gets so you can pick the right plants for your space.
Rosemarie tells us how she came to decide on the plants she used in her balcony.
"Originally we thought of using the artificial vertical garden sheets you can buy from the hardware store but I decided instead on Wisteria plants. They are beautiful, creeping plants that burst into bloom once a year in late spring. I will need to regularly maintain the Wisteria plant to control how it grows but it's worth it. I also love that this plant will be able to grow upwards and take advantage of the vertical space out here."
As this plant will take some time to establish, Rosemarie also installed shelves to hold pot plants.
"Using a combination of securing pots directly into the concrete walls and placing them on bracketed shelves, we've been able to add some instant greenery out here. My bay leaves and mint are growing especially well."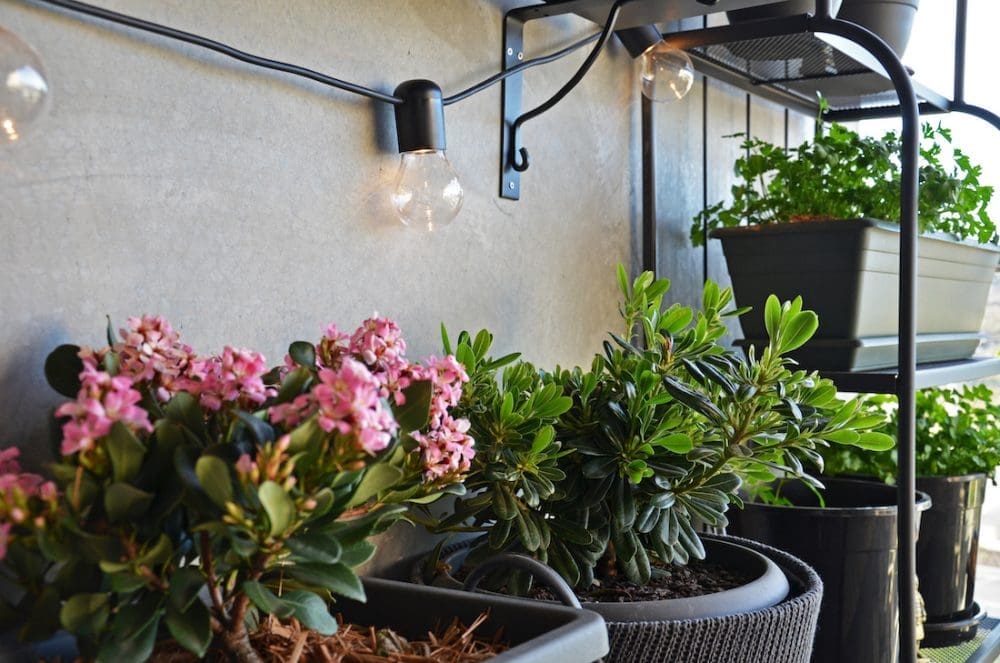 4. Soften the space
As we heard Rosemarie say, the materials used in balconies are generally always 'hard' or 'cold' — tiles, concrete and glass. So, it's important to look for ways to soften the space.
Plants are one of our top ways to do this and here are some other styling tips to decorate your balcony:
using an outdoor rug to add softness underfoot or interlocking timber-look pavers are another popular idea
placing bamboo or screening of another natural material along one or more walls
adding pops of timber, either with your outdoor furniture, planter boxes or timber shelving
layering textiles like cushions and throws over furniture
embracing other natural materials such as woven baskets or earthy terracotta pots.
Just check out how the blogger behind Girl and the Word used these tricks to create a cosy balcony space below.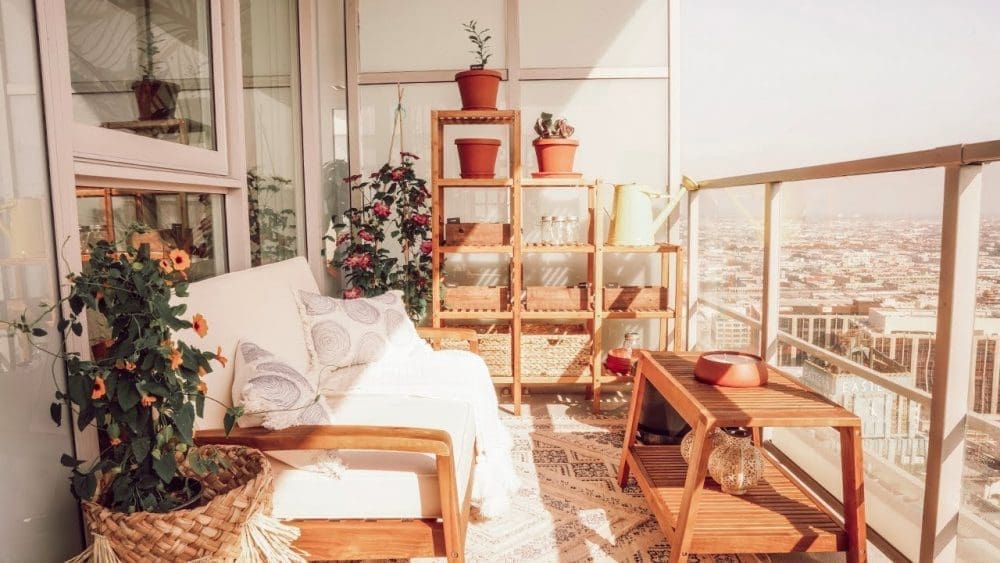 5. Add ambience with lighting
From festoon lights to fairy lights, light-up lanterns and candles, there are many ways you can add more ambient lighting to your balcony.
Tip: you can find many solar powered products on the market now which means your lights will automatically turn on when the sun goes down and there's no need to worry about wasting electricity or replacing batteries.
Rosemarie loves the festoon lights she added on her balcony.
"It's so special driving home and seeing the lights twinkling on our front balcony. I weaved them between the greenery to create a softer and cosier feel. The lights coming through the leaves look so nice."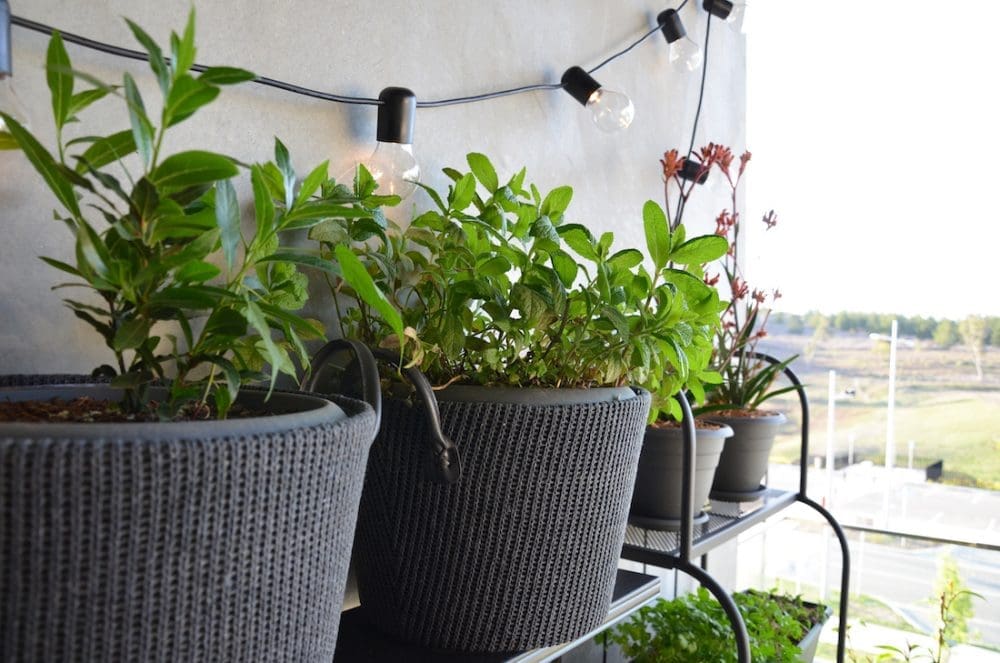 Now that Rosemarie's balcony is finished, we wanted to know if she's happy with the results or if there's anything she would do differently.
"I wouldn't say it's 'done'," she laughs. "I'm happy with it. It feels like an oasis and the freshness of being around greenery, especially at the end of the day, is really nice.
"But there's still so much space to utilise, especially wall space. I have to consider what to do when the Wisteria blooms and once my tomatoes grow larger so I need to allow space for that. I would say it's a never-ending project."
Thank you, Rosemarie for sharing your fab balcony makeover with us! We hope you picked up new ideas you can use at your home too.