This year I worked on a full home renovation in Erskineville, Sydney, and over the coming weeks, I'm excited to share before and afters of the different zones — starting with their courtyard. I love the dramatic transformation we achieved in this tight 25sqm courtyard.
Even if you have a small outdoor space, I hope this backyard makeover shows there's still plenty you can achieve!
Courtyard before
The before photos speak for themselves but essentially this space was under-utilised because of the oversized garden beds that restricted what furniture could be placed out here. And if we're being honest, it was also just darn ugly!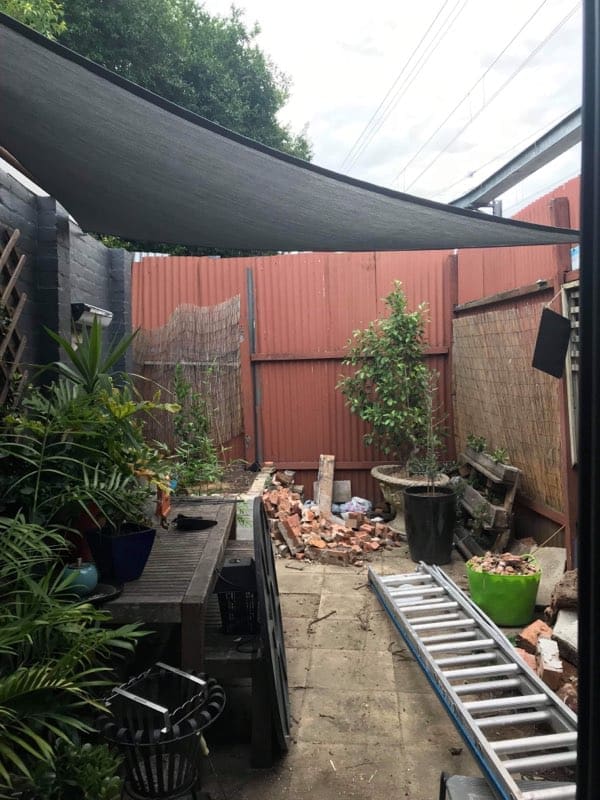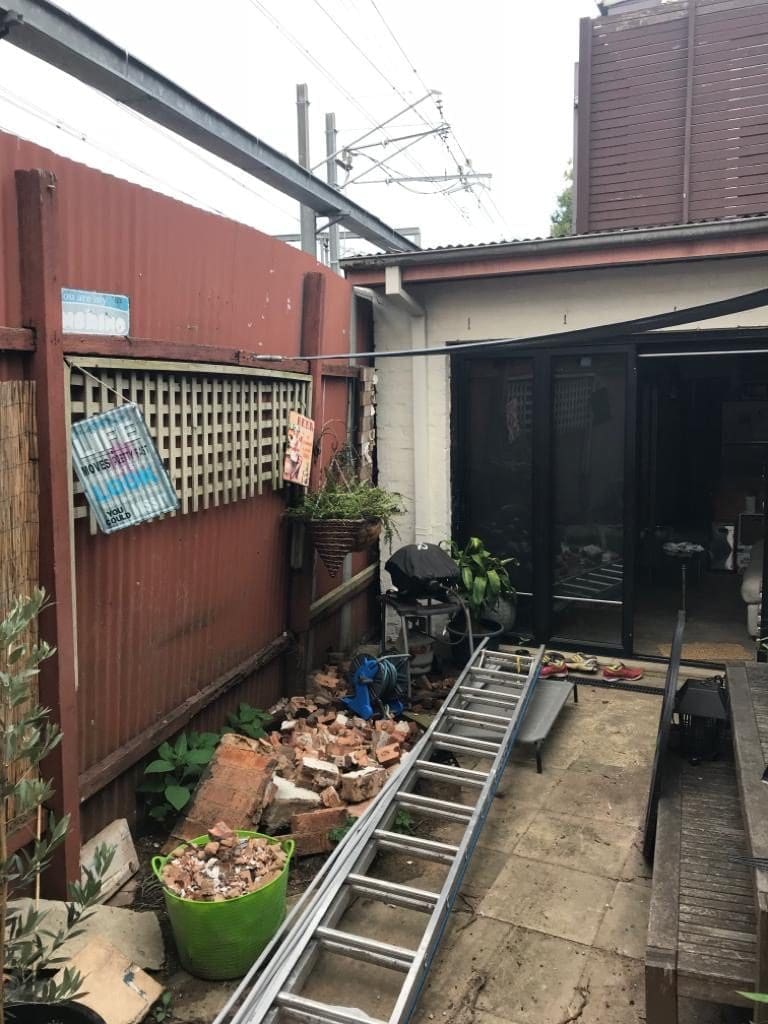 Inspiration for the space
The inspiration for this space was to create a contemporary, inner-city oasis.
This space opens up from the kitchen which features marble accents and blue joinery so we wanted to continue this palette into the courtyard for a fluid indoor-outdoor connection.
We also wanted the space to feel intimate and private, which was a challenge given the overhead train line. To provide greater privacy and noise protection, we used high acoustic fencing.
The goal was to create an outdoor dining space but also have a spot to sit and relax. I looked for furniture that would suit these needs while not being too 'heavy' and dominating the space. Slim-leg furniture was essential and I love the pieces I found at Early Settler, especially that outdoor table with natural marble top. The 1.5 seater sofa is also ideal as it's in scale with the space and small enough to be moved about.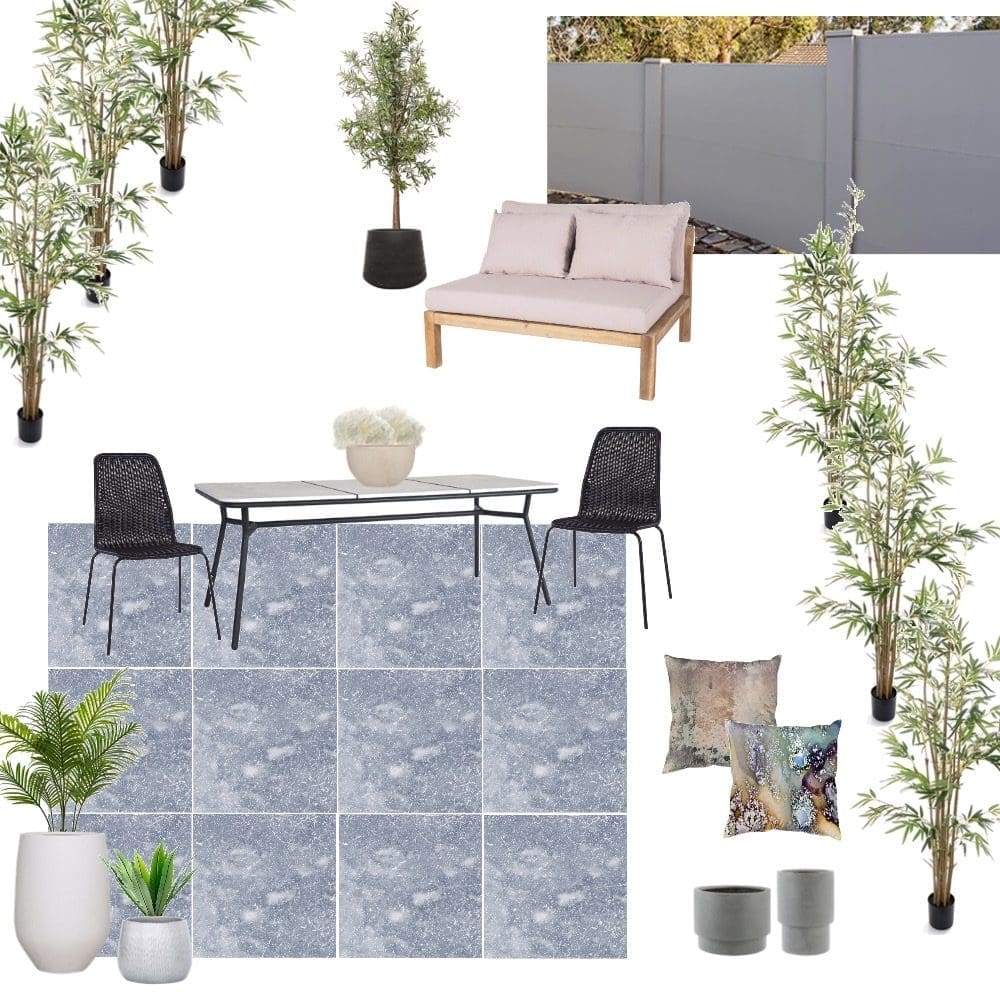 Shop this contemporary inner-city oasis look
Progress
To maximise every square centimetre of space out here we stripped things back to bare bones.
All of the garden beds were removed to take advantage of the full area. The new fence (called 'Vogue Wall' by Modular Walls) provides privacy and sound protection from the neighbouring train line. We painted all the boundary walls 'Monument' so they would drop away and allow the planting and furniture in the courtyard to pop.
For flooring, I suggested using blue marble pavers from Tile Republic that could be installed using a pedestal system. Pedestals are clever plastic brackets that hold a paver in each corner and can be twisted to move up or down. It saves plenty of money as you don't have to create an expensive concrete slab to build your level, and has the added benefit of allowing water to drain away between the pavers. This makes it incredibly easy to keep clean and avoids any potential flooding issues as long as there's suitable drainage below.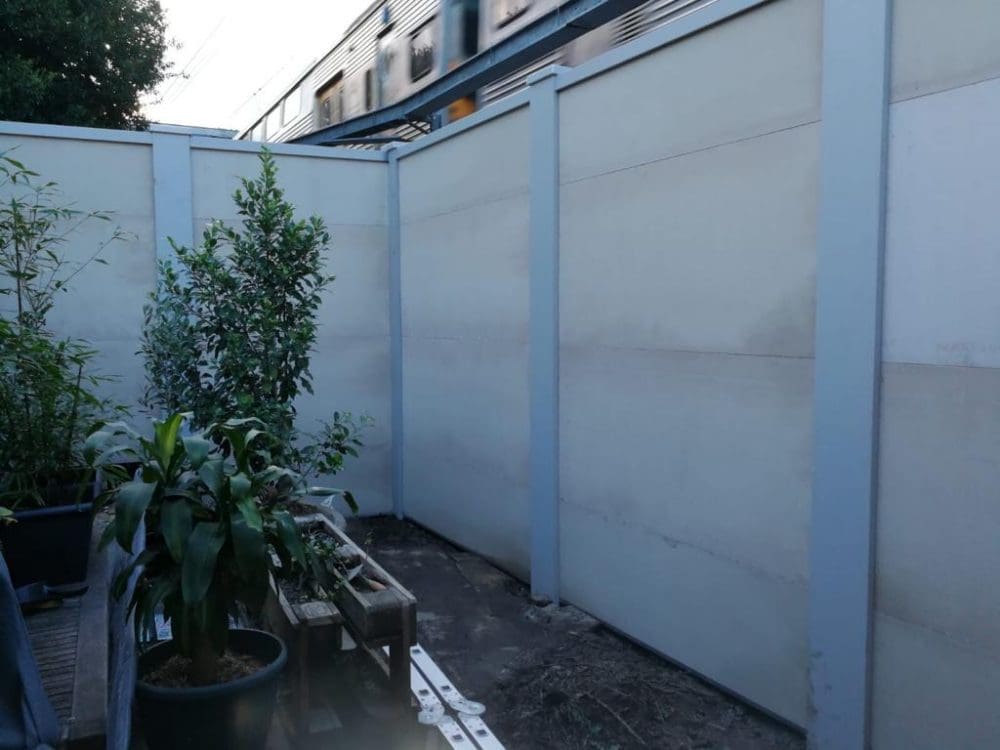 Courtyard reveal
And here's the finished space! I couldn't be happier with how this courtyard turned out — and more importantly, neither could the client!
The courtyard feels much larger than it is, a trick we achieved by increasing the usable floor area and sticking to neutral colours and materials.
The plants around the perimeter are bamboo — they offer a big dose of greenery and grow tall without taking up valuable depth in this space (i.e. other screening plants like magnolias have a much wider canopy).
This courtyard is now ready for plenty of summer BBQs and outdoor entertaining!
If you have any questions about this project, or just want to leave a comment, please pop it in the comments section below.
Supplier list
Pavers: Blue marble from Tile Republic
Fence: 'Vogue Wall' from Modular Walls
Paint colour: Monument
Furniture: Early Settler
Plants: Bamboo screening, olive tree and mix of palm plants
Photography by Thorson Photography
Shop this contemporary inner-city oasis look
Disclaimer: This post contains some affiliate links. This means, if you purchase an item we may receive a commission on that sale of the products at no extra cost to you.