Just when you thought The Block is over for another year, the couples were surprised with a final challenge — working together to renovate apartment 1 in only 2 weeks!
They decided on a Scandinavian style throughout the apartment and this week they needed to deliver two bedrooms, two ensuites and the main bathroom.
Caro and Kingi
Caro and Kingi came second place with their bedroom that the judges thought was sophisticated and well resolved. Darren was particularly impressed with the styling on the bed and in the open wardrobe. Other than a few minor points, such as some exposed screws in the wardrobe and not-so-practical bedside tables, there didn't seem to be many criticisms from the judges…
While we agree the room is beautifully finished, we can't help but feel we've seen this all before and nothing is particularly grabbing us in this space.
Score: 28.5 / 30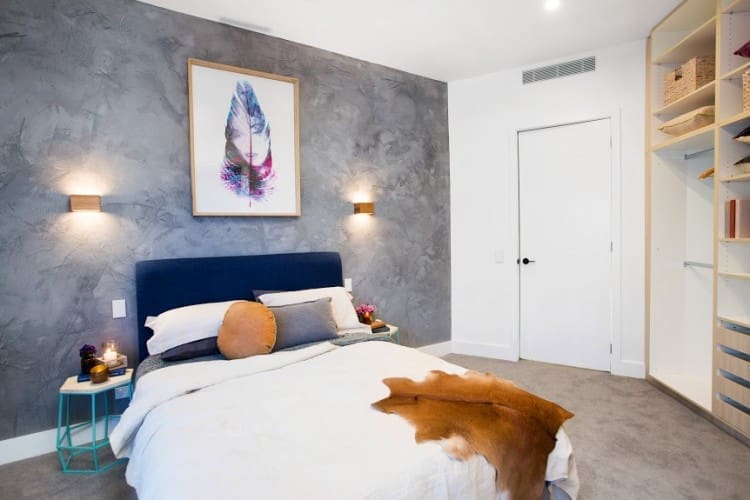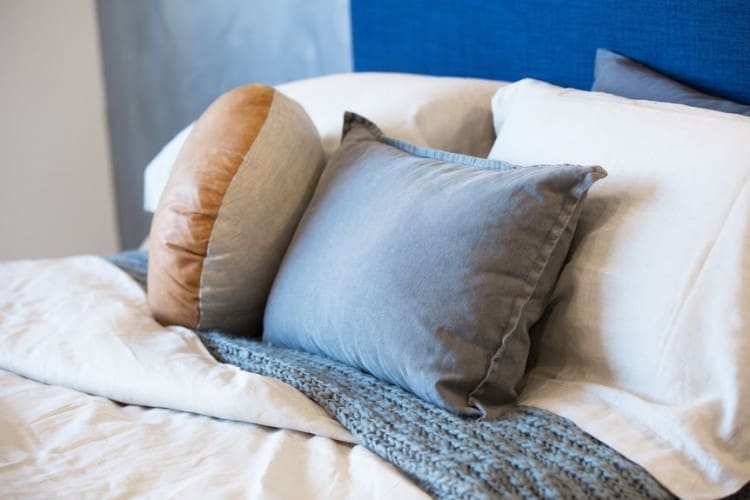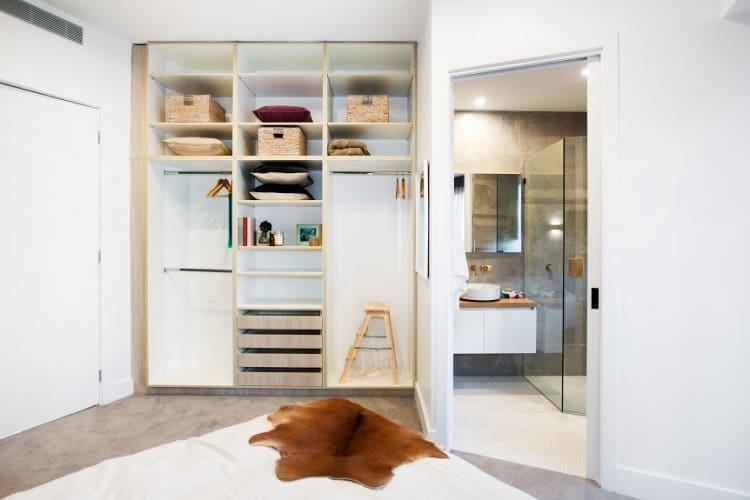 Dean and Shay
Now talking about doing something different! Dean and Shay worked hard this week to make their small budget really stretch. Shay opted for a mix of affordable tiles — penny round, subway and large format wall tiles — to create a high-end look and saved her budget for luxury tapware and a custom made vanity.
The judges couldn't believe the level of detail and quality of finishes in this small space and awarded top prize to Dean and Shay who now have $15,000 taken off their reserve at auction.
Score: 29 / 30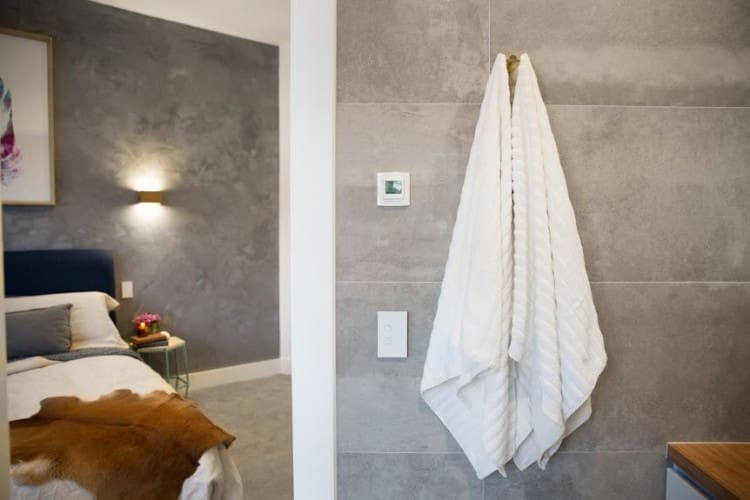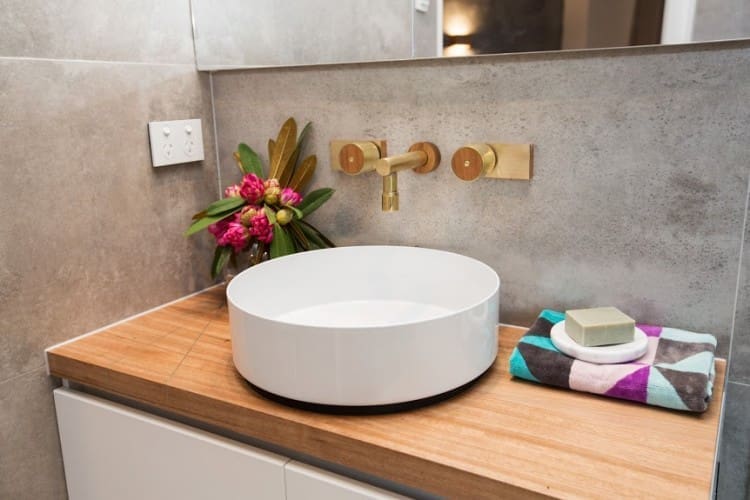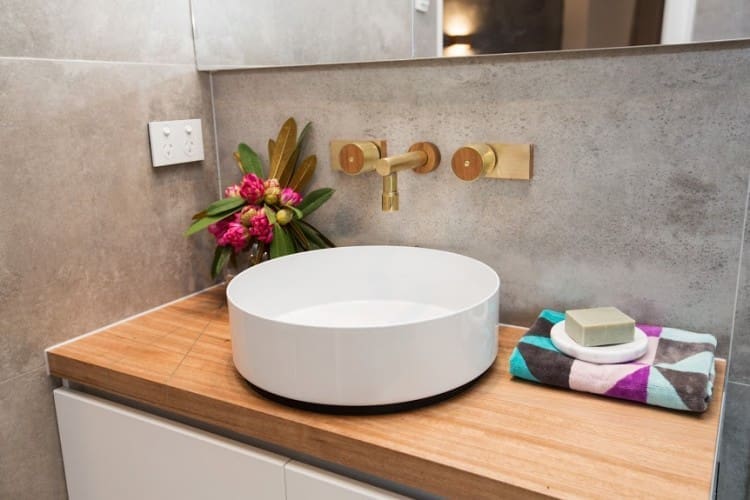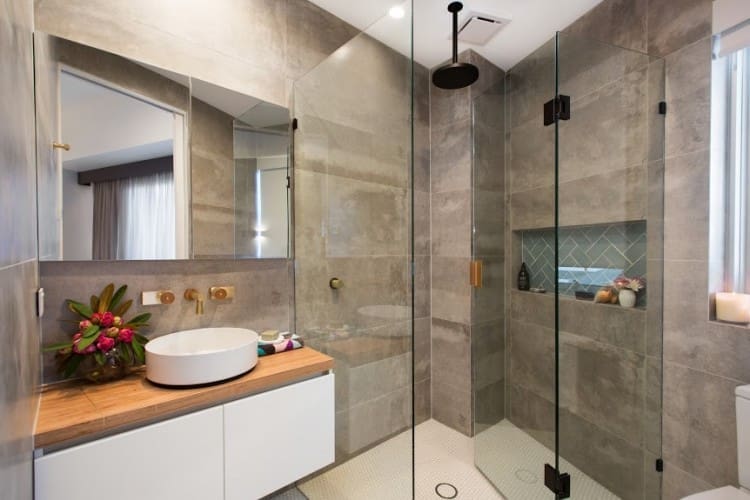 Luke and Ebony
Straight away Darren called these guys out for perhaps having a bit too much in common with the other bedroom — textured feature wall, TICK, feather artwork, TICK, exact same open shelving with almost identical styling, TICK.
There are aspects of this room we like more than Kingi and Caro's bedroom, like the timber feature wall feels warmer and more inviting than the render, and their choice of lighting (if only they'd been hung lower!), but we prefer the styling in Caro and Kingi's space. Luke and Ebony came third with this bedroom, seeing $5,000 knocked off their reserve.
Score: 25.5 / 30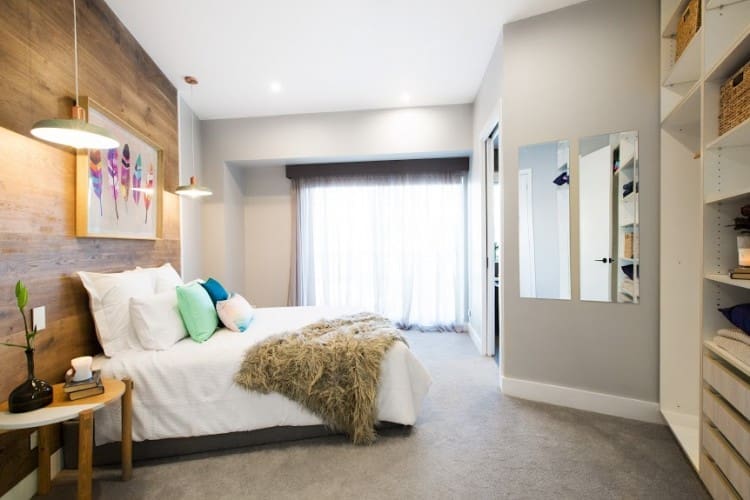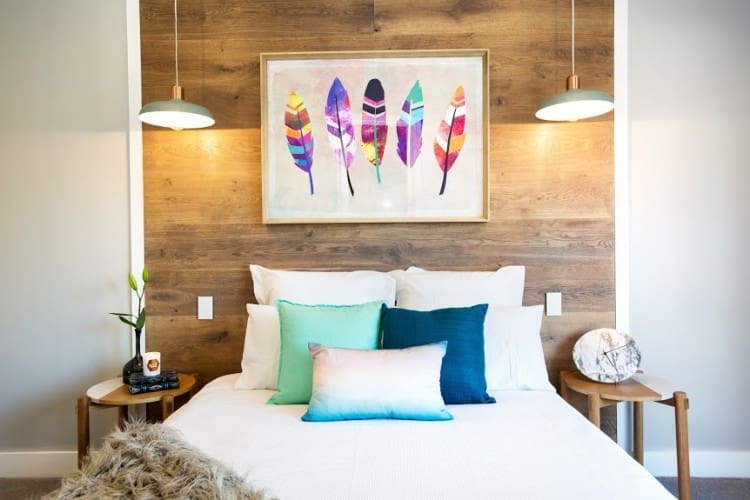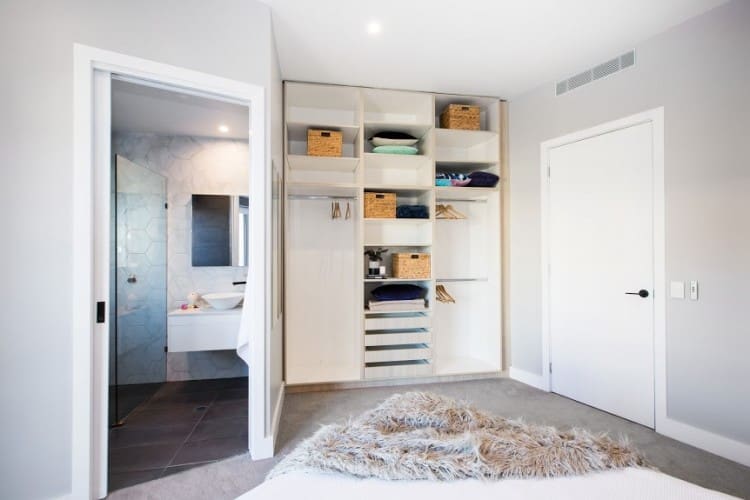 Andy and Whitney
Keeping things simple with a grey, white and black colour palette, Andy and Whitney's ensuite is practical and for the most part stylish (the blue pot plant by the toilet is a lovely pop of colour in this space). We would have preferred to see them use a basin like Dean and Shay's but that's just us.
What dragged these guys down was their finishes… a knuckle depth of silicone under the shower screen and gaps along the walls is never a good thing.
Score: 24 / 30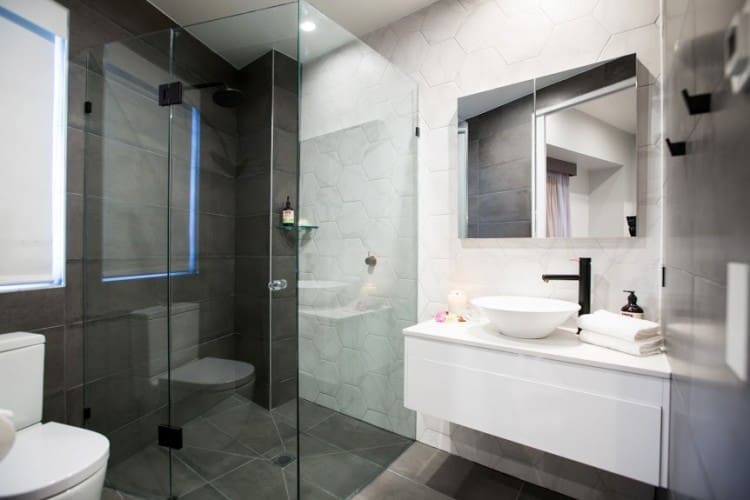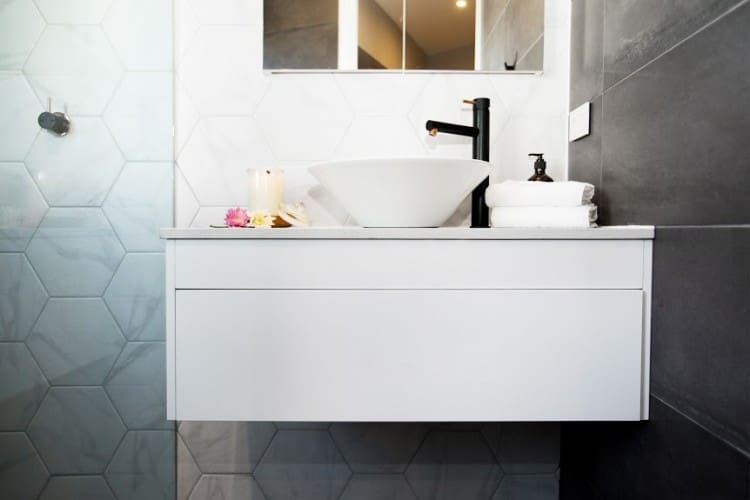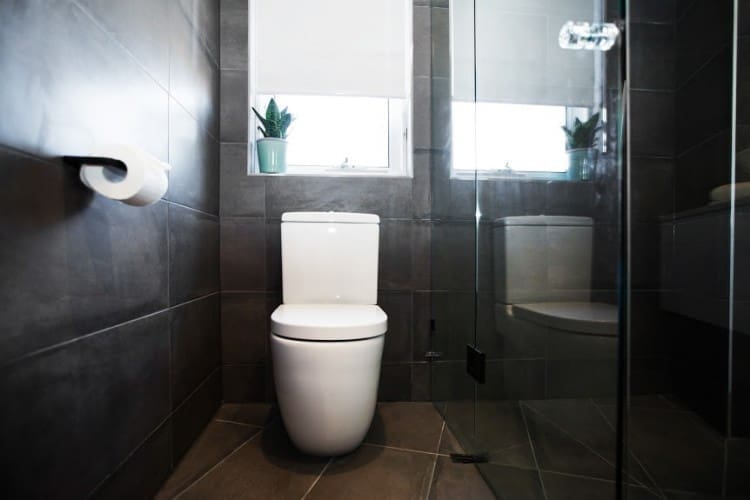 Suzi and Vonni
We really didn't expect these ladies to finish their bathroom this week but in true Block team spirit, the other couples pitched in to help them through the night.
Everything in this space, other than the shower screen decal and pendants over the bath, is quite nice and probably our favourite room the girls have done (even their styling with Endota bath products is the best we've seen from them).
Like Andy and Whitney though, their downfall was their finishes with a lot needing to be fixed up before they can sell this apartment.
Score: 22.5 / 30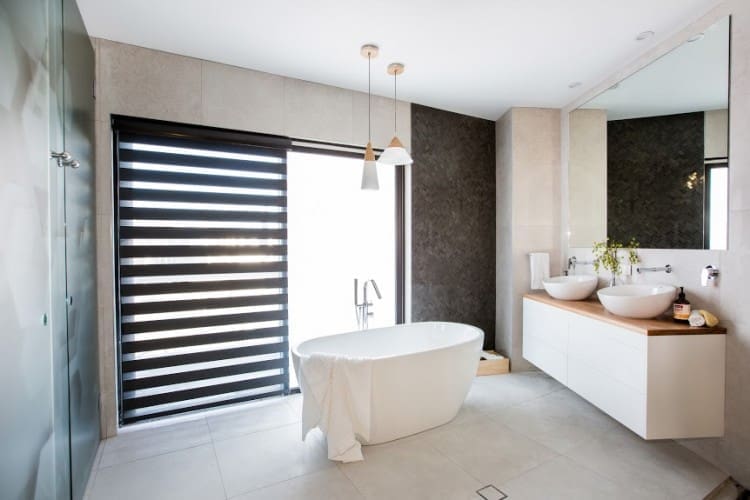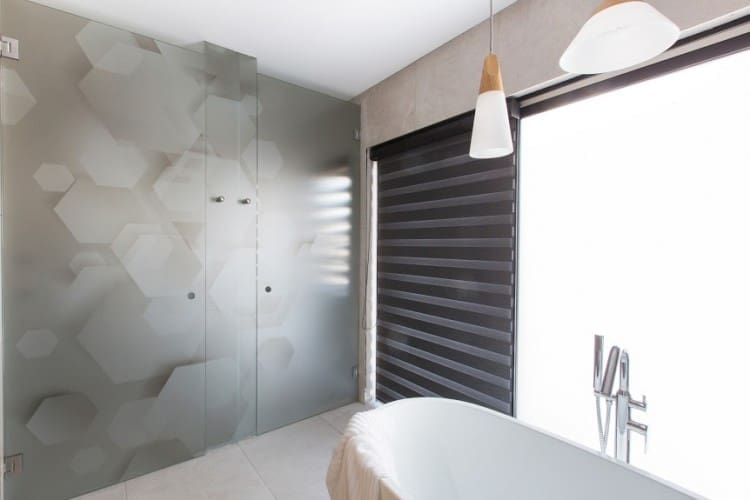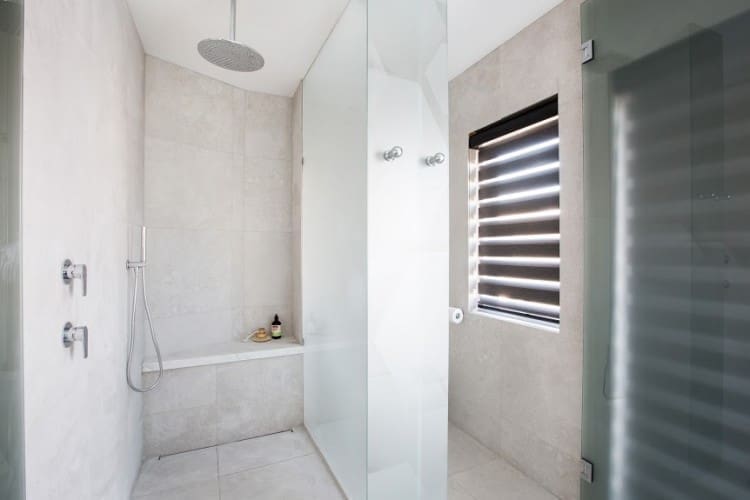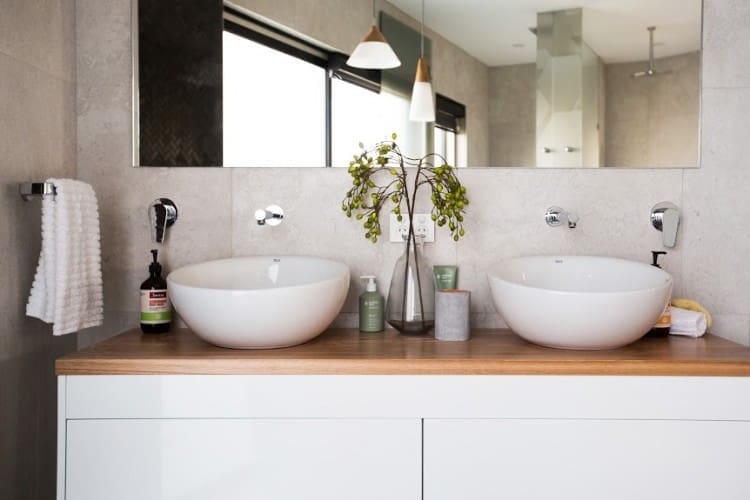 You can find our top product picks, along with loads of other fab decor and furniture, at The Block Shop.