Looking for a bar cart to elevate your home entertaining? Whether you're a pro mixologist or not, these stylish bar carts are sure to make you look the part!
From boho to luxe, contemporary or retro, our latest top 7 round up is everything bar carts. Bring on Happy Hour!
Related article: How to style a bar cart
Related article: DIY dried citrus slice tutorial: The perfect garnish for cocktails
Bring a bit of art deco style and sophistication to your home with this round drinks trolley in electroplated-gold steel (also available in black and chrome). Easy to manoeuvre, this one could also double as a side table or indoor plant stand with its sleek design and mirrored glass shelves.
Perfect for a small space, this stylish antique silver framed bar cart is simple yet elegant. With 3 levels of mirrored glass and a polished metal frame, it will keep everything for your favourite cocktail ready to go.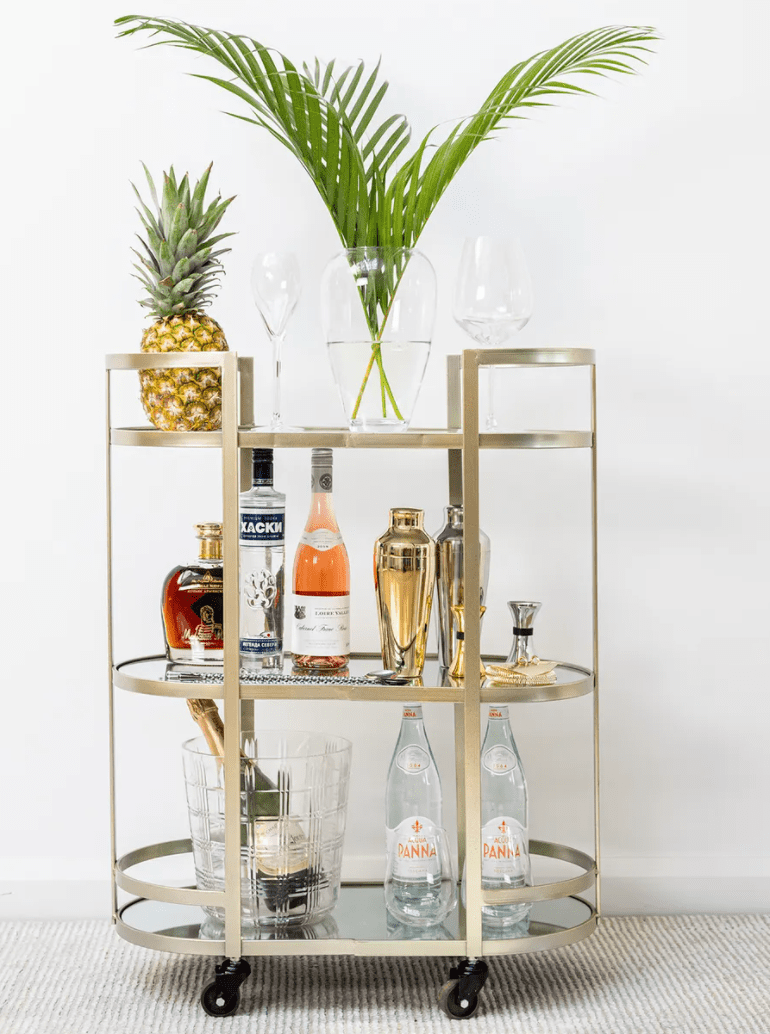 Blending on-trend design with practicality, this bar cart ticks all the boxes! With a glitzy mirror frame and two mirrored shelves, it's sure to add those glamorous vibes to your next cocktail hour.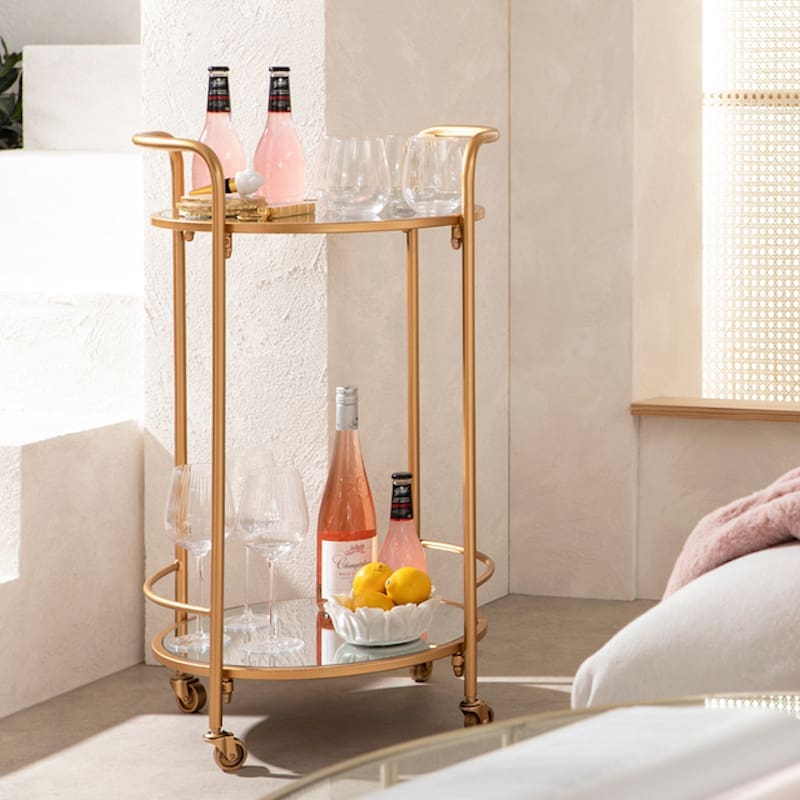 Mixing traditional lines with modern styling, this stunning bar cabinet has ample room for all your tasty tipples. The doors feature hand-inlayed rattan covers, making each one that little bit unique and special.
With racks for your wine, 4 levels of shelving and hanging space for glasses, the Arden glass bar cart has everything you could possibly want from a bar cart. Its brushed gold frame and slender linear lines scream elegance and will bring nothing but sophistication when Friday drinks roll around.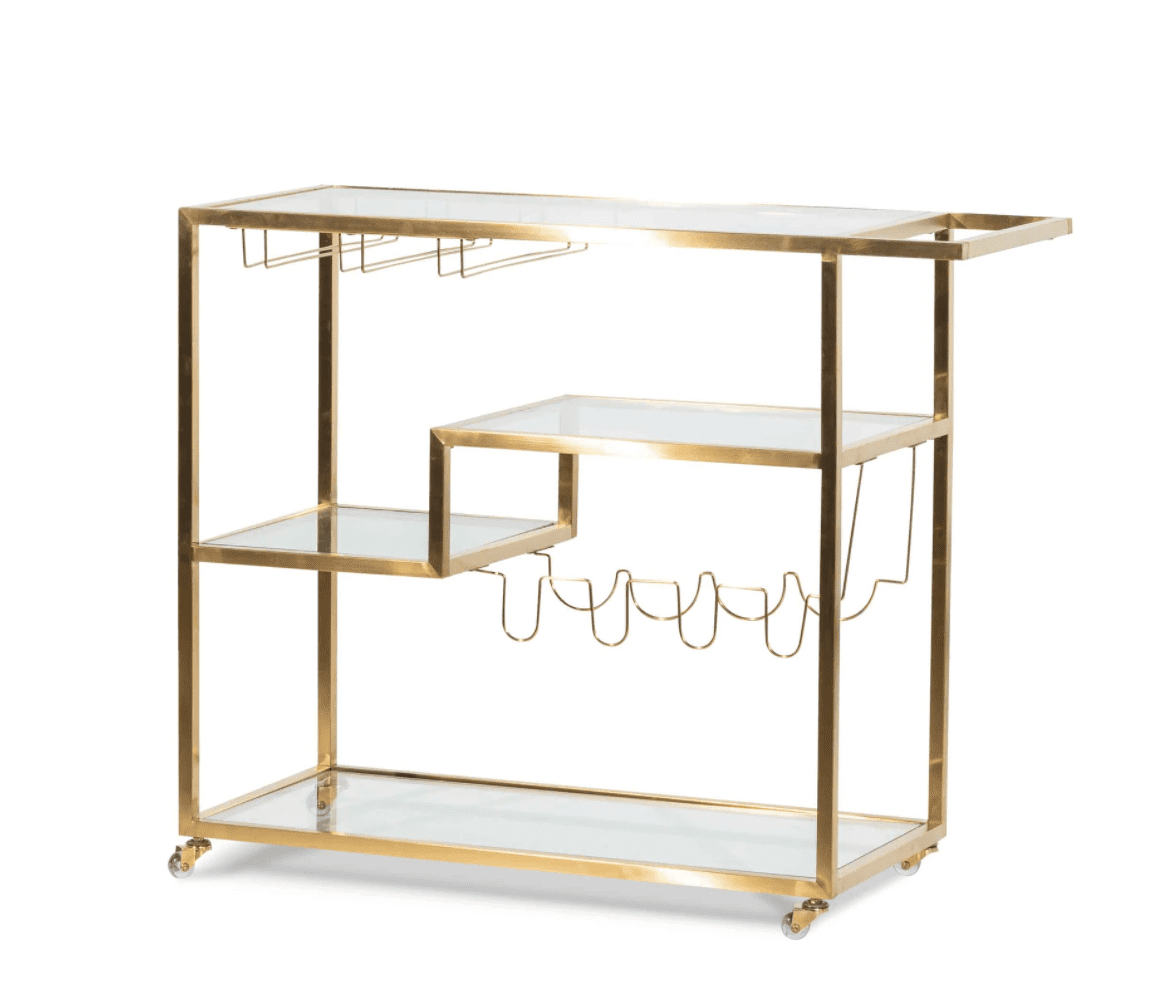 Cheap and cheerful, this bar cart is a total steal with its simple, classic design. The black metal frame and durable tempered glass is stylish and functional. And at this price, there'll be plenty leftover to fill the cart with all your cocktail needs!
Available in white or black mango wood, this stylish bar cabinet from Brosa features gorgeous terrazzo detailed handles. We love how they picked up the gold trim around the handles on the legs as well, adding to the luxe factor!
With plenty of storage inside, this cabinet also comes as part of the whole 'Greta' range, meaning you can carry more pops of these gorgeous terrazzo and bling accents across your home.
Do you have a favourite bar cart from our Top 7 round up? And how would you style a bar cart in your home? Tell us in the comment section below!
Disclaimer: This post was first published in March 2020 and continues to be updated with the best bar carts. Prices accurate at time of publishing. This post contains affiliate links. This means that when you click on a link and purchase something from that site, we may make a small commission at no extra cost to you.