Our Top 7 round ups seem to be super popular at the moment, so we decided to celebrate. And what better way to do that than with a drink, right?! So today's round up features 7 stylish bar carts in a range of styles and price points.
Make ours a classic margarita with extra salt, and we'll see you at Happy Hour 😉 !
Related article: Experimental and playful design pieces from YOS studio
Related article: Stylish handles to refresh your interiors or update tired furniture
Bring a bit of art deco style and sophistication to your home with this round drinks trolley in electroplated-gold steel (also available in black and chrome). Easy to manoeuvre, this one could also double as a side table or indoor plant stand with it's sleek design and mirrored glass shelves.
Shop this stylish bar cart here
Perfect for a small space, this stylish polished silver framed bar cart is simple yet elegant. With 2 levels of mirrored glass and a polished metal frame, it will keep everything for your favourite cocktail ready to go.
Shop this stylish bar cart here
Did someone say garden party? Well isn't this whimsical bar cart just the perfect fit?! Blending brass with rustic timber, this piece achieves the right balance between lived-in and luxe.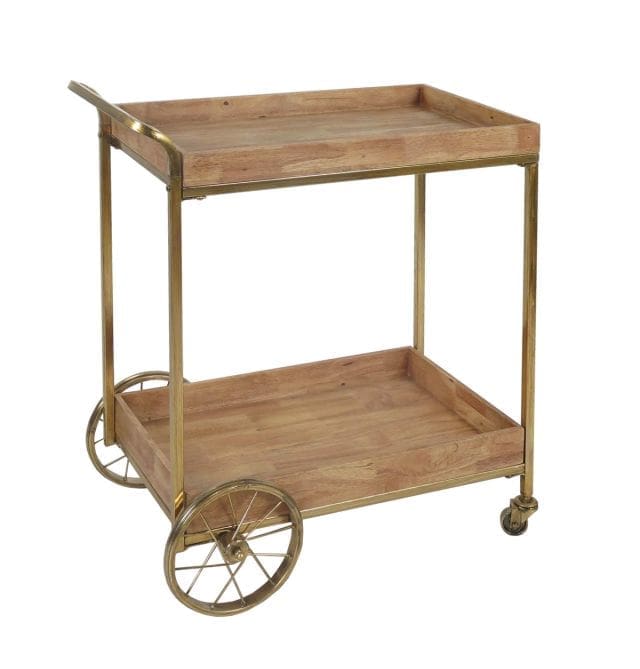 Mixing traditional lines with modern styling, this stunning bar cabinet has ample room for all your tasty tipples. The doors feature hand-inlayed rattan covers, making each one that little bit unique and special.
Shop this stylish bar cabinet here
This rattan framed bar cart with bronze wheels from April & Oak gives off those beachy boho vibes, don't you think? We're picturing it styled with some cool mismatched glasses, a fresh pineapple, vintage champagne glasses and maybe a touch of greenery, too.
Shop this stylish bar cart here
Cheap and cheerful, this bar cart is a total steal with its simple, classic design. The black metal frame and durable tempered glass is stylish and functional. And at this price, there'll be plenty leftover to fill the cart with all your cocktail needs!
Shop this stylish bar cart here
Available in white or black mango wood, this stylish bar cabinet from Brosa features gorgeous terrazzo detailed handles. We love how they picked up the gold trim around the handles on the legs as well, adding to the luxe factor!
With plenty of storage inside, this cabinet also comes as part of the whole 'Greta' range, meaning you can carry more pops of these gorgeous terrazzo and bling accents across your home.
Shop this stylish bar cabinet here
Do you have a favourite bar cart from our Top 7 round up? And how would you style a bar cart in your home? Tell us in the comment section below!
Disclaimer: Prices accurate at time of publishing. This post contains affiliate links. This means that when you click on a link and purchase something from that site, we may make a small commission at no extra cost to you.