Hands up who's always wanted a stylish bar cart in your home or perhaps you have one that's just been collecting dust? Never fear, we've been on the case of how to style a bar cart! Keep reading for the low down on all the winning looks, along with expert styling tips from Vanessa Colyer Tay, Temple & Webster Head of Styling.
Related article: Top 7 stylish bar carts and cabinets to suit all budgets
Related article: The tips and tricks to styling your coffee table with ease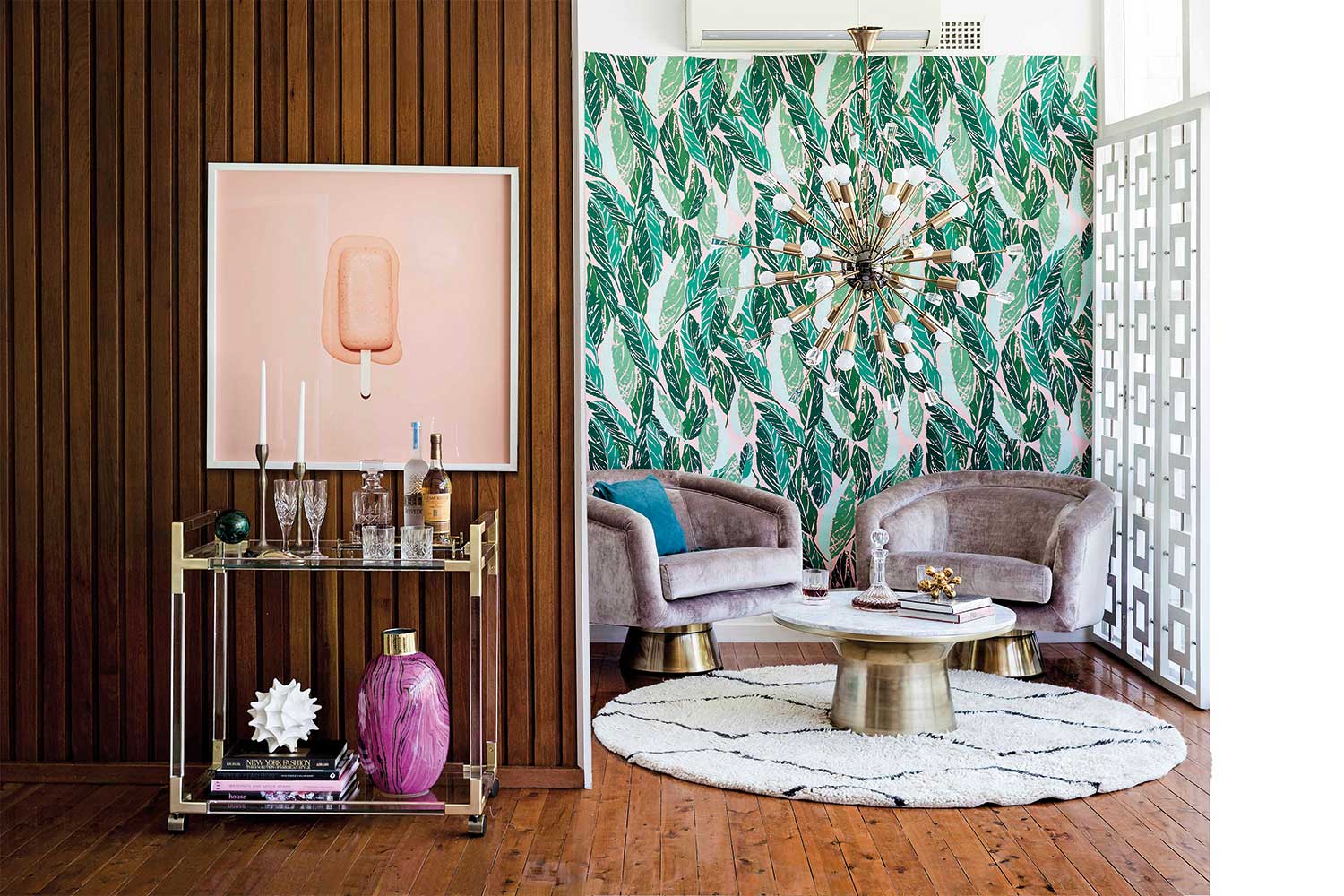 Choose the right bar cart
If you don't already have a bar cart, the first step will be to choose a bar cart that suits your style and blends with your decor. From boho to retro, contemporary and everything in between, we've got our top bar cart picks here.
As well as style, it's a good idea to think about how much storage you need. You can find compact two tier trolleys, more substantial ones that also have space to hang wine glasses, as well as larger bar cabinets where items can be hidden behind cupboard doors. Consider style and function before making your choice.
Get the location right
Before pulling out all of your finest glassware, decide where you'll position your bar cart. Just like the pic above, Vanessa says "One of our favourite ways to style a bar cart is to position it below a focal piece of art."
There are also practical things to consider. Generally it's best to have your bar cart in the living or dining area where it'll be used for entertaining with guests. Many bar carts have wheels so you can keep it against a wall or out of the way when it's not being used and then wheel it closer to where the party is happening!
Shop your bar cart essentials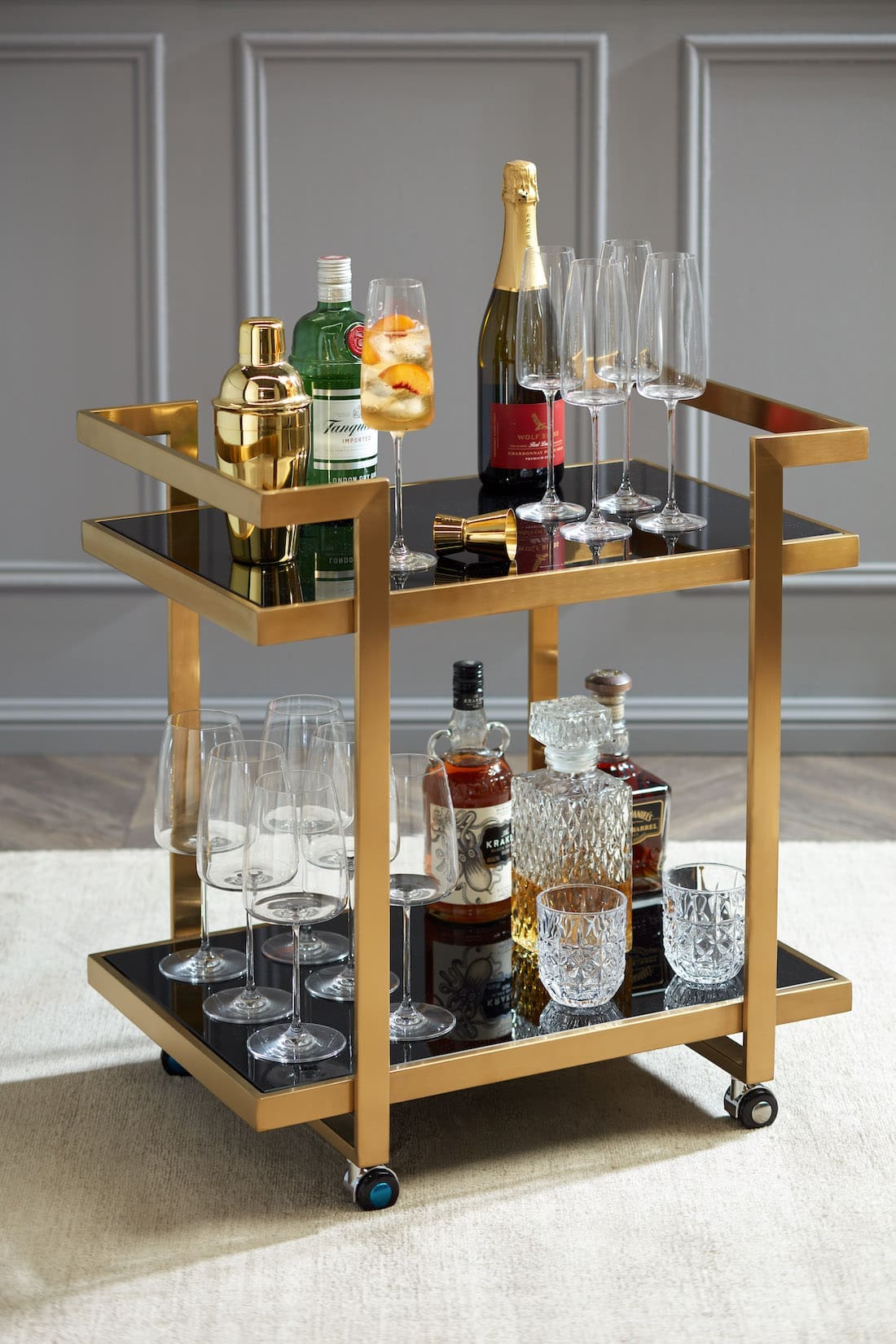 24/7 bar cart or only when the party gets started?
The other big decision that will impact on how you style your bar cart is whether you'll use it as a drinks station year round or if you'll use it as a multifunctional piece. By that we mean, many people use a bar cart as a side table to hold a lamp, books and other practical pieces which can be moved to the side to make space for your cocktail shaker and bar cart essentials when entertaining.
"Bar carts are good for more than just housing refreshments! Make use of this functional item as a side table to house thick coffee table books and a table lamp. Plus, it can easily be transformed from a two-tiered storage piece to a night-cap station at any time," says Allira Bell, Temple & Webster stylist.
Use high and low elements
"To start styling the top shelf, implement one tall accent piece like a vase with foliage, or a lamp if your bar cart is likely to stay stationary. Once the beauty is in place it's time to add your practical items like decanters, glassware and bottles of your favourite nightcap," says Vanessa.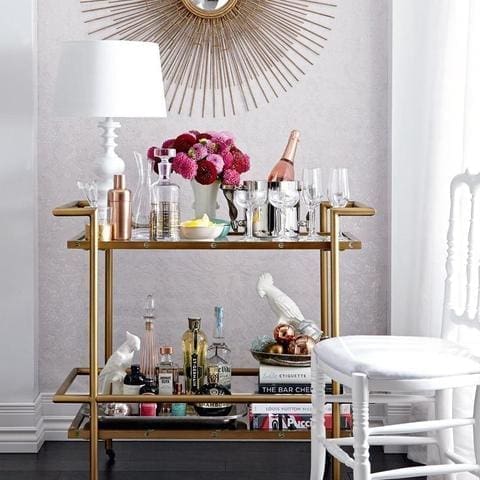 Choose your glassware wisely
"When styling a bar cart, your choice of glassware can highlight it more than you'd think. Crystal stemware will suit an elegant home, coloured glassware will shine in a retro or vintage-inspired space, and simple clear glassware will work well in a neutral or minimalist home," says Vanessa.
Generally you only need 4-6 glasses on your cart, depending on how many guests you're expecting. Keep other glassware stored away to make room for other essentials, like bottles, champagne bucket and bar cart accessories.
Consider sticking with a theme
Whether it's a broad style like luxe or a specific colour palette (like that gorgeous rose gold one below), there's no denying sticking with a theme can give your bar cart a more sophisticated look.
There's so much choice when it comes to bar cart accessories that you can easily create just the look you want.
Have fun with quirky elements or decor
Your can also throw in a few quirky elements or unexpected decor into your bar cart styling. Just check out those random parrots in the bar cart above! So long as the items fit your overall theme, you can get away with almost anything!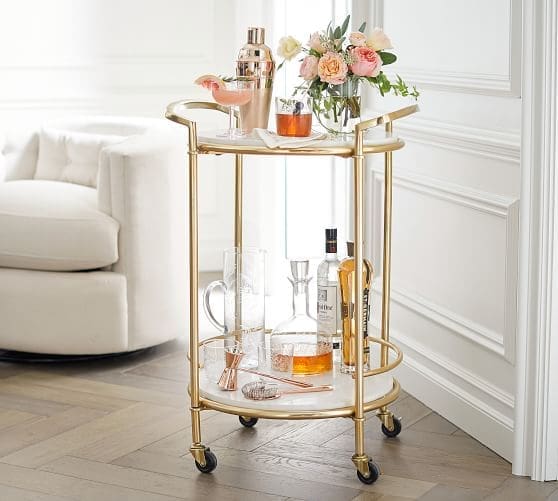 Leave space to fix your drinks
We generally always say the last step to styling is to take a step back and refine the look. And this especially rings true when styling a bar cart as you'll need some free space to fix your drinks! If your top tier is too cluttered to be usable, pare it back. Perhaps you can better utilise the lower tier or keep some of your excess drinks and glasses in a cupboard.
Shop your bar cart essentials
Did these tips on how to style a bar cart inspire you? If you need to pick up a bar cart first, find our round up of the best bar carts here. Happy styling!
Disclaimer: This article was first published in April 2020 and continues to be updated. It contains some affiliate links. This means that when you click on a link and purchase something from that site, we may make a small commission at no extra cost to you. We promise we only work with brands we know, love and trust.