Man caves don't have to be dark, dingy basements with endless sports paraphernalia, deer antlers and giant leather lounges. They can be stylish… and to prove it, we've curated an epic inspiration gallery of our favourites. Keep scrolling for plenty of ideas on how to style the ultimate man cave!
Related article: Styling a masculine bedroom: A dramatic men's bedroom makeover
Related article: Black on black: A sleek and dramatic home tour
Granny flat luxe
How epic would it be to have a space like this in your backyard!? The deck and couches alone are enough to sell it to us, but throw in the stylish granny-flat-come-man-cave and we're done!
With timber features and pared back styling, it's almost got a Scandi man cave feel to it. Don't be surprised if you find that we want to keep this space for ourselves!
For the sophisticated gentleman
The old school black and white sporting photo gallery is an elegant way to showcase his love of sports… stylishly! Alongside the slick, dark grey walls and comfy leather armchair, this is a man cave we can get on board with.
The tree house
This tree house slash man cave is so flipping cool! And it's cool no matter how old you are. We mean, what guy wouldn't want his own tree house?! It's like a rustic man cave 😉
But also, why should guys have all the fun?! This would be equally as cool as a she-shed, home office, yoga or meditation space, or simply as an adults only retreat. Epic!
Full blown skate park
Look, we'll admit. This one needs a lot more space than most of us have just lying around unused! But this was too epic not to include. At the McGee home (Syd and Shae from Dream Home Makeover — anyone else in love with this show on Netflix like us?!) they turned their basement into a guy's paradise.
With its very own skate ramp and rock-climbing wall, it is seriously cool. We also love the skateboard storage which doubles as wall art. And that dark grey plaster gives the walls a fabulous tactile quality.
The ultimate at home bar
When Shelley decided to DIY her own man cave for her husband we knew it was going to be next level amazing. Shelley is renovating her '80s family home and every reveal blows us away.
Her husband designed the space and it is legit what man cave dreams are made of. With a commercial-sized bar, more TVs than you can poke a stick at and a rustic, masculine materials palette, this project earned her massive 'Wife of the Year' points 😉
Classic vibes
The panelling, dark wall paint, Chesterfield lounge chair and classic styling on the shelves give this space an unmistakeable masculine interior style. It's your classic man cave done elegantly and we're here for it!
Backyard bar
It might be a bit cliché, but we reckon a backyard bar would make most men pretty darn happy. This set up has a bar, darts board, swing, and a TV. What more could he possibly want?!
Music as art
If music is his passion but it's cluttering up your living space, perhaps this living room can inspire a solution. Ross mounted his guitars onto the wall to get his prized possessions off the floor while showcasing them like works of art.
Room for anything
There's nothing particularly man cave-y about this lounge space, but that's what we love about it. A stylish man cave doesn't have to be filled with sports paraphernalia and a pool table. A beautifully styled lounge and a big screen TV may be all he needs.
And seeings as its styled to perfection, there's no reason why he can't share!
Hunter gatherer
This ultimate man cave might seem a little typical, but at least it's done in style. We like how the contrasting feminine chandelier almost clashes with the rest of the space. And the black three quarter height painted walls create such drama in the space.
We can see him hosting a poker night at that round dining table or enjoying a whiskey with mates around a crackling fire… you might struggle to get him out of this space!
Boys club
You can probably tell that yes, this is technically a kids space. But it's so flipping stylish, we thought we'd still put it in contention for the ultimate man cave.
Neon sign, old school arcade games, giant floor pillow… no matter your age, this room is beyond epic!
Aerodynamic
If he's into planes, this space is proof that it can be done in style. The classic chesterfield couch makes this space sophisticated and the timber bookcase adds an element of style.
What we love most about this space is how it makes aeroplane art and trinkets look non-offensive, ha, just saying it how it is! So whether he's into soccer or outer space, take a few styling cues from this room. For example, use of repetition, like black art frames and tonal decor, to give your ultimate man cave a cohesive feel.
One for the sports lover
It would be neglectful for us to not include a man cave with a pool table and sports memorabilia. But what we like about this space is that it's light, uncluttered and balanced. The sports decor has been used sparingly with accent colours picked up in the other soft furnishings. It's a man cave that shows his love of the game without being OTT!
Man cave shed
A shed is always a good idea, especially if it's decked out like this one. Great to get him out of the house and let him run wild with his own personal style… which is highly likely not to match in with yours!
Movie room done luxe
This space is pretty simple but it's done oh so well. Dark navy panelled walls help create an intimate feel. And the built-in cabinetry means all the movies and viewing equipment can be neatly tucked out of site.
Modern take on an old school gentleman's office
This room gives us all the old school gentleman vibes. It's definitely more home office than chill out man zone, but it's sleek and stylish all the same.
You could easily switch out the desk for a classic tan leather lounge to make it more of a hang out space.
All the bells and whistles
Walls in a strong, masculine colour — check. Bar stocked to the brim — check. Comfy, stylish leather chairs — check. This space is simple enough in its design but makes all the right moves. Definitely a contender for the ultimate man cave.
Movie junkie
For the movie junkie, this is what ultimate man cave dreams are made of. Floor to ceiling storage to house hundreds of movies. Cool old school movie poster artworks and casual comfy seats… this space would make any movie lover incredibly happy.
Ultimate chill zone
This is more of a games room and chill out space than a specific man cave. But if space permits, why the heck not create a manland like this?!
Another one from the creative genius's at McGee and Co, this space has it all. The vaulted ceilings make the space feel enormous and the timber detailing is just divine.
A pool table, swinging chairs, built in shelving with tonnes of storage and a giant TV… there's not much we'd change in here and we'd like to move in immediately.
Office slash man cave
There's no reason his home office can't also serve as a man cave. Two birds, one stone — right?! This space does the job nicely with one half of the room dedicated to work, and the other a little more chill with sofas and places to lounge. Just throw in a bar cart and he'll be set.
And the black framed glass doors are perfect for when he needs to take an important work call… or tune out from the rest of the chaos at home!
Music studio man cave
If he's a budding music producer (or a legit one!) his music studio can totally double as his ultimate man cave. And with a view like that, he'll be set for life.
The lockdown project
Simon created this covered deck space during lockdown and it's brilliant! The black stained timber cladding creates a moody effect and more of a masculine vibe. Throw in some fun lighting, comfy seating, blankets and a TV and it looks pretty perfect to us!
Converted garage
Boys and their toys… this man cave set up in a converted garage is pretty epic. It has room for all his 'stuff' like sporting equipment that would otherwise clutter up the shed or car space.
We spy a bar, table for games (or drinks… or maybe even work?!), comfy as bean bags and even a space out the back to lounge in style. This might just be the ultimate man cave set up!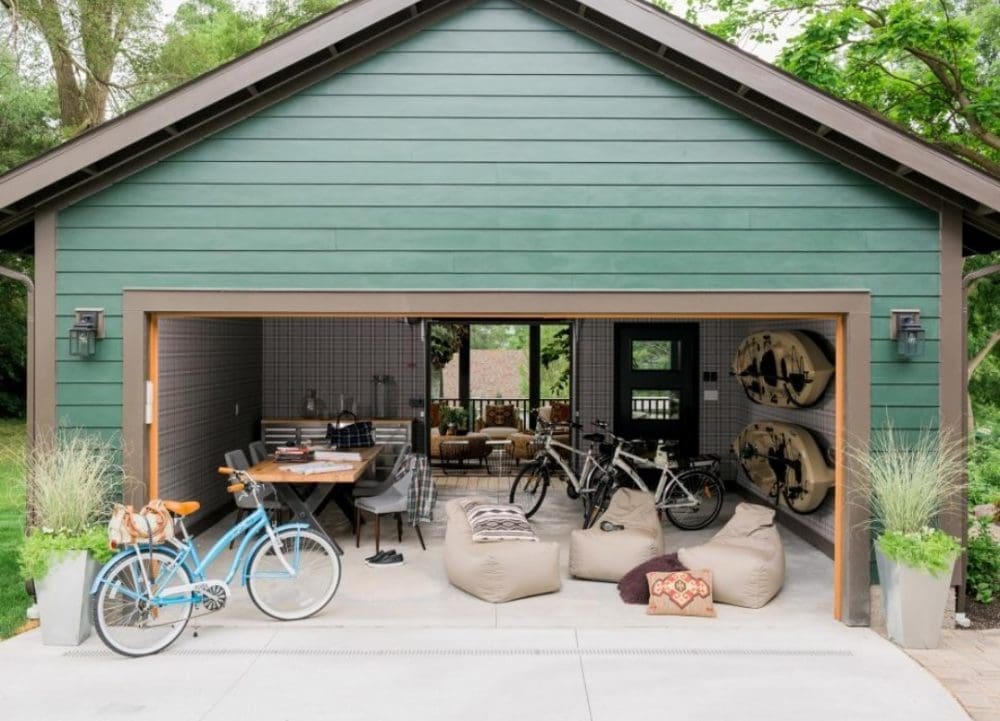 At the movies
The best part about going to the movies is the popcorn, wouldn't you agree?! So when we spotted this set up with a built-in popcorn and frozen drinks machine, we were hooked. You might struggle to get the kids out of this room though!
Loft lounging
The high ceilings and exposed timber beams are so gorgeous, we'd be tempted to steal this space back from him. Pared with the soft, worn leather couch, this is the ultimate space for him (or her!) to get away from it all and just chill.
The ultimate man cave accessory
Not so much a room, as an accessory, this foosball table is one we actually like! That forest green colour paired with timber handles and sleek glass top — finally something gaming related that's stylish!
Space to play
It doesn't get much more man cave-y than this. Shed. Pool table. Bar. Minimal 'stuff'. Isn't that everything he'd need to be happy?!
A space for his… stuff!
It was the lamp that did it for us. If you have a man in your life who has a whole stash of 'stuff' that just… doesn't suit your aesthetic, the best advice we can offer is to get him a man cave like this one! That way, he can display all his Star Wars knick-knacks and other quirky finds that he loves so much. And you won't have to compromise on the main part of the house!
Masculine Hamptons
If you thought Hamptons styling couldn't be masculine, this at home bar proves otherwise. This set up is beyond chic with panelling on the ceiling, marble splashback and classic Hamptons blue walls.
We challenge you to find a man who wouldn't be happy with this in his home.
50 shades of grey
Don't worry, we're not talking about 'that' 50 Shades room 😉 This room is almost like an at home bar, but not in your typical way. The grey on grey colour palette works thanks to the various tones and neutral accents (like the rug and artwork) that offer relief.
Contemporary gym
If fitness is his jam, this contemporary man cave space will spark his interest. Sleek and sophisticated, this isn't your average gym space. We love the round timber space divider, allowing the room to be separated into workout and work space.
Mid-century modern man cave
Another man cave for the music lover. This one has a grand piano! Best of all, the cohesive joinery and beautiful design details throughout prove man caves and style don't have to be mutually exclusive.
Small but stylish
We've said it a few times, but if you don't have the space to dedicate him a full blown room, a small beautifully styled corner can work just as well.
This nook offers a spot to relax and fix yourself a drink. And we're betting there's a beautiful view out that window to take in while unwinding.
Rustic industrial
It's the exposed timber ceiling in this space that we seriously LOVE. It adds to the cool fusion style of this man cave that can only be described as rustic meets industrial meets old world… and somehow it works!
Work (and play) from home
While this room may be an office, it's a pretty cool one at that. And if he's into gaming, it might just be his idea of the ultimate man cave. How fun is that printed wallpaper on the ceiling and quirky touches like the games controller wall hook?!
It's a place for work and play.
What did you think of our ultimate man cave inspiration gallery? Has it given you some ideas to tackle a space at your place? Or perhaps you've got an epic man cave you think needs to be added to our gallery! Chat to us in the comment section below.
This post was first published in August 2022 and continues to be updated.