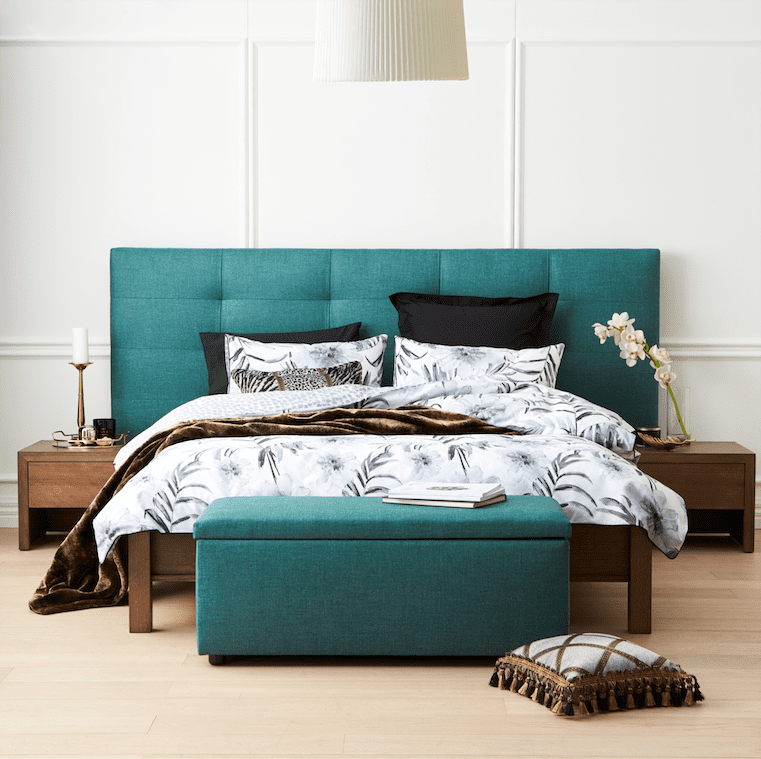 Supported by Forty Winks
With each new year it's always fun to predict what trends will hit big. With bedroom styling currently on my mind, I've been looking far and wide for bedroom inspiration!
The newly released Forty Winks Bedroom Book, 'Sleep in Style' is loaded with ideas. In my opinion, it provides a preview to some of the next big bedroom trends. In it you'll find bedroom inspo for almost every interior style — from coastal to nomad, hotel luxe to classic.
After the Scandinavian and minimalist aesthetic dominated the interiors space for so long, last year we finally saw more interior styles gain popularity, such as coastal and boho. I'm predicting three big bedroom styles that will gain momentum in 2018!
Related article: How to style a bed like a pro
Related article: 7 ideas to style your dresser
1. Scandi-coastal fusion
As the name suggests, this first trend which we're already starting to see appear combines the popular Scandinavian style with a coastal fusion to create a look that's light, airy and embraces natural elements. It's also being nicknamed 'Nordic coastal'.
Forget the strict Scandinavian style, which was often interpreted as quite monochromatic and minimalist, and leave the traditional coastal look behind to embrace a new style that takes the best of both influences.
The image below shows the Scandi-coastal style in action. The clean line bedhead from the Truffle range from Forty Winks features a light grey linen textured fabric that provides the perfect neutral base to begin creating this look.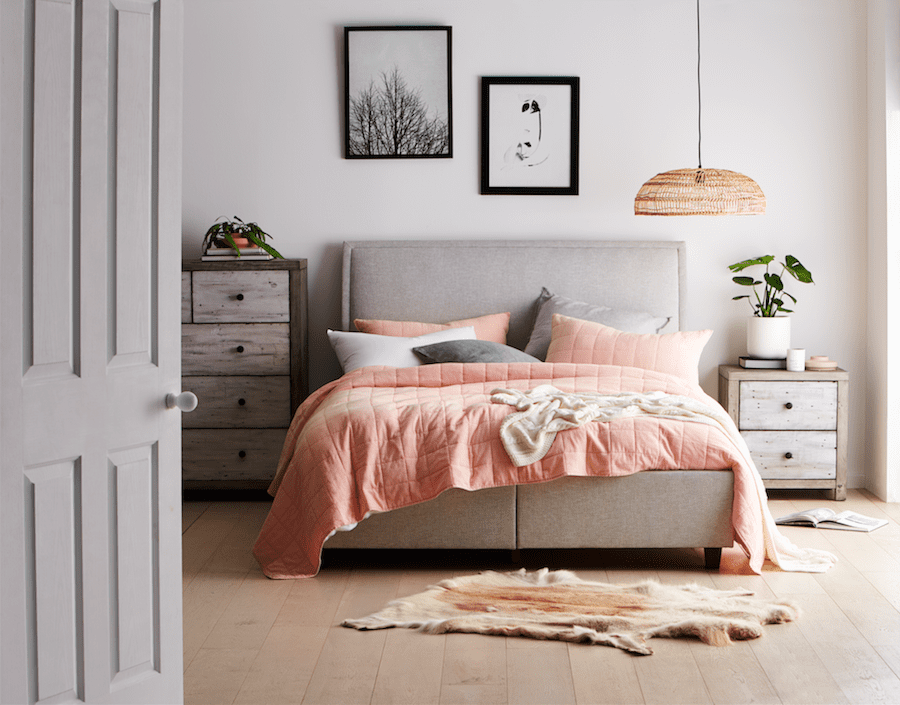 Scandinavian influences can be seen in the black and white artwork, hide rug, and peach tone bedding. The use of indoor plants, candle with minimalist packaging and ceramic pieces also give a nod to the Scandinavian style.
Strong coastal elements can also be seen with the distressed grey and white wash stain bedside table, rattan pendant light and light oak flooring.
There are some tricks to making this hybrid style work, and here are my top styling tips.
1. Embrace textures
The Scandi-coastal look is all about mixing textures and materials to create interest and warmth.
Use a base of white, sand, or grey tones and play with materials such as knotted rugs, hides, and linen. These are not limited, with other materials such as quilted or leather fabrics, timber, rattan, and other materials that reference nature.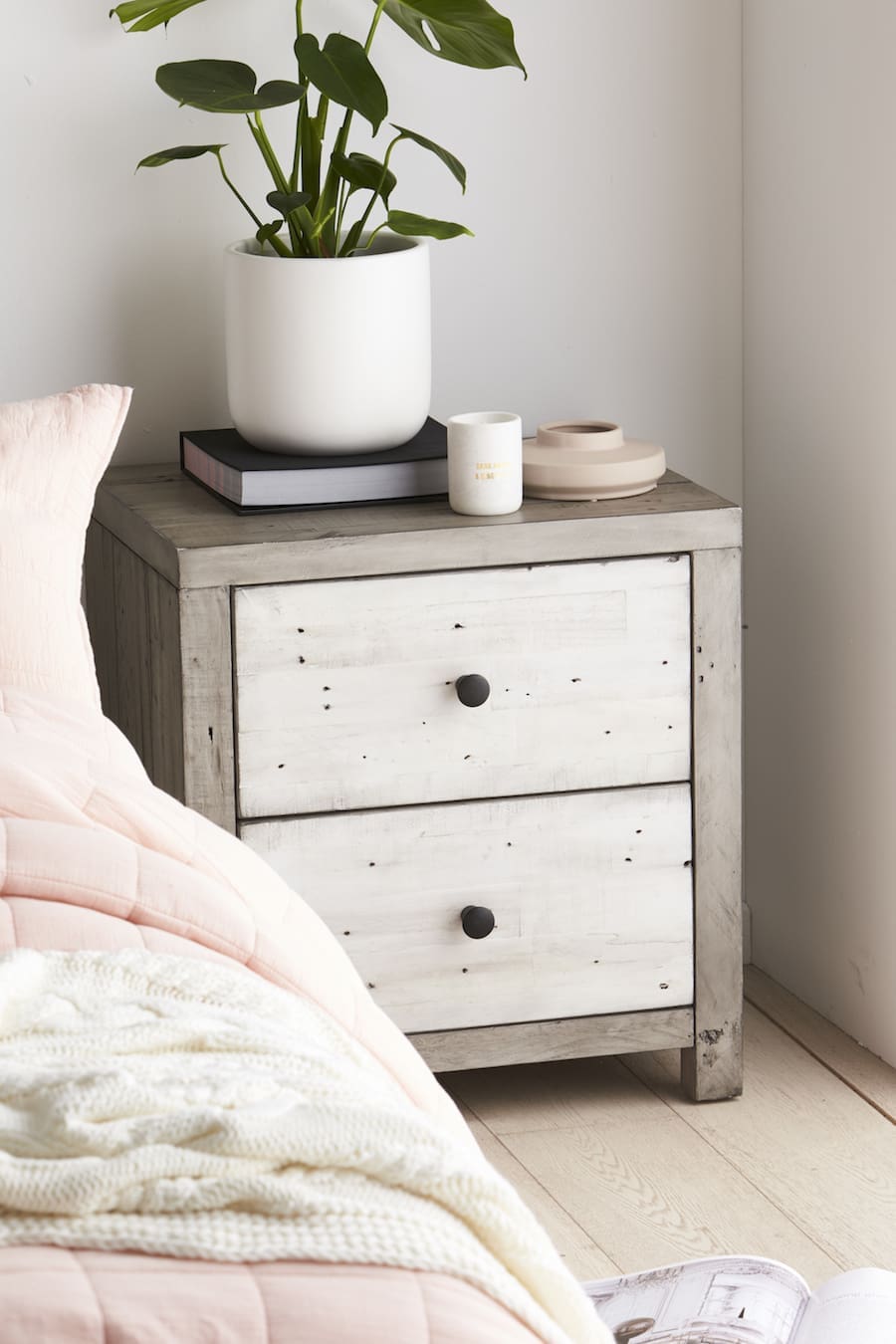 2. Restrained colour palette
As the focus of this style is on materials, generally colours are kept to a minimum. Consider adding one big pop of colour with a quilt cover or large artwork, and keep the rest of the space neutral. Popular accent colours include washed-out green, light grey-blues, and blush pink or peach tones.
3. Layer, layer, layer
Another key feature of this style is how layered it is — a floor rug appears in almost every space, cushions are stacked, and styling arrangements are multi-layered. It all adds to this feeling of warmth and invitingness that's making this trend so popular.
2. Grand glamour
The next big trend I'm predicting couldn't be more different to Scandi-coastal! Grand glamour takes inspiration from old Hollywood and is all about rich fabrics, opulent finishes and luxe accessories.
The bedroom below is a perfect example of this glamorous bedroom style in action. The hero of the space has got to be that silver/grey velvet bed with button-tufted headboard and winged side feature that dominates the space.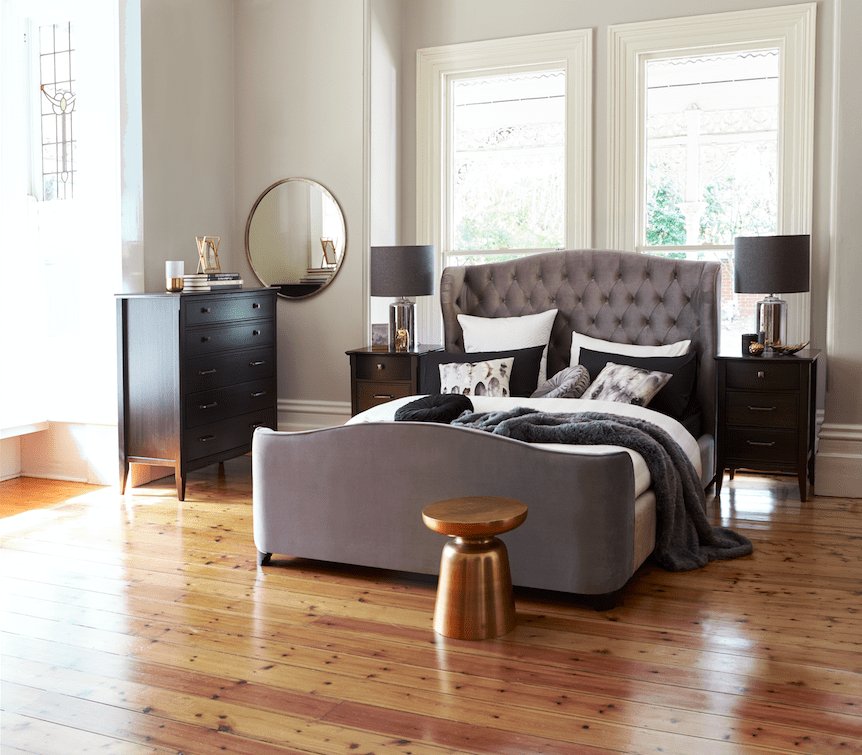 With Pantone Color Institute recently naming 'Ultra Violet' as the 2018 Colour of the year, I expect this glamorous bedroom trend will gain momentum quickly — it's practically made for those purple tones!
Here are my top tips to nail this bedroom trend.
1. Bold colour palette
This style isn't for the faint-hearted so if you're going to embrace it, go all out!
The palette is darker and moodier, so think emerald green, deep violet, or rich navy tones. If you prefer, you can use a predominantly silver or black base. Layer in pops of these colours with cushions or throws.
2. Metallic accents
Warm metallic accents, such as brass or gold, go hand in hand with this hotel glam style.
You could find furniture with metallic details, such as the side table featured in the bedroom look above, or keep these accents to the smaller accessories and décor.
Use these across the room, as you would an accent colour, to create a sophisticated and confident bedroom look.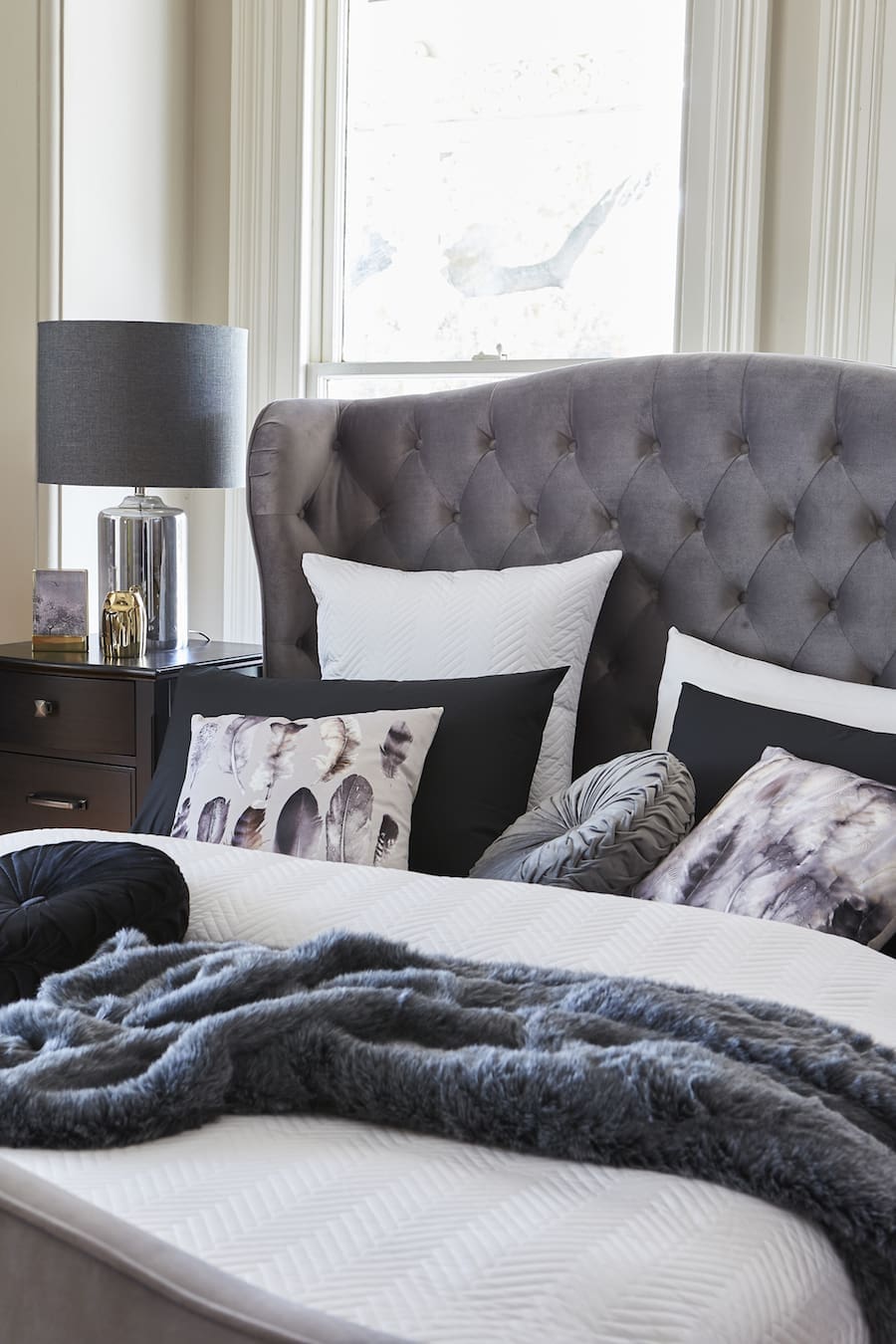 3. Dark furniture
For a while, dark grain furniture hasn't had its time in the limelight but as the 'grand glamour' style emerges, this is likely to change.
Darker furniture complements the moody and luxe feel of this style but can be given a modern twist by sourcing pieces that have a 'lighter weight' than traditional mahogany furniture. For example, slim legs, clean line designs or more elegant hardware, are just a few details to look for.
If I were embracing the 'grand glamour' style, I would create a room similar to the bedroom below which is a little less 'old Hollywood' and more 'hotel luxe' but the principles are the same — rich tones, darker timber, beautiful detailing in the furniture and bedding, and metallic accents. That bed with upholstered bedhead is the Lincoln if you're dying to know!
The Lincoln bed, as well as many others in the Forty Winks range, can also be customised to perfectly suit your interior — meaning your choice of timber stains, fabrics and colours. It's also reassuring to know that it is made in Australia with highest quality controls so you know it will last the distance, unlike much of the fast furniture now on the market.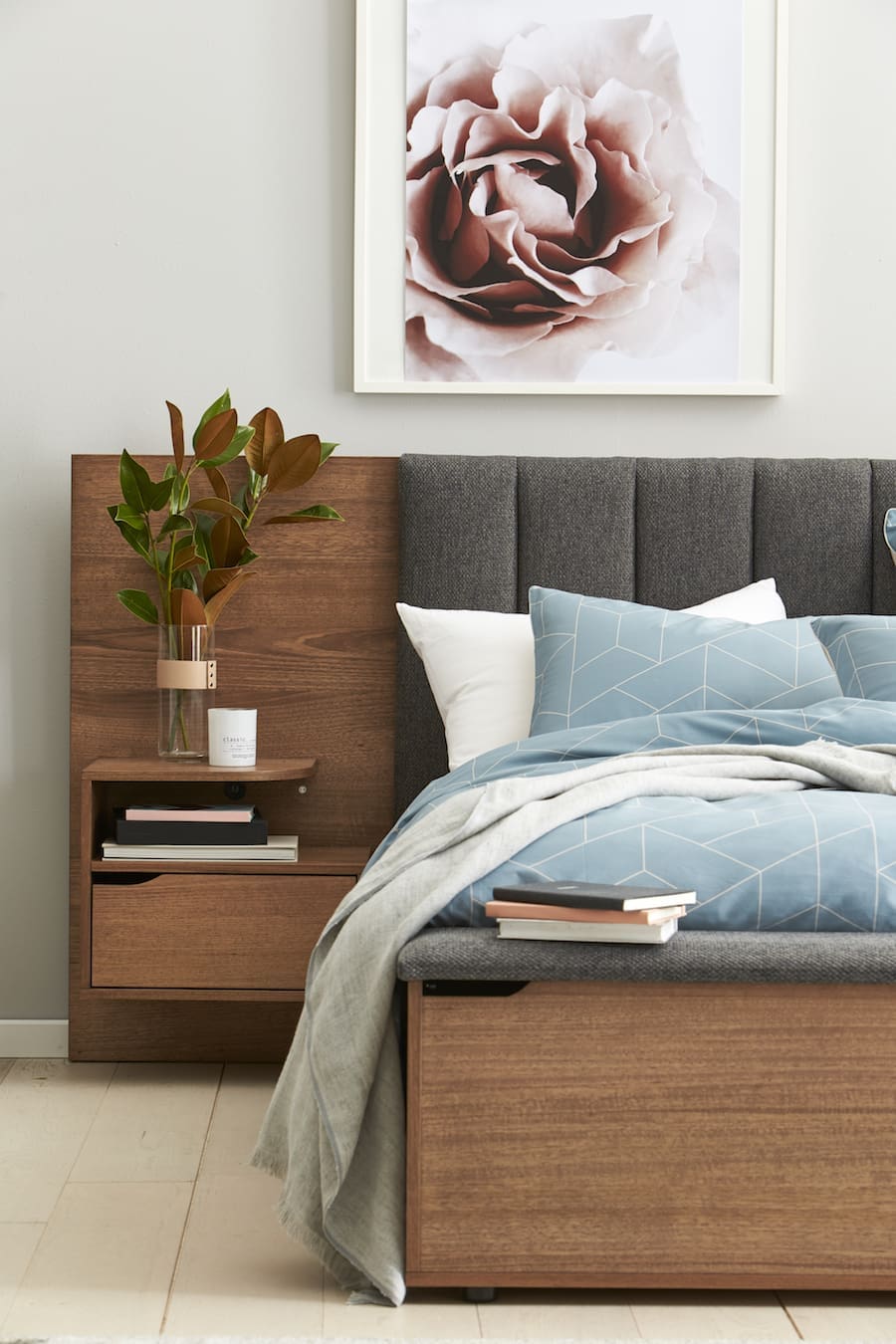 3. White out
The final trend transcends across a range of interior styles and it's a resurgence of all white furniture. From boho to provincial, coastal to modern, we're seeing a huge range of white bedroom furniture becoming available.
Before you think 'what a bore', think again! Details such as paneling and pewter nickel hardware are giving white furniture a new lease of life.
For a Hamptons look, I can't go past this Brinkley collection from Forty Winks. It feels modern and timeless, and the detailing is next level gorgeous.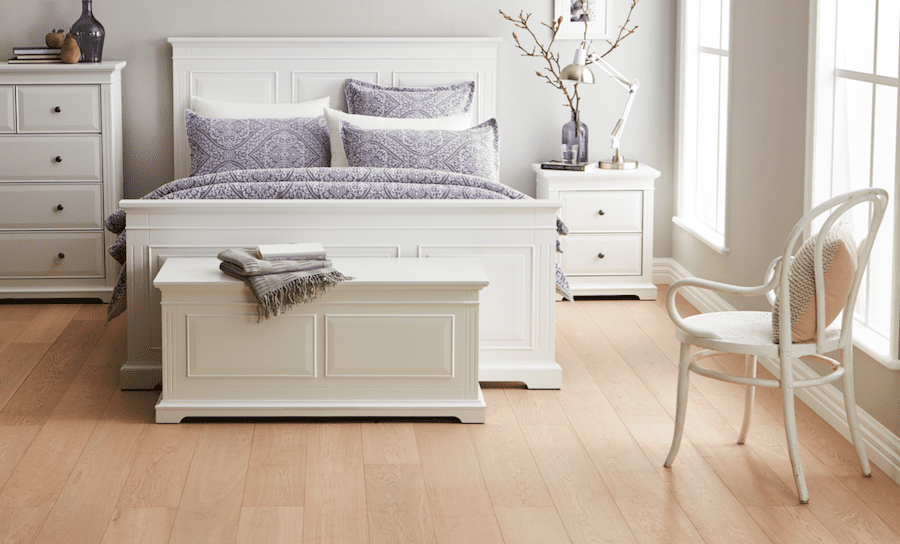 If you prefer the French provincial aesthetic, how about this sophisticated bedroom featuring a bed from the Louvre range?
The beautiful detail in the piping and sleigh design make this bed anything but boring yet it's a neutral piece that you can style up or down as you like.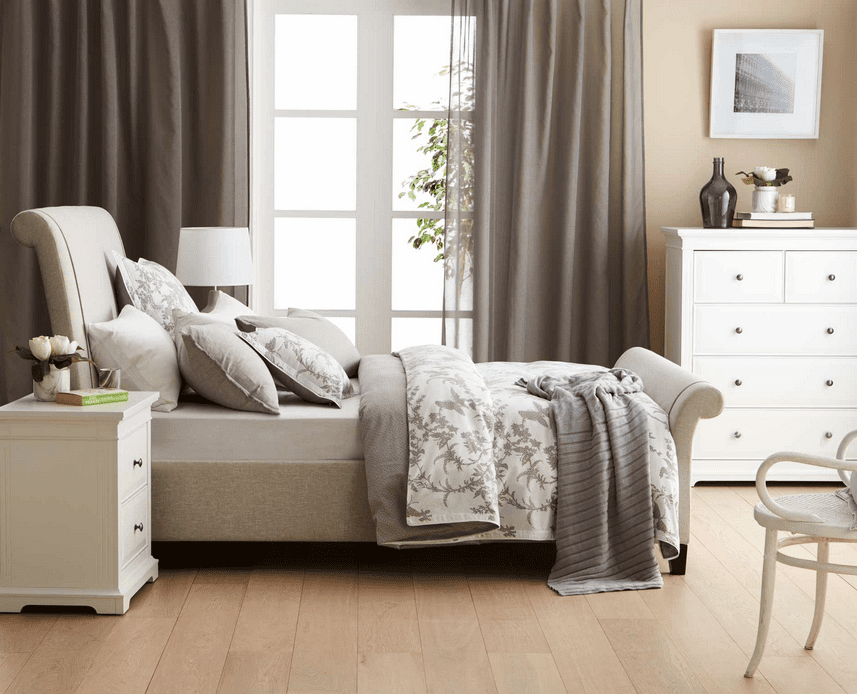 White furniture is a smart investment as it's neutral and you can change the look of your bedroom easily over time by simply changing bedding, artwork and smaller accessories. It's far more affordable to buy a new quilt cover than a new bed so I often suggest buying furniture in a neutral palette.
Which of the bedroom trends do you love the most? Tell us in the comments below!