Known for its contemporary yet warm and laid back style, the Australiana aesthetic is trending in interiors in Australia and abroad. This style is all about embracing indigenous flora and fauna, natural textiles, and earthy colour palettes that reflect the nation's gorgeous biodiversity. Organic lines and sculpted forms dominate when it comes to furniture, as well as unexpected moments such as using outdoor benches in your living room or entryway.
As an evolving style, it can be hard to pinpoint the Australiana aesthetic so we're delving into 8 tips to bring it to life. Here's how to pull off Australian contemporary living at its best!
Related article: Australian themed boy's room: Take a look around Alexander's big boy room
Related article: The inspirational story behind The New Devine's vibrant Australian artworks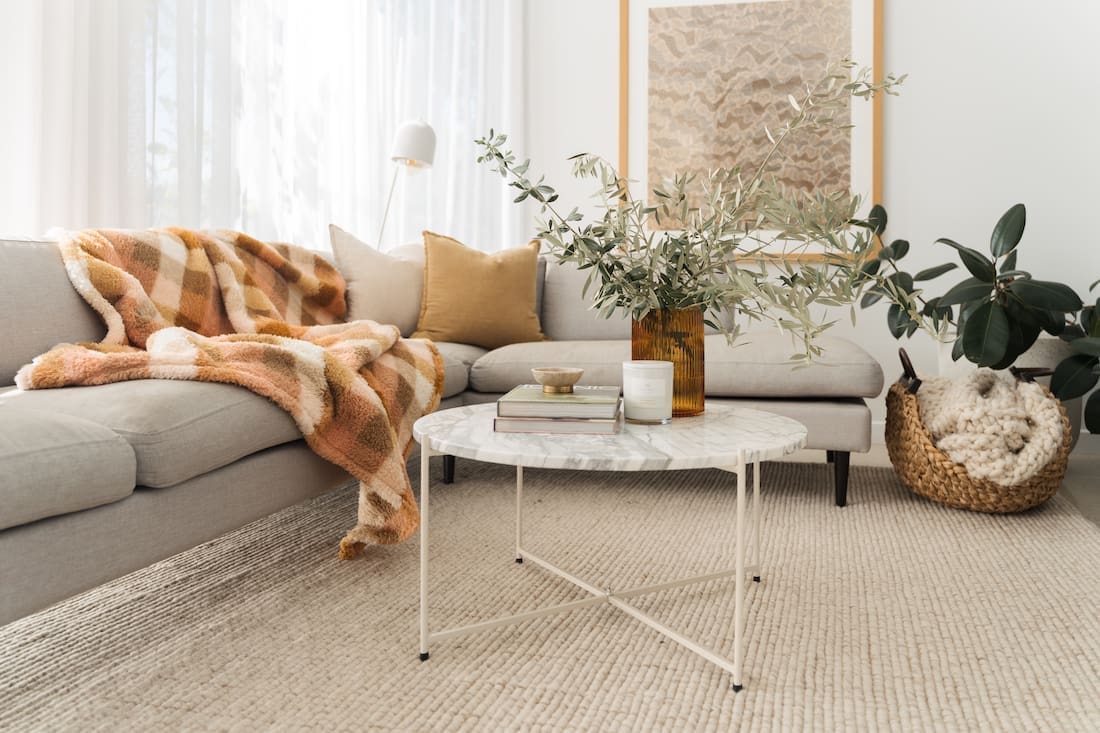 1. Colours of the land
A defining characteristic of the Australiana style is the use of muted colours. Think orange ochre, eucalyptus green and clay pinks and other earthy tones, offset by deep blacks, and rich, vibrant reds.
The best inspiration for your colour palette in your Australiana room would be to simply look at our landscapes. Australiana interior decorating places high value on the browns, greens, blues, and pinks in tones that mirror our stunning environment. These can be in lighter tones, such as sage green or light blue, or in moodier darker tones that reflect our rich earth and plant life.
Also, as with most design aesthetics, black and white are used to enhance contrast and punctuate your space, with red or brown tones often being used for accent pieces.

2. Nature plays a leading role
Continuing with the theme of looking to the outdoors to inform your Australiana space, nature is another major influence informing this design style. The theme of nature cuts through all aspects of decorating, including furniture made from natural materials, to decorating your space with items from nature.
You don't have to incorporate nature too literally in the way of eucalyptus print cushions or cockatoo artwork, rather we suggest embracing organic materials and textures wherever possible.
Using items and materials from nature will create a grounding and comforting ambience which is what makes Australian design so popular. Right now, travertine is coming through strongly as one of the most popular natural materials.
In Australia, we're becoming more sophisticated and braver when it comes to design.
3. Embrace textures
From textured walls to raw linen bedding, texture shines through as another key characteristic of the Australiana aesthetic.
Popular ways to incorporate texture into Australian design:
rugged walls made of stone, raw timber or lime wash
natural flooring of timber or stone in matte or honed finishes
solid stone benchtops or natural stone tiles, such as limestone
statement furniture that incorporates tactile materials, such as linen sofas or travertine coffee tables
natural textiles and upholstery
home decor made of natural materials, such as organic ceramics.
There are so many ways you can integrate natural tactile elements into your space, either through the materials palette or decorative accents, to achieve the Australiana style. Remember, matte or raw finishes rather than glossy tend to suit this aesthetic better.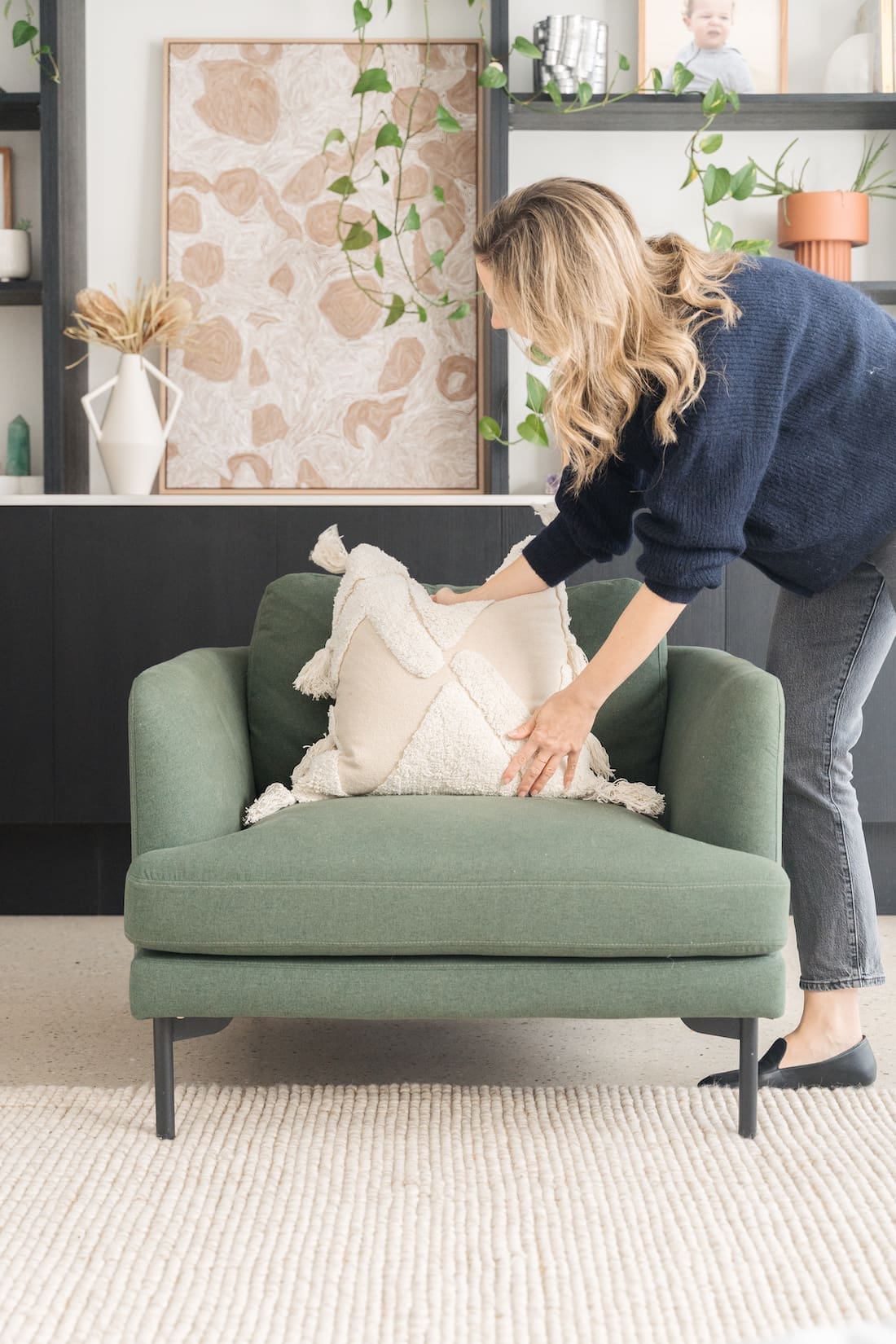 4. Add interest with art and decor
Now that you know the colours and textures you want to embrace in your Australiana space, it's time to add your personality and interest with decorative accents.
Personally, we love to start with a focal art piece and build the room around this. We're constantly featuring talented Australian artists on the blog and we especially love displaying the work of indigenous artists. Our tip is to do a little research before clicking 'add to cart' to avoid rip offs and rather buy ethically from real Aboriginal artists.
We also have so much incredible talent when it comes to local design. From ceramic artists to local textile designers, glass artists and weavers. Discover some of Australia's best emerging talent on the blog here. Buying handmade or sustainable pieces offers longevity and adds a personal touch.
And just because this is called the Australiana aesthetic doesn't mean you have to buy only art and decor that looks the part. Australia is one of the most multicultural countries in the world so why not layer in some Scandi, Japanese or other influences to create your own signature look?!
The trees, animals, plants, unique sky colours, weather, and ocean all serve in some way to influence the direction of an Australiana aesthetic.
5. Breathe life with living plants and flowers
You hear us say all the time that no space is complete without a pop of life and this rings particularly true in Australian design. Biophilic design is gaining popularity in Australia and it's essentially an approach to architecture and interior design that seeks to incorporate nature and natural elements into the built environment. If you don't have internal courtyards or rooms that open up to the outdoors, bring a slice of the outdoors in using living plants and flowers.
House plants are one of our favourite ways to add life to any interior. We have a list of the top 20 hard to kill indoor plants here or really channel the Australiana aesthetic by incorporating plants native to Australia.
Alternatively, cut flowers are another fab way to bring colour and life to your space. Take a look at some of Australia's most famous flowers and compare their colouration and appearance against what you are projecting for your room. Many Australian flowers, such as King Protea, also dry beautifully offering long-term practicality.
6. Anchor zones and add warmth with rugs
Rugs serve so many purposes in interior decorating. They add warmth, anchor zones and can be like art for your space. Depending on the room you're decorating, a rug can be essential and enhance your Australiana vibes. Nail the style with a rug that incorporates natural colours and materials, such as jute or wool, in woven or organic patterns.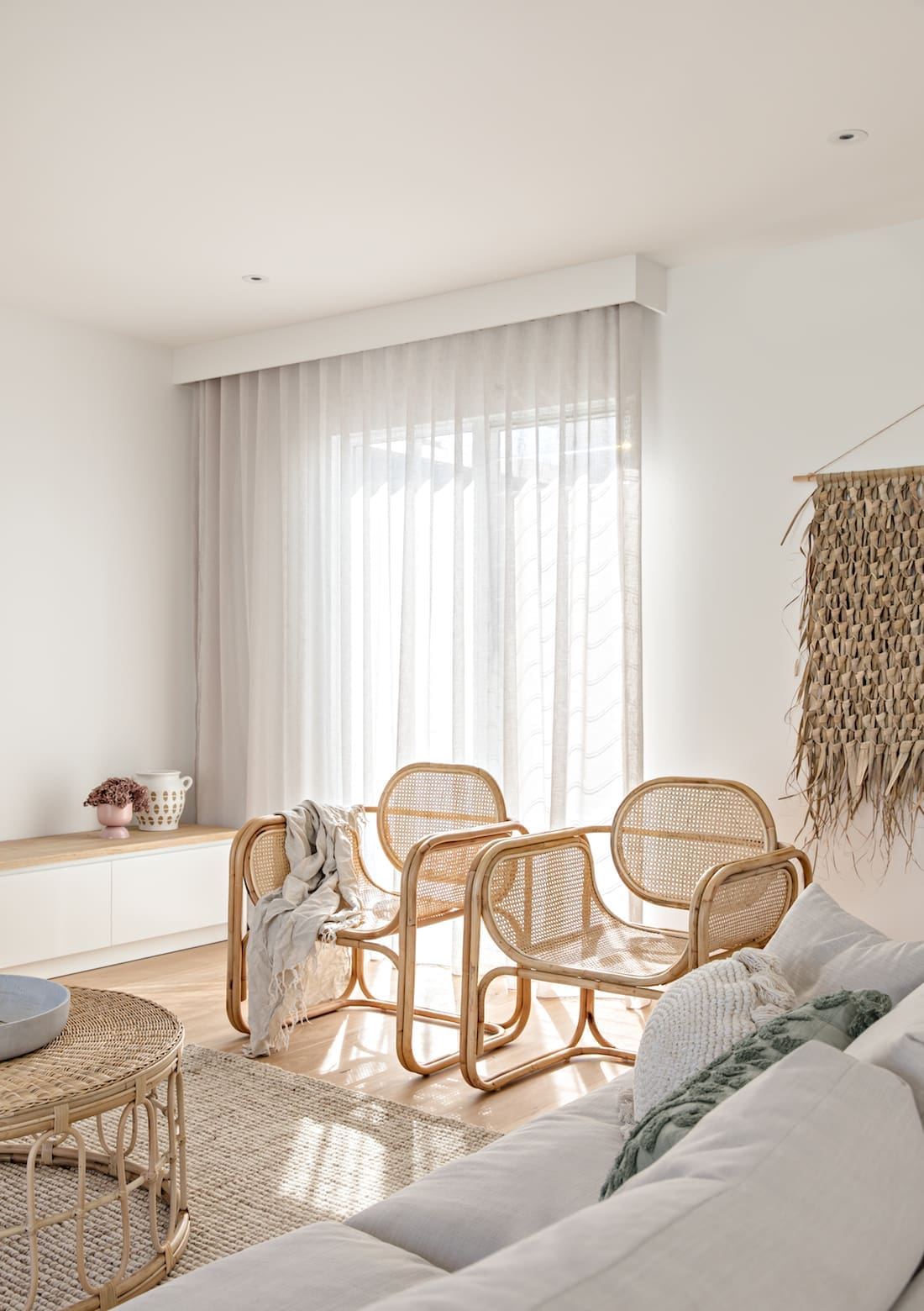 7. Channel the Australiana style with furniture
When furnishing your Australiana space, you've got room to play. Your influences may be more coastal or contemporary… whatever the case, look for furniture that incorporate natural materials and a laid-back design. Contemporary Australian design is clean and modern but modern wicker furniture still works equally as well. Leather woven dining chairs are another great choice.
8. Embrace rounded form
Finally, a new characteristic of the Australiana aesthetic is a trend to embrace rounded, sculptural shapes. Chunky, organic forms are coming through in home decor, think round cushions and curved vases, and furniture. These soft shapes bring a sense of comfort that oozes the cosy, at-home escapism vibes that makes Australiana styling so popular.
Do you want to know more about the Australiana style? Pop your questions in the comments below and we'll get back to you asap. Or do you have other tips on how to pull off the contemporary Australian aesthetic? We'd love you to share!