The artist we're featuring today will almost certainly make you smile. His paintings are larger than life, colourful and truly joyful, and we had the pleasure of sitting down with abstract artist Jonathan Gemmell to hear his creative journey.
It seems art runs in his veins and was his destiny, a story which we just loved uncovering during our chat with him.
Related article: The experimental textures of artist, Jessie Rigby
Related article: Best places to buy artwork online: Our list of affordable online art stores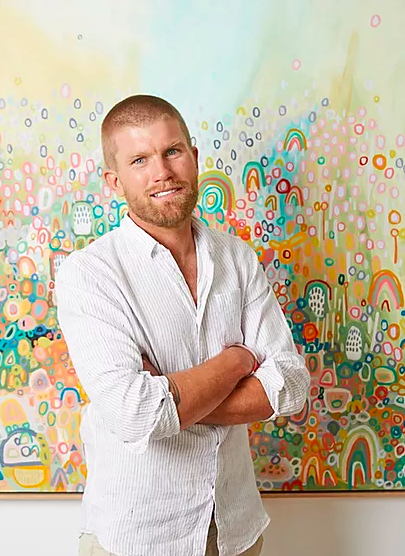 With creativity running in his family, Jonathan always knew he was destined for a life surrounded by art.
"It all started with my Grandma," Jonathan explains.
"She passed away the year before I was born and she was also an artist.
"I'm now a 31-year-old full-time Melbourne based abstract artist known as ArtbymeJWG, Jonathan W Gemmell.
"Each piece I create is a labour of love and I enjoy nothing more than painting elaborate, large-scale detailed artworks.
"I live with my talented partner who is an interior designer, and our two dogs — Kooli the Kelpie and our French bulldog, Anouk.
"We're a pretty creative household with a slight obsession for travel and cooking."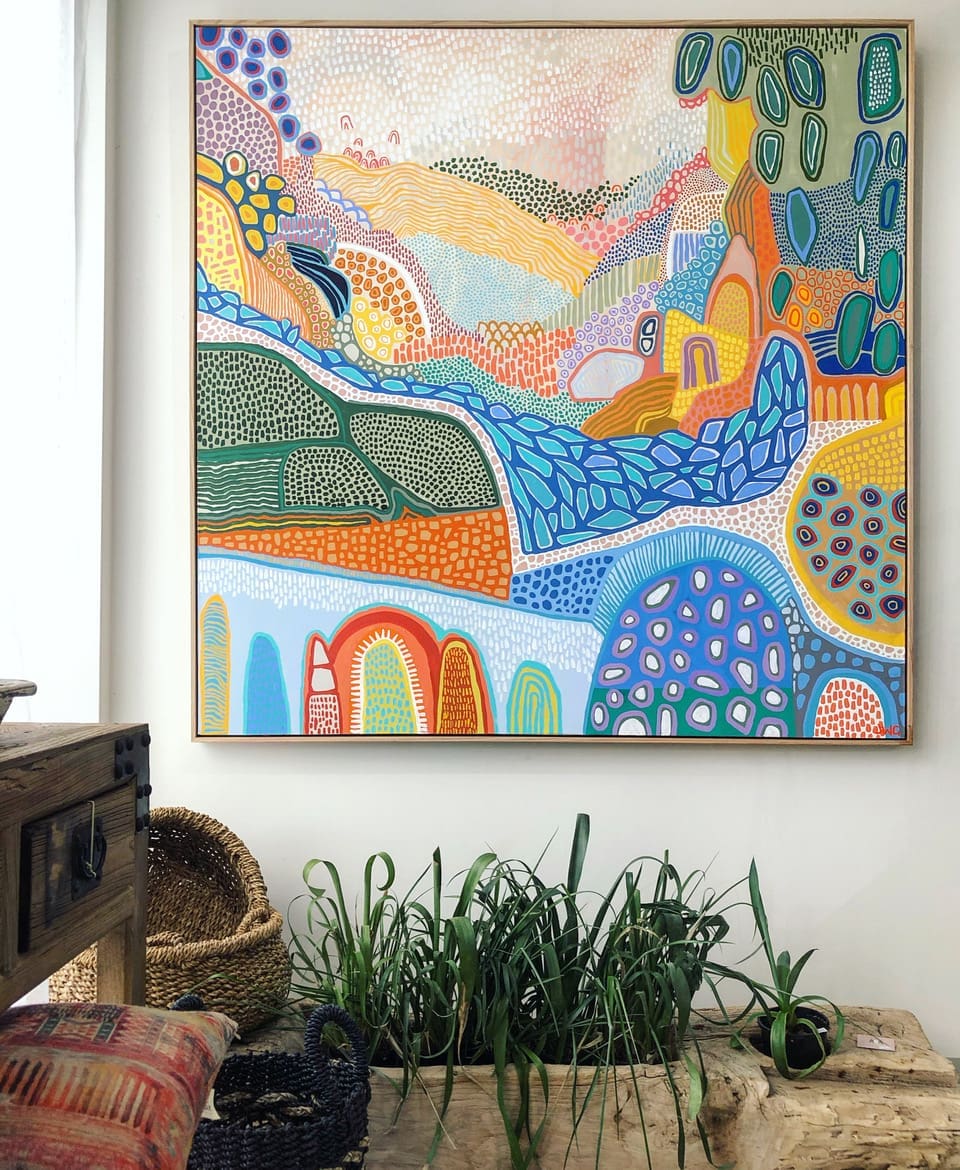 From a blank canvas to having his own studio gallery, Art and Abode Melbourne, Jonathan began his art journey at a young age.
"I took my first art class when I was 5. It's fair to say there were some interesting creations back then!" laughs Jonathan.
"But once I got started, I never stopped and have been working on my art adventure from my school days up until now.
"It's been hours and hours of trial and error but I finally found my style and now I just want to share it with the world.
"I've been incredibly lucky to exhibit my work all across Australia and even in Tokyo."
Many in the art world claim they earn their title as a fully-fledged artist once they sell their first piece — something Jonathan achieved early in his career.
"I'm not sure if it counts, but my first sale was to my Aunty. It was a little abstract piece and I think it was $150.
"At the age of 12, I was beyond stoked!"
Jonathan's pieces are a celebration of colour and inspired by his diverse surrounds.
"After finishing school, I did an apprenticeship as a landscaper, and then a course in landscape design. This is where I found the finishing touch to my ever-growing artistic style.
"I decided to incorporate the designs of gardens into my art, which is where the circle patterns, dashes and lines come from in my highly detailed paintings," Jonathan explains.
"While my landscape design is a huge part of my art, the outdoors is also a big inspiration for me."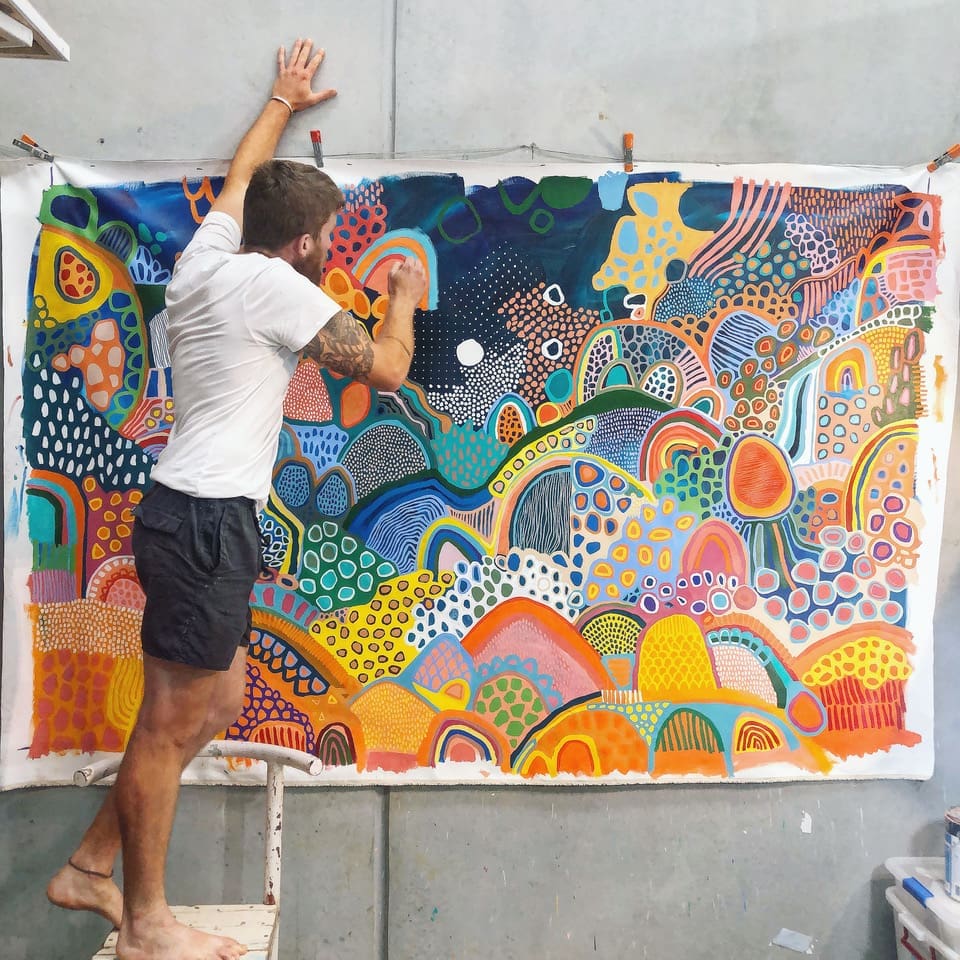 For Jonathan, his work brings him joy which is clear to see in each of his colourful abstract creations.
"As an intuitive artist, my process starts with a blank canvas on the studio wall. I put my music on and my desk is full of colour.
"From here, I begin with the background and work forward to create the layers of shapes and colour. It's almost a meditative state of freedom for me, where my mind and soul are free to create.
"What I love most about my work is the chance to be able to show our next generation of males that we can be professional artists, play with colour and enjoy the creative process.
"Sale commission aside, there is nothing more rewarding than delivering a painting to its new owner, and seeing their smile and enjoyment when they see it for the first time," Jonathan says.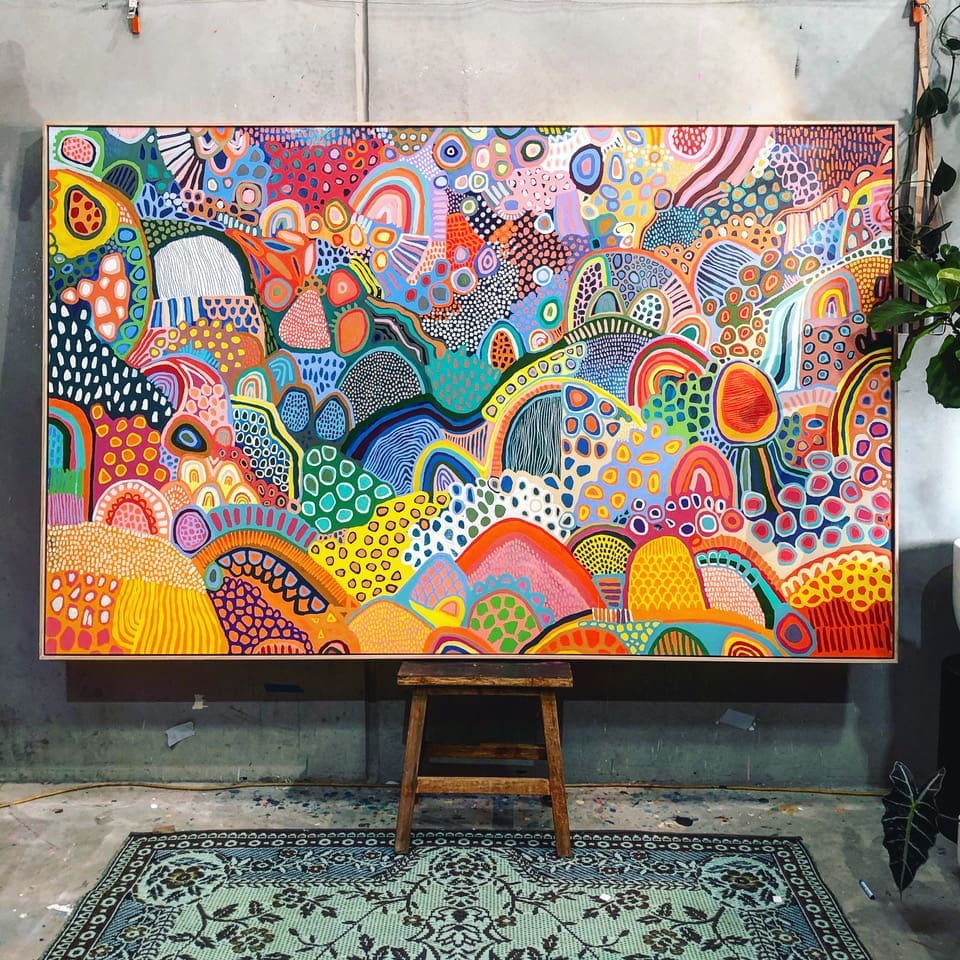 Keen to encourage others to follow their creative passion, Jonathan says a life in the art industry can be tough but incredibly rewarding.
"My biggest advice for any would-be young artists out there, is to use criticism as building blocks. Use it to give your creative process depth, be yourself and let your heart create art that flows from inside you.
"Full-time art isn't an easy path, but if you keep pushing and striving, you will start to see your art adventure evolve into something more powerful than you ever thought possible."
Big thank you to Jonathan for sharing his story with us. To discover more of Jonathan's work or even commission your own unique piece, visit artbymejwg on Instagram or check out his website.