Supported by IKEA
It was only a couple of months ago I shared the mini refresh I had done in our guest bedroom. Since that time, we've temporarily moved into this room so we can be closer to the kids' bedrooms — Alexander is still waking for a feed most nights and Patrick wakes several times most nights with fearful dreams so we're constantly having to go between the two kids' rooms.
While our guest bedroom was well set up for someone to stay for a couple of nights, it wasn't ideal for long stays. So when I was invited by IKEA to experience their Complete Sleep Studio in Canberra and get help from their team to determine what products could offer me the best sleep solution, I jumped at the chance!
Related article: How to style a bed like a pro: Bed styling tips and tricks
Related article: 20 bedside styling ideas: How to style your bedside table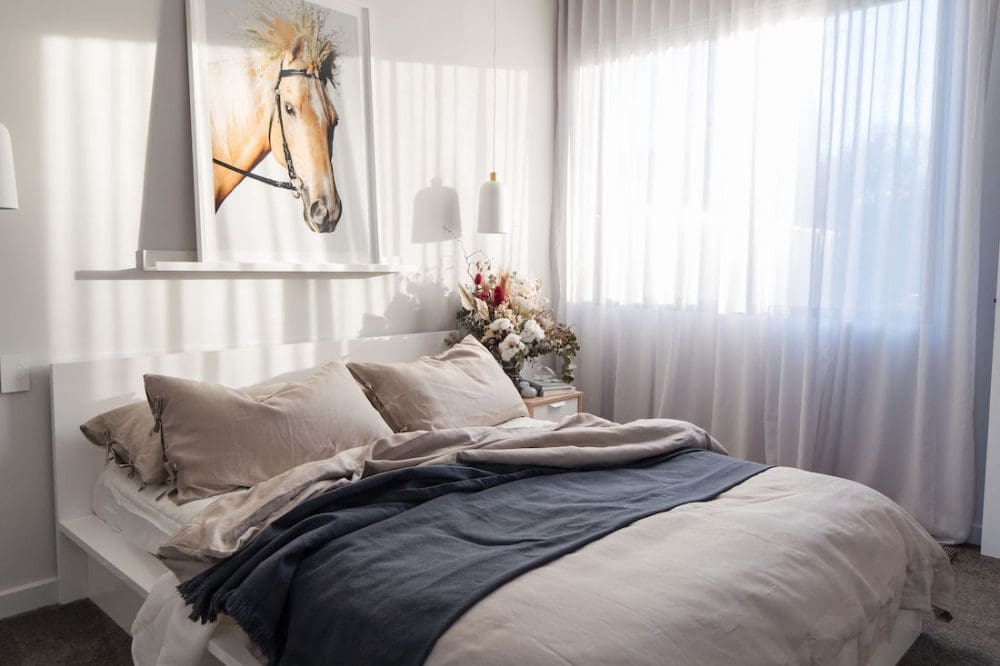 What is the IKEA Complete Sleep Solution Studio?
The Complete Sleep Studio focuses on providing a holistic approach to sleep — not just looking at what mattress and pillows are best for you but also sensory elements like lighting, soft furnishings, scent and storage to meet all your lifestyle needs.
There's technology set up in IKEA stores that asks questions to understand your sleeping habits before recommending the best products for you. While I found this tool useful, what was even better was talking with their experienced staff who could explain the products in detail. For example, in the pillow and quilt section, I talked with a sales assistant who came from a background in luxury hotels. She explained all the different fills and the pros and cons of each. In our bedroom we had the JORDROK feather cushions from IKEA which I loved for styling — you can't beat the volume of these cushions – but I found they flattened a lot during the night and didn't offer as much support as I needed. She recommended we switch to the GULDPALM pillows, which have more duck down, making them firmer and more supportive while still being natural and breathable.
I spent about an hour at IKEA walking through all the departments to pick out new cushions, quilt, bedding, accessories and a bedside table. It was so convenient to find everything I needed under the one roof.
There are 10 IKEA Complete Sleep Solution Studios across Australia and more continue to be rolled out nationally. If your sleep isn't 100% what it should be, I recommend making a visit at one in your area. Keep reading to find out what products I used in my bedroom makeover.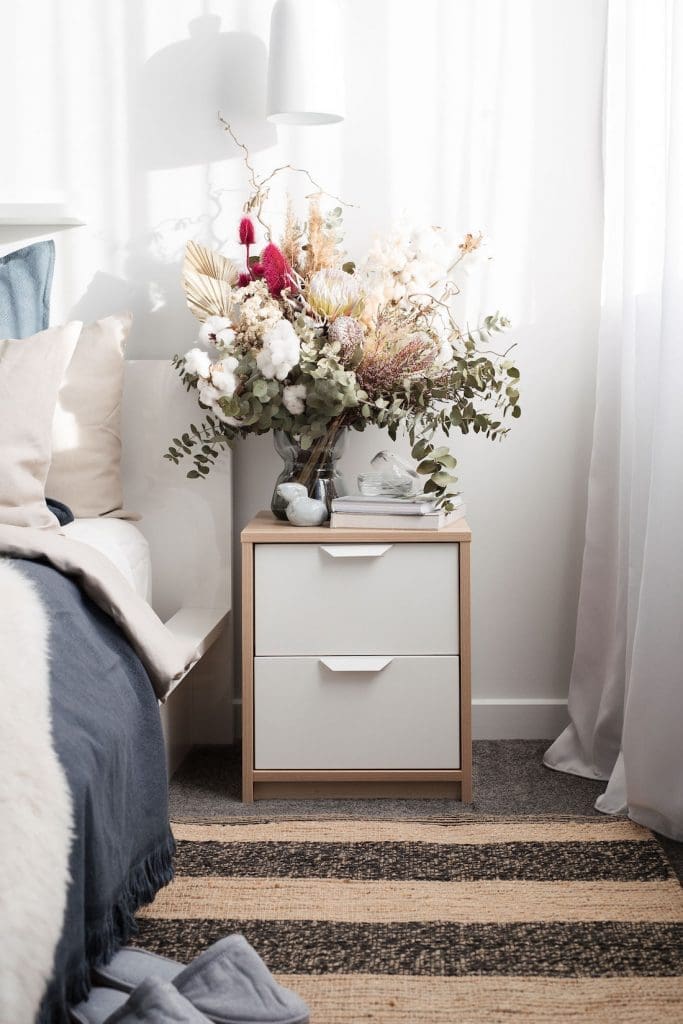 Products I used in this bedroom makeover
Other than more supportive pillows, I knew the other thing I desperately needed was better bedside storage. As this room was only set up for short stays, neither bedside table offered any storage.
I picked up the ASKVOLL bedside table, which retails for $49. I love its clean, simple design and the two deep drawers that offer plenty of storage. This comes flat pack but I was able to easily put it together myself following the instructions, just be aware you need your own screwdriver and hammer as these don't come included.
It was also time I got a new quilt. The one we had was years old and full of little holes so whenever I changed the bed, the room would be covered in feathers. Other than being a cleaning nightmare, I found during the night, there wasn't an even distribution of feathers so it was difficult to get comfortable. With the help of an IKEA sales person, I settled on the HONSBAR quilt as like the new pillows it's made up of a feather and duck down blend.
To add extra warmth to the space, I picked up a jute floor rug for the side of the bed. I also love the visual texture this UGILT rug brings to the space. Small rugs and runners like this are ideal in high traffic areas and seriously underrated. I think I'll go back and pick up a runner for my kitchen and laundry too.
While I love fresh flowers or indoor plants in every room of the home, generally the blockout blinds are always drawn in this room, making it difficult for plants to thrive. So I asked my local florist to create dried arrangement for me that will last for many months to come. I picked up on the natural tones of the dried palm branches and grasses in the quilt cover, opting for the 100% linen PUDERVIVA set from IKEA. I always prefer using natural materials for my bedding and linen has recently become my fave. To add contrast, I paired this with Euro cushions in a deep blue-grey petrol colour (JOFRID) and matching throw blanket.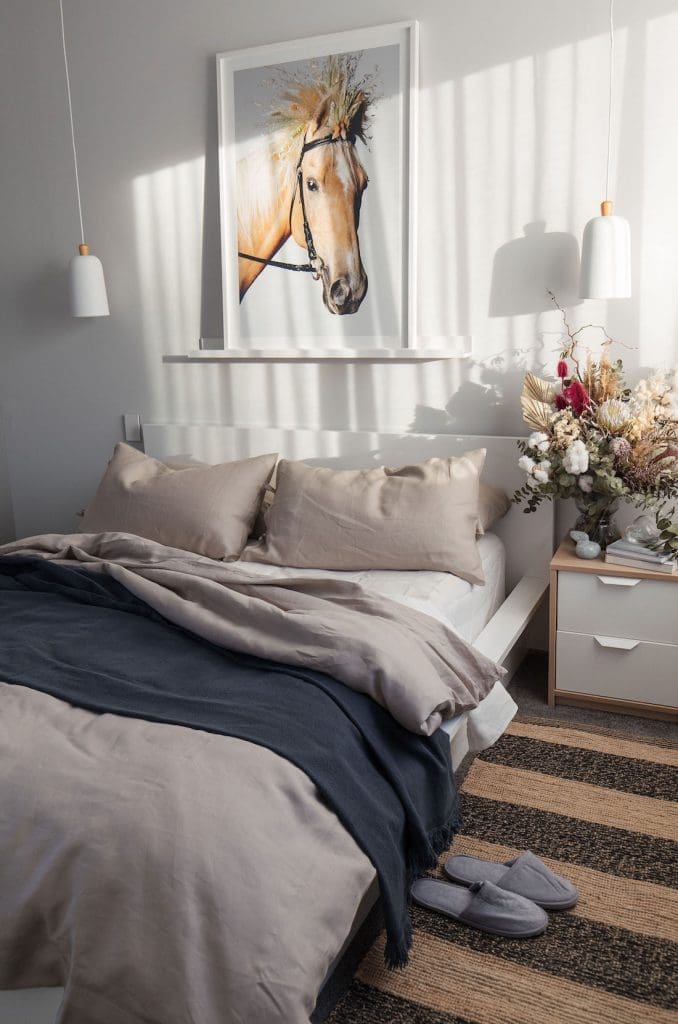 To accessorise the space, I used a new glass vase/dome that comes in a set of 2 (perfect for jewellery and smaller items), a decorative bird from their new stoneware range and several books.
It's amazing what new bedding and a decluttered space can do to improve your sleep. I'm so happy with this bedroom makeover that doesn't just look great but helps to give me a more supportive and restful sleep.
Tips to creating a bedroom that promotes sleep
Whether you have old bedding that needs replacing, a mattress that no longer supports you, lack of storage or just an uninspiring bedroom, it can be easier and more affordable than you think to fix!
These are my top 5 tips to create a bedroom that promotes sleep.
1. Start with the basics — mattress, pillows and quilt
As easy as it is to focus on aesthetics, getting a good night's sleep relies on a proper mattress, pillows and quilt. We all have different needs here depending on what level of firmness we prefer, if we sleep hot or cool, and our preferred sleeping position. You can use the technology in The Complete Sleep Studio to get help on the right products for you from IKEA or talk with their helpful team.
You may also like to invest in a second quilt so you have one for the cooler months and one for the warmer summer months. This can help minimise the issue of kicking off hot quilts or feeling too cold.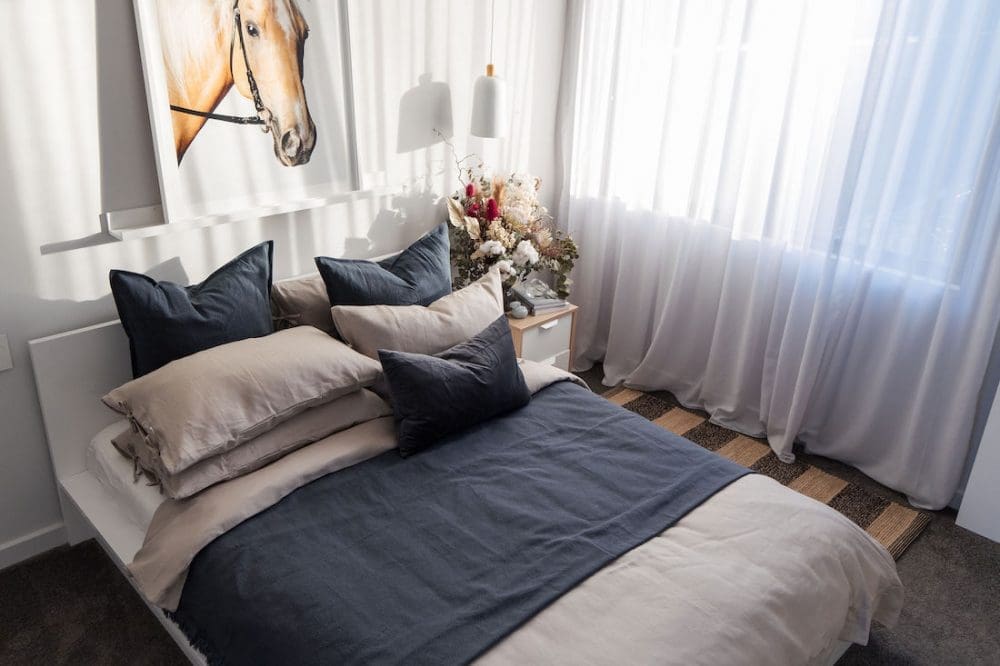 2. Keep the space decluttered
You would have heard the saying 'a cluttered space, a cluttered mind' and in the bedroom the last thing you want is to have thoughts running through your head of things to do or how you really must clean your bedroom tomorrow.
The best way to keep clutter at bay is:
have proper storage solutions in place: do you need an additional item of furniture like a chest of drawers or could you better maximise the space in your wardrobe by picking up some clever storage hangers?
go through all your items and decide if it's something you still need and should keep, or if it could be donated, sold or discarded. It's amazing what we can accumulate over the years, taking up precious space in your home and adding a mental weight we don't need.
find a place for everything. Tidying up is a breeze when you know where items should be kept.
3. Create a colour palette or theme that makes you happy
We regularly talk about the connection between colour and mood, and there's plenty of science that connects the two.
Why not pick a new colour palette or theme for your bedroom that makes you feel relaxed, happy or inspired. We share information about the connection between colour and emotion here.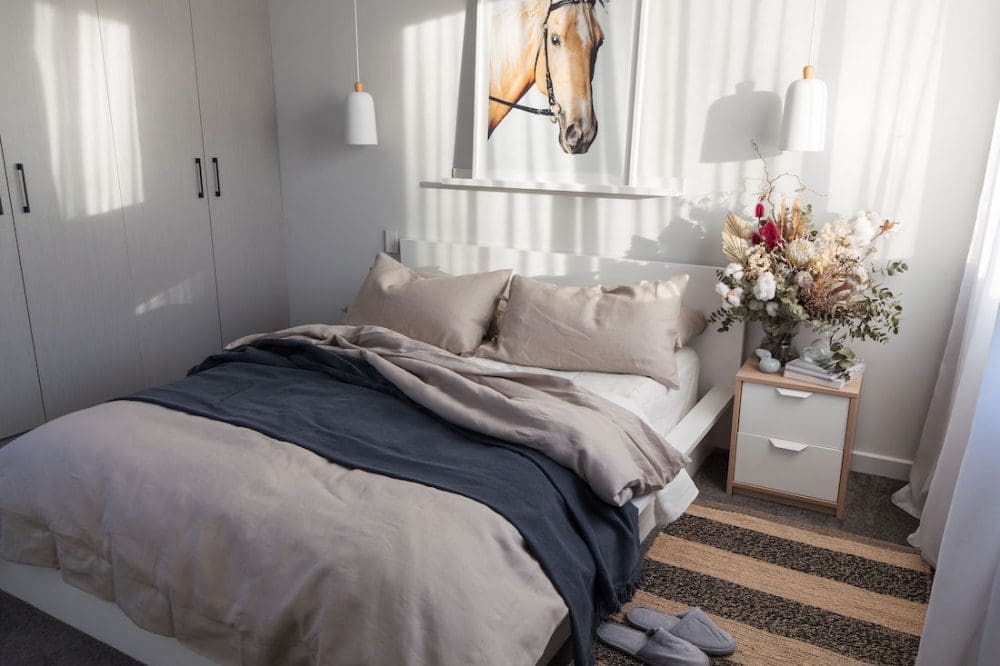 4. Think of your other senses
There's a lot more than what we can touch and see that impacts how we feel in a space. Scent is a big one. Consider introducing some scented candles, a diffuser or using a room spray in your bedroom.
Lighting is another area that's often neglected. Just relying on downlights can create harsh downward shadows in our bedroom and make it difficult to control the amount of light in your bedroom. Introducing bedside table lamps or a floor lamp gives you more flexibility to light your space to the desired level.
5. Bring in nature
Finally, my top bedroom tip is to bring in elements of nature. Indoor plants are a great way to add a pop of life and colour to a space, and are said to offer a wealth of health benefits including helping with insomnia or reducing blood pressure. If natural light is an issue, getting a dried floral arrangement could be another idea. Otherwise, artificial flowers and plants create the same visual impact.
Supplier list
Bedside table: ASKVOLL
Shelf above bed: MOSSLANDA
Standard pillows: GULDPALM
Euro pillows: FJADRAR insert and JOFRID case
Quilt: HONSBAR
Sheet set: PUDERVIVA
Quilt cover: PUDERVIVA
Throw blanket: JOFRID
Floor rug: UGILT
Glass vase: OMTANKSAN
Glass vessel: SAMMANHANG
Ceramic bird: SOMMAR
Slippers: TASJON
Have you been inspired to visit your local IKEA Complete Sleep Solution Studio? If you have any questions about this bedroom makeover, pop them in the comments below.
Disclaimer: these items were gifted for this collaboration but all views and opinions expressed in this post are my own.