Every little girl dreams of a princess bedroom, right?! Or maybe it's that every parent loves the idea of decorating a sweet big girl bedroom the way Emily Tomini has done for her daughter Alina.
We love following Em on her Instagram account, Loved by Emily, and were thrilled when she agreed to show us around Alina's recently finished big girl bedroom.
Related article: 20 of the best-ever Kmart hacks for kids
Related article: Gina's home: Hidden under-stair cubby (makeshift playroom)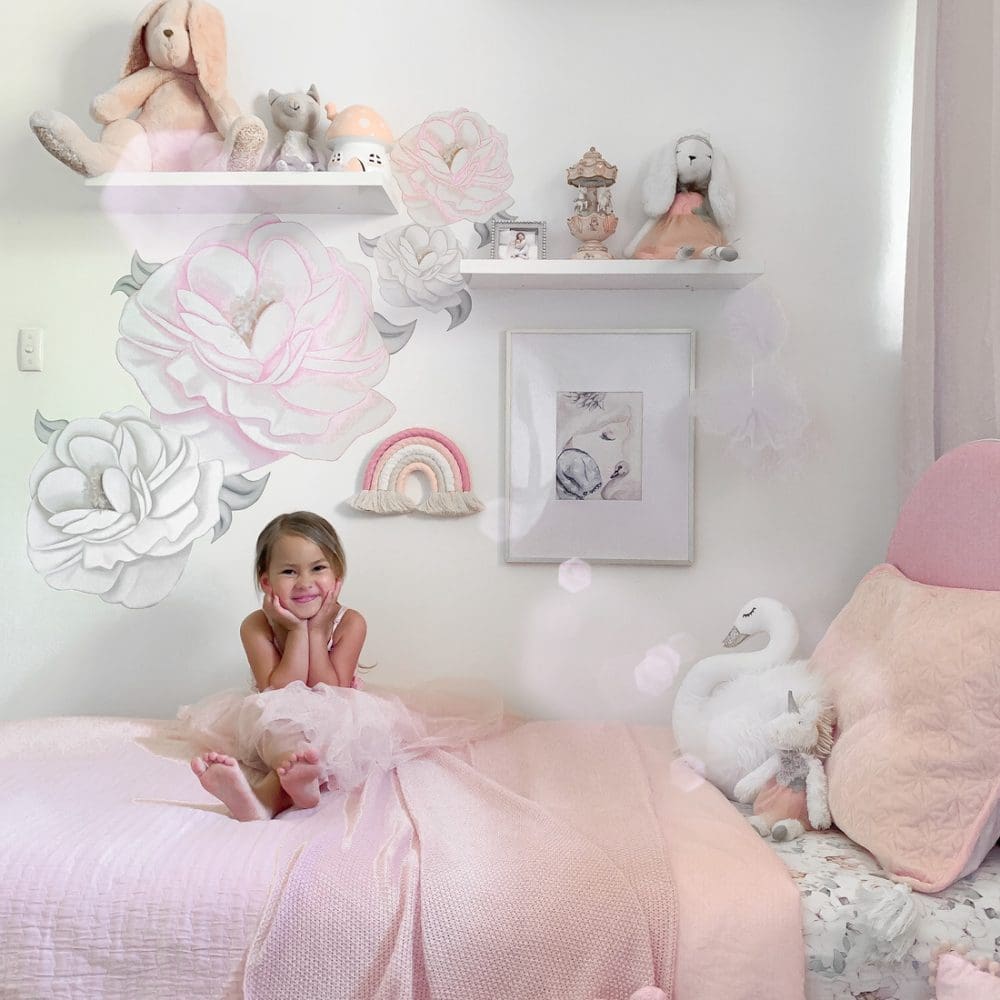 Keen to create a special space for her 4 year old daughter, Emily set out to find inspiration to make Alina's dream big girl bedroom come alive.
"We started out by sitting down together and scrolling through Pintrest," says Emily.
"I showed her different photos of bedroom styles and she pointed out what she liked. Then I was able to use it to plan the design and decor based around what I knew she'd love.
"I wanted to create a space where she could spend lots of time playing, reading and creating independently. It was important for it to be 'her' space, and her own little sanctuary for when she needs time out."
Shop the look: Alina's bedroom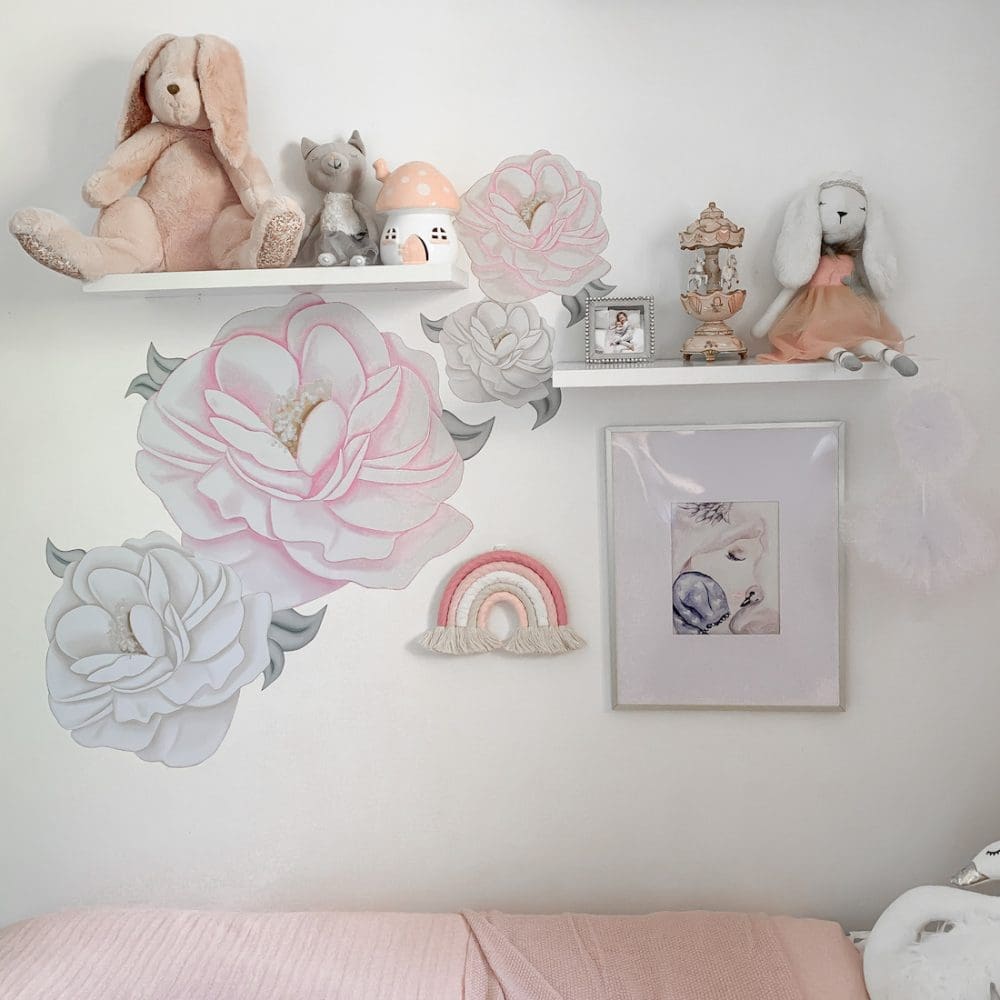 Saving on some things and splurging on others, Emily chose each piece carefully for this bedroom makeover.
"Alina told me she wanted bunnies, unicorns and flowers!
"She basically styled the entire space herself! I just made the purchases!" laughs Emily.
"I kept costs down in some areas by making my own DIY prints and popping them in Kmart frames.
"In other areas, I splurged, like on her plush toys and bedding, because I knew I wanted those items to last her a few years."
A standout in Alina's big girl bedroom is the beautiful oversized flower decal.
"The flower decal is by far Alina's favourite part of her bedroom. It's from Blond Noir. It just completes the space — it's definitely something I would have loved as a little girl, too!"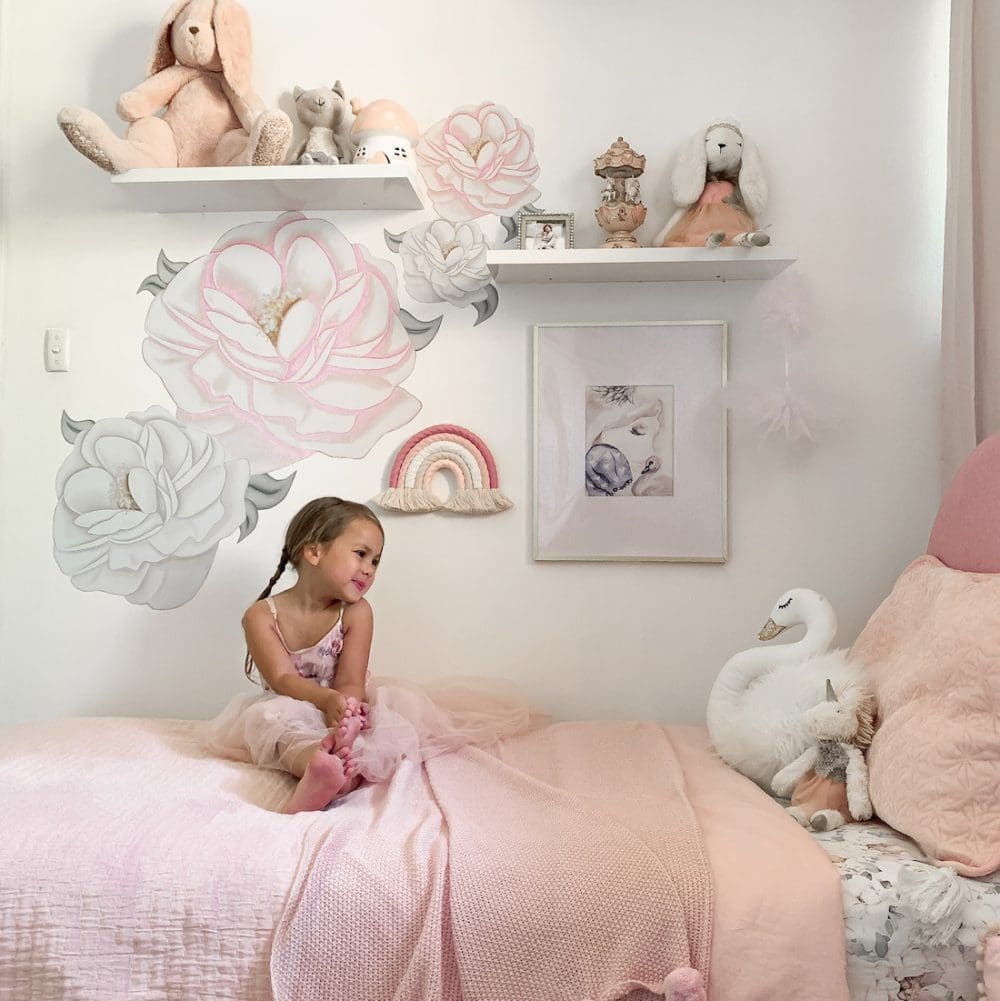 While her daughter helped choose elements of her room, Emily says it's important to think about your child growing into the room you're creating.
"I think it's important to consider your child's age. Alina is only 4 but I know she will still be in to most of the things we've styled in her room for the next couple of years.
"If your little one is just a baby, you may want to consider incorporating some more grown up aspects.
"I also think it's key to listen to what your child wants so you can create something they love and will want to spend time in.
"Try to buy them that colourful bedding if that's what they want… even if it won't go with your aesthetic," Emily laughs.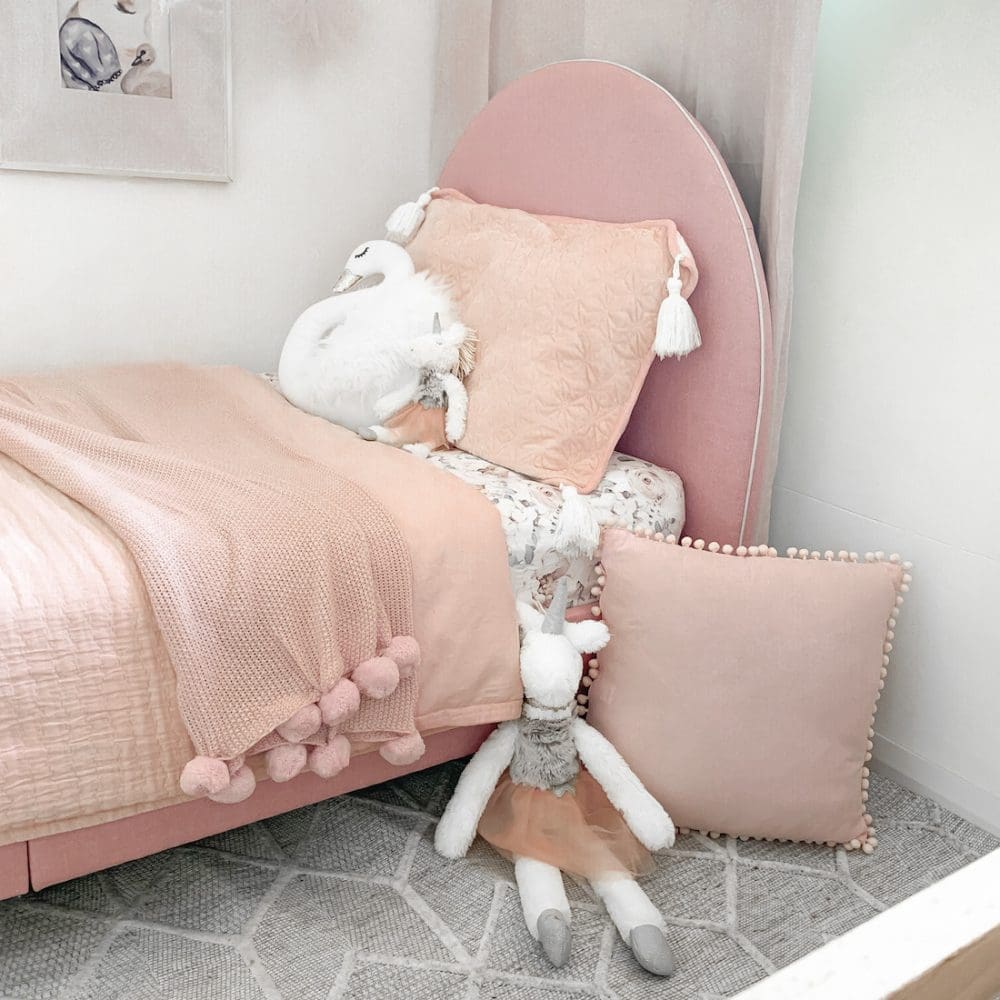 Clearly a Mum (and daughter for that matter!) with impeccable taste, we asked Emily to share her favourite places to shop beautiful kids decor.
"For furniture and storage, Mocka Australia is amazing — Alina's bed is from there. For decals and prints, I love Blond Noir and Little Rae Prints.
"The Rainbow Stall has some stunning handmade rainbow hangings — I LOVE her business, she's so talented!
"Goodnight Buttercup is wonderful for bedding and dolls bedding. Relaax has stunning decor and furniture. And lastly, I simply can't go past Kmart and Adairs!
Thank you so much to Emily for showing us around Alina's gorgeous big girl bedroom makeover. To see what Emily and her beautiful family are up to, check out her Instagram or her Loved by Emily blog.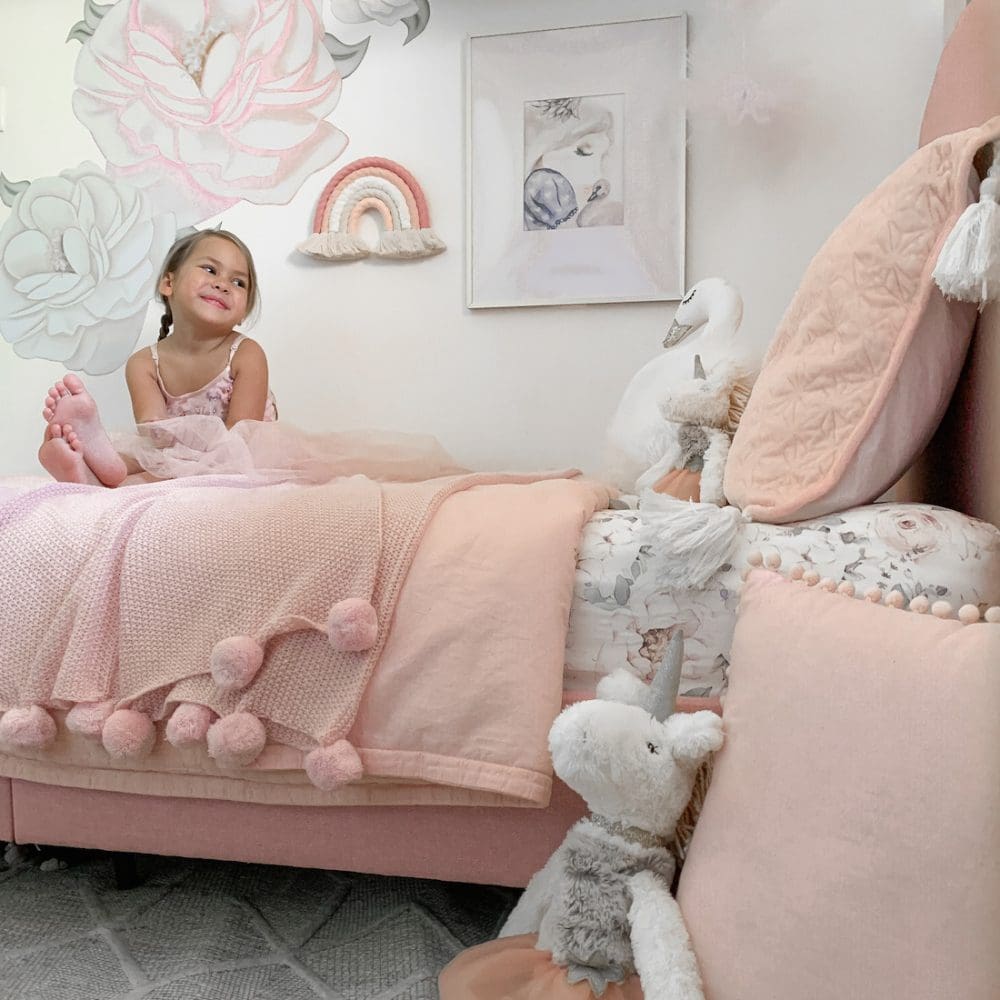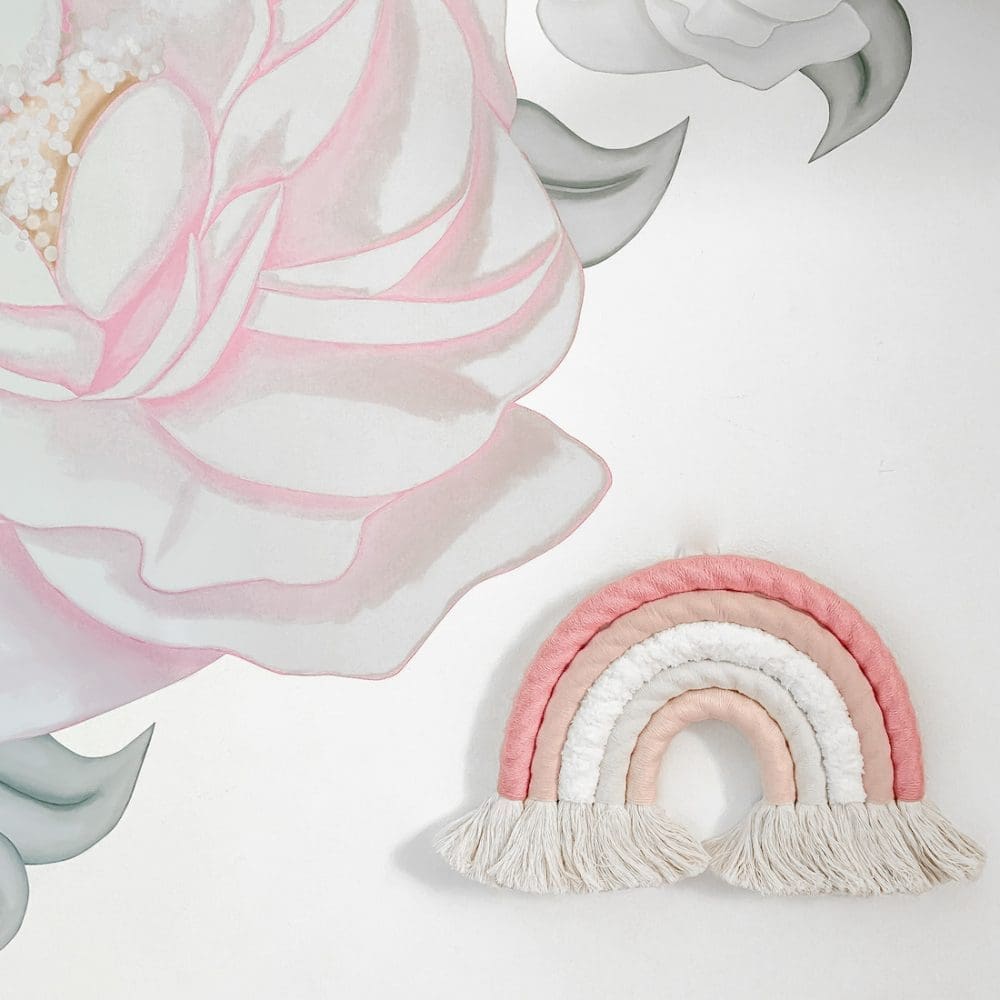 Shop the look: Alina's bedroom
Disclaimer: This article contains some affiliate links. This means, if you purchase an item we may receive a small commission on the sale of that product at no extra cost to you. We promise we only work with brands we know, love and trust.