We know how much you guys love your nursery and children's room inspo and this one is probably going to be a fave for many of you!
Designed by Kristy Young of Minnie & Me Interiors, she created this space for her daughter and engaged an artist to create this custom floral and swan wallpaper that's now available to buy in her online shop.
We chat with Kristy to find out her story and to get all the details on this stunning room… oh, and read to the end to get her top tips for styling a kids room!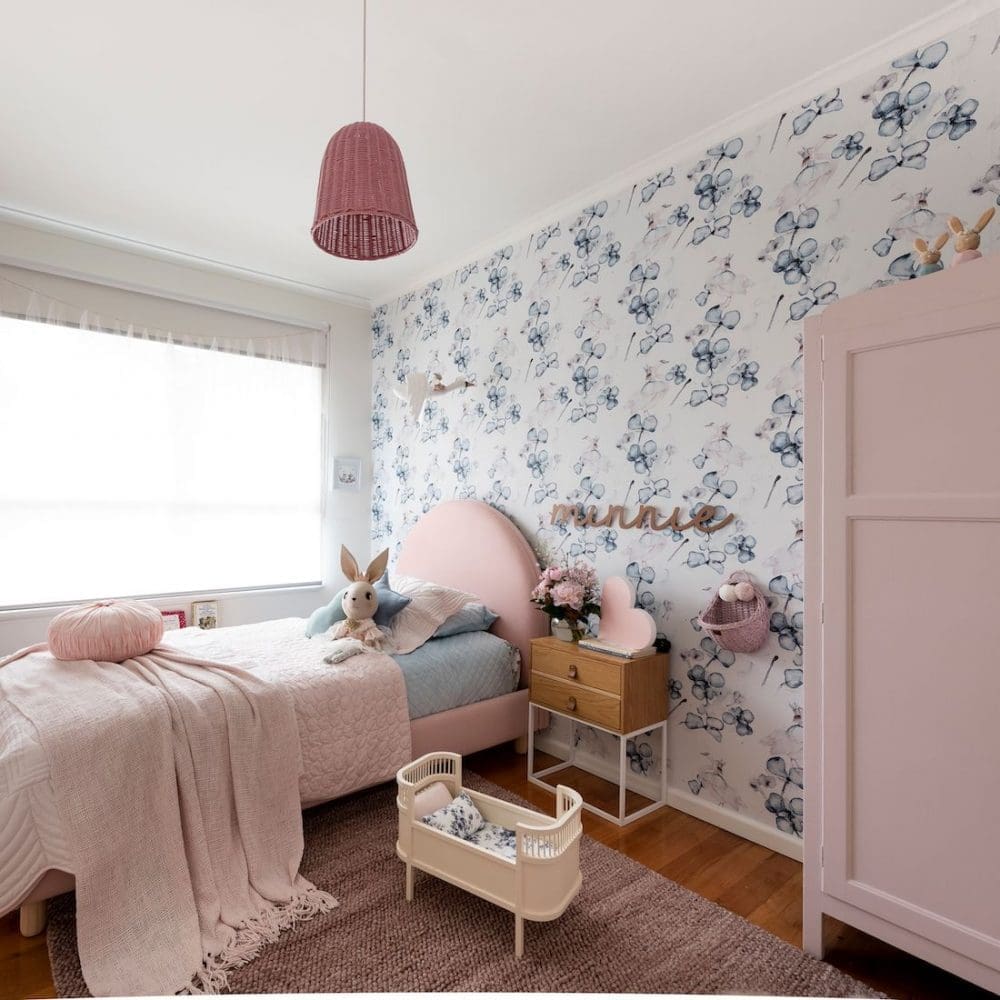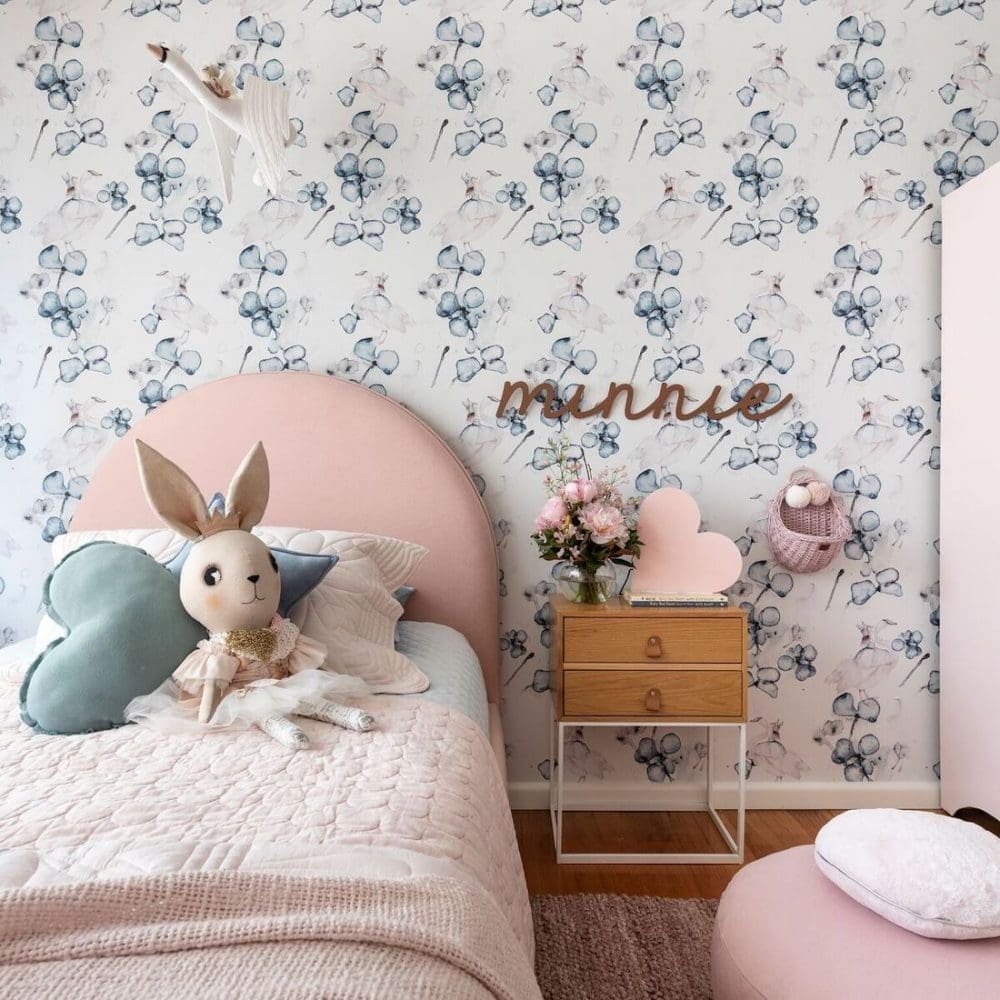 First of all, this room – it's STUNNING! Tell us about the inspiration for the space.
"Thank you. We're thrilled to work with talented artists to create our own exclusive wallpaper ranges. And this wallpaper is our collaboration with Summer Daniel's from Little Rae Prints. It's her first wallpaper design 'Belle Swan Bleu' and it provided the starting point for Minnie's room. I was super excited to be introducing blue into her very pink room," says Kristy.
It's rare you hear of a space coming together perfectly first time around, did you have any challenges along the way or were there any things you had to redo?
"The only thing I struggled with is the choice of rug. I didn't want to spend a lot, so I couldn't get the powder pink rug I wanted. In the end, I think the dusty rose-coloured rug works in the space, but I was initially struggling with how contrasting it was. I'm used to it now."
We love the tones in that rug that help to ground the space. Now that the room is finished, what would you say is your favourite feature?
"The wallpaper of course," laughs Kristy. "Yes, I know I'm a bit bias but seriously, wallpaper just transforms a space – nothing compares to the impact it has in my opinion. If you can afford it, do it!"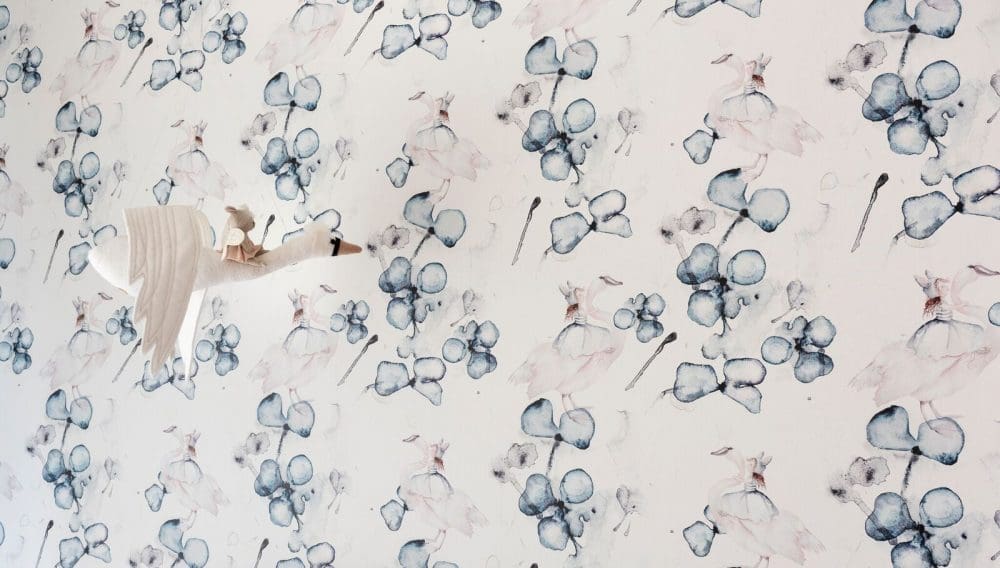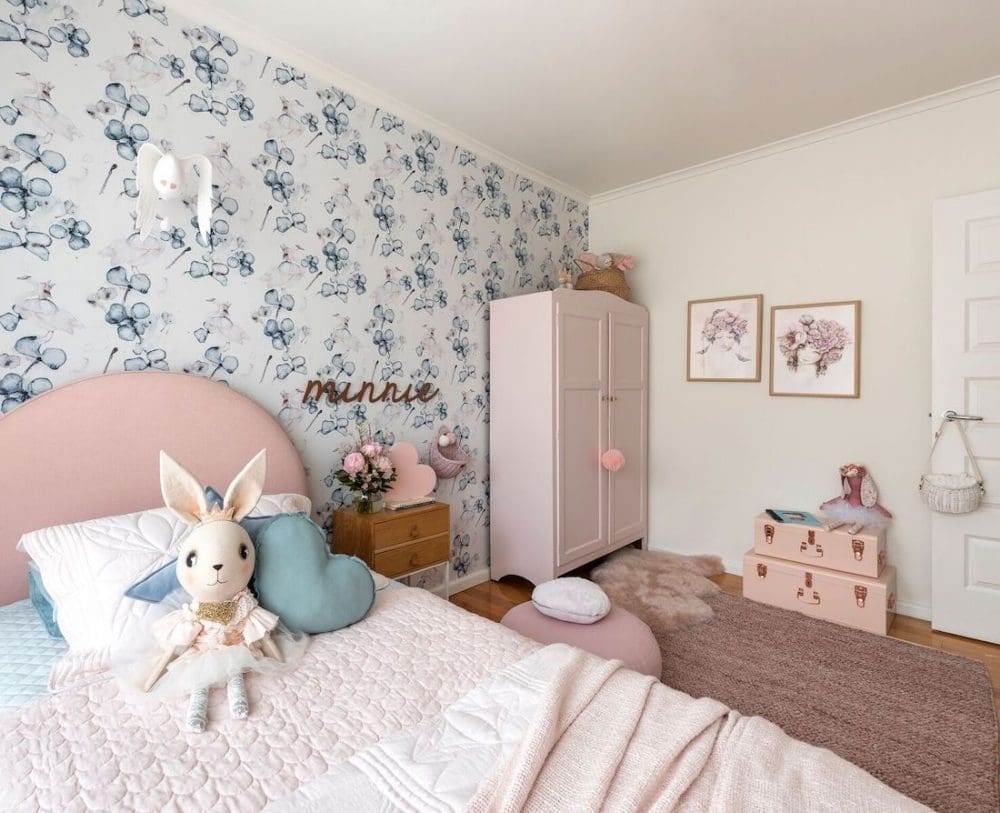 Kristy's career change to becoming an interior stylist and starting her own family-run wallpaper and wall decal business began by chance…
"It started when I was pregnant with our first child, our gorgeous Minnie. I've always had a passion for interiors, so creating her nursery was such a special experience and so much fun!" she explains.
"After seeing her nursery at our baby shower, our friends and family encouraged me to pursue a career in interiors. My friends were my biggest supporters from the beginning, and one by one, started asking me to design their nurseries, such an honour!"
A chance discussion with her brother about a bold idea for one of these nurseries was the turning point.
"In 2017, I was designing a nursery for my good friends, Andrew and Emma. Emma, a girl after my own heart, wanted big, bold and feminine florals as the feature in the space. I happened to speak to my brother Jon about my love of wallpaper and showed him inspiration pictures for Abby's nursery. Owning his own sign company (in partnership with my Dad, Dean), he told me that he and Dad could print me a 'peel and stick' custom wallpaper for Abby's room. I was so inspired and excited. I spent hours finding the exact right artwork to turn into an amazing wallpaper," says Kristy.
"This nursery was the first to feature never-seen-before custom floral wallpaper (see it here). This beautiful peony print was an immediate hit with our followers on social media, everyone wanted it… so began Minnie & Me Interiors, peel and stick wallpaper and wall decals.
"I think it's my eye for beautiful floral prints and my Dad and brother's quality workmanship that has led to the success of our business. Someone said to me recently, everyone on Instagram knows where to go for floral wallpaper… yep, us! That's pretty awesome if you ask me!
"We haven't looked back since creating Abby's wallpaper!! My Dad, Jon and I now create full-sized wallpapers and decals as well as smaller wallpapers for dollhouses, play kitchens and lots of other hacks. Dad, my brother and I love working together in our little family business with the help of my Mum, who takes care of shipping our products to their new homes."
Browse the stunning range of wallpapers and decals on the Minnie & Me website here.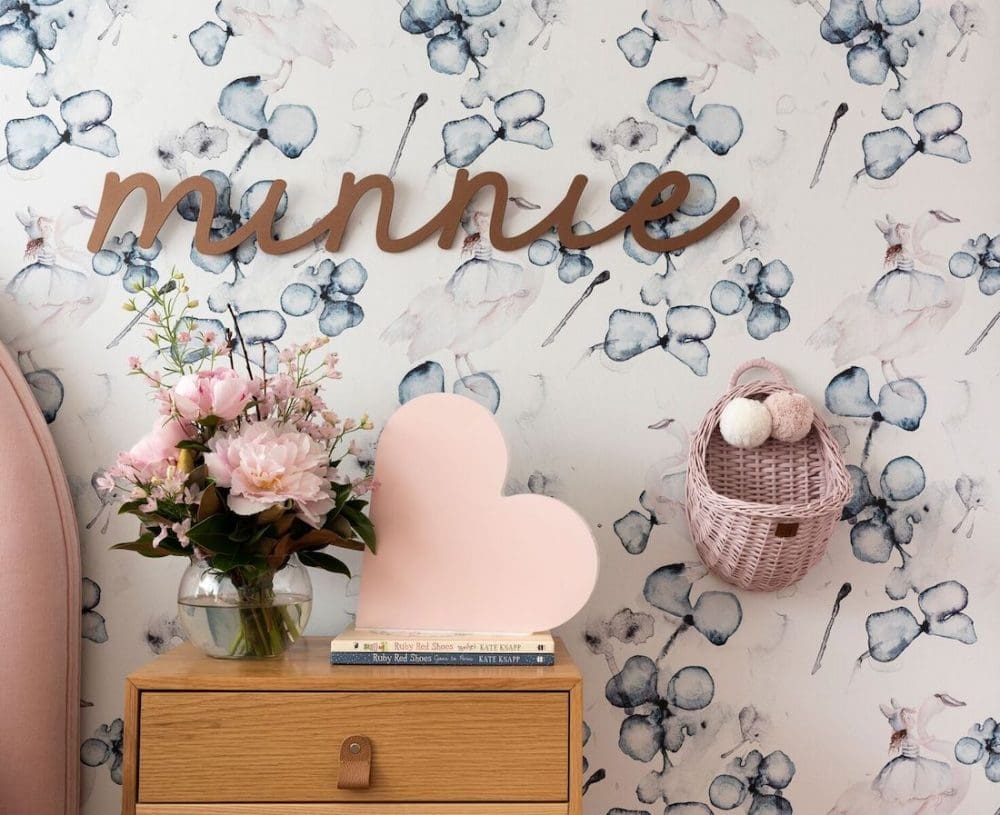 Kristy's top 5 tips for styling a kid's room:
Add some wallpaper or decals on the feature wall
This seriously makes the biggest impact and makes the room feel instantly different. Decals are more cost-effective, if budget is an issue. If choosing wallpaper, I would choose something that will last the test of time. I'd avoid themes or fads that the child will grow out of.
Add some vintage furniture that you have upcycled
Have you seen Minnie's vintage wardrobe that we painted pink (Taubman's Boston Rose) and added wallpaper to? It's been one of the most loved things about her room on social media. I bought it for $70 off Gumtree, such a bargain.
Storage
I think it's good for everything to have a place so storage is a must for toys and all the knick knacks that kids collect. In Minnie's room, we have lots of baskets for her toys, shelves for her previous things, a tall boy and her upcycled wardrobe. Kids rooms have to be beautiful as well as functional, play, reading and rest should all be encouraged in the space.
Art work
Minnie has an 'art gallery wall'. She can stare at it and dream when lying in bed. I'm not one for minimalism in kids rooms… I think every wall should be filled with beauty and magic. I also love seeing my kids names proudly on the wall, my fave wall mounts are from Winnie Dot.
Reading nook
Reading is one of the most important things we can do to encourage a child's love of learning, so ample bookshelves and a reading nook are a must. Minnie keeps her favourite books on a shelf beside her bed. A floor cushion, bean bag or chair can act as a special place for reading. Add a beautiful lamp and fairy lights to make it special.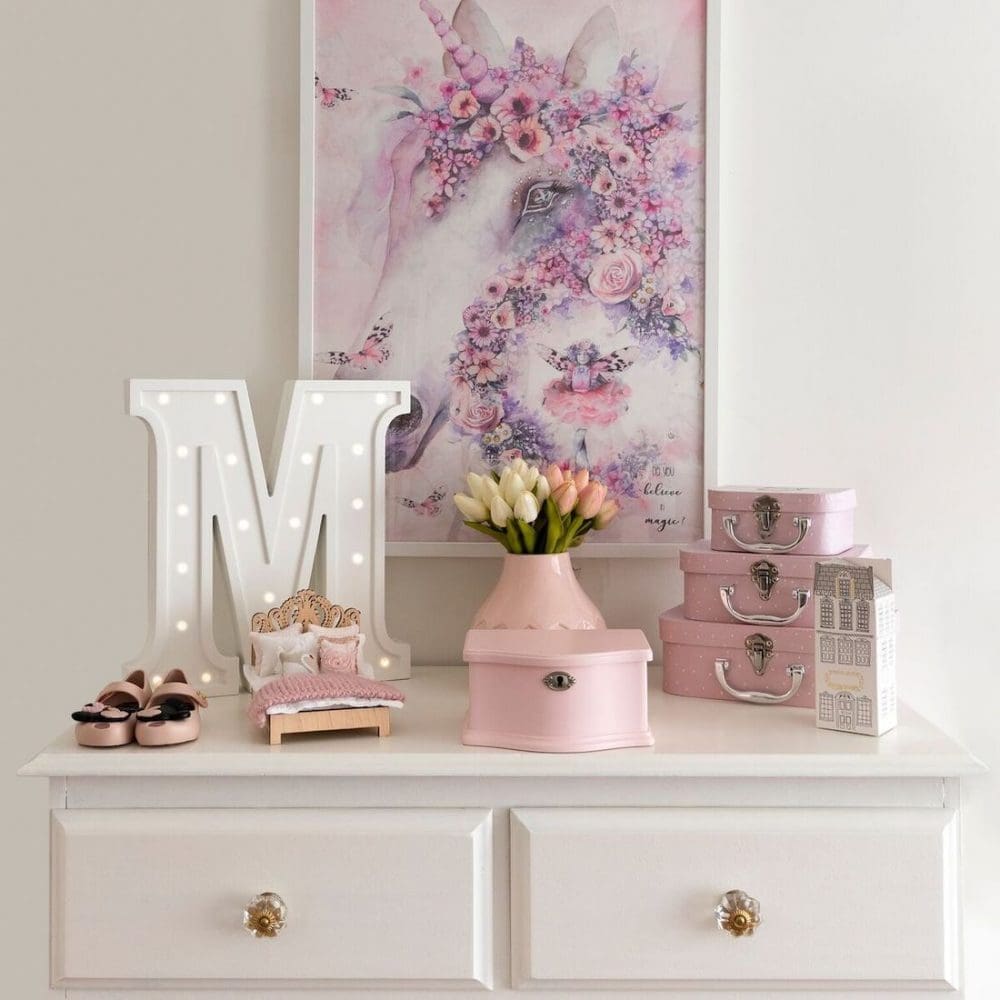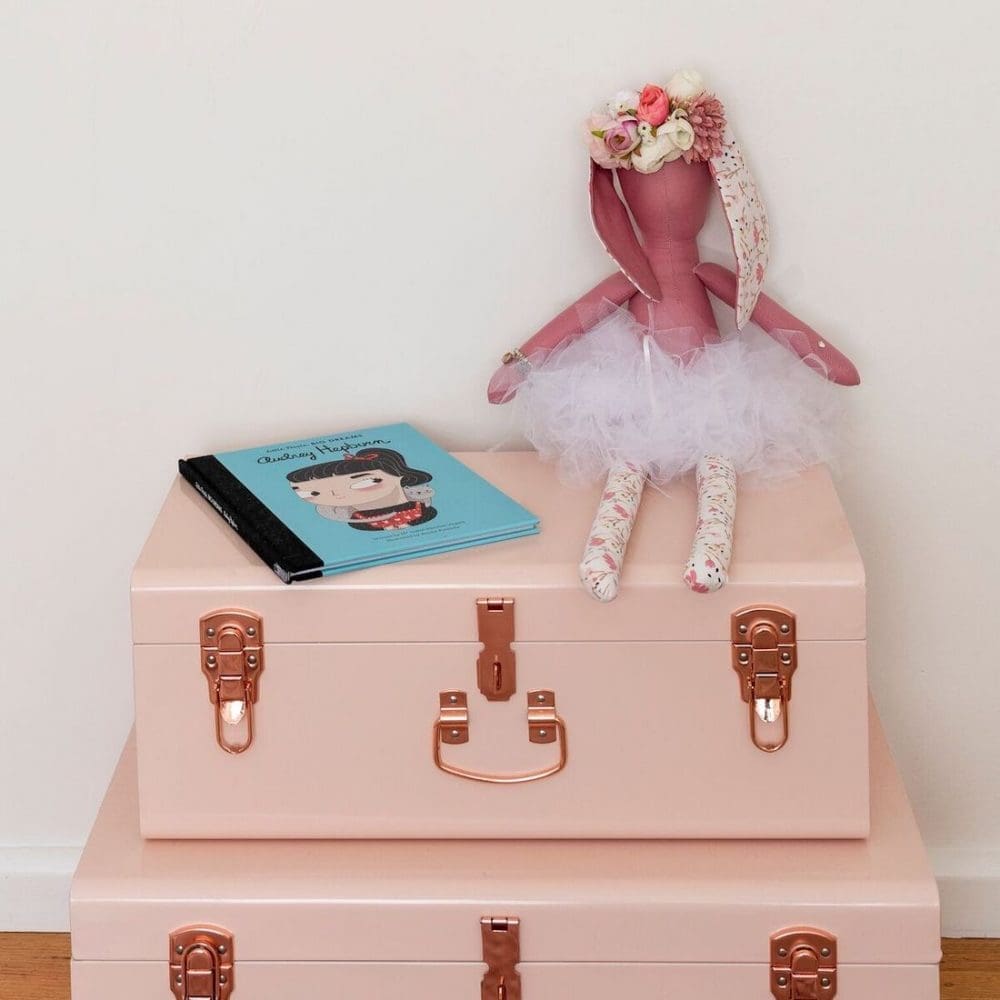 Supplier list
Photography by Rachel Winton Photography