Kids rooms are so much fun to style! And when a reader asked us for ideas on how to style a shared kids bedroom, we couldn't wait to gather inspiration and tips to help. (If you ever have anything you'd like our help on, please send us an email or chat with us in the comment section below. Writing articles in response to YOUR questions are our absolute FAVE!)
But for now, let's get into some gorgeous shared kids bedroom spaces. From traditional to boho, bunkbeds to shared baby and kid spaces, we're sure you'll find plenty of inspo!
Related article: 6 tips to create a stylish and functional kids bedroom
Related article: Inspo alert: Ideas on how to decorate a boy's bedroom
Matchy-matchy
There's just something so satisfying and calming about symmetry in design! If this is your vibe, check out these gorgeous shared kids bedroom spaces.
You might like to opt for matching everything — right down to the bedding and throws. This is a smart choice that may just save you an argument or two about whose cushion is whose or, "He/she took MY blanket!" (we've all been there!). Or, you could match some things, but add in changes through trinkets or artwork, to suit their tastes and personalities.
Then there's the back-to-back beds we just love. Such a fun idea for kids who share a room but one that still gives them their own distinct, individual space.
A twist on the traditional pink and blue
What about if you have a girl and a boy sharing a room? How do you find the right balance between the two?! We love the different ideas these shared bedrooms use, such as wall decals, bedding or the more dramatic wall colours.
A shared space for kids and babes
Juggling a shared kids space is tricky at the best of times. Throw in two completely different age groups and that's a whole new ballgame! But it can be done, and done well, as seen in these shared spaces for kids and babies.
From calming, neutral colour palettes, to pops of bold colour, a shared bedroom can be a wonderful way to express your children's style and creativity. If you're wanting to style a bedroom for your older child and baby, but aren't sure where to start, check out this helpful article from a stylist (and Mum) in the know.
Bunk bed fun
We challenge you to find a bed that's more fun (yet still practical and affordable) than bunk beds! Bunks are a brilliant way to save on floor space and a great choice for a shared kids bedroom.
You can get stand-alone styles or a more permanent built-in solution. Get ready to be inspired by these shared bunk bed spaces below. We call the top bunk 😉
Boho beauties
Both these shared kids bedrooms use matching beds, however their styles are still laid back with a hint of boho. We can never say no to a canopy in a kids room, and the rugs in each space are oh so dreamy!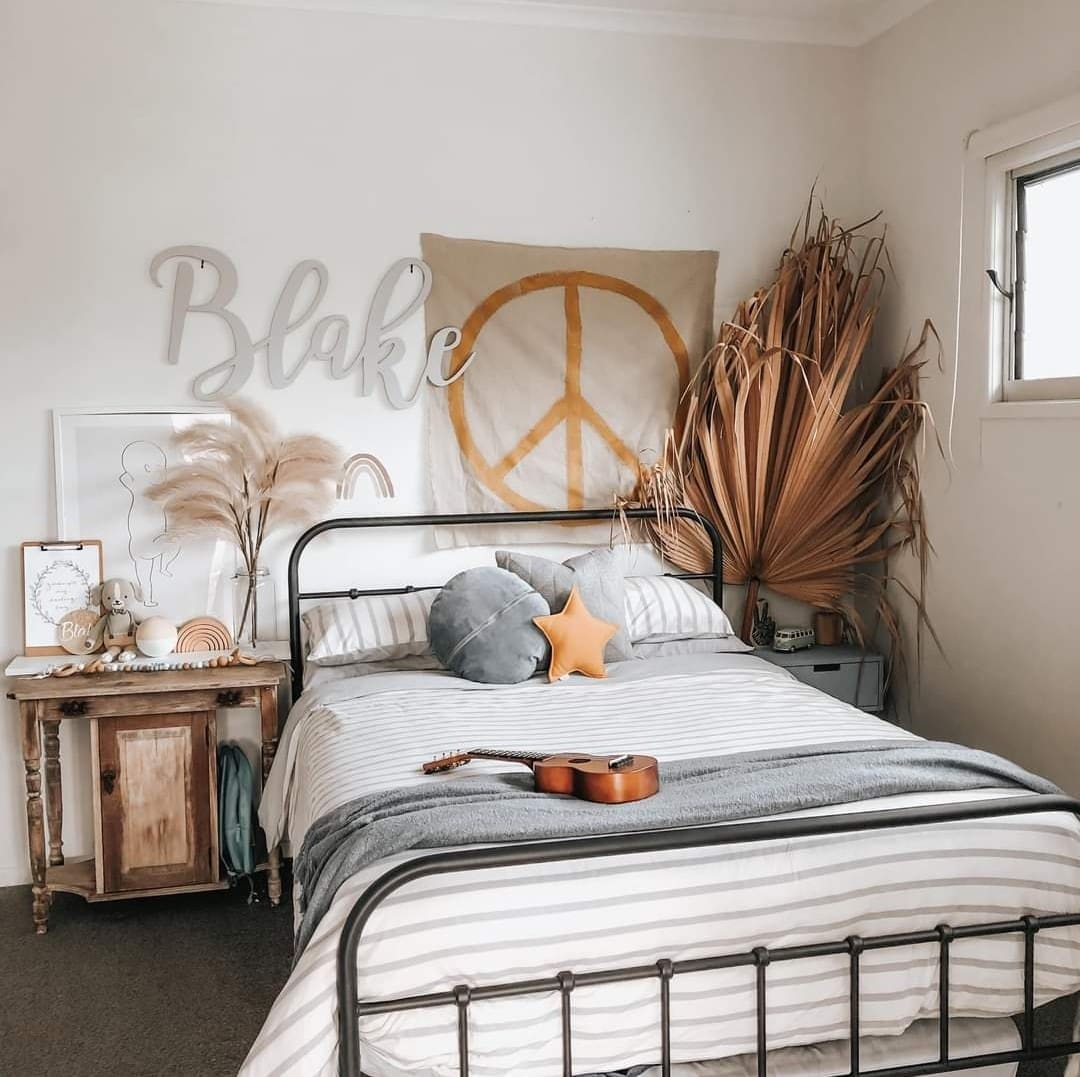 Cute and quirky
In a shared kids bedroom, it's more than ok to have a bit of fun. In fact… we think you should! Patterned wallpaper, colourful bedding, bold rugs, quirky decor… We love how these shared spaces showcase such different styles.
Like the space below which celebrates wallpaper, and makes clever use of a cane bar cart as a bedside table. Or the twin teepee beds that create a magical outdoor camping feel.
We hope this gallery of shared kids bedrooms has given you some styling inspiration! Whether your kids share a bedroom or not, there were so many great styling ideas to take away. Do you have a space in your home you'd like some styling inspo for? Ask us in the comment section below!
Disclaimer: This post contains some affiliate links. This means that when you click on a link and purchase something from that site, we may make a small commission at no extra cost to you.