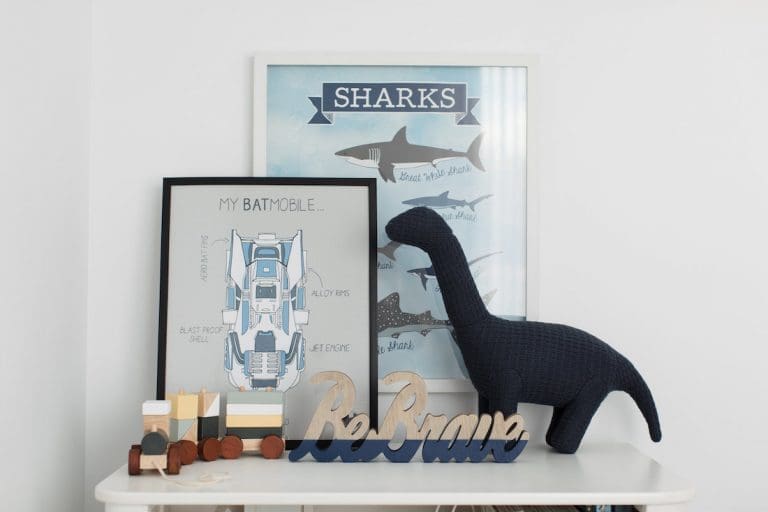 Supported by Canberra Outlet
There's so much fun to be had creating a themed bedroom for your child!
But no parent wants to spend a fortune decorating a space that's full of dinosaurs only to discover that the next minute they are obsessed with something else, or to go too overboard styling the bedroom that they cannot sleep in the space.
Today I'm sharing my top 6 tips on how to find that sweet spot of creating a stylish and functional kids bedroom that can grow with them.
Related article: Creating a kids learning from home space: Patrick's room reshuffle
Related article: Amazing makeover: From beige and bland to a super cool kid's bedroom
1. Think of function first
Will the bedroom just be a space for sleeping or do you also want to incorporate a study nook or reading corner?
By thinking about how your child will use the space, you can map out what zones to create and subsequently the key items of furniture you will need.
Wherever possible, I suggest looking for multifunctional pieces of furniture that can adapt as your child grows. For example, a change table that can convert into a bookshelf.
2. Decide on a style
Before going shopping and getting overwhelmed by the fabulous range of kids' homewares, it's a good idea to think about the style you want to create.
You may be inspired by a colour palette, such as blue and mustard tones as pictured, or by a particular theme, such as superheroes or princesses. Alternatively, you may like to stick to a particular interior style, such as bohemian or coastal.
Having a clear direction of the colours, theme or style you want to achieve, will help you create a space that has design fluency rather than an assortment of styles that may not fit well together. And you only have to use 3-5 key pieces, such as a statement cushion, wall print and décor item, to set the theme.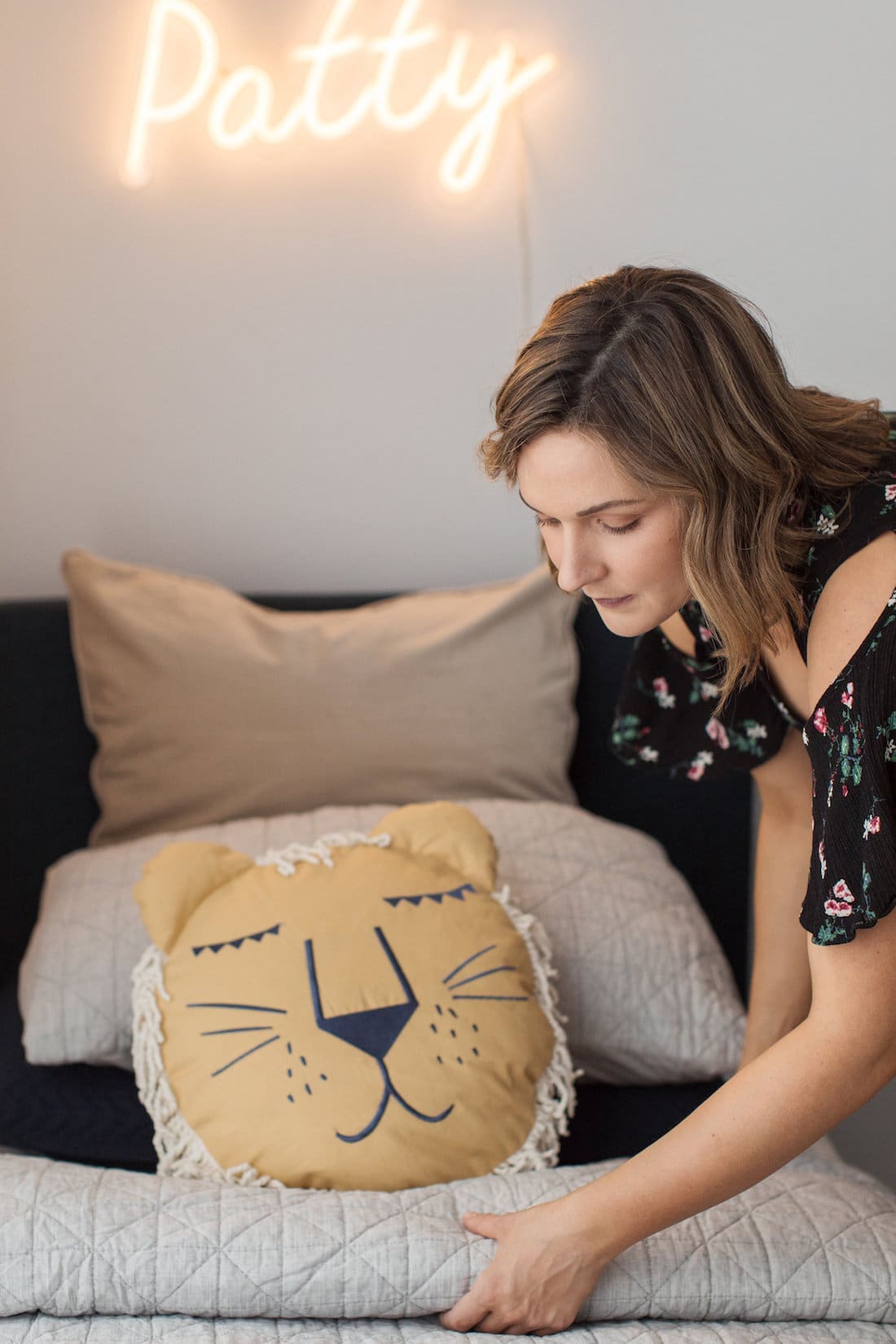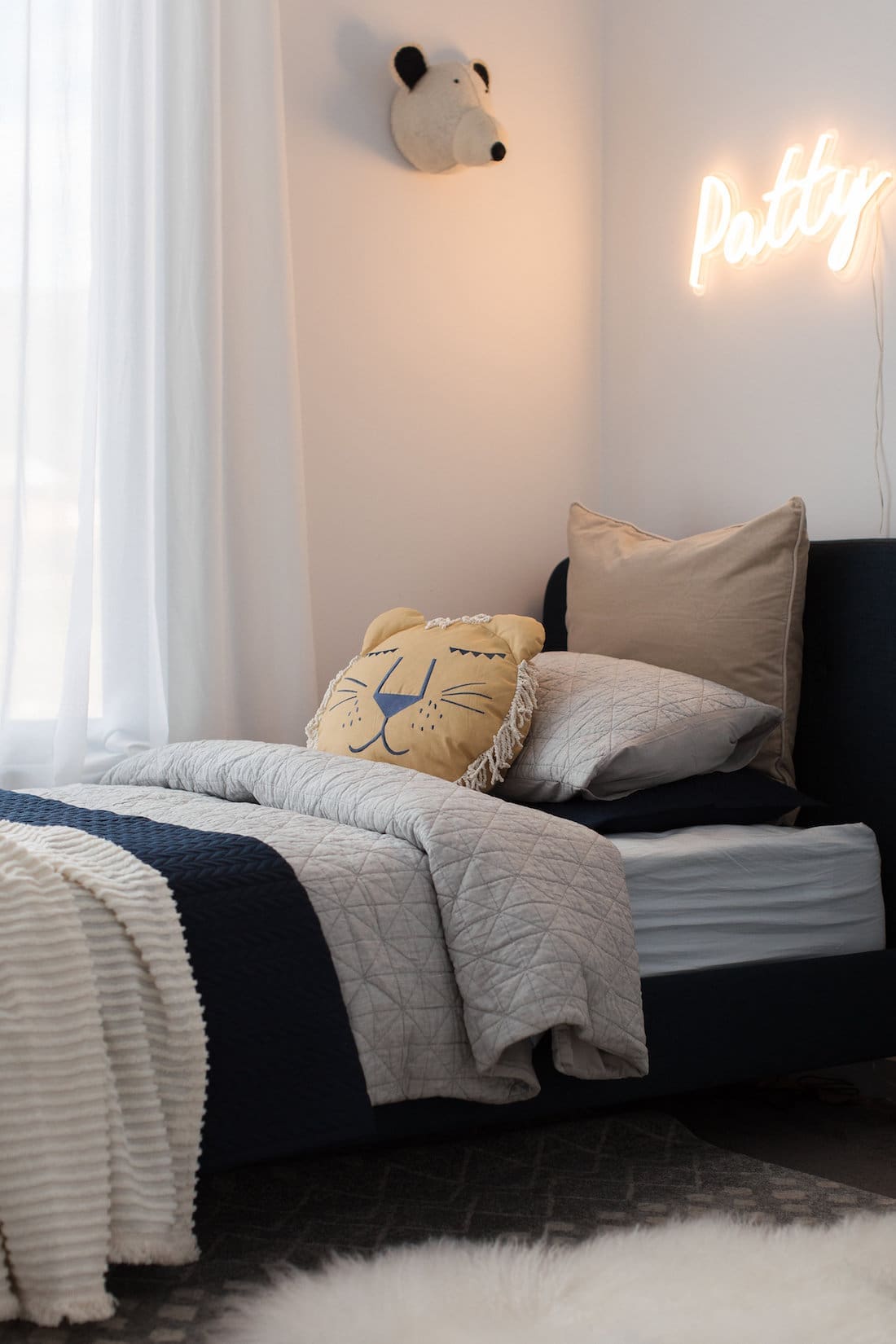 3. Show restraint
It's easy to get over-excited when styling a kids room but it's important to remember that above all, this is a space for sleeping.
Many children can become overstimulated by bright and bold colours, or large displays of toys.
As a parent, you know your child better than anyone so keep in mind their needs when shopping for décor and think twice before buying canopies or other items that suspend from the ceiling, or before adding a bold feature wall.
4. Style up
Another tip when styling your child's bedroom is to 'style up' and by that I mean, considering how they can grow into the space.
I suggest selecting neutral pieces of furniture that you can easily change the look of with new bedding or accessories. In this bedroom, I've used a classic navy upholstered bed from Focus On Furniture that can be styled in endless ways with a new quilt cover or feature cushion.
When creating a feature wall, it's a good idea to choose a removable option (such as removable decal stickers from Adairs) or to select a paint colour or wallpaper that is more sophisticated and isn't age specific.
Alternatively, you can add interest to walls with affordable artwork such as those pictured in this bedroom from TK Maxx and Adairs. Over time as interests change, it's easy to replace the artwork in the frames for minimal cost.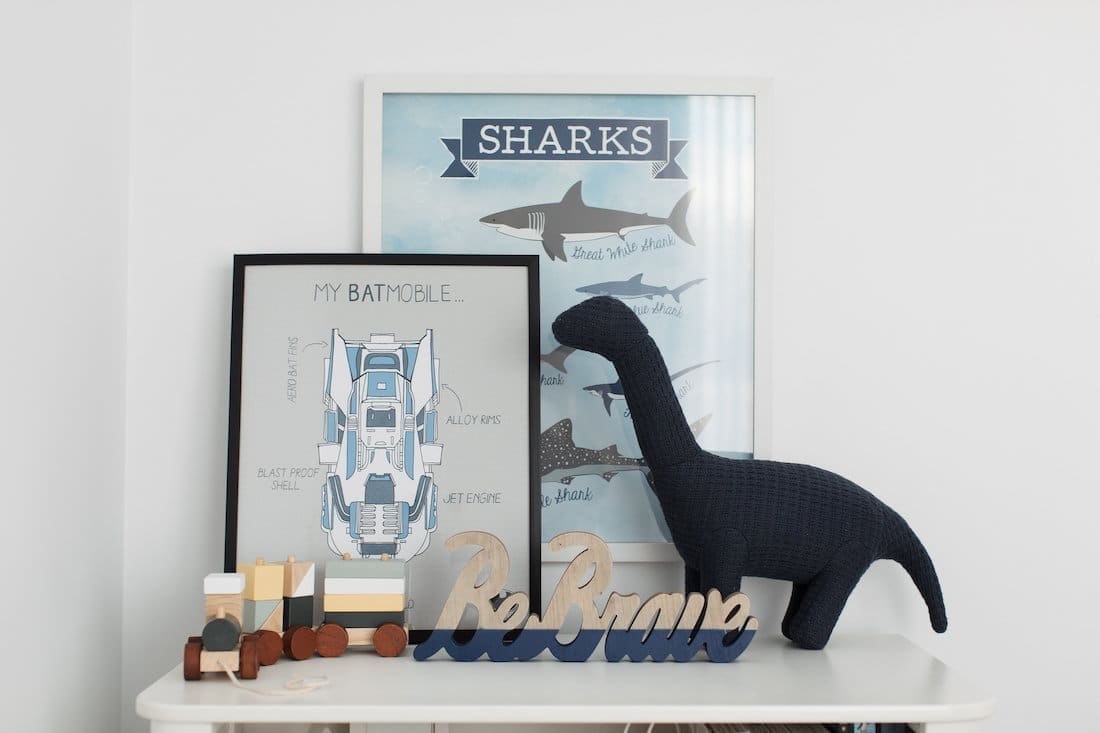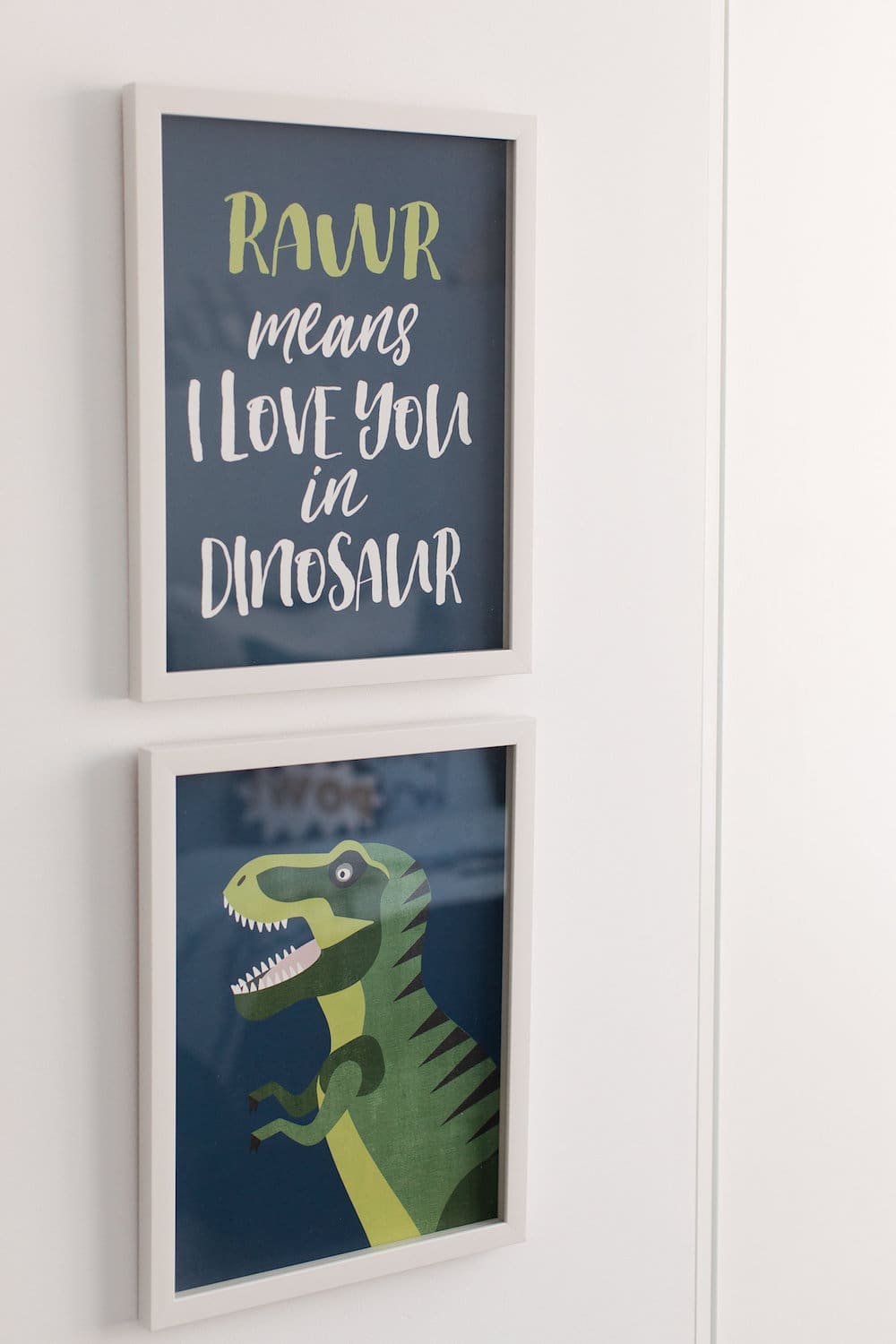 5. Don't be shy to DIY
To keep styling costs down and to personalise the space, I love doing a few DIYs or upcycling pieces.
You don't need to be overly creative or a skilled crafter to find ways to do this, and a few ideas include:
painting a wall shelf or smaller objects to tie in with the colour palette
making a few pom poms in various colours to attach to storage baskets (another great way of introducing your colour palette)
sewing a basic cushion for the bed, chair or reading nook
making your own wall print that you can pop into a frame.
The ideas are endless and in Alexander's room that I recently transitioned from a nursery into a big boy room, I made the bunting garland above his bed, the sage cushion, and the heart wall light. The dresser is also an old piece of furniture that I upcycled.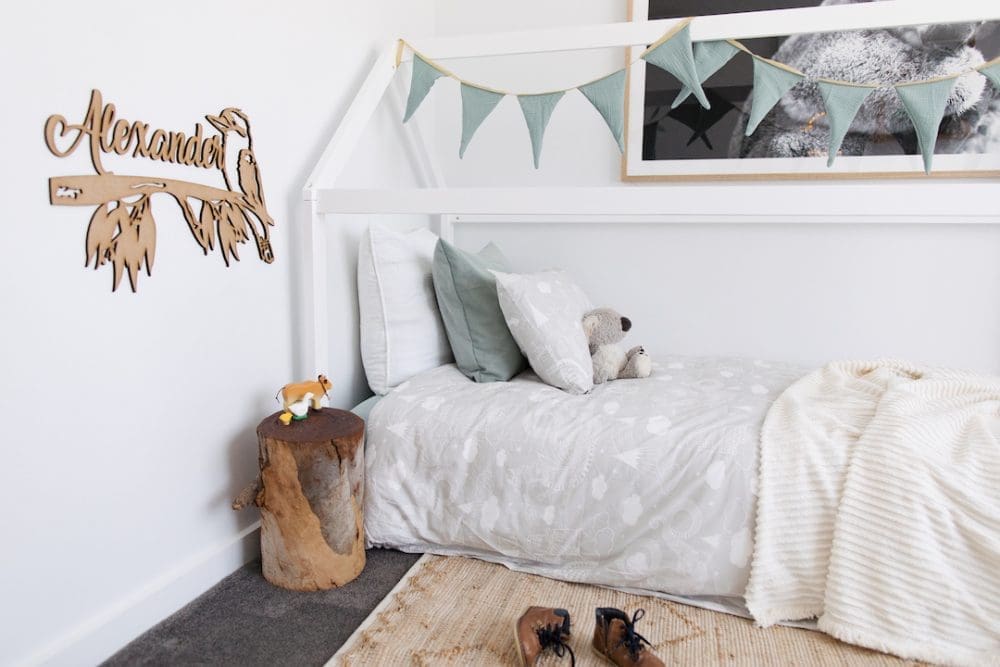 6. Be practical
You also want to make life as a parent as easy as possible so look for ways you can keep things practical in the bedroom.
I love large storage baskets, such as these ones from Adairs, which make cleaning up toys a breeze and encourage your child to help with tidying too.
Most of the items pictured in this article, including the bed, bedding, artwork and décor pieces are from Canberra Outlet.
Are you considering styling your child's room soon? Do you have other tips on how to create a stylish and functional kids bedroom? Tell us about it in the comments below.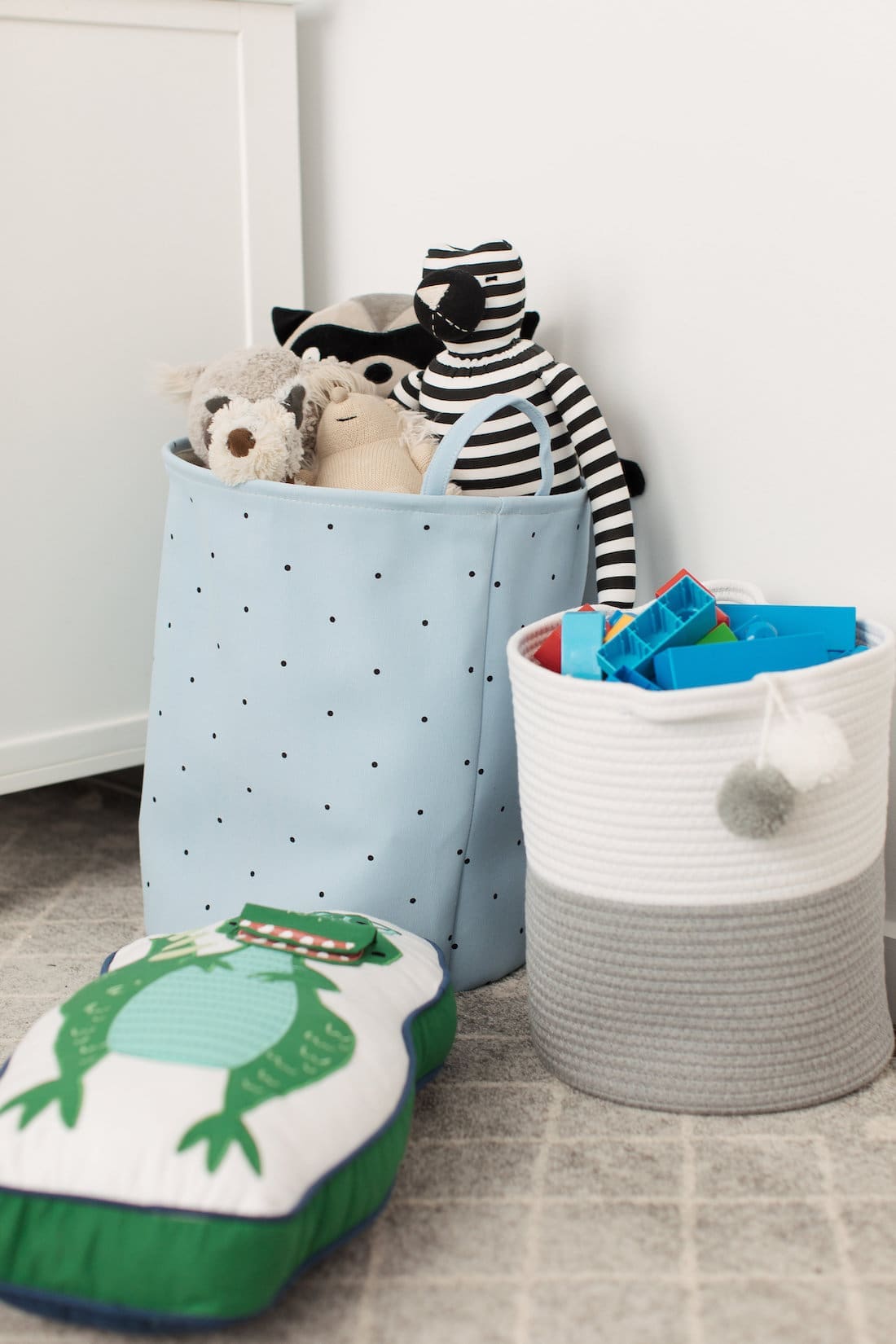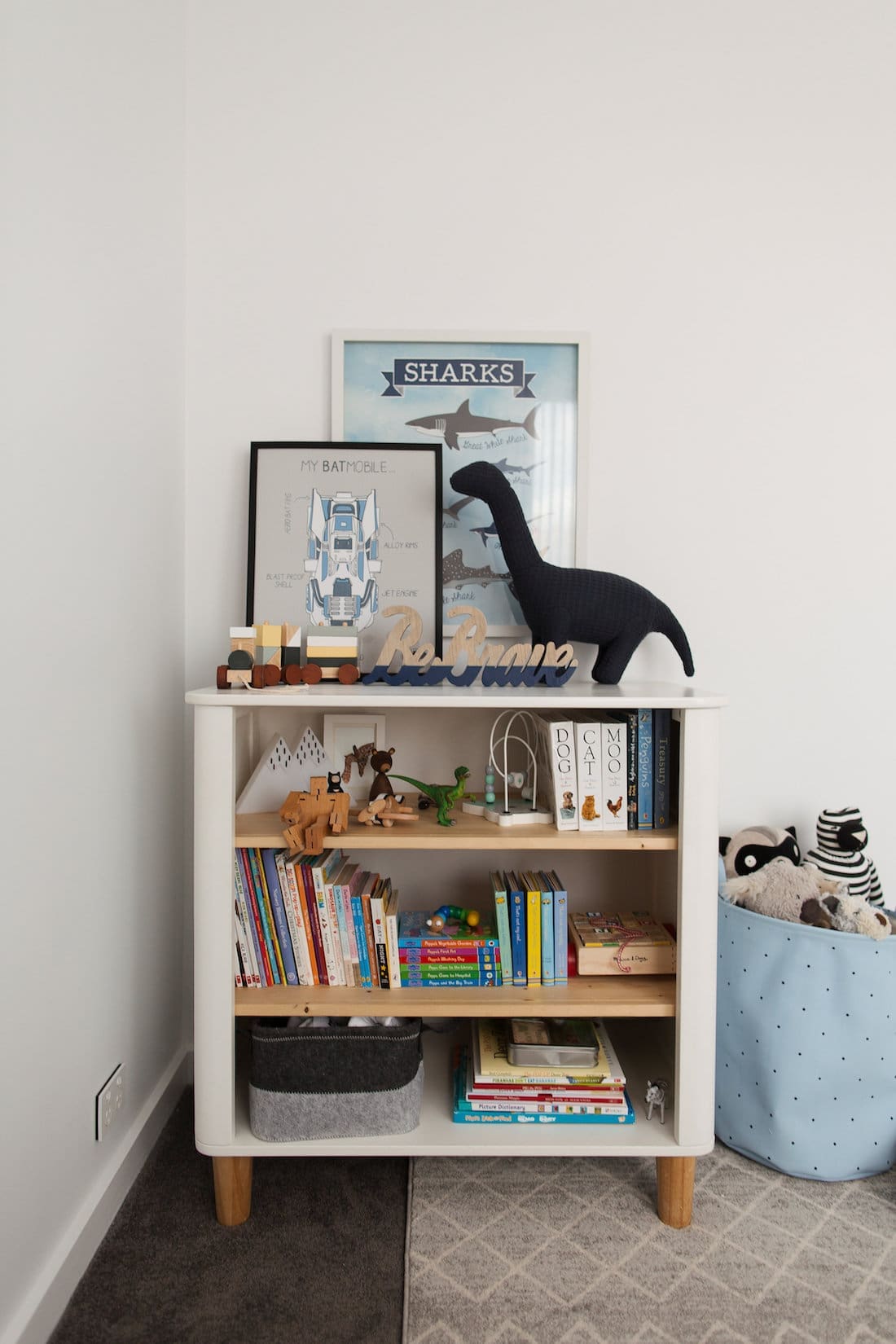 Photography by Thorson Photography
This article was first published in December 2018 and has been updated with more tips and images