The detail in Claudia Lowry's art is astounding. Her intricate, delicate hand drawn floral illustrations captured our attention from the moment we spied her work on Instagram.
Inspired by wildflowers from her English countryside surrounds, Claudia and her beautiful art are certainly one to watch. We loved chatting with this talented artist and illustrator.
Related article: Aiai Zhang: The contemporary watercolour artist behind Breezy Bird Studio
Related article: Discover the delicate and detailed graphite illustrations of Emily Wright, AHKI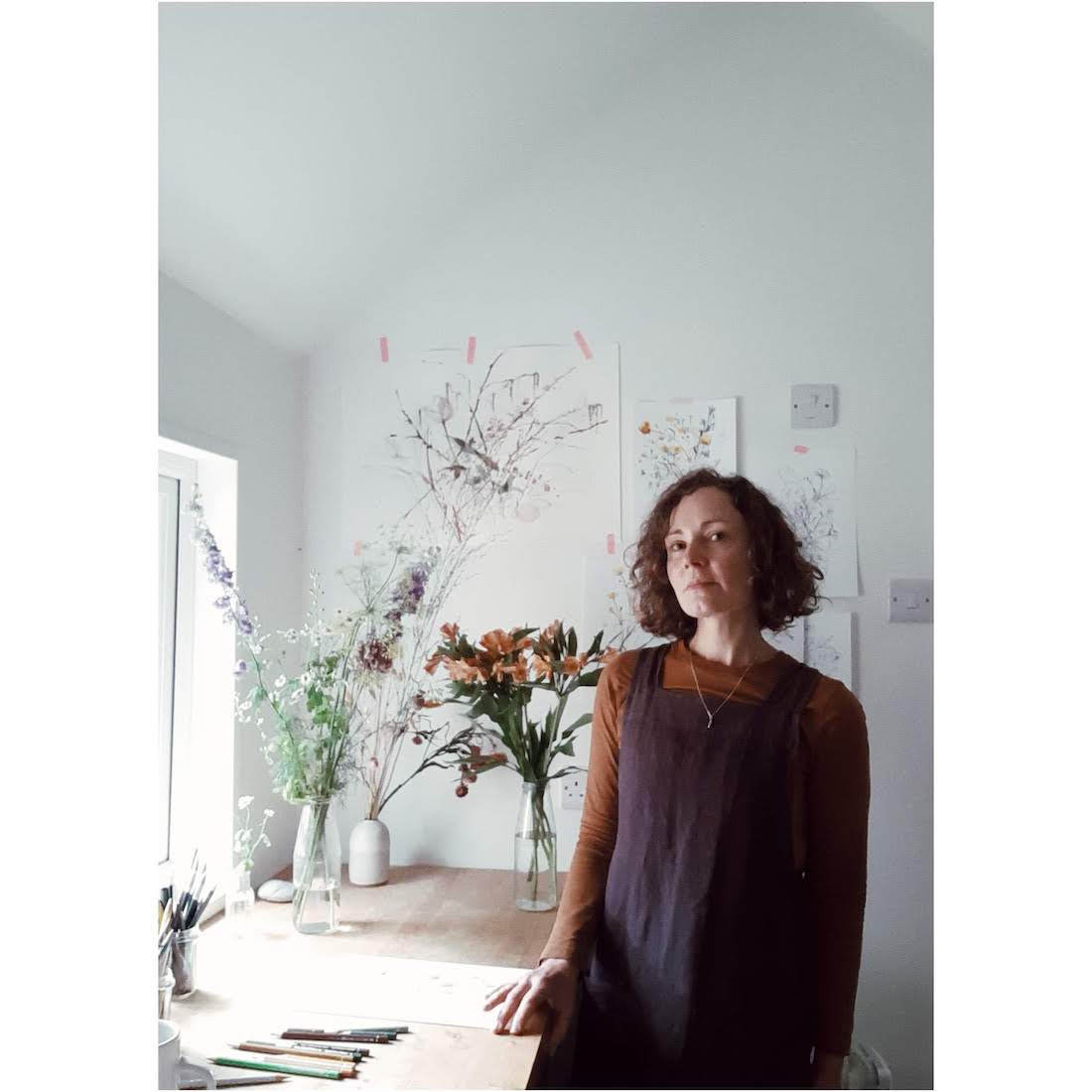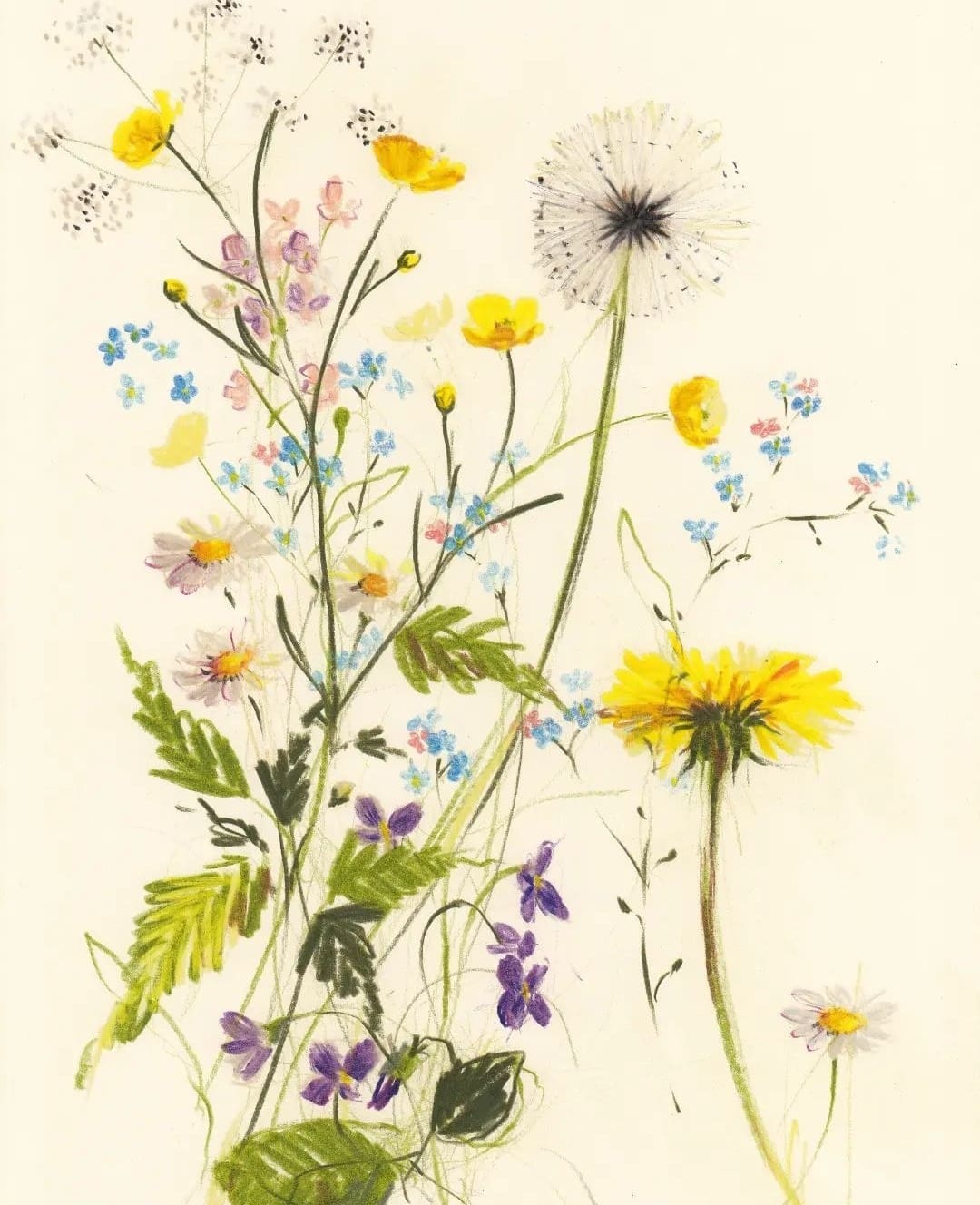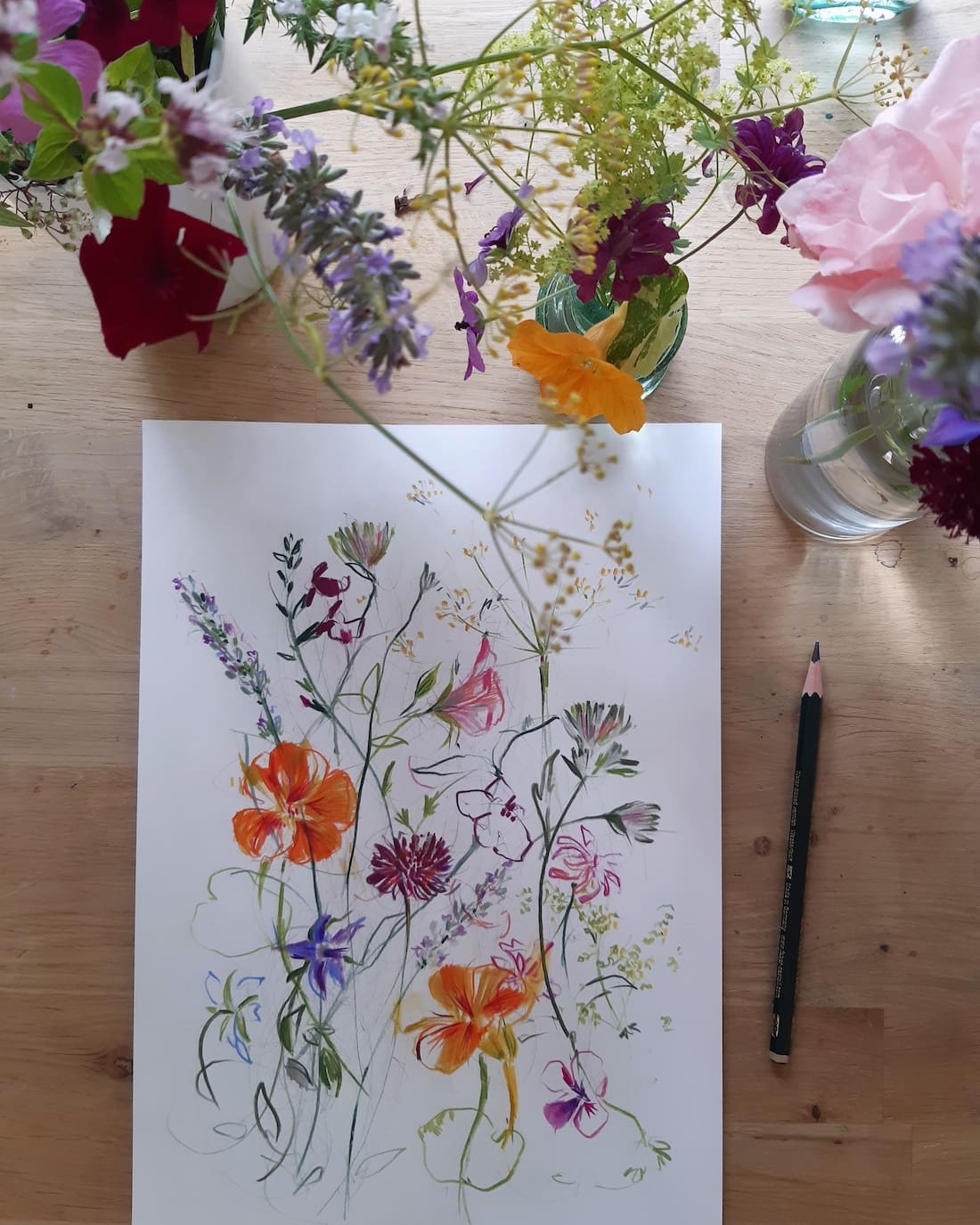 Hailing from the UK, Claudia finds inspiration in the wildflowers from her surrounding English countryside
"I live with my husband, 2 sons, and our dog Wilf. We call home in a small town in West Sussex in the United Kingdom," says Claudia.
"We're lucky to have the coast and beautiful countryside close by, including the majestic South Downs.
"My tiny studio is tacked on to the back of our house. I share it with many resident spiders and it's often where you'll find me working."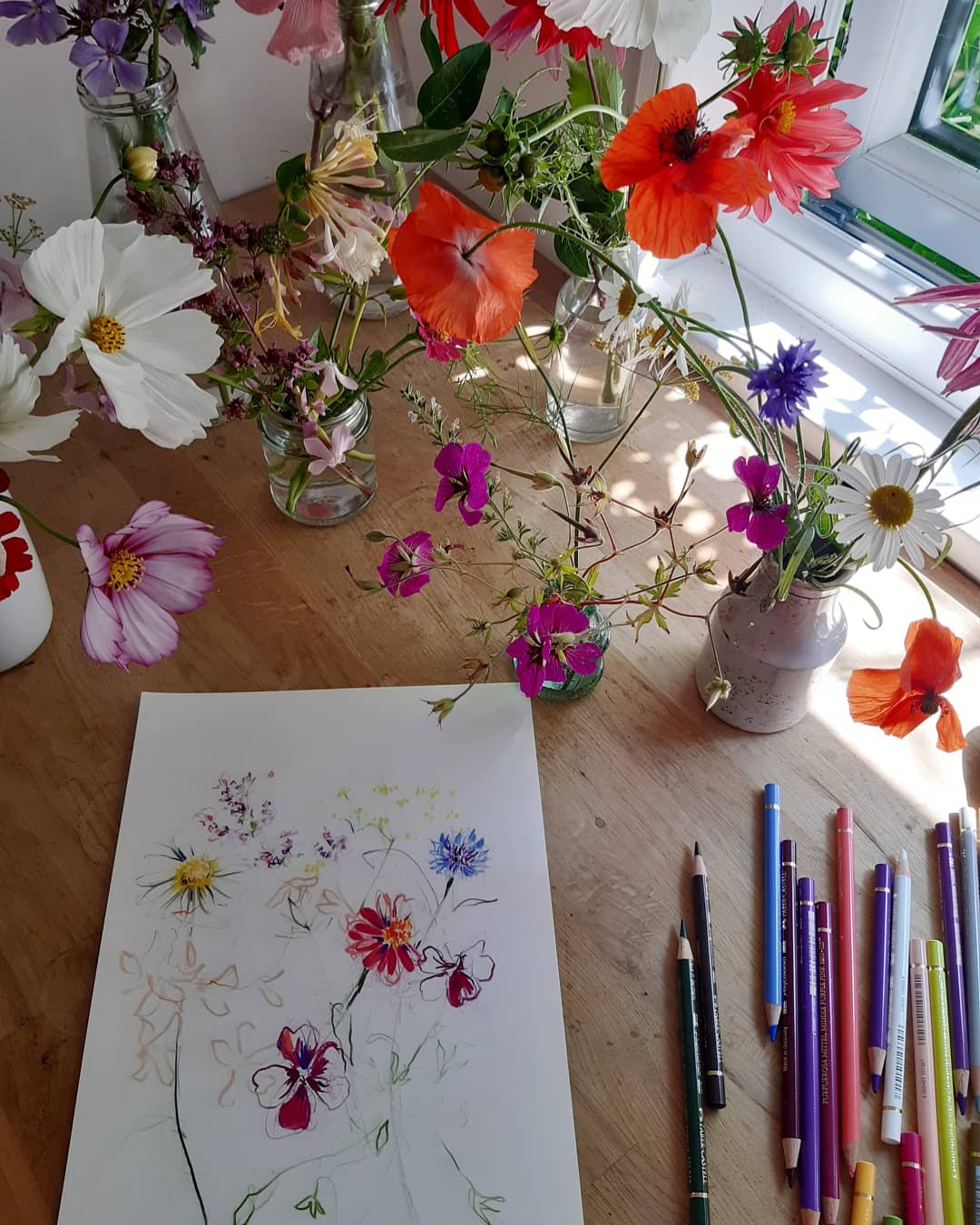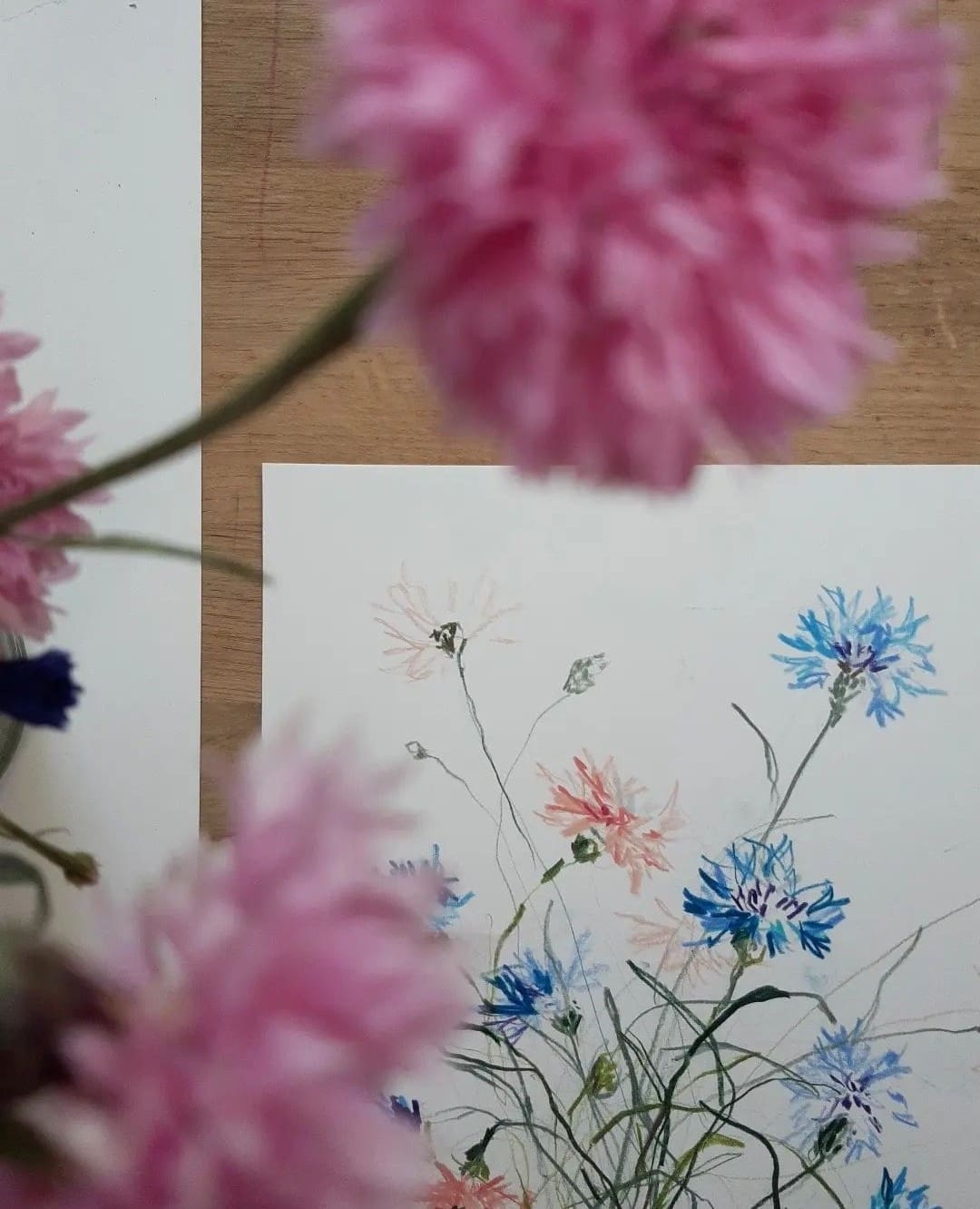 Claudia's hand drawn floral illustrations have a unique style. Her own style.
"I studied illustration at university and after completing my degree, spent the next 15 years working as an artist agent. I loved working with so many talented artists and worked on some exciting projects. But ultimately I wasn't fulfilled," Claudia recalls.
"It took a move out of London and a redundancy to give me the space to re-evaluate my career. I started drawing what I loved, initially in a much more realistic drawing style, but quickly realised that wasn't me at all. I soon reverted back to my loose, expressive mark making. My style. The style I'd always had.
"It was really from this point that I started to sell my drawings, and commissions followed from there. My art is now my full time job.
"Of course, squeezed in between school hours and it becomes quite sporadic over the school holidays! The ever present juggle!"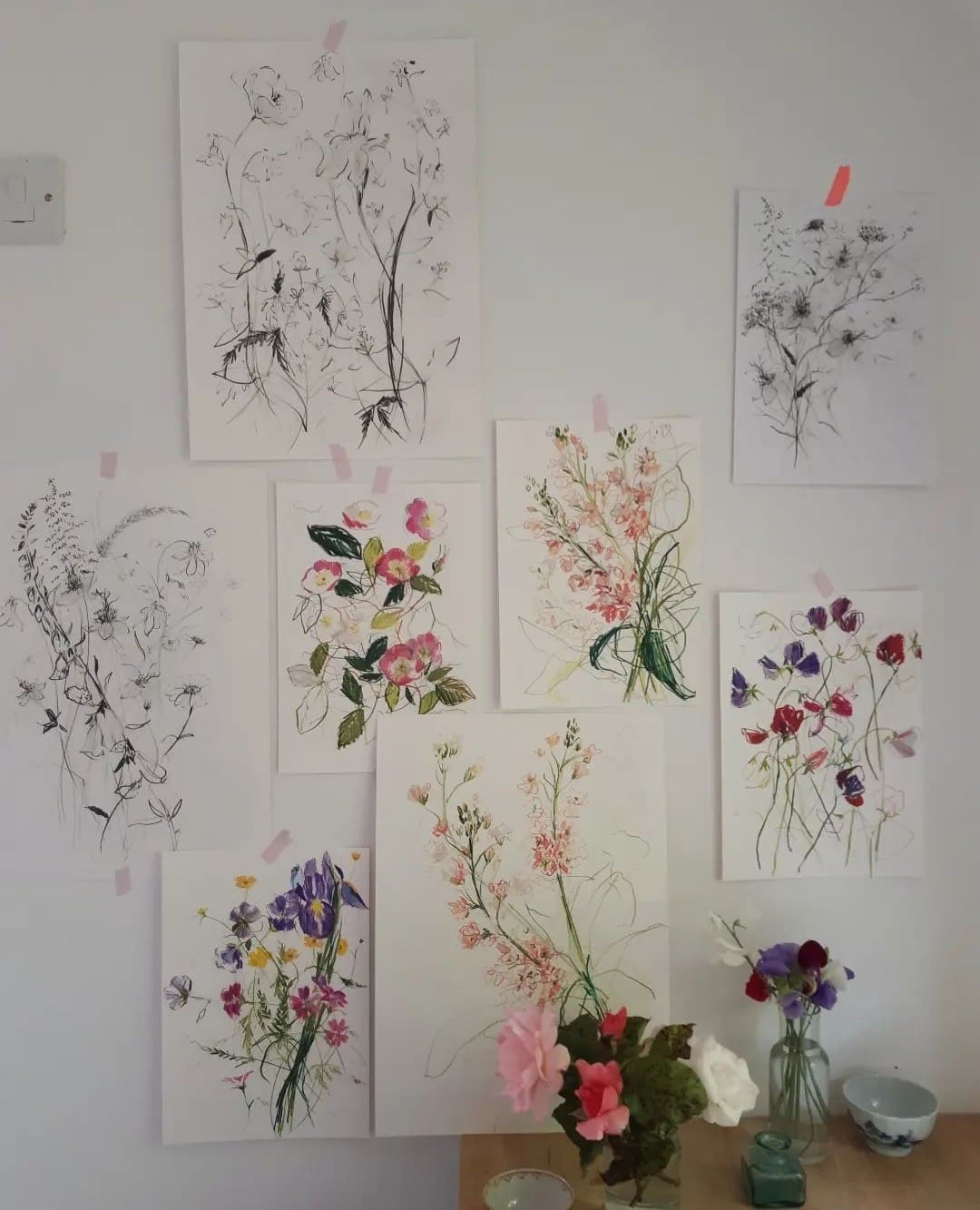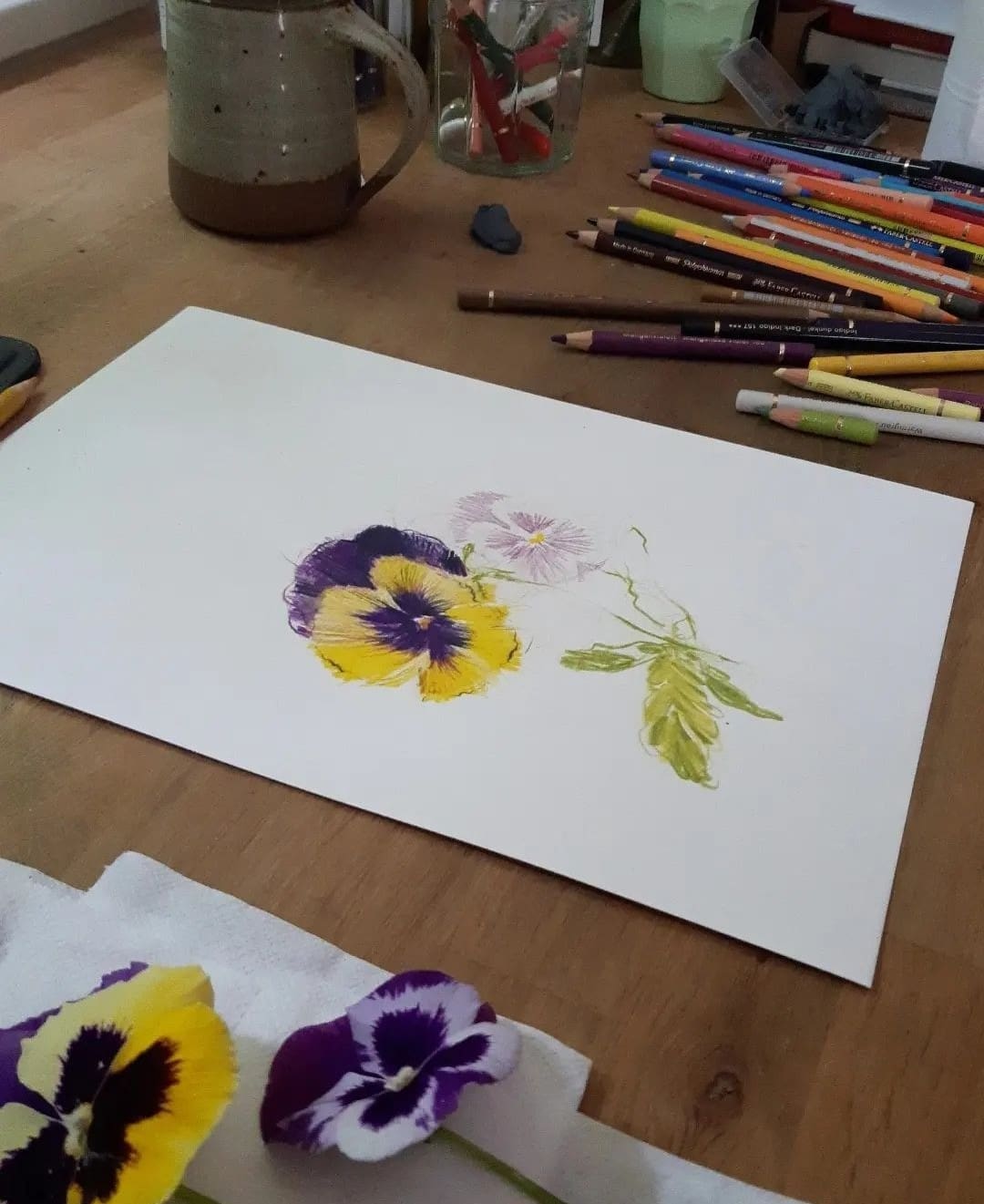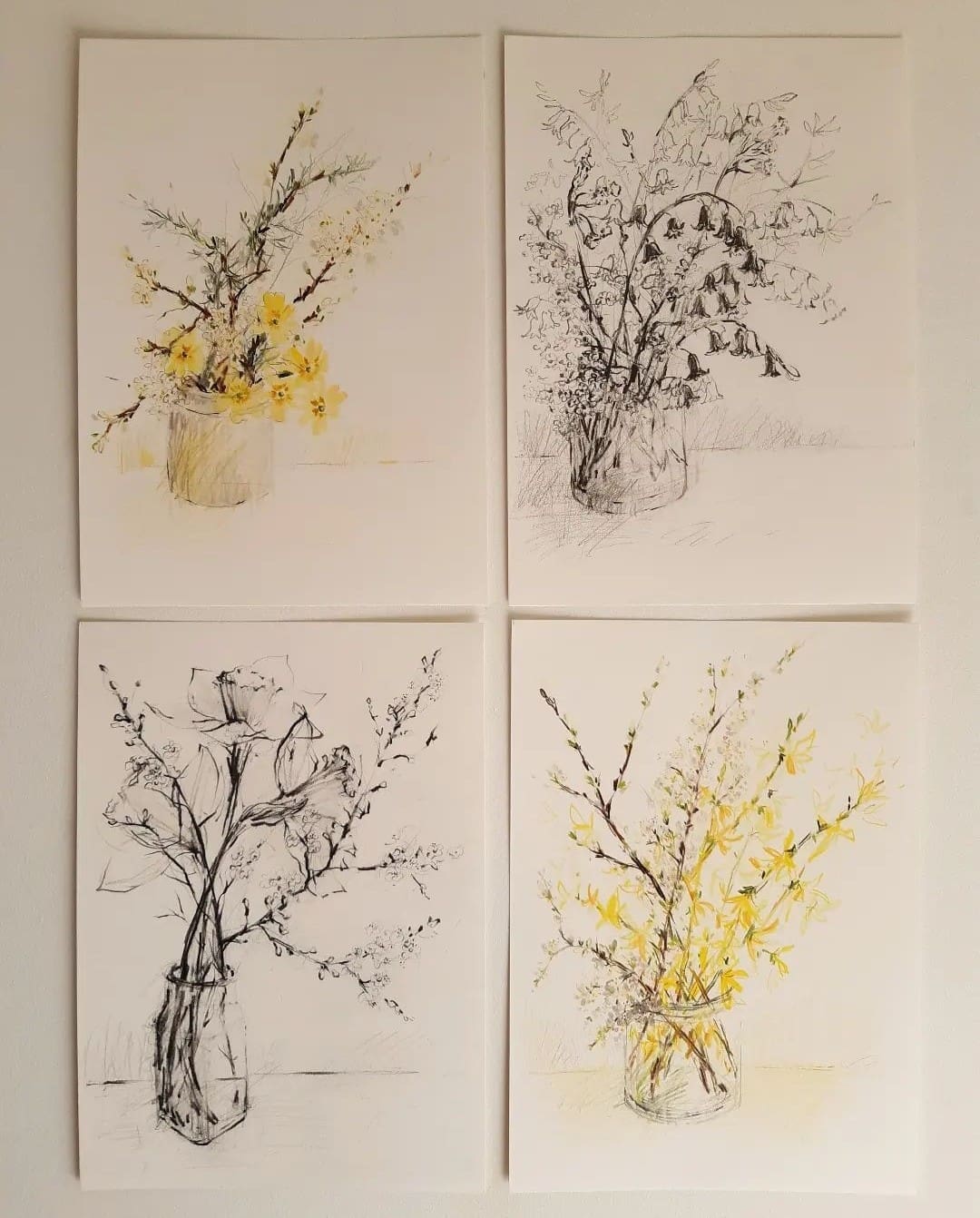 There's no questioning what inspires Claudia's art.
"I grew up in the Dorset countryside. Both my parents were keen gardeners with a deep love of nature, which rubbed off on me.
"I feel an absolute compulsion to draw the beauty that's all around us. I also draw inspiration from all seasonal British flora. Whether that's flowers I've grown myself, or spotted while visiting a beautiful garden.
"When it comes to my hand drawn floral illustrations, I don't plan it, unless it's for a commission and the client has requested a rough," Claudia explains.
"I prefer the spontaneity of mark making to lead how the drawing takes shape. The immediacy of pencil on paper… you can't hide from that, and I love that about drawing.
"Mistakes are never mistakes. Just another element that I feel adds to the richness and layers of a drawing. I don't like things to look too polished, as you can probably tell!
"I also feel that best represents my subject matter. Nature is fluid and ever-changing and I hope my mark making goes some way in representing that."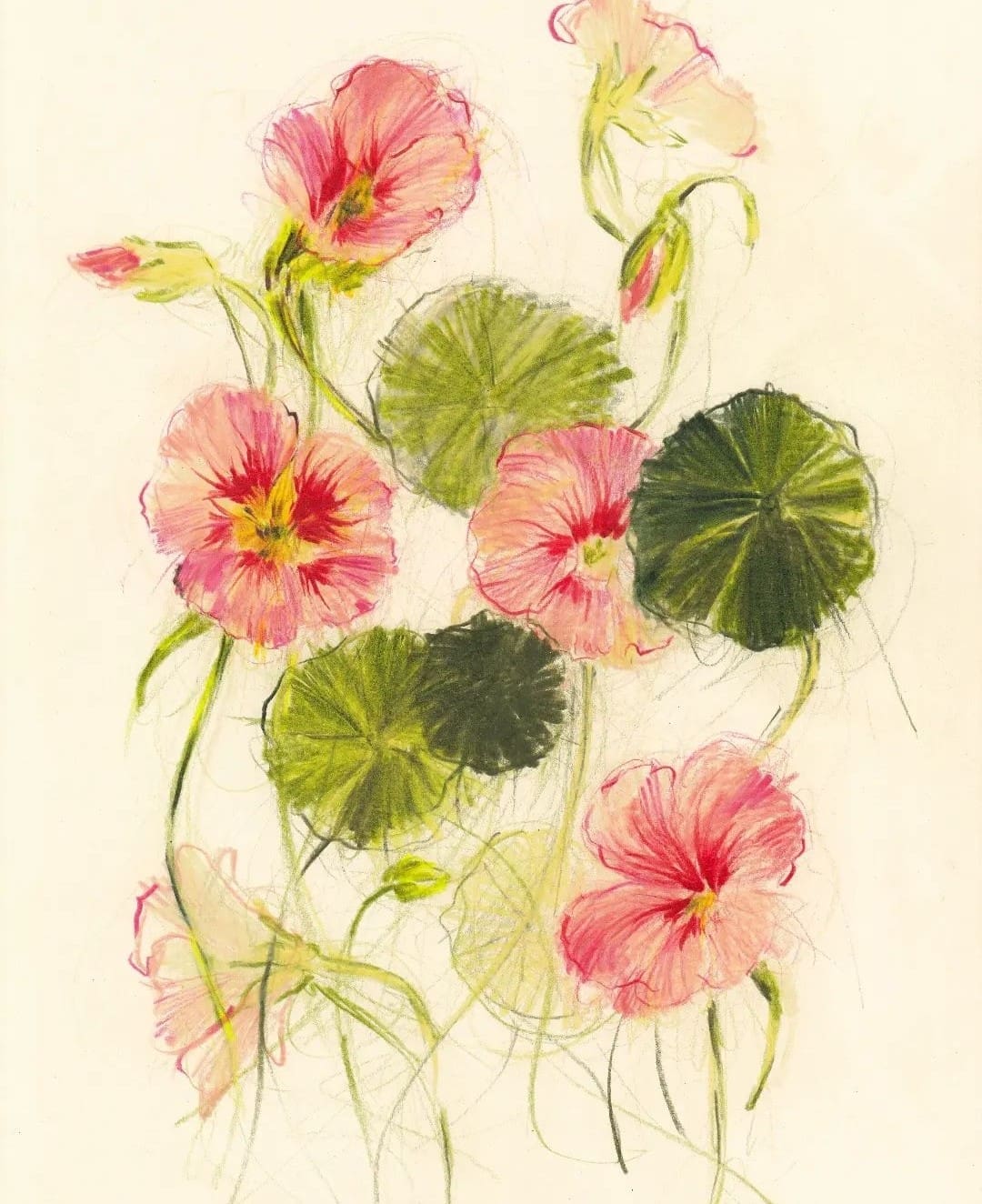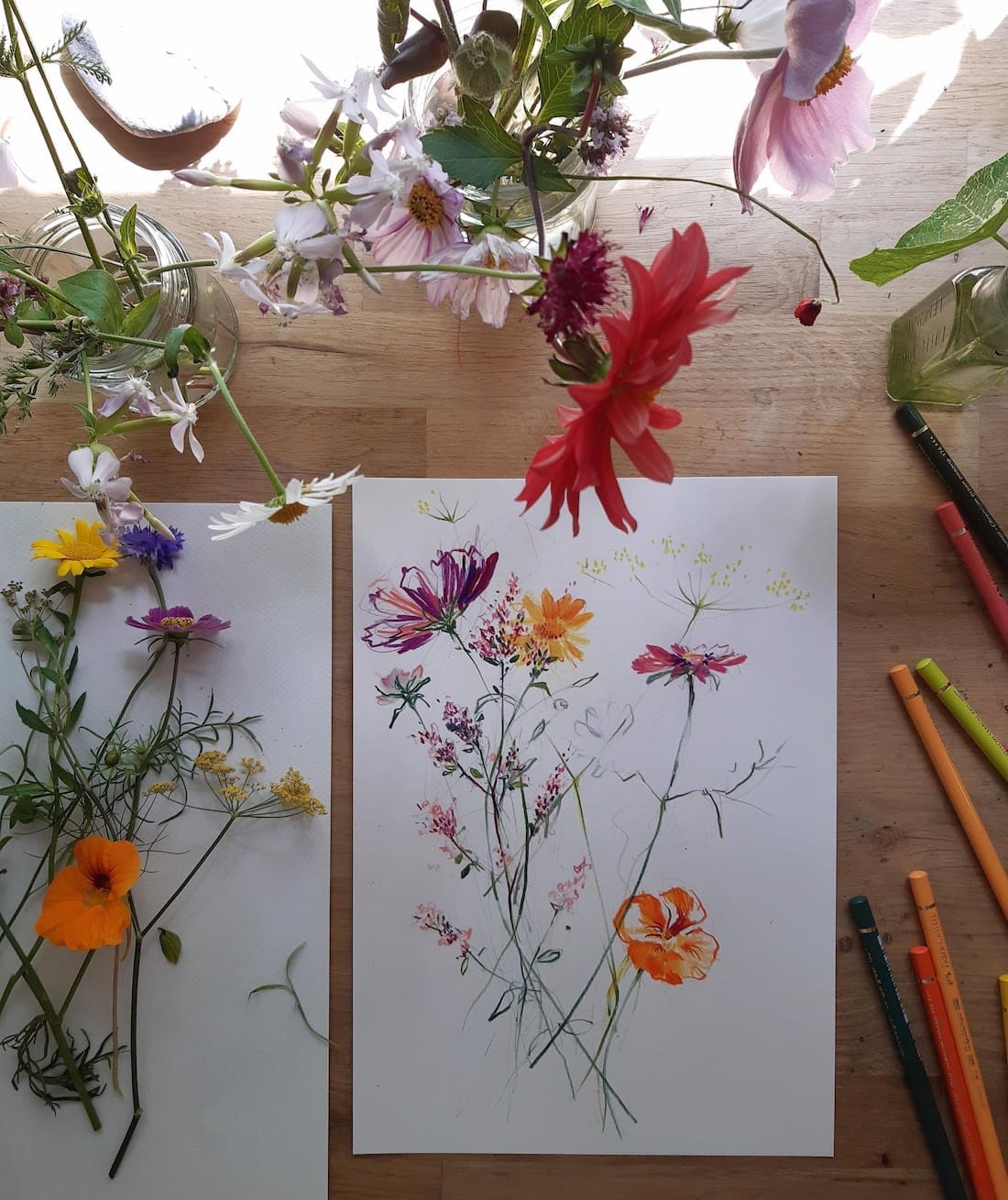 Claudia's rustic beauties have captured the attention of brands and businesses in some exciting collaborations.
"I've just finished a big commission for a new restaurant in London. It was size A1 — the largest I'd ever done and a real test. But I got so much out of it, and I really want to pursue working on a larger scale.
"Another recent commission included a series of illustrations for a British beauty company. That was really wonderful to work on. I can't wait to see how they've turned out on the packaging!" says Claudia excitedly.
"It's also got me thinking about how I can apply my work to different formats."
Thank you so much to Claudia for sharing her art with us on the blog. You can find more of her hand drawn floral illustrations on her Instagram page, or via her website.