When it comes to remodelling the home, the cost of bathroom renovations often catch people by surprise. While it's straightforward to calculate the cost of materials and fixtures, such as a bath, tiles or tapware… the cost to have these installed is often drastically under-estimated!
According to Canstar, the average cost of bathroom renovations in Australia is around $19,500. That's a big investment for just one room of the home… and if you're anything like us and love luxe features, that cost can easily blow out!
But before you delete the mood board and cancel plans of updating the bathroom, this useful guide will help you better understand where all the money goes. It could even help you save time and money without sacrificing your design vision.
Related article: Everything you need to know about lighting your bathroom
Related article: Create you own tropical jungle: 10 plants that thrive in the bathroom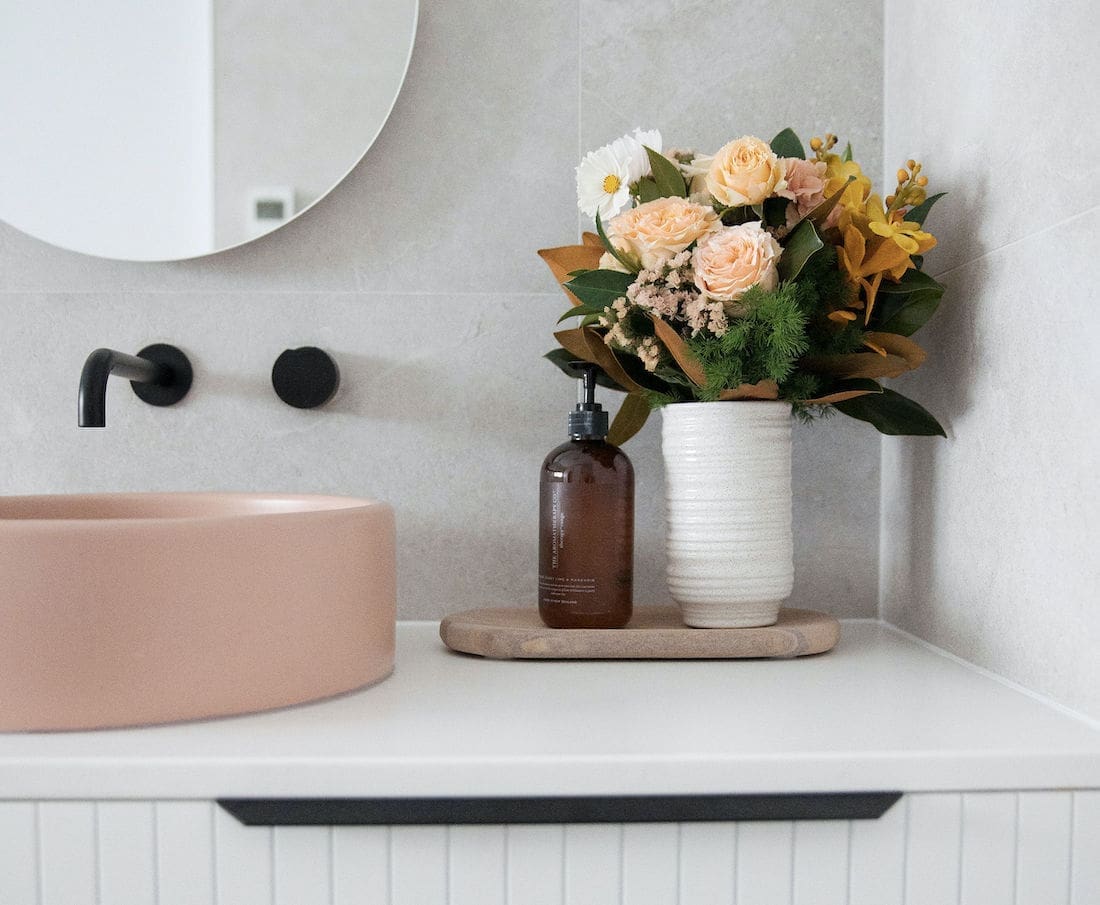 Words by Metropolitan Plumbing
The hidden benefits of bathroom renovations
There are many worthwhile reasons to carry out bathroom renovations that go well beyond achieving a new look and feel. While many of us desire a modern aesthetic, having a functional space is even more important. An accessible, practical wet room may even add value to your property.
Accessibility
Updating your bathroom with modern amenities can make it more accessible for the people living in your home. For example, lowering hooks or using stands for electric toothbrushes for kids can help cater for children, while installing handrails and a walk-in shower can make life easier for older family members. Weigh up your family's needs, and renovations might end up improving daily routines. 
Performance
Upgrading to quality water-saving shower heads and taps can significantly save on your water usage (and water bills!) while still providing strong flow. You could save up to 5000 litres of water each year and the energy that goes into heating it. Another energy-saving idea is to switch to LED lights or to install a skylight to take advantage of natural light. And just like any room in the home, using quality insulation can also help towards lowering heating and cooling costs.
When it comes to materials, going with larger tiles minimises the amount of grout. Grout is the weakest part of tiling and can often crack, discolour or become mouldy. Make cleaning a breeze and avoid issues by sizing up! You can find more information about grout here.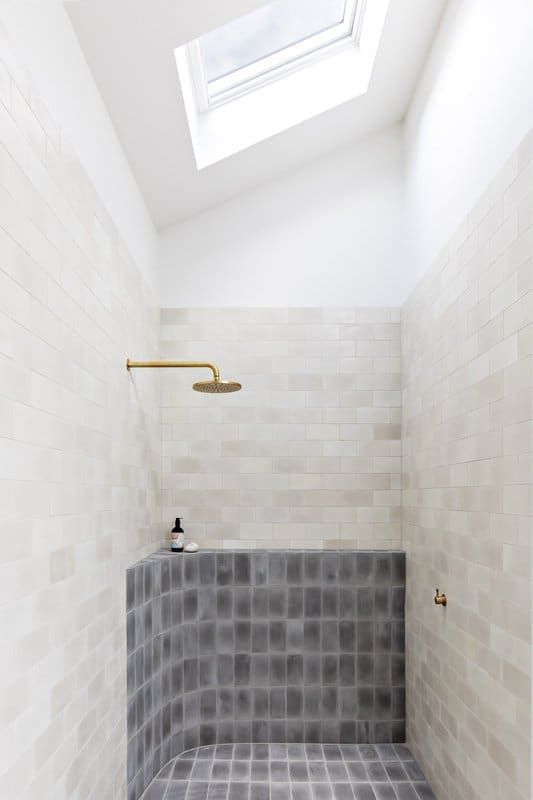 ---
---
Property value
Thinking of selling your home? According to Open Agent, bathroom renovations and updating the kitchen are two of the best ways to increase the value of a home. However, this will always depend on the property, location, buyer and market conditions.
Now that you're sold on the benefits of renovating your bathroom, let's look at what the bathroom renovation will cost!
Bathroom renovations costs revealed
You could be looking at $5000 for small bathroom renovations to well over $40,000 for master bathrooms. It all depends on the size of a room, the choice of materials and the labour costs to have them installed.
Labour can be the biggest expense as you may require a local technician, tiler, plumber, builder and electrician depending on the scope of work. DIY renovations can save you some money, but anything involving water, waterproofing and electricity should always be left to the experts.
Small bathroom renovations
It's possible to achieve that desirable design for $5,000 if your small bathroom renovations are mainly cosmetic. New taps, knobs, towel racks, paint, a toilet and a mirror could fall within this range and may be all that's required to breathe new life into the room. Make it closer to $10,000 if you want to add a new bath, shower, vanity and lighting.
As mentioned earlier, it is possible to purchase bathware and fixtures cheaply but it's the cost to install them that can really see your bathroom renovation costs escalate.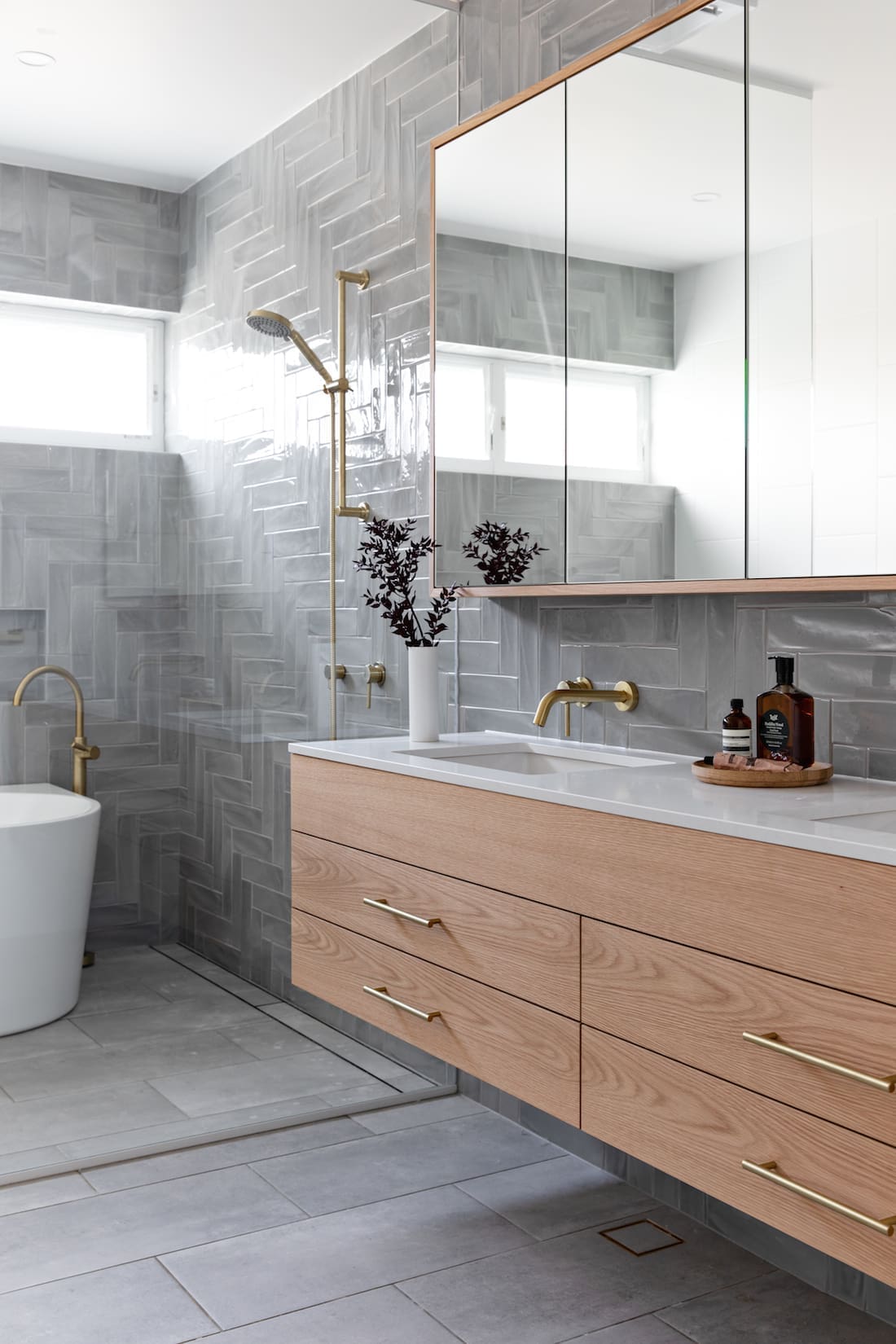 Standard renovations
Bathroom renovations for a standard-sized room could cost between $10,000 and $30,000. We're talking about a complete remodel. So, new vanity, shaving cabinet, bathware, tiles, lighting, ventilation and anything else required for your remodel.
Why so much? Once again, it's the labour to remove the existing tiles, toilet, shower, bath etc. Plus the work required to move plumbing and drainage and any custom fittings required.
Tiles are one of the big expenses. They are priced between $30 to $200 per square metre. Even more if you're chasing real terrazzo or natural stone. And the cost to have tiles installed generally costs upwards of $60 per square metre. When you consider that most people tile the floor and all walls to the ceiling, these costs quickly add up.
Luxury renovations
A master bathroom remodelled with luxury items and designer products will likely cost over $40,000.
Consider the cost of designer tiles or real terrazzo. Then add a freestanding bath for around $2,000-$5000 (depending if you choose acrylic or stone), a double sink and vanity for upwards of $3,000. Then explore the costs of a backlit mirror, custom-designed walk-in shower, luxury underfloor hydronic heating and the labour to make it happen. Finally, consider the above and add lighting, ventilation drainage and storage, and that $40k starts to make more sense.
Of course, if you have the money to achieve that dream design, then you should go for it! But if you're looking for ways to reduce the number of zeros on your quotes, we've got a few cost-saving tips to help you get started.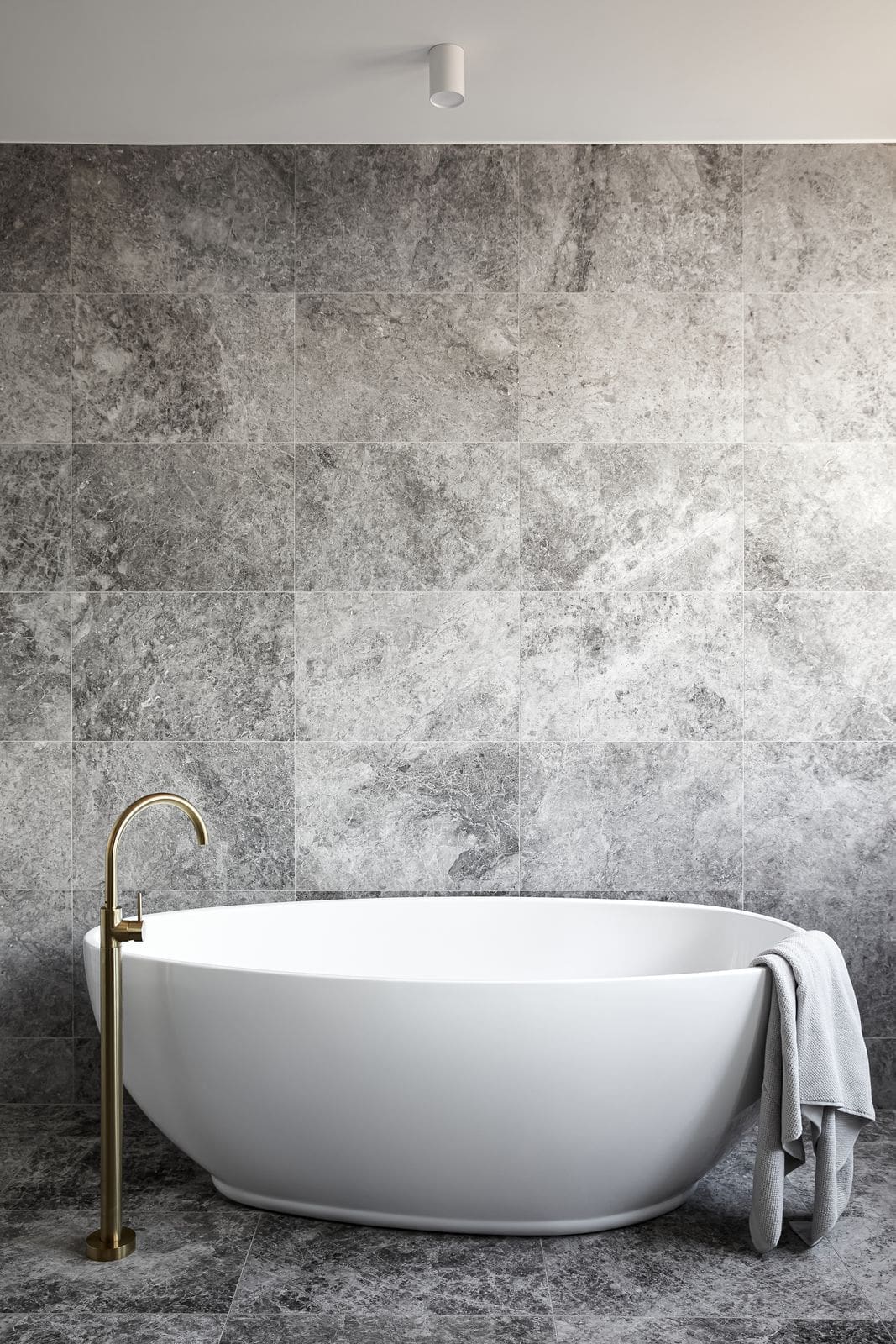 5 bathroom renovation cost-saving tips
1. Don't move the plumbing
The easiest way to reduce the cost of bathroom renovations is to cut back on the need for professionals. You can still get the new amenities by leaving the plumbing and drainage in existing locations. This could save you a $5,000 or more than if you were to go with a whole new bathroom layout.
2. Tiles can be painted
If you're looking for a budget bathroom makeover, consider painting your tiles rather than re-tiling. It will save you the cost of removing the existing tiles, possibly having to re-sheet, waterproof and finally install new tiles.
Of course, if you're going to paint tiles, preparation is everything. Start by giving them a good scrub and then light sanding. This will help the primer and paint adhere to the surface. You should apply a primer first and then a specially designed tile paint in your choice of colour. Tile painting can be a DIY job, and it could shave thousands off the price of renovations.
3. Mirror, mirror on the wall
Adding a designer mirror can create an optical illusion of the bathroom being larger than it is. The mirror will also help reflect natural light, brightening corners and dark spaces, ultimately making the bathroom more inviting.
It's a cosmetic update that may create enough of an illusion that you don't need to make other, more costly upgrades?
4. Revamp rather than remodel
Bathroom renovation is a broad term that can cover everything from refreshing a few fixtures, to completely gutting a space and starting new. If you can revamp the space by updating tapware, door fixtures and lighting, you'll go a long way in saving significantly. For example, timeless black fittings will bring your bathroom into the modern era without breaking the budget!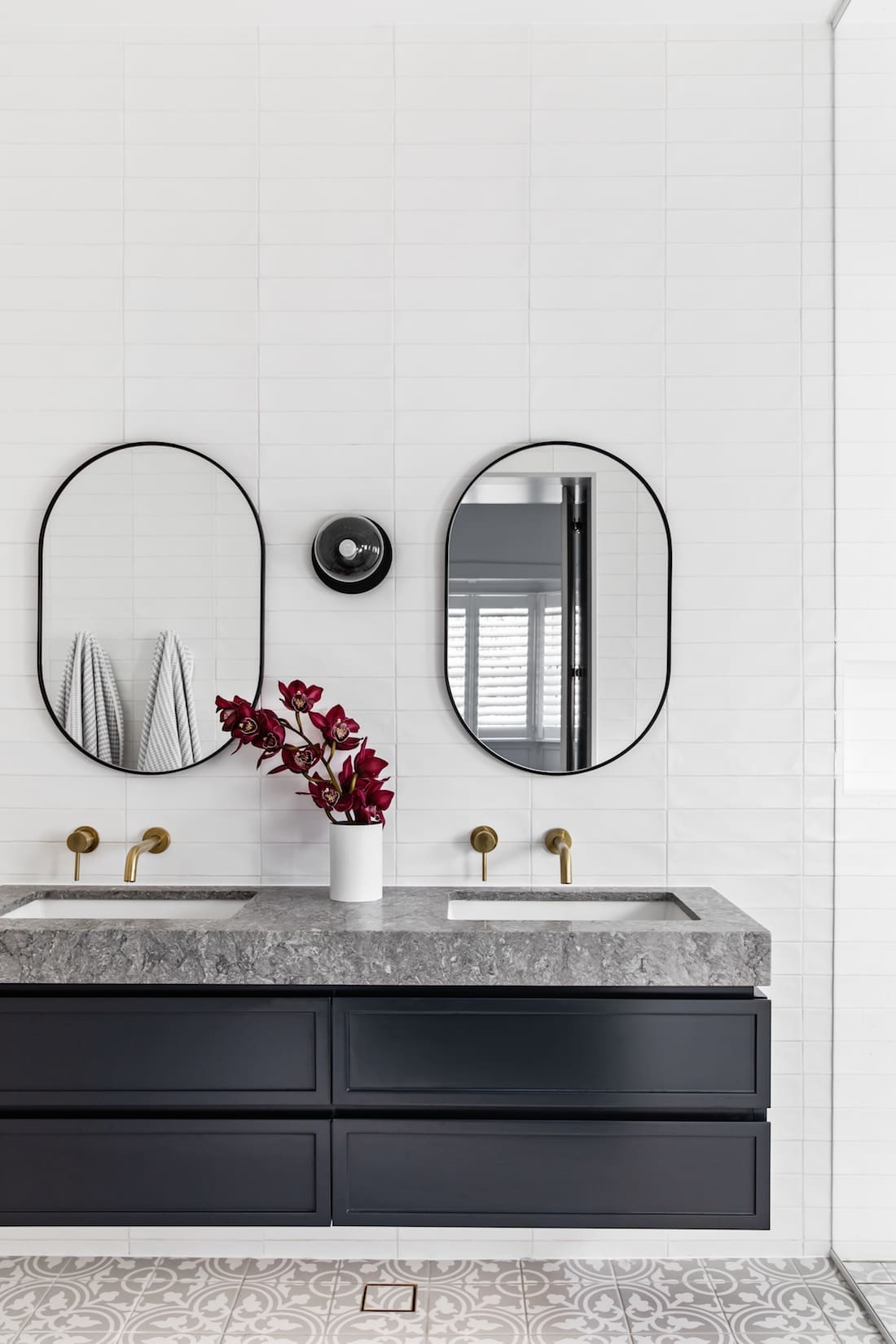 5. On-sell any bathware or fixtures of value
If you're set on undertaking a full bathroom renovation, you may be able to put some money back into the piggy bank along the way. It's possible that some of your bathroom fixtures could be of value to others and may be removed without damage.
Anything from old baths to windows can be sold on sites like Gumtree or Facebook marketplace and add a little cash boost to your bathroom reno. That hideous retro lighting you can't wait to get rid of? It might just be on the wish list of someone else! So hold back on swinging around a sledgehammer and remove everything with care for the chance it could help fund your dream bathroom reno.
We hope these insights on the cost of bathroom renovations helps you with your next project. If you have any questions, pop them in the comment section below!