It's not everyday we get to take a look inside a penthouse. And while this one might be a touch over budget for most of us, it does have a totally luxe materials palette and plenty of design inspo.
Come inside this amazing Kew penthouse as we take you through the top design elements to steal for your place. Get ready to be wowed!
Related article: The dos and don'ts of custom joinery
Related article: 10 luxurious design features to steal from the new West Village project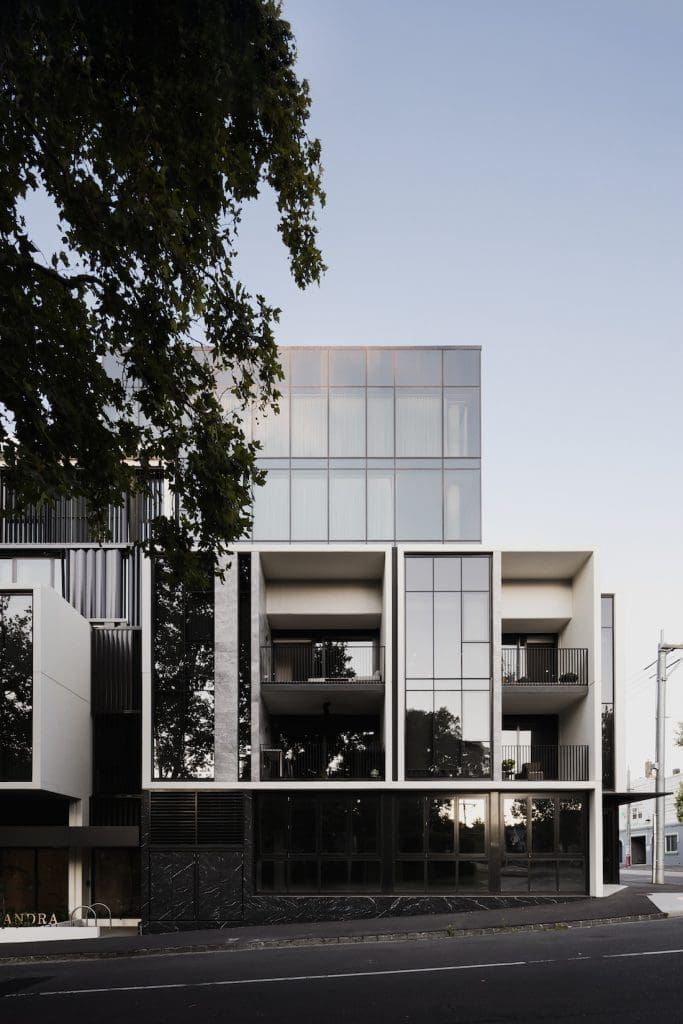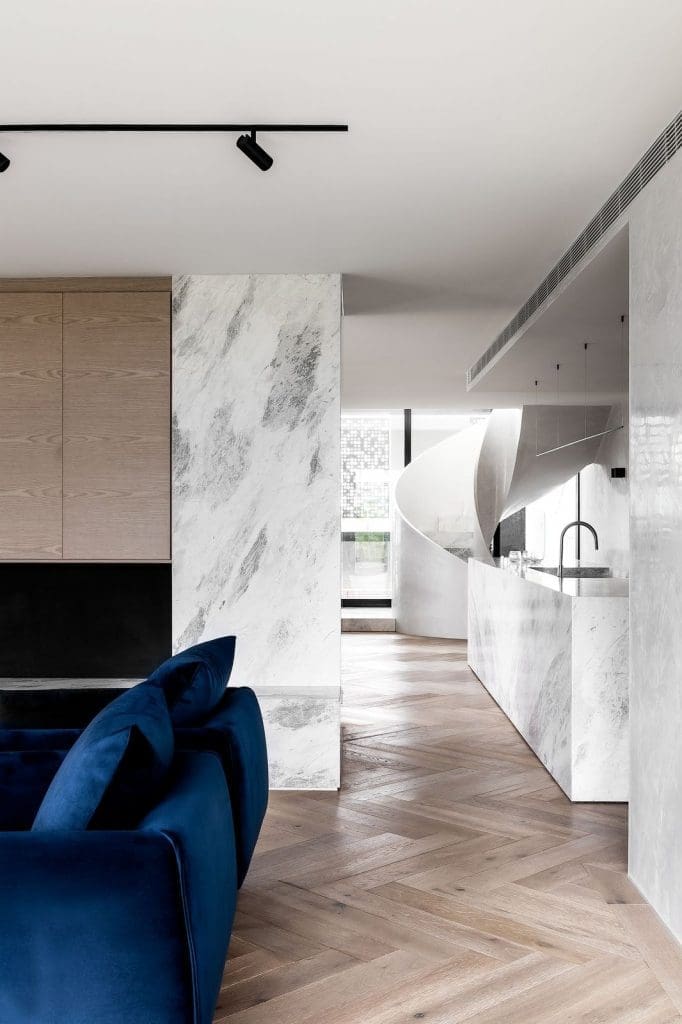 Stealing the best views of Kew in Melbourne, this penthouse is part of the luxurious Alexandra apartments from Franzé Developments.
Spanning across two levels, this property was previously the landmark Allen's Music store before eventually becoming luxury apartments.
Boasting 4 bedrooms, pool and alfresco dining area, marble and oak kitchen, media room and a lift (yes… a lift!) this penthouse has a lot to envy. Oh… it also has a 9-car garage and a dedicated wine room.
And while most of us aren't in the market for a home this grand, what we love is its luxe materials palette. Things like Elba marble, polished plaster walls and Italian joinery. We show you how you can take these high-end finishes and make them work at your place.
Here are just some of our fave features…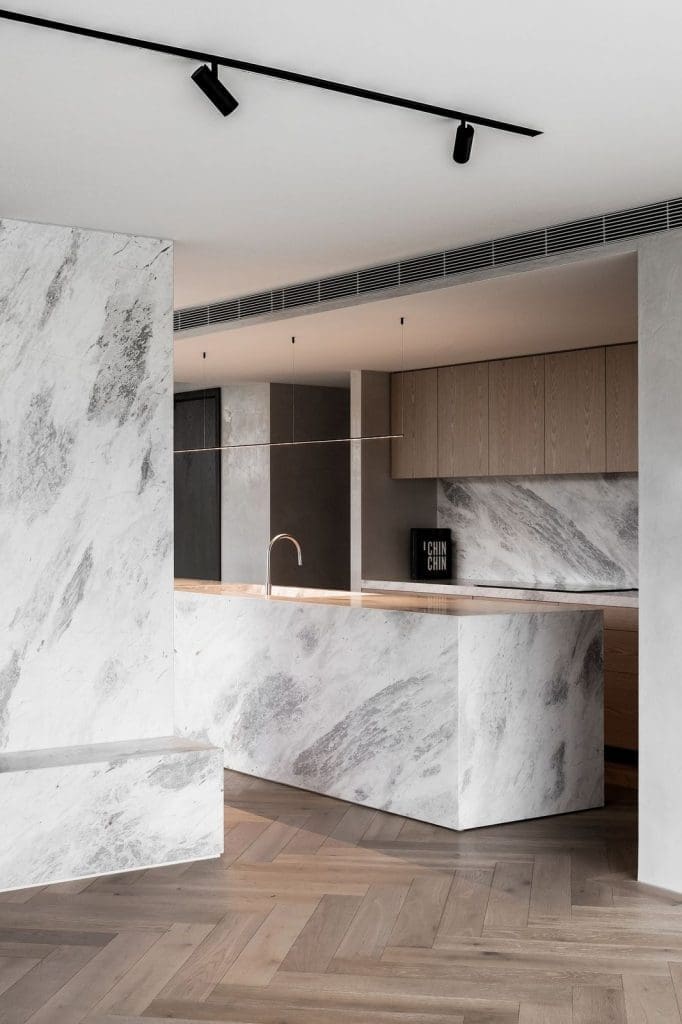 Oak parquetry floors
We adore hardwood flooring and even more so when it's laid in a parquetry or herringbone pattern. It instantly gives a sense of luxe and elegance that's hard to ignore.
This penthouse boasts oak parquetry floors throughout. It's a feature you may like to incorporate into your next project or home renovation. And if solid wood flooring is out of budget, you can also create a similar look with realistic timber-look tiles — not only are tiles more affordable, they don't have the maintenance issues of timber and you can install underfloor heating. Win win win.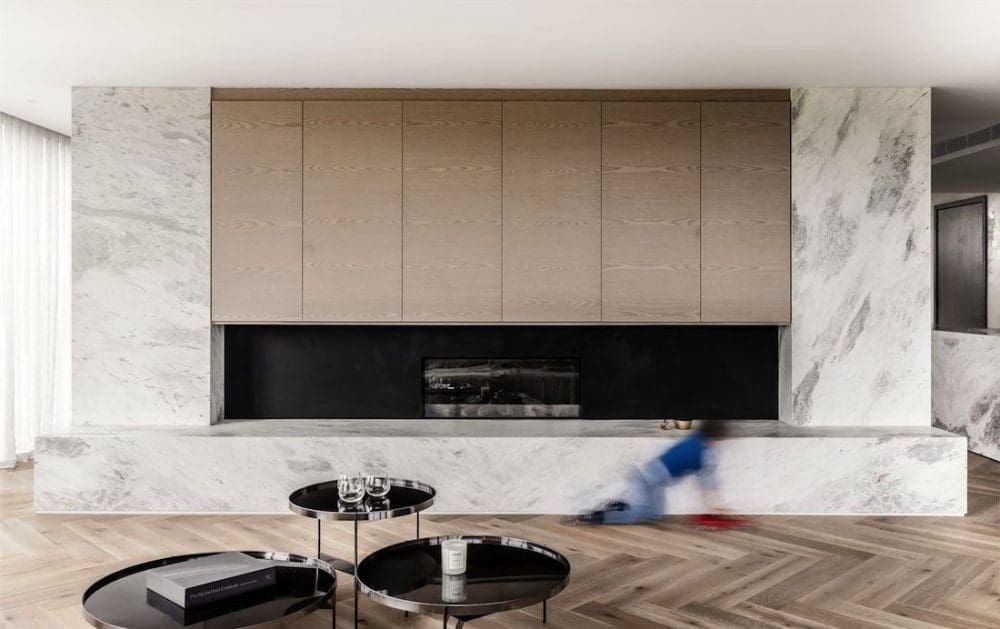 Textured walls
The polished plaster walls is a take on a textured wall we're seeing more of these days and we're totally on board with this trend.
Plastered walls are an understated way of adding texture and interest to walls, while fitting with the organic, return-to-nature interior trend that's taking over.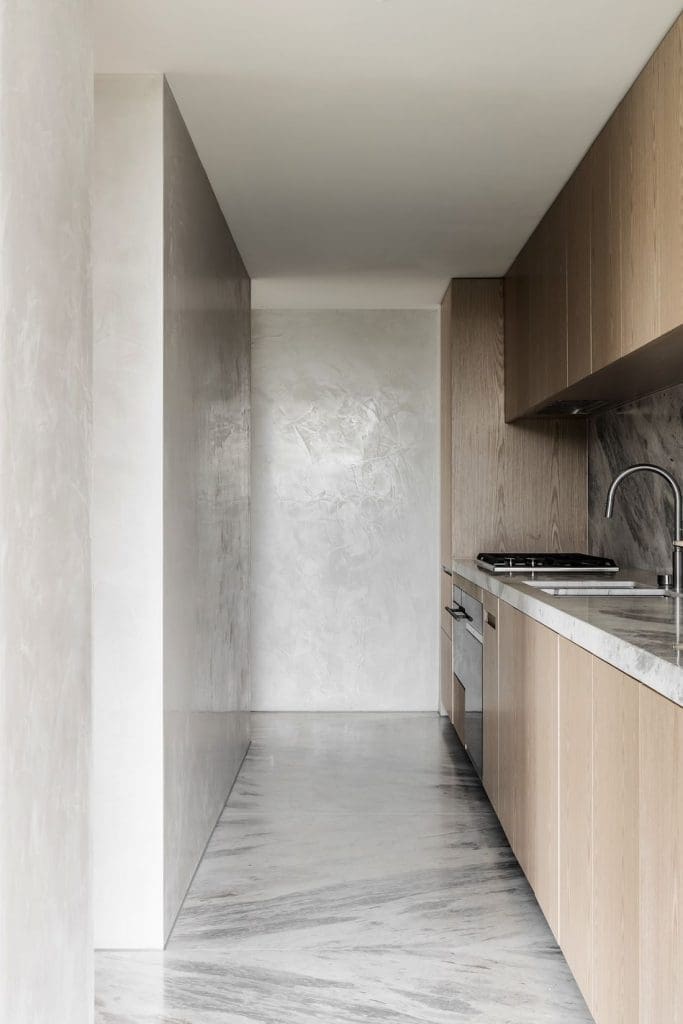 Curved staircase
Another interiors trend we can't stop lusting after is curves. Whether it be curved walls like we saw on The Block, or a curved kitchen benchtop, we love them all!
Taking it to the next level (literally!), this penthouse uses sleek and elegant curves in this stunning Elba marble staircase. This ribbon staircase is one of the most prominent wow-features of this property.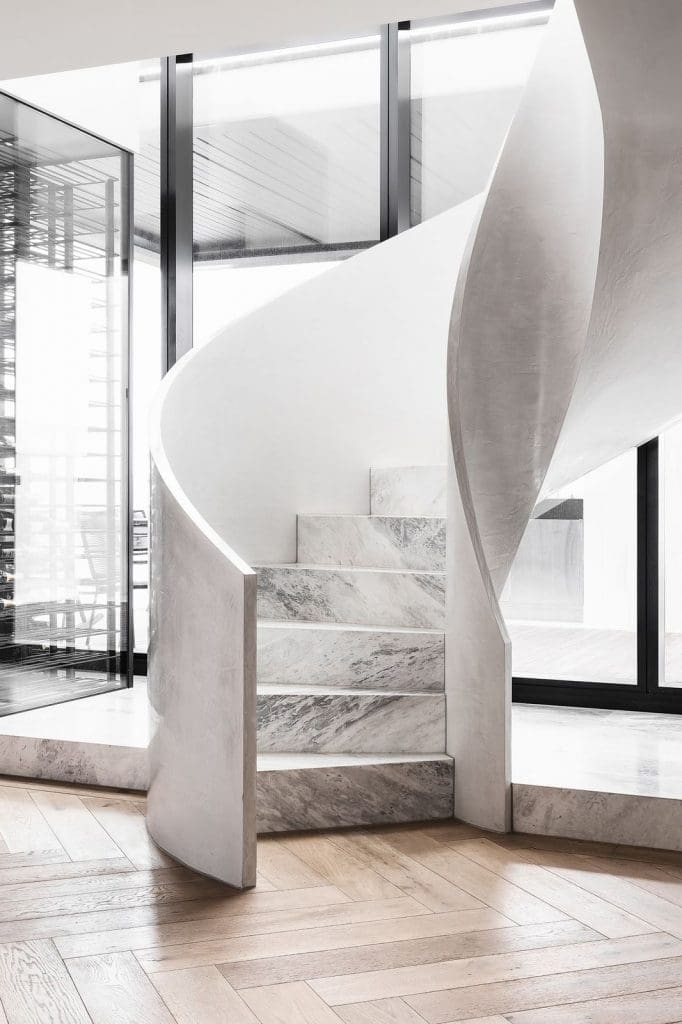 Wine room
A feature definitely worth stealing is the temperature controlled glass wine room. We'll just say that again. A wine… room. And while you may not be able to dedicate a whole room to your love of grapes, we do love the idea of the glass walls.
Perhaps it's just a cupboard in your kitchen or that awkward space under the stairs. Adding a glass door or panel is a fabulous way to make a real statement from of an otherwise hidden beauty.
Understated lighting
While lighting is often used as a statement feature, in this home, the understated black track and minimalist wall sconces allow the other elements to do the talking.
We love the simplicity and how they're almost non-existent. The suspended extrusion light in the kitchen is virtually invisible, letting the marble and oak features shine as the real heroes of the room.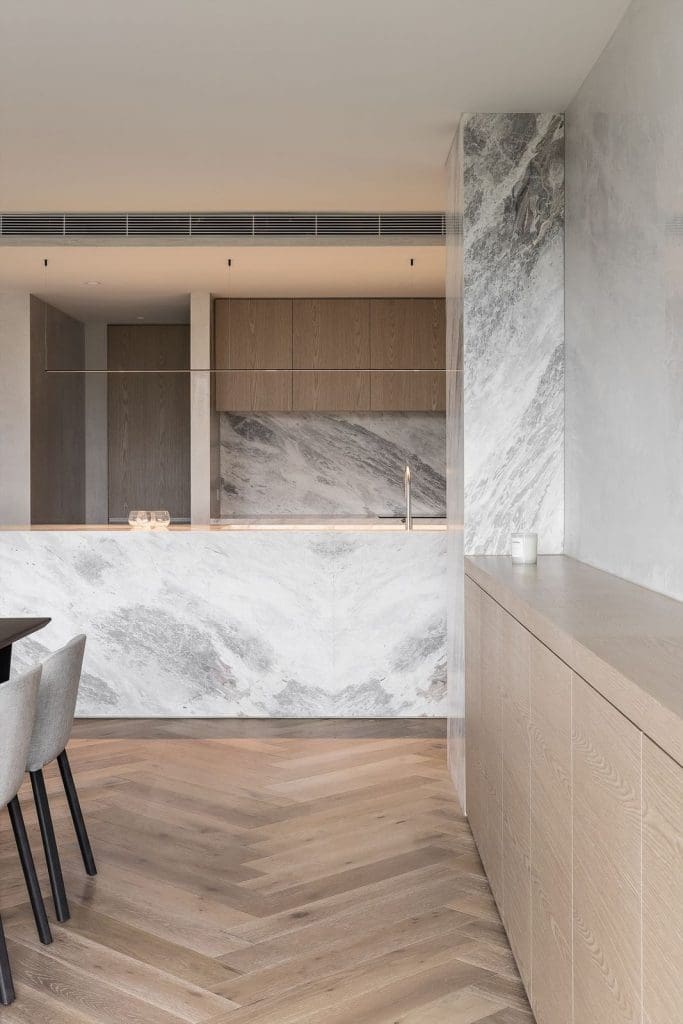 Custom Italian joinery
If there's a design element in the home where it pays to do it really well… it's joinery. The custom Italian joinery seen throughout this home is sleek, sophisticated and oh-so stylish.
Custom joinery is an investment that can completely transform and add value to a space — both aesthetically and functionally.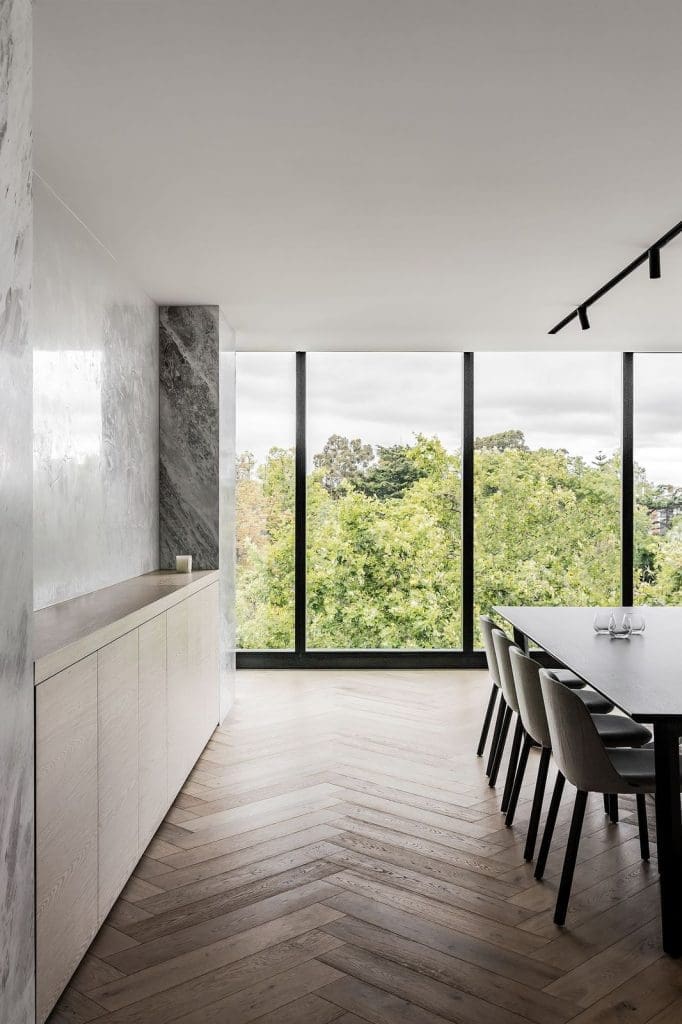 Marble
Ok… so you might not use quite so much marble for that luxe materials palette at your place, but it's pretty hard to miss in this Kew penthouse.
In the master ensuite and 2 additional ensuites, marble is everywhere. It features in the kitchen, the living and dining rooms and of course, on that incredible staircase. This home certainly highlights marble to its full potential.
Let it be your inspiration and go for a marble feature in your kitchen such as a splashback or benchtop. In the bathroom, try a feature wall or use it for a statement vanity. For the lounge, a marble plinth is the pinnacle of sophistication.
The key when using marble, is keeping everything else restrained, and avoiding competing stone patterns.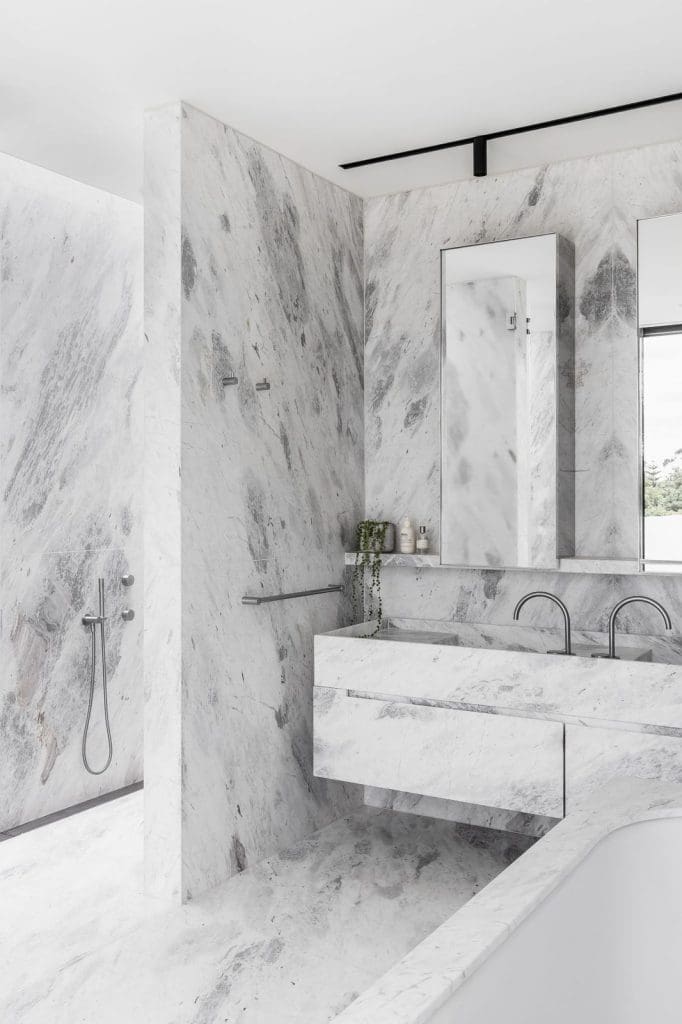 Pool (with a view!)
If space allows, we are 100% on board with a pool. It's perfect for the Australian climate and ideal for entertaining guests (and of course, wearing out the kids!).
We love how the blue mosaic tiles pop against the black cladding, and how they appear to change in colour throughout the day as the light shifts.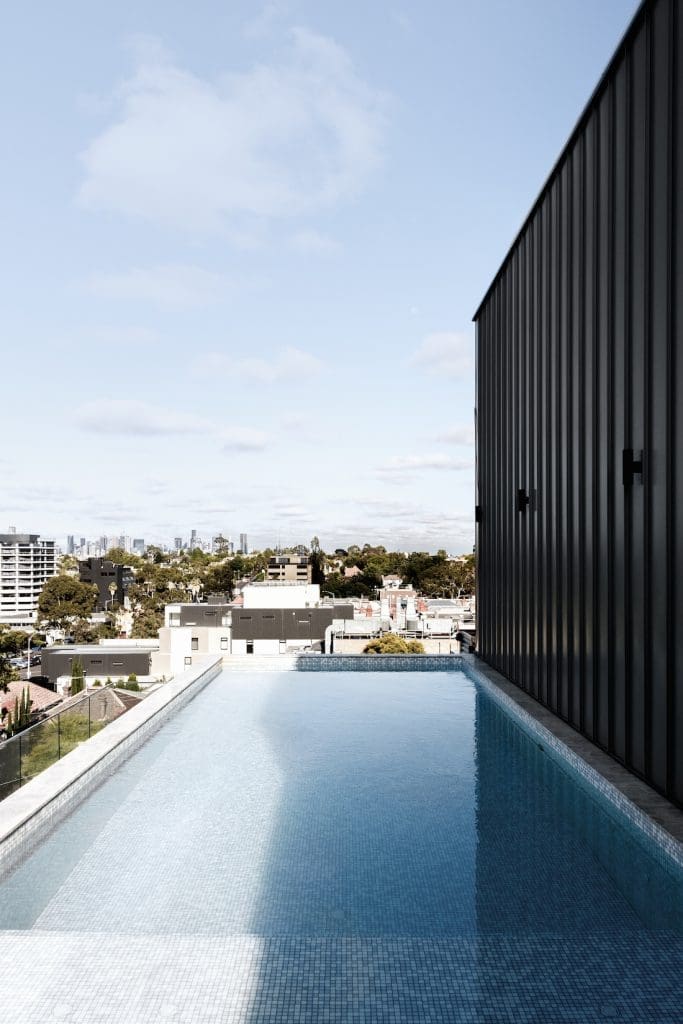 Linen curtains
The floor-length linen curtains used throughout this home are the perfect way to bring warmth and a sense of softness to the interiors. With its large features of marble (which can be quite a cold material) the tactile and floaty qualities of the linen sheers offer that much needed contrast.
Linen is a beautiful texture, and while a house full of linen curtains may not be in your budget, perhaps consider other ways you can bring in this material, such as linen bedding or cushions.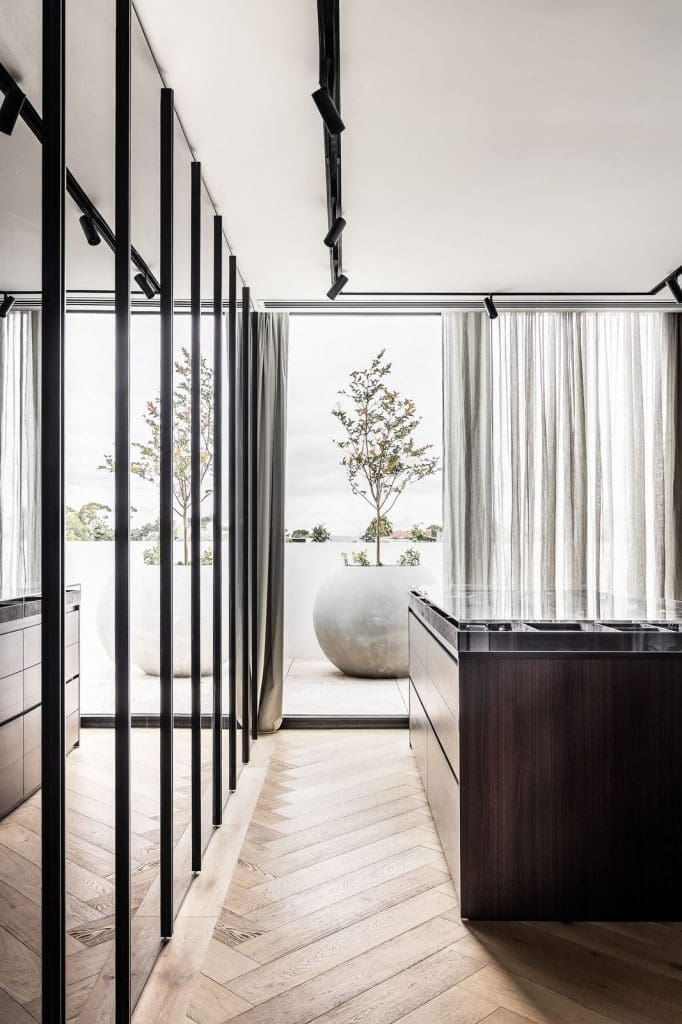 Photography — Timothy Kaye
Design — Dita Studio
We hope you loved taking a look through the stunning Kew penthouse with us! Have you spied any elements from its luxe materials palette you might like to steal for your place? Tell us in the comment section below!