For those who have a pet, you know they're part of the family. A fur-baby, if you will. So it's only fair they get treated as such, right?! To pamper your furry feline, we've searched high and low for the best DIY projects for cats.
We'd go so far as to say, they're purrrfect 😉 . We apologise in advance for all the cat-related puns throughout this round up! Spoiler alert… there's a lot!
Related article: Pamper your pooch — 15 of the best DIY projects for dogs
Related article: House plants safe to have around pets (and which ones to avoid)
Leather kitty litter scoop
If there's one major down side to having a cat, it's dealing with kitty litter. But what if you could make it a teensy bit more glamorous?! Molly from Almost Makes Perfect shares how to make this simple leather cat litter scoop.
We can see this pet accessory looking right at home in a luxury cat room!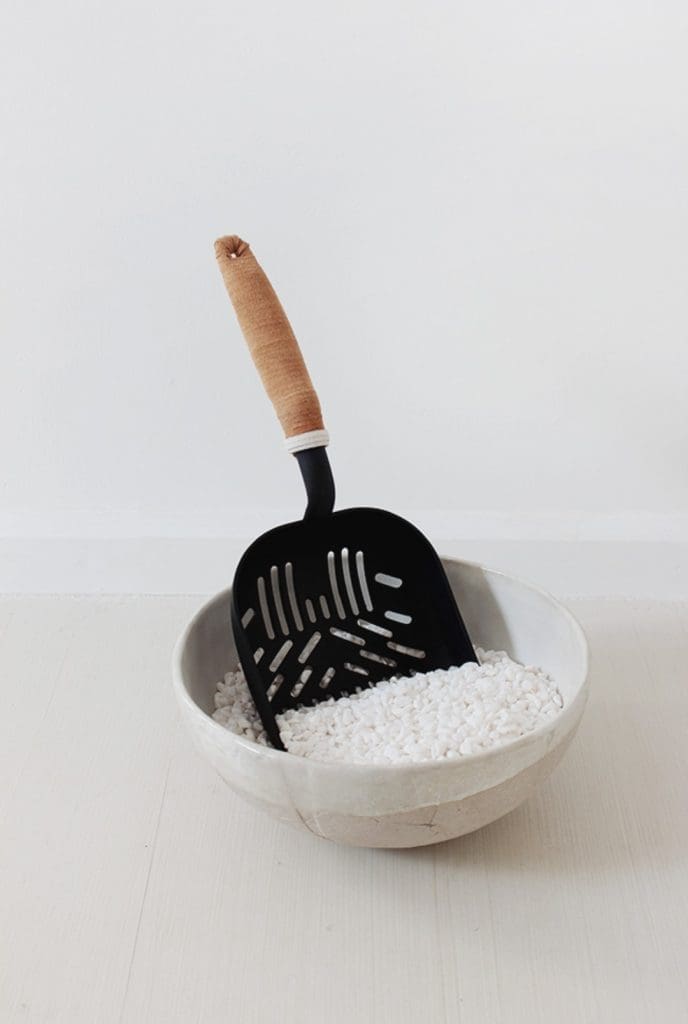 Make them their very own catio
Patios are so last year. This year, it's all about the catio… a patio for cats! Well, not really, but these cat enclosures / cat fence runs / catios are pretty cool if your furry friend likes the great outdoors but can't quite be trusted in the wild.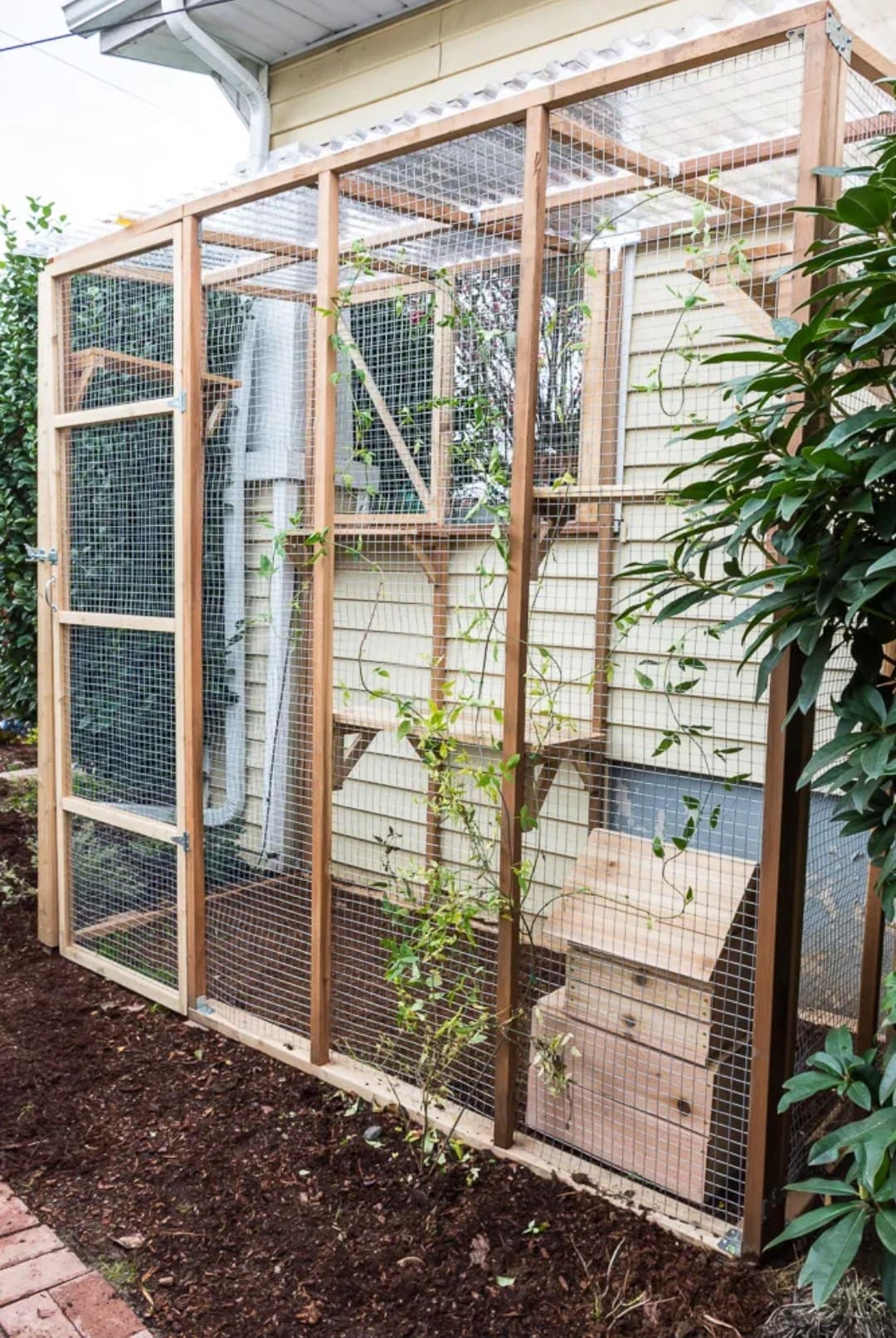 DIY your own cat scratcher
There are a lot of cat scratchers on the market. And lots are… well, a bit of an eye sore! You want to keep your furry friend happy, but keep your home stylish at the same time.
That's why we love this minimalist cat scratcher DIY — another project from Almost Makes Perfect — that would blend seamlessly into any interior .
For another sophisticated DIY project, it's hard to go past this cat scratching post from Martha Stewart. The article includes how-to instructions, too.
If you like a little more colour in your cat room decorations, this colour block scratching post from A Beautiful Mess might be more your style.
This clever creator made a cat scratcher from a simple door mat and picture frame. Cheap and simple to make — our fave kind of DIY!
The makers suggest a coco coir wire door mat, a deep-set frame and heavy-duty tape to secure it in place. And don't forget to hang it with proper anchors and hardware to avoid any damage to your walls when the cats come out to play!
Or, how about this one that use toilet bowl cleaners (clean ones, people! Don't freak out on us!). It's a super simple DIY project that will give your cat pure scratching joy!
You can get the DIY how-to here.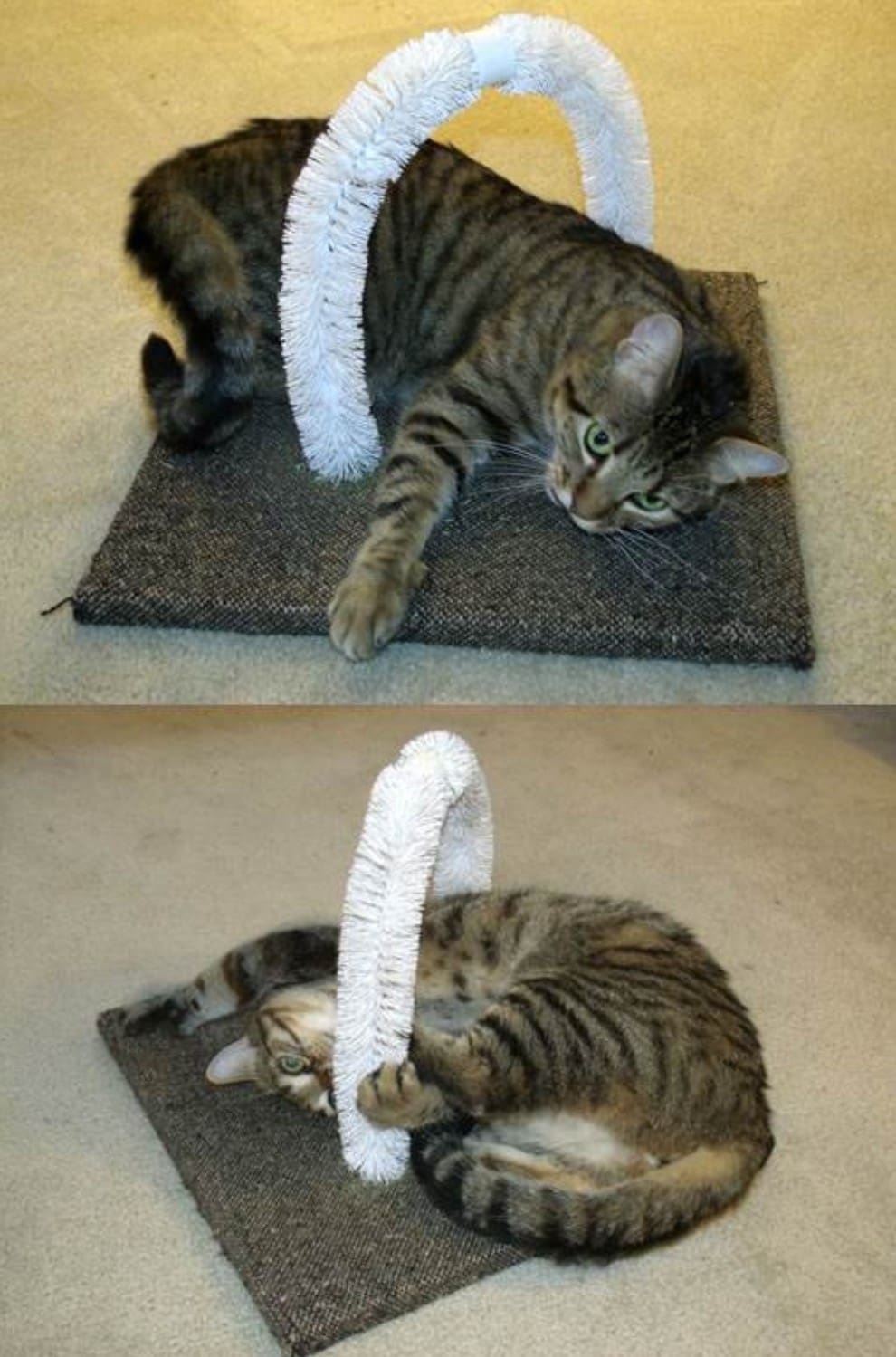 Give them their own piece of architecture — kitty litter teepee
If your cat loves architecture as much as you, why not give them their own little piece of it?! Hide the kitty litter tray out of sight with this architectural-inspired A-frame teepee from Kara Whitten. She shared this DIY project on the Martha Stewart website.
Cosy cat house — crocheted cat nest
If you've ever found your cat nestled in some washing or cosy-ed up under cushions or a rug, chances are they'll love this idea. A cat nest / cat igloo / cat cubby. Whatever you want to call it, it's as sweet as anything!
It's not only adorable, but depending on what colour you make it, will blend in beautifully with the rest of your home. Pop in a cat cushion and your pet will be so comfy, there's a very good chance you may never see them again!
You can find the free pattern on Eilen's website. Just a note: she's a Finnish blogger so you will need to translate the page. However the pattern is available in English at the end of her blog.
Give them a view
We all love a window seat, and the same (probably) goes for your cat, too. Take a look at these DIY projects for cats and create a sweet little perch.
Make a cat-binet
The puns are getting a bit much now, aren't they?! But we do think these cat-binets (last time, we promise!) are a stylish idea.
This one has been cleverly incorporated into an IKEA laundry. You can discover even more IKEA hacks here.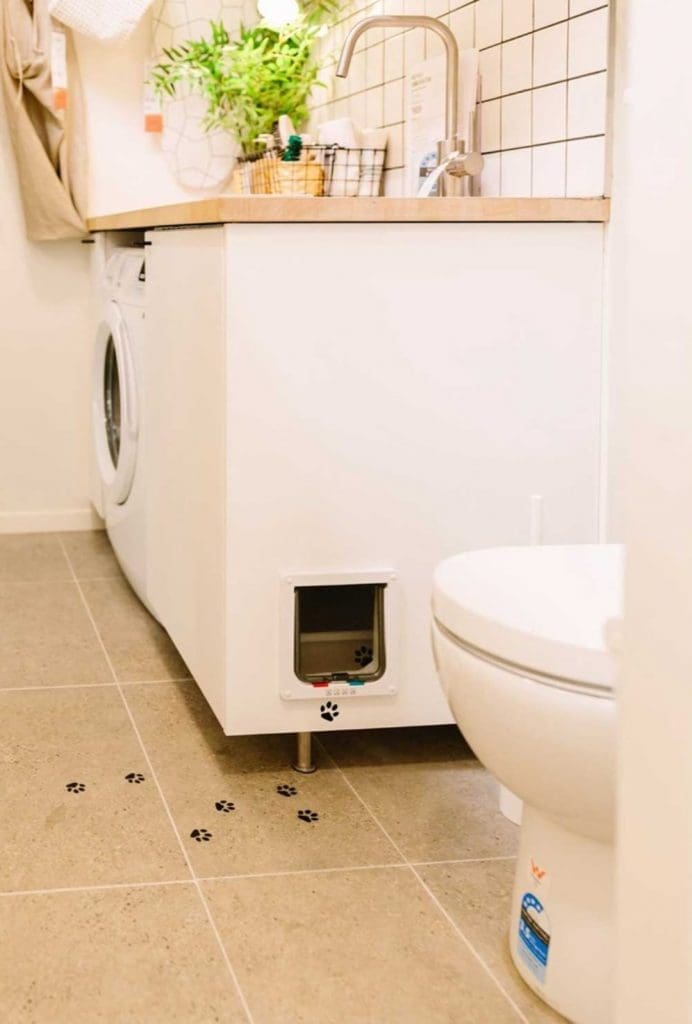 You could upcycle a piece you already have or grab yourself a bargain (or even a freebie) from Gumtree or Facebook Marketplace. We love how stylish and practical this one is that Danae made.
Or, you could even build it directly into some cabinetry like Dana from House Tweaking did here.
Make them a toy
Play time is important for cats. It encourages them to stay healthy and keep their muscles toned and strong. It also allows them to express their natural hunting instincts.
So why not nurture this by DIY'ing a fun toy for them to play with? We love this cute little mouse filled with catnip, or this leather and feather play toy — both of which you can make yourself.
Raised food bowls
No one likes eating on the floor*. Treat your cat like the king or queen that they are, by doing the civilised thing and allowing them to eat at their very own table. You can find the DIY instructions here.
* This may be factually incorrect when it comes to animals.
Jungle gym for felines
If your cat likes the high life, this DIY play system / cat tree might be just the ticket. Using IKEA Kallax boxes and little cat-friendly knick-knacks (including a furry-lined hammock — how cool!) it's a great way to keep you cat content.
Think of it as a jungle gym for your cat!

Dolls bed for kittens
This is hardly a DIY, but it's so darn cute, we couldn't leave it out of our fave DIY projects for cats! Serena used the IKEA dolls bed as a snuggle spot for her kittens. We dare you not to go, "Awwww!" when you see it…
What did you think of our round up of fun DIY projects for cats?! Do you think you might give one or two of them a go? Or perhaps you've spied some great ones of your own you think we should add to the list. Tell us in the comment section below or drop us an email!