We love a DIY project here at Style Curator. We also love our office mascot, Gina's beloved pup Hulk. So today we're combining the two to bring you 15 of our fave DIY projects for dogs.
Pamper that pooch of yours and show them just how much you love them by creating one of these fun, pup-related doggy DIYs.
Related article: How to create a stylish, pet-friendly home
Related article: $5 5 minute pet portrait art tutorial
1. Make your own dog bowl
Ditch brightly coloured food bowls and make your own concrete one! Tanja from miDoggy shares all the steps on how she made this personalised pet bowl. You will need to use Google translate to convert the tutorial from German to English or just follow along from the pictures.
2. Build a Scandi dog bed
Long time fans of Style Curator may remember this Scandi-inspired dog bed that Gina made for her beloved Rottweiler, Arnie. A bit of a bed-snob (and also a pretty massive guy in terms of size and weight) Gina tried her hand at making Arnie his very own stylish large dog bed.
You will need to use a few power tools but it's quite straight forward and you can find easy-to-follow instructions to make this dog bed here.
3. Make your own dog soap
Let's be real. Dogs don't always smell the nicest, so this DIY is sure to get a lot of use — dog soap! These recipes use essential oils and with 4 different scents to try, you're sure to find a fave.
This would also make a great gift for anyone with a dog, or perhaps a gift if you're ever invited to a puppy birthday party!
4. Organise treats with stylish labels
You know how much we enjoy perfectly labelled spaces (like Gina's pantry, fridge or under-sink area) so why not extend this same level of stylish organisation to your pet's supplies?!
Plenty of online stores sell vinyl script labels like the image below but one of our favourite styles has got to be this Etsy store with minimalist labels.
5. Build a classic dog kennel
It just wouldn't be a round up of the best DIY projects for dogs without a classic dog kennel, now would it?! Starting with a basic design, this DIY project gives you so much potential to show off your creative style. We love the shingled roof and personalised name plaque!
6. Mix up a batch of dry shampoo for dogs
Another DIY we can make for our dogs when they're on the smelly side is this dry shampoo for dogs! Using a simple recipe of corn starch, baking soda and optional essential oil to fragrance, this quick and easy DIY can be used in moderation to keep them looking and smelling good between baths.
7. Create a dog leash holder
Fresh air and daily exercise is all part of life with a pup. A great project to try is this stylish dog leash holder. Hang up your pet's leash and other bits and pieces you need when going out and about. You could use a silhouette of your own dog to personalise this pet DIY and make it even more special.
8. Build a raised dog bowl that doubles as a feeding station
Many vets suggest raising your dog's bowl to help minimise strain and potential bloating. Rather than just building a raised dog bowl, why not try this DIY feeding station for your dog which has the added bonus of storage below to keep dog supplies out of sight?!
This pet project takes a little more DIY know-how and a few power tools, but we think it's seriously clever and oh so stylish.
9. Create your own dog tent
We all need a little personal space at times… including our four-legged friends! This sweet dog tent is a relatively easy DIY project that could be a great solution for dogs with anxiety. The creator of this DIY is also based in Germany so get ready to turn on Google translate or check out our DIY play tent tutorial which follows a similar method.
10. Give your dog a boost with pet stairs
For those of us with a vertically-challenged breed of dog, you may find they need a little help getting up onto furniture. Why not solve the problem by making them some handy pet stairs!? The ones pictured below come with built-in storage or you can also check out this IKEA hack version of dog stairs using crates.
11. Make a toy storage box
Speaking of IKEA hacks, another thing you can do with those crates is to make a dog toy storage box. Hester from Handmade Home has created a video taking you through all the steps to whip up one of your own!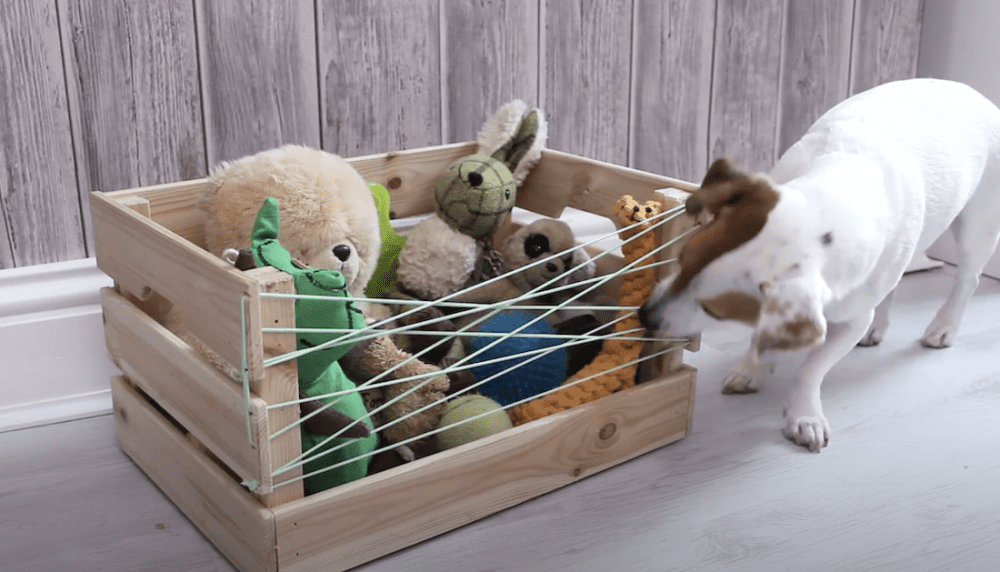 12. Transform your under-stair area into a pet cubby
Turn an un-used or awkward under-stair space into a special pet paradise hang out. Either a place for them to sleep, or somewhere to hide all their pet paraphernalia, this is a DIY your pet is sure to adore and appreciate.
13. Mix up a batch of pet deodoriser spray
Ok, so by now you've probably cottoned on to the idea that as much as we love dogs, we don't always love their smells! This DIY pet deodoriser spray is perfect for when your dog has been digging in the garden or gotten their paws onto something they shouldn't have. A few spritzes of this and they'll be smelling sweet in no time!
14. Sew a stylish dog bandana
If your canine is a fashionista who craves a stylish wardrobe, try your hand at sewing a cute dog bandana using this free pattern from Spoonflower.
This project requires some basic sewing skills, but once you've master those, you'll be making one for all their puppy social events!
15. Make a raised dog bed
The final DIY project we love is this raised dog bed. Made from PVC pipes and durable fabric, it's the perfect outdoor snooze spot for your four-legged friend. A handy tip is to get the PVC pipes cut to size in store when you buy them to save yourself time and hassle.
Find the how-to instructions for this raised dog bed here.
So there you have it! 15 of our fave DIY projects for dogs. Which one do you love? And will you give any of them a go? Tell us in the comment section below! Or better yet, SHOW us by tagging us on Instagram with your doggy DIY, and of course, we'd love to see a pic of your pooch too!
Disclaimer: This post was first published in May 2021 and continues to be updated with the latest dog DIYs.