We know you guys love a hack just as much as we do. Our Kmart and Big W hack round up articles are super popular on the blog, so we thought we should definitely share some more! This time, it's all about the clever, crafty and best ever IKEA hacks!
Related article: 20 of the coolest Kmart hacks EVER!
Related article: Big W hacks to organise or add affordable style to your home
1. Built-in bookcase pantry
An absolute stunner to start us off! If you've been dreaming of an open pantry, this BILLY bookcase DIY hack from Breakfast at Kellie's is the perfect way to get the look on a budget. We can't even tell it's a bookcase! Check out the full DIY tutorial on her website.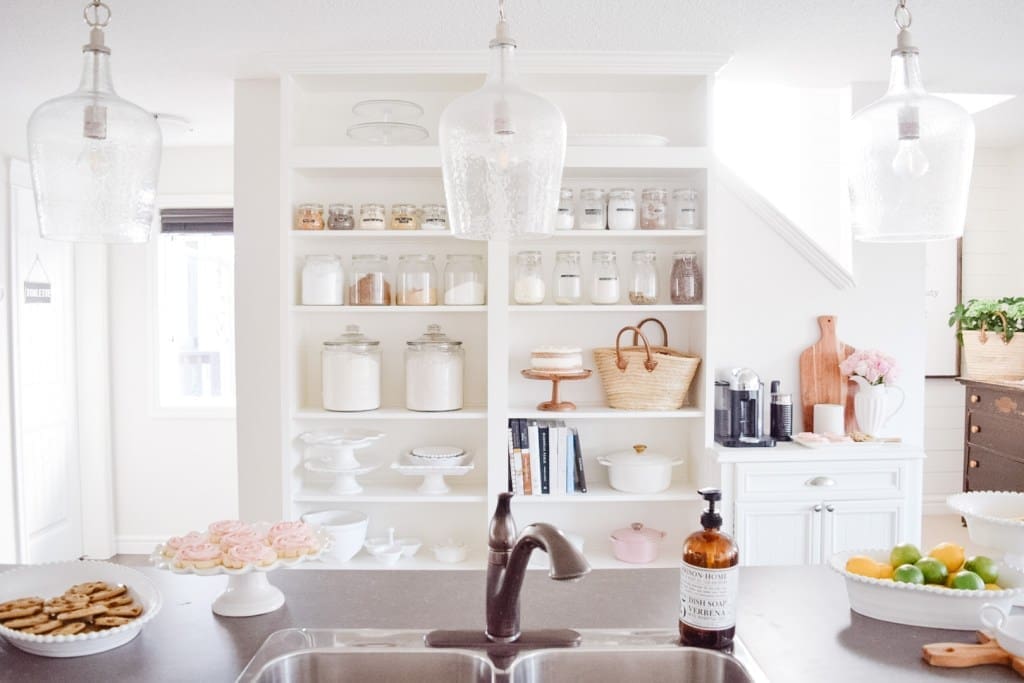 2. A plain dresser gets an amazing makeover
This HEMNES chest of drawers is kinda generic, don't you think? But just look at what Lisa from @knots.and.pots.home on Instagram did! A hack that creates such a high-end look on a budget. You can recreate the look following all the DIY instructions here.
3. Stylish floating entertainment unit for a bargain price
When it comes to lower priced furniture, often things can look… cheap. But not if you do it right. Take a look at this incredible entertainment unit styled by Tess. Using the incredibly affordable BESTA TV bench, Tess wall mounted hers and placed her TV off centre to create a chic, sleek and stylish living room.
And all that storage to hide everything away — we are in love! Oh… and yes, we know this isn't exactly a hack. But it's so gorgeous, can you blame us for including it in our fave ever IKEA hacks post?!
4. Shelving units turned kitchen island
If you're feeling a little crowded in your kitchen, have a look at this kitchen island hack! Jen Lou Meredith came up with this hack using KALLAX shelving units. It's small, storage savvy and mobile, so you can move it as you need to! It may require a little DIY know-how, but if you're feeling adventurous, you can find her tutorial here.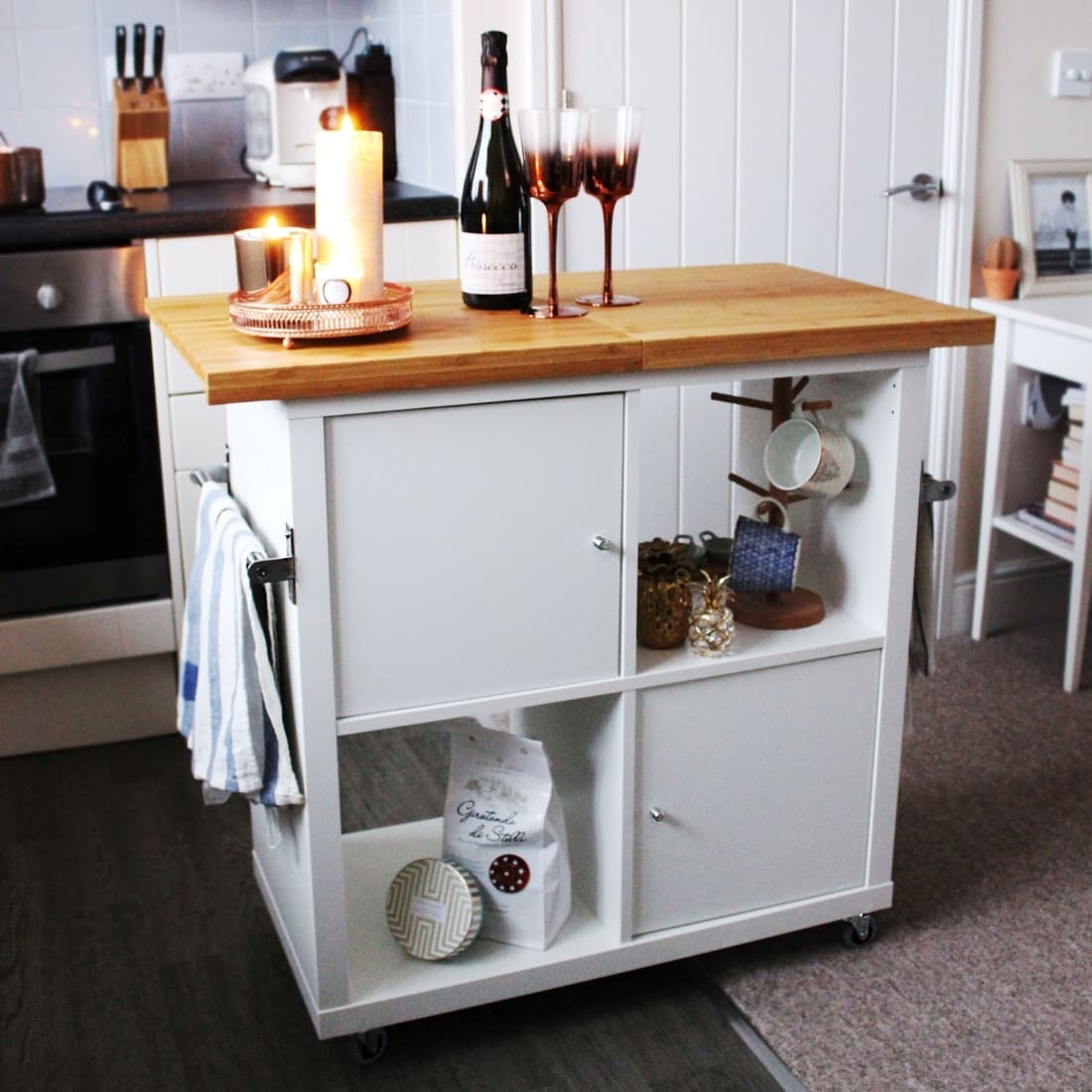 5. Kitchen cabinets become living room storage
IKEA is renowned for its affordable kitchen range but why restrict it to just one room? The ever-so-talented Shelley from DIYshelley (who we've featured on the blog a few times!) used IKEA kitchen cabinetry in her living room as her TV cabinet and clever added storage. So smart and functional!
6. Cute as a button mushroom lamp
Who knew you could make a cute as mushroom lamp from a mixing bowl and a canister?! One of our fave DIYers, Geneva Vanderzeil did just that using the metal bowl and canister, both from IKEA. You can find the full tutorial here, and by the looks of it, it looks super simple!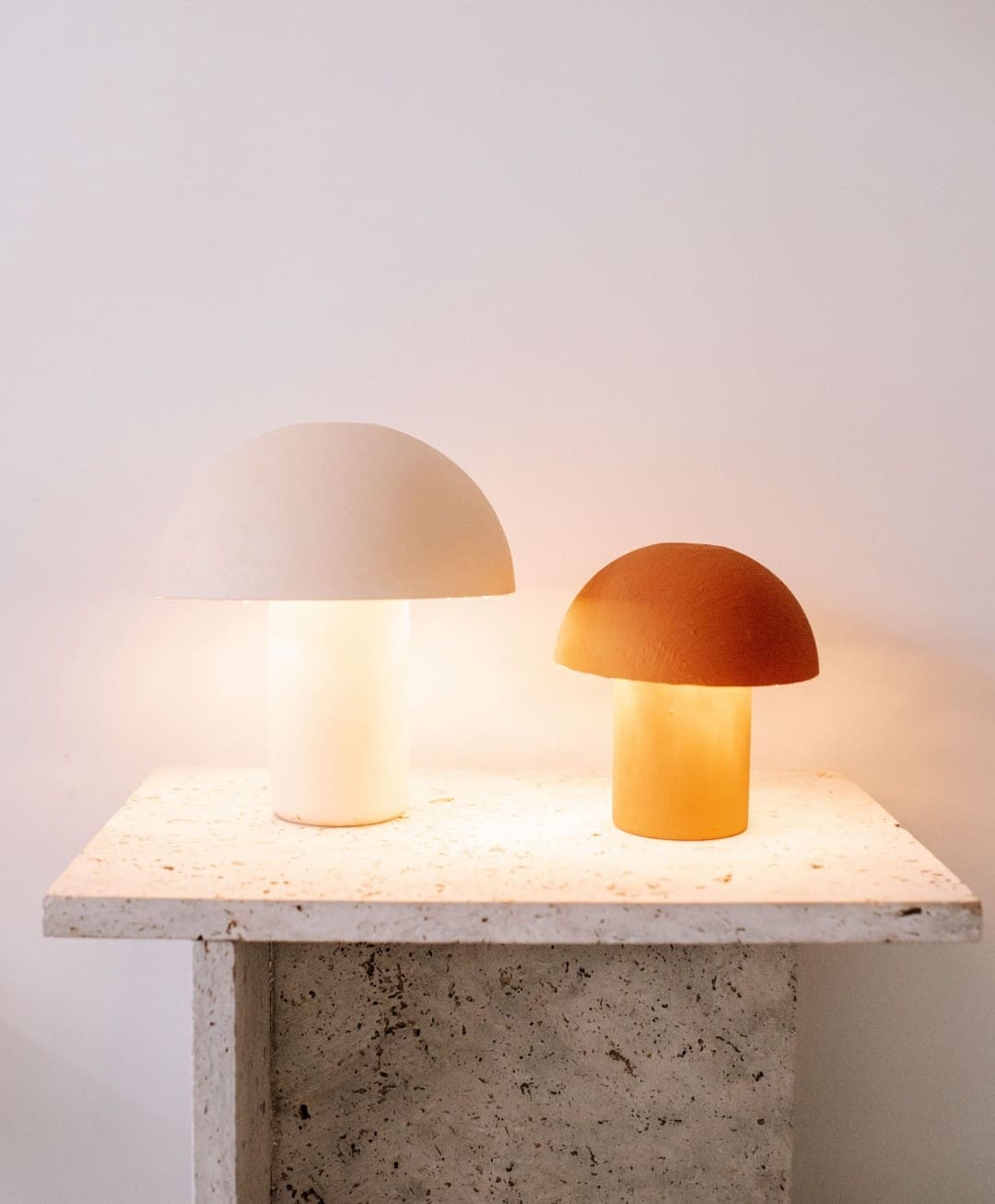 7. Clever use of kids stools… and IKEA doors!
If you're a parent, you probably have one of the BEKVAM step stools at your place. But here's a use for it we'd never considered.
Using 2 step stools and, get this, 2 FONNES doors, you can get this brilliant and cost-effective TV unit!
Yep, that's right, kids step stools and doors! Such a unique idea!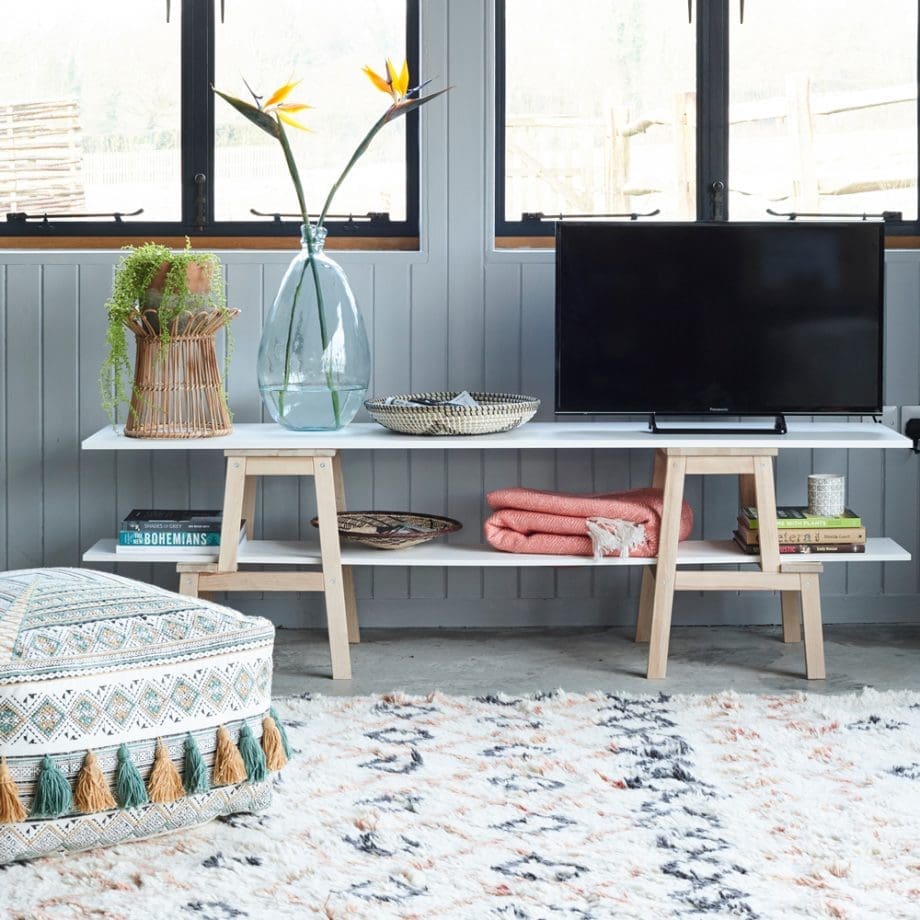 8. Peg board becomes a green wall
Here's one for our plant lovers! Using the already-cool SKADIS peg board, Dani created this wonderful living green wall. Simply add some hanging baskets and pop your plant babies on the shelves and you've got a great idea you can easily do at your place!
9. A curtain rail for hanging plants
Another fab idea for the plant lovers! A great way to display your beautiful plant hangers is by using the RACKA curtain rail. Such an effective solution if you're unable to reach, or can't drill into the ceiling.
10. Luxe chair makeover
Take a touch of gold paint. A simple IKEA chair. And top it with the soft and fluffy SKOLD sheepskin rug.
Voila! Luxe, scandi-inspired chair!
Note: The chair pictured isn't available in Australia but here's a similar style we found.
11. Window bench seat
Using the NORDLI chest of drawers, you can create a gorgeous window seat! Created by Kelin from Hydrangea Treehouse, this easily customisable hack can help you create a stunning bench that fits just right. And who doesn't love extra storage? Find the tutorial here.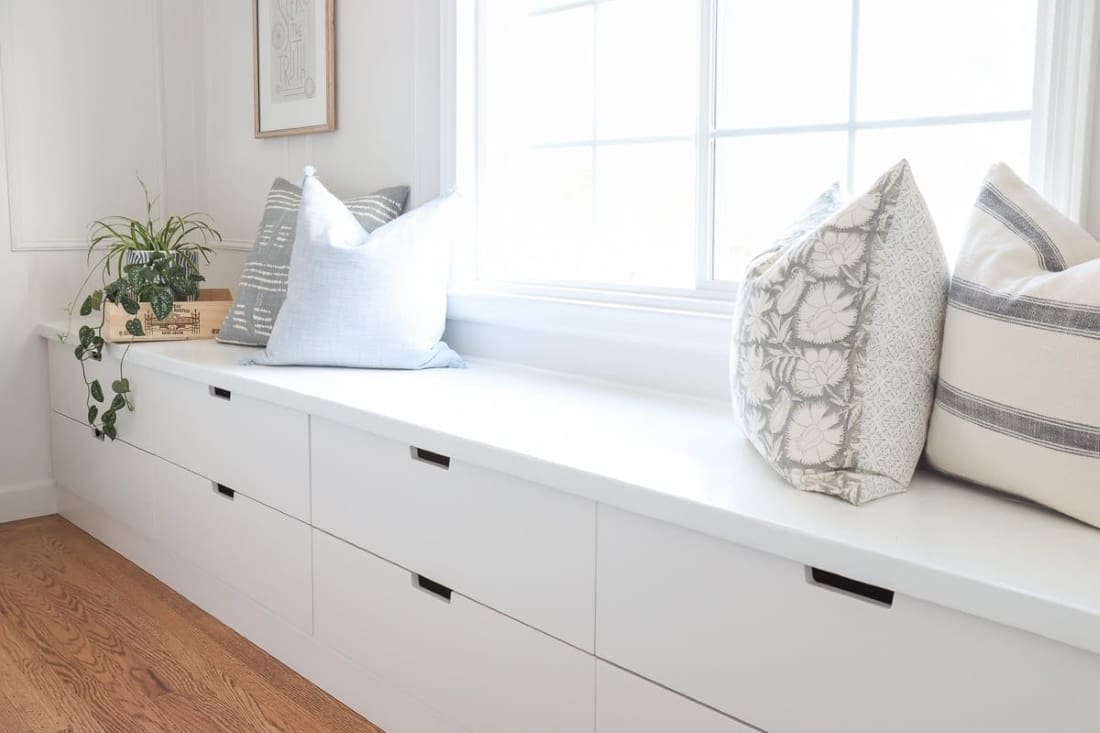 12. School bag storage solution
Ok, so this isn't really a hack, but anything that minimises kid-mess gets our attention! This clever and simple idea uses the TROFAST storage unit to create a school organisation station where everything is neat, tidy and easy to find. Yes please!
13. Bed head with clever storage
Using the TRONES shoe storage, you can create a simple yet clever bed head with heaps of storage. Pop your spare sheets in for easy access, or keep your books and other clutter hidden away. SUCH a cool idea!
14. Bed slats new lease on life
Staying in the bedroom (kind of) for another of our fave IKEA hacks… taking the slats from a no longer needed bed could be the storage solution you've been hunting for!
Use it in the kitchen to hang pots of herbs and quirky kitchen gadgets. Pop it in the bathroom for added storage, or maybe in the bedroom to hang belts, scarves and jewellery.
Simple yet functional, we love this clever upcycle that could stop would-be waste going to landfill.
15. Spice rack turned kids bookshelf
Sometimes it's the simplest hacks that turn out to be the best! Kate, a motherhood TikTokker, shows us how the cheap and cheerful IKEA BEKVÄM spice rack can be turned into 2 styles of shelves for a kid's room.
Correct way up, they're a sweet mini bookshelf. Or flipped over and it becomes a great shelf with a hanging rail for clothes or backpacks, using an S hook. So simple!
16. A bookcase turns into a pull out pantry
Ok, so this is super clever. TikTok creator @lovemlovef shows us how they took a simple IKEA bookcase, and turned it into a sliding, slimline pantry. By attaching sliding washing machine base stands to the bottom, it creates the ideal pull out pantry!
Check out the video below — so cool and so creative!
17. DIY rug
Rugs can be expensive, we know. So how about making your own?! A clever crafter took these cheap as chips IKEA mats and sewed them together to create one big rug.
You could try using any of IKEA's huge range of place mats, smaller rugs or even bath mats to get the same effect.
18. Kids safety stool
Ah, kids 'helping' in the kitchen (insert panicked parent here!). Sina from Happy Grey Lucky hacked the BEKVAM step stool to make it a whole lot safer for her little peeps.
Perfect for future budding chefs!
19. Kids kitchen makeovers
We see so many gorgeous IKEA hacks done on the DUKTIG kids play kitchen. And while these ones are not so much hacks as they are makeovers, we couldn't resist including them.
We especially love the sweet subway tile details in the pink and gold kitchen, and the boho vibes in the teal and terracotta version!
20. Another use for the play kitchen — a flower stall
According to the Dutch team at Zoeyzokidsconcept, the DUKTIG kitchen isn't just for the kitchen! They show us how it can be made into a fabulous flower shop with just a touch of added creativity!
If flowers (or DIY) aren't your cup of tea, they also do burger bars, sushi kitchens plus more using their cute-as-anything stickers and magnets, made specifically to fit the IKEA kids kitchen!
21. Storage unit turned super sweet dolls house
Using the ever-so-popular KALLAX 4-square storage unit, a few crafty people have created these gorgeous dolls houses! We love the version with the added roof, but think the wallpaper/contact versions are just as sweet!
22. Heat mats become a cork board
This collection of painted and wall mounted pin boards is so clever! But what's even better is they started life as HEAT kitchen pot stands! You can find the how to instructions from 'Oh everything handmade' here.
23. Boho coffee table
There's no shortage of clever people out there, and one of our favourites has to be this boho-style ALSEDA stool hack. How cool is it? Use this tutorial by Alice and Lois on Hunker to create your own.
24. Wooden train tracks turned blackboard
For any keen little train spotters (young or old!) how cool is this idea? Attaching the LILLABO wooden train track to the wall and adding a blackboard (or just using blackboard paint) to create a quirky but clever blackboard.
25. Headphone storage solution
Tangled headphone cords are never fun. So how about this for a clever little hack. Attach the BROGRUND toilet roll holder under a desk and you've got the perfect headphone storage solution. So simple, but we think it's kinda genius!
26. DIY cabinets turn custom entertainment unit
Finding the perfect entertainment unit is a challenge! They always seem either too small or BIG, too deep or not the right style for your home.
In Rachel's large living room, a custom entertainment unit was the only solution but without wanting to spend thousands on custom joinery she came up with a clever hack using the BESTÅ TV bench from IKEA with HANVIKEN doors. The wooden handles from Auburn Wood Turning fit her contemporary home to a T!
Have you seen any other IKEA hacks you think we should know about? Tell us in the comments below so we can add them to this blog post! We love a good chat in the comment section 😉 .
Disclaimer: This article was first published in July 2020 and continues to be updated with the latest and best IKEA hacks.