Supported by Häfele
If there's one thing a home can never have enough of, it's storage! While it isn't always possible to squeeze more storage into your home, you can make sure you're getting the most out of your space by using the best storage solutions available.
Today we're talking wardrobe design and how you can really make your wardrobe work for you!
Related article: Luxury laundry inclusions you'll want in your next laundry
Related article: Darren Palmer shows how to keep your kitchen organised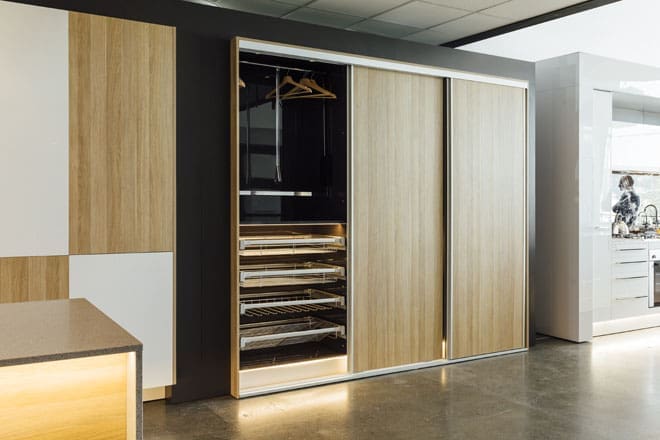 1. Do incorporate drawers
The most economical way to store clothes in your cupboard is with drawers.
Drawers take advantage of the full space from front to back and make it easy to access all items as you don't need to reach behind or rearrange your clothes to get to those stored in the back.
Drawers are perfect for T-shirts, shorts, undergarments and workout clothing, as well as accessories.
Of course, not all clothes can be stored in drawers, like shirts or dresses, which leads us on to our next wardrobe 'must' — hanging rails.
2. Do include hanging rails
Whether it's for dresses or suits, pressed shirts or clothing made from fabrics that can crease easily, hanging rails serve a range of functions.
Consider using a mix of single rail (for full-length clothing) and double rail (an upper and lower rail) sections. The configuration you use will depend on the clothes you own so think about how many full-length items you have before allocating too much precious wardrobe space to a single rail section.
Tip: using thinner hangers, such as those slim design velvet hangers over bulkier timber hangers, will allow you to fit more clothes onto your hanging rail.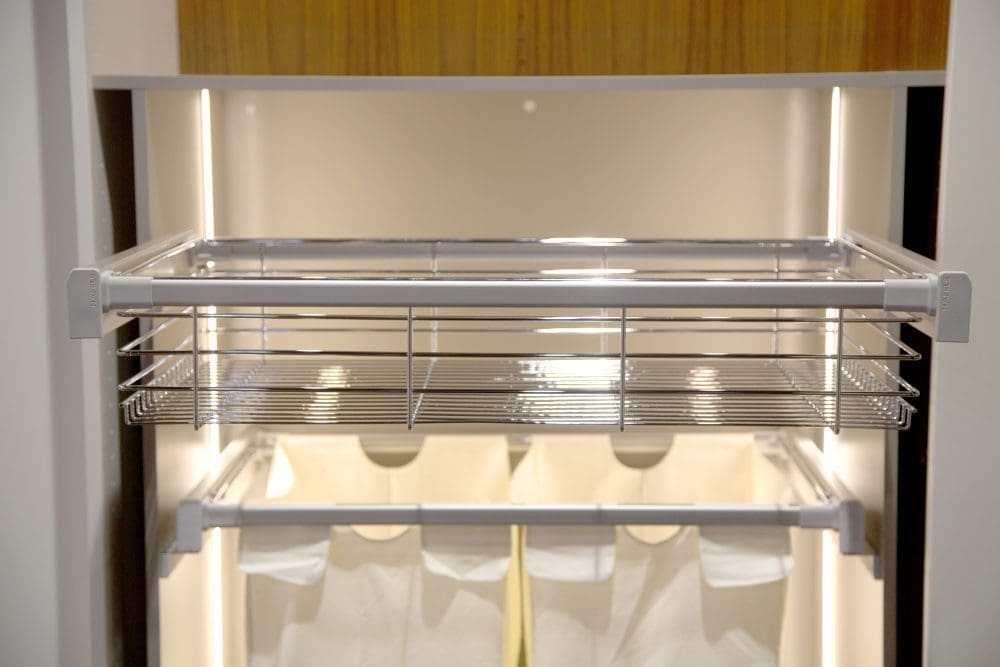 3. Don't waste the lower area of your wardrobe
It's easy to focus on what's happening at eye-level in your wardrobe — adding rails or drawers — but an often under-utilised area of a wardrobe is that lower space.
The floor is great and can be used for storing a few shoes but there's so much more you can do!
Using a stack of pull out shoe racks is one of our top tips for this space. Products like Häfele's Flex Store Shoe Rack takes up minimal space so you can have two or three rows of these without encroaching on your hanging space. It avoids the inevitable shoe pile that can easily build up on the ground — protecting your shoes and better utilising this space.
Another idea you don't often see is to place pull out laundry bags in this space. It helps to keep your bedroom floor clean and tidy, while also sorting your clothes into 'darks' and 'lights' to make your laundry more efficient. Check out these Häfele laundry bags for more info on how they work (pictured above).
4. Do embrace inserts
We mentioned that drawers are a definite must but there's even more you can do to maximise this space — add inserts!
Simply adding inserts such as jewellery drawer liners or small boxes for ties, can make better use of drawers while also helping to protect these precious items and it displays them more beautifully too.
You can find these at all price points from basic plastic ones through to luxury timber and velvet. If you feel like treating yourself and only buying a quality set once, you can't look past these German designed beech timber drawer inserts.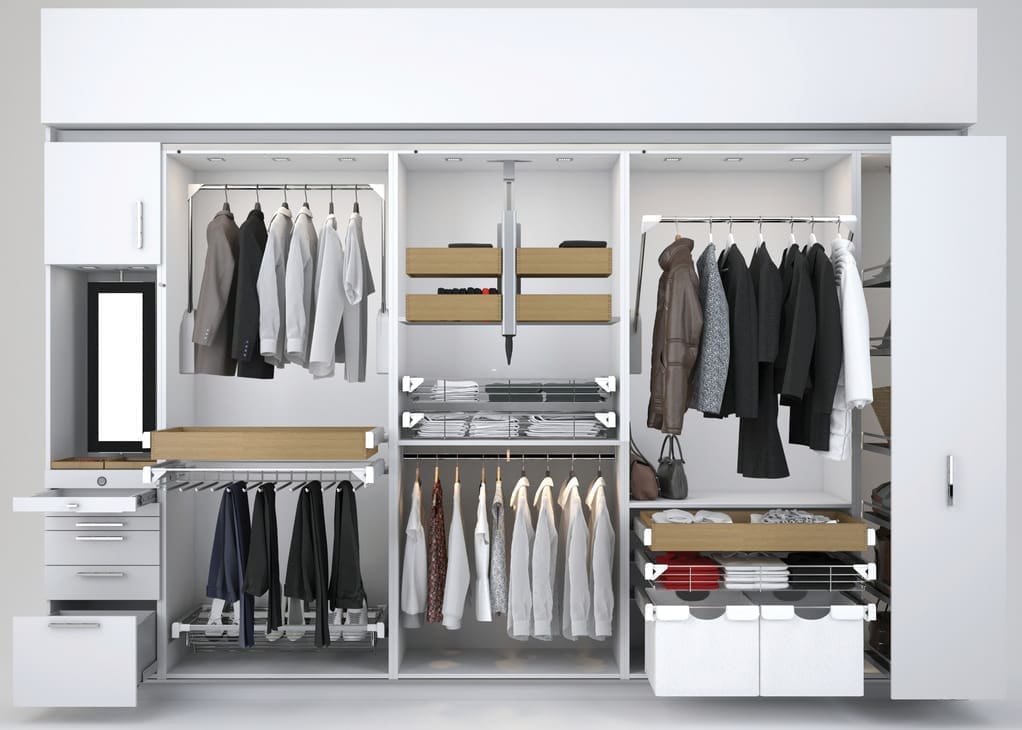 5. Do use smart trouser racks
There's nothing better than finding storage solutions that are fit for purpose — like trouser racks.
Much better than using trouser hangers on a hanging rail, trouser racks pull out so you can easily see all your options without having to rifle through your wardrobe. It also instantly adds that luxe wardrobe feel!
6. Don't forget the inner sides of your cupboards or behind cupboard doors
Another top tip is to not forget the inside of your wardrobe walls or behind the cupboard doors (for those with doors that open outwards).
From coat hooks to wire baskets, there are many clever storage and organisation products available to make this space work hardest for you.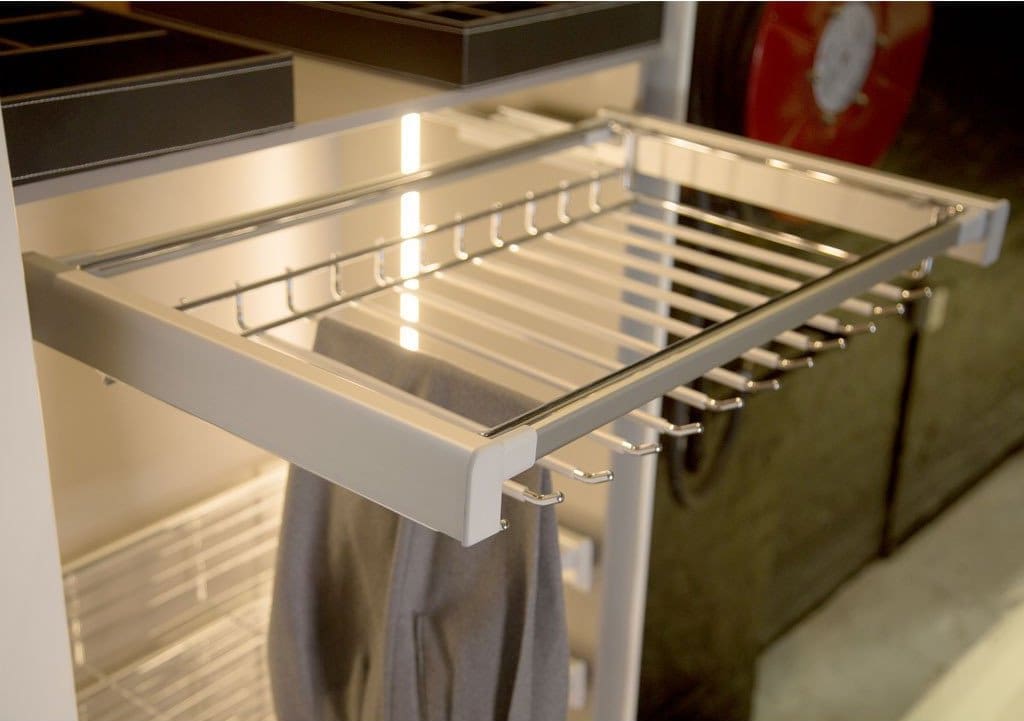 7. Do consider lighting
Lighting is such an important element of any space, especially in your wardrobe where you should be able to see what an item of clothing is without removing it from your wardrobe.
There are a range of sleek lighting options available now from small downlights to slim LED strips — and even LED rails like the LOOX wardrobe rails from Häfele.
Design the lighting plan early so it's part of your wardrobe design. This means your joiner can router groves for the lighting to sit flush or run cables behind your cabinets. A well-considered lighting plan is a must!
Tip: have a sensor installed to turn your wardrobe lights on automatically saving your from constantly fumbling for the switch.
Sky lights are another option to flood a walk-in wardrobe with natural light but it is important to note that the sun can damage clothing so we recommend developing a lighting plan instead.
8. Do take the time to design it
Our final tip to getting your wardrobe design right is to design it.
This may sound obvious but more often than not, people simply go with what a cabinetmaker or joiner tells them — which is generally the standard stack of drawers with two hanging rails.
We are all different and work in different occupations so it makes sense that the clothes we own and the way we need our wardrobe to work for us is different too.
Consider what clothes you have and how they could best be stored. Take out a pen and paper, measure the space and look for ways you can incorporate the best storage solutions into it.
Visit the Häfele Home website where you can browse their range of top-quality wardrobe solutions, or pop into a showroom where their friendly consultants would be happy to help advise on the right products for your space.