Supported by Hafele
You only have to search 'laundry inspiration' to see this zone of the home is no longer just a utility room but a space where people are fully flexing their design muscles.
And as we know, good design is about form and functionality so while it's tempting to just focus on beautiful finishes, we urge you to start by thinking of how you can make this space work for you.
Make doing your laundry an effortless (and dare we say it, almost enjoyable) experience by creating a laundry room that supports your needs — one where you know where everything is and that offers plenty of storage for all your items.
These are the luxury laundry inclusions that will take this space from average to amazing!
Related article: The major dos and don'ts of wardrobe design
Related article: 5 kitchen upgrades on a budget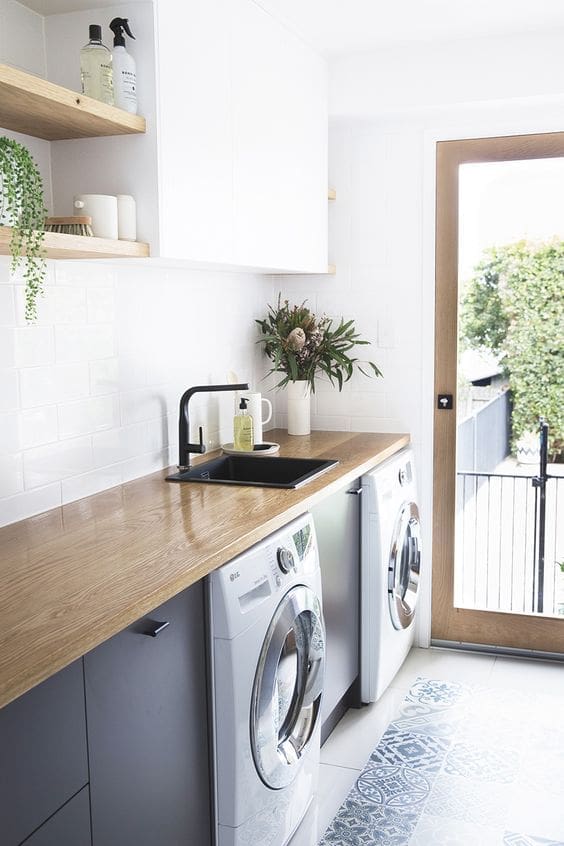 1. Pull-out laundry hampers
Sort clothes out of sight and keep your laundry floor clutter-free with a set of pull-out laundry hampers.
We recommend at least four hampers to separate darks, lights, towels and delicates. You can find double pull-out baskets which are smarter on space, such as these Hailo hampers from Häfele, but they also have extra large single hampers available for bedding and bulkier items.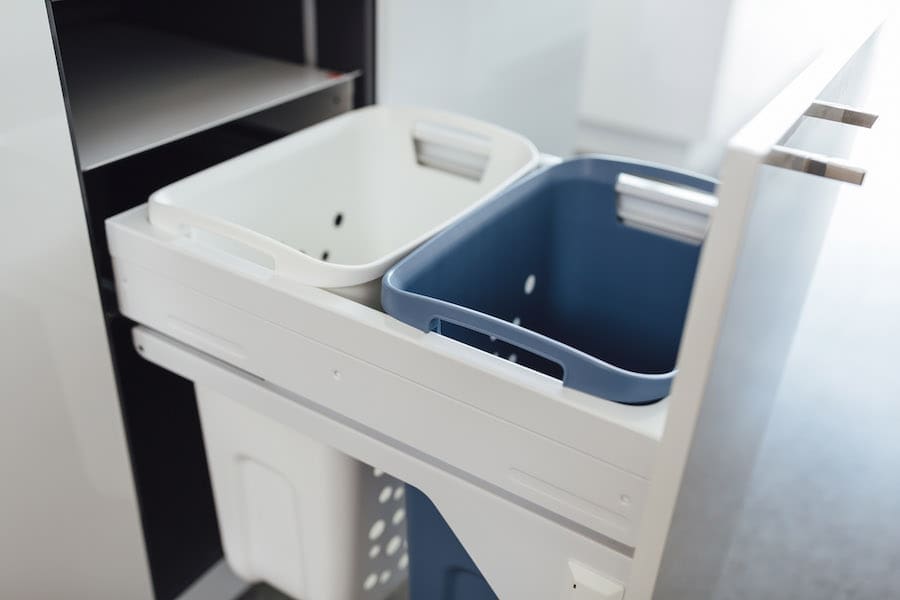 2. Collapsible ironing board
Nothing ruins the appearance of a stylish laundry than an ironing board in plain sight but packing away free-standing boards after every use is draining.
Thankfully there are integrated ironing boards available, which effortlessly unfold. Our top pick is the 'Ironfix Lateral Mounted' ironing board by Häfele as hides away in a drawer (rather than folding down from a wall) and has a full 180 degree rotation.
Tip: be sure to add more powerpoints than you think you'll need in your laundry. Two places you don't want to forget powerpoints is close to your ironing board and in a tall broom cupboard so you can mount and charge your stick vacuum cleaner.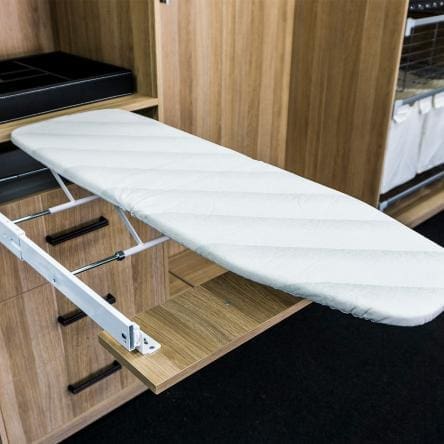 3. Under-sink storage solutions
It's easy for the cupboard under your sink to get out of control with buckets, cleaning products and other household goods.
With a little time and effort, you can make this space work for you. Wire baskets mounted either side of your under-sink area will maximise the vertical space in your cupboard.
Depending on the amount of free height in this cupboard, a pull out wire basket is always a welcome addition – it helps you to access all items easily without needing to reach behind or rearrange items. If you don't have space to suspend a pull out basket, just placing items in a wire basket on the floor of the cupboard achieves a same result.
It's also a great idea to add a hook rail to the back of your cupboard doors so you can hang microfiber cloths, a dustpan and other essentials.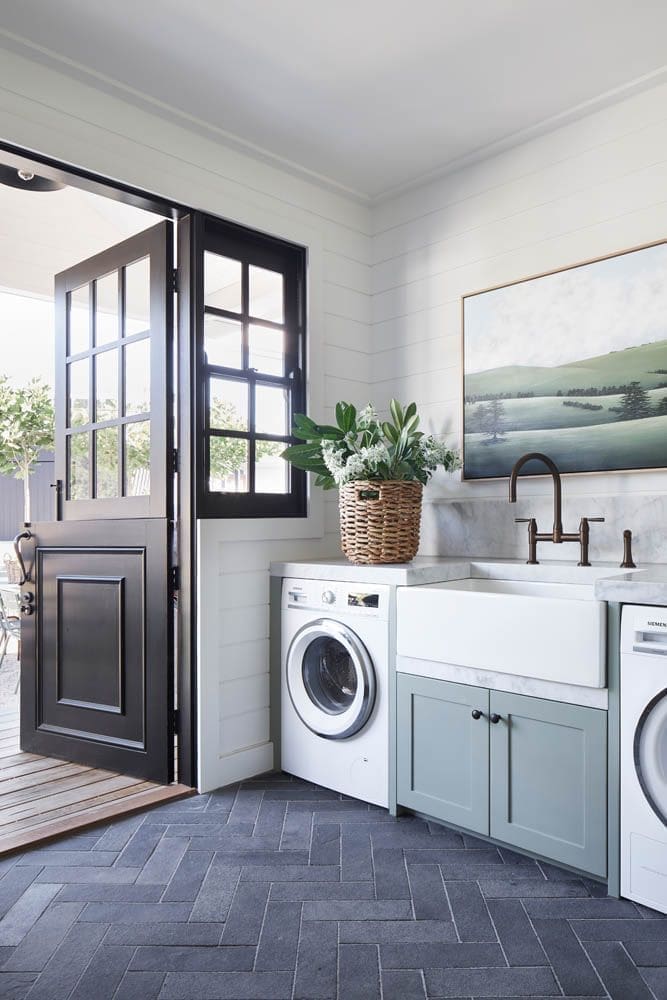 4. Overhead cupboard storage
We don't think there's such a thing as too much storage!
Many basic laundries don't have overhead cupboards but it doesn't cost much to get these installed. Overhead cupboards are perfect for storing cleaning products and chemicals – especially if you have young children in the house. Pack more into these cupboards and make it easier to access items with the clever iMove pull down shelf from Häfele.
You can create design interest by considering a different cabinetry finish on your overhead cupboards, such as timber veneer or paneling.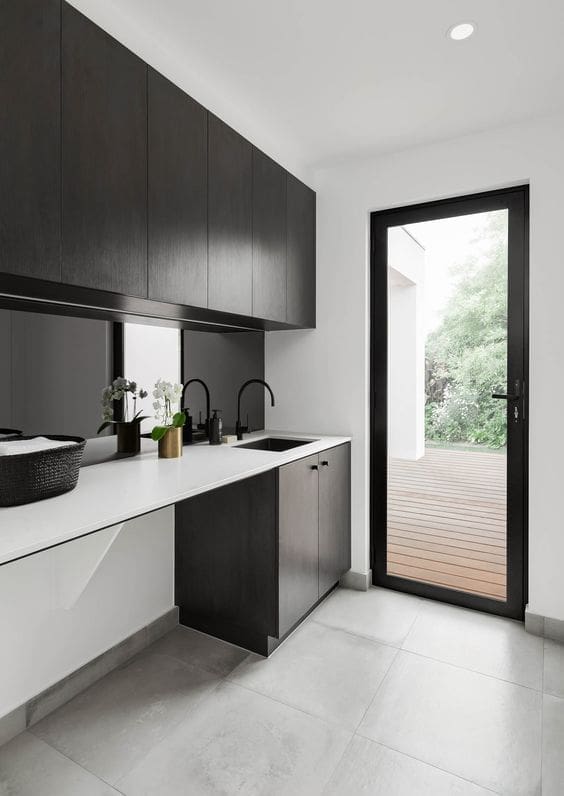 5. Luxury benchtop
Upgrade from a basic laminate benchtop to natural stone, solid surface or other higher-end product for a high-end finish.
Not only will this create a more luxe look, premium products are generally also harder wearing.
6. Broom cupboard
An obvious but often overlooked necessity is a tall cupboard for your broom and mop. Adding broom clips will keep this cupboard organised.
Tip: make the cupboard wider than a standard broom cupboard so you can also store your stick vacuum cleaner and as we mentioned above, add a powerpoint so it can charge while it isn't being used.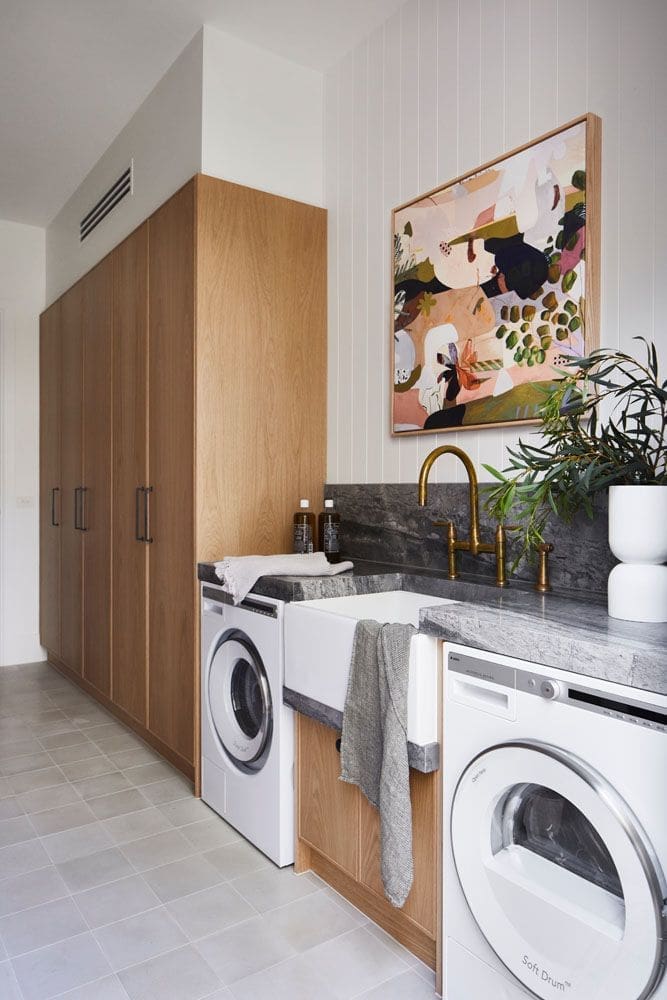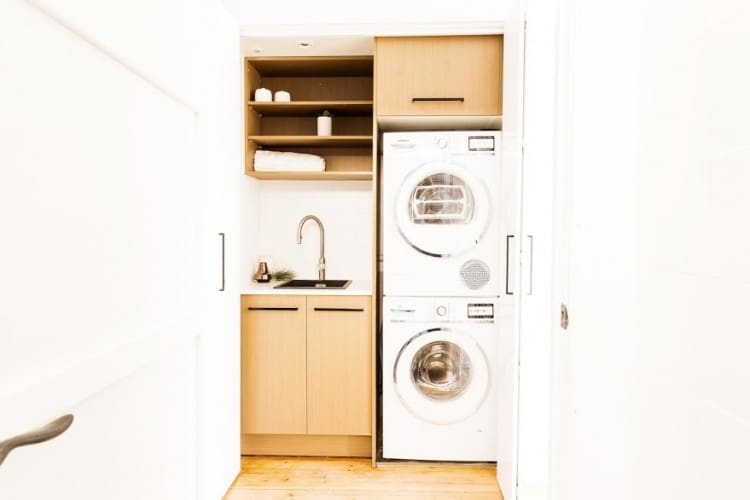 7. Large drop in tub
Install a deep, wide sink or laundry tub and you'll thank yourself a hundred times over. For example, Häfele has a fab range of oversized sinks and double bowls in their Squareline range.
You won't find yourself struggling to fit a bucket in the tub, and soaking bedding or other bulky items will be a breeze.
Chrome has often been the material of choice but nowadays we often see people install a porcelain butler's sink for serious wow-factor! Complete the look with a statement tap, such as a curved mixer in aged brass.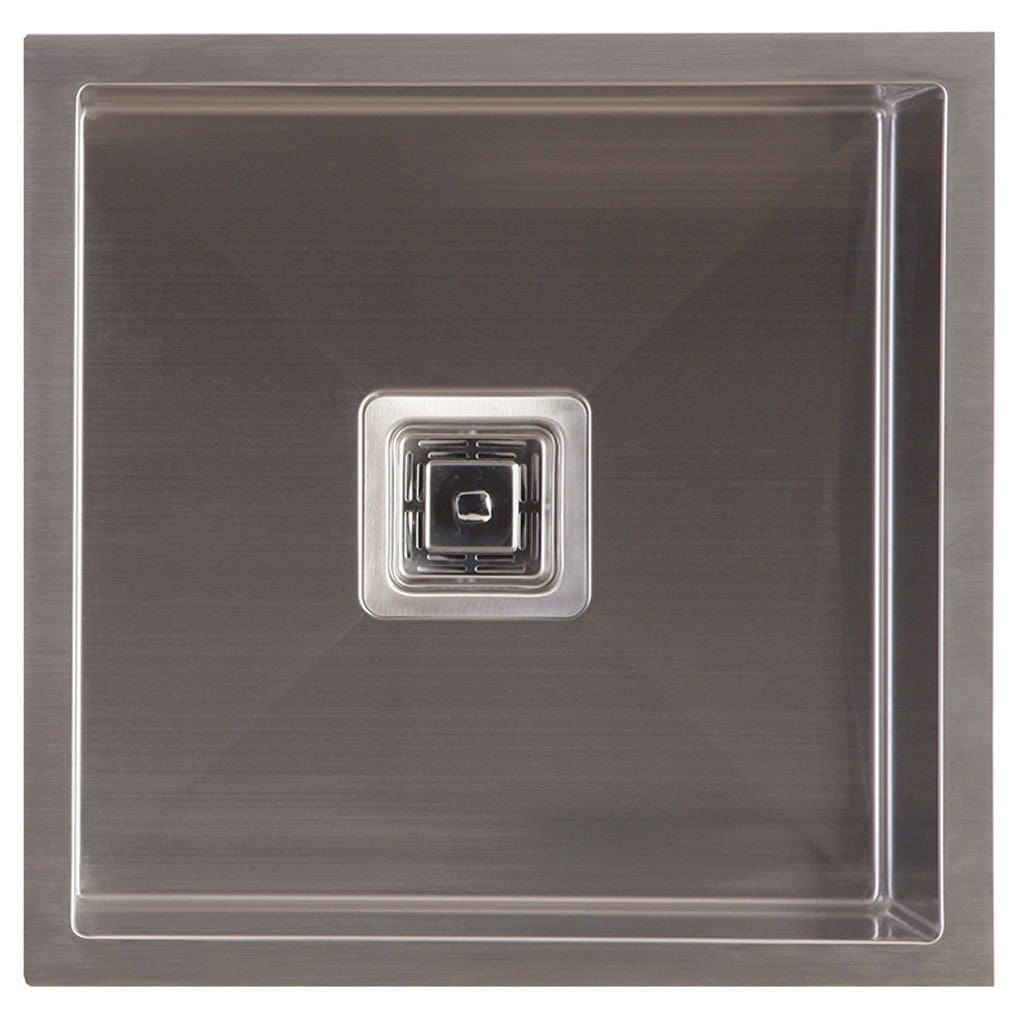 8. Lighting on sensor
The smallest things can often make the biggest impact.
Don't fumble for a light switch while you have your hands full with a washing basket. Simply ask your electrician to install a sensor so your light turns on automatically as you enter. These don't have to turn on your main overhead lights so consider controlling strip lights or under cabinet lights instead.
9. Hanging rail
Design your overhead cupboards in a way that allows you to install a hanging rail. Perfect for allowing your delicate items to drip dry, or to hang shirts as you iron.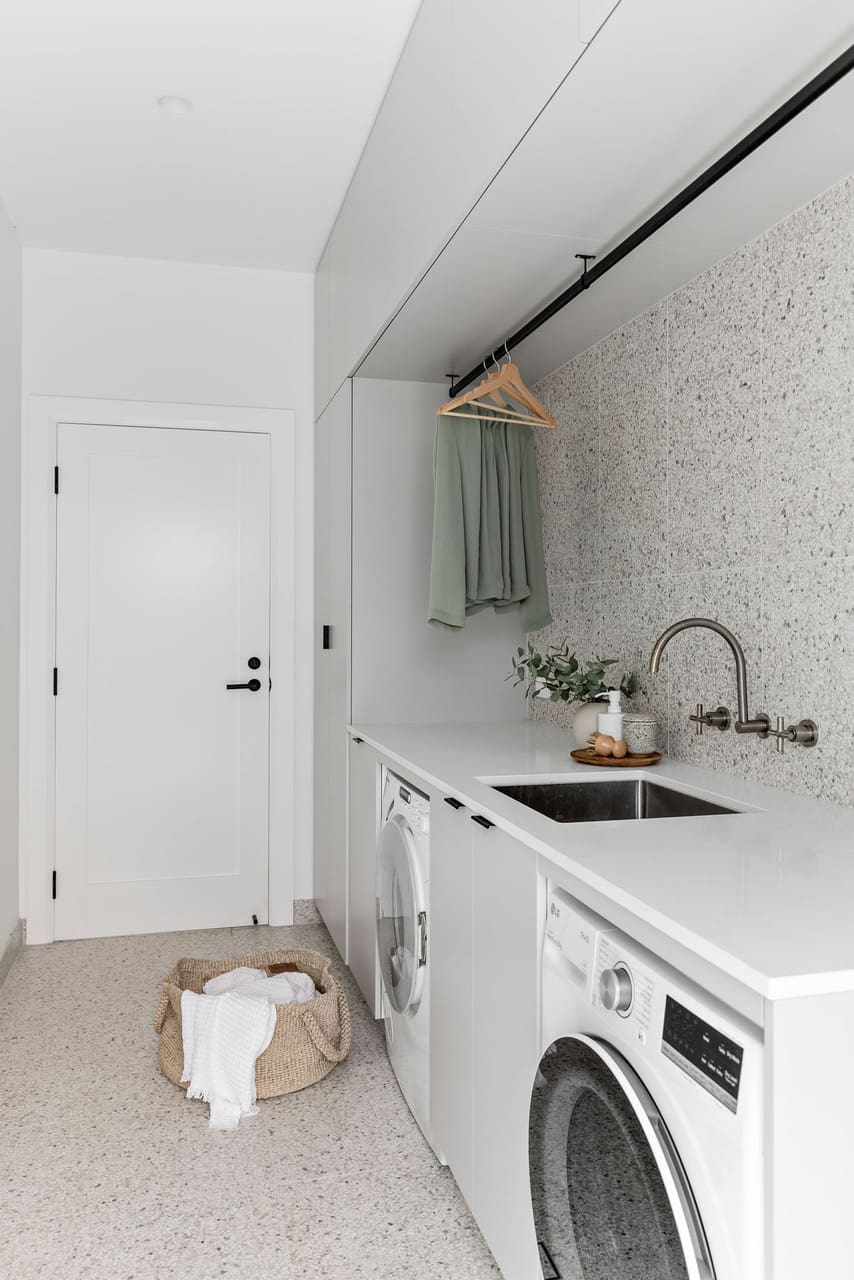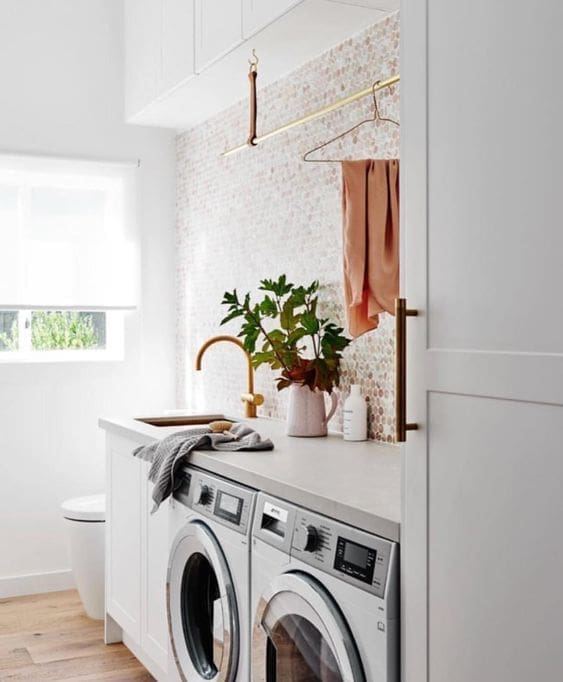 10. Choose drawers over cupboards
For all your under bench cupboards, choose drawers over cupboards. Yes, it's more expensive but you won't regret it. Drawers are far better at utilizing space and more ergonomic too. You can also sneak extra powerpoints or USB ports into drawers too.
11.Upgrade your appliances
The final point on functionality, don't overlook your appliances – they're the workhorse of your laundry.
Do your research and consider your needs before purchasing a washer, dryer or washer dryer combo. It's a good idea to know what machine/s you'll use at the design stage, particularly if you go with a non-standard size such as a twin washing machine.
Tip: A front load washer will allow you to maximise bench space or stack a dryer above.
Have these luxury laundry inclusions got you thinking about ways to elevate your laundry design?