It might seem a bit early to be posting about Father's Day, but with the current situation we're facing, we thought we'd get in early and give you the chance to make sure Dad's day is a special one. Our Father's Day gift guide is packed with ideas for all budgets and you can buy everything online.
From tech Dads, to gardening Dads, we've got all your bases covered!
Related article: DIY decorative mini fire bowl
Related article: Kmart hack: DIY concrete side table
Often it's the special message or thoughtful little drawing inside a card that turns out to be the best present of all.
Etsy has a great range of Father's Day cards to choose from, and you'll be helping out a small business too. Double win!
We love this fun card from a local Canberra maker, The Hello Boutique.
For a bit of fun, this 'Mr' monogrammed pillowcase from Adairs grabbed our attention. Adding a bit of personality (and at a super affordable price), this gift idea is sure to make him smile this Father's Day.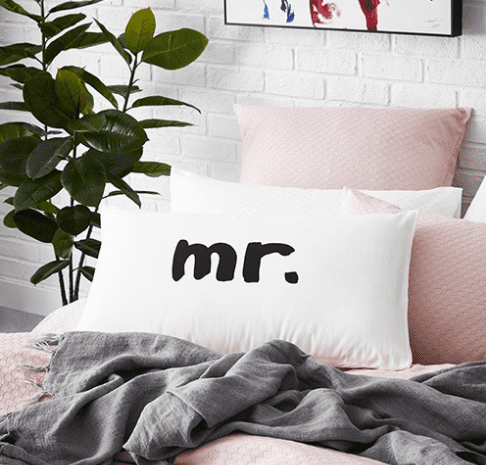 It's simple yet elegant and something Dad is sure to love. Everyone has keys (even if we can't leave the house at the moment!) so it's a sure-fire gift winner. It's a great idea for the Grandad's, too!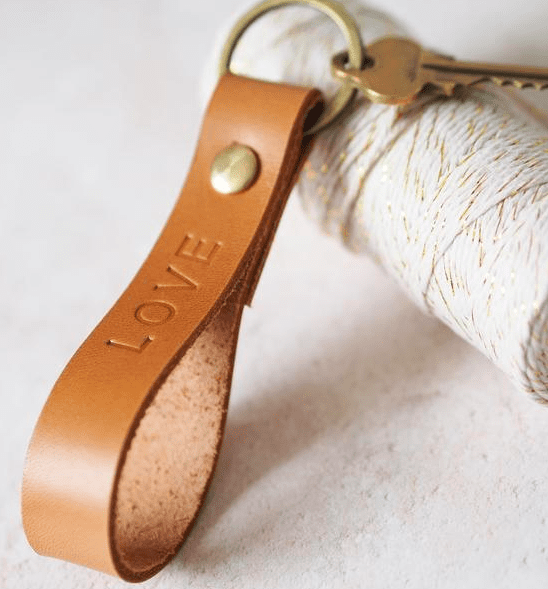 So… Dad might not be able to get full use out of this one at the moment, but it's still a great and handy gift idea! Biome has a great range of reusable cups (including this Star Wars one for the inner-geek 😉 ) but we love the simplicity of this indigo glass version.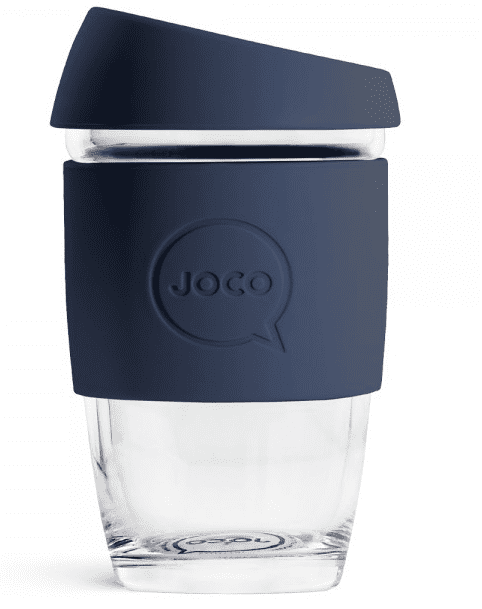 For the Dad's with little ones, this clever store turns your child's drawings into drink coasters. SUCH a special idea and something Dad is sure to treasure for a lifetime.
If Dad is forever misplacing his keys or can never find his phone charger, this is the perfect gift! A handy organisation charging station with space for his keys, wallet, phone and all his other bits and pieces. Genius (and neat and tidy, too!).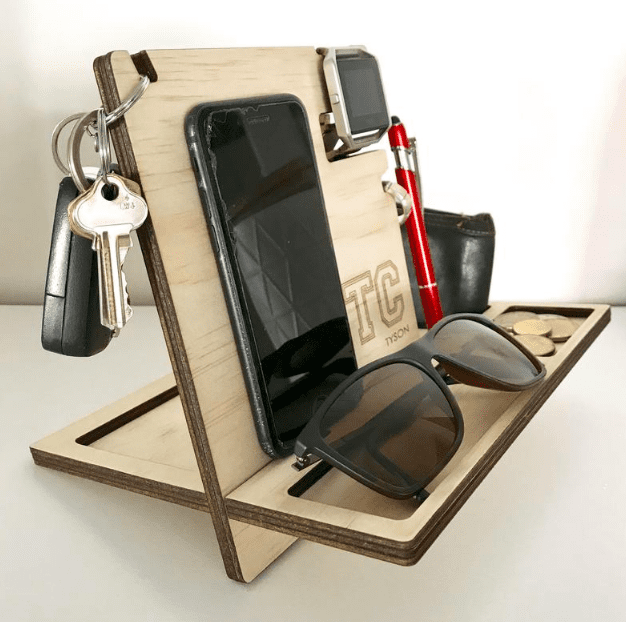 A stylish wash bag made even nicer with the addition of your own personalised message on the side. Check out this the Personalised Favours Etsy store for their full range of gift ideas that might be just what you (and Dad) are looking for.
A place for Dad to drop his coins, keys or other bits and bobs, but personalised just for him. This kind of gift never goes out of style and we love the idea of giving this one to Grandparents with those special dates forever remembered.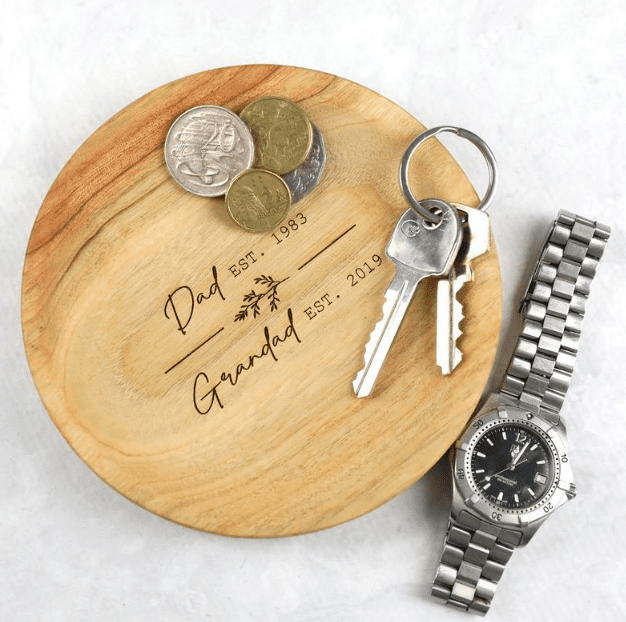 A gift hamper is a fabulous idea for so many reasons.
a) It's delicious
b) It's thoughtful
c) Dad will most likely share it with you 😉 .
The Hamper Emporium has an amazing array of hampers choc full of tasty treats, specialty wines and craft beers. Dad will be spoilt for choice! Their Father's Day range starts from $79.
A wallet is a classic Dad gift for a reason — it's useful, stylish, and with this one you can add your own personalised touch.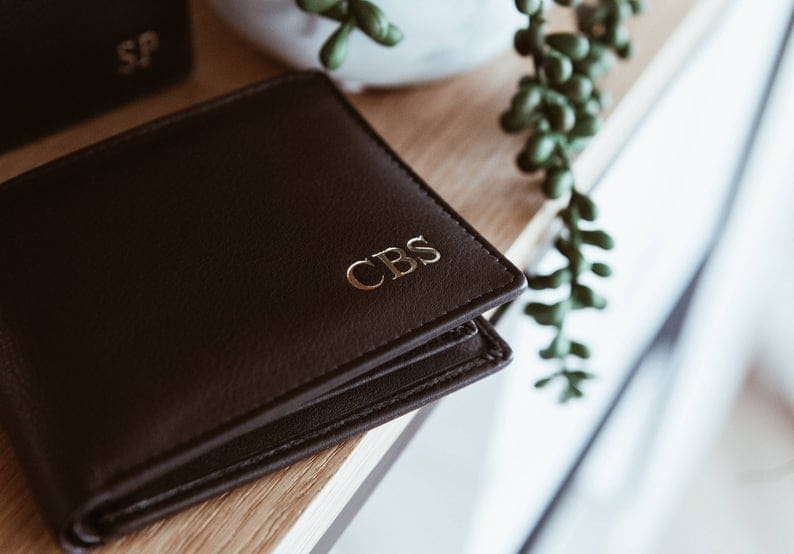 With more time spent at home, there's gotta be more music, right?! A portable speaker is a fab gift idea for Dad and this one has the added bonus of being water resistant in case of any mishaps!
For the adventure-loving Dad (or just a Dad who's not keen on carting around a rainbow leopard print nappy bag… speaking from experience here!) why not grab him a backpack this Father's Day? He can use it for work, sport or play!
Investing in a good quality, classic style backpack will ensure it lasts the distance, which is why we love this one from The North Face.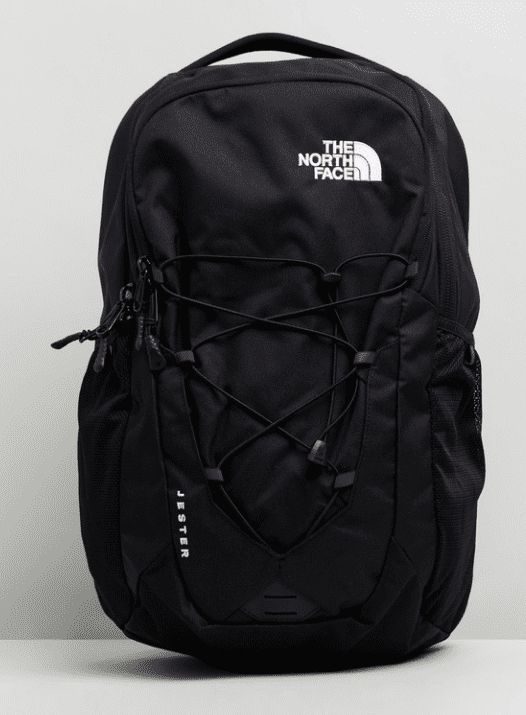 If Dad is a keen gardener, then do we have the perfect gift idea or what?! A retractable hose is the ideal gift to make gardening a breeze and give a gift that's high quality and super useful.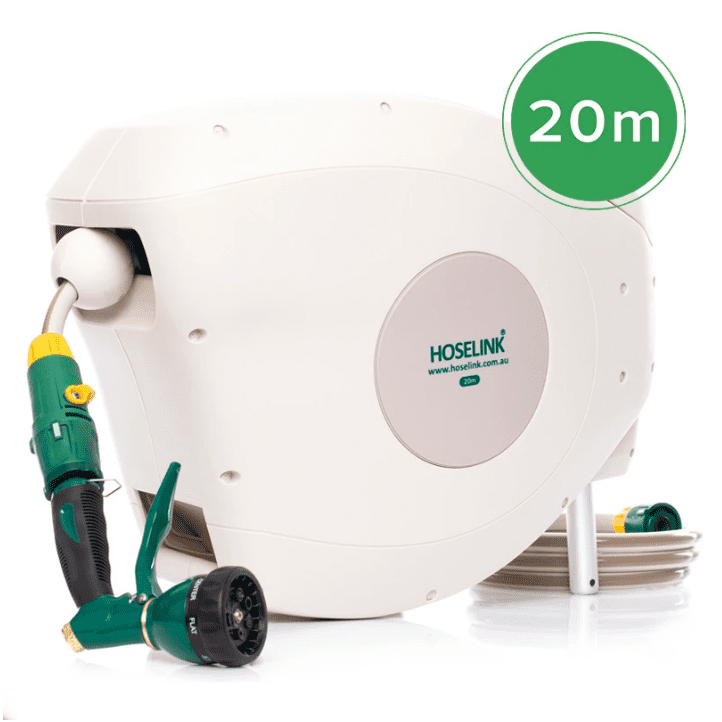 We can't go out and grab a coffee quite so easily at the moment so why not bring the coffee to Dad at home? This nifty little machine allows you to use various different brands of coffee pods to suit your preference and taste. Oh! Sorry… we mean Dad's taste 😉 .
Yep, they're extravagant. But if Dad lives for his music or podcasts, he will love these (anyone would, really!). Apple AirPods give you wireless connection to all your Apple devices with voice activation and high-quality sound.
Super luxe and sure to win you extra brownie points with Dad!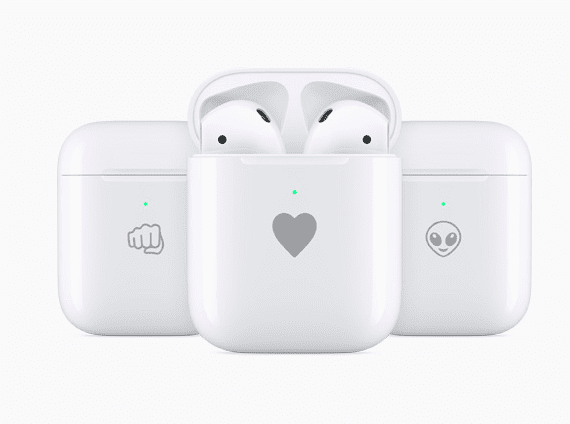 What do you think of our Father's Day gift guide ideas? Has it given you some inspo for what to get Dad this year? Or perhaps you have some other ideas you think we should add to our list! Tell us in the comment section below, and happy shopping!
Disclaimer: Prices are accurate at time of publishing. This post contains some affiliate links. This means when you click on a link and purchase something from that site, we may make a small commission at no extra cost to you.
This article was originally published in August 2015 but has been updated with new gift ideas.