Encaustic tiles are those beautiful cement tiles (often patterned) you may have seen on Instagram, Pinterest or other design sites.
While they are a gorgeous option — not only for their looks but the way they feel softer underfoot too — they do require more maintenance and care than regular ceramic or porcelain tiles.
Iit's important to take care when installing them, as well as ongoing cleaning and maintenance. Especially because of the way these tiles are manufactured and have a very porous material.
I have encaustic tiles in my home and struggled to find good care information online. So I hope this article helps others who have or are considering using these tiles.
Related article: What size should I make grout joints?
Related article: 5 step guide to picking the right kitchen splashback tile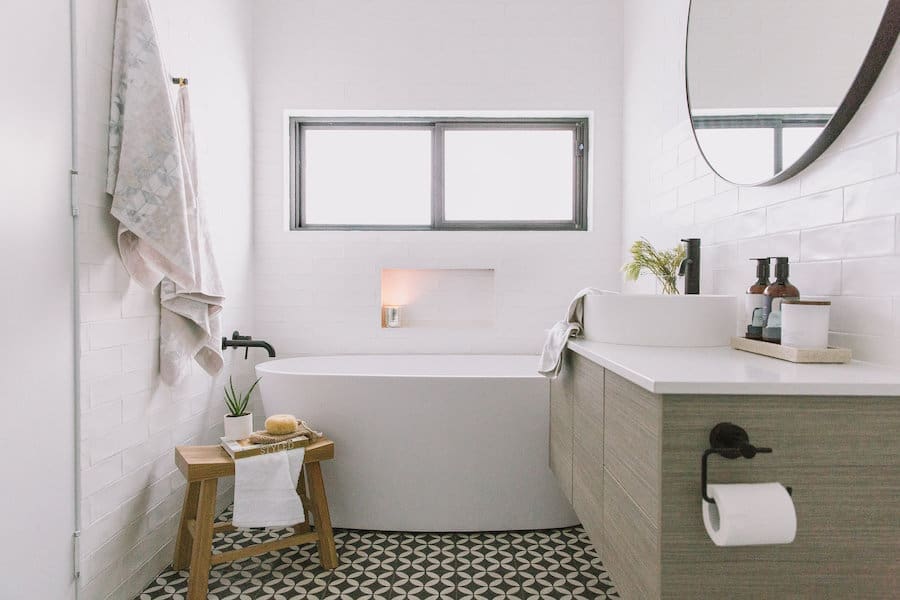 Installation
If you don't yet have encaustic tiles yet, be sure to only use an experienced and qualified tiler. They need to understand the tile, what products and the process should be used.
Encaustic tiles should be sealed before they are laid to minimise the risk of grout or other products staining the tiles during installation — you wouldn't be the first person to have to rip up a completely new encaustic tile job!
Because of the absorbent quality, the surface of the tiles need to be kept as clean as possible during installation. An experienced tiler would use a damp sponge to wipe away materials as they are working.
Also, just as important is what happens beneath the tiles. A flexible adhesive needs to be used and applied evenly to the substrate using a wide notched trowel. They also need to be gently pressed down and not hammered as this could cause micro cracks.
Grout spacing should be as small as possible — just 1-2mm (find more info about tile grout joints here).
Cleaning
As I mentioned above that these tiles are porous so they need to be cleaned in a similar way to natural stone.
That means, you cannot use any acidic or abrasive cleaners, or products containing bleach.
Use a gentle, pH-neutral cleaner such as those designed for natural stone and terrazzo floors. 'Aqua Mix Concentrated Stone & Tile Cleaner' is a popular everyday option and can be found in most tile stores. Be sure to only use the product as directed. We recommend you carry out a test clean on an unlaid tile or inconspicuous area to ensure there are no issues.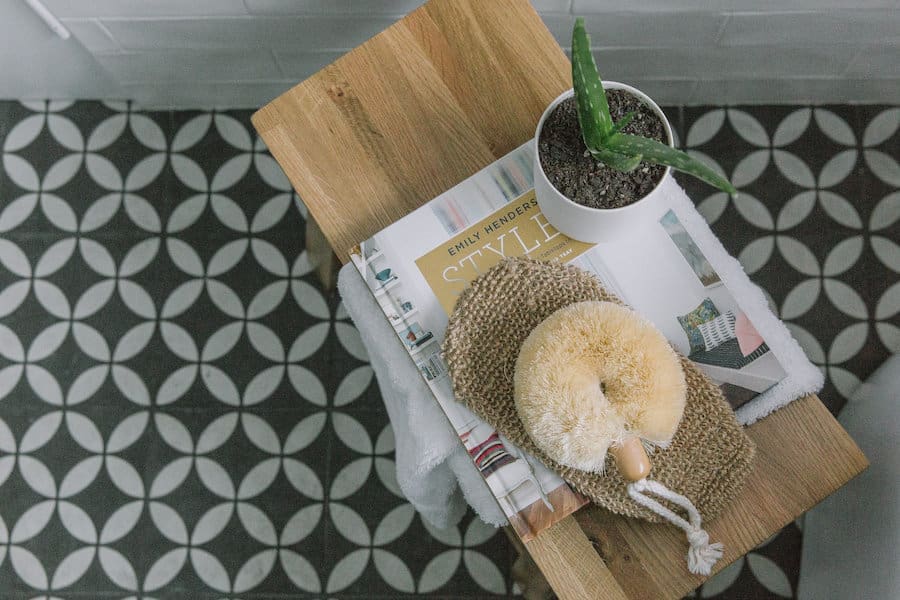 Ongoing maintenance
Each year, the tiles should be cleaned with a high quality tile cleaner (non-acidic) such as 'Stone Deep Clean' by Aquamix.
Give the floor two thorough cleans with this product by mixing the solution with water. Use a soft scrubbing brush to remove any marks or grime from the tiles.
Once completely dry, use a penetrating sealer such as 'Sealers Choice Gold' from Aquamix to protect the tiles.
The sealer can be applied by directly pouring small amounts onto the tiles. Use a clean cloth to spread and work it into the surface.
Allow to dry for 8 hours. This should be done once a year.
This article isn't sponsored but advice on proper encaustic tile care was provided by the friendly team at Tile Republic in Canberra. They have a wide range of encaustic tiles to choose from and all the care products mentioned in this article.
I hope this information on how to care for encaustic cement tiles helps you. Do you have any other questions when it comes to encaustic tiles? Post them in the comments below and we'll be sure to answer them asap!
Photography by Thorson Photography