Art is such an essential component of interior design — a way of expressing your individual style and creating interest in a space.
Many people ask us how to design a room around art so today we've invited Interior Designer Tarmaine Hales of Harlo Design Studio to share just how to do this successfully!
Related article: A colourful family home where artwork takes centre stage
Related article: The experimental textures of abstract artist, Jessie Rigby
Words by Tarmaine Hales
The consideration of art is often one of the first steps in pulling together concepts of a design, reflecting on colours and textures forms a strong base and starting point in moving forward.
So, you've found your wonderful piece, but aren't sure how to progress… what now?
Choose your base of colours
Now if you want a more colourful space then please, feel free to choose more — however generally, I tend to stick with around three. If you do have a dense colour palette, you also want to think about colours that aren't so dominant in the art itself. Selecting the subtle tones in the piece allows for the art to be the strong focal point in the room it also lifts the colours in the room and creates depth.
With your colours, be precise. Especially with shading when selecting your furnishings — always helpful having a photo on hand, or even better, fabric swabs of the particular tones of colour you would like to incorporate in the design. The 'near enough' often looks out of place, so you really want the perfect match when harmonising colours. Soft furnishings are a great way to incorporate colour throughout the design, think about utilising sofas, bedspreads, cushions etc.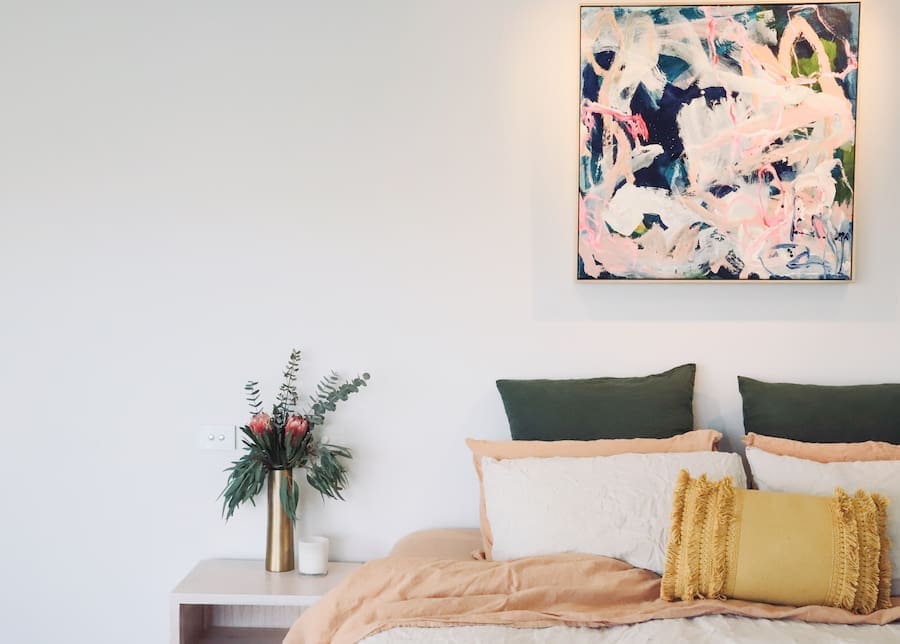 Add texture
If your art has texture think about incorporating some similar qualities throughout your design. This creates a sense of flow and harmony throughout the space. Using a contrast of textures has another great effect and adds visual weight and interest to the space. Think diversely when it comes to textures. If we are working with a painting, then don't forget about the frame. Treat these materials as though it's a colour and try to incorporate similar materials and textures throughout your design.
Keeping patterns on the low
Don't get me wrong — incorporating patterns and other detailed displays can definitely work when designing around a piece of art. It just has to be an absolute perfect mix, kind of like a making a lemon cheesecake. Too much lemon and you're squinting your eyes the entire time you're eating it, too little lemon — too little zest. If you're not confident in the mix, let the art be the zest. Emphasis is a key principle in design and one where art really comes into play. While pattern injects interest to the room it can also overpower the piece you want to show off.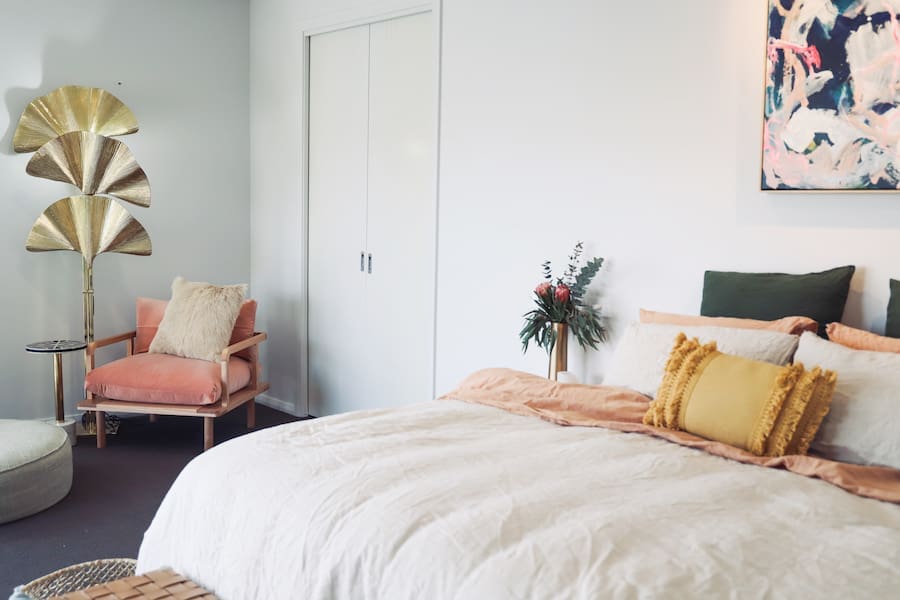 Thank you Tarmaine for sharing your advice on how to design a room around art. We especially love the tip of picking less dominant colours from the artwork to form your colour palette!
Design and photography by Harlo Design Studio
About the author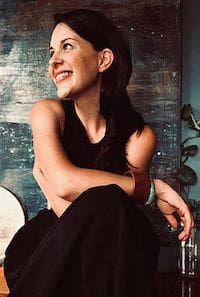 Tarmaine Hales founded Harlo Design Studio, a Canberra based Interior Design Studio, with the intent to transform spaces into those that enhance, inspire and influence people's lives and well-being. She is a fervent supporter of small businesses and the conservation of our environment.
Web: harlodesignstudio.com.au
Instagram: instagram.com/harlo_design_studio
Facebook: facebook.com/harlodesignstudio