Picnics are a fabulous way to connect with family and friends amongst nature. They've been enjoyed for centuries and recently (thanks to the need for socially-distanced activities!) they've been gaining popularity again.
For those of us who don't picnic often, the thought of getting all the stuff you need together may seem too hard… but it isn't, and it's totally worth the effort… unless you attempt to take young kids with you… we can't make any guarantees there!
To inspire you to get picnicking, we've created this guide on how to pack the perfect picnic with a bonus free checklist.
Related article: How to create an outdoor cinema
Related article: How to make a waterproof picnic rug in minutes (and without a sewing machine!)
Comfort first
It's hard to enjoy a picnic when you're uncomfortable so we suggest starting with the things you need to picnic in style:
a large picnic blanket (and you can find our DIY version here)
scatter cushions
an outdoor umbrella if you won't be going to a shady area (or wear sun hats).
If you really want to get fancy, you can also find stylish sling chairs.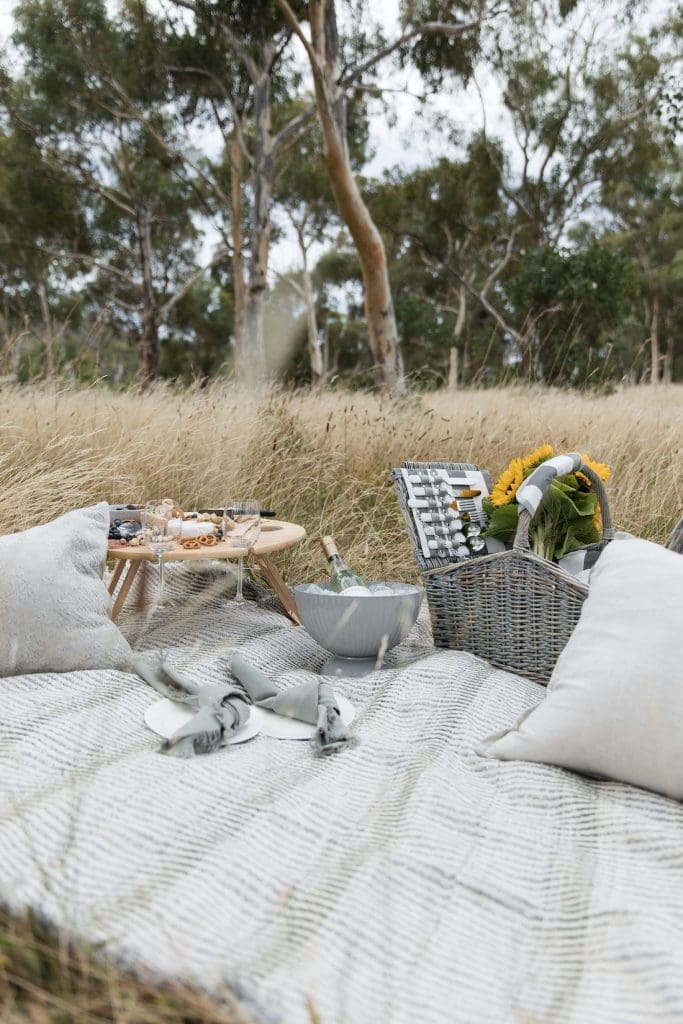 Put on a gourmet spread
Next up, we recommend getting your foods packed.
You can't go wrong with an antipasto style grazing board or charcuterie, and some things we like to include are:
mix of soft and hard cheeses (brie, goat cheese, and cheddar are our faves)
variety of deli meats (prosciutto, salami, capocollo are popular options)
olives
variety of crackers
nuts (pistachio, macadamia, almonds or walnuts)
dried fruits (dried apricots or figs are most popular)
fresh fruits (strawberries, blueberries, grapes or figs)
extra ideas include quince paste, fresh honeycomb, pickles or pretzels.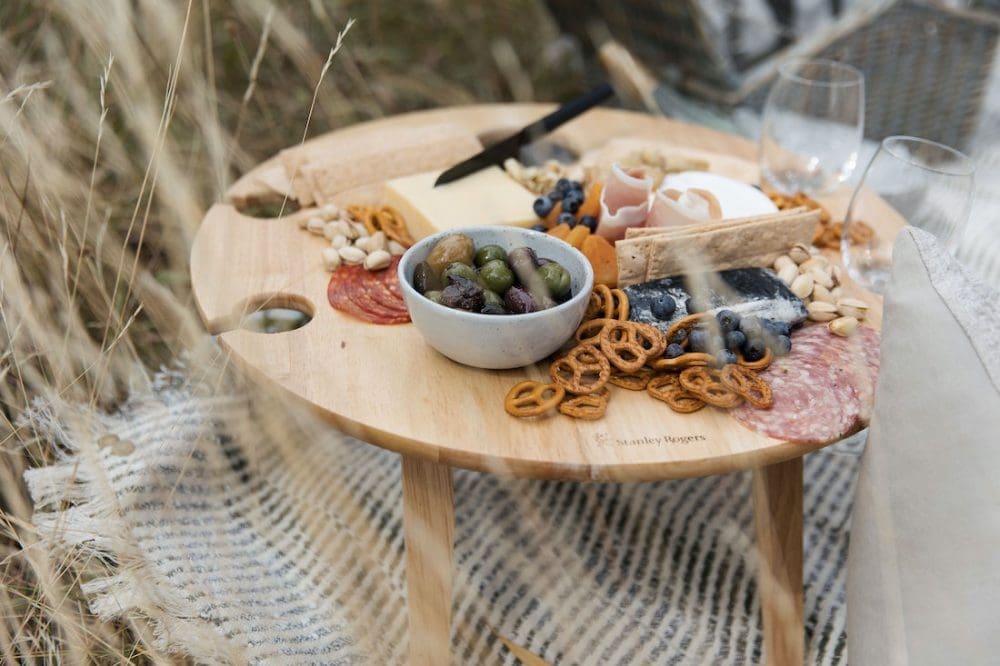 The trick to making a great grazing board is to mix salty and sweet, soft and crunchy, and fresh produce with cured.
To make it easier to eat, we recommend using a few smaller bowls (that grey one below is from Freedom) to keep things like olives, fresh honeycomb or quince paste contained. Be sure to pack cheese knives too!
If cheese isn't your thing, you can also opt for a sandwich style picnic or dessert picnics are also fun.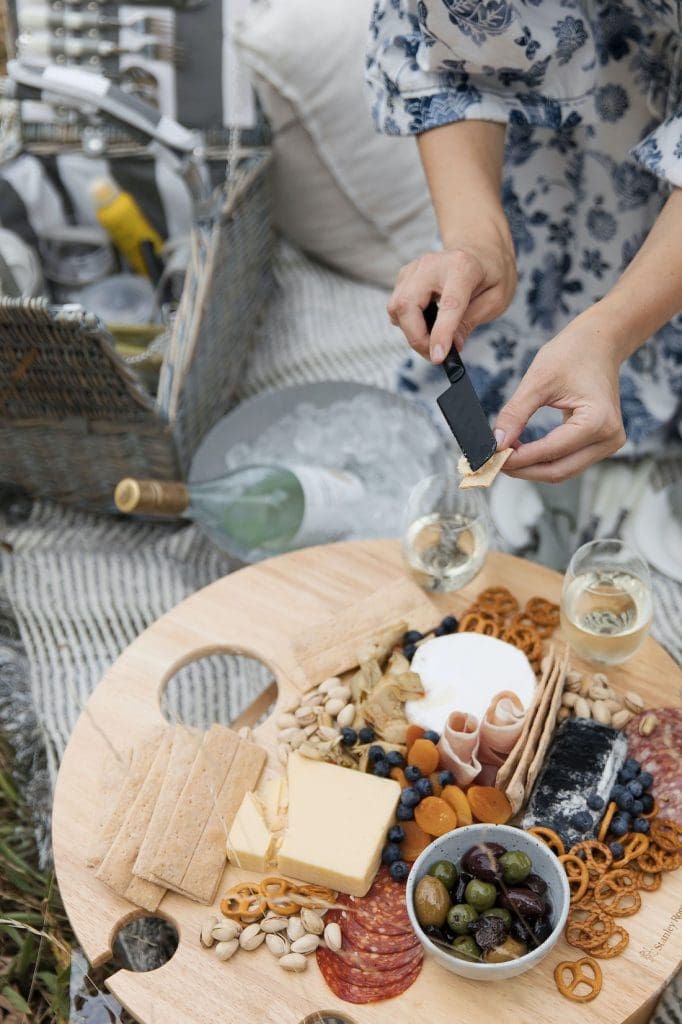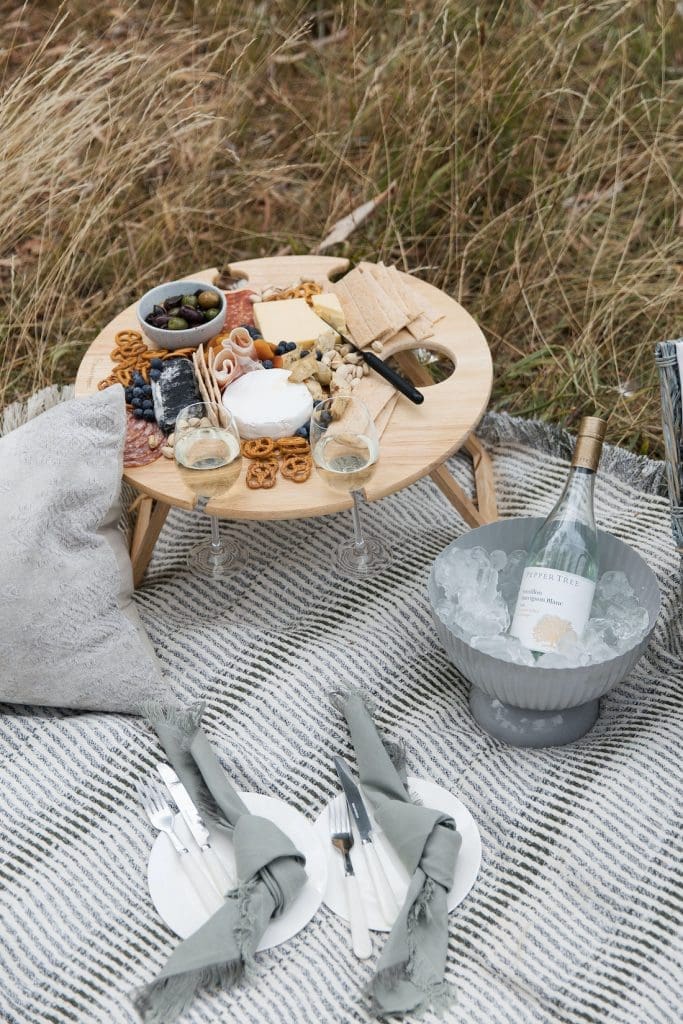 Don't forget the drinks and something to keep them cool
Picnicking and enjoying a beverage go hand in hand, don't they?! Whether it's homemade lemonade or something spiked, packing drinks is essential. And because we live in a warm climate, so too is packing something to keep them cool.
For this picnic, I used the Zephyr metal bowl from Urban Eden as an ice bucket — I love how it tied into the colour scheme of this setting. If it isn't practical for you to bring an ice bucket and ice, you can also find a range of cooler bags online.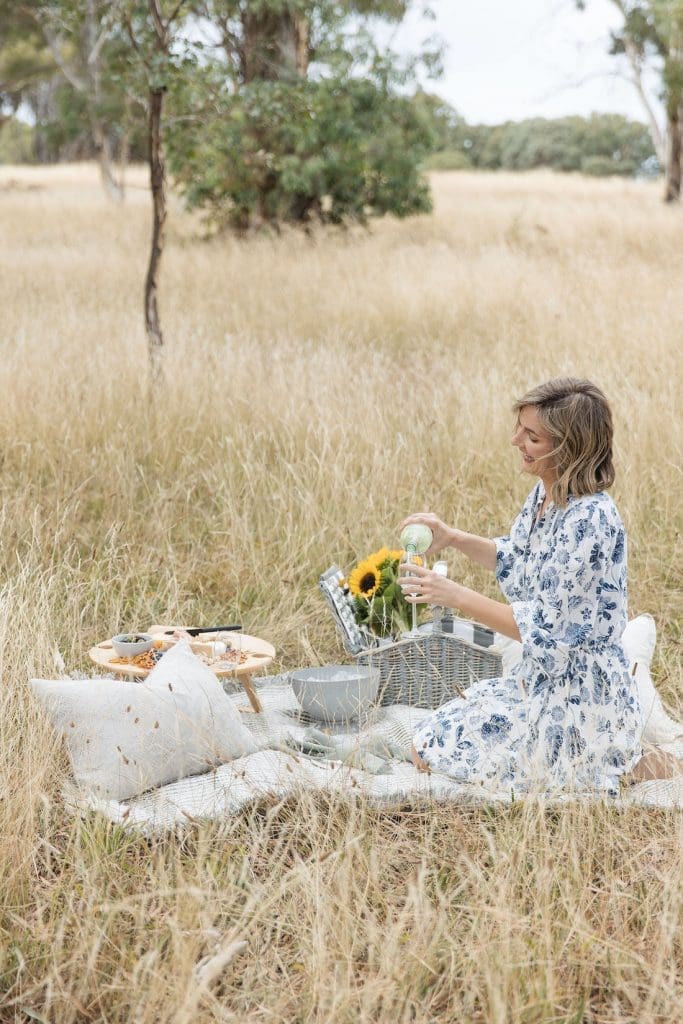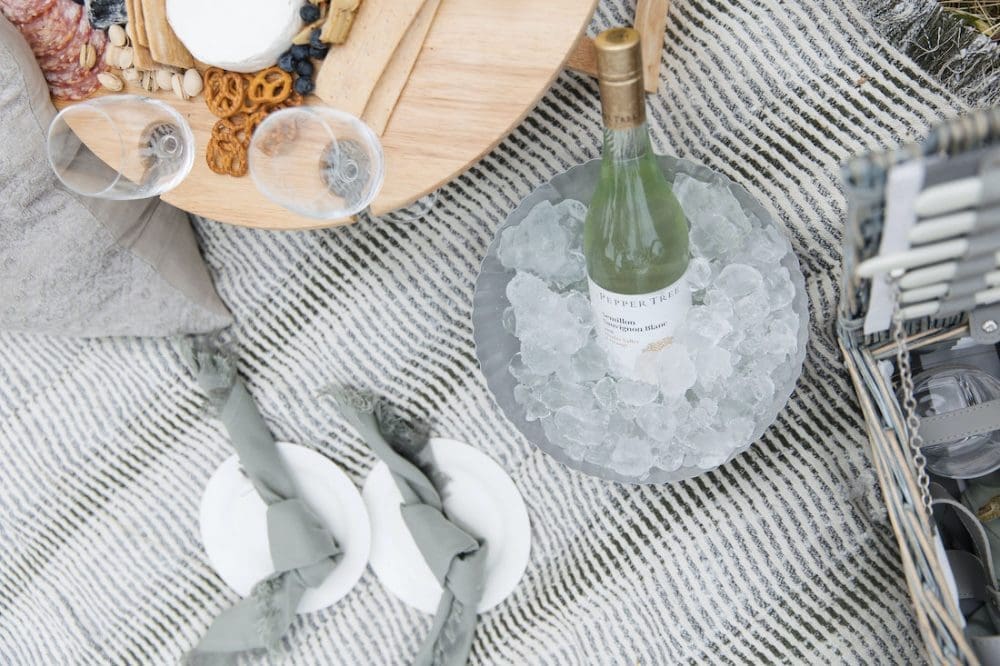 Shop picnic essentials
Cutlery and plates
Now that you've got your food and drinks sorted, let's not forget all the essentials to enjoy them!
Wherever possible, we try to reduce waste so using a picnic basket with reusable plates and cutlery appeals to us. We bought this basket from Bed Bath N' Table or Catch has a great range of picnic baskets (we also love the luxe picnic baskets at Amara).
If you will be using single use cutlery and plates, consider ditching plastic in favour of more environmentally-friendly plates and cups that are made from renewable materials.
It's always a good idea to also pack:
a sharp knife
cheese knives (we mentioned these earlier but you can never be too safe!)
a bottle opener
napkins.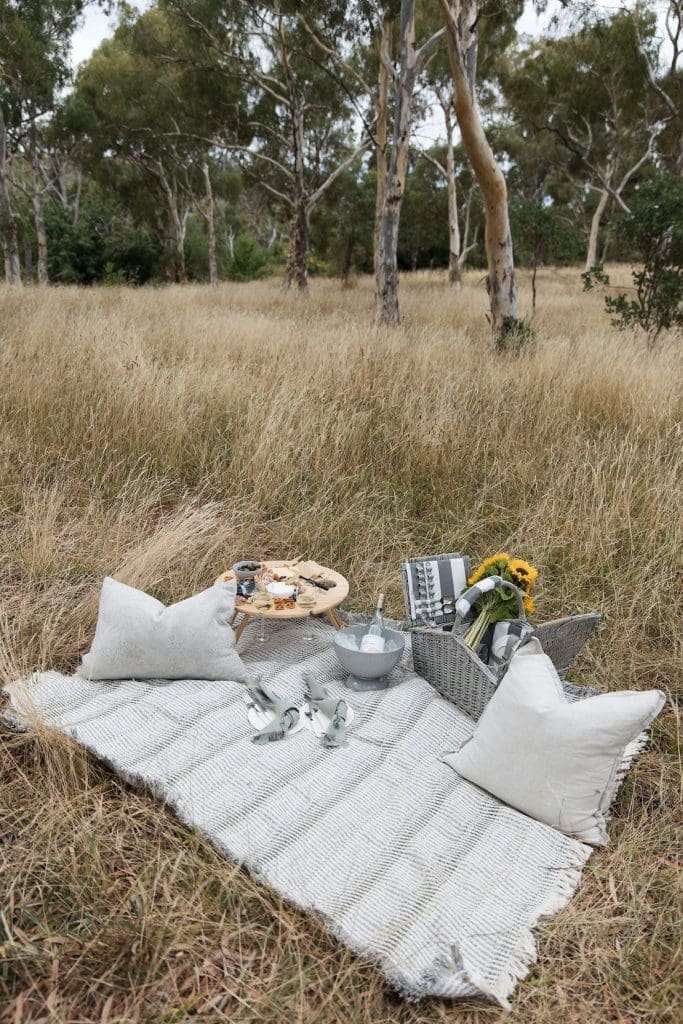 Add ambience
To make your picnic extra special, there are a few thoughtful additional things you could pack, like:
Other essentials
You've packed almost everything but here are some final essential things:
spare containers to put leftover foods
plastic bags to put dirty dishes for wash up and to take all of your rubbish with you
paper towel (or spare napkins)
sunscreen
hats (also helps to keep your hair out of your face if it's windy)
bug spray (this Bushman bug spray smells divine).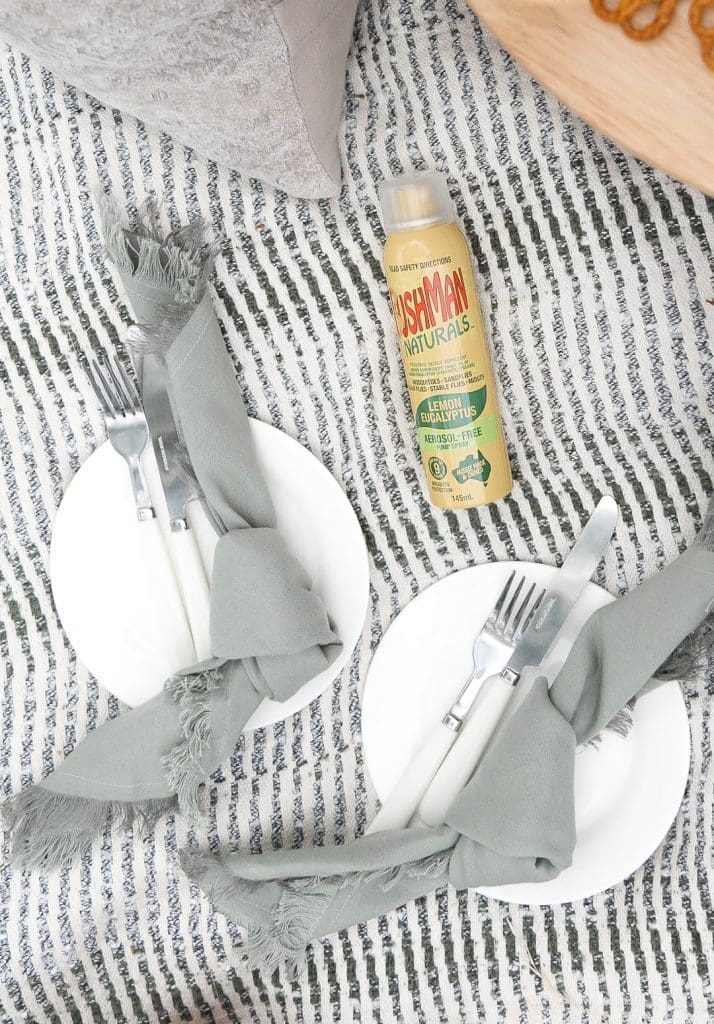 Shop picnic essentials
We summarised everything you need to pack for the perfect picnic into a handy checklist! Click on this image to download our free picnic packing PDF or save it to your Pinterest account so you can find it when you need it.
We hope this guide on how to pack the perfect picnic inspires you to get picnicking! Do you have any other tips on what to bring to a picnic?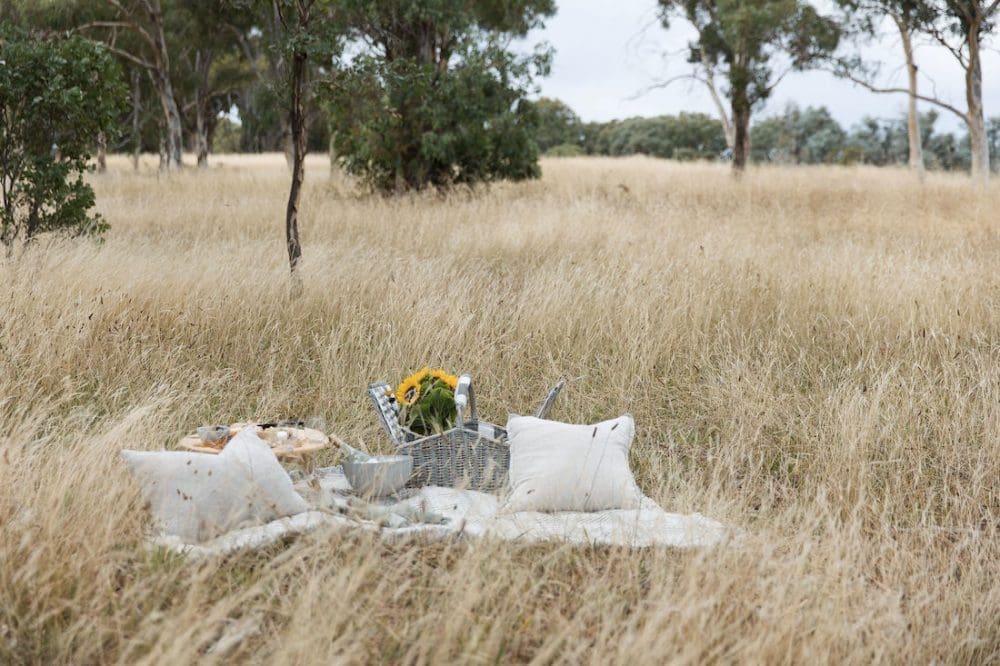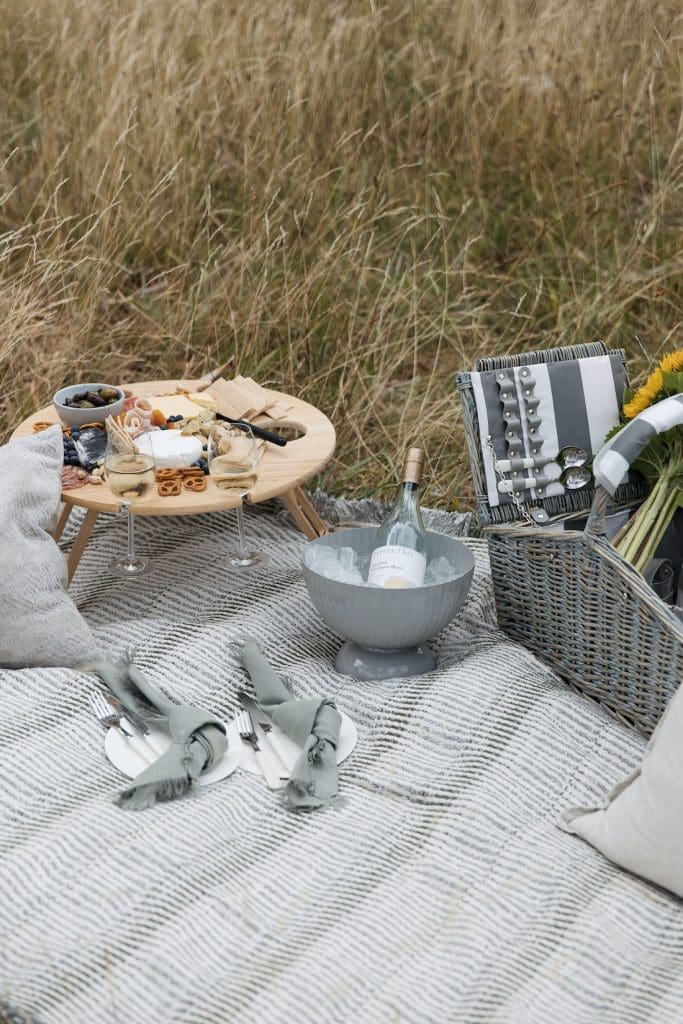 Photography by Thorson Photography
Disclaimer: This post contains some affiliate links. This means that when you click on a link and purchase something from that site, we may make a small commission at no extra cost to you.