Grazing tables are still having their moment in the spotlight. They seem to be at every party these days, and we can totally see why! They look absolutely amazing, are full of delicious foods and just look so inviting! We caught up with the ever so gorgeous Ella from Styled by Ella Garland on her top tips on how to create a gorgeous grazing board.
Related article: Your guide to putting on a winner high tea
Related article: How to create a beautiful cheese board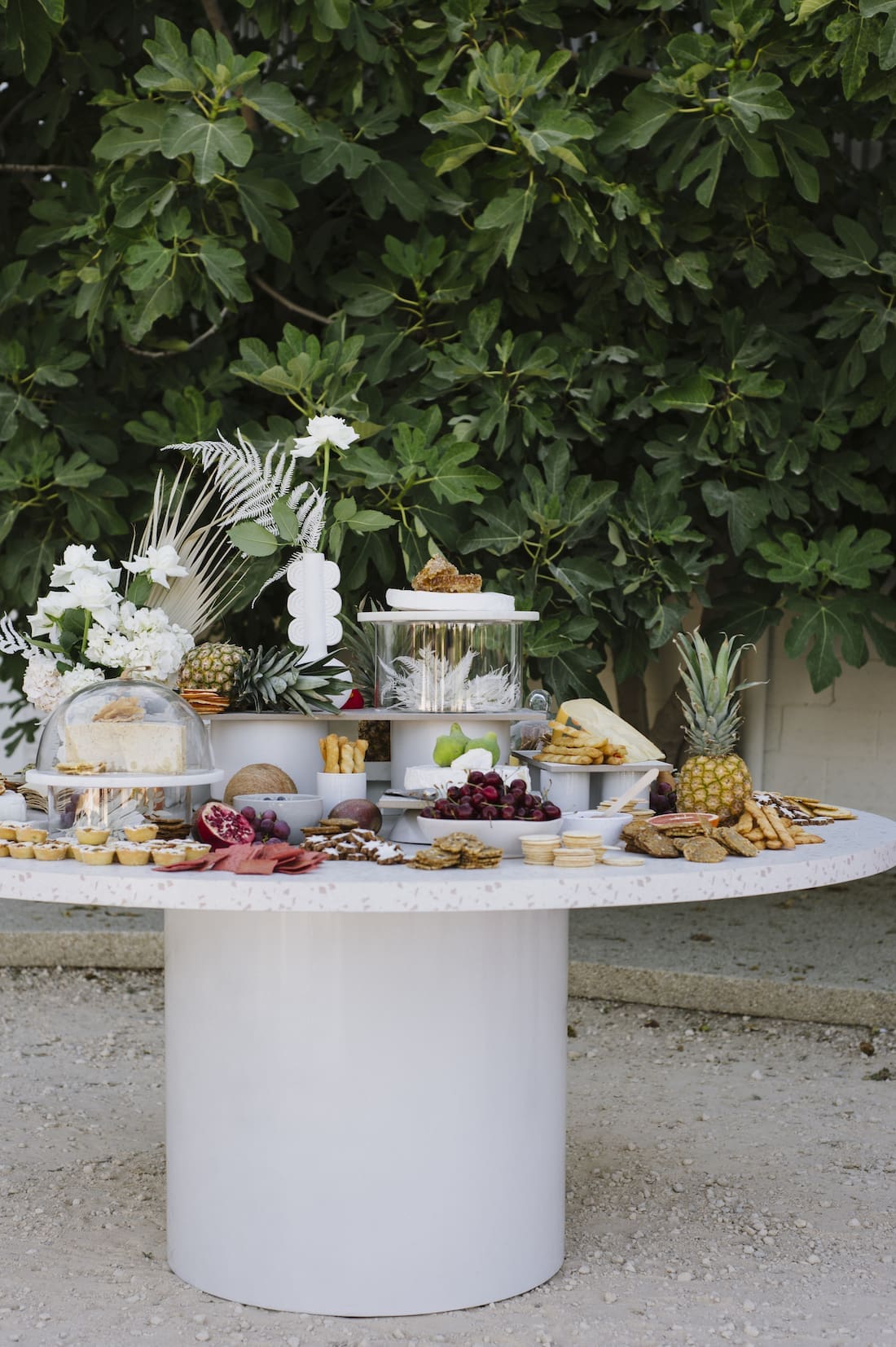 How to start your grazing board
"Grazing boards are perfect for parties and events as they are a great way to make sure no one goes hungry! Plus they look really impressive and most importantly… are totally insta-worthy!" laughs Ella.
Choose a colour scheme…
"When planning a board, my first tip is to choose a colour scheme. Generally I go for 2 to 3 colours to match the event.
"I love to incorporate these colours throughout the boards and platters and also select sweets, flowers and decorations to match."
Line your table…
"Next, line your table with wrapping paper (to match the colour theme), brown paper, a table cloth or baking paper. This means you can arrange delicious fruit, nuts and crackers to spill off the boards and onto the table," says Ella.
Start arranging…
"From there, I arrange the boards and platters so they are grouped into little clusters along the table."
"I love layering textures, such as using a white planter pot topped with a terrazzo tile slab. It creates an elegant, elevated tray where you can add more decorative pieces.
"My favourites include whole seasonal fruits, vases and little piles or jars of crackers."
Add some greenery or florals…
"Just before you add the food, it's a great idea to bring in some greenery.
"A vase of nice flowers or foliage is a great centrepiece. My hot tip is always place it slightly off centre!
"Then add some loose foliage or tropical leaves in amongst the delicious food," she says.
Now the food…
"When it's time to lay out the food, start with things like dips that are in bowls then move on to larger items like bread and cheese and then go on from there. I leave crackers, nuts and other small foods until last as they can fill in all the gaps."
The best foods to include on your grazing board
"My number one food for how to create a gorgeous grazing board just HAS to be cheese!
"I also love to add some sweet items like wafer biscuits, shortbread or doughnuts — the possibilities are deliciously endless! Fruit mince pies, gingerbread or shortbread are the perfect sweet additions for a Christmas-theme grazing board.
"Bread is great for decoration purposes too. It's wonderful for height and filling up the back side of the board," Ella explains.
How to create a gorgeous Christmas grazing board
Ella was run off her feet creating delicious Christmas grazing boards for clients so if you're considering one this year, we've asked her for her top tips!
Go for festive foods
"Christmas is my absolute FAVOURITE time of year," says Ella excitedly.
"To create a yummy Christmas grazing board, buy a selection of delicious and festive foods. Think dried cranberries, pistachios, gingerbread and cherries to add as finishing touches to give your grazing board that wonderful Christmassy feel.
"One of my other favourite boards was one I created for my brother's engagement party. It included a huge leg of ham, bread rolls and lots of nice accompaniments. This would be another perfect idea for a Christmas grazing table.
Go for groups of 3
"When you're setting up or planning the table or grazing board, stand back and make sure the layout is balanced.
"I always use the design principal of grouping things in threes — grouping a big platter, a medium board and then a bowl or small plate. If you're doing a big table you might have a few of those groupings," says Ella.
No need to go OTT
"Don't feel overwhelmed thinking you need to have tonnes of food to fill a large table. When you're laying out the table, you can fill sections with foliage, flowers and bread.
"Pinch some decorations off your tree and add a cluster of pretty baubles or a stack of Christmas crackers amongst the food."
Go crazy for crackers
"It sounds simple, but don't underestimate the humble little cracker. They are probably the most inexpensive item on the table and come in lots of different shapes and sizes.
"I like to buy lots of different shapes and types of crackers to create interest for the eye," explains Ella.
Prep ahead of time
"Working with food, you can't lay it all out until just before your guests arrive. You also don't want to be a stressed, sweaty mess when they knock on the door so do as much as you can beforehand.
"I roll all of my cold meats and store them in airtight containers in the fridge. As well as washing and cutting all the fruit and veggie sticks and pop all the dips into nice bowls," explains Ella.
The best advice of all
"Just remember to have fun with it! You can add your own personality to your board by incorporating your favourite foods or treats.
"One grazing table I did for an 18th birthday party worked out so well because I just had fun doing it. It was set up on the corner of a stunning marble kitchen bench and I went crazy with the pink accents!"
About the author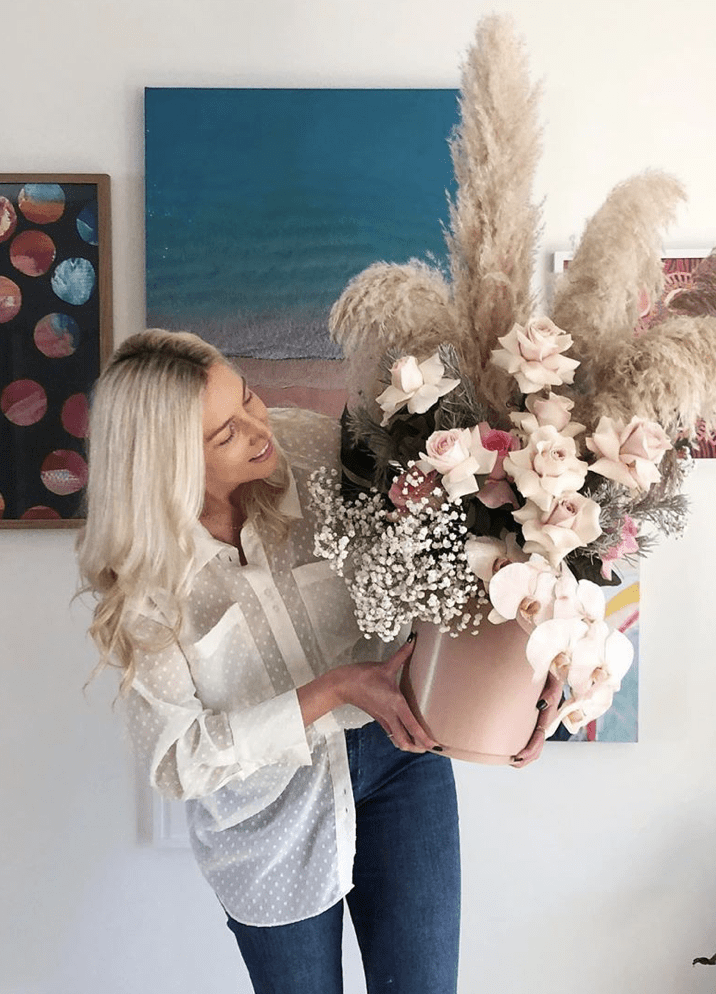 Ella Kobelke is a stylist of events, interiors, floristry and food in Perth, Western Australia. She jumps at any chance to decorate, style and celebrate, and shares her style journey on her Instagram account Styled By Ella Garland.
Thank you so much to Ella for sharing her tips on how to create a gorgeous grazing table this festive season. Follow her over on Instagram to see what other amazing projects she gets up to!