Supported by KAS
One of our most popular articles on Style Curator is this article on how to style a bookshelf. And while we still stand by all those shelf styling tips, we've learned a few more tricks along the way. So, get ready for part 2 of our shelfie styling tips!
Related article: How to: Style a bookshelf
Related article: The tips and tricks to styling your coffee table with ease
1. Create a cluster of ceramics
There's no denying that ceramic vases and sculptures are trending in interiors at the moment. Flick through any interiors mag or scroll social media and you'll quickly spy dozens of ways to style ceramics in the home.
That's why adding ceramics to your shelf styling kicks off our part 2 of tips to style a bookshelf.
Don't stop at just one or two pieces. Creating several clusters of ceramics in your shelf creates focal points, adding a sculptural element and level of sophistication.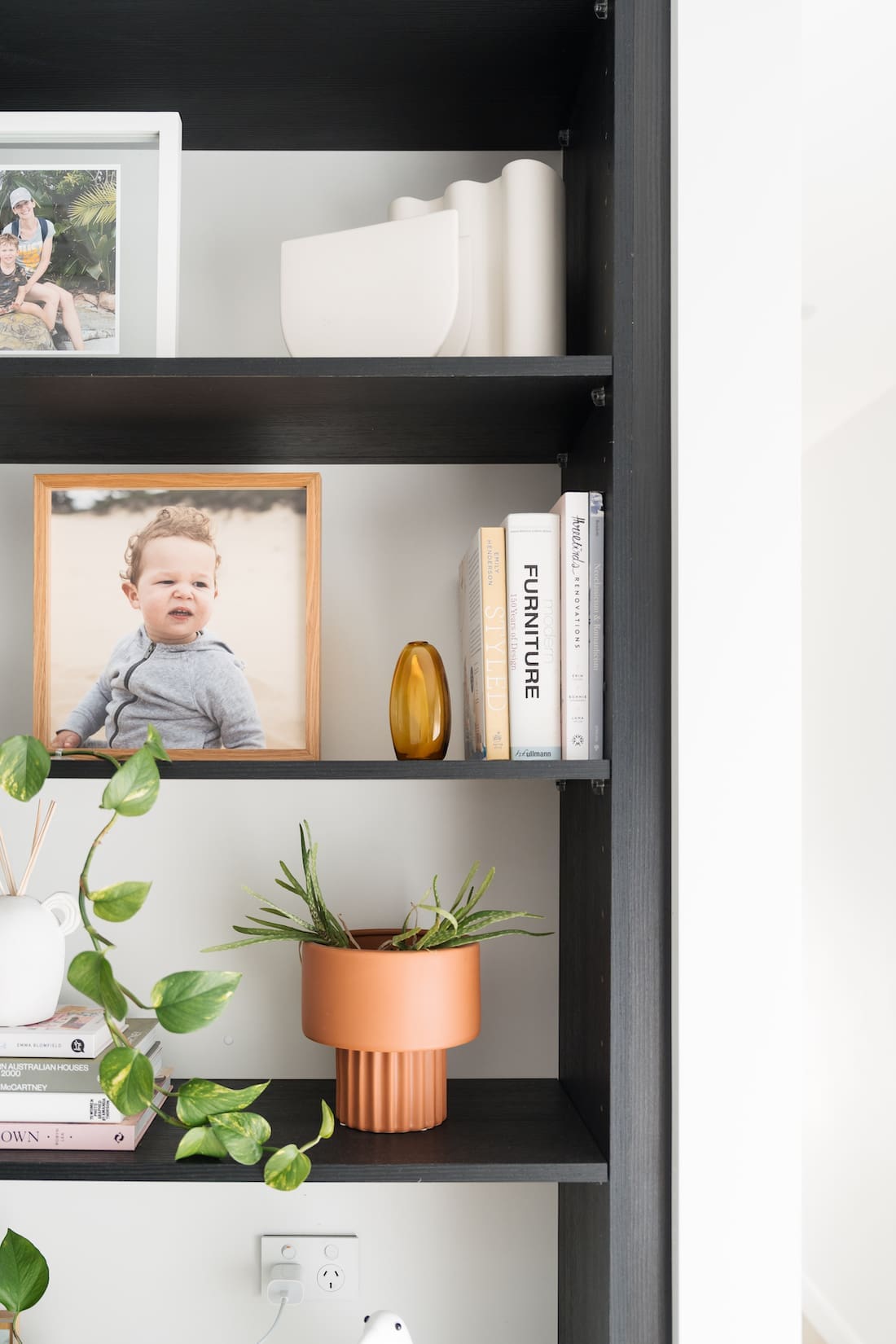 2. Embrace the depth of your shelves
Most shelves have a depth of at least 300mm which provides plenty of room for layering. By this we mean, leaning an artwork or photo frame towards the back of the shelf and placing smaller objects in front. It's ok if you can't see 100% of everything on the shelf.
If you were to analyse photos of successful shelf styling, you would see this trick is used often. It's because it immediately adds dimension and creates a more interesting look.
3. Level up your pots
In part 1 of our bookshelf styling tips we talked about adding greenery to your shelfie styling. And as you can see, we still love plants!
But your pots can be as much of a feature as the plants. We especially love the sculptural curves and fluted details on this terracotta planter from KAS. It literally elevates our aloe vera plant!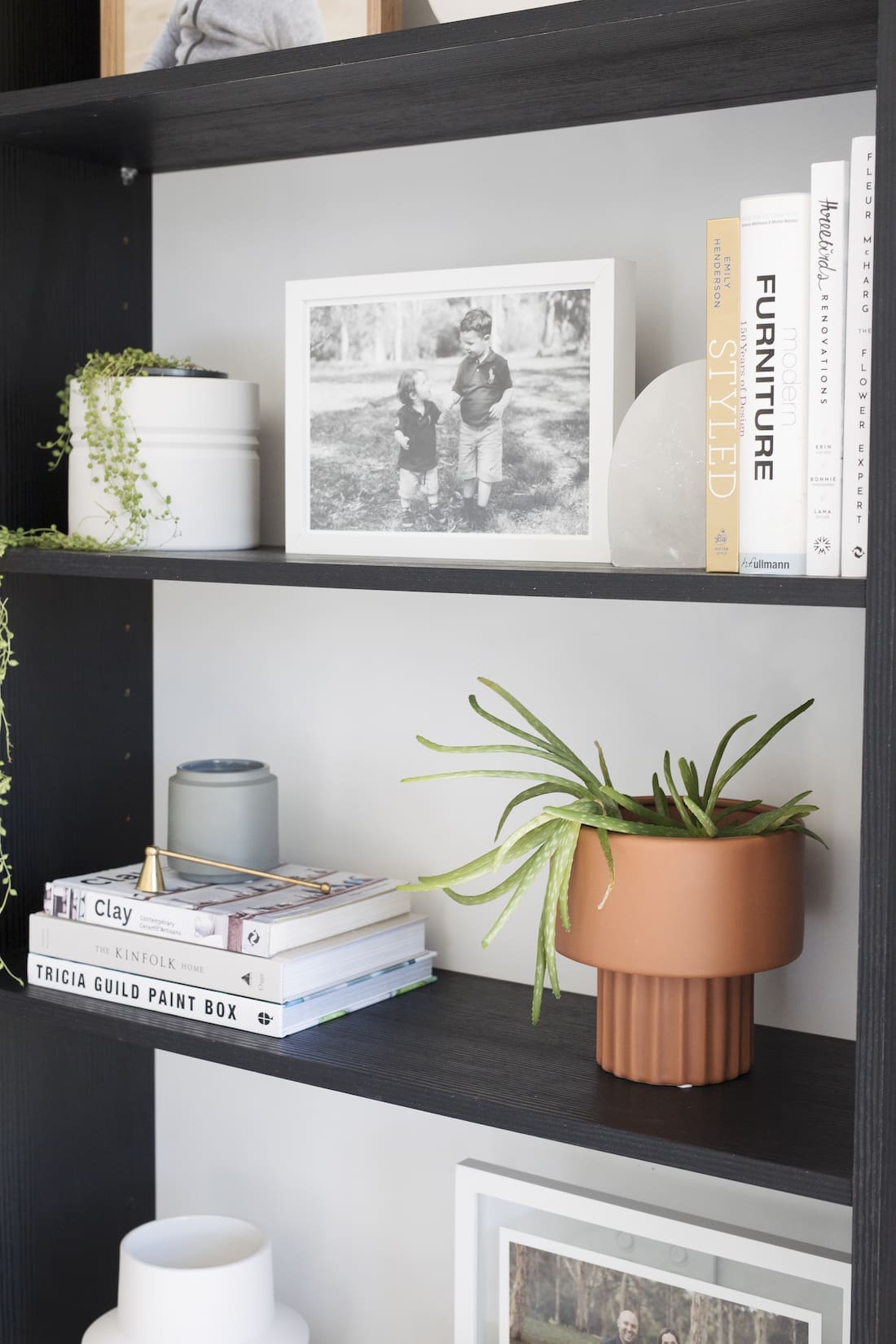 4. Look for ways to break up the lines
It's easy for things to look rigid in a bookshelf. Most people naturally gravitate to certain ways of arranging objects so this next tip is to encourage you to shake things up!
Look at all the shelves and consider how you can break up the lines. Does each shelf have an equal grouping of objects or overall weight?
To break up the lines in our shelf styling, we:
alternated groupings on shelves i.e. some shelves had two main stacks, whereas others had three
varied the heights of objects, such as a tall vase in between two lower clusters of objects
angled some items so not everything is perfectly forward facing.
5. Find alternatives to bookends
Just because you've got stacks of books doesn't mean you need to use traditional bookends to hold them in place.
We love that oversized crystal used as a bookend. Similarly, you could use a small pot plant, piece of coral or other décor item.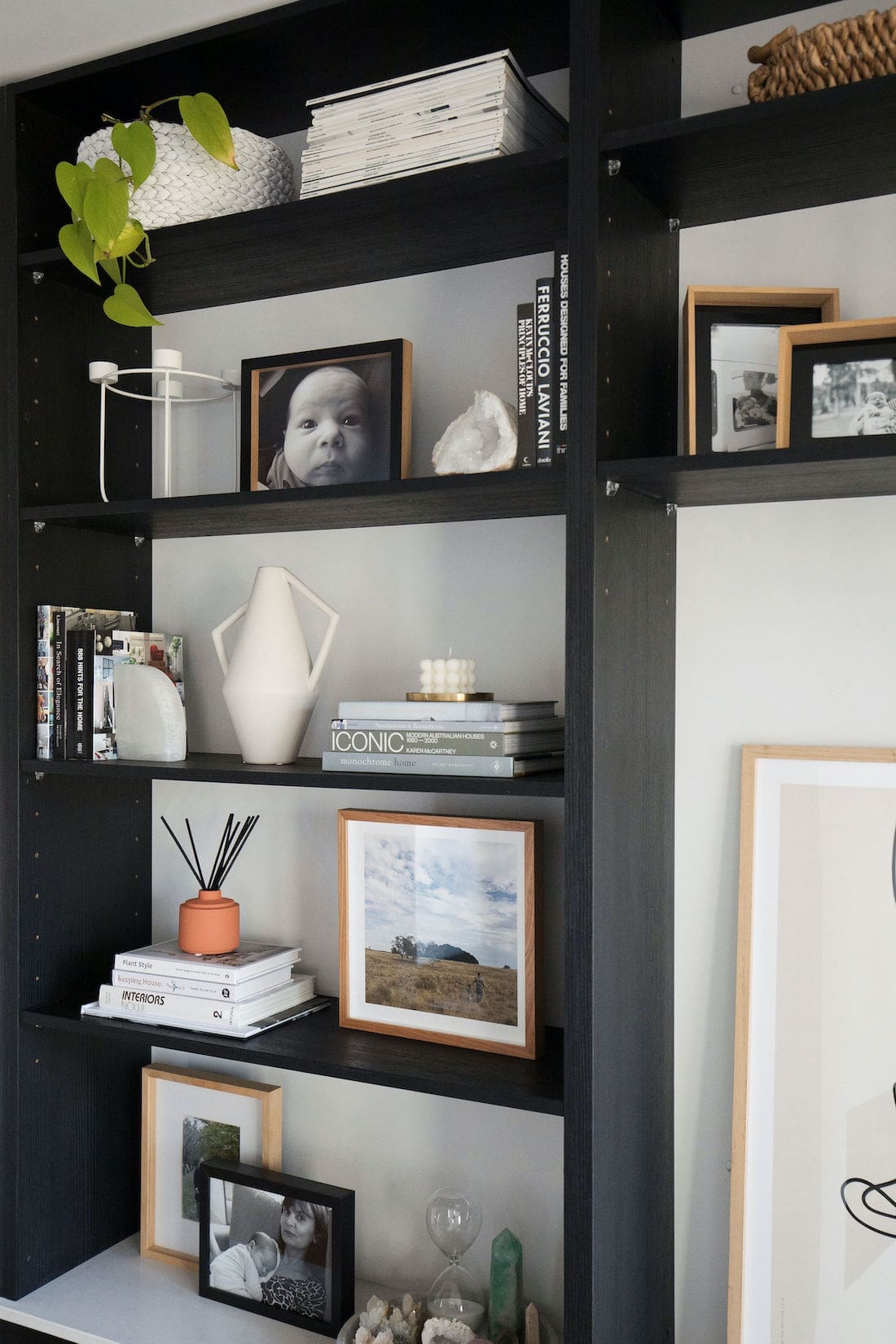 6. Lead the eye with repetition
Repetition is an interior styling trick we love! It creates cohesion, adds a sense of design confidence and just makes a space look more luxe.
In this bookshelf, we've used repetition by sprinkling white ceramics, earthy tones and indoor plants across the bookshelf.
It has a way of leading your eye across the whole bookshelf.
7. Mix up materials
We know we just said repetition works but it's important not to confuse this with making everything 'matchy matchy'. Too much of a good thing is… well, too much!
Be sure to mix up materials to add variety in terms of colour, hardness and texture. For example, woven baskets add a soft and tactile quality, while some of the ceramics are hard and smooth. The combination of everything is what makes it work.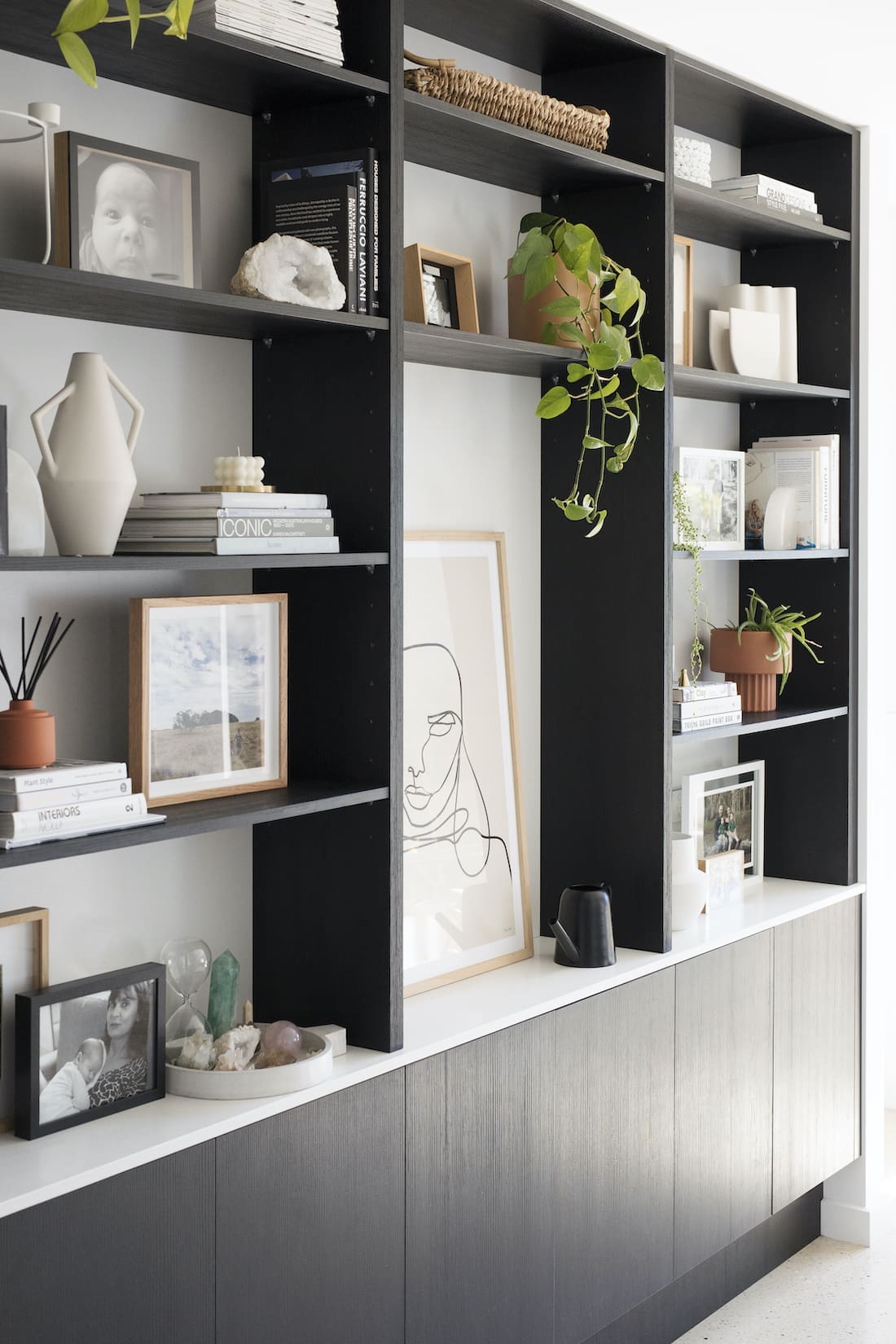 8. Add a collection of something
No matter your interests, adding a collection of something is a great way to show off a bit of your personality.
Not surprisingly, our collection is of crystals! But you could add a collection of anything that will fit.
9. Play to the other senses
Styling is more than what you can see — our other senses also come into play. And one of the most dominant is our sense of smell.
Adding a candle or diffuser to your shelves will make you enjoy your shelves a whole lot more. Plus, with the range of stylish vessels on the market now, these can be a décor piece in their own right.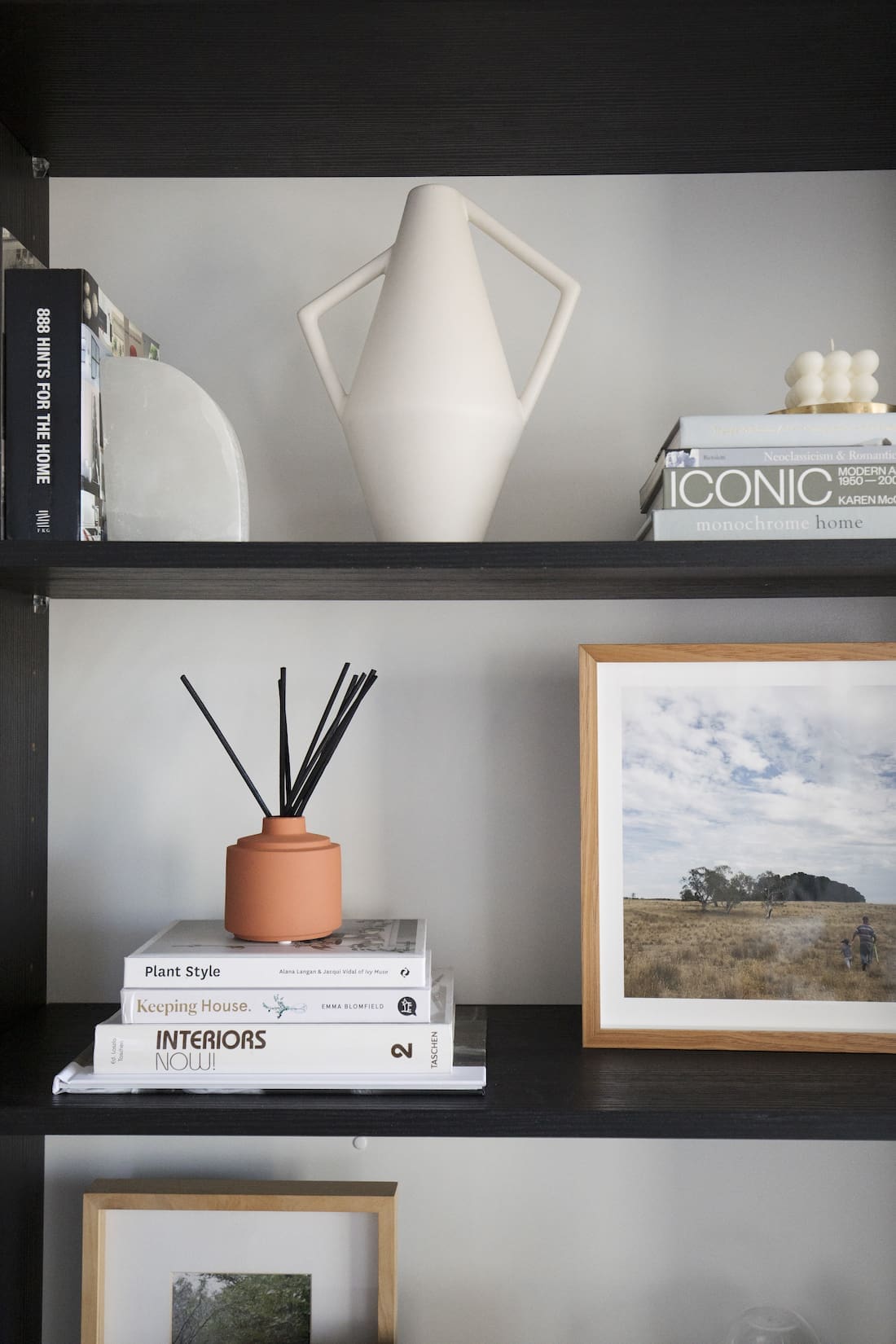 10. Add blank space
Finally, one of the best ways to style your bookshelf is by adding nothing at all. Pockets of blank space give your eye relief and let the other elements shine.
Half a blank shelf here or there can look better than filling every single shelf to the brim. Remember that age old saying 'less is more' because it certainly rings true when styling a bookshelf!
Have these bookshelf styling tips inspired you? What other tips to style a bookshelf can you add?
This article was first published in October 2021 and continues to be updated with latest images and tips.