In celebration of having my coffee table featured in Interior Addict's 'Covet my coffee table' series, I'm sharing my coffee table styling tips and tricks!
To me, the coffee table is a small but achievable spaces to style well — and it makes a big impact for the little effort required!
Here are my tips of what I've learnt over the years of interviewing leading interior stylists and designers, researching latest trends and trying my own hand at styling.
1. Consider scale
Before going ahead and buying any styling products or decorating your coffee table, stylist Julia Green taught me it's a good idea to step back and consider size and scale. How large is the room? How big are the other items in that space?
Larger coffee tables and living spaces obviously lend themselves better to larger items on the coffee table or more 'stacks' of products. However, filling a small table with little knick-knacks will make smaller spaces feel cluttered so if you're working in a tight space, it's better to go for less rather than smaller.
I previously had a smaller coffee table that was just just 60cm in diameter (now used as a side table) and it was difficult to style this table and still allow space for mugs, remotes and blank space to let these items breathe.
Realising I am the sort of person who likes to create a coffee table vignette, I recently got a larger coffee table from Tysiza. The Equator table suits my contemporary Australian style and has a much larger 80cm diameter table top.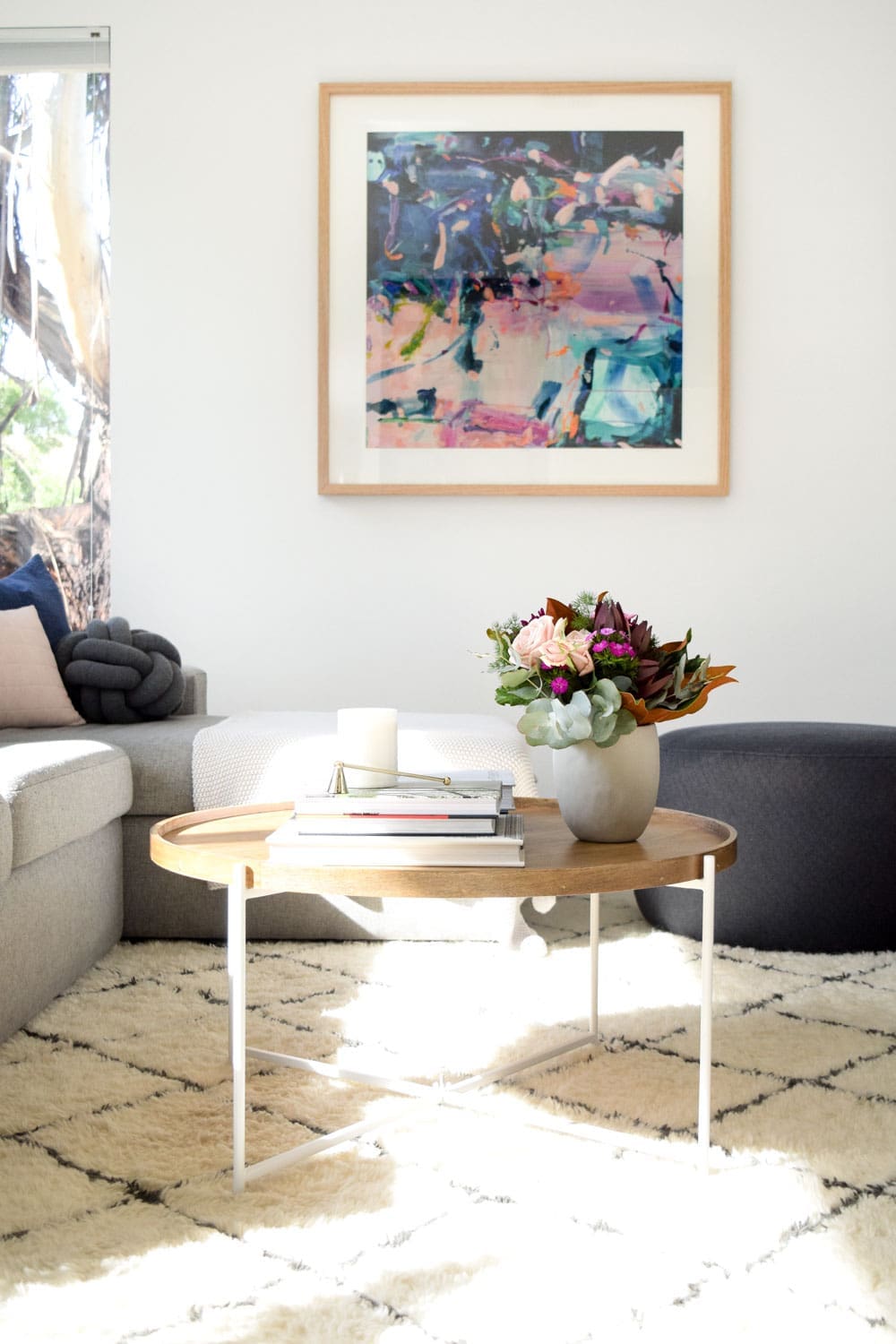 2. Decide on a theme
Shay Paine says all good styling starts with a plan "It doesn't matter how talented you are, it is always good to create a plan and prepare before styling."
This advice of course also rings true when styling your coffee table. Coastal or contemporary, Scandinavian or sixties, knowing the direction you want to take your styling will help you find the right pieces to put on show.
3. Experiment with layouts
There is an endless amount of ways you can arrange items on a coffee table and some of the most popular include:
– the book stack: creating one, two, three or even four stacks of books. You can place some smaller decorative items, such as sculptures or candles, on one or several of these stacks for added interest.
– the tray: a styling must-have, the tray can add a pop of colour or metallics and creates a beautiful base to begin layering items. They're also great at making smaller items look less 'lost' on a table. Popular items to put on a tray include candles, drink coasters and smaller decor pieces.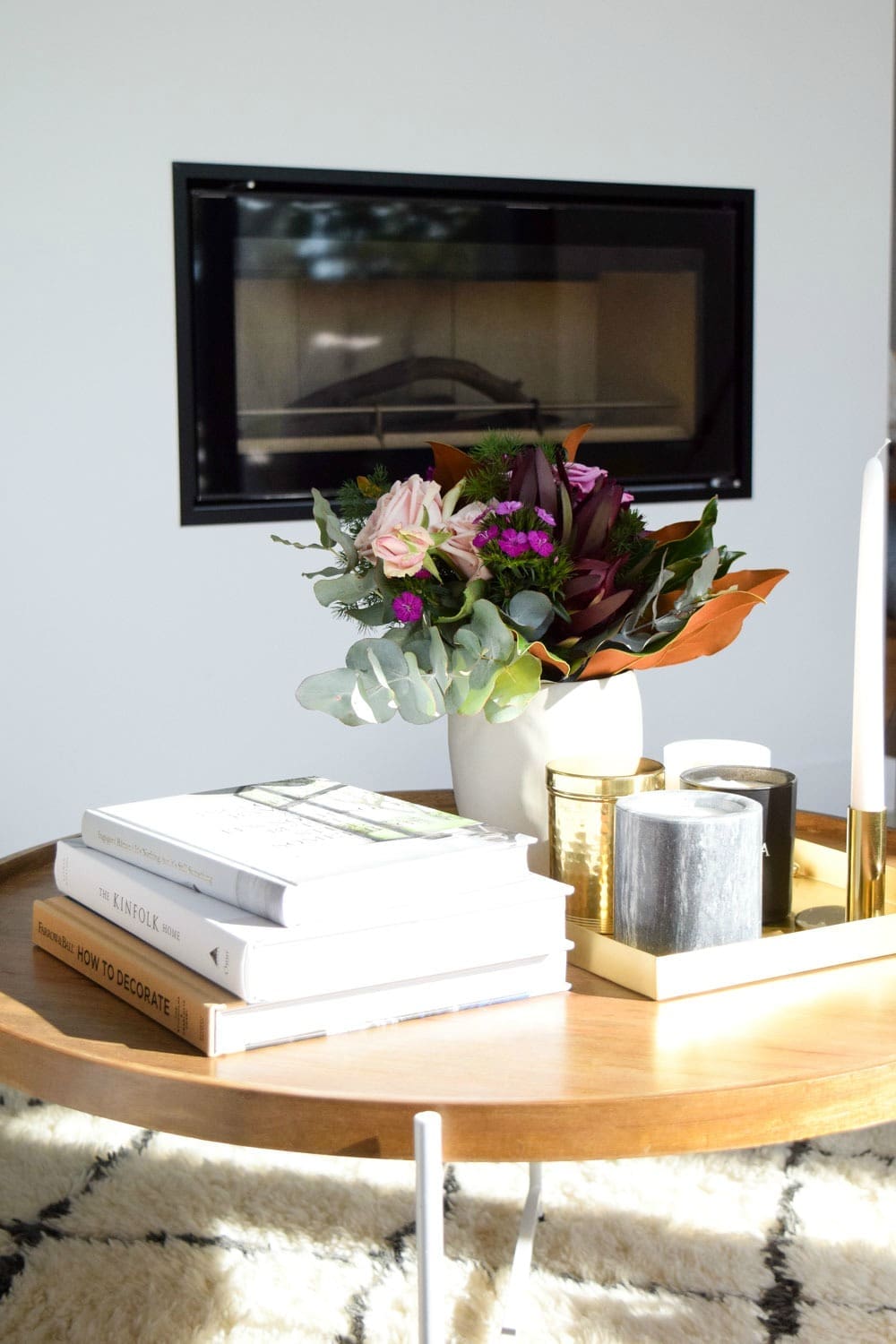 – pot plant or vase of flowers: bringing that element of life to your table, you can find a vessel that complements your style direction. Or for something a little more unusual, moss balls, terrariums and even mini botanical gardens look great.
– bowl: much like the tray, a bowl is a clever way of holding smaller items or can be a decor piece in its own right.
Most coffee table styling uses a configuration of these elements such as a book stack beside a tray styled with items, or a grid pattern of some form. Have fun and try a few different looks!
4. Create a collection
A small collection of items, such as a cluster of candles or trio of items such as coral or small vessels, is a great styling trick I've seen used in countless magazine photo shoots.
It makes the items look like they belong as they are part of a group, and makes your styling theme more obvious.
5. Mix textures
If you're not happy with how your coffee table is looking, you may need to look at mixing up some of the textures.
All metallic pieces or all books can look flat so having a mix of materials such as a natural woven basket, or a concrete diamond decorative piece, or bone inlay tray, or glass vase can all add different textural elements to add interest to your coffee table.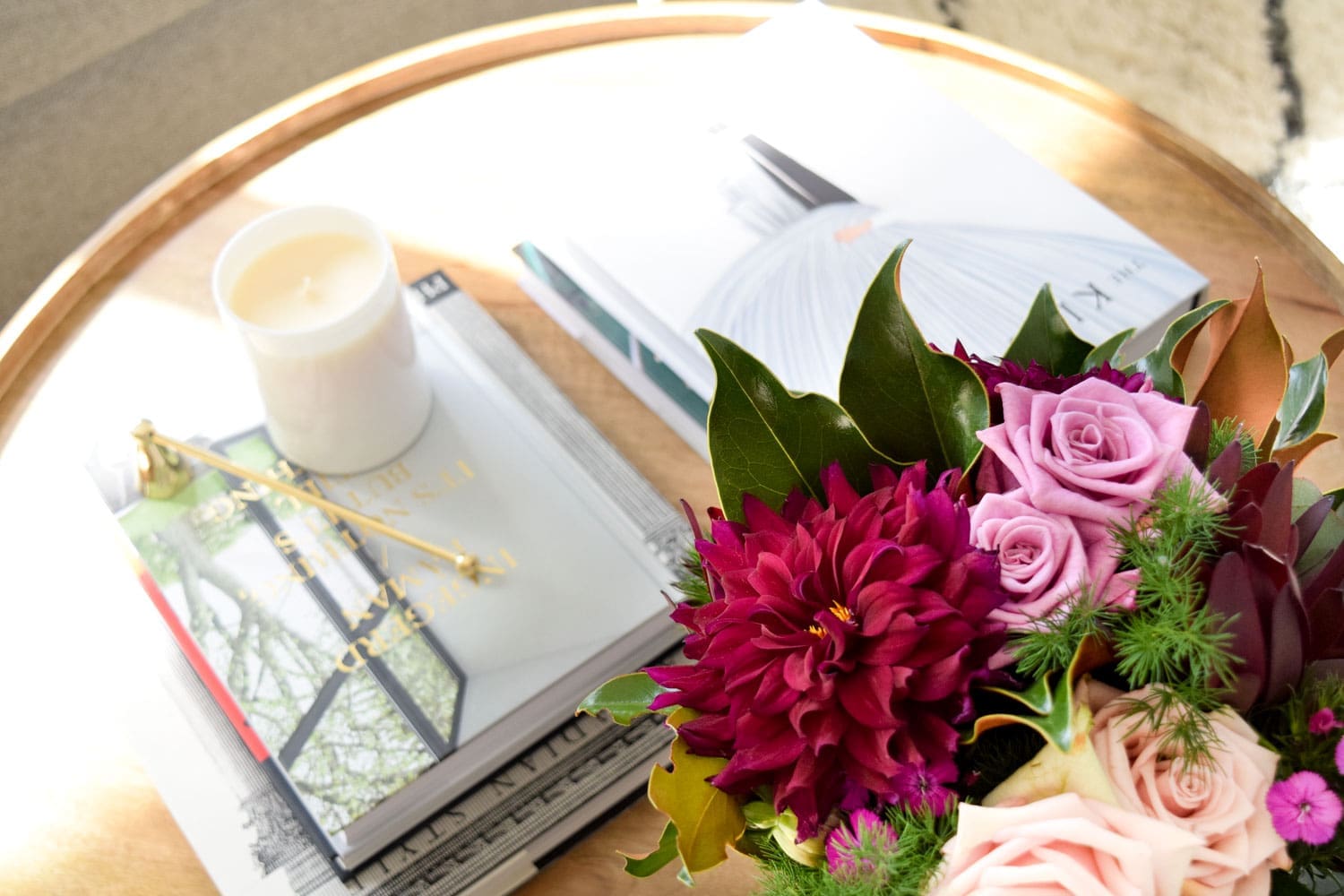 6. Have high and low elements
Another reason your coffee table styling may look a little off is if all the items are of a similar size or height.
It's a good idea to have at least one tall item, such as a plant, candle stick or sculpture, and one lower wider piece, such as a tray, stack of books or trinket box. These items will complement each other and balance out the styling on the table.
7. Three's company
How's your coffee table looking now? You should have a great mix of items that play with different textures, heights and scale.
If something still isn't working, it could be that things are too symmetrical. Styling in odd numbers looks more balanced to the eye so perhaps add or remove something so you have three or five main elements on the table.
I hope you found these tips on how to style your coffee table useful. If you have more to add, post them in the comments below so we can all benefit!